If you are planning to start a website for business or blog to express yourself as a writer, one thing is sure you need a safe and secure hosting service provider and domain name. Read Alexhost Review 2023.
The domain name and hosting service provider are prerequisites for starting a website or blog. There are several service providers available in the market. But I suggest you explore Alexhost, read the review, and make a sound judgment.
I will be discussing all of the relevant pointers about Alexhost here so that you will have clarity about their services and quality.
I will discuss all of their services in the following paragraphs. Before that, let's go through a brief overview and journey of Alexhost. 
Overview of Alexhost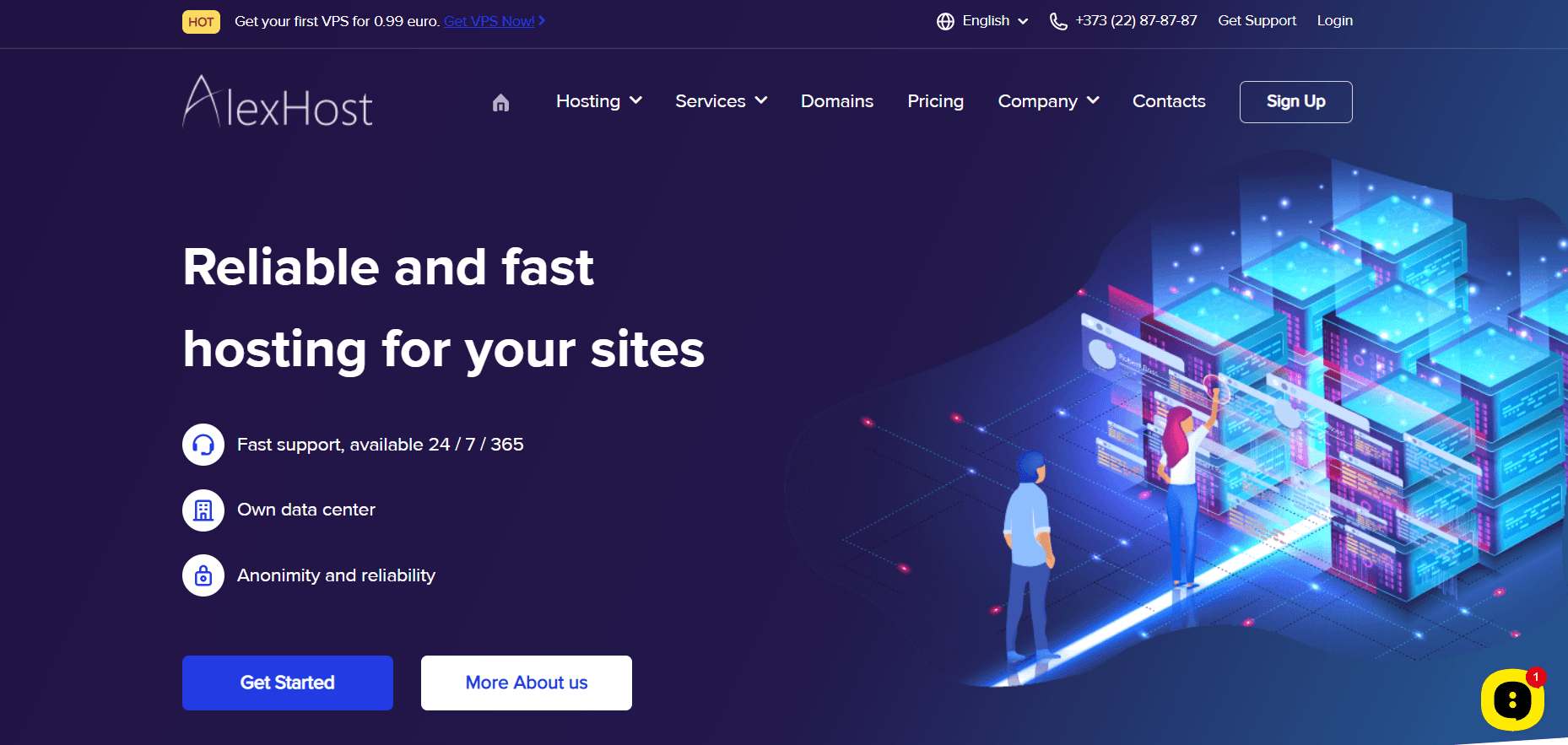 Moldova-based professional hosting service provider Alexhost started its operation in the year 2008. They started their own data center in 2013. Their dozens of certificates from several organizations are proof of their safe and secure professional service since 2008.
Their complete automated service minimizes any human error. They work on three core principles: quality service, optimum performance, and economical pricing.
Though profit is an essential component of any business, for Alexhost, it is not the sole purpose of Alexhost. 
Now let's talk about their amazing services.
Services provided by Alexhost
Domain: 
Alexhost offers many free services with domain name registration. To find the domain name of your choice, you can visit their website, type your desired domain name, and the website will display whether the domain name is available or you should try a different name.
When you search for domain name availability, you must consider that the domain name indicates your business brand name tell your customers or clients what they will get from your site.
So, take your time and write several names that resonate with your business or objective.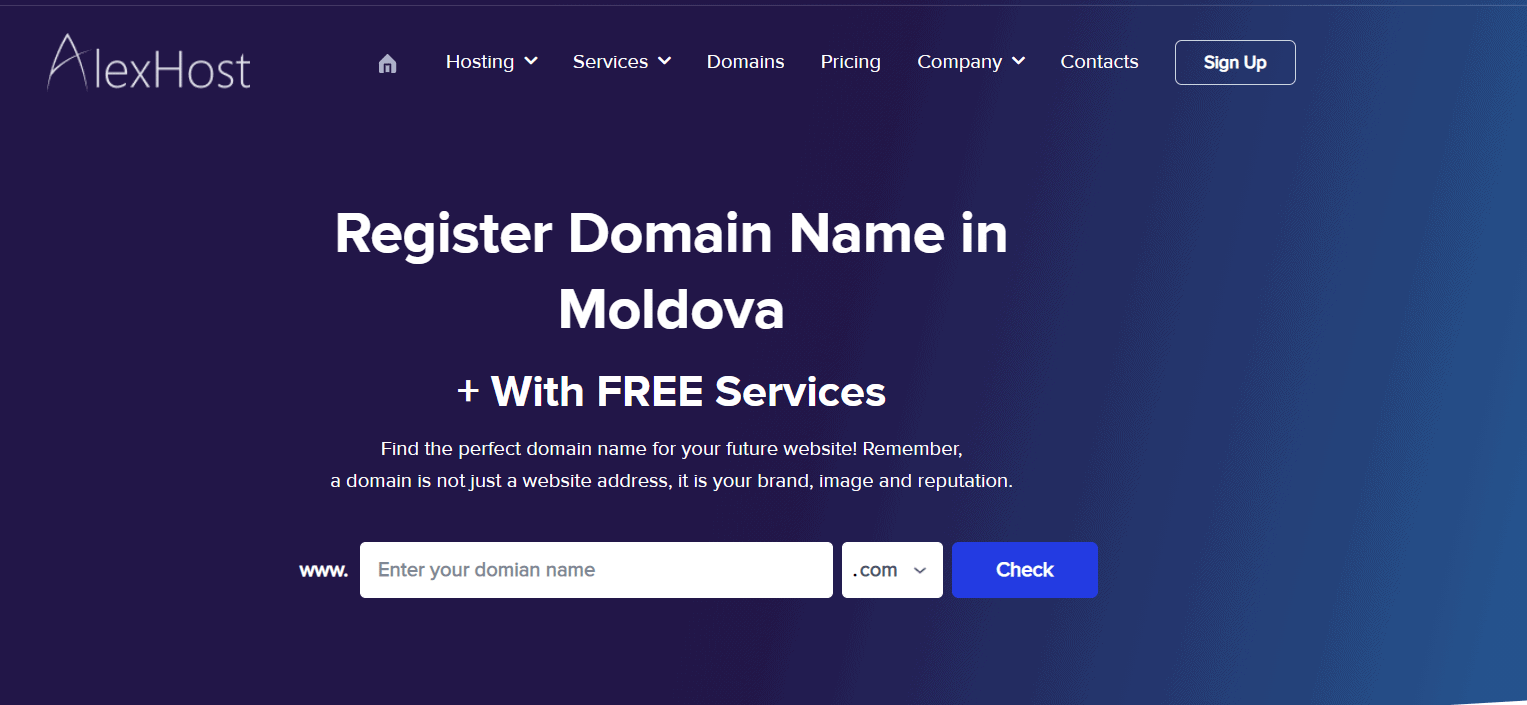 On registration, Alexhost provides the following free services:
User-friendly Dashboard
Two mailboxes
Email forwarding
Unlimited number of sub-domains
Complete control over DNS settings
Forward your visitor's thanks to domain forwarding

.
Hosting Services: 
Domain and hosting go hand in hand. Hosting is the next step after domain registration. Good hosting should be safe, powerful, and easy to manage. 
Alexhost provides four options for hosting services.
Shared Hosting:
In shared hosting, several websites use the same server. It is a cost-effective way to host your website as the cost is being shared with several websites. 
VPS Hosting: 
Alexhost offers dedicated IP, Full root control, SSD disk drives, IPv6 support, and 100 Mb/s networks for VPS hosting. They also offer 30 30-day money-back guarantee.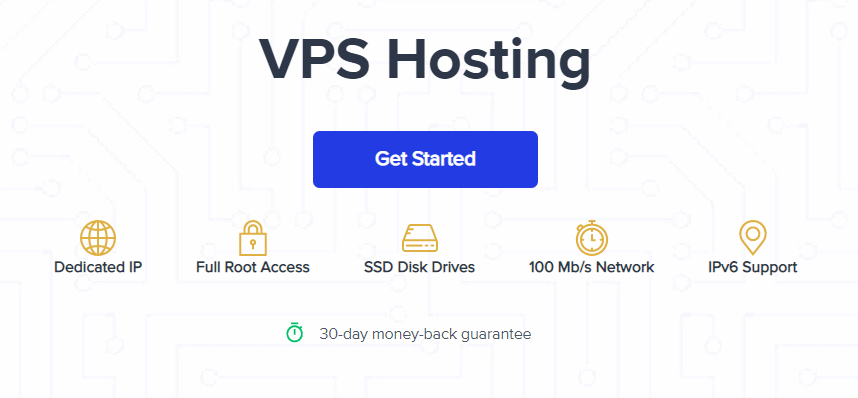 Dedicated Servers: 
Their dedicated servers have dedicated IP, IPv6 support, 1 GBps shared, and full root access. Users have their individual servers in this category.
Colocation: 
Alexhost provides colocation services for mid to large organizations. Their colocation service is efficient, safe, and trustworthy for equipment. Their server data center has cooling, round-the-clock CCTV surveillance, and fire detection sensors.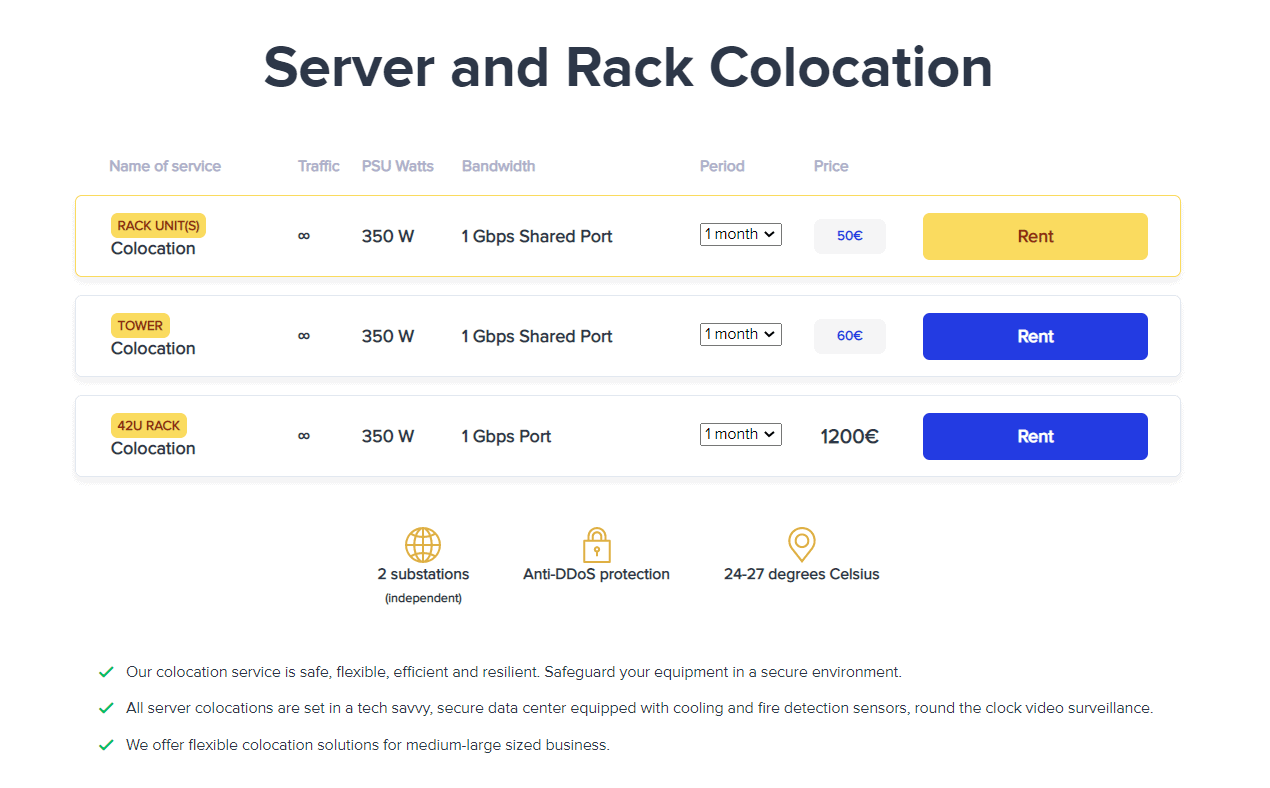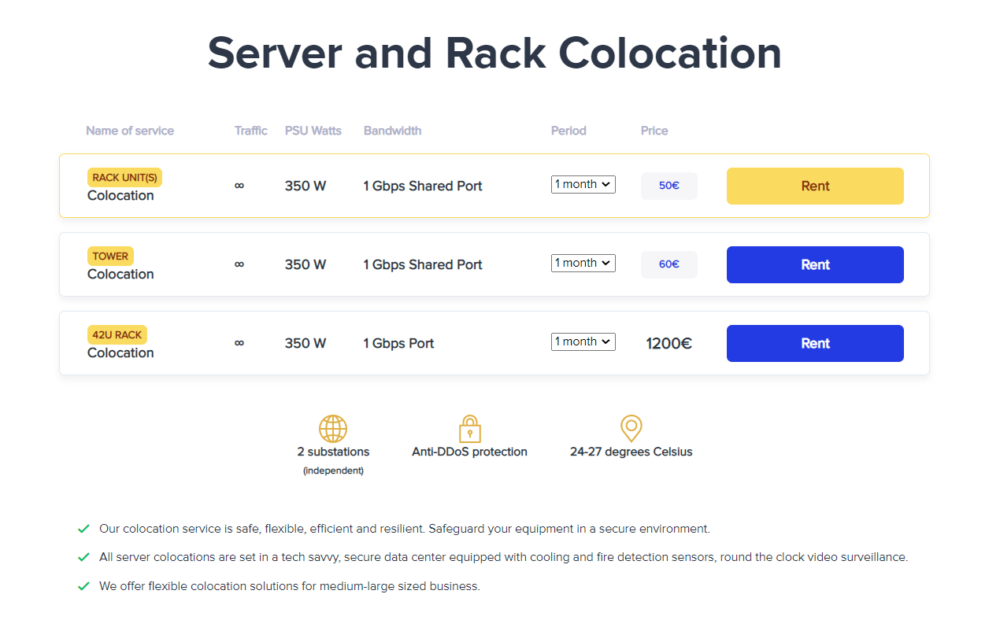 Security Services: 
Alexhost provides SSL Certification and VPN services. Their SSL certificates can be issued in a few minutes and offer validated domain, server licensing, and dynamic site seal.
With a VPN, you can use your website in a fast, safe, and secure environment.
DMCA Ignore:
Alexhost offers services for DMCA ignore also. DMCA Ignore hosting is to do hosting for sites that are dealing with illegal or prohibited content.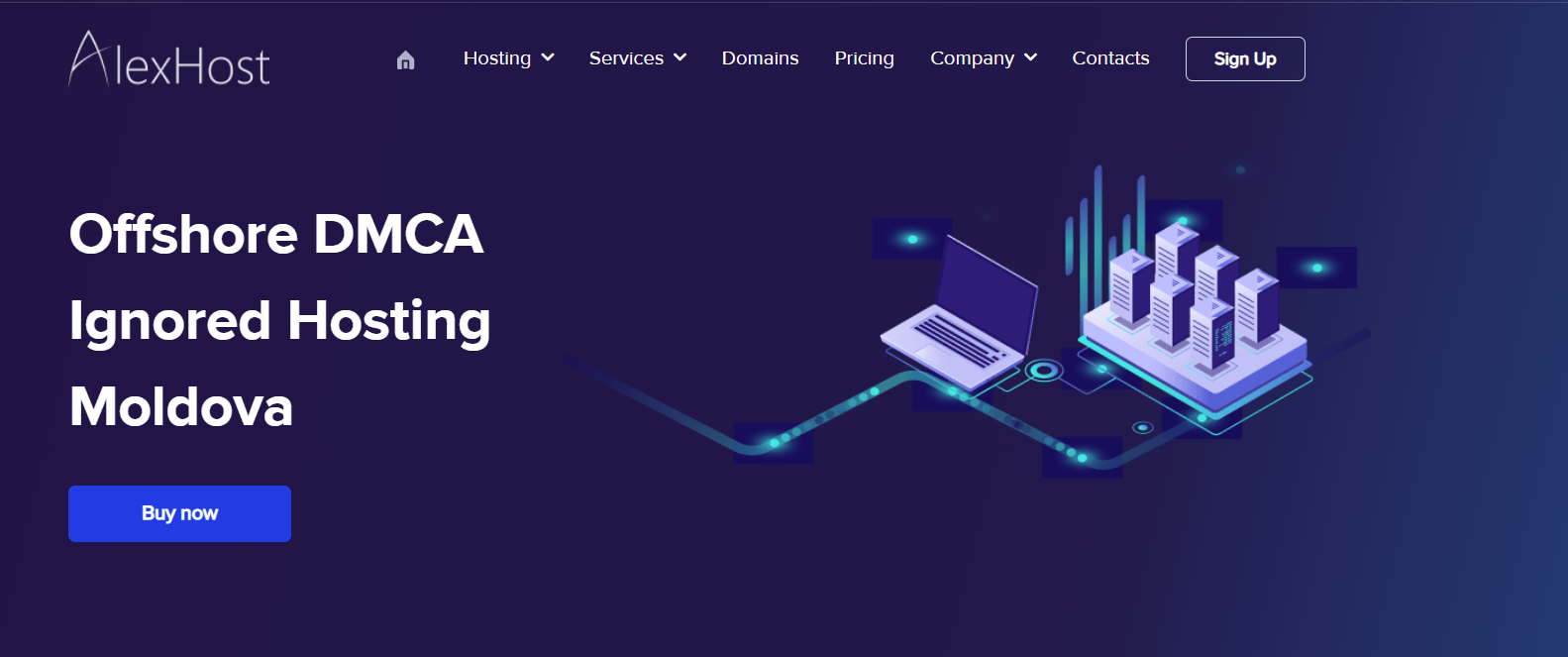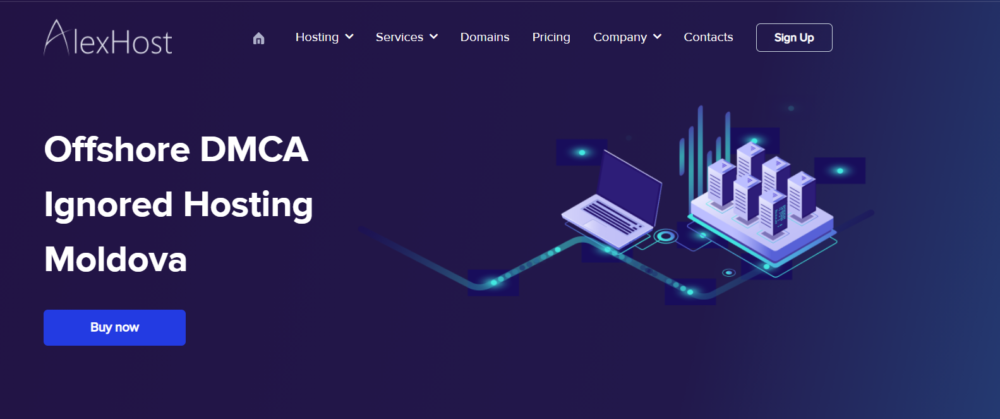 Alexhost provides DMCA Ignore with the following conditions:
Hosting outside of the native country.

Secure data from sharing with a third party. 

If you want to use your freedom of speech with your site.

Websites dealing with movies, gambling, etc
Alexhost strictly prohibits websites dealing with spam, fraud, phishing, and such illegal activities. If found anyhow, they will close and blacklist your labels forever.
These are all options you have with their services. Visit Alexhost to know more about services and offers.
Our next point to discuss here is their own data center.
Own Data Center
Alexhost's data center is their own in the Republic of Moldova (Chisinau). The place is basically a bomb shelter of a previous military plant at a depth of 5 meters from the ground.
This is kind of the ultimate setup for keeping your data with utmost security. Their technical team is available 24*7 for any queries or issues. So, feel free to contact them for any problem related to data or services.
Security:
Alexhost has ensured that your data and account function with the best security and are supported by professional tech support.
Alexhost also offers an opportunity to make some extra money with their affiliate program.
Affiliate Program
: 
Alexhost has offered an affiliate program for all those who want to make extra money. Sign up for free to check out their affiliate program.
You must promote their services on your network and earn rewards after conversion and sale.
Affiliates get 5% of the sale from each referred client.
To analyze properly and unbiased, I must know the pros and cons of the service provider.
Here I will be talking about some positive and negative pointers about Alexhost.
Pricing at Alexhost Review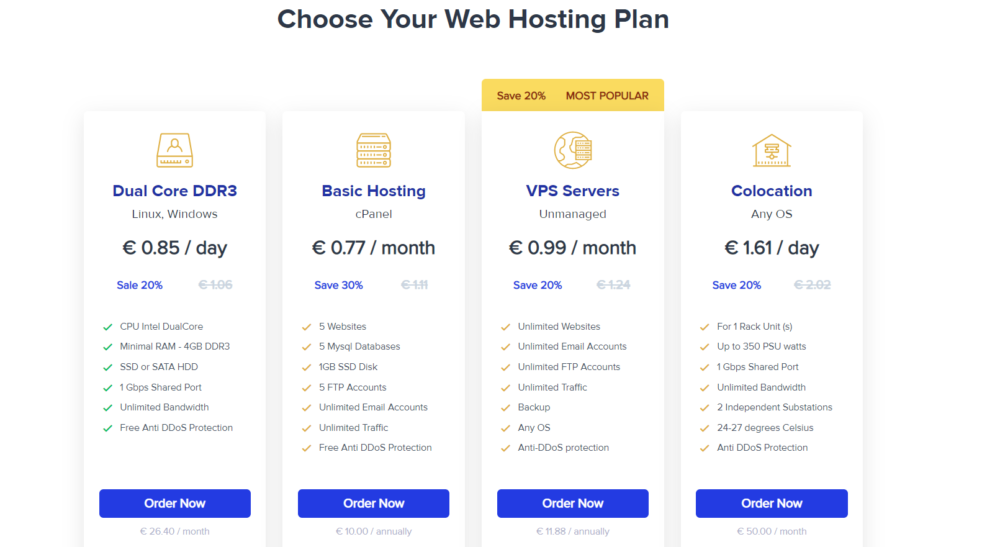 Hosting Services:
Shared Hosting

: It starts from 10 Euro Annually and is available in PROMO basic hosting, Advanced Hosting, and Expert Hosting packages.

VPS Hosting:

It starts at 11.88 Euro Annually.

Dedicated Serve

r: It starts from 39 Euro Monthly

Colocation:

 It starts from 50 Euro Monthly.
Domain Name:
Domain name registration starts from 16.50 Euro Annually and renewal from 25.30 Euro from the second year.
SSL Certification
GeoTrust Quick SSL is available for 71.98 euros (one year).
VPN Server
The client can start renting a VPN server for 3.33 Euro Monthly.
DMCA Ignore
You can start their DMCA Ignore Hosting with 5 Dollars Monthly.
For more packages, prices, and offers, visit Alexhost today.
Quick Links
FAQs | Alexhost Review 
🙌 Can you tell me the difference between shared hosting and dedicated server hosting?
Shared hosting is a server where several businesses share space. It is cheaper in comparison with a dedicated server. Dedicated server hosting is an exclusive server for one website. It is a bit expensive because you pay for one dedicated server, while shared hosting is cheaper because your cost is shared with another website.
👏 What billing options you offer?
You can monthly, half-yearly, or annually. Generally, different services have different packages. Please visit Alexhost and explore their services, packages, and billing cycle.
🤷‍♂️ Do you available 24*7 for the customer and technical support?
Alexhost has dedicated customer support, which is available around the clock for all your queries and resolution. Feel free to contact me for new service or any other queries.
🤷 Can I upgrade my account in the future if requires so?
Alexhost offers you this opportunity to upgrade your plan anytime. You can easily call their support team, and they will guide you through the process.
🙅‍♀️ Is there a money-back policy if customers don't like the service?
Alexhost is confident that you will not leave their service. To answer this, you have the option of 30 days money-back guarantee if you want to exit for some reason. This is all I have for this article. So, go through all the details and make an informative decision and sign up for Alexhost today for a safe and secure hosting experience.
💁‍♂️ Where are there servers placed?
heir servers are placed in Bucharest
Conclusion | Alexhost Review 2023 
With this, I have to end the article today.
I know searching for a safe and secure hosting provider could be frustrating when hundreds of service providers are trying to get your attention, especially in the digital world, where you see advertisements everywhere in terms of images, videos, etc. 
I hope this article helps you somehow to make a sound decision. You can read all reviews on the web about Alexhost and compare other available hosting service providers in the market.
After research, I believe you will understand why Alexhost is the best hosting service provider for all businesses.
Still, want more information?
Refer following Frequently Asked Questions regarding hosting service providers to understand your needs.