Today we will talk about Cloudways Review 2023 its Pros & Cons and Why I Like it ( Top 5 Reasons)
CloudWays is one of the most significant web hosting providers in the industry. With the number of hosting providers piling up, it is always essential to choose the one which is affordable and provides useful features. When it comes to hosting a WordPress site, no one does it better than Cloudways.
Thus, Cloudways is a one-stop solution for WordPress hosting. I have given detailed information below about the best host for your WordPress site.
About Cloudways
Founded in 2011 in Malta, Europe, Cloudways has evolved drastically in 9 years. Started by four guys; Pere Hospital, Umair Gadit, Uzair Gadit and Aaqib Gadit, this company currently has 50+ employees.
They are providing their services in almost 43 countries with 25,000+ website hosting. The most distinctive feature of this web host is its managed cloud WordPress hosting.
Get the best discounts on Cloudways hosting with the Cloudways promo codes.
Why Choose Cloudways for WordPress Hosting?
Well, like it or not, the Cloud is complex. Doing it right on your own can easily become doing it wrong. This is why I like Cloudways.
Because of its one-in-all reasonable package, user-friendly (Just a Click Away) interface, quick response time, and much more, I will recommend you to try it out because I am sure you'll love it.
Cloudways Coupon Promo Code November 2023
Simply add promo code "CWBlOGIDEA" when you sign-up with Cloudways and 10$ credit will be applied automatically. You can also start with 30 days free trial of Cloud hosting with Cloudways and your discount will be applied automatically when you upgrade to higher plans.
Promo code: CWBlOGIDEA Offer: $10 free hosting credit.
Here's what I found:
Charles Floate's blog instantly loaded 1.1 seconds faster after moving to Cloudways
CRO expert Kurt Philip also got an insane speed increase for his affiliate website after migrating to Cloudways
I also asked for opinions about Cloudways  in the WordPress Hosting Facebook group and check out what people have said:
WordPress Hosting features of Cloudways
So what makes Cloudways different from other cloud hosting platforms? Here is a list of reasons why one should choose Cloudways as their Web Hosting Platform.
Solid Infrastructure
Infrastructure identifies what cloud services are offered to its customers. It has the best cloud providers in the world right now and they are none other than Google Compute Engine (GCE), Digital Ocean, Vultr, and Amazon Web Service (AWS).
Unique Hosting Stack
Cloudways is different from all other hosting platforms because of its unique VMAN technology. Combining Nginx, Apache, Memcached and Varnish it creates a powerfully configured server environment for hosting WordPress websites.
Safe Managed Security
Potential threats have increased. They are becoming more and more hostile with each passing day. At Cloudways, its team of experts offers managed security to individuals through platform-level firewalls.
This makes server data as safe and secure as possible. Moreover, Cloudways regularly patches OS and firmware with the latest security fixes.
Simple & Easy Setup
It takes only a few steps to launch a cloud server through Cloudways. Click your way to launching your very own WordPress website through your desired Cloud provider.
To launch your WordPress website on Cloudways, you have to select your desired Cloud provider, desired Application (WordPress, WooCommerce, or WordPress Multisite), pick your server resources, and select your hosting location.
Once you are done with setting attributes, hit "Launch". There you go! As easy as catching a fish in a barrel.
Feature-Rich Console
Cloudways WordPress Hosting Platform comes with a feature-rich console that allows customers to manage their servers and applications easily. Every feature is a single-click solution. This means you do not have to be an expert to run cloud servers when your web apps are hosting on Cloudways.
How does Cloudways work?
Once you have launched a server on Cloudways, you will be directed to a page with a server window containing buttons such as Start, Stop, Delete, Add App, and Clone.
Located at the bottom of the window is a "Manage Server" button that will lead you directly to the administration screen.
Compared to various other web hosting platforms, Cloudways offers you managed cloud hosting which means you can get a wide range of options to play around with.
The Console on Cloudways contains a server management tab and an application management tab. What surprises do they hold for you? Let's discuss them a bit.
Server Management Tab
Making cloud server administration easier for you, the Server Management tab at Cloudways provides you a number of features.
The Summary section lets you overview general information about your launched servers, their current status, and their interrelated resources. The master Credentials section displays the SSH access details of your server.
The Monitoring section displays graph-based details about different performance aspects of your server. This way you stay updated on all things server-related.
Vertical Scaling allows users to scale resources (like RAM, storage size, etc.) for your server depending on your website functionalities and traffic.
The Managed Services section lets you manage stack functionalities for running applications on your server. The server Settings and Packages section helps you change your server settings whenever such changes are necessary.
The Security section allows you to check whether your IP is blocked for SFTP/SSH Access and further helps you whitelist your blocked IPs for SFTP/SSH Access.
The Backups section enables you to create backups of your server data at anytime you want. Furthermore, Cloudways comes with automated and managed backups. Therefore, you don't have to worry about losing any of your information at any instance. It's all safe and secure on an offsite cloud.
A Server Addons section provides you add-ons that can be easily configured on your server. During your trial, you will see two email-based add-ons during your trial: SMTP and Elastic Email.
Application Management Tab
Similar to the Server Management tab, you have an Application Management tab as well. It allows users to set attributes related to your web app. It starts with an Access Detail section containing admin area login, database username and password, DB Access, and SFTP information.
A Domain Management section provides a control panel for domain name administration. Through this tool, you can quickly point a domain to your WordPress site. A Cron Job Management section enables users to set and manage cron jobs at scheduled times.
An SSL Certificate section lets users deploy SSL protection on web apps. Furthermore, Cloudways is one of the few hosting mediums that allows multiple SSL-protected websites on the same server. A Restore section allows you to revert back to older copies of your web apps.
If you would like to buy an SSL Certificate at a great price, click here to check out our article on the best GoDaddy SSL Discount codes.
A Deployment Via Git section for deploying projects to your website through your Git repository.
An Application Addons section offering addons for your WordPress application, like "Application Migration" for moving your WordPress website, "Application Update" for updating WordPress version, and "Application Load Test".
For checking how much traffic your WordPress website can handle. Finally, there is a Migrator Tool that lets you migrate your WordPress website automatically to Cloudways WordPress Hosting Platform.
Promo code: CWBlOGIDEA Offer: $10 free hosting credit.
Pricing at Cloudways Review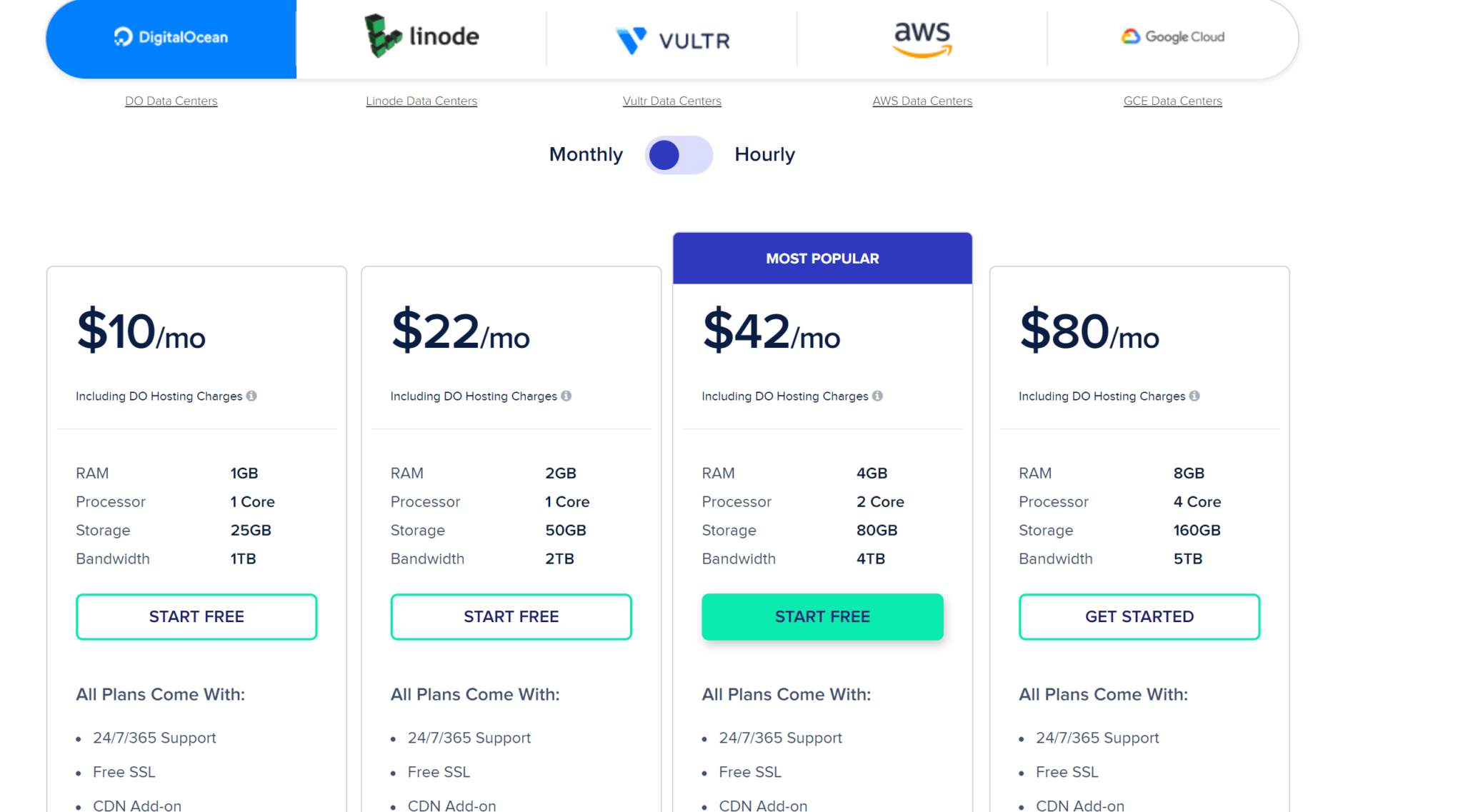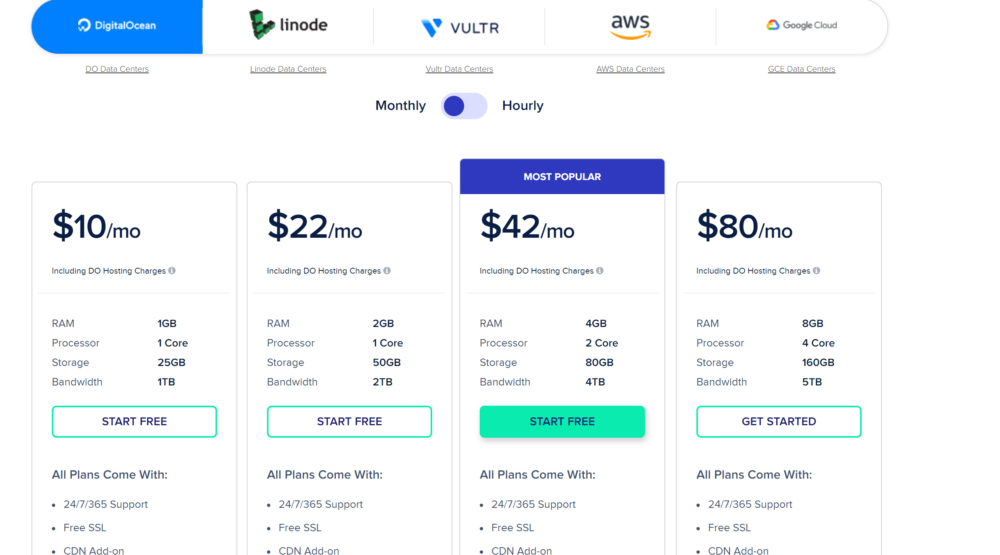 Depending on the selection of cloud server, location, bandwidth, and storage, Cloudways follows a single package payment method. The most economical and reasonable cloud service is Vultr where the pricing plans are as low as $14/month.
DigitalOcean, Amazon, and Google infrastructure options are available as well, however, their costs vary depending on your server requirements.
How to Install WordPress On Your Cloudways
Cloudways offers its customer the managed WordPress hosting. Launching a WordPress site on your Cloudways is a breeze. You just need to have the Cloudways account before installing WordPress.
Once you have logged in, click on the Applications tab to proceed further. On the application & server page, you can choose your WordPress Application; WordPress Version 4.9.5, WordPress with WooCommerce, MultiSite Version, or No cloudways version 4.9.5.
Choosing a Cloud Platform
After entering the information such as the name of the app and the name of the project, you need to choose your cloud. Each of the following clouds is available for a 3-day free trial. You can choose any of the available clouds.
DigitalOcean
Linode
VULTR
AWS
Google Cloud Platform
Kyup
Choose Server Memory and server location
After choosing the cloud platform, you can select the Server size by scaling your server size. In some of the cloud hosts such as AWS or Google Cloud Platform, you can choose the server size, RAM, Bandwidth, and storage.
You can also choose the server location according to your target audience. The server locations can be chosen by clicking the dropdown button.
Out of the 6 managed cloud hosting, different cloud platforms have different numbers of data centers spread around the world; 8 DigitalOcean, 4 Kyup, 15 Vultr, 8 Linode, 14 AWS. Flexible Enough!
Setting up a server may take around 5 minutes. After the server has been set up, you get full access to your server dashboard to manage it.
You can safely hover over any of the given options and manage your server.
Master Credentials
Monitoring
Security
Manage Services
Vertical Scaling
Backups
SMTP
On the top of the screen, you can see your server's information such as the disk space, IP address, and server name. In the right-hand corner of this ribbon, you can view the number of users working on this server or the number of WordPress sites installed on this server.
After the server has been set up and managed, your next step is to manage your application and it covers a number of operations that need to be carried out to install the application.
Access Details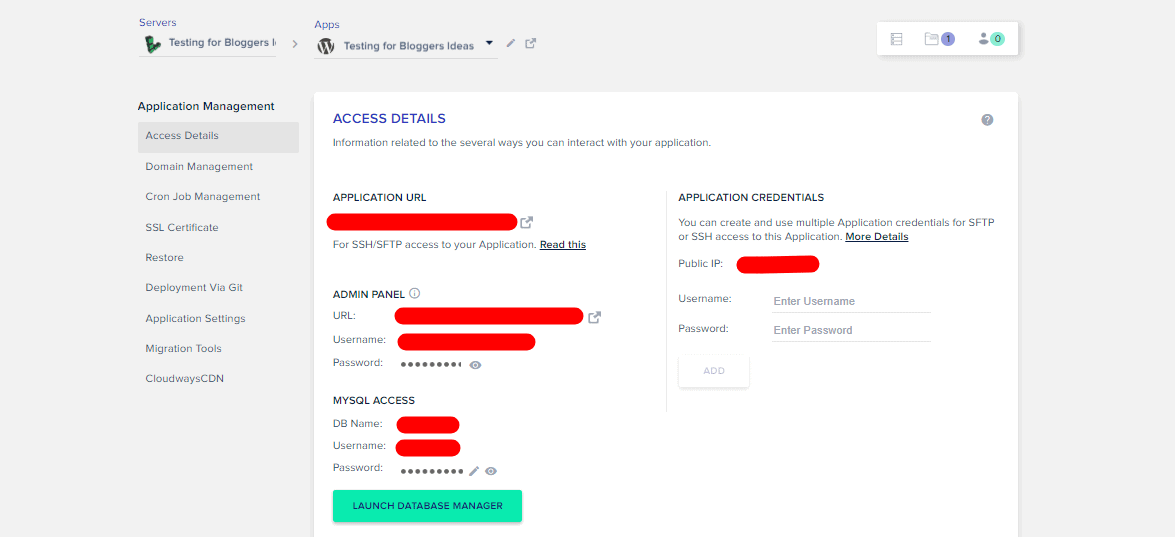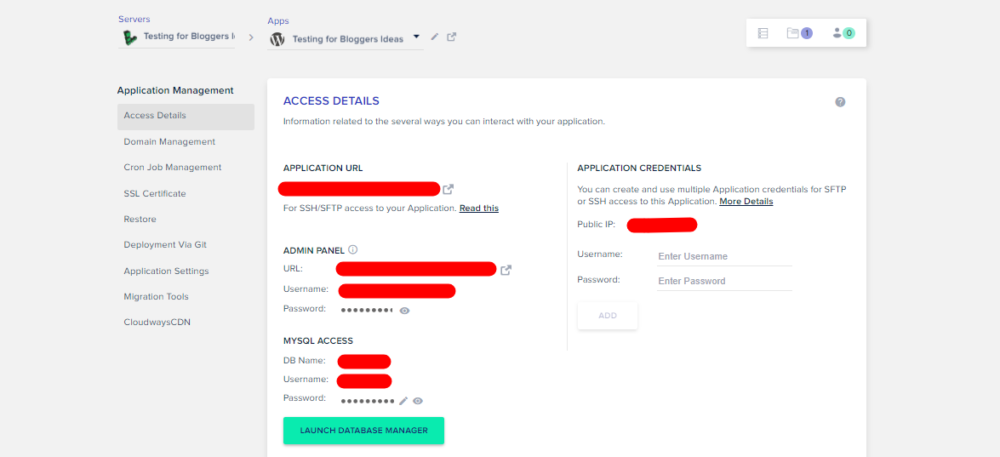 It contains information about your application. It gives you access to all the credentials of your blog such as Application URL, Admin Panel, MYSQL access, and SSH and FTP access.
Click on Launch Database Manager to manage your application.
Domain Management
If you already own a domain and wish to direct your domain to a Cloudways WordPress site, you can click on the domain management tab to proceed. Enter your website's URL in the primary domain name and click on 'Save Changes'.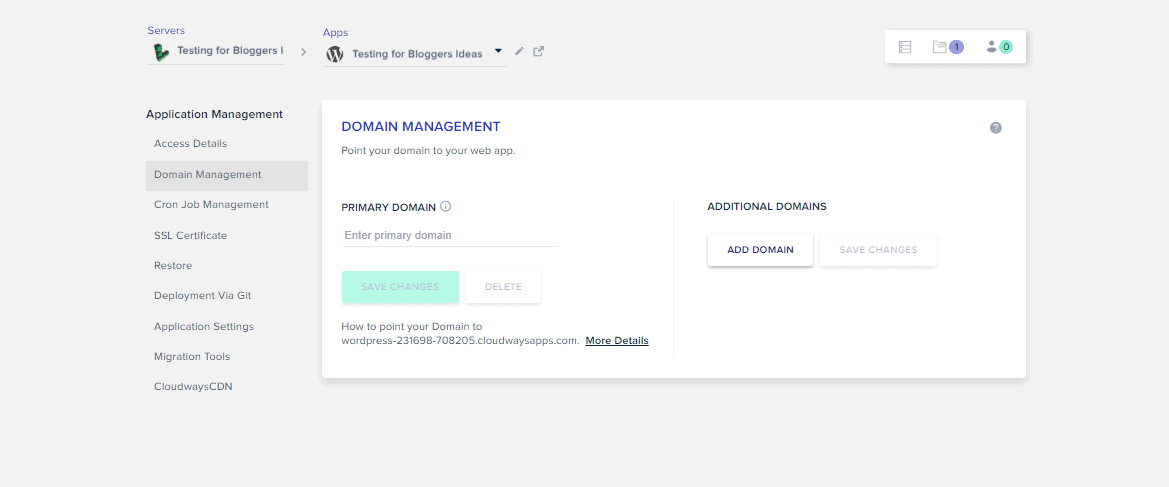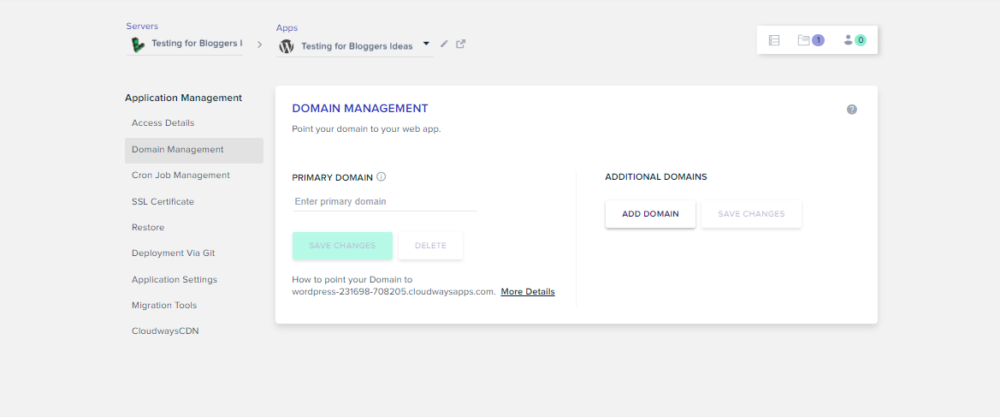 In case you have a multisite, you can add more domains to point out your site.
Cron Job Management
You can add certain tasks or schedule your tasks by using the cron job management tab. You can choose the basic or advanced settings for your cron job.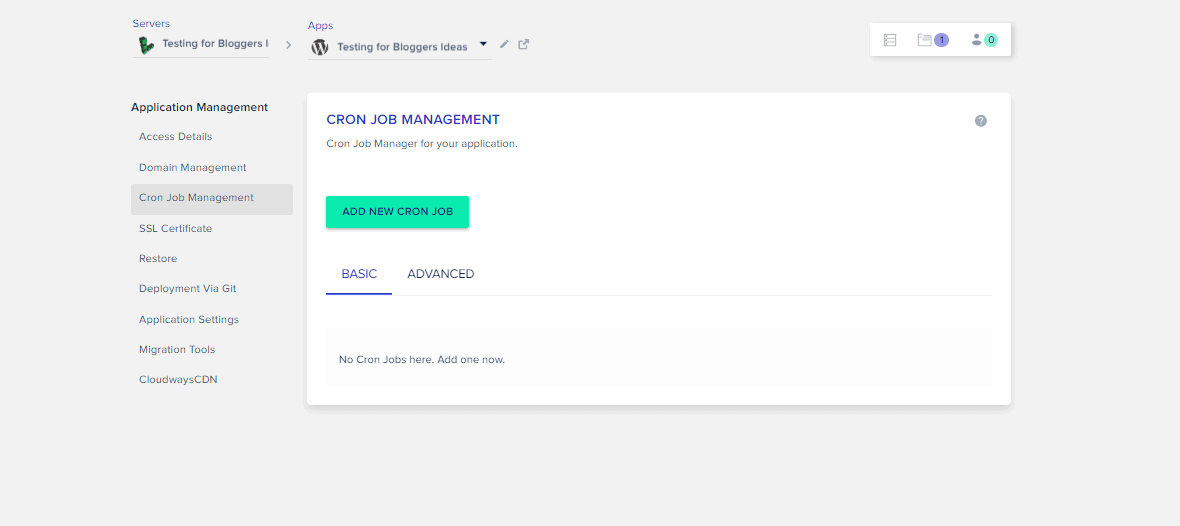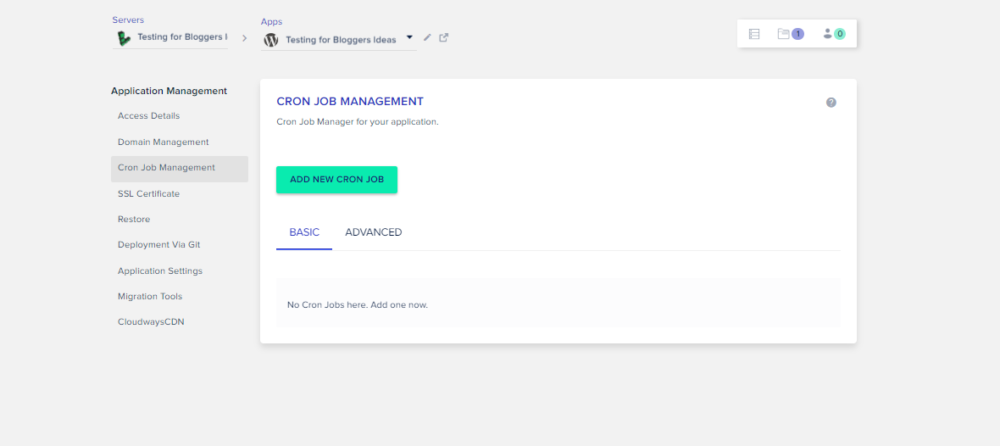 Fill out the information required in the box to proceed.
SSL Certificates
Your website needs a security certificate and encryption to win trust from its users and Google. Cloudways WordPress hosting has a free SSL certificate. All you need is to enter the domain name and the email address. Click on 'Install certificate' and your site is secured.
If you own a multisite, you can and another domain and get the SSL certificate. Moreover, you can also create a custom certificate and manage your application's SSL Certificate with ease.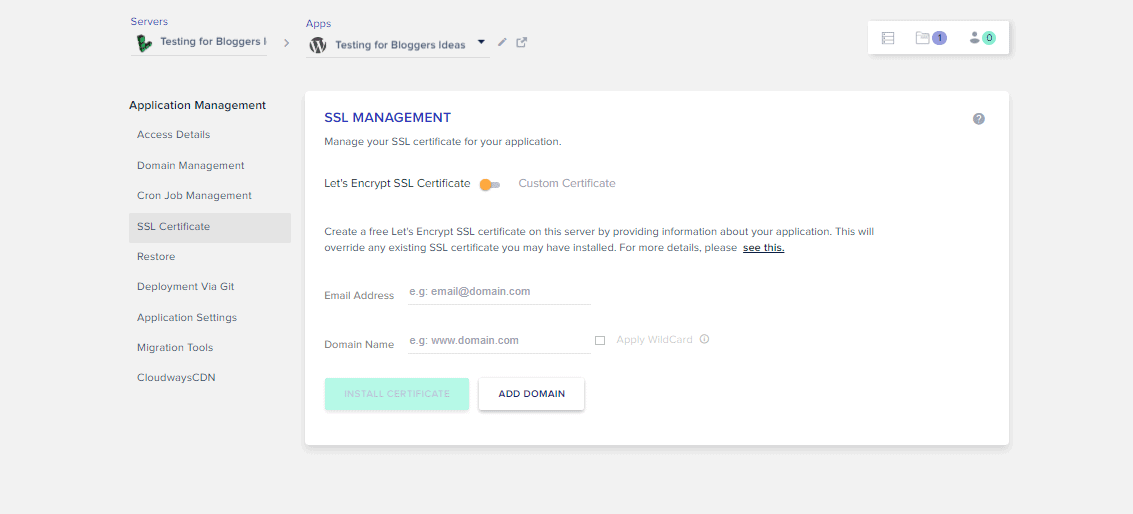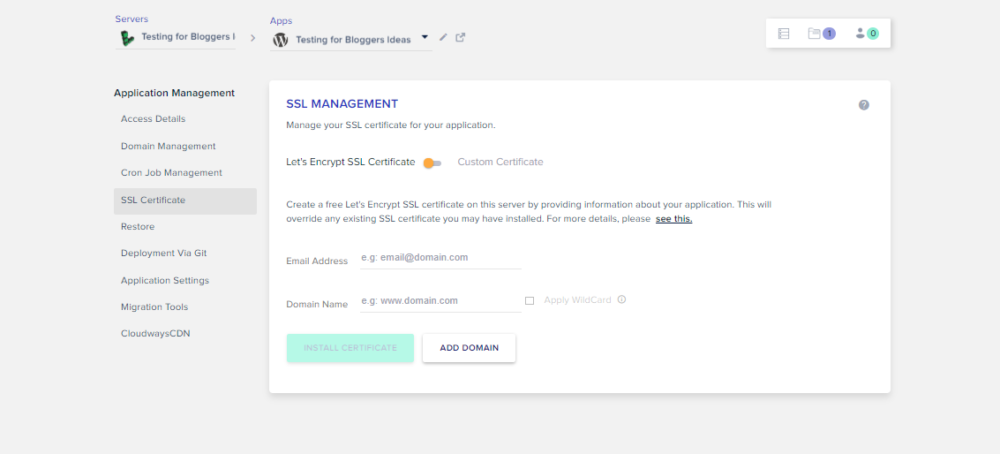 Restore
Restore anything such as the file or databases from your WordPress site if you lose access at some point. With just one click, you can restore everything without hassle.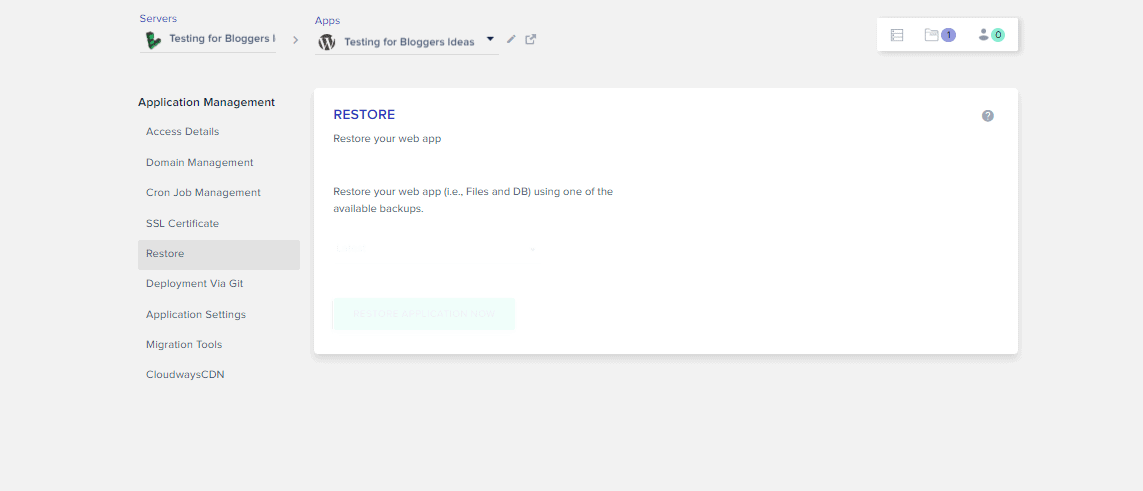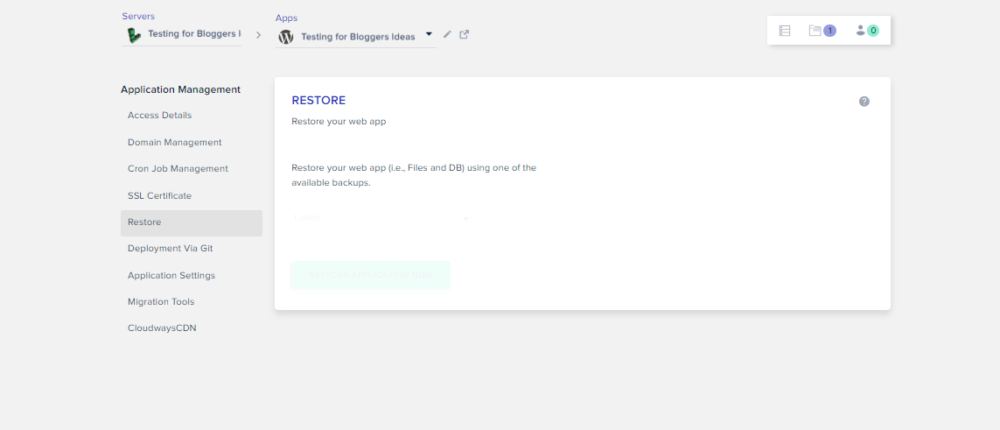 Promo code: CWBLOGIDEA Offer: $20 free hosting credit.
Deployment via Git
You can easily deploy a code to give access to the Git repository. Once you have generated the SSH key and code, you can enter the repository address and click Authenticate.
Once you have authenticated, you get access to the deployment and make changes or give access to anyone to make changes to your site.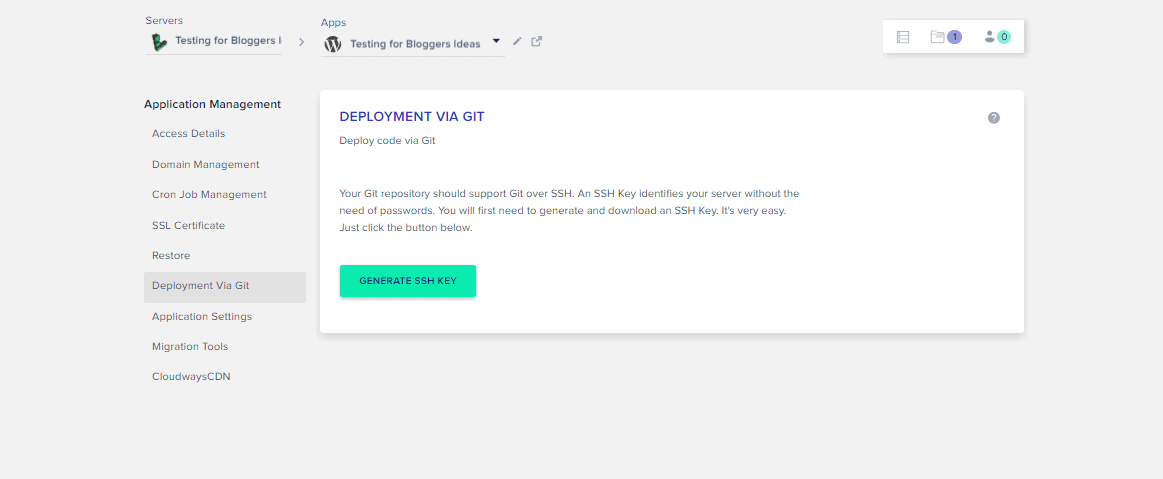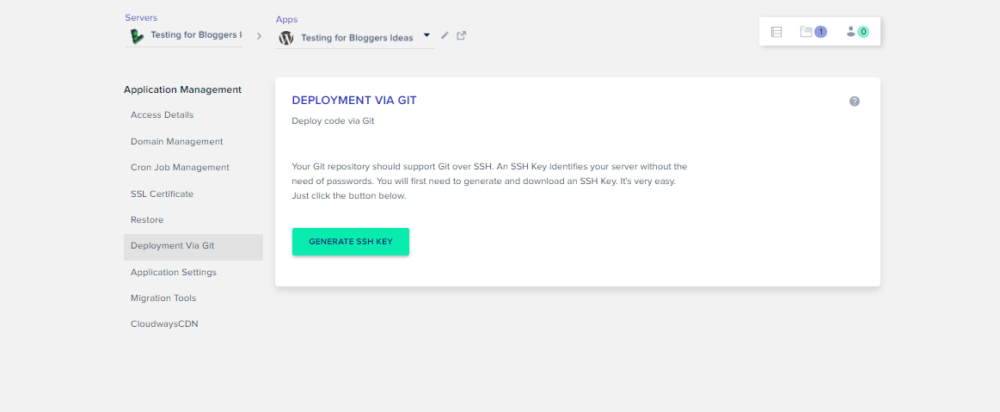 Application Settings
You can manage your application and increase or decrease visibility and allow/disallow permissions. It has three sub-divisions.
General tab; access permission such as SSH access or application access and webroot directory.
PHP settings; configure your site's PHP.
Varnish settings; add rules to cache your WordPress site.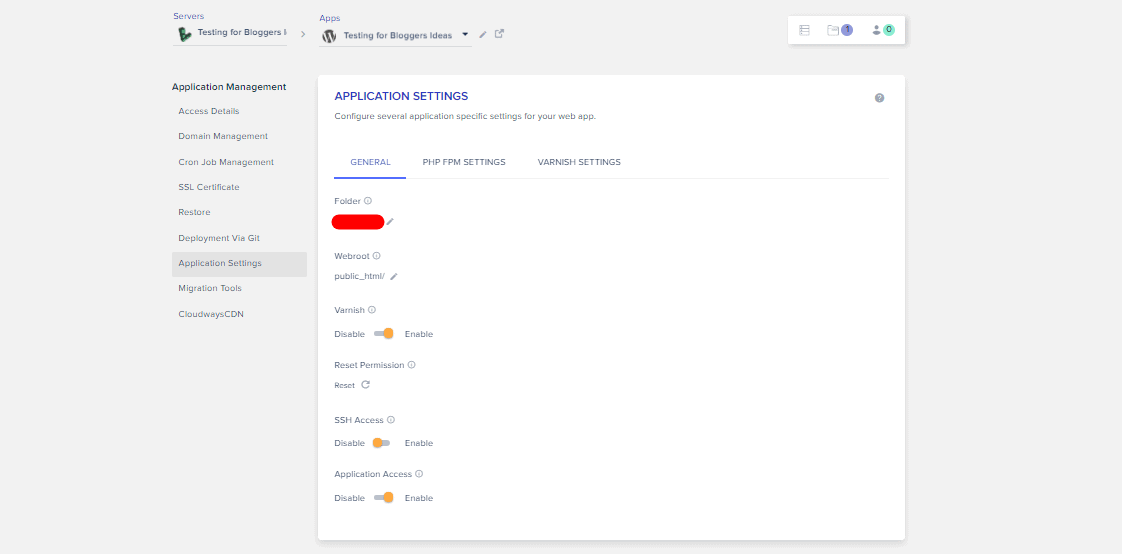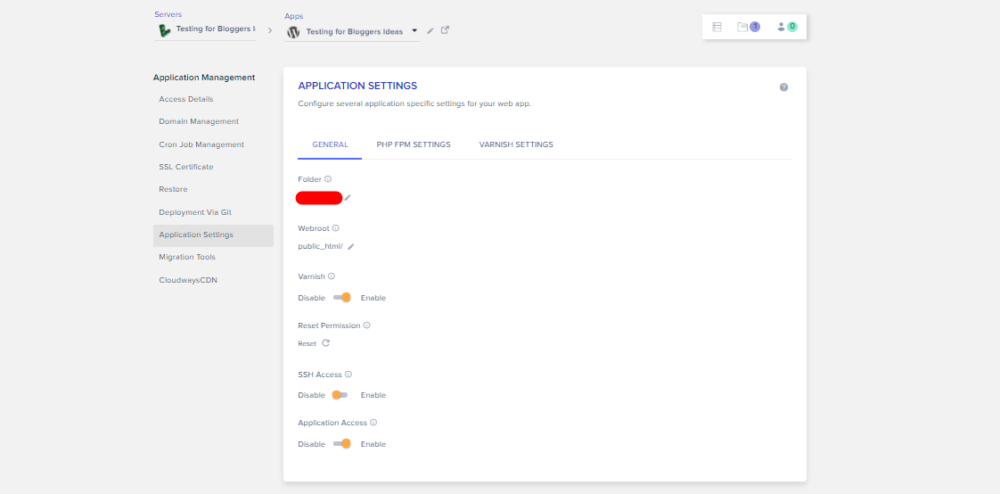 Migration
You can easily migrate your site from any other host to reliable Cloudways with just one click. It uses the migratory plugin for migration.  It uses the plugin blog vault for this purpose. You can download the plugin zip file or find it in the WordPress directory too.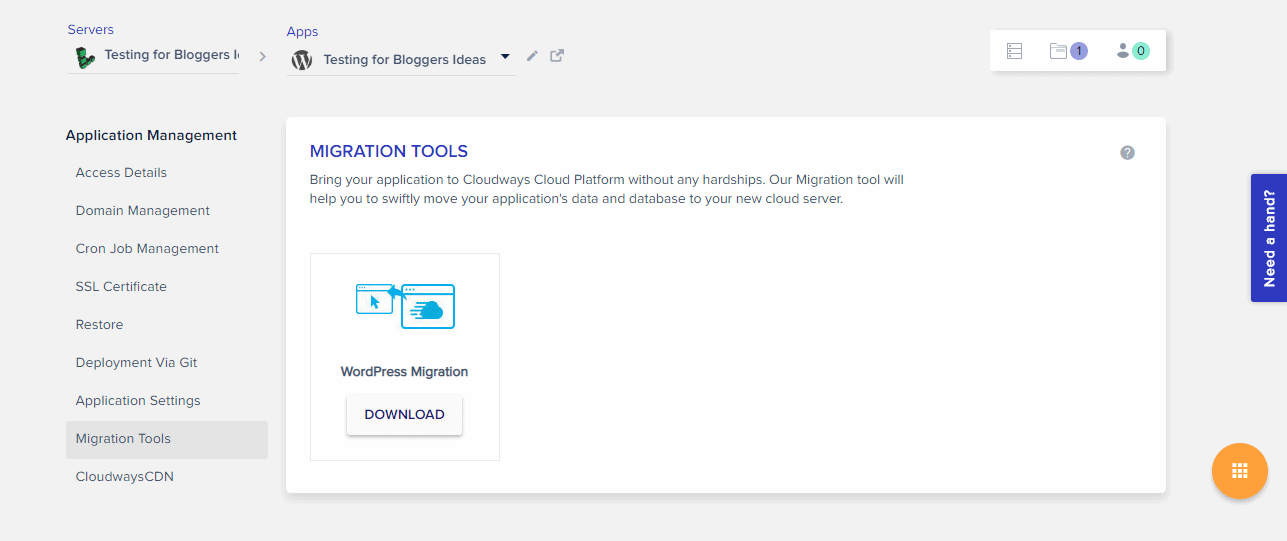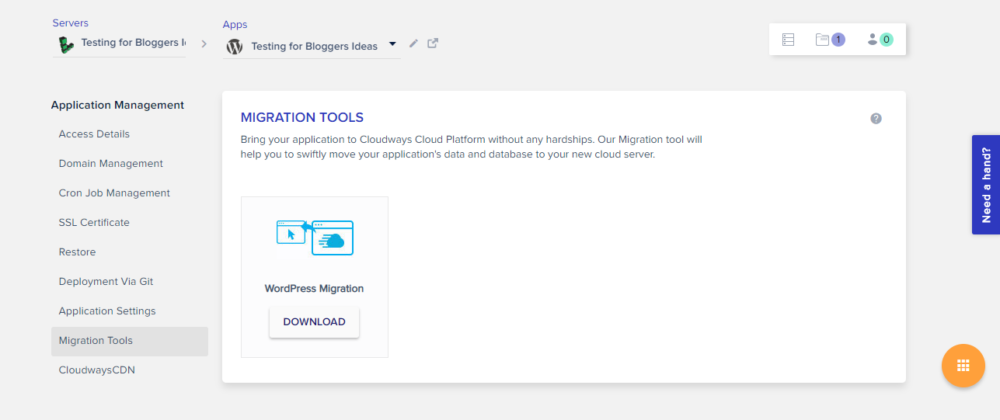 CloudWays CDN
Cloudways WordPress hosting gives your site a boost and speeds up your website's performance. Enter your website's URL and enter. CDN integrates with Cloudways with Stackpath.
Once you have entered the URL, you don't need to worry about paying at different places.  Get your bill added to your final invoice. CDN integration is not available with your free account. It costs you $1 for 25 GB per application.
Read in detail about Cloudways CDN here.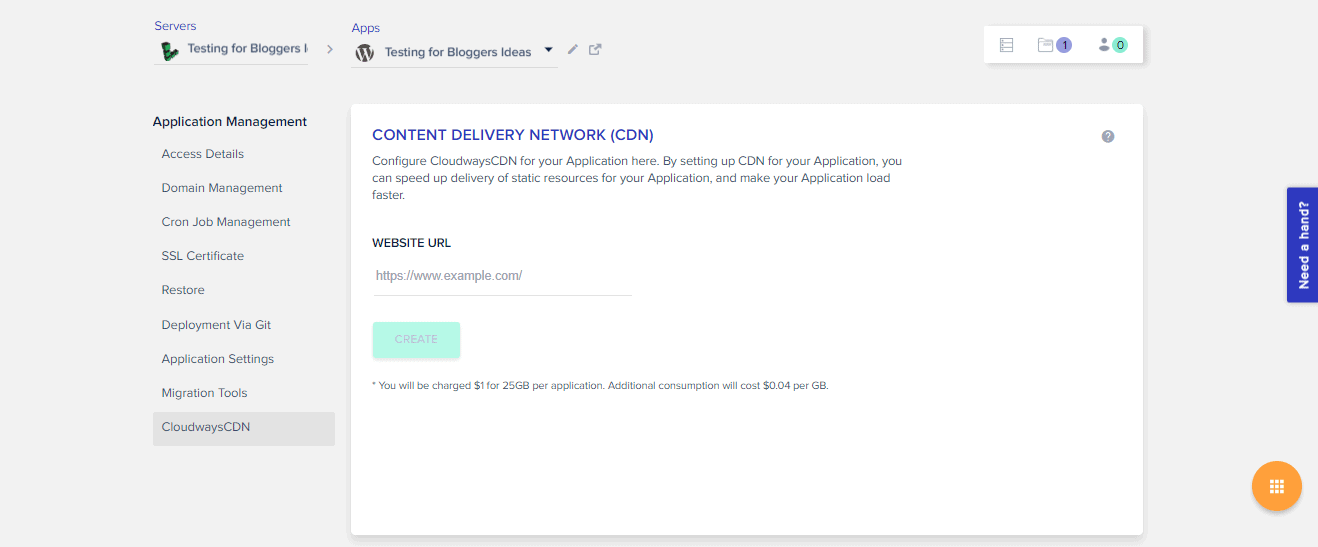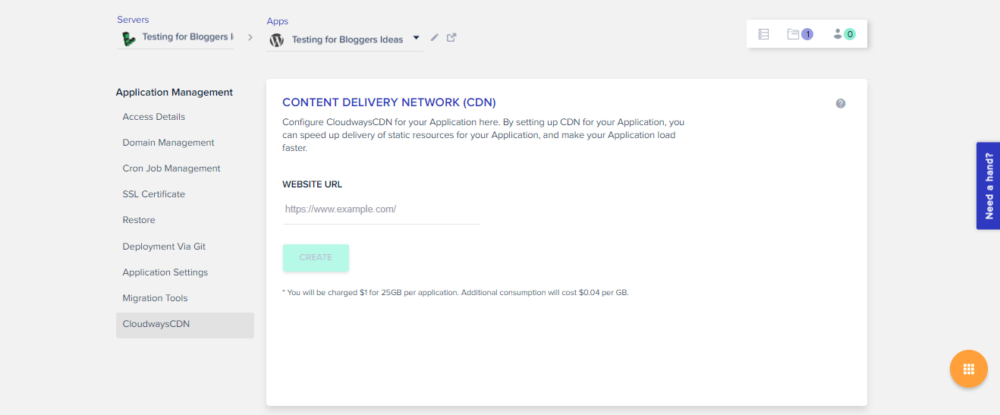 How does it Perform Cloning?
A lot of tedious tasks can be made handy by using this host. It makes your WordPress site cloning looks easy. You can clone your website from one of your local servers to the Cloudways server as it offers better hosting and faster speeds.
This web host lets you increase your server size anytime by vertical scaling. With its WordPress cloning feature, you can replicate your whole website without missing any files or without any errors. It does not replicate any site directly.
Before creating a live site, it creates the staging environment for that website. A staging site is a complete copy of your site which is created to test for any errors before appearing live.
After the errors are fixed, you can deploy them on your live site. Further, you can add or install any themes or plugins to your staging site and check it on your live site.
You can also clone your web applications on any other server. Its cloning feature lets you clone, share, or transfer servers to another account.
Migrating your WordPress Site
Migrating to a WordPress site has never been easy for non-techies. Be it the migration of the content or migration of your shared hosting to VPS or cloud hosting, this web host gives it all at an affordable price.
This is done using the duplicator plugin. What's more exciting about this plugin is that it is given away for free for the first month. You can test it for a month and can switch it if it doesn't fit into your shoes.
Cloudways Plugins
You would verily need some plugins to modify your WordPress site or add various customizations to it. Well, you can get all the plugins that give your website a go. Some of them are:
This caching plugin lets you convert your pages containing dynamic content into static files. You can convert any kind of file; HTML, JavaScript, CSS into a static file.
It speeds up your site reducing the page load time. You can exclude the pages that you don't want to convert into a static file.
Tired of deleting spammy or abusive comments? Use this plugin to delete spam comments. With each visitor commenting on your blog, Akismet checks each comment before posting it and automatically removes the one which is spam.
It is one of the most reliable WordPress plugins to rank your page or site. You can analyze any page to rank it up higher in the search engine ranking. You can get scads of features using this plugin tool:
Meta & link elements

RSS elements

Breadcrumbs

XML sitemaps

Language selector

Super Socializer
More than 90% of internet users are active on social media. Social interaction becomes of utter importance when you own a blog, a website, a business, or a small shop and want to promote it on a larger scale.
This is where Super Socializer works. With this plugin, you can get visitors to your site by logging in to their social profiles. Moreover, you can share your blog on any social platform.
It comes up with highly customizable social media icons. It is compatible with other platforms such as WooCommerce, BuddyPress, Multisite, bbPress.
Cloudways Review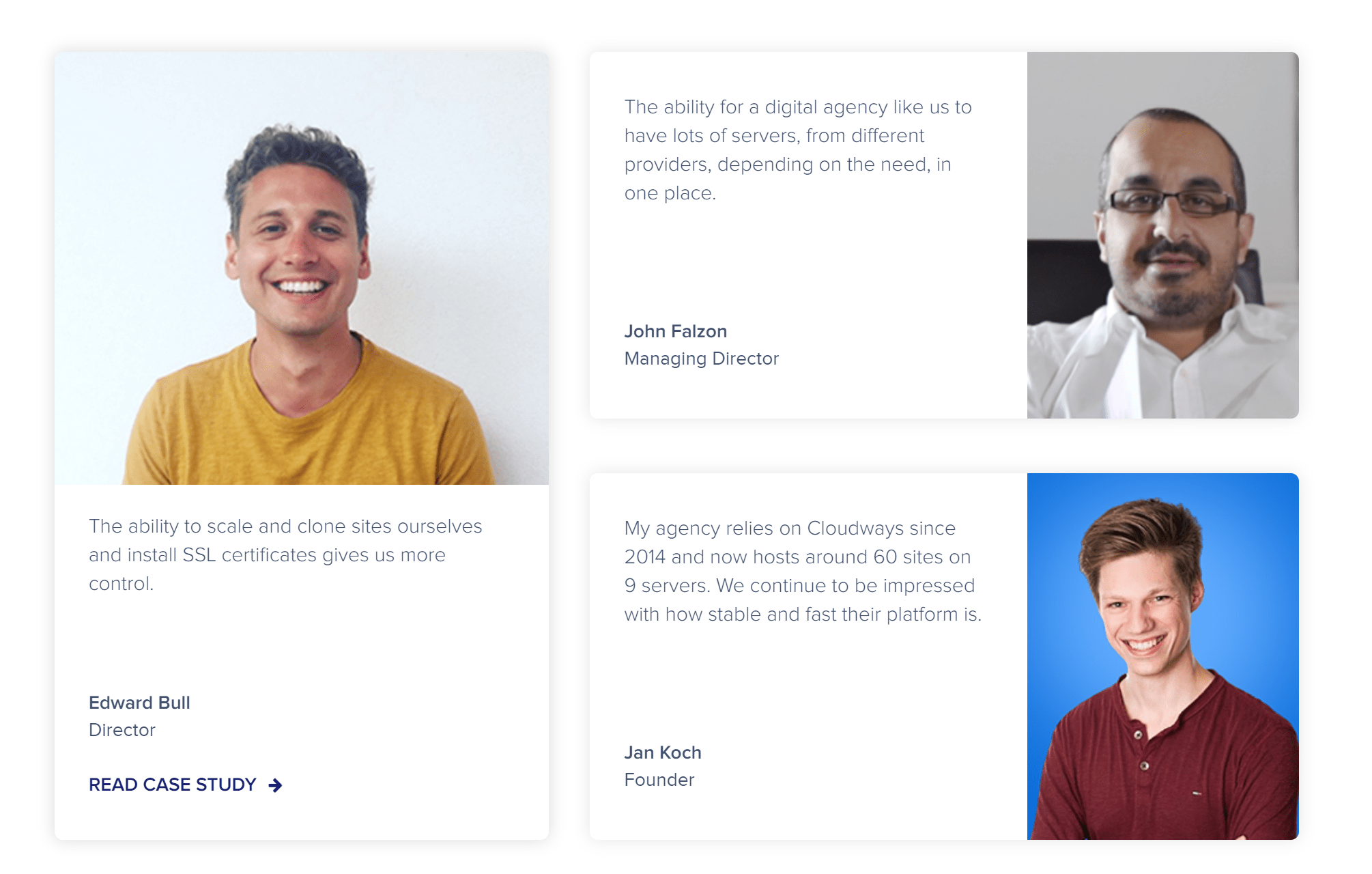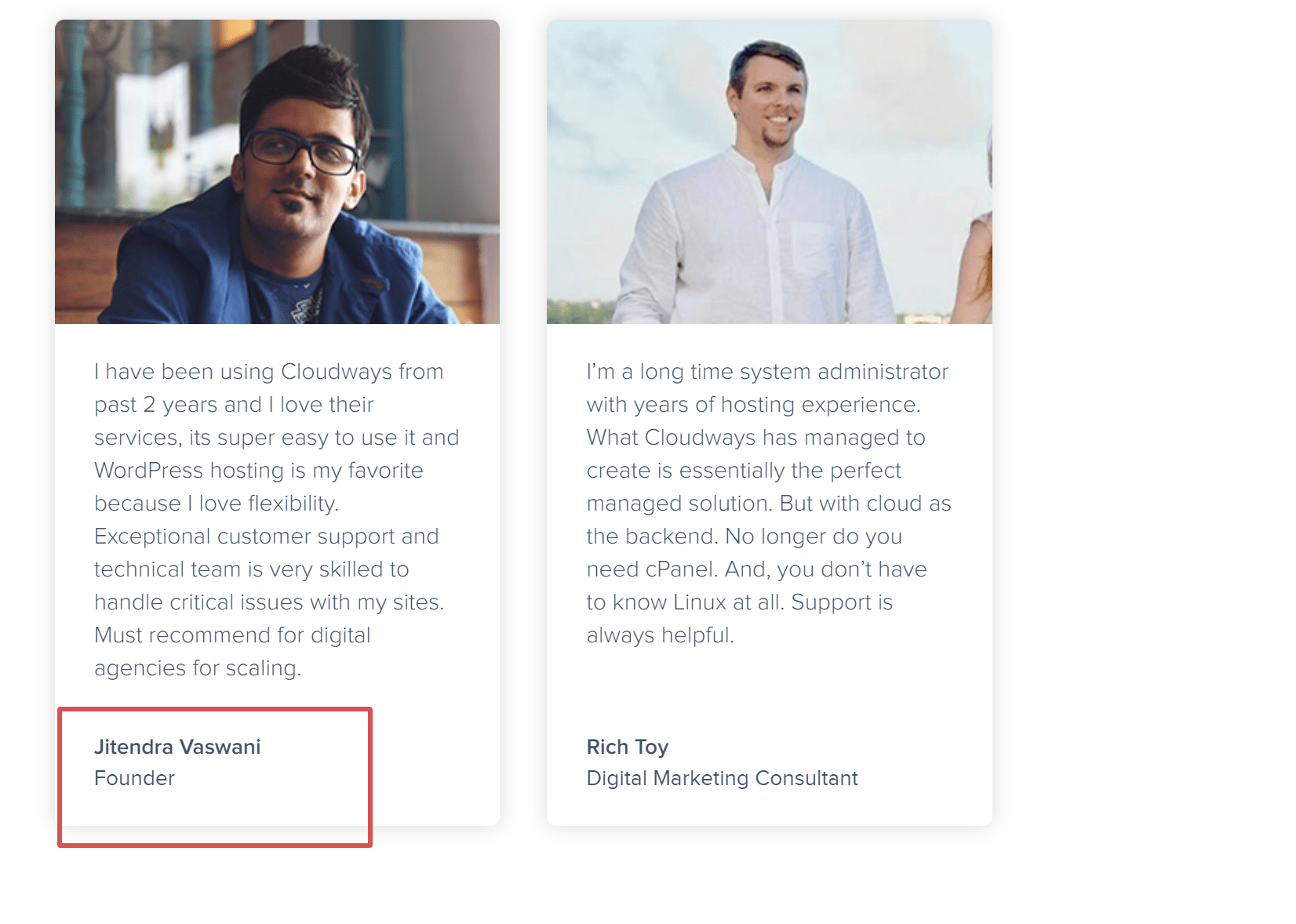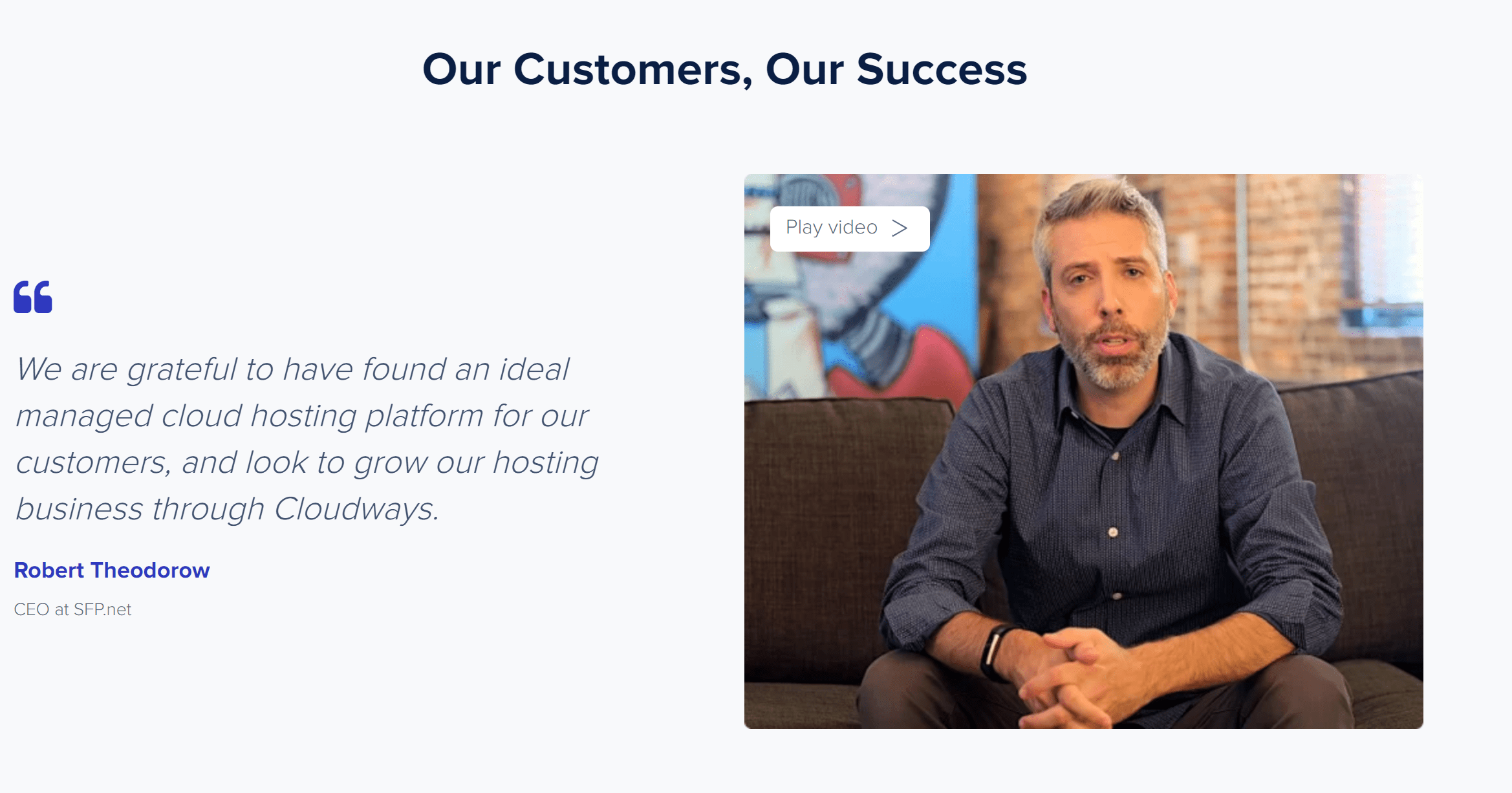 Performance
This web hosting provider has one of the fastest servers in the world offering cloud hosting. The reason for the faster servers and drivers is ThunderStack which includes a number of features in its interface such as the Vanish, Apache, nGinx, Redis.
Few others include fast servers, databases, or caches.
Along with its lightning speed, you can get certain features such as the 1-click installer or 1-click backup and restore. Moreover, the servers in this web host are all based on different IP addresses and designed with different assets. You have full access to the web applications.
Security
This web host provides you a sleek security system. It guarantees protection against hackers by IP whitelisting. Further, you can settle any issues related to your site or security by using Two-factor authentication.
You can safeguard your site against malware or threat using the Click and Go safeguard which is a firewall for blocking the malware. You can backup your data anytime automatically. Just set the frequency of the backup and you will have your job done.
Support
With the experts and cloud engineers in the assistance 24/7, this web host certainly gives the other competitors the run for the money in terms of features as well as the support. The dynamic customer support would resolve all your issues with the breeze. It also offers a ticketing support system for all the specific issues.
A unique CloudBot has been assisted for the customer's convenience for any queries. If still the issue persists, you can have a live chat or phone or even email support.
With premium support at some additional cost, you can get certain additive support such as the private Slack channel or email support, or private customization.
Why Cloudways is better than other WordPress Hosting?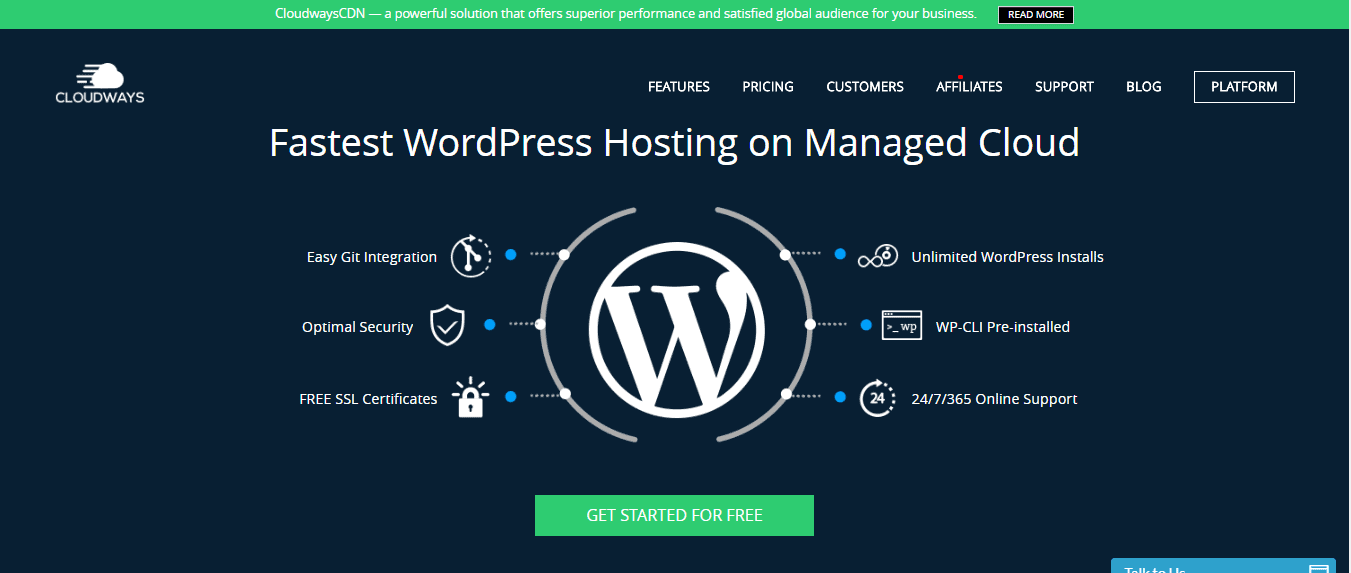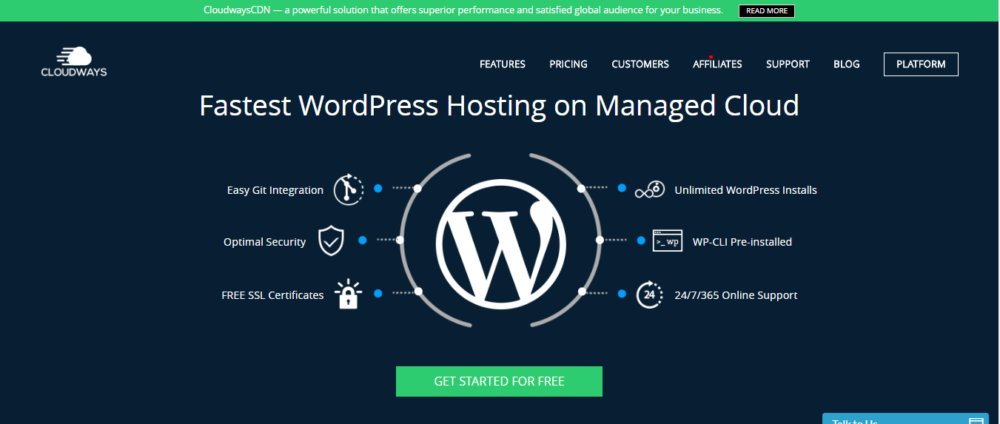 What separates it from the other web hosts is its sheer performance, management, and functionality. It gives the best cloud hosting for WordPress. With just one click, you can host your WordPress site on the cloud servers.
They have got an incredible managed server site security. You can use your website without the fear of any security breach. The multi-layered security system makes it more reliable among users. Moreover, you can get regular updates of your server which makes it a top-notch web host.
The fastest cloud hosting servers and are also the most reliable among its users. This is attributed to its Thunderstack which is a stack of a number of servers including (Nginx, Varnish cache, Apache, Redis, PHP-FPM), out of which some are fast servers, some of them being the databases or even the cache. Thus, the group of these makes it faster among its competitors.
With just 1 click, you can install the WordPress and clone or backup or restore everything with just a single click. You can manage the number of WP sites and eCommerce websites using this web host.
Pros and Cons
Quick Links 
FAQs | Cloudways Review 
🙌 Is Cloudways worth?
Yes, we do believe that Cloudways is worth it.
🤷‍♀️Does Cloudways have cPanel?
Cloudways does not use cPanel for its dashboard but has its unique interface for cloud hosting features as it is a managed cloud hosting service.
👋How long is Cloudways free trial?
Cloudways offer 3 days free trial. All other plans are pay-as-you-go.
👉How does Cloudways work?
Cloudways delivers fully managed hosting and promises no more slow loading WordPress sites and no more WordPress hosting headaches. Their platform-as-a-service cloud servers come with a fantastic feature set, and you can scale hosting resources as your website grows.
👍How long customer support is available?
The support engineers are available round the clock to help you. You can reach out to them through a live chat and e-ticketing system at any time.
🙋‍♂️Do Cloudways offer dedicated servers ?
On our platform, we currently support server launching over Amazon, Google Compute Engine, DigitalOcean, Vultr, and Kyup. Each server you deploy comes with a dedicated cloud environment and a dedicated IP.
Conclusion | Cloudways Review 2023
Taking web hosting service to a whole new level, Cloudways provides your website the optimization it requires. Offering multiple features and effective migration, it is one of the most secure managed-to-host platforms for your WordPress website.
I would like to add that the technical support team at Cloudways is pretty reassuring while providing quick response time.
I must say from my Cloudways Review, that it is the most commendable solution for WordPress hosting. Do give it a try.
Promo code: CWBLOGIDEA Offer: $20 free hosting credit.