This time, I'm going to introduce a great tool called FlexClip Review. With it, I have been able to do a quality job, personalized and adapted to the needs of my clients and I have saved in several things: Support videos, music, and graphics, but above all in TIME.
What is Flexclip?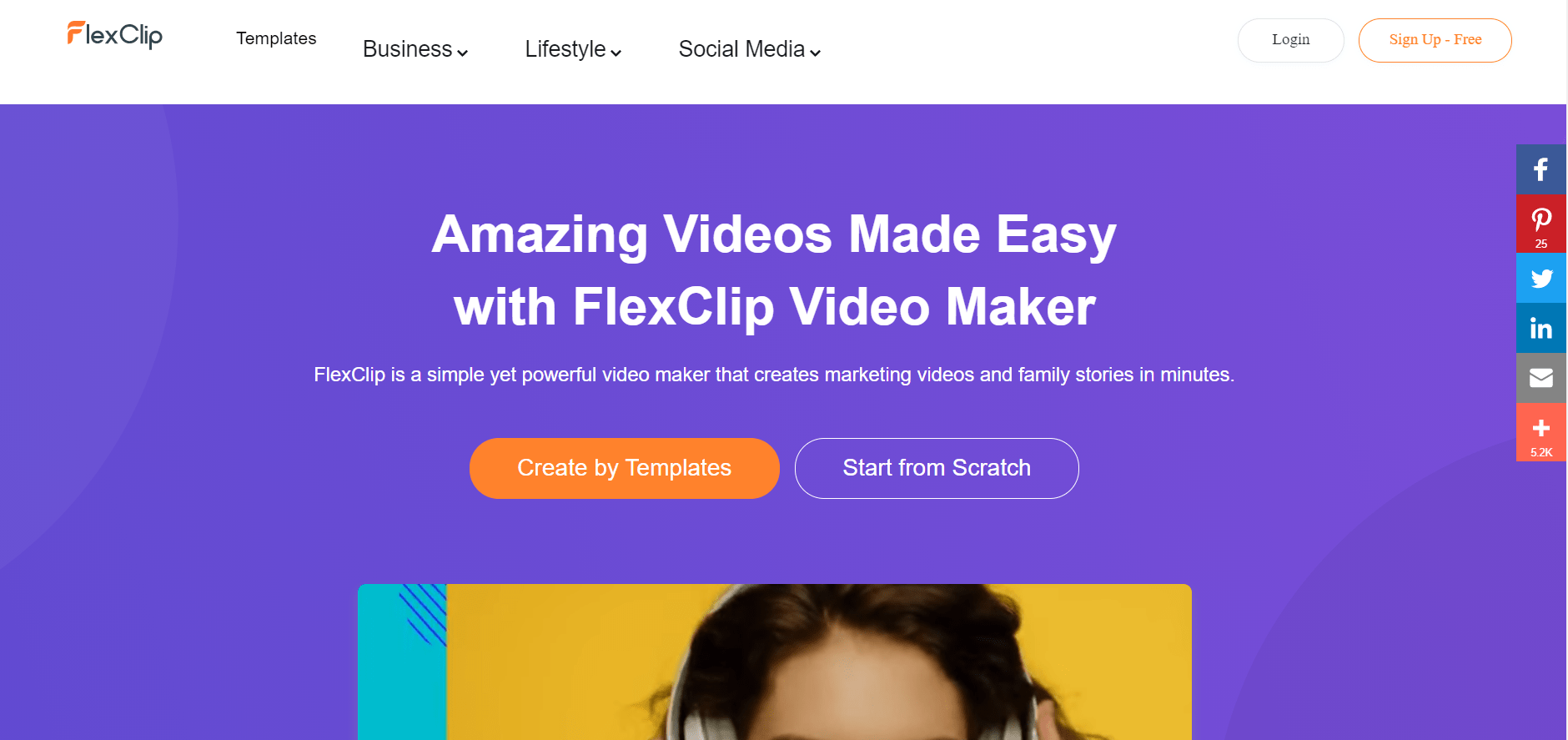 It is an online video editing tool and slideshow maker. Simple isn't it? Well, not so much. These are some of the things that this tool offers:
– Based on a web browser and without the need to download any software.
– Rich animation elements can be added to the video.
– Millions of royalty-free video, audio, and image resources.
– Multiple video editing tools such as video and audio cropping and images, various settings
and filters, aspect ratio change, voice-over recording and adding watermarks.
– Also includes a built-in online screen recorder.
So far, everything normal, right? Like many other platforms that offer similar tools. Well no, because there are several factors that in my opinion place Flexclip above many others.
My particular analysis of FlexClip :
To be clearer, I am going to rate from 1 to 10 some of the aspects that I consider to be informative for readers. However, I base them on my own criteria and needs, but I think it will be very realistic.
1- Application on the web:
By working in the browser, we free our computers from a large part of the editing process (hardware), including the rendering of the video.
Where this is most noticeable is when we use several layers in the edition, such as background video, overlapping logos and texts, animations, images.
I have to admit that I have tested it on more or less powerful desktops and laptops (without exaggeration). I have not noticed any performance or CPU usage issues.
Rating: 10/10 
2 – Editing possibilities:
Although the editing possibilities are very basic, with a little patience and experimentation, you can do almost everything you would need to make a promo, a header for an online program, even spots.
Flexclip is obviously not a video editing program, but I don't think it pretends to be either, but my opinion is that they lack some tools that I particularly miss.
However, I assume that Flexclip is designed so that almost any user with a knowledge of video editing can produce their clips with a very attractive appearance.
Of course, if you use Flexclip as a base and then refine the produced video with an editing program such as Adobe Premiere, the result can be very good.
Rating: 6/10
3- Video, image, and music libraries :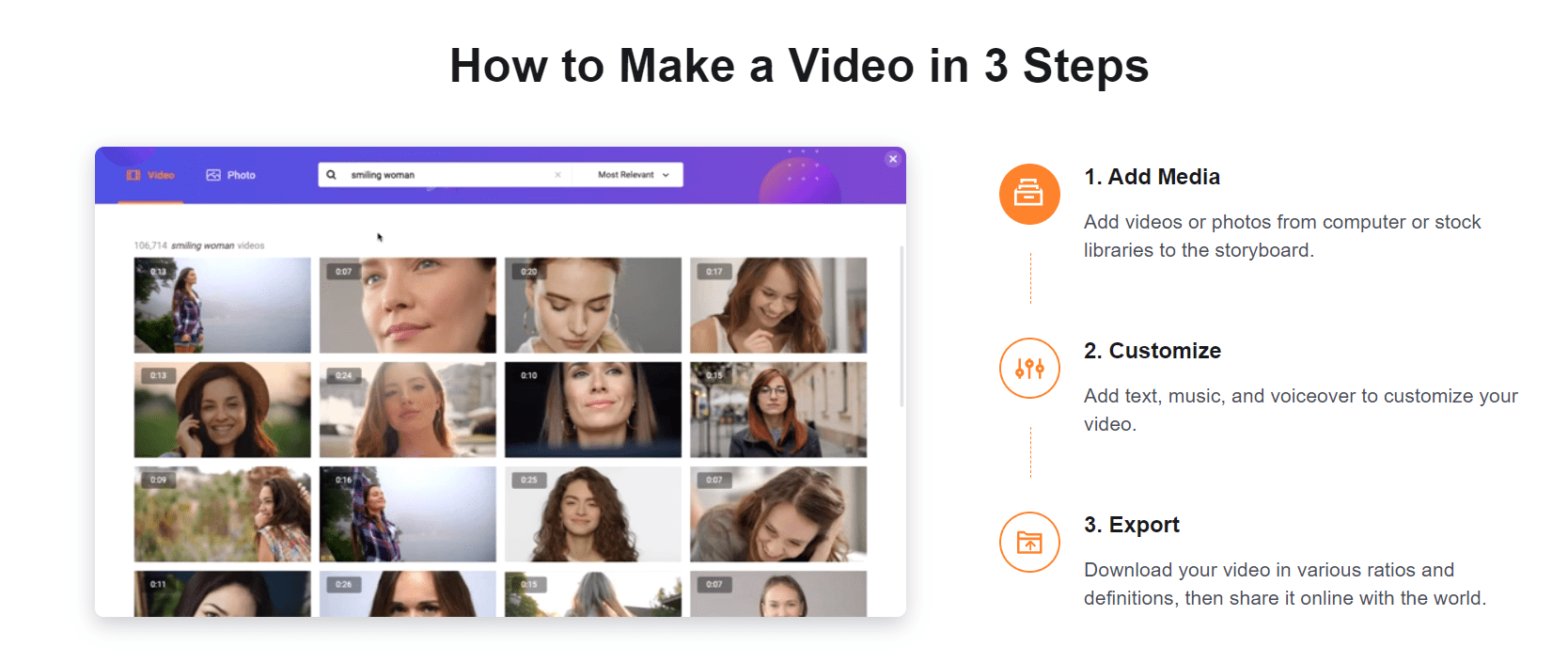 Really more complete than I expected, and in most cases of good quality, with a decent thematic range. In addition, they are not videos or audios that we can find on the websites that offer free content.
With this, just by using the music and video libraries offered by the application, we can produce clips without fear of watching the videos that we have used in many third-party video.
But it also offers the option of being able to upload your own music, images and videos to the application to use them in the production of the clip.
Rating: 9/10
4 – Templates :

This is a very important part, especially for those who do not have too much experience in editing or enough creativity through design to create a production from scratch.
This is another quite acceptable point since it has many templates classified by topic and that they allow being modified. Definitely a good starting point to create a good clip.
Maybe it lacks some flexibility in modifying template elements, but it's not bad.
Here I make two evaluations.
Evaluation: 9/10 (Variety and quantity of templates)
Evaluation: 9/10 (Quality of the design of the templates)
Evaluation: 7/10 (possibilities of modifying the elements of the templates) 
5- Graphics clips, watermarks, logos and other accessories:
Although it has enough logos, I particularly find them somewhat scarce. But as this is an "accessory" part I am hopeful that Flexclip will continue to create more items of this type in its library.
6- Ease of use:
It is not bad either, especially with a minimum knowledge of editing or presentation creation tools, such as Powerpoint. In a very short time you can use the tool and obtain good results.
Rating: 9/10
7 – The price: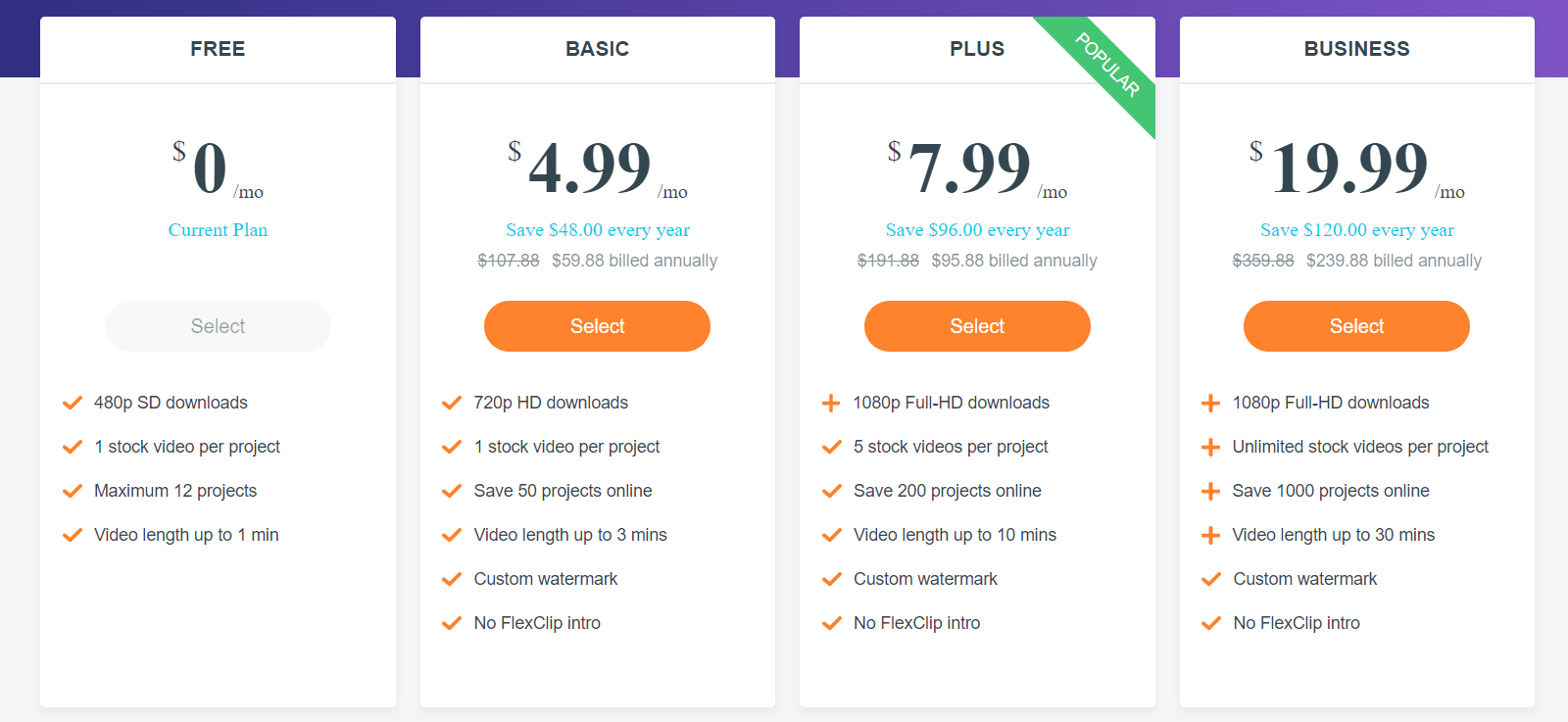 Flexclip works with the subscription model, that is, they do not sell the program if not for a monthly or annual fee, in addition to a free version, which is ideal to see some of the program's possibilities, but only for that, since it is quite limited.
– If you are a user without prior knowledge of editing or design or are just curious, I recommend the $ 0 / month rate, which, although very limited, allows you to see the potential of the application.
– If you know what you want and need to make your little videos for YouTube, Twich, etc., perhaps the one that best suits you is the basic one ($ 8.99 / month).
– If you have a YouTube or Twicht channel (or any social network) and you are monetizing it, I recommend the $ 15.99 fee, since it allows you to export at 1080p, a longer duration (10 minutes per clip) and a greater number of Projects.
– If your business is audiovisual production or your company needs audiovisual material for marketing, business presentations, advertising spots, or similar, without a doubt hire BUSINESS ($ 29.99 / month), which is what I have decided for myself in the end.
Note: I have indicated the monthly prices. Obviously, if you hire annual plans, they have a quite suggestive discount.
Rating: 10/10
Flexclip Testimonials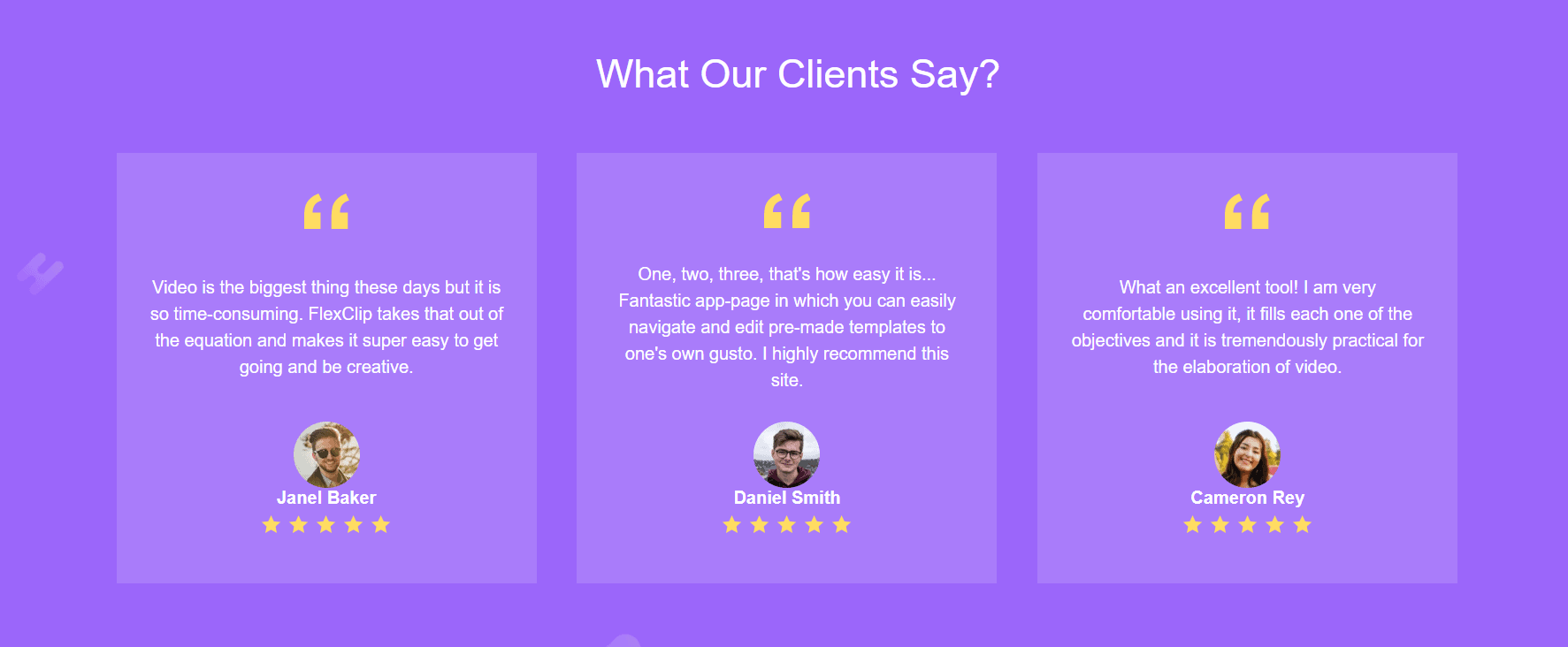 Quick Links
FAQs | FlexClip Review
💸 How much does FlexClip cost?
Flexclip is available for free for 480p SD downloads, 1 stock video per project, and a maximum of 12 projects. The Basic plan costs $8.99 per month (or $4.99 per month when billed annually) for 720p HD downloads, 5 stock videos per project, and a maximum of 50 projects.
❓What is FlexClip?
FlexClip is an easy-to-use and video maker that helps everyone create professional looking videos in just a matter of seconds, whether it is a promo video, a real estate video, a tutorial video, a company video or a personal life video.
🙋 What are some Alternatives of FlexClip?
Wave.video. InVideo. Renderforest. Adobe Spark. Animoto. Flyr. Kizoa. ClipChamp.
👉Does FlexClip have a watermark?
No it has no watermark. It includes all the video editing tools you need and offers you millions of royalty-free media resources that can level your videos up.
🤷‍♂️ Does FlexClip store any personal data?
No. We will never store or use your personal data without your direct consent.
🙌 Can I request a refund?
Yes. We value every customer and always try our best to provide customers with satisfying products and services. Therefore, we offer a 7-day money back guarantee.
Conclusion | FlexClip Review 2023
Maybe I have left things unvalued, or my profession influences me something (well, at least one of them), but my general evaluation is 9 / 10.