Building a sales funnel can be incredibly difficult, especially if you must familiarize yourself with coding or design.
Not only is it difficult to create a sales funnel, but it's also expensive. Most people hire a designer and coder, which can quickly add up to $1,000.
FlexiFunnels is the solution. This easy-to-use funnel builder lets you create high-converting funnels without coding or design experience.
Plus, their funnels are mobile responsive and look great on any device.
Let us check out FlexiFunnels Review in a little more detail.
FlexiFunnels Review 2023: What Is FlexiFunnels?
FlexiFunnels is the first funnel-building software in India. It is ideal for individuals who wish to create funnels without previous coding experience.
Because FlexiFunnels is a funnel builder, you do not need to juggle several tools. You will have access to everything you need to manage your internet company without difficulty.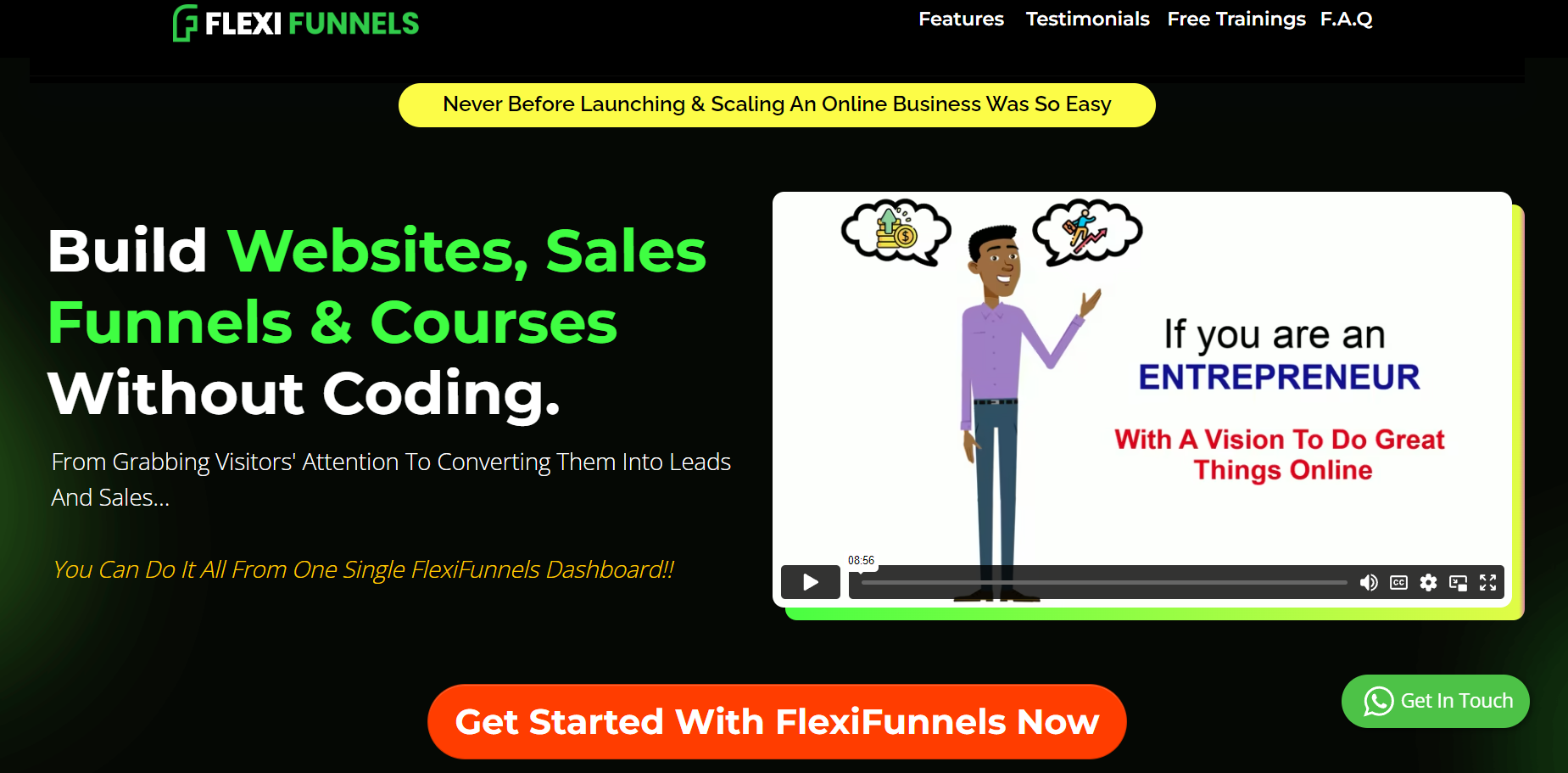 They can help you build courses without any coding, which otherwise is a very time-consuming procedure.
Having everything in a single platform will help you scale your business and take it to the next level. With FlexiFunnels, you don't need to juggle with other tools and plugins, as it is an all-in-one package.
Who Do I Recommend FlexiFunnels To?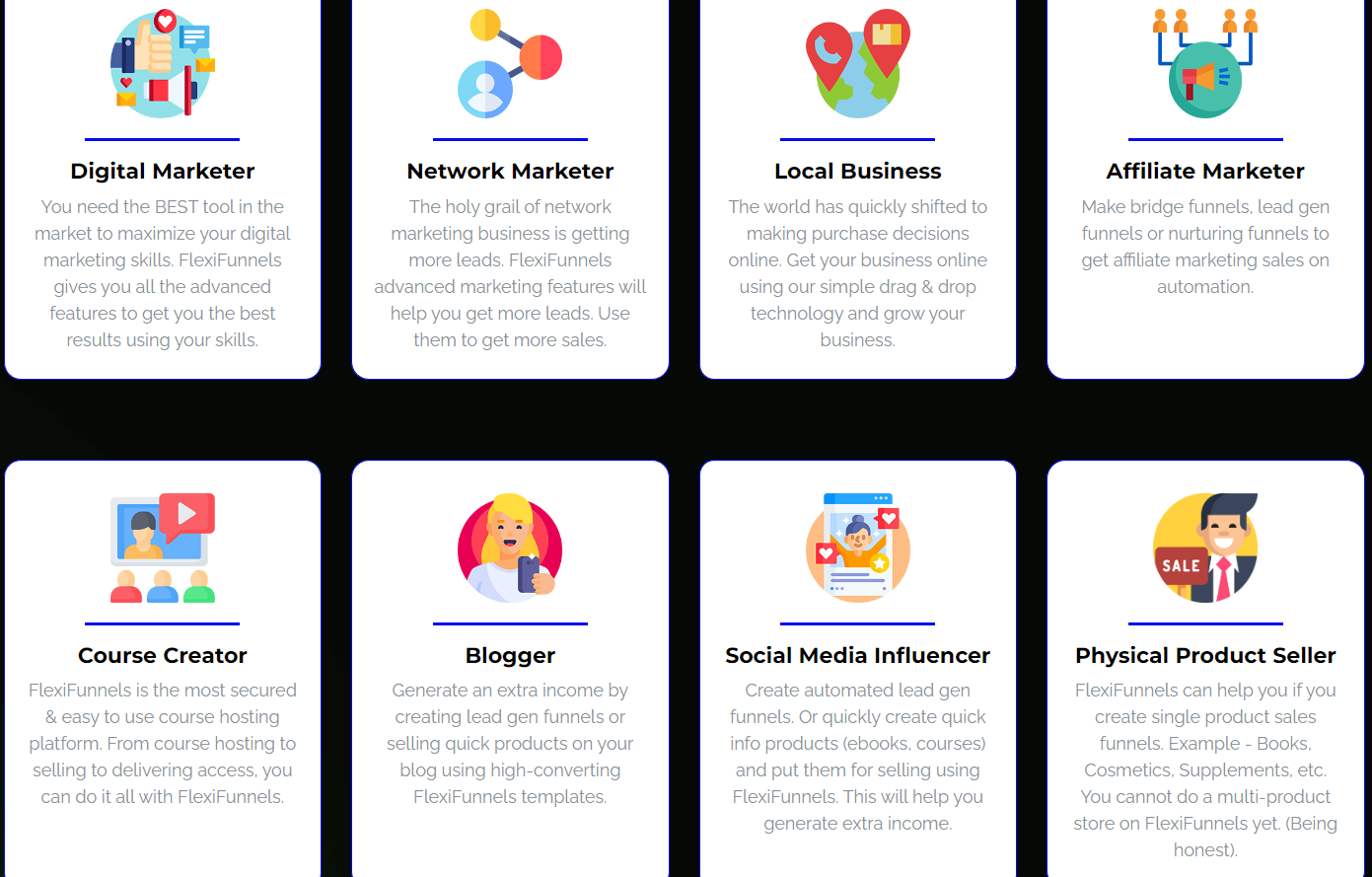 1. Social Media Influencer:
With FlexiFunnels, influencers can quickly and easily create and sell educational products like ebooks and courses, providing them an excellent opportunity to earn additional income on social media platforms.
Using FlexiFunnels, social media influencers can streamline their lead-generation process and maximize their revenue potential.
2. Blogger:
As a blogger, you can enhance your revenue using FlexiFunnels by constructing lead-generation funnels or selling fast goods on your site.
With its high-converting templates, FlexiFunnels simplifies product sales and the creation of successful lead-generation funnels.
3. Course Creator:
FlexiFunnels is an ideal option for hosting and selling courses for course designers.
With FlexiFunnels's secure and user-friendly platform, you can effortlessly host, sell, and distribute access to your courses.
The biggest reason why I recommend FlexiFunnels for course creators is that they provide OTT-level security to your courses. This way, your content can't be downloaded by viewers.
4. Affiliate Marketer:
Affiliate marketers can use FlexiFunnels to automate their affiliate marketing sales by making bridges, lead generation, and funnels.
FlexiFunnels' unique capabilities allow you to maximize your affiliate marketing efforts. FlexiFunnels offer step-by-step training for promoting their brand that will help you with your journey with them.
5. Local Business:
In today's digital society, internet shopping has become the standard.
FlexiFunnels facilitates the online presence and expansion of small enterprises through its simple drag-and-drop technology.
6. Network Marketer:
Lead generation is a critical component of your company as a network marketer.
FlexiFunnels provides smart marketing tools that help you in making more leads and increasing your business's revenues.
7. Digital Marketer:
As a digital marketer, you need the most effective tools available to optimize your abilities. With Flexifunnels you can set up landing pages, build funnels, set up courses, and also calculate ROI on your campaigns. You will get everything that you need to reach your business goals.
FlexiFunnels gives you all the sophisticated capabilities necessary to produce the best possible customer outcomes.

8. Newbie:
FlexiFunnels can help you get started if you are new to marketing and sales.
You can learn how to get customers and begin selling websites, funnel, and course-building services.
Moreover, FlexiFunnels is an excellent platform for launching your business or products.
9. Product Owner:
Product owners can use FlexiFunnels' powerful marketing and sales capabilities to enhance leads and revenue.
With its funnel-building capabilities, FlexiFunnels has assisted several product owners in achieving instantaneous growth.
10. Agency:
FlexiFunnels can help you get high-ticket clients, close more appointments, deliver customers with high-quality results, and a lot more. With FlexiFunnels, agencies can provide greater outcomes to their customers.
With its high-tech security, speed, and sophisticated features, FlexiFunnels is an excellent tool for agencies seeking to expand their businesses.
11. Freelancer:
FlexiFunnels offers an excellent chance to make money by completing various client assignments. Whether it's website design, funnel creation, or course development, FlexiFunnels has a broad range of projects to choose from.
They also have detailed content that will help freelancers get more work and grow their potential.
11. Physical Product Seller:
FlexiFunnels can help you increase your leads and sales. It is also very useful to run successful campaigns for single-product sales funnels.
Features & Benefits of FlexiFunnels
1. Failed Payments or Cart Abandonment Data:
I would say every seller must use this as one of the most beneficial features. For instance, a customer starts the process to purchase a product from you, but he/she left (or abandoned the cart) for some reason without completing the purchase.
In such a case, the customer will get a reminder by email, reminding them of completing the purchase. This helps increase the chances of sales drastically.
Any marketer who has conducted online sales will attest to the frequency with which online payments fail and the ease with which this feature alone can add at least 10 to 15 percent to your sales.
2. Data & Reports:
In addition to transmitting your data through their connections with autoresponders/CRMs of your choice, they also display your data in the reports area so that you will see all your sales/leads statistics in one location.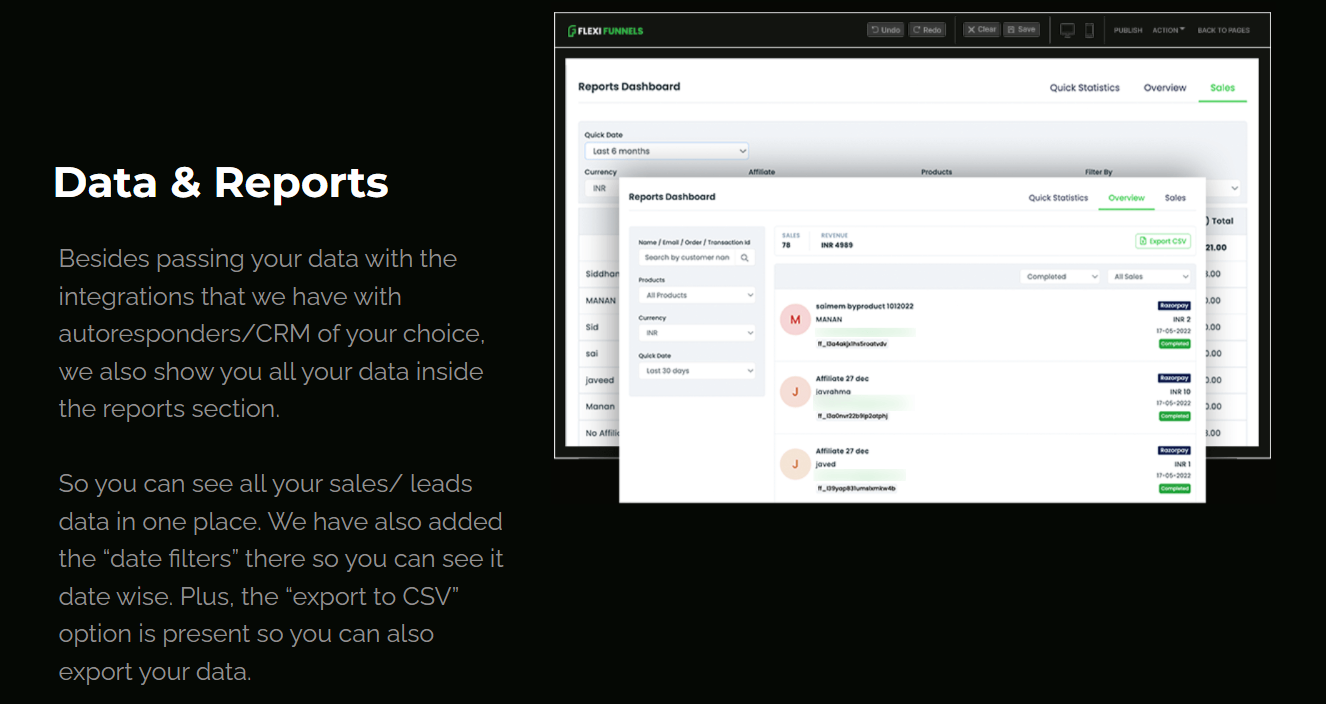 They have also introduced "date filters" so that you will see the information by date.
In addition, the "export to CSV" option is available so that you will export your data.
3. Advanced Analytics:
Page conversion stats play the most important role in enhancing conversions in marketing. The image below explains what kind of data you are getting with the FlexiFunnels Advanced Analytics feature.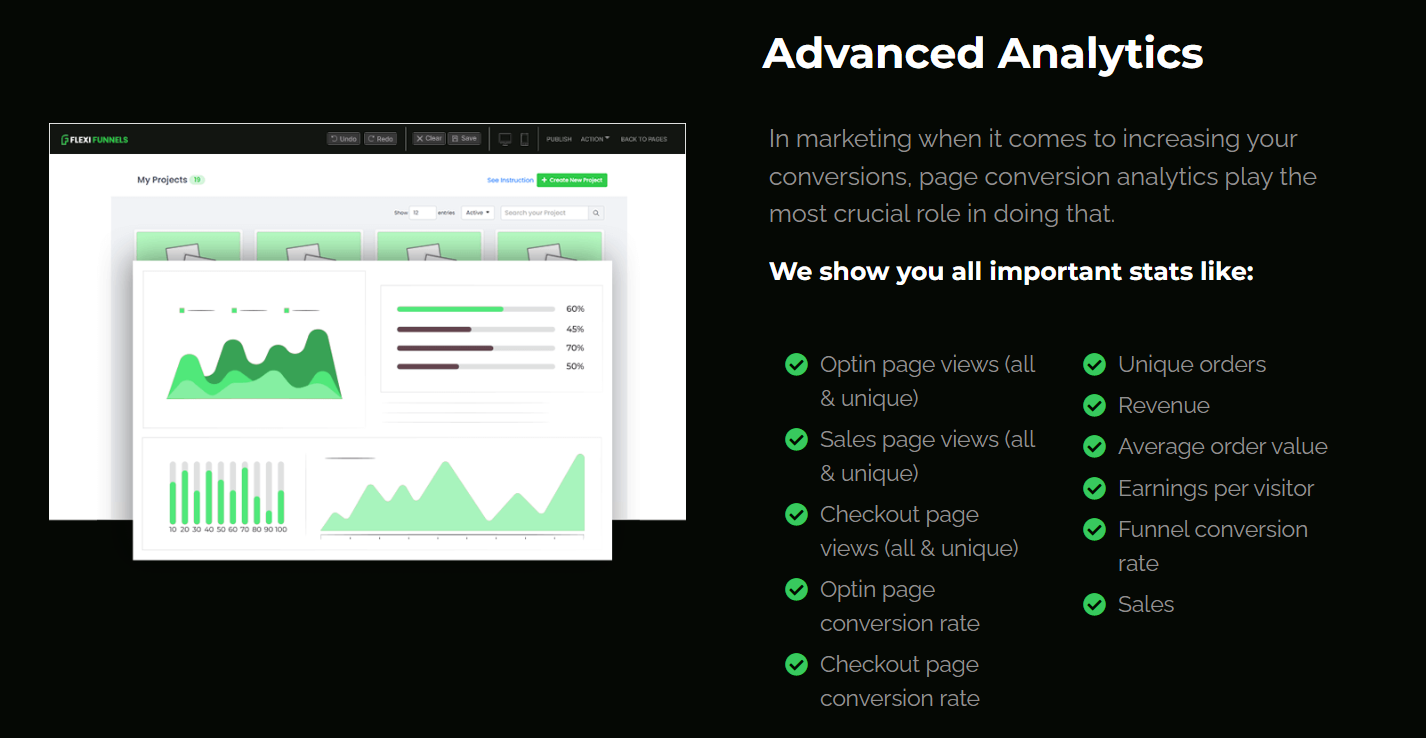 Imagine that when you know precisely which page is converting at what rate, you can continue to test and change the page's content to increase conversions.
Additionally, it has a date filter to observe which of your modifications affected your conversions.
4. Fully Mobile Responsive Pages:
Their intelligent editor makes your pages instantly mobile-responsive. You need not take any action. Your pages will be 99.9% mobile-responsive by default.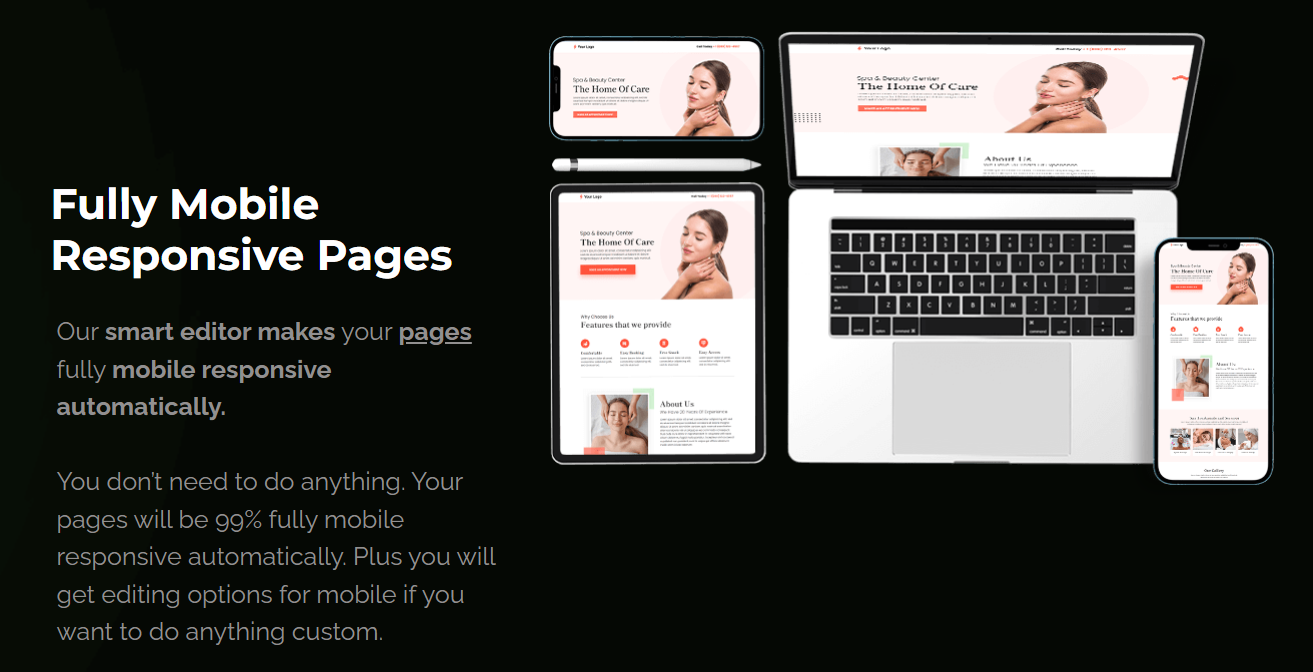 In addition, you get great flexibility with mobile editing as well.
5. Pre-Built Sections:
Rather than using the DFY funnels and pages, you can also create special sections that require importing a few "done for you" portions.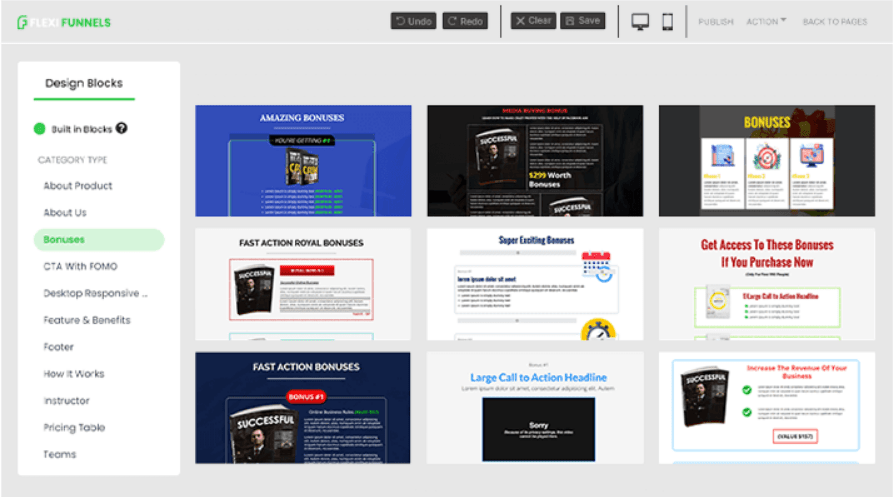 Therefore, they have included DFY sections for the team, pricing table, benefits, features, bonuses, about us, etc., inside the editor.
Therefore, you can easily import them into any page you create.
6. Subusers Access:
It is crucial for organizations to maintain the safety and security of their data therefore, FlexiFunnels have developed a strong Subusers Access panel.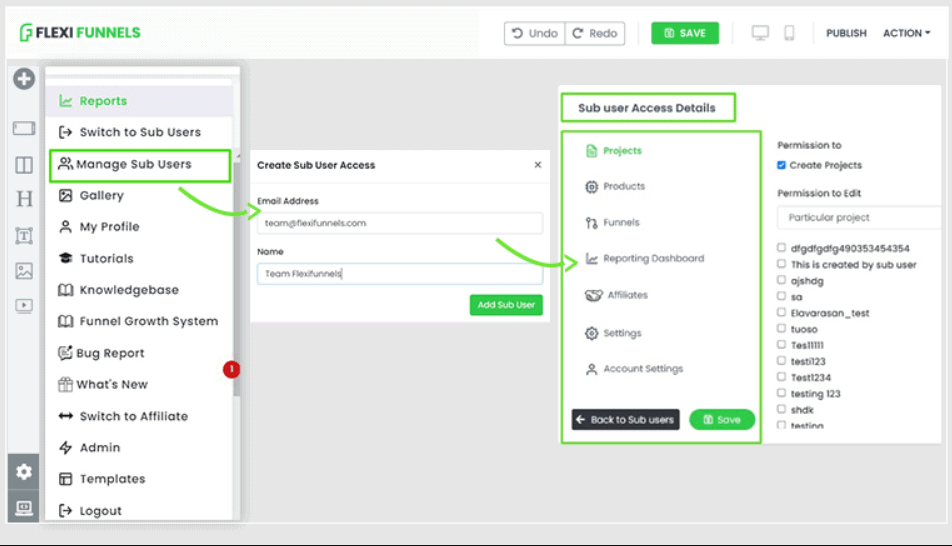 Using this, you can provide your team members/employees restricted access. Only the items (Projects, Products, Funnels, etc.) to which they have access will appear in their account.
You can also provide sub-user access to your customers' websites, allowing them to change their pages, goods, and courses without contacting you again.
7. 400+ Done For You Funnels & Pages:
Their "Done For You Templates" enable you to begin designing pages in only minutes.


They have used their greatest sales, marketing, and conversion hacks on these pages to increase conversions. Simply drag and drop your material, then add your logo, and you're done.
8. Advanced Integrations: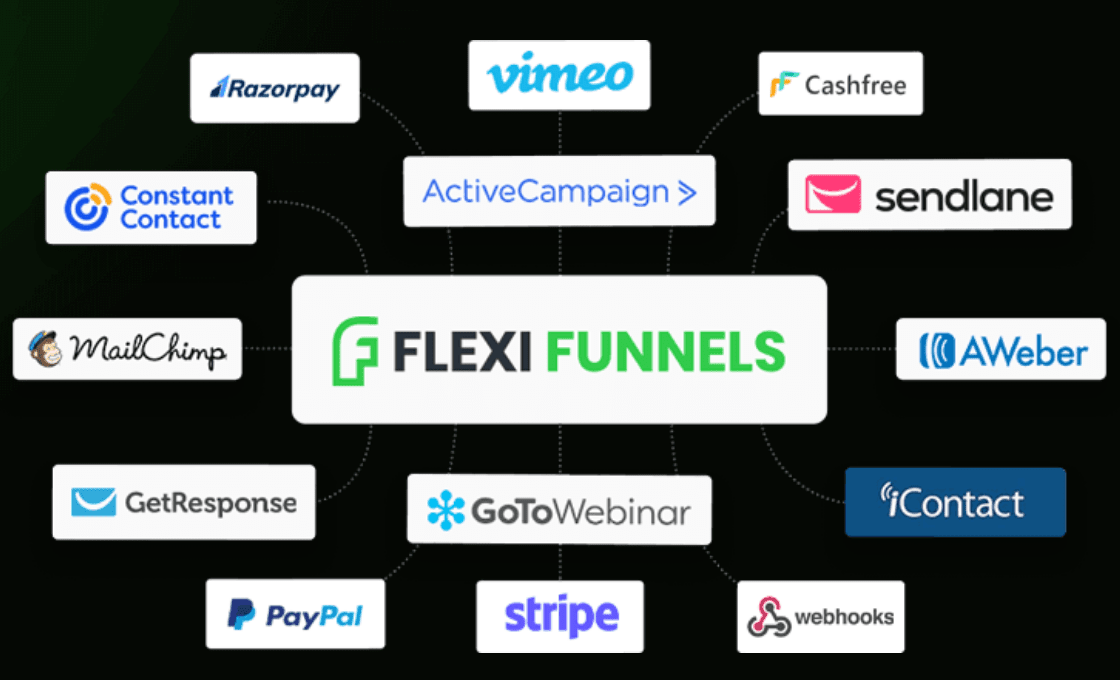 You get all the sophisticated integrations with autoresponders, webinar platforms, payment solutions, checkout systems, and everything else required to operate a successful online company.
9. Piracy-Protected Courses:
If you're a course creator, you should be aware of the serious issue of course piracy and how it affects your sales.
Within FlexiFunnels, your course videos cannot be downloaded as they are encoded to protect against piracy. Moreover, they display purchasers' details on the recordings, preventing them from screen recording.
Overall, they take care of your course security, preventing you from incurring enormous losses due to course piracy.
10. Host & Sell Courses:
You can host your courses inside the inbuilt Membership area of FlexiFunnels. I have personally helped clients host and sell courses on FlexiFunnels, and I must say it was pretty easy to use and had some advanced features.
You no longer need third-party membership platforms to host your courses and Zapier to communicate information from your payment solution to your membership area.
11. Advanced Funnel Logics:
When you're trying to sell something, you can offer other related products or services that people might be interested in buying. These are called "upsells" and "downsells."
An upsell is when you offer something that's more expensive or has more features than the original product. A downsell is when you offer something that's cheaper or has fewer features.
You can include as many of these offers as you want in your sales process, and you can mix and match them however you like. The goal is to give people options and make it easy for them to buy more from you if they want to.
12. Bump Offers:
You can make immediate bump offers directly on your checkout page to enhance the total value of your purchase.
This instant method boosts the average order value of any given offer. FlexiFunnels allows you to do so with only a few clicks.
13. Beautiful Checkout Pages:
Your checkout pages must be visually appealing to stand out and maximize conversions. The drab and monotonous checkout pages of payment gateways reduce conversions.

Not anymore! You will get attractive checkout pages and include timers, testimonials, box shots, bullet points, videos, bump offers, and much more directly on your checkout pages. This way, you can increase the average order value of your customers, increase the conversion rates of your checkout pages, etc.
14. Integrated Payment Method Integrations:
They interface with CashFree, Stripe, and PayPal. They give you the power to generate Funnels using your preferred payment method.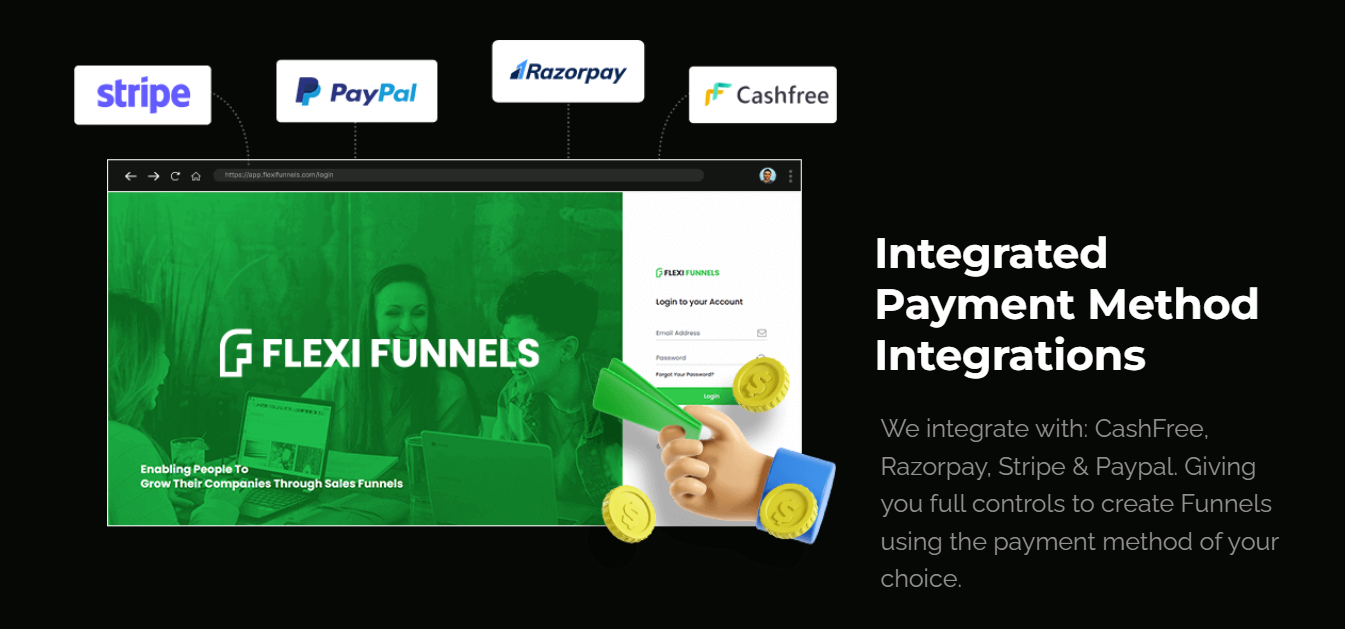 15. Super Fast Hosting & Accelerated Page Delivery:
Do you know that a single-second load time delay can impact mobile conversions by 20%? A load time of three seconds raises the bounce rate by 52 percent.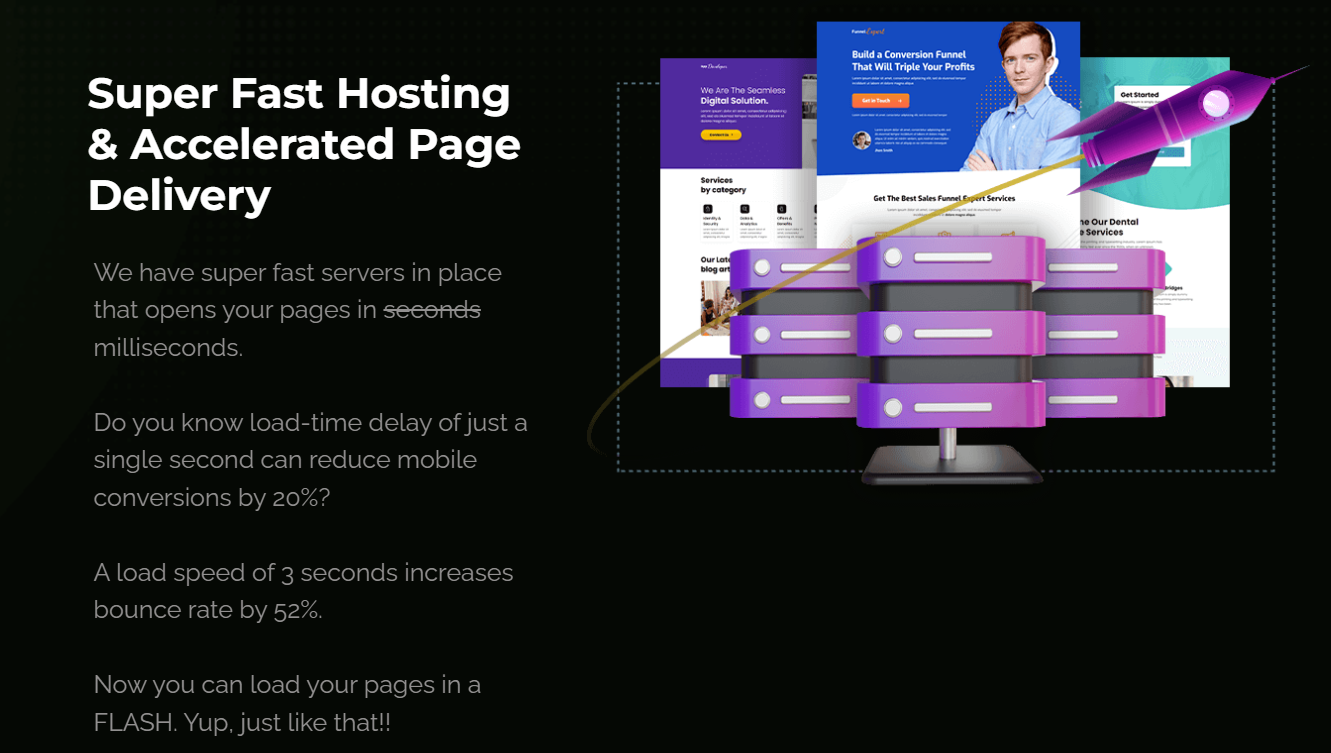 FlexiFunnels have high-speed servers that load your websites in milliseconds.
16. Drag & Drop Page Builder:
FlexiFunnels makes it easy for anyone to create effective sales funnels and landing pages. It has a user-friendly interface that's simple and intuitive, meaning you don't need to have any technical or design skills to use it.

One of the key features of FlexiFunnels is its drag-and-drop page builder, which means you can create pages by simply dragging and dropping elements onto the page. This makes it easy to design beautiful, professional-looking pages without having to learn complex design software.
The software is so easy to use that even a six-year-old can use it to design world-class funnels and landing pages. This means that anyone, regardless of their level of expertise or experience, can use FlexiFunnels to create effective sales funnels that convert visitors into customers.
FlexiFunnels Pricing & How To Buy Guide
Step – 1: Go to the official website of FlexiFunnels.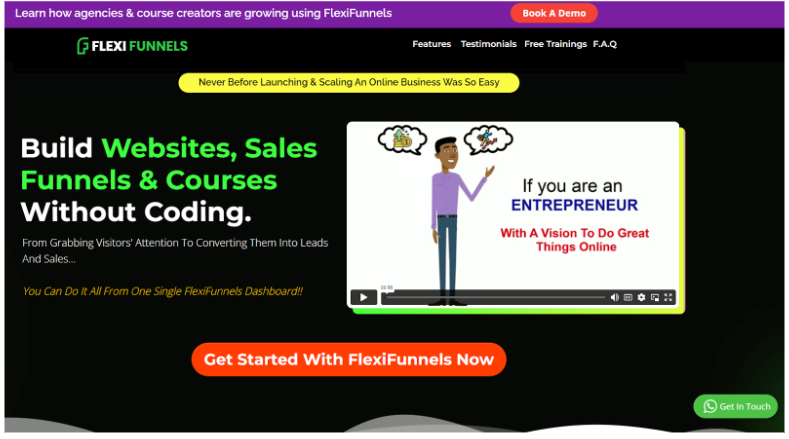 Step – 2: Scroll down and look for pricing. Below the plan of your choice, click on 'BUY NOW'.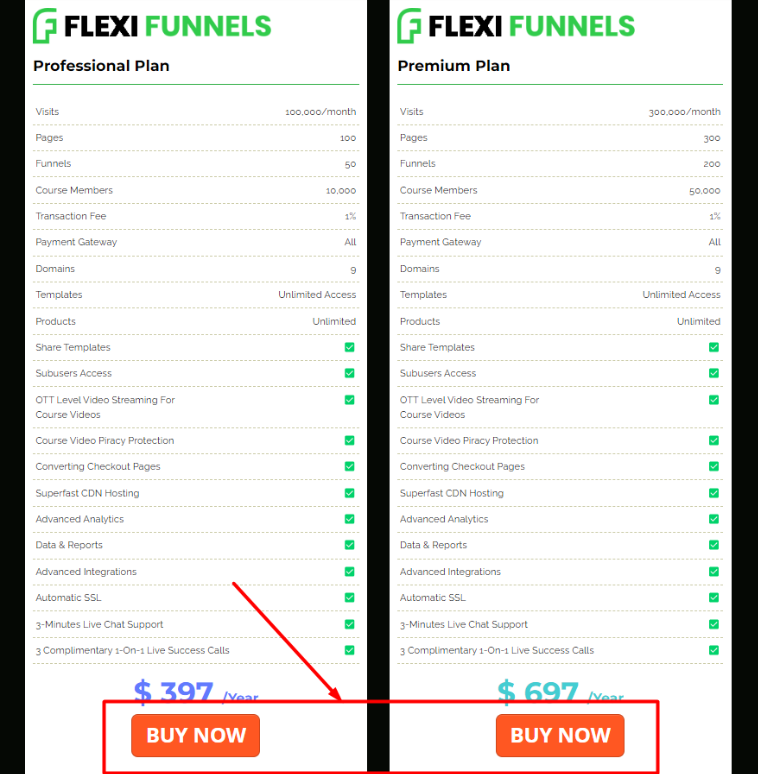 Step – 3: fill up the details asked for, and click on 'Complete Order'.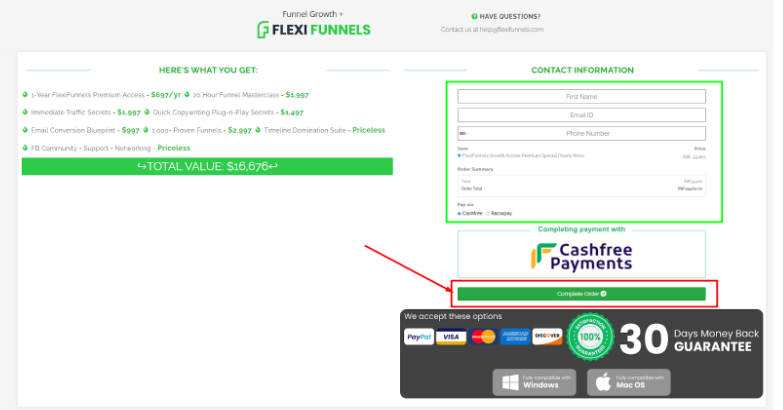 That is it. You are good to go.
Why Use FlexiFunnels?
1. Maximize Long-Term Growth & Easy Management:
With FlexiFunnels, you can take advantage of the recurring revenue from their subscription payment feature.
Their analytics provide insights into areas where your business could use optimization, allowing you to focus on growing conversions.
Their comprehensive reporting dashboard makes managing your business from one central location easy.
2. Drive Up Your Sales:
FlexiFunnels' professional checkout page templates are designed to convert more visitors into sales.
On the checkout page, you'll see increased conversions with features like testimonials, secure payment seals, value stacking, coupons, and timers.
They offer three types of timers (date timer, evergreen timer, and day timer) so you can choose the best campaign option. Their cart abandon feature also helps recover lost sales.
3. Generate More Leads:
With fast-loading pages and professional done-for-you templates, FlexiFunnels can help decrease your bounce rate and convert more leads.
Their advanced styling options enhance your brand value, leading to more leads. The custom form builder allows you to create forms in various designs, adding as many fields as you need.
All data is stored and displayed in the reports dashboard for easy tracking and analysis.
4. Great Customer Support:
FlexiFunnels offers one of the best customer support in the business. Even though FlexiFunnels is extremely easy to use, you may always need help regarding their drag-and-drop because there are a lot of options to choose from.
FlexiFunnels customer support will definitely solve your query in case you stumble upon some barrier. They offer a live chat, tickets, extensive knowledgebase, training, 1-on-1 onboarding calls, and Q&A sessions as well.
There are countless more reasons to choose FlexiFunnels. Extremely easy to use, many features, great customer support, and affordable pricing plans are just a few.
Quick Links:
Conclusion: FlexiFunnels Review 2023
I'm impressed with the FlexiFunnels Funnel Builder.
Its ease of use, wide range of features, and affordability make it an excellent choice for any small business or entrepreneur looking to launch an effective marketing funnel.
I've had a lot of success leveraging its funnel creation abilities to help me generate leads and secure more customers.
Plus, customer service was very willing and helpful in helping me if I ever ran into any issues.
Taking everything into consideration, FlexiFunnels funnel builder is one of the best software solutions on the market. Try it out today – you won't regret it!
Official Video About FlexiFunnels