Lets check out Deadline Funnel Review that includes all the detailed insights of its pricing, features. functionality and more.
What is Deadline Funnel?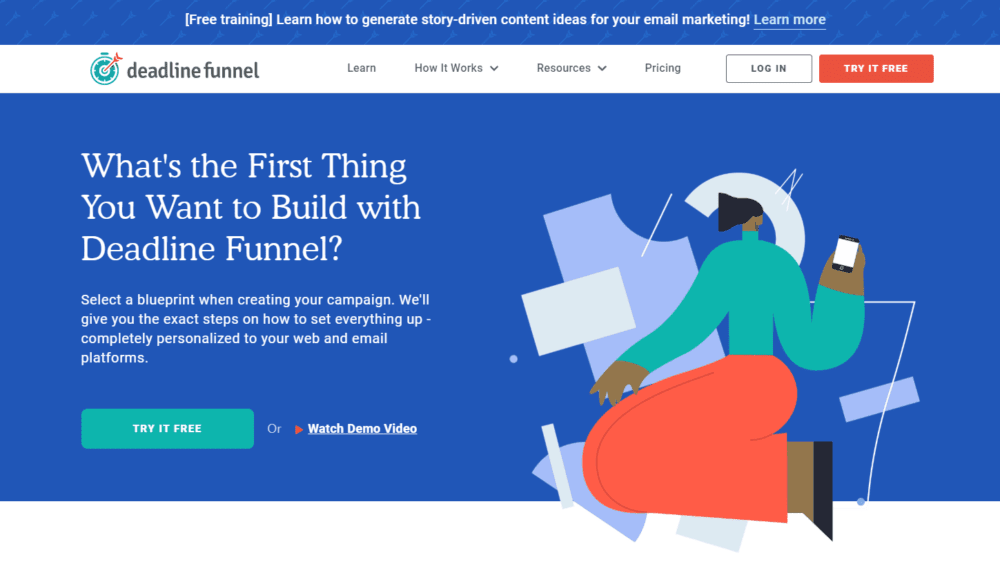 The scarcity timers in the Deadline funnel are added to:
Websites,
e-mails, page builders, and
Funnel builders
It enables you to mitigate procrastination in your online funnel. With Deadline Funnels, you can set up limited-time marketing campaigns with accuracy.
Also read: Deadline Funnel Alternatives
Deadline Funnel Features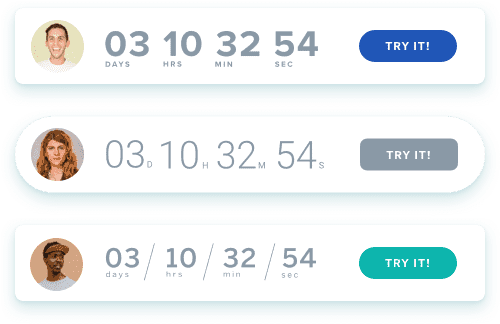 Blueprints – With your sales campaigns, use predefined templates.
Display Countdown Timers — View the countdown timers for your enabled emails and web pages.
Customizable Look and Feel — Match the look and feel of your countdown timer to your company's identity.
Email Integration – Deadline Funnel may be integrated with a variety of prominent email service providers.
Shopify Integration – For your Shopify customers, provide a limited-time discount coupon.
Multi-Device Tracking – Prevent the countdown from being reset just because a visitor arrived from a different device. It's also a good way to keep users from escaping your countdown timer.
Reporting – Keep track of how many subscribers in a deadline funnel is active. Calculate your email sequences' return on investment (ROI). The option to get weekly reports via email is available.
Who is Deadline Funnel For?
Deadline Funnel is best for:
A company that has set up email opti-ns.
Those who sell their goods and services via the internet (even affiliate products)
Those that desire to increase the number of people who convert to their offers
Those that have a steady stream of traffic flowing through their sales funnel.
Deadline Funnel Integrations
The key element of Deadline Funnel is its integration with your mailing list software. Fortunately, this service works with many emails, chat, and popup box service providers.
Messaging
Actionetics/ClickFunnels
AW Pro Tools
Chatfuel
KlickTipp
ManyChat
OptiMonk
OptinMonster
Platformly
Sendlane
Shopify
Zapier
Landing Page Builder
You can work with pretty much any page builder or CMS.
ClickFunnels
Instapage
Leadpages
OptimizePress
Unbounce
DragDropr
EasyWebinar
EverWebinar
HubSpot
Infusionsoft
Instapage
Kajabi
Kartra
OntraPort
Podia
Shopify
Spiffy
Squarespace
Teachable
Thinkific
Webflow
WordPress
Deadline Funnel Pros & Cons
Pros
It is super easy to set up where you can see it in action on the sales page and emails.
Deadline Funnel syncs with your sales pages and your email which is pretty cool.
You can get different pricing versions, which it offers to the users.
You can generate leads and create offers to convert conversions into your sales.
It essentially allows you to create a bespoke deadline for everyone who comes into your funnel.
It provides you with an authentic, evergreen offer.
You can run an offer or a promotion where every person will get that promotion and bring traffic to your sales.
It doesn't matter when customers come into your funnel, but it gives them a promotion offer whenever they come within the offer
period.
Instead of running one big promotion, you can run the same promo for everyone who comes into your funnel.
Cons
The multi-dimensional impact option is missing in this software.
People are more likely to offer you a promotion when your countdown timer works.
\This can only work with single product upsell, downsell, or cross-sell pages.
Deadline Funnel User Reviews & Testimonials 
Check out the most honest reviews of Deadline Funnel by various digital marketers worldwide and check out the Deadline Funnel Reviews on Twitter.
"If you're selling anything online and you're not using Deadline Funnel…

you're out of your MIND!"

Nicholas Kusmich, Facebook Ad Expert
I just want to thank you for Deadline Funnel. We've brought in, probably over five million bucks in business since we started using Deadline Funnel. I would almost say without a doubt the one piece of software that we've used in all phases of growth, and I can't see us stopping any time soon.

Chandler Bolt, CEO of Self Publishing.
"Deadline Funnel is a key part of marketing. My team is using it to automate my marketing funnels in ways I've never been able to before."

Perry Marshall, American Online Marketing Consultant
"I am always trying to automate my business as much as possible and I use only the best tools in the industry. One of those tools I use on an everyday basis is Deadline Funnel. It is stupid effective! I could not recommend Deadline Funnel more highly."

Rick Mulready, Business Coach & Ad Expert
Best Deadline Funnel Alternatives
Deadline Funnel is a one-of-a-kind service. Although there are many Deadline Funnel alternatives to this service, there is only one that comes close. Although many shopping cart providers, such as ThriveCart or SamCart, have a countdown timer, these timers can be readily circumvented.
Thrive Ultimatum is the only other tool I recommend. The Thrive Ultimatum WordPress plugin also stops buyers from circumventing a limited-time offer.
The fact that Thrive Ultimatum is a WordPress plugin is its major flaw. You cannot integrate the two if you utilise another shopping cart provider, such as ThriveCart. You won't be able to utilize it if you don't use WordPress.
Quick Links
Conclusion: Is Deadline Funnel Worth It?
I recommend using a countdown timer if you're selling digital things. It certainly aids in persuading "on the fence" prospects to take action. (But that doesn't mean you should necessarily use a timer on every product you sell.)
In several of my own efforts, I employ Deadline Funnels.