Having trouble finding the right balance between work and life? Interested in earning an income from the comfort of your own home? What if you could work from home or anywhere in the world and travel the world? It's possible that you want to earn money online in your spare time and don't want to be employed full-time or part-time.
There are many reasons why freelancers are getting into the gig economy – and that trend does not seem to be slowing down.
What are your options for finding a job that is both flexible and steady?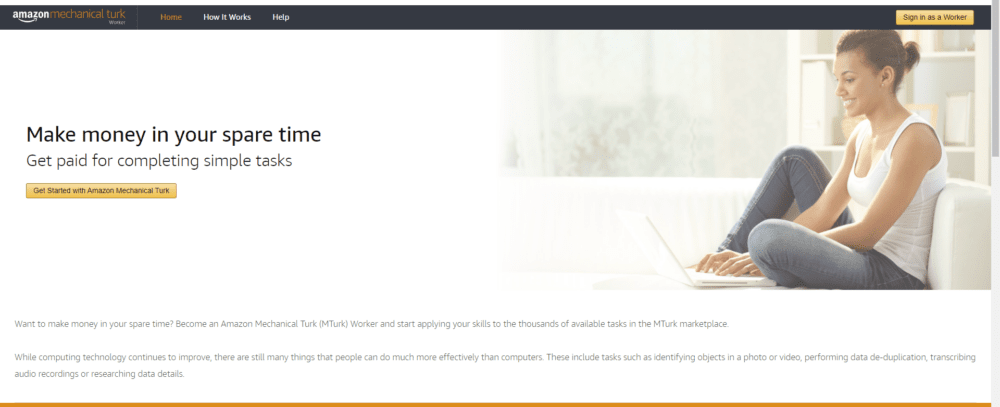 MTurk is Amazon's free online platform for freelance jobs. There are numerous freelance job platforms available online, but we'll explore MTurk today.
Here's how you can learn more about MTurk and finding a job with the platform.
You can make money using Amazon MTurk with our guide.
What is Amazon MTurk?
How does MTurk work? The platform allows users to post freelancing jobs for payment. This platform matches freelancers with businesses in need of certain services. 
What Types of Jobs are on MTurk?
A Human Intelligence Task (HITS) is what MTurk calls jobs on their platform.
It varies widely, but in general, it is a small digital task that almost anyone can do. Computers can't complete these tasks, but they're also jobs that don't require any particular skills.
Amazon MTurk offers jobs such as completing online surveys and leaving comments on websites. The company may require transcription services as well.
 Data entry, auditing images and videos, and selecting products' best photos are among the jobs that you might encounter.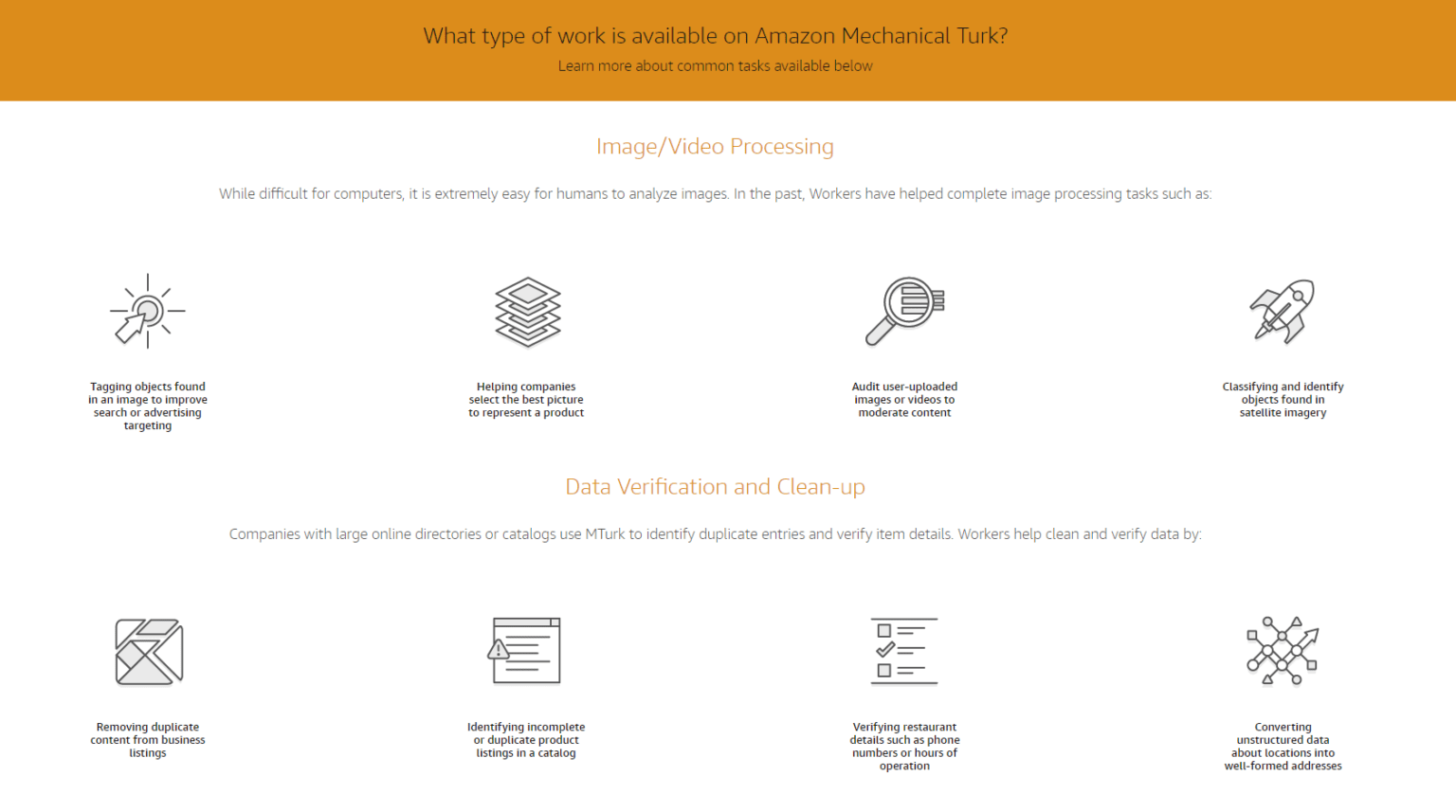 Verifying data and cleaning up are some of the tasks. Duplicate content may need to be identified and removed from a website. It may also be necessary to verify other details, such as the restaurant's hours of operation and phone number.
It's possible to find information about numerous topics or use large legal documents if you know how to gather information. It is possible to translate content from one language to another by utilizing your language skills.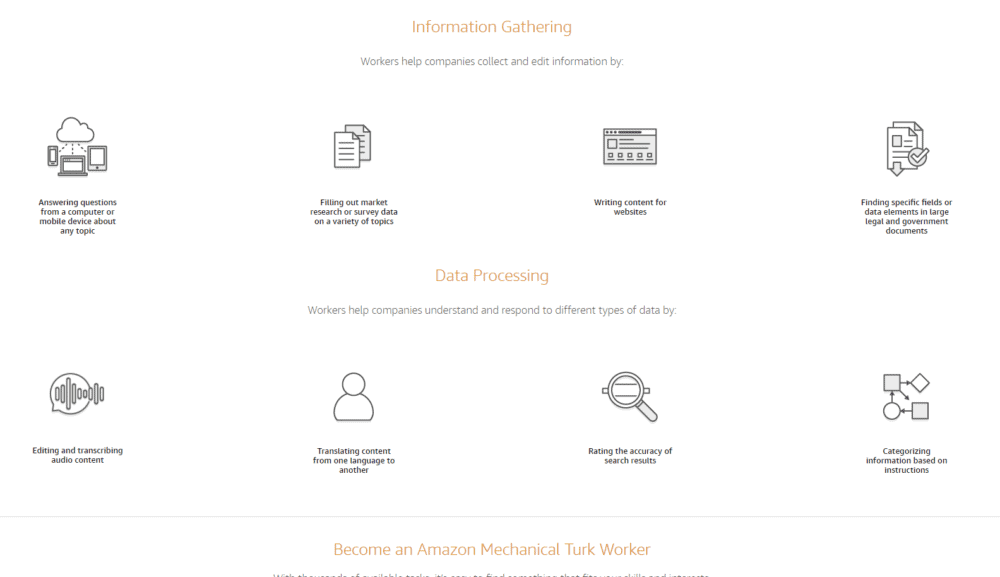 Writing content for websites is also one of the tasks you can search for. You can make decent money from these types of HITS, so as long as you can churn out articles quickly.
Would you like to be a writer?
The best place to try your skills is on a more competitive site if you're a serious wordsmith. You might also consider signing up for a site like Upwork, where clients tend to pay more.
Overall, there are many tasks available on MTurk, but HITS are plentiful.
How Much Money Can You Make with MTurk?
This isn't going to be sugarcoated in any way.
It pays very little to work on MTurk.
If you know how, you may be able to make minimum wage, or even more, from a HIT.
Making decent money on MTurk is about finding jobs that will help you earn more money per hour. If you can do a HIT 100 times in one hour that pays 10 cents, you can make $10 an hour.
This was the subject of a research paper published by Cornell University in December 2017. The study observed workers performing more than 3.8 million Amazon Mechanical Turk tasks, which was a record.

Approximately 4% of workers earned more than the $7.25/h median wage.
The Atlantic reported one worker who works between 30 and 40 hours per week, earning between $4 and $5 an hour.
As if the pay isn't already low enough, consider these facts:
Whether you make a lot or a little, Amazon takes a 20% cut.
Do HITS on MTurk pay off? Ultimately, it's your choice. You will need to decide if it's right for you to make any amount of money per hour rather than no money per hour.
Signing Up for MTurk : How to Make More Money On Mturk 
Signing up for MTurk is very easy if you are interested in giving it a try. If you're up for trying it out, check out their website now to get started.
To log in, use your existing Amazon account. There are a few pieces of basic information you will need to provide, including your social security number for tax purposes.
In light of that, there have been reports that some people did not get approved. Unapproved workers also say that they haven't been explained why they haven't been approved.
The following is a statement of Amazon MTurk's requirement, but we don't know why some workers aren't approved:
"There is no set schedule or minimum hour requirement as a worker, however you must complete one HIT per day during your first 10 days (there is also a daily limit of 100 HIT during your first 10 days)."
Once you've signed up and gotten approved for the program, make sure you do at least one HIT every day despite how little it may pay. During your first 10 days as a worker, don't work more than 100 HITS per day.
Tips to Increase MTurk Earnings: How to Make More Money On Mturk
MTurk is a great way to earn money online, and knowing a few tricks and tips can help you make more money there.
 1. Be Selective with your HITS
You should look for quick HITS since most pay very little. Here is a subreddit for MTurk employees where you can find the latest tips on HITS that you can do in just a few minutes.
2. Avoid Penny Tasks
A task paying a penny is not worth your time. There is no point. You can earn a whopping $0.60 in an hour, even if it only takes you a minute to complete each one. For an hourly salary of $10, you'd need to complete 1,000 tasks.
You shouldn't waste your time on those HITS.
Try to find HITS that pay at least 40 cents – then figure out how long they will take. You shouldn't spend 10 minutes on a $0.40 HIT. Perhaps it is worth your time to complete it if it takes only two minutes.
3. Reach a High HIT Number
You must complete HITS in order to apply for certain jobs (including those with higher pay). Some cases require you to have 5000 HITS. Others require that you have 10,000 HITS.
MTurk offers higher paying tasks as you complete more HITS and gain experience working with them.
Some new workers might attempt to reach these minimums by doing penny tasks, but we don't find it worthwhile.
4. Maintain a High Approval Rating
If you don't have a high approval rating, you won't succeed on MTurk. Your approval rating must be above 98% in order to be successful.
Those are high numbers – and they are. However, there is a reason:
Despite being simple tasks, all of them come with specific directions. It is imperative that you follow them. Your approval rating will plummet if you are unable to follow simple directions.
5. Increase Qualifications
HITS may require you to complete qualifications before you can apply. If you do need to earn a qualification, then that HIT may be denied.
If you are qualified, you will have an easier time finding higher paying HITS.
6. Filter Requesters
You would do yourself a favor if you avoided requesters (employers) with low ratings. It is possible that if their rating is low, it indicates they have not paid their workers in the past.
Using a tool like Turkopticon can help you filter out the undesirables. It is also possible to see which employers other workers have reported, so you can avoid shady employers altogether.
Pros and Cons of MTurk
Pros of MTurk:
There are pros and cons to every online platform. MTurk does have its benefits as well, to be fair. Consider these three advantages:
It's trustworthy
Aside from Mturk, there are a few sites that let you earn money for small tasks. Mturk is one of the most reputable. MTurk is a legitimate company, as MTurk is an Amazon company and one of the world's largest and most trusted companies. You will be paid.
You can get paid daily
Are you unable to pay your bill at the moment? Have you run out of food tonight? MTurk and Amazon Payments offer daily payments directly to your bank account, and you can get paid daily. Some people view this as the most valuable feature. There's even the option of receiving Amazon Gift Cards if that's what you're after.
Work when you want
Even if you don't become rich from MTurk, it can help you make some extra cash. With MTurk, you can make some extra money in your free time, whether you are unemployed or looking for a side job. 
Those two things could determine whether you make ends meet or fall behind on your bills.
Cons of MTurk:
Extremely low pay 
We've already talked a lot about this one. It bears repeating:
In the ever-expanding gig economy, Mturk is one of the lower paying employers.
The average hourly wage of some workers is just $2. Some earn up to $5 an hour. The average MTurk worker earns $7.25 per hour, but only 4% of all workers earn more than that.
High commissions
Amazon also requires you to pay them 20% of your earnings, plus the low pay. Amazon pays a commission that is higher than that of comparable work platforms.
You may feel like you're punching yourself in the gut when you're making very little to begin with. In order to maintain the platform, they must take their share. However, 20% is excessive.
Boring tasks
MTurk is generally filled with monotonous, menial tasks. You might want to give it a try if you're okay with that.
Quick Links
Conclusion: How to Make More Money On Mturk
It is a viable opportunity for unqualified people or those who are unable to find other freelance work. They are genuine. Payment is guaranteed. Mechanical Turk Workers, however, are frequently underpaid.
When you have experience and solid skills, Upwork might be your best option for looking for freelance jobs.
Driving for Uber or Lyft might be a good option if your skills are limited. Consider delivering food for GrubHub and DoorDash.
Handy offers jobs such as furniture assembly and house cleaning.
Working for Amazon MTurk won't make you rich. We've said it before, and we'll say it again. Nobody else benefits from this situation.
You won't be earning more from HITS than you would from a minimum wage job, no matter how many HITS you complete.
See if there are any other gigs out there for which you are qualified before you agree to work for $2 or $5 an hour. You have a pretty good chance of finding a gig within the gig economy since it's growing all the time.