If you're looking for a comprehensive funnel solution, turn your head here; I have a detailed Kartra Review for you.
Running a business can be challenging, with various responsibilities such as marketing, operations, finance, and human resources. It can be easy for your online store to get lost in search rankings and impede growth.
I understand these struggles as I faced them myself at the beginning of my online business journey.
My journey with Kartra started as a quest for efficiency and growth in my online business. It was a time when I was struggling to keep up with the ever-evolving digital landscape.
Like many entrepreneurs, I wore multiple hats, trying to manage everything from email marketing to sales funnels, and it was taking a toll on both my time and sanity.
One day, after hours of scouring the internet for a solution, I stumbled upon Kartra. It was a fortunate find, and little did I know that it would become the linchpin of my online success.
At that point, I had tried various tools and platforms, each with its own promises and complications. But Kartra stood out from the crowd with its all-in-one approach.
After days of searching for the best options, I decided to give Kartra a shot.
What happened next was nothing short of transformative for my business.
With Kartra, I finally could create stunning landing pages, automate my email campaigns, set up sales funnels effortlessly, and even manage customer relationships, all from a single dashboard.
The time I used to spend juggling between different tools was now redirected towards refining my strategies and focusing on what truly mattered – growing my business.
The results were astounding.
My conversion rates improved, my revenue increased, and most importantly, I regained precious hours in my day.
As a gratitude, I am writing this Kartra review as I will share with you the benefits of using Kartra and how it can assist your online business.
Kartra helped me with:
Video hosting
Membership areas
Sales funnels mapping
Shopping cart
Lead management
Affiliate management
Email marketing & marketing automation and much more…
But that's not all! Here's more to Kartra. If you are in a quick hunch, read my short verdict to find if it is for you!
What is Kartra?
Kartra is a platform that has been fully integrated to ensure that every aspect of the software runs smoothly and efficiently.
The platform includes everything needed to start a successful online business.
And when I say everything, I mean it, so if you're considering email marketing, hosting, cart checkouts, webinars, videos, or split testing.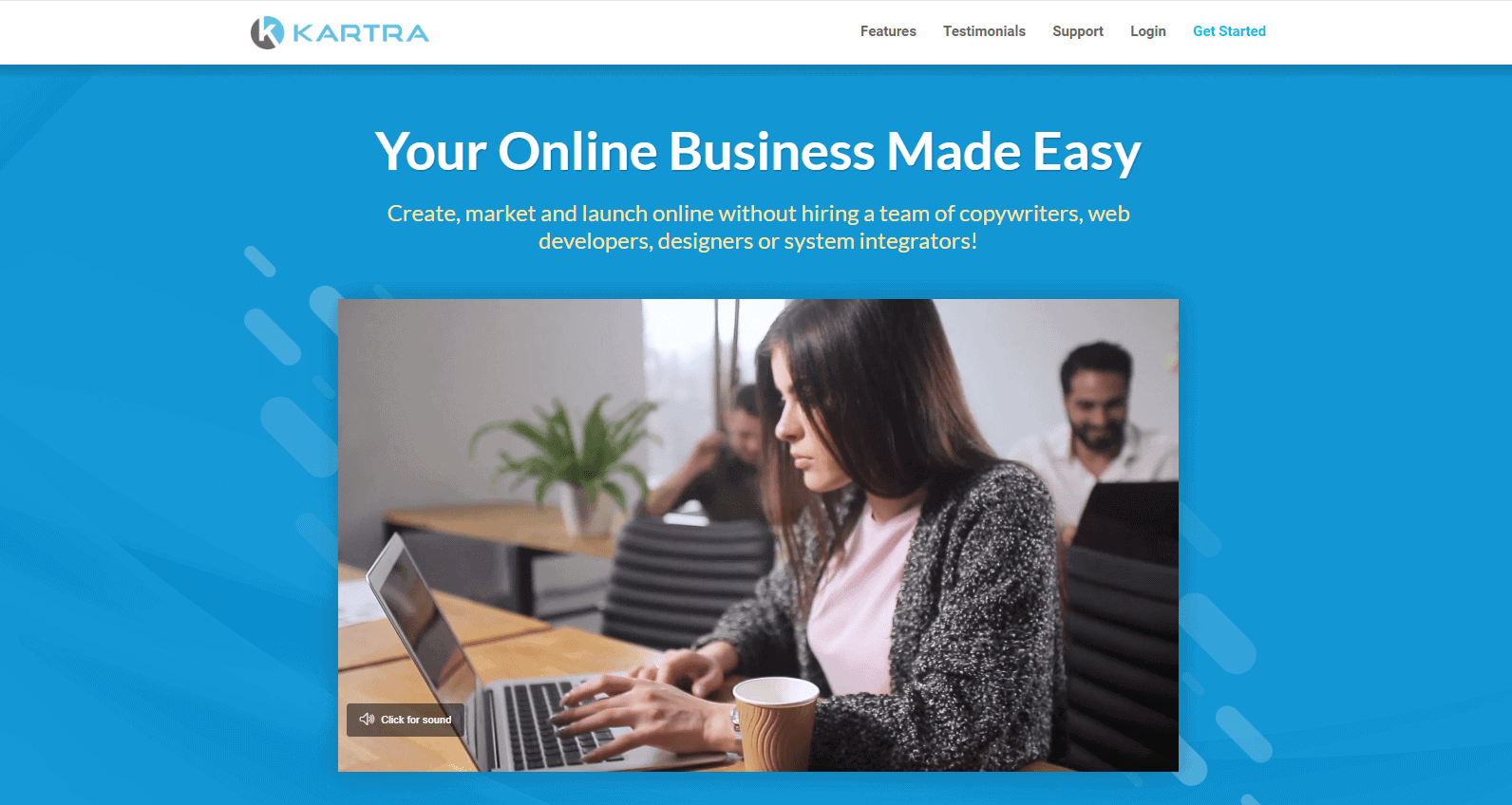 They created all of these features intending to be easily integrated.
The best part is that this platform was designed for anyone, whether you are new to the exciting world of online businesses or have been involved in it for years.
New users will appreciate how simple it is to use this brand, while experienced users will appreciate how little effort is required.
Those with experience only need a few days to get the hang of this platform.
The most appealing aspect of Kartra is its adaptability.
You will appreciate the drag-and-drop interface's simple tools and the nitty-gritty if you are not a coder. You can also see if Wix, Weebly, or Squarespace are better in certain areas.
Tech professionals can experiment with customized, complex, and highly advanced sales funnels to select the best business needs.
One of the primary benefits of using Kartra is that it is an entirely cloud-based software. As a result, you will always retain your data and can access it anywhere. (You may require an Internet connection!)
And, if you want to learn how Kartra works, they have a Kartra academy that is simple and free to begin with.
Source: Giphy.com
Is Kartra Worth It?
Kartra is not just for internet marketers and online businesses. It also connects easily to many other marketing apps and tools. You can access them all from one simple dashboard.
On the Kartra dashboard, you'll find everything you need for successful online marketing. This includes landing pages, forms, funnels, and dynamic content.
You don't need to be a marketing expert because Kartra offers strong lead and campaign management tools, basic reports, unlimited product listings, and web analytics.
This way, you won't waste your marketing efforts.
While there might be a learning curve with all these built-in tools and integrations, Kartra will become your most valuable online business tool once you get the hang of it.
So, if you're wondering if Kartra is worth it, the answer is yes. It will save you lots of time, money, and effort, and you'll get a fantastic return on your investment.
Who is Kartra for?
Despite being easy to use, Kartra isn't suitable for everyone.
If you already have a reliable setup that's working well for your business, then introducing Kartra to your sales process may be more of a burden than an improvement.
It's for people who want to spend less time fixing software issues and more time on what matters — closing sales.
Kartra is a versatile platform that can be used by various types of businesses, such as:
Course Providers – You can use Kartra's membership portal to create courses and training materials for your customers.
Coaches – Utilize the platform to run advertising campaigns and sell training programs.
Agencies – If your company manages marketing funnels and sales processes, you can use Kartra's agency feature to handle multiple sub-accounts.
Brick-and-Mortar Businesses – Kartra offers forms, quizzes, and scheduling features, making it useful for generating leads, scheduling appointments, and processing payments for small business owners as well as mid-sized ones.
Who Is Kartra NOT For?
Kartra has a few major downsides that I'll talk about in more detail below. Let me tell you who is most affected by these problems.
Karta is NOT a good choice if:
Stores that sell things
Not that it's bad, but it's not as good as Shopify. Shopify is only for online stores that want to set up a store and sell items. That's what you want to find. You don't need Kartra.
Someone with low budget
It bugs me that there are so many bad reviews of "iTZ sO ExPeNsivE." I get that paying a few hundred dollars a month is expensive if you sell $20 eBooks or $99 coaching packages, but you won't find other tools this good for this cheap.
Karta will cost you at least $99 per month, and you won't save much unless you pay for it all at once.
That's not much for all the features you get. If you don't have a lot of money, use a free or very cheap alternative.
But I will say that you probably won't be happy about it when you have to switch back to Kartra. And that day WILL come quickly if you work hard on your business.
Now, it is time to give you details about the features in this Kartra Review.
Kartra Features
If you are familiar with this brand because you have heard of it or have used it in the past, you are aware that Kartra has far too many features to cover in a single review.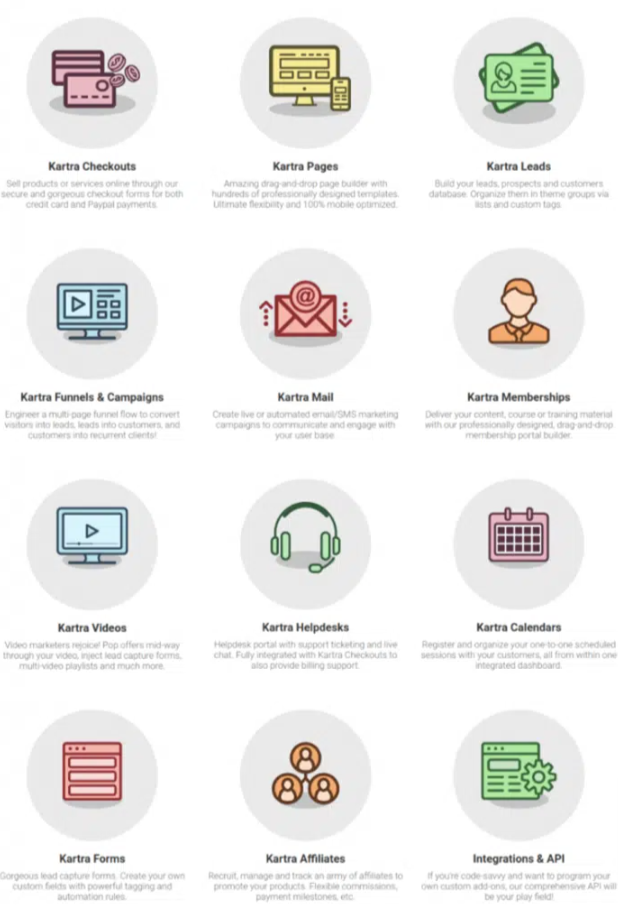 Sure, it has many features that will send you flying to the moon, but I will focus on the most important ones that will help your business grow.
1. Kartra Page Builder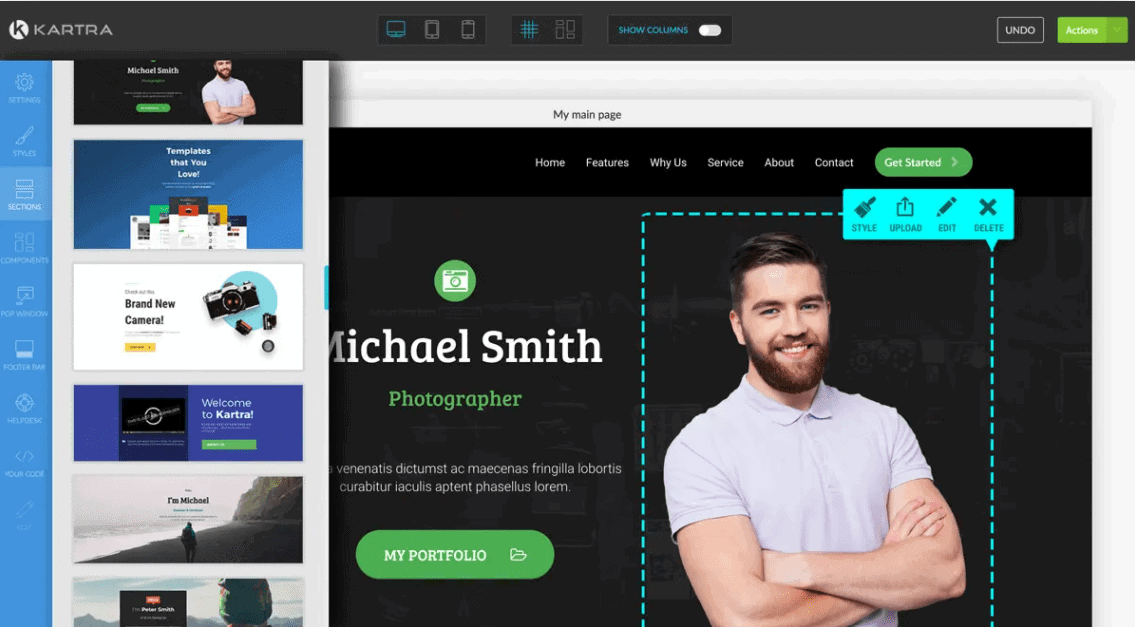 When running a business online, a web page is first in line because you can't run a business online without a web page, can you?
That is why the Kartra Page builder is so important. The Page Builder is the heart of Kartra.
The editor you've been assigned is whatever you see.
The platform provides over 100 pre-made templates that you can use to build any website you want for beginners or non-coders with a knack for knowledge. These include traditional home pages, blogs, sales pages, thank-you pages, and many others.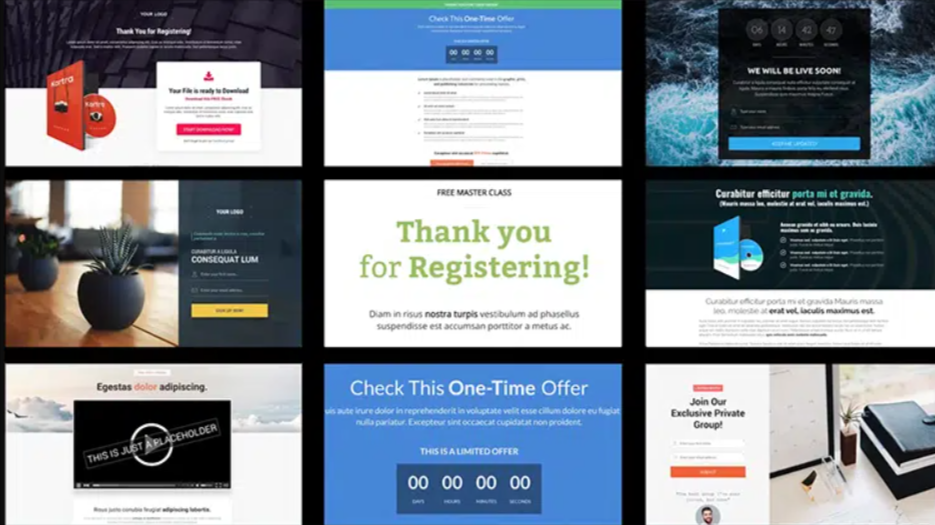 The templates are quite appealing, and they range from traditional to contemporary.
The import takes less than a second, and you can do it with a mouse click.
How to use Kartra pages?
To edit a template, pick the one you like and put it in the page builder.
Editing a template is straightforward. You can change text, swap images, and adjust the style easily.
You can also add new things using the provided blocks.
However, even though it's easy to use, the tool can sometimes be a bit inflexible and take more time than you expect, even for simple tasks.
For example, if you want to make a column wider, you need to switch to column mode, adjust the widths by clicking, and then edit them manually.
Ideally, you should just be able to click and drag.
When you want to add a picture to the page, you can choose from your existing photos or upload a new one.
Kartra also gives you sample sales text for all pages when you create your landing pages.
If you want to put a popup on your page, you can use Kartra's built-in popup feature instead of looking for another popup tool.
The built-in features are good for the editor, but it's not as flexible when it comes to design.
While Kartra's page builder is better than many other options, it still has room to improve in terms of how it works. For instance, pages made with Kartra might not look quite right on mobile devices, and alignment can sometimes be a little strange.
The editor is good for beginners in marketing, but it's not as smooth and flexible as some other page builders.
2. Kartra Opt-In Form Builder: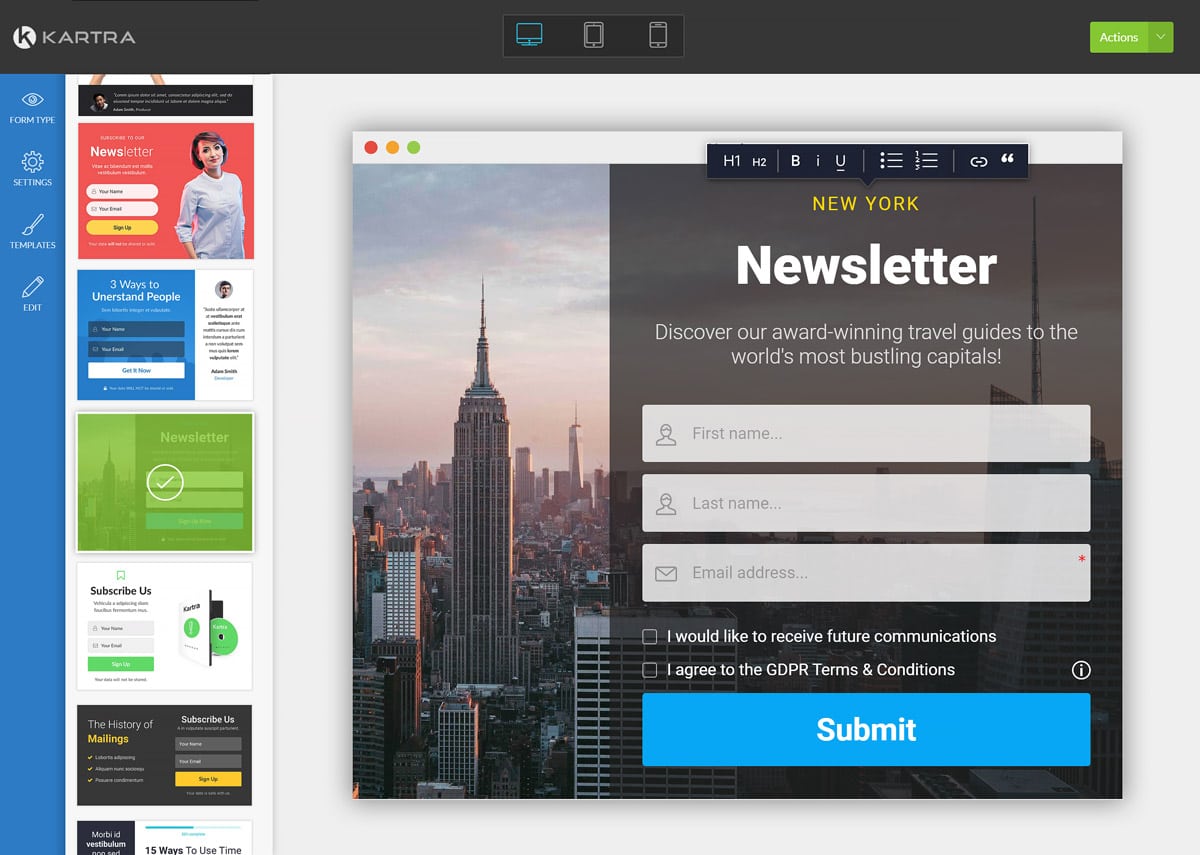 The opt-in form builder in Kartra is intriguing. Opt-in forms are an essential component of lead generation. The better the design, the more likely it is to generate leads.
Visitors should be able to enter all their information and submit it quickly. Furthermore, existing users' information should be auto-filled in the form.
As a result, the form should be distinctive and designed to collect or trigger specific actions.
GDPR-compliant Kartra opt-in forms are available for all devices, including desktop, mobile, and tablet.
Have a look at the types of opt-in forms and the different functions it offer:
Smart Opt-in forms
Kartra has users from various backgrounds and industries. As a result, Kartra can partially share cookie data for their opt-in email forms.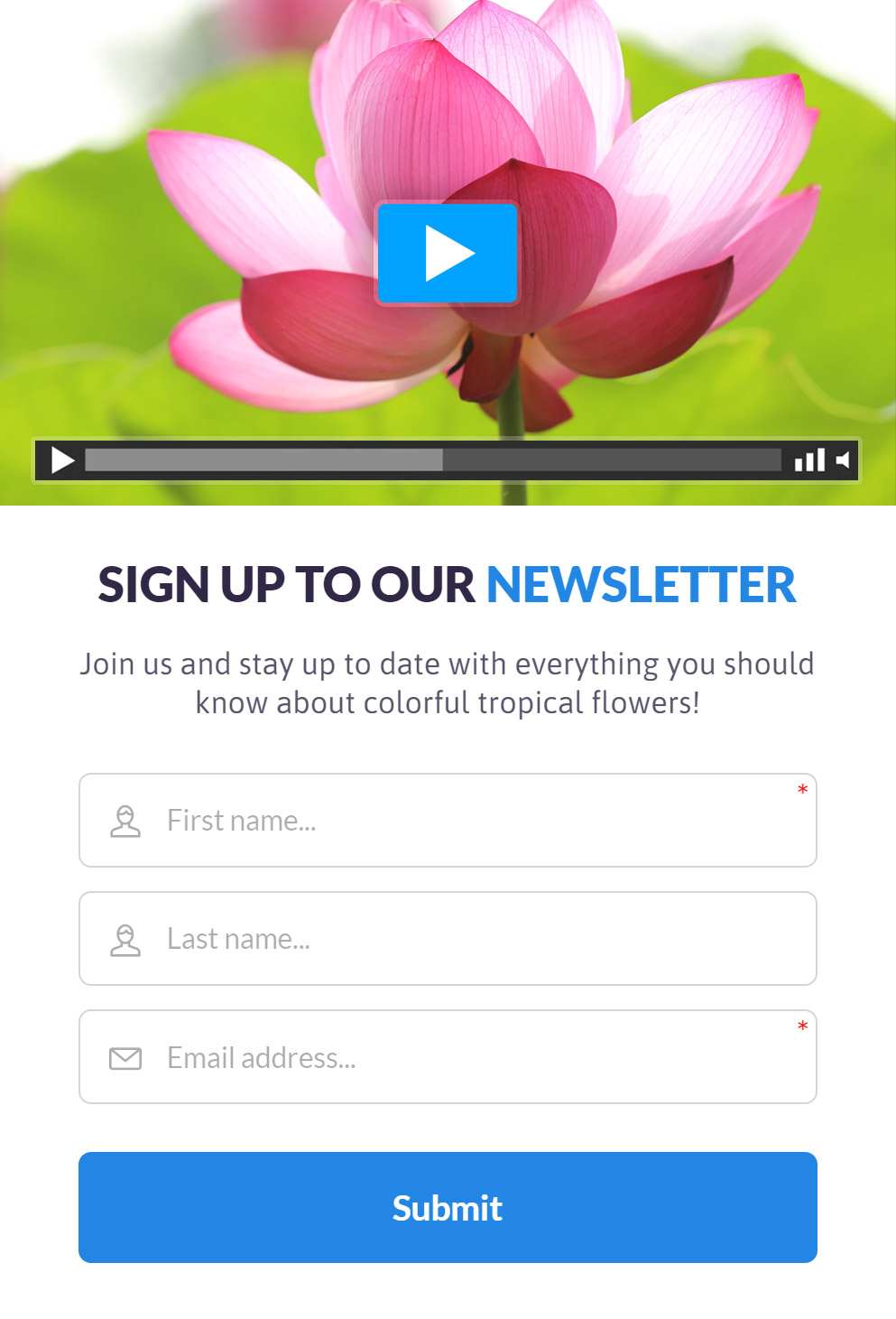 This means that if a web browser decides to subscribe to a different Kartra user's form and then encounters your form later on, their information will already be filled in.
In simple terms, all the user has to do is click the 'sign up' button. This makes getting more leads easier because it eliminates a step from the sign-up process.
Embedding forms
When you create a form in Kartra, you get a piece of code you can put on your blog or anywhere else online.
When you use this code, the form will appear just like it should.
The good part is you don't have to manually change the code snippet on your WordPress page or website. Kartra will do this for you automatically.
Any changes you make will always be updated on both your WordPress blog and Kartra, which is really convenient.
One thing to note, though, is that some people find it a bit tricky to test different designs for their email opt-in forms in Kartra, unlike some other email marketing tools.
But all in all, Kartra's opt-in email forms are excellent for creating landing pages that convert well and help you get more leads.
4. Kartra Split Testing 
Do you know what's all the rage these days? Performing extensive split tests on landing pages.
Kartra's A/B testing lets you use quick and accurate test data to display the most effective pages. Because of its flexibility, Kartra provides amazing split tests that you can easily implement. If you want to make changes to a copy of a specific page, go ahead.
Do you want to remove a video? Nobody is going to stop you!
Are you up for tearing down an entire design page and testing two different pages? Proceed with caution!
That is the problem! The split tests here give you such flexibility, whereas other brands may make it a little more difficult and refuse to let you run it on larger, more important features.
Here's how it works: you show users two versions of the same page, see which one performs better, and then show that winning page.
You get valuable market research in just a few days, and it's all done on the internet.
Like a lot of features in Kartra, the A/B testing is designed for simplicity and seamless integration.  It may not have all the advanced features, but you can set up a test in just 10 minutes, and the data automatically becomes part of your Kartra setup.
5. Kartra Checkout Cart
A key feature of Kartra is its ability to sell products and services online through its built-in shopping cart feature. 
Even the most beautiful website is only useful with the ability to sell products or services. When adding a product to Kartra, you can create the main product or use upselling and down selling strategies.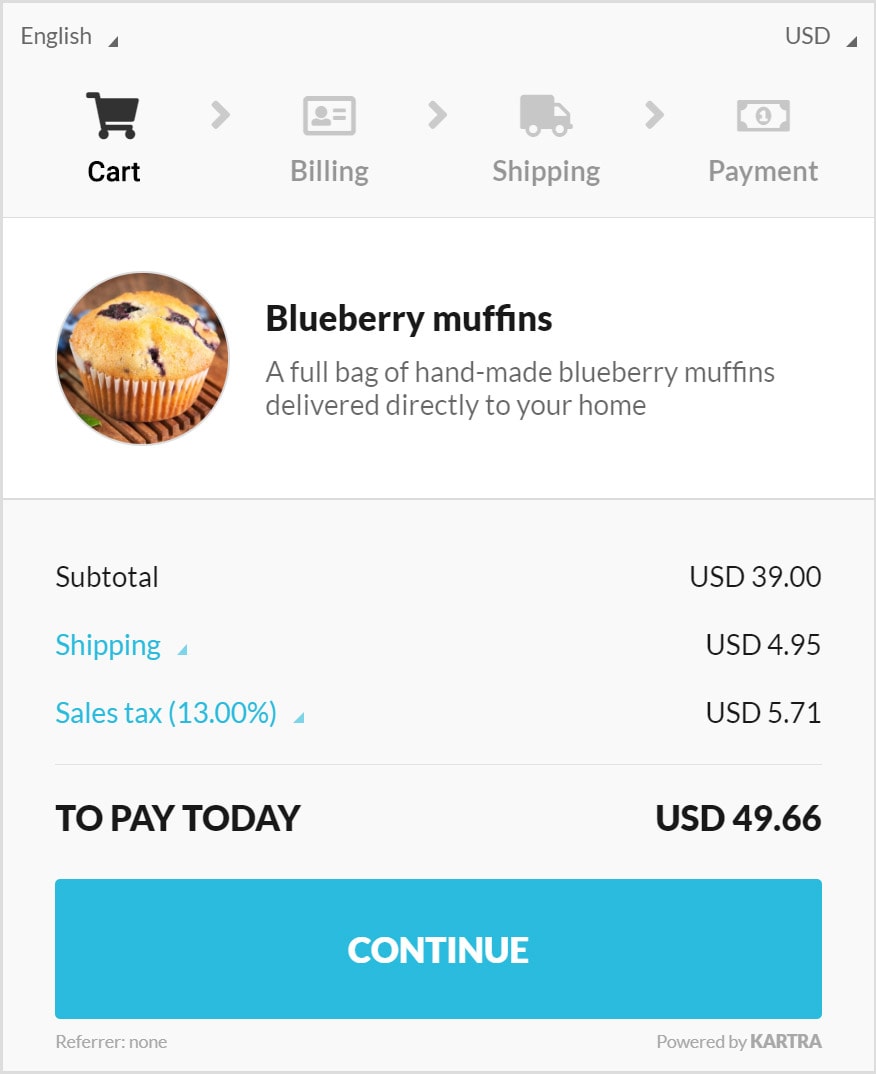 They will display the products accordingly. Kartra guides those new to using a shopping cart feature, and for those who are experienced, it provides a familiar environment to work in. 
That is the problem! The split tests here give you such flexibility, whereas other brands may make it a little more difficult and refuse to let you run it on larger, more important features.
Automation 
Kartra also offers a workflow builder feature, also known as the sequence builder. While it is a useful feature, it can be tedious to use. 

For example, adding an element or moving items around may cause the editor to freeze, which can be frustrating. 
However, if you can handle the lag, Kartra's email marketing system offers many features that other email marketing products offer. 
It may not be as advanced as the top email marketing systems, but it still provides a productive and integrated marketing system.
10. Kartra Calendar
If your business does not involve scheduling appointments, move on to the next section. 
Setting up an efficient appointment system can be challenging, especially when done manually. It requires managing scheduling, rescheduling, preventing double bookings, handling last-minute cancellations, and sending reminders.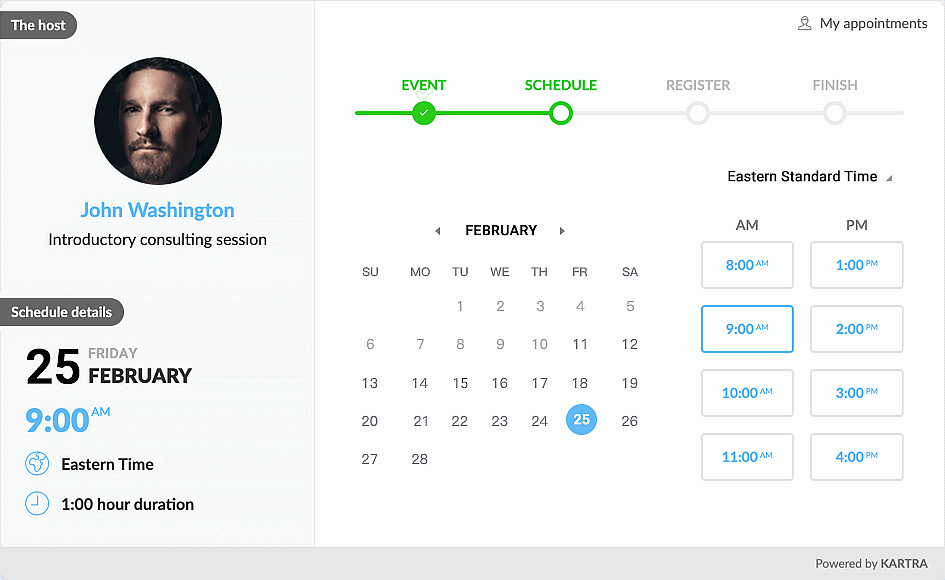 Fortunately, with the help of Internet calendars, managing appointments has become easier. Kartra offers a comprehensive calendar application that can aid in organizing your booking system. 
It allows customers to view available time slots and reschedule or cancel appointments to save time for both parties. 
The Kartra calendar is also designed for desktop and mobile platforms and can be integrated into any Kartra website. 
You can also accept or decline appointments, block time slots or full days, set automatic reminders, charge customers for bookings and choose from various calendar models with this tool.
Styles
When compared to other graphic editors, the Styles tab is where things start to slow down.
Kartra Page Builder Styles: Yes, you can change the usual font, the color of the background, and the width of the page, and you can also get to the CSS code.
Editor Kartra Page Style CSS, But it's a bit thin. Other tools, like Wix or Elementor, let you change the background styles, which can make your website stand out.
A bigger choice of fonts and the ability to change the hovers could have also been helpful. Parts, or Sections, and Parts Now it's time to build the page with blocks and features. Kartra Page Builder Block Elements
You can do the following from these two tabs: Pre-made parts, like the "About Us" or "Forms" sections,
With the parts inside these blocks, such as a button or a picture format, Building a site is easy as a whole. You need to click on the thing you want to add, drag it onto the page, and drop it where you want it to show up.
I liked how many different kinds of blocks there were. After looking at more than 20 website makers, I would put Kartra in my top three when it comes to how many different kinds of blocks it has.
Kartra Ease Of Use
Kartra is a powerhouse, but don't let that intimidate you. It's a user-friendly marvel! With its intuitive interface, you'll feel like a pro from the moment you log in.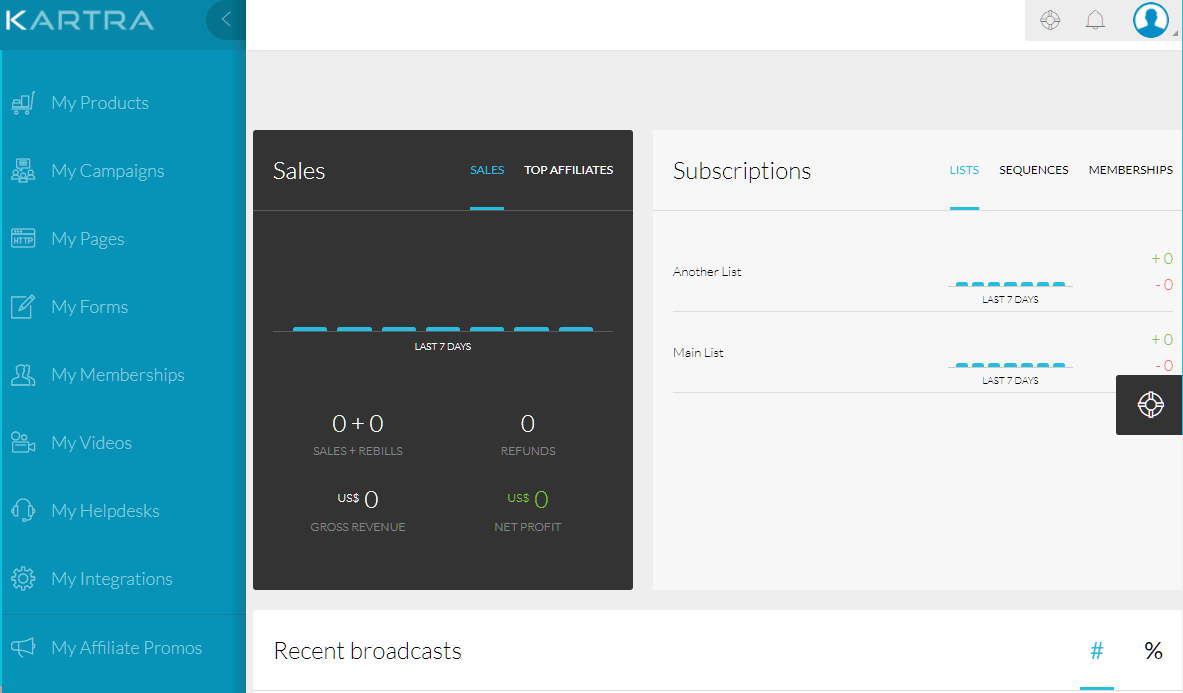 And if you ever need a helping hand, fear not – step-by-step instructions are there to guide you every step of the way.
Once you're in, take a glance to the left, and you'll discover a treasure trove of tabs:
My Products
My Communications
My Pages
My Forms
My Memberships
My Videos
My Calendars
My Helpdesks
My Campaigns
My Integrations
My Affiliate Promos
Kartra Academy
Each tab is a portal to a world of possibilities. Click on any, and voila! You're transported to a realm of easy-to-use tools designed to make your dreams a reality.
For instance, under the "My Pages" tab, you'll find a goldmine of "Block Templates" with sub-tabs like:
Settings
Styles
Sections
Components
Pop Window
Alert Bar
HelpDesk
Your Code
No matter your mission, whether it's creating stunning web pages or launching email marketing campaigns, you'll effortlessly navigate through the well-crafted dashboard to find the links you need.
Kartra Integrations
We've come a long way, but we've only scratched the surface of Kartra's marketing capabilities.
Although Kartra provides everything in-house, it goes above and beyond the basics to ensure that each product is highly functional and does not necessitate any significant technical or marketing skills on your part.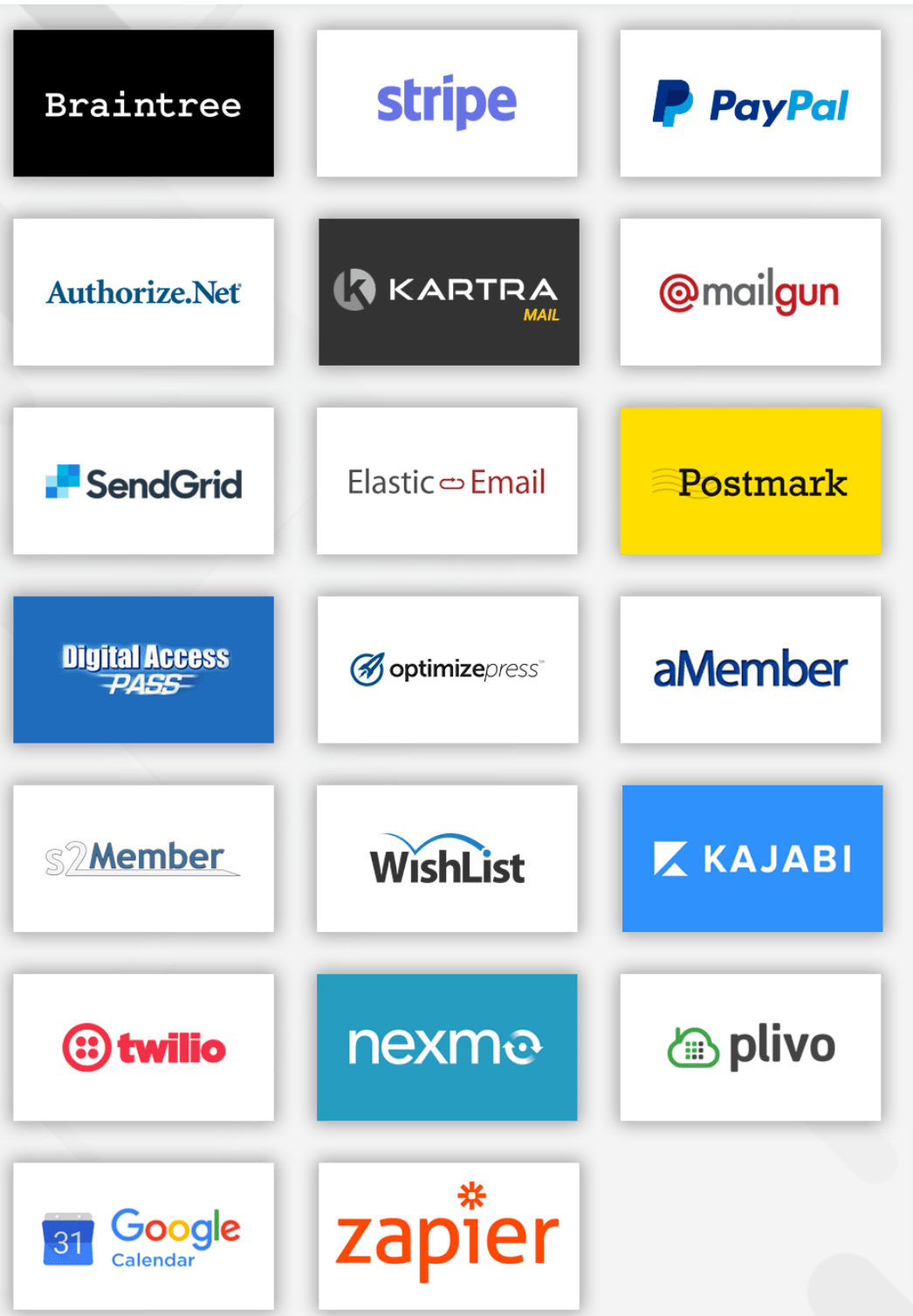 If, on the other hand, third-party integrations are unavoidable, you're in luck.
You can use the Kartra webhook or Zapier integration to get the job done if you have data to curate from third-party tools or are intrigued by their specific feature.
Zapier has over 2000 pre-built integrations that you can use.
Finally, Kartra offers a robust set of alternatives — APIs, IPNs, and a custom app framework — that enable you to interact with the system in almost any way you can imagine.
(Ofcourse, programming skills are required for these alternatives, as they are for any platform).
Kartra has a large number of ready-to-use integrations from a variety of industries, such as payment gateways, email service providers, and membership platforms:
Braintree,

Stripe

Paypal

Authorize.Net

Mailgun

Sendgrid

Elastic Email

Postmark

Digital Access Pass

Optimize press

aMember

s2Member

Wishlist

Twilio

Nexmo

Google Calendar and many more…
Kartra Customer Support 
Starting a new business can sometimes be intimidating, making things a lot more stressful than they used to be. Fortunately, Kartra provides some options for getting answers and engaging in stress-free conversations with the brand.
Concierge Service 
If you feel overwhelmed by this platform, you can use the concierge service provided by Kartra, but remember that this service is not included in any of the paid packages.
It costs only $150, and the team will set up anything you want, including squeeze pages, thank-you notes, email sequences, automation, product pages, and tagging.
You can also use this service if you need more time to set things up. It may appear a little pricey initially, but considering how much time it saves, it is well worth it.
Kartra Customer Reviews
Here is what Kartra customers say: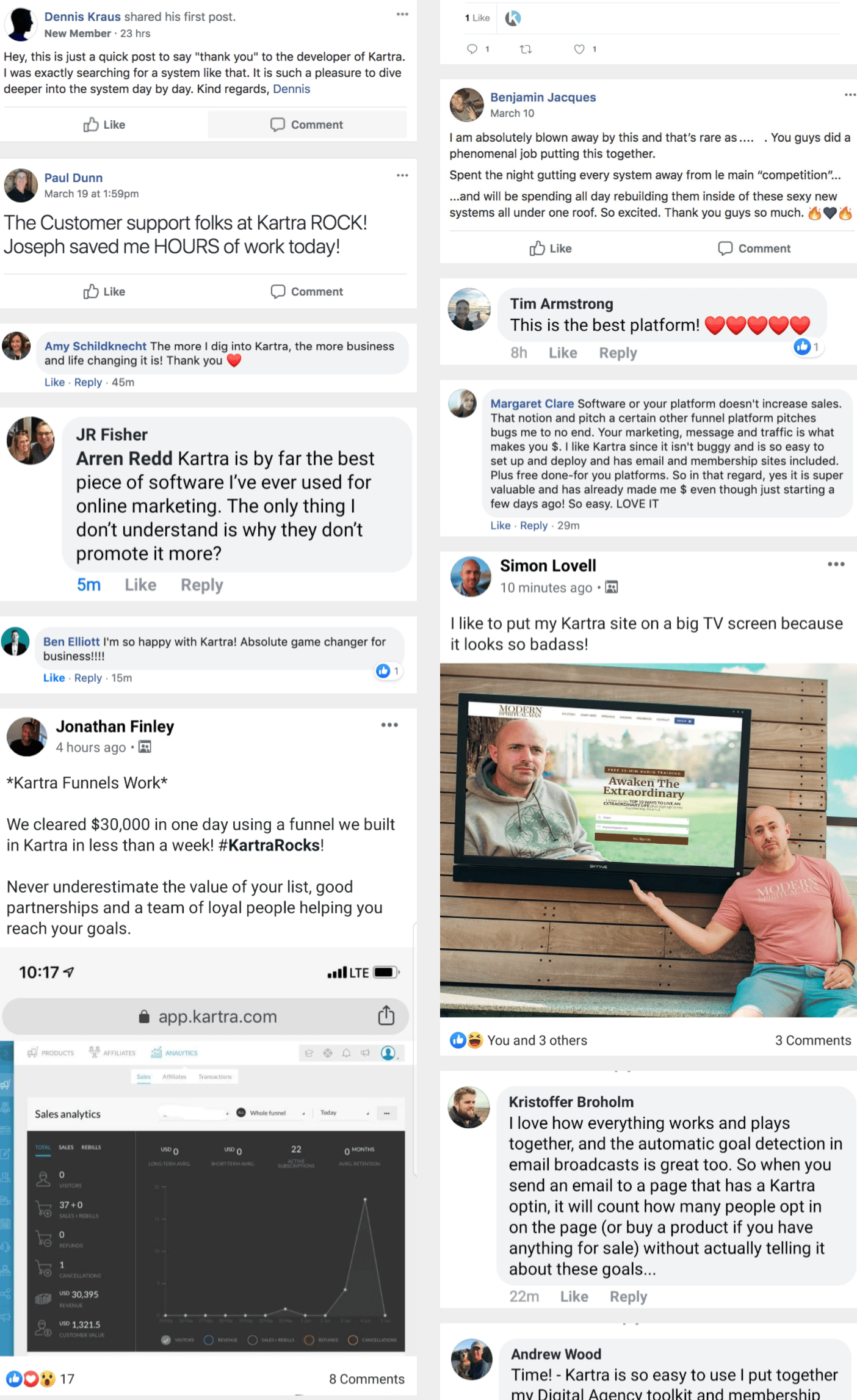 FAQs (Frequently Asked Questions):
What is Kartra good for?
Kartra is great for running your business in one convenient place. This marketing software has all the tools you need to start, grow, and handle your business in one spot. It's especially awesome for selling digital things like courses or memberships. So, in a nutshell, Kartra does a fantastic job at pretty much everything!
Is Kartra safe?
Absolutely, Kartra is completely safe to use. It operates in the cloud, so you only need one login, and it uses the latest security measures to protect all your data. You can use Kartra with complete peace of mind.
Who is behind Kartra?
Kartra was created by Andy Jenkins and Mike Filsaime and has the support of marketing expert Frank Kern. The company goes by the name Genesis Digital, LLC. You'll find that most Kartra reviews online are quite positive.
Does Kartra have a free trial?
Kartra doesn't offer a free trial, but they provide a 14-day trial for just $1. Plus, they have a 30-day money-back guarantee, so you can try it out with confidence.
Is Kartra good CRM?
Kartra has its CRM known as Kartra Leads. This CRM lets you tag customers, score leads, store information, and customize each customer's experience with your business. The best part is, it's seamlessly integrated into the rest of your Kartra setup. While it may not be as robust as some other CRM systems, it works perfectly well for small businesses and is incredibly convenient. So, even though Kartra is primarily a shopping cart and automation tool, it still offers a reliable CRM solution. Feel free to scroll back up through my Kartra review to find more details in the CRM section.
What tools does Kartra offer?
Kartra is a complete package that equips you with all the necessary tools to manage your business using a single marketing automation tool. Its impressive range of features includes a shopping cart, a user-friendly landing page builder, the ability to use your own custom domain, an email marketing automation tool (known as the sequence builder), web hosting, dynamic follow-up capabilities, a CRM system, unlimited bandwidth, and a set of tools for running effective online marketing campaigns.
My Personal Take on Kartra
Kartra has been a true game-changer in my online business journey, providing a robust set of tools that have not only simplified my operations but also propelled my business to new heights.
Here is what I liked about each of its features:
Landing Pages and Sales Funnels: Kartra's intuitive drag-and-drop builder empowered me to effortlessly create stunning landing pages and sales funnels. Their professionally designed templates and seamless integration allowed me to easily capture leads and convert them into paying customers.
Email Marketing Automation: I was able to automate my email campaigns, segment my audience for personalized messaging, and deliver emails at the perfect time. This resulted in increased engagement and sales conversions, ultimately boosting my revenue.
Customer Relationship Management (CRM): Kartra's CRM system helped me maintain a deeper connection with my customers. With comprehensive customer profiles and purchase history, I could tailor my communications to their needs, enhancing customer loyalty and satisfaction.
Affiliate Management: One of Kartra's standout features is its affiliate management system. It allowed me to effortlessly recruit, manage, and reward affiliates who promoted my products. The built-in tracking system ensured transparency and accuracy in affiliate commissions, driving more sales through motivated partners.
Analytics and Reporting: Kartra analytics and reporting tools provided invaluable insights into my business's performance. I could measure the effectiveness of marketing campaigns, track conversion rates, and adjust strategies accordingly.
Not to forget, the support team. Kudos to the team.
Through my hiccups, the team stood out with its exceptional knowledgebase and quick resolution.
Kartra Review Conclusion
Here's my verdict: Kartra is a powerful tool for growing your online business, making money offline, and achieving more freedom.
It is especially useful for beginners, offering features like pop-ups, alert bars, and a help desk that can be linked to pages.
It simplifies creating automation by linking pages and elements on the site. It includes step-by-step instructions for setting up pages and funnels and pre-designed campaigns on various topics.
Kartra's easy-to-use platform, done-for-you features, and tutorials make it accessible for beginners.
It also offers extensive features and tools and aims to help businesses save money compared to expensive platforms that require additional tools.
Emails, pages, and automation are all set up for you, and you can easily edit them to match your brand.
No matter where you stand, Kartra is an excellent choice, especially if you don't have a team of marketers, copywriters, and designers at your disposal to assist with your online business.
Meanwhile, you can also check some quick comparisons here: