Bottom Line Upfront: 

If you're all about having a bunch of top-notch marketing tools to get your online business up and running, and you want to sell both real stuff and digital goodies, then Kartra is the one you want.

But, if you're thinking more about building a cool group of students for your online course and need a platform that takes care of everything – from creating and selling digital stuff to helping out customers – then Kajabi is what you're looking for.
The Differences Between Kartra vs Kajabi:
Kartra is primarily a marketing platform but also offers to host digital products as an added feature. Kajabi is primarily a platform for delivering online courses but also allows for website building and content promotion.
Kartra includes a built-in helpdesk and live chat feature for websites, while Kajabi does not have this built-in functionality. Kajabi allows for website conversion into a blog, while Kartra does not offer this service.
Kartra comes with an integrated scheduling and calendaring system for appointment planning and availability display. To get this functionality on Kajabi, you will need to install a third-party plugin like Live Chat or embed a third-party tool like Calendly.
Kartra Overview:
Kartra is a multi-purpose business tool. It's a Swiss Army knife for managing your company's operations, marketing, and sales. It's an eCommerce website builder, a CRM, and email automation, and you can even create membership sites.
You can host videos with lead capture, a help desk, and a calendar integration where you can host meetings and appointment forms.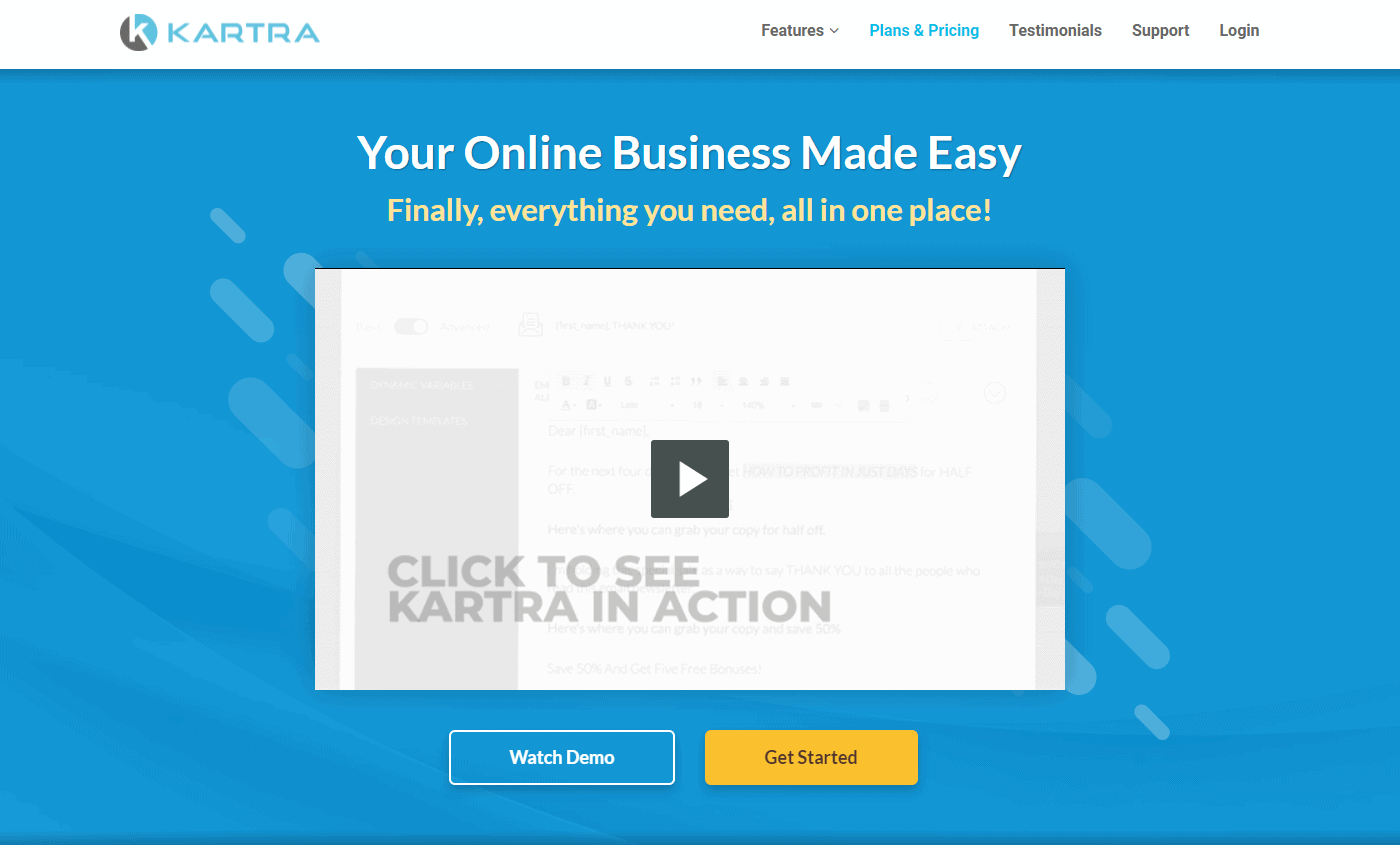 You can run affiliate programs with these built-in integrations and even run an agency using lead-capture methods. As a result, it has a plethora of features.
It's just not a collection of all these tools in one package. The real value is that it is all integrated.
So, all of this good can communicate in a single database, allowing you to create cool campaigns that build off of one another. Kartra assists you in returning to the next level by having these done for your campaigns.
Kajabi Overview:
Kajabi is an all-in-one platform that wins the day because it does much more than the other platforms and delivers hands-down. Overall, I think Kajabi is a good platform to use.
The first thing you'll notice when you enter Kajabi's backend is how clean everything I need to know is. There aren't any crazy buttons or anything.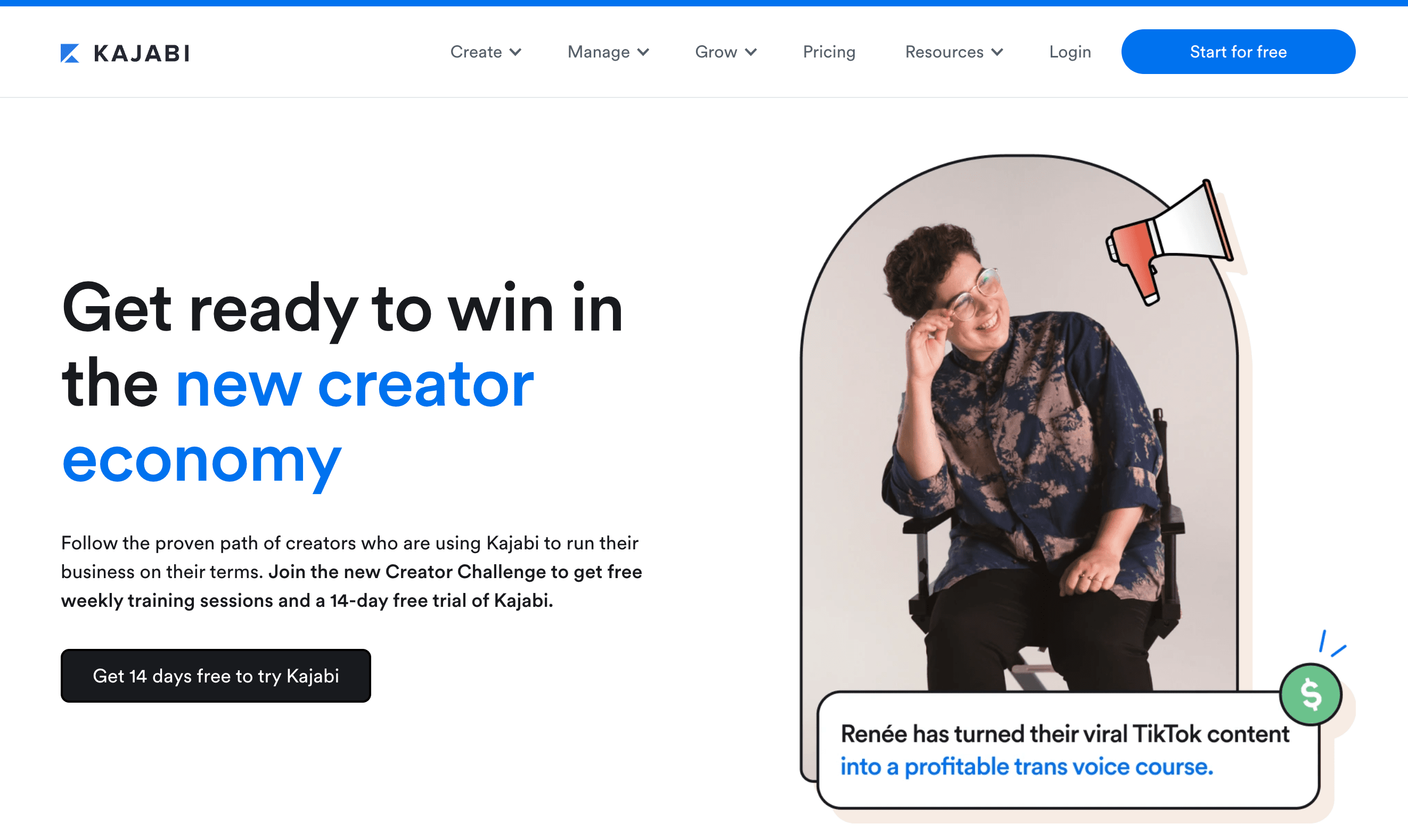 The fundamentals are the website, products, marketing, people, and settings.
Everything is fine in Kajabi, and you can just get started to learn the basics of everything you need to do to get up and running and create your first product right there in front of you, which is great because it is very simple and easy.
You can run your entire business on a website without needing a blog on WordPress or anything else. You can run it all directly from Kajabi, which is fantastic.
Kartra Features
I have picked some factors to compare the two tools based on these features:
Marketing Automation 
It allows you to automatically remove people from a list if they purchase a product, and you can set it up quickly and worry-free. You can even know how many different automation you can run simultaneously.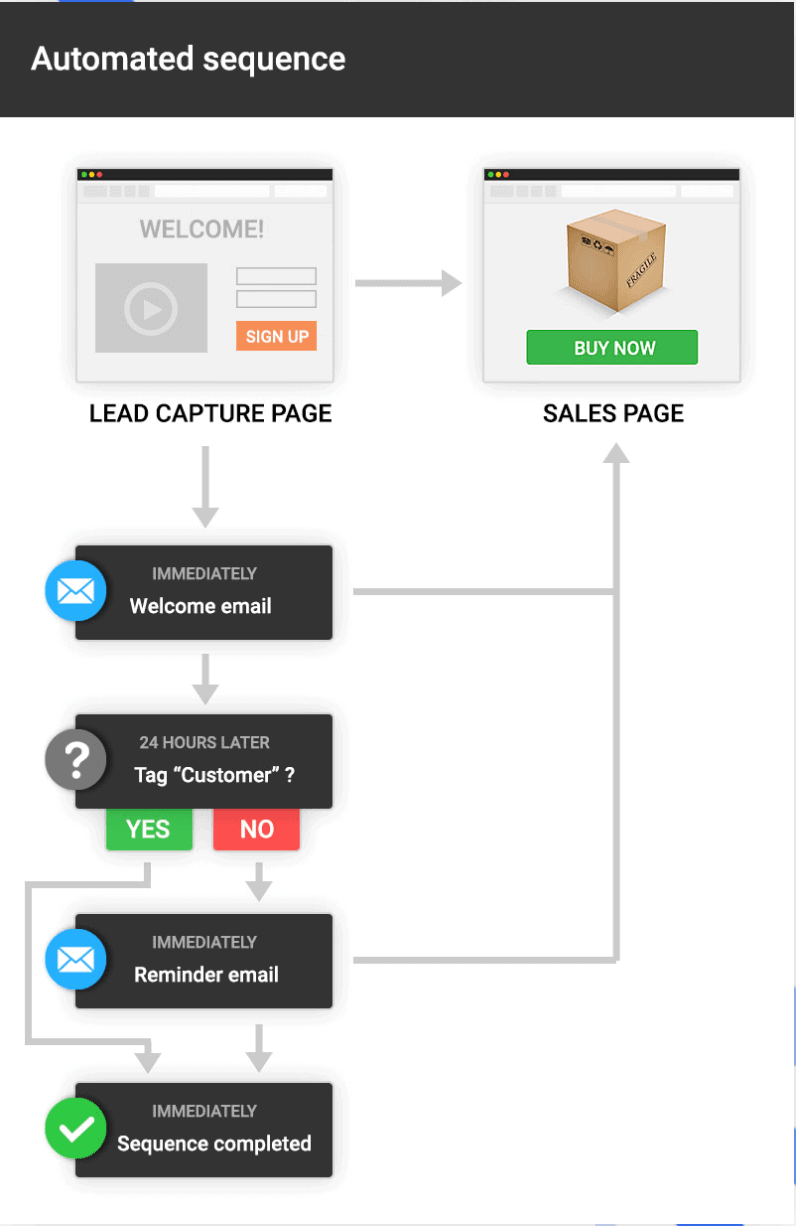 Inside Analytics, you can see automated sequences and everything organized into a dashboard so you can see everything in one place.
Kartra Email Marketing
Kartra allows you to activate a stack of automation based on your recipients' actions. It also has intelligent split testing, which allows you to test your email content and subject lines, track conversions, and automatically switch to the version that converts the best.
It's a pleasure to use and extremely simple to grasp. It also has beautiful templates.
Landing Page Builder
A landing page is a short page that keeps people from leaving and often gets them to buy something. It's similar to a one-page mini-website.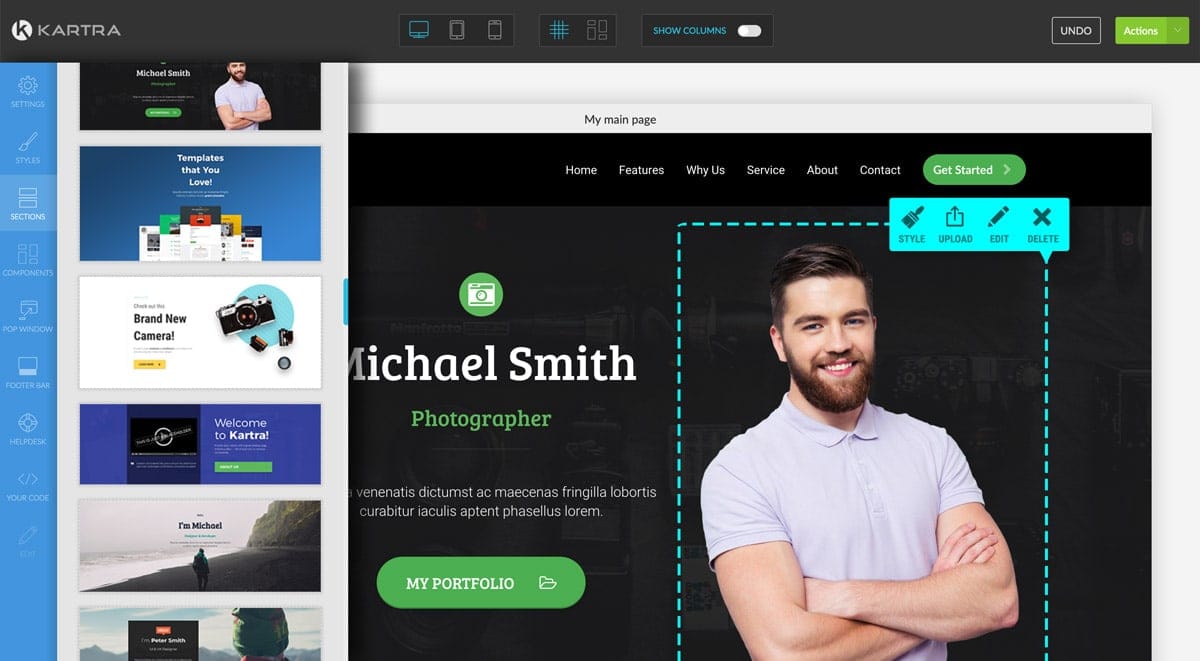 You can quickly drag and drop landing pages. It is straightforward and to the point. It is such an all-encompassing program that you do not need to use anything else.
Lead Generation 
Every lead has a story, and your leads are your most valuable asset. They are your prospects, customers, affiliates, and so on. In short, your company could only function with them.
That is why Kartra places such a high value on them. Everything is interconnected within a unified ecosystem, and you have complete visibility.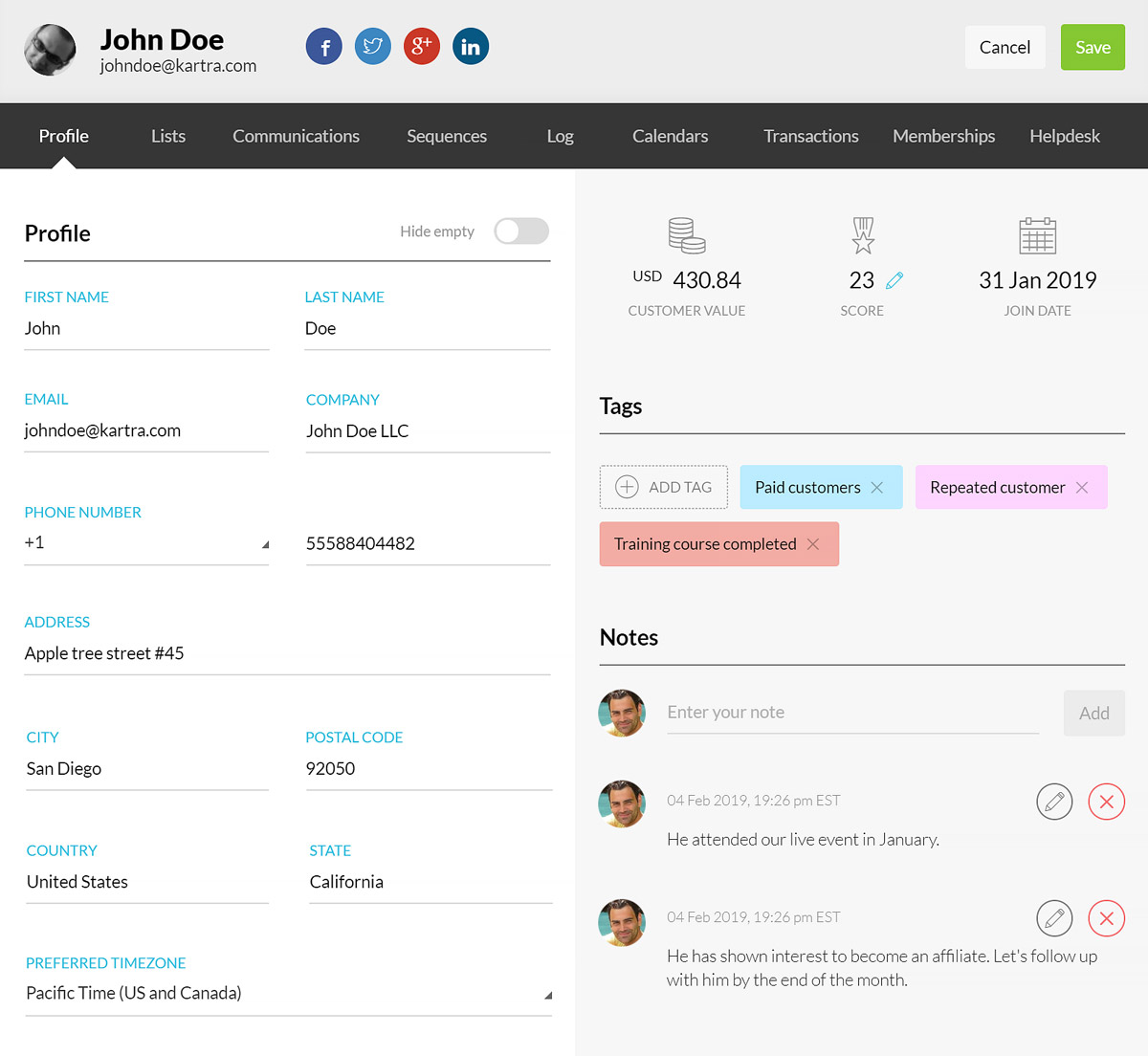 Kartra lets you collect data about your leads and how they act, so you can figure out how they connect with your sales funnel.
This is done in a single method called Kartra Leads.
With Kartra Leads, you can see a full picture of all of your leads or just one at a time.
Your leads are given automated lead numbers so that you can see who your best customers are and where you should focus your efforts.
The system keeps track of leads, so you can see where you might be losing customers or where your sales paths are getting people's attention and getting them to buy.
You can also set up automation to happen when a lead gets a certain score or tag.
Depending on which plan you choose, you can have a certain number of leads.
On the Starter plan, you get 2,500 leads, on the Silver plan, 12,500 leads, and on the Gold plan, 25,000 leads. With the Platinum plan, you can reach 50,000 leads.
The pop-ups and alerts
You can make pop-ups and notice bars here.
All of them, mostly landing and exit pop-ups, come with themes. It helps a lot with GDPR compliance and increases the number of people who buy from you.
One mistake you can make is to have too many alarms. Because it's so easy to set up alerts, you might be too tempted to do it.
Don't worry; you won't annoy guests as long as you give all notifications an end date and a good size. It would have been easier to use if both parts were on the same tab, but once you get used to it, it won't be a big deal.
Preview
On the Preview tab, you can see how your site looks on different devices. Kartra Page Builder Preview Modes, It's great that you can keep making changes even when you're in a preview.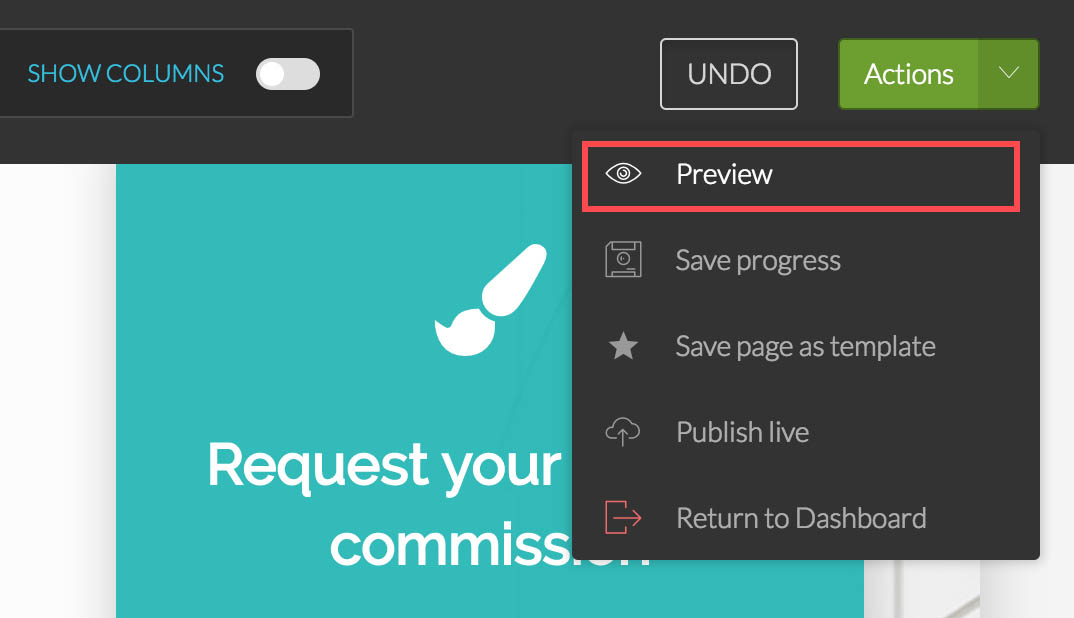 On the other hand, you can't hide some things from mobile devices. Most visual editors support this because you can end up with sections that use a lot of resources or images that aren't formatted well and only work for desktop users.
All the elements in Kartra seem to be very well optimized, and they resize themselves instantly, so it might not be a problem, but you never know.
Kartra Page Builder
Kartra's page builder is comparable to leading players in the website builder market such as Wix, Weebly, and SquareSpace.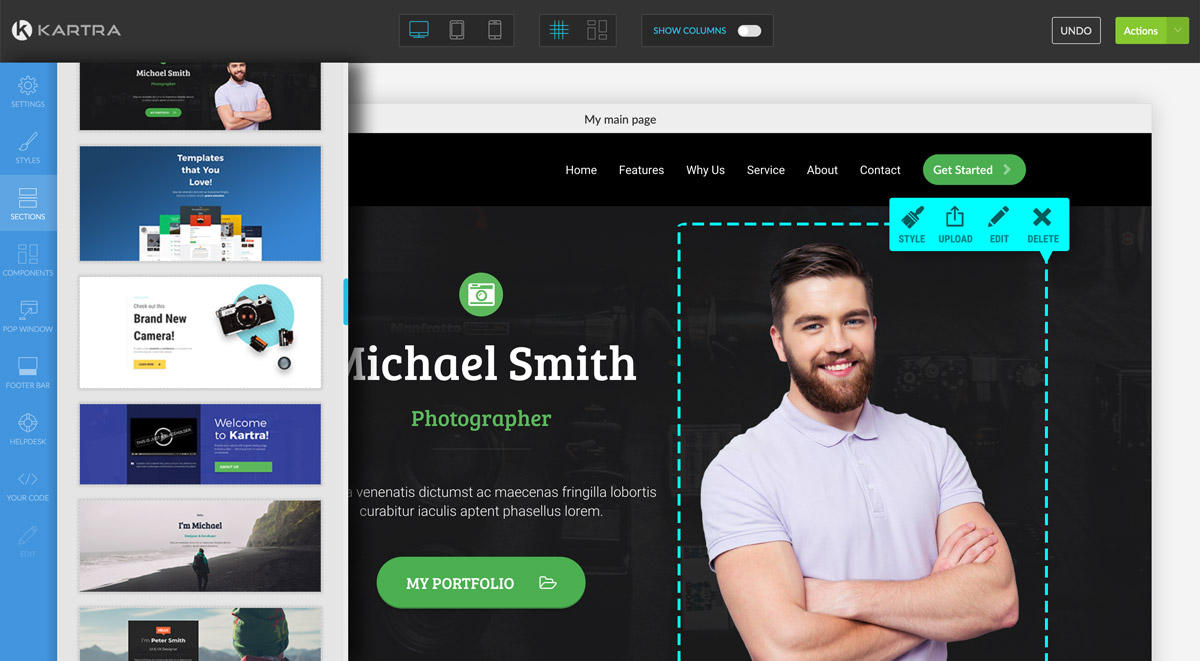 While these competitors excel in certain areas, Kartra has the potential to compete with them head-on, given a few adjustments to its page builder.
The tool offers a wide range of functionalities, including site management, SEO, and CSS playgrounds.
Upon using the page builder, you'll immediately encounter a helpful tutorial that guides you through each section.
The tutorial is well-crafted and ensures that you can quickly get started with building your website by teaching you the basics.
In case you skipped the tutorial, Kartra provides a comprehensive page builder guide that you can always refer to.
Lead Management 
You can learn about your users' behavioral patterns, such as how they arrive on your site, when they leave, which links they click, how they move from the moment they sign up to the point of checkout, and so on.
It verifies your blueprint and identifies weak points. It also has advanced tagging and lead-scoring capabilities.
Lead Nurturing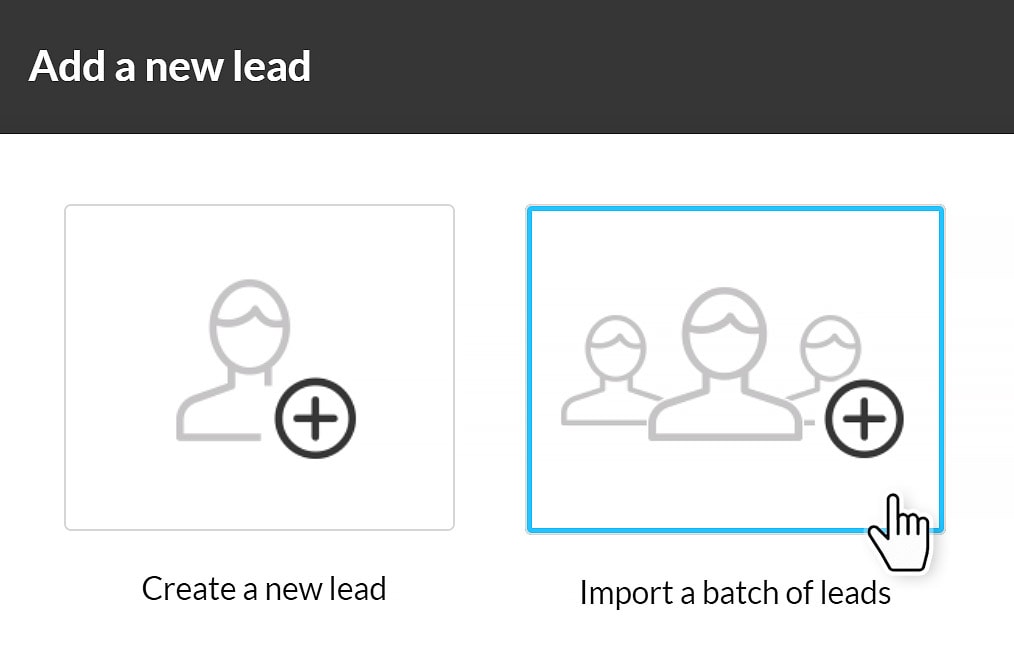 Once you begin receiving leads through a specific landing page within Kartra, you can tag those leads so that you can see where the lead originated and where this lead is subscribed to a specific email sequence that you have.
So, once you've gathered those leads, there's a section where you can see lists that can help you organize them.
Shopping Cart 
You can make unlimited profits or provide services in the form of digital, physical, or individual products, memberships, training courses, and so on.
Each product has multiple price points and payment options, including one-time, recurring, and installments.
You can click on transactions.

Automatically tag your buyers.

Upsells down sells, and order bumps.
Kajabi Features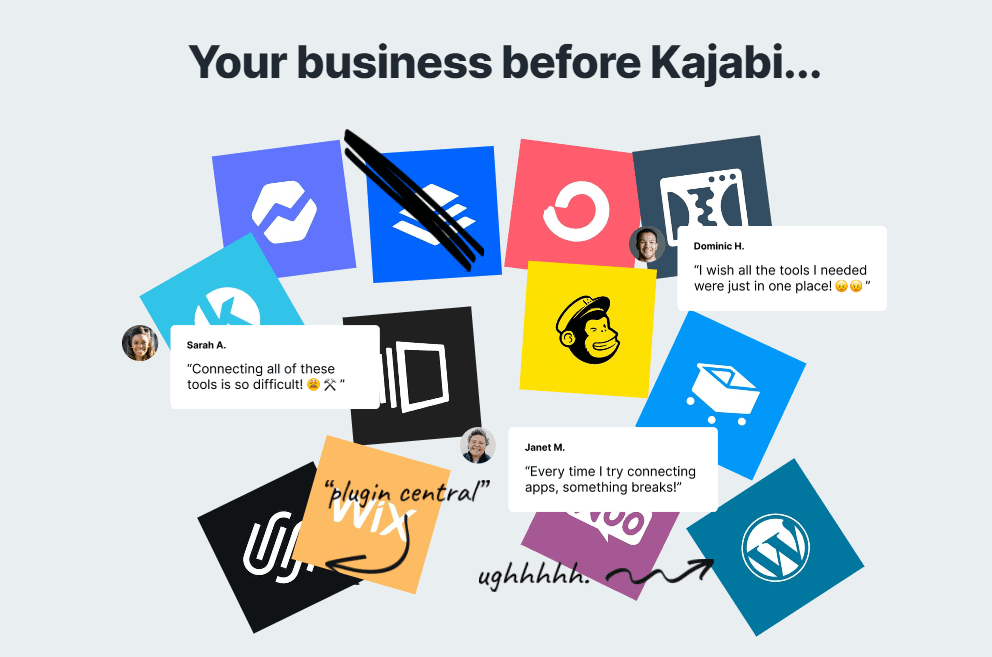 Website Builder 
If you are not a blogger and want to set up a website but want to use something other than WordPress, you can create an entire website in Kajabi.
It is fairly simple and includes all of a website's essential features. They also have a feature allowing you to set up your blog. They have a blog feature on their website, so you can start setting up your blog immediately.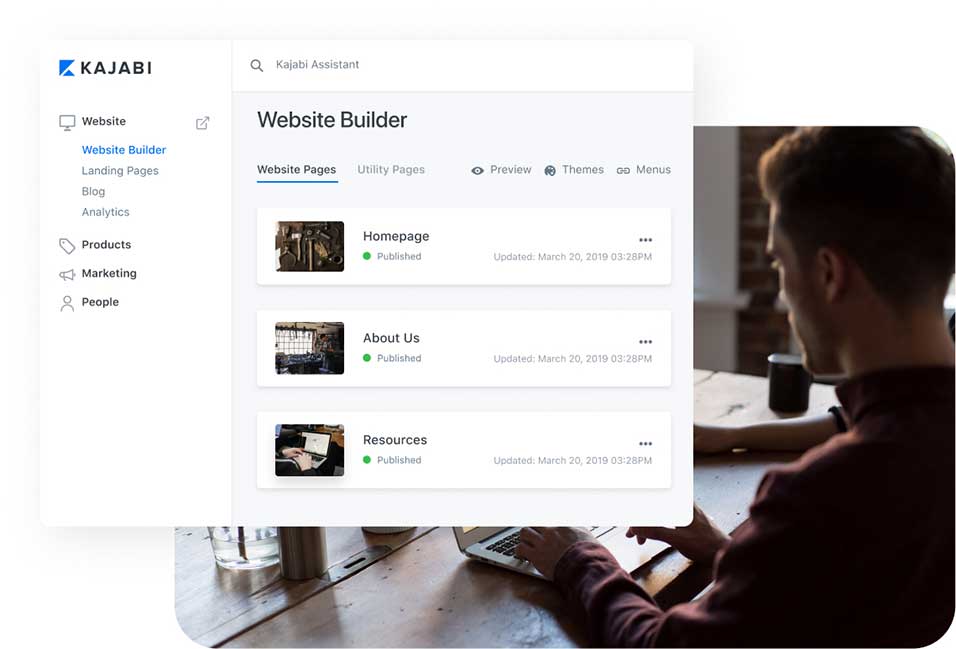 Suppose you are a coaching consultant service provider, information product creator, and not a blogger vector. In that case, you need to think about SEO and all those thugs for which WordPress is great, but again, if you are not a blogger, this is a great place to get started. 
There is also a footer where you can add call-to-actions and display different pages. The product section is my favorite feature of Kajabi.
Kajabi is best known for its membership site; many big names use it. You can customize a lot in terms of the background, images, colors, and all of these things, and the membership card is the most commonly used part of Kajabi.
Landing Pages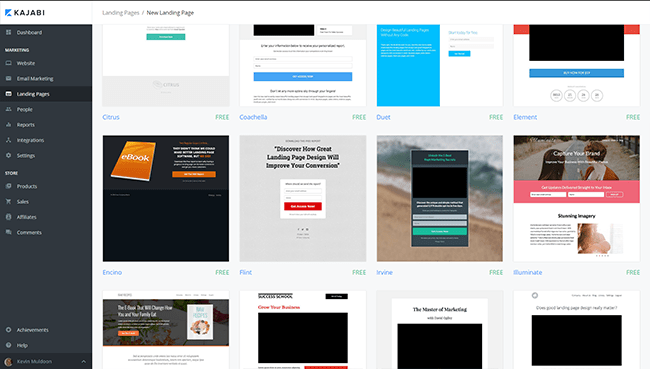 You can add a new page with multiple pages to choose from in the user interface because it needs to be well laid out.
If I want to do a Thank You page or an opt-in page, I want to see everything called streamlined long-form sales.
Marketing Emails 
You can create pipelines in marketing emails. So, what is the sequence? Where are people coming from, what page are they on, and where are they going next? As a result, you can create pipelines in Kajabi.
This is similar to Kartra, and then you have email campaigns similar to having an email platform, except that all of your emails will be sent from the same platform.
So, Kajabi is an all-in-one marketing platform where you can create your website, landing pages, memberships, and email marketing campaigns.
Another aspect of marketing is automation, which is included in both the Growth Plan and the Pro Plan. It is separate from the basic plan.
Kajabi University 
You'll also be able to see Kajabi University, which is a great place to get started and get a feel for the platform.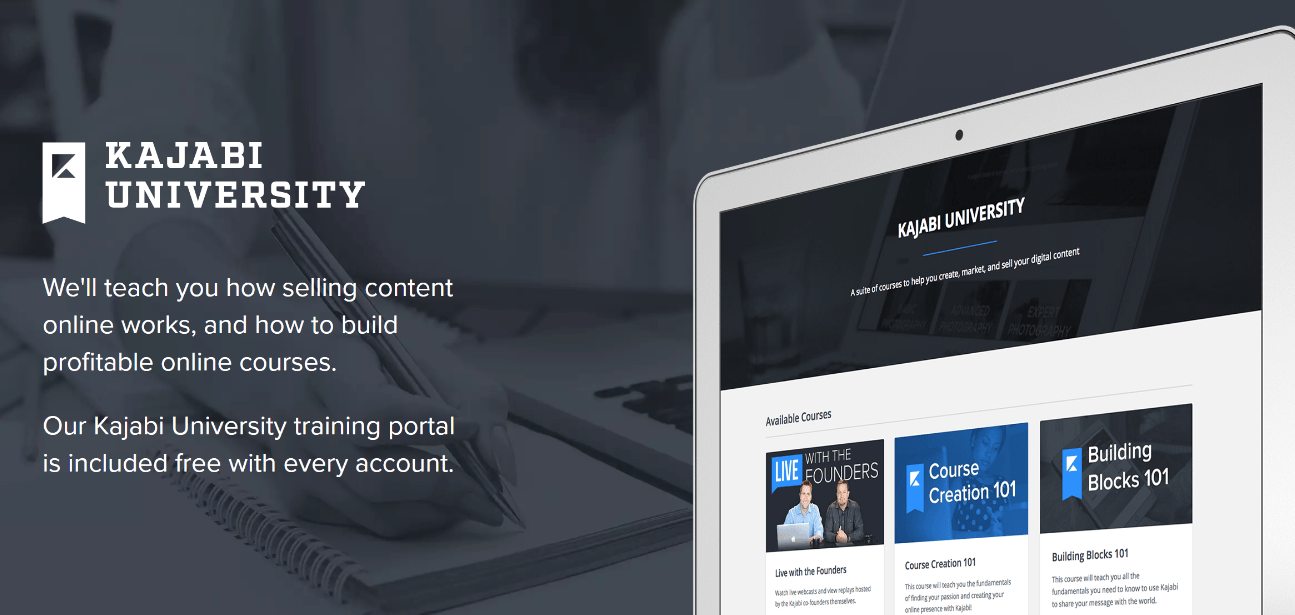 Kajabi University is a set of guided courses that will help you learn about what makes an online business great.
You'll learn how to make everything from your first coaching program to a great Facebook ad campaign. Choose Your name in the bottom-left part of your Kajabi dashboard, then choose Kajabi University.
Then you can look at all the classes and choose the one you want.
Kajabi vs Kartra: Features Comparison 
School & Course Marketing
If the site you choose doesn't have good marketing tools, it will be hard to get your course in front of the eyes of the students you want to reach.
Both Kajabi and Kartra have a lot to offer in this way, which is good.
Kartra:
Kartra does best when it comes to marketing and building sales funnels. The platform also has great email marketing and automation tools, making it a great choice for anyone looking for an all-in-one platform that will take care of all their marketing needs.
You can use this platform to automate whole email marketing processes.
Many other built-in tools and third-party apps make it easier to run your online business, like a helpdesk, booking calendars, dynamic OTOs, behavioral advanced marketing, and other advanced marketing features.
Kartra also has a built-in Campaign Marketplace that makes it easier to make marketing strategies that work.
Kajabi:
Kajabi, on the other hand, is mostly about building classes and making membership portals. The platform has great features for email marketing, automation, and advanced marketing, but many people like it more for its good learning management system than for its ability to build funnels.
Compared to Kartra, Kajabi doesn't have as many business tools as Kartra. For example, you can't unlock movies or use video call-to-actions as much as you can on Kartra, but you can do all of these things with Vidyard.
Course Creation & Membership Sites
Because the abilities that allow you to create courses are so important to the success of your online teaching career, we'll start there.
Kartra:
Kartra allows you to create access levels, membership portals, and member-only web pages. It includes a membership builder with a simple drag-and-drop interface that is very easy to use.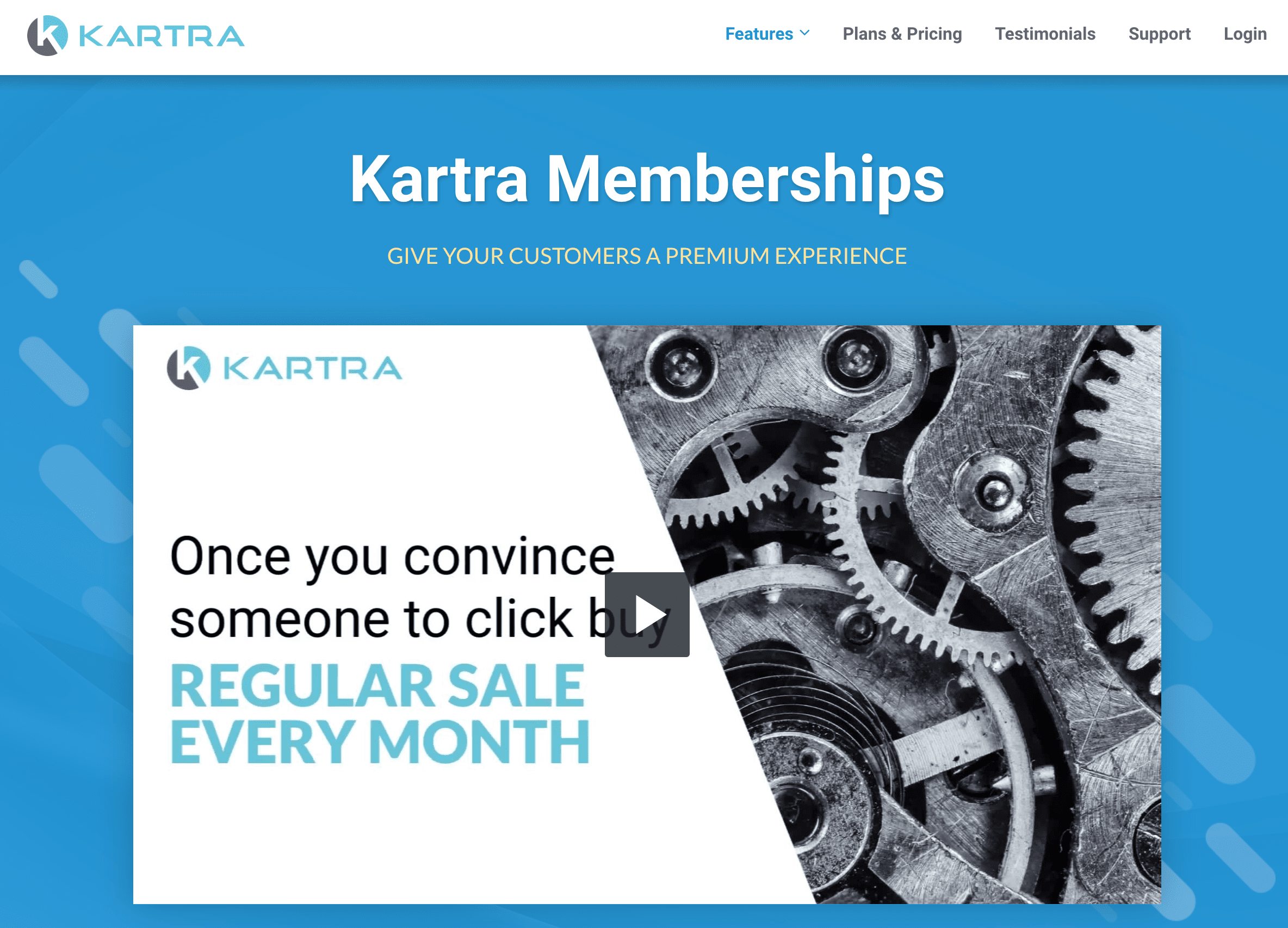 This enables even those without prior experience to create beautiful, branded membership portals and courses in minutes.
Because predesigned course templates are available, you will never have to start from scratch when designing the pages and websites for your courses.
The templates are optimized for mobile devices and follow standard operating procedures for developing effective educational programs.
You can also submit files and movies, embed videos, and other media types, allowing you to provide entire courses using Kartra. Kartra has several membership tiers.
By automating certain processes and distributing content incrementally to your students, you can simplify the management of your content and the operation of your knowledge business.
Kajabi:
In contrast to Kartra, Kajabi is solely concerned with creating educational programs.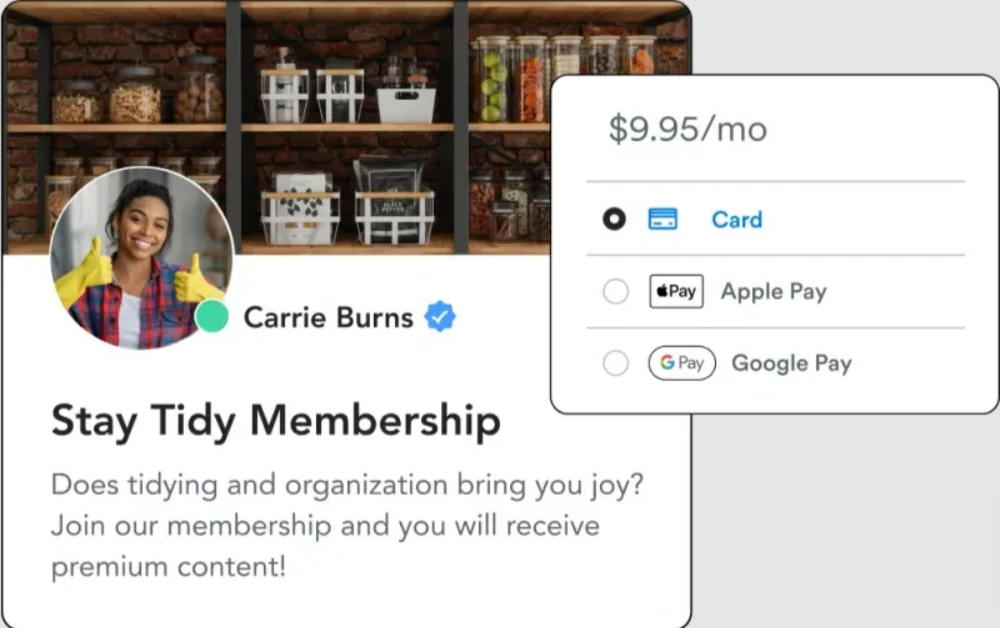 On the other hand, this platform has more robust capabilities for developing membership websites and online courses because it specializes in this area.
For example, in addition to the standard features you'd expect from an online course platform in this category (like a drag-and-drop builder, pre-designed course templates, and the ability to upload a variety of different types of media). 
Kajabi offers some unique automation features, such as lecture-specific automation.
When a student completes a unit or post, you can tag them, email them, register them for an upcoming event, and do other similar actions.
Ease of Use: Kartra vs Kajabi
Kartra
Kartra has tools on the right side of the screen. However, each tool is divided into smaller parts, which can make it harder to find what you need. For instance, if you want to make a product, you have to follow seven steps. And if you want to change something, you have to go through those same steps each time.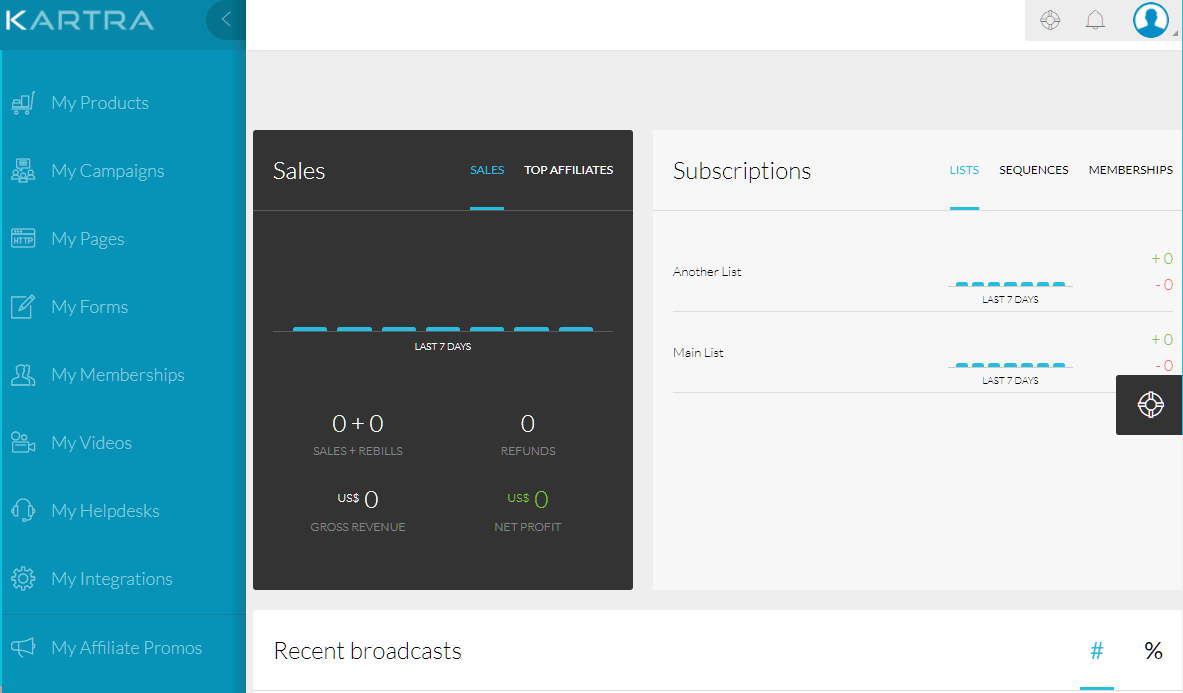 Kajabi
Kajabi is also a user-friendly platform where you can learn new things from the online courses offered by Kajabi. It is very easy to use and understand, which benefits users.
Kajabi is a very popular platform with pre-made templates that are very easy to use. Kajabi is a successful online learning platform from which many students who want to learn new things can benefit.
You can even develop or build your business using Kajabi and drive traffic to your Kajabi-built website. In addition, Kajabi has a much more refined dashboard with eye-catching pre-made templates.
Pricing Plans: Kartra Vs Kajabi
Kartra Pricing
Kartra is an incredible value. It starts at $99 per month, but there are some restrictions. The limitations never lock away functionality, and the agency functionality is the only functionality locked away in a higher tier.
The only difference, however, is the scale.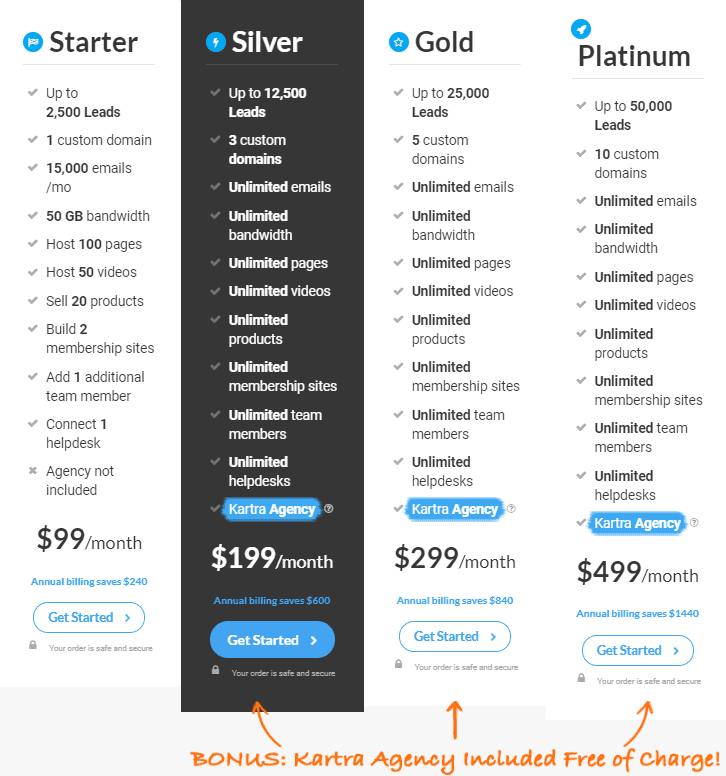 You can host 50 videos and 100 pages and sell 20 products. So, depending on the scope and scale of your business, that is when you upgrade, which is why everything is reasonable rather than difficult.
Kartra also provides a 30-day money-back guarantee.
The pricing plans are divided into further plans:
The starter plan costs $99 per month.
The silver plan costs $199 per month.
The gold plan costs $299 per month.
The platinum plan costs $499 per month.
It has many features such as unlimited emails, unlimited bandwidth, unlimited pages, and unlimited products.
Kajabi Pricing Plans
Kajabi is an all-in-one platform for your business and they offer a free trial.
The pricing plan varies depending on the number of pages, emails, contacts, active members, and websites.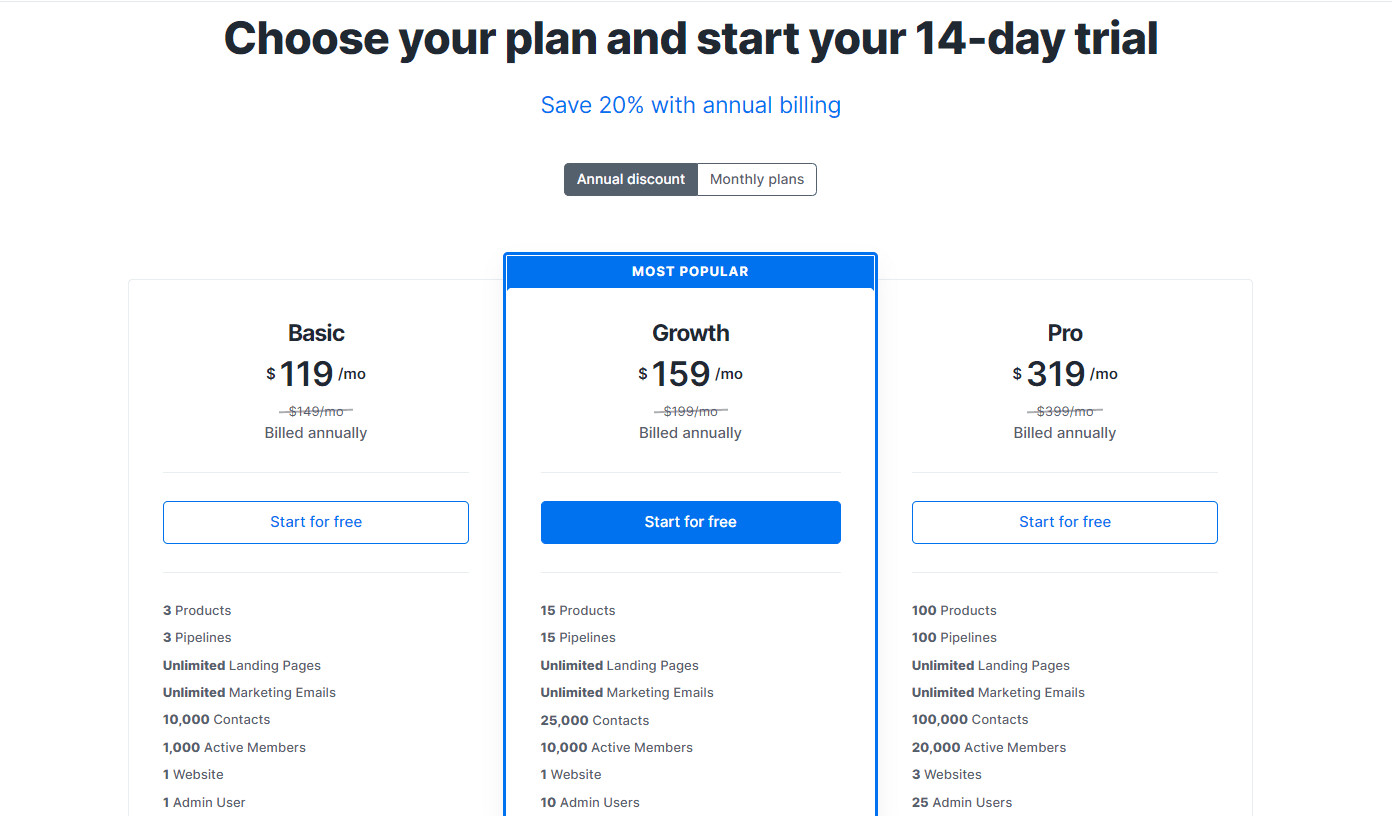 You can also limit the number of admin users you have, but the growth plan and the other plan, which is a pro plan, have some advanced automation.
They also allow you to remove Kajabi branding, and the pro plan includes a code edit, which are the main differences between the three plans.
The transaction fee is 0%, and you can set up almost everything else except.
One of the most noticeable differences is advanced automation. 
The pricing plan is further divided into:
The basic plan costs $119 per month.
The growth Plan costs $159 per month. 
Pro Plan costs $319 per month. 

It has some advanced features like unlimited landing pages, unlimited marketing emails, and 0% transaction fees. 
The Winner
Both pricing plans have limitations and advanced features that can benefit customers diversely. When comparing the pricing plans of these two, Kajabi has a more reasonable pricing plan than Kartra.
Although they offer additional courses and features, it all comes down to the price plan. In this case, Kajabi comes out on top.
Customer Support: Kajabi vs Kartra
Kartra Support:
Kartra is an all-in-one platform that is simple to use and allows you to store all customer information for your business. Customer service responds quickly.
However, there are issues with responsive time with Kartra because there may be issues with the team and the users.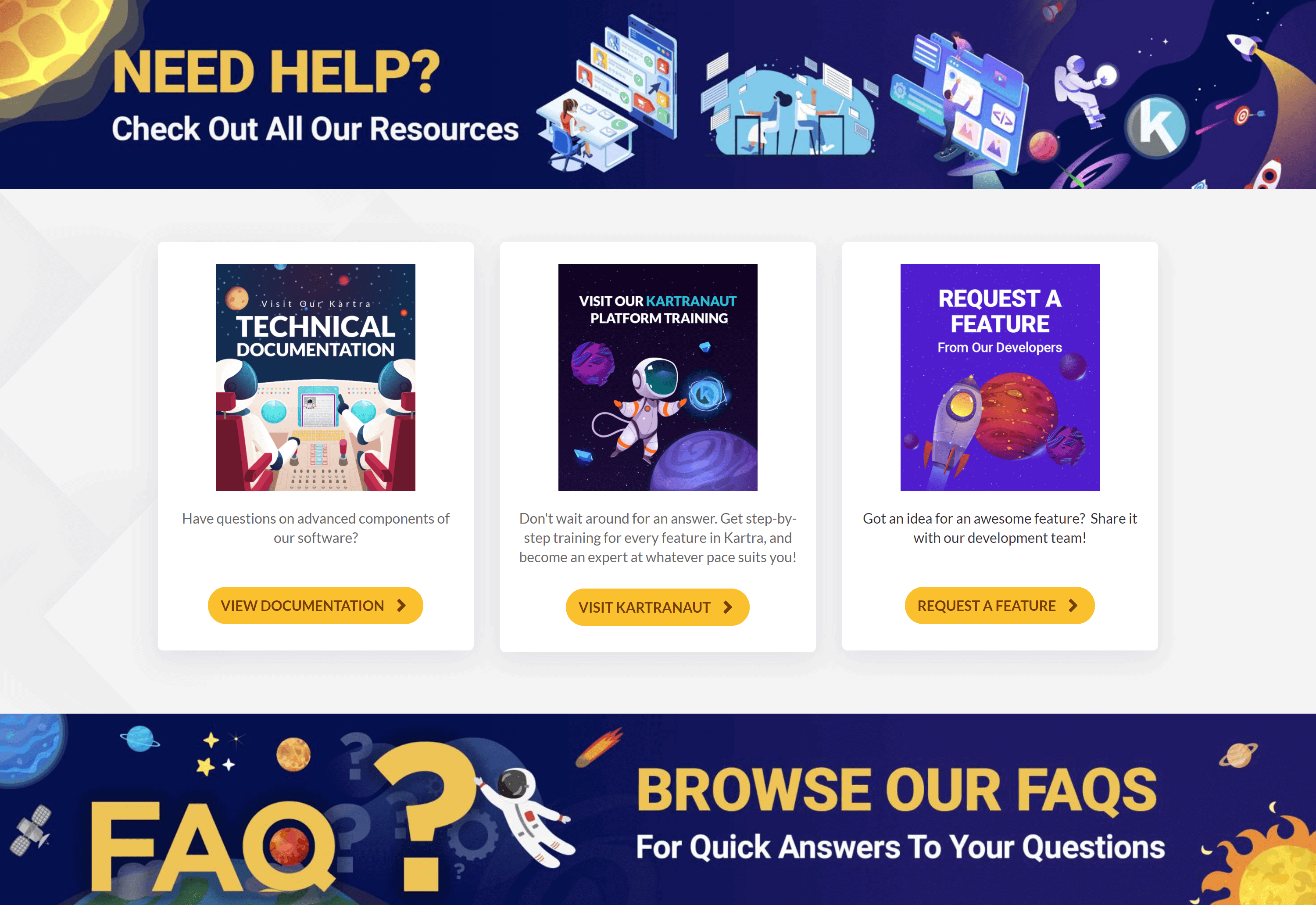 Aside from the all-inclusive email marketing platform, list building, web hosting, page building, and much more, the best feature is knowing if you need help or support. Kartra is here to help.
Through their features and individualized customer support, they give you every advantage under the sun to succeed in your business.
Kajabi Support:
Customer Support in Kajabi is excellent because it provides beneficial services to users and responds quickly to all user inquiries.
The customer support team's response time is also quick and efficient. The team is well-maintained and efficiently trained to solve user problems.
One of the best features of Kajabi is that they have a live chat option where they can respond to user questions.
If you have purchased the pro plan, you will also benefit from it because it provides round-the-clock services. Many of them agree that Kajabi has one of the best customer support services, which assists with problem resolution.
If you need help launching an online course or are stuck with any work, the support group responds quickly and will assist you in answering any questions.
Winner: 
Kartra and Kajabi provided excellent customer service, but Kajabi has consistently outperformed Kartra, so Kajabi takes this as well.
Compared to Kajabi, Kartra's customer support is adequate but lacks responsiveness.
Kartra Customer Reviews & Testimonials:
People love Kartra on Facebook and everywhere else!
Conclusion | Is Kartra Better Than Kajabi?
Kartra is designed for two types of users: experienced entrepreneurs looking to take their existing business to the next level and those who are starting a new business and want to ensure they do it correctly from the beginning.
The platform offers a variety of tools and functionality to help businesses scale and grow, such as adding new products and revenue streams and making the most of their existing contact list.
However, it is important to note that Kartra requires time and effort to utilize its potential fully. It is not a tool for those who are looking for quick, effortless success.
Kartra is a powerful marketing tool designed to help businesses automate and scale their marketing efforts over time.
It offers features such as one-click campaigns, but it is not a spammy or shady tool. Instead, it is meant to build a robust marketing machine to generate significant revenue over time.
While Kajabi is also an all-in-one tool, it is designed to help users customize and structure various pages, such as login pages, thank you pages, and blog post pages.
Kajabi also allows you to host courses, email lists, landing pages, and websites and has the potential to generate thousands of dollars in automation.
Kartra offers more advanced features and is easier to use than Kajabi. However, if you're looking for a tool to create a blog specifically, Kajabi may be a better choice.
Check Out Other Comparisons: