Read further to know more about Kartra Vs Kajabi. Online entrepreneurs are faced with a dizzying array of tools and software to help them build, market, and manage their online businesses.
There are so many different platforms and software solutions that it's easy to get overwhelmed by the options.
To make things more complicated, many of these tools are designed for different kinds of businesses. They all have their own advantages and disadvantages. For example, some offer great eCommerce features while others feature robust marketing automation capabilities, but not both at once.
Others still may not support an integrated blog or membership site that's important to you as a small business owner who wants to create content for his/her audience in order to nurture them over time into loyal customers.
Comparing Kartra vs Kajabi: The Most Important Differences and Similarities
Let's take a more high-level look at the differences and similarities between these two tools before we go any further.
The Differences Between Kartra vs Kajabi:
The primary function of the Kartra platform is marketing. Nevertheless, it also provides hosting for digital products, which appears to be something of an "afterthought." On the other hand, Kajabi is first and foremost a platform for the delivery of online courses; in addition, it enables you to construct websites and promote your content.
You'll be able to add live chat to your website thanks to the built-in helpdesk that comes standard with Kartra. Kajabi, on the other hand, does not come equipped with a built-in support desk or chat feature.
Your website can be converted into a blog through the use of Kajabi. In contrast, Kartra does not provide this particular service for its users.
You can simply plan and manage appointments, as well as display your availability, with the help of Kartra's integrated scheduling and calendaring system, which comes standard with the software.
To get this functionality, you will need to install a third-party plugin such as Live Chat, which can be found in the plugin directory.
This functionality is not available through Kajabi. You may accomplish the same functionality, though, by embedding a third-party tool like Calendly into your website.
Comparatively, they have:
Now, let's look at the similarities between the two different platforms.
Both Kajabi and Kartra allow you to construct and launch a website, as well as host your own content on that website.
You can improve the efficiency of your sales and email operations with the marketing automation capabilities that come standard on both platforms.
Both of them offer user-friendly drag-and-drop editors with a variety of different templates that may be used for a wide range of different types of websites.
About Kartra:
Kartra is an all-in-one business tool. It's a Swiss Army knife for running your business operations and your marketing and sales. It's a website eCommerce builder, it's a CRM of sorts, it's email automation and you can even create membership sites.
You can host videos with lead capture, you have a help desk, and you have a calendar integration where you can host meetings and host your appointment forms, of course.
With all kinds of different lead capture, you can run affiliate programs that have all these built-in integrations and you can even run an agency. So, it has tons of features in it as well.
It's just not a collection of all these tools that you get in one product. The real value of it is firstly it's all integrated.
So, all of these good can talk to each other in one database and because of that you can create some cool campaigns that are built off of each other Kartra helps you to take back to the next level by actually having these done for your campaigns.
For example, if you want to build a list or if you want to do a squeeze page video. 
About Kajabi:
Kajabi is an all-in-one platform that wins the day because it does way more than all the other platforms and just delivers hands-down overall I find Kajabi to be a solid platform you can use.
The first thing you will notice when you land in the backend of Kajabi is just how clean everything I need to know is, There are not all kinds of crazy buttons and stuff. The basic things right here are the website, products, marketing, people, and settings.
Everything is alright there in Kajabi and step-by-step you can just get started stuff to learn the basics of everything you need to do to get up and get started and create your first product are all present in front of you which is great as it is very simple and easy.
You can run your entire business on a website where you don't have to have a blog on WordPress or anything like that. You can just run it all right from Kajabi and that's great. 
Kartra Features: Why Kartra is Better Than Kajabi?
Marketing Automation 
It allows you to automatically remove people from a list if they purchase a product and you the simple set-up automation and you don't have to worry about it. You can even have an idea about all of the different automation that you can run at the same time.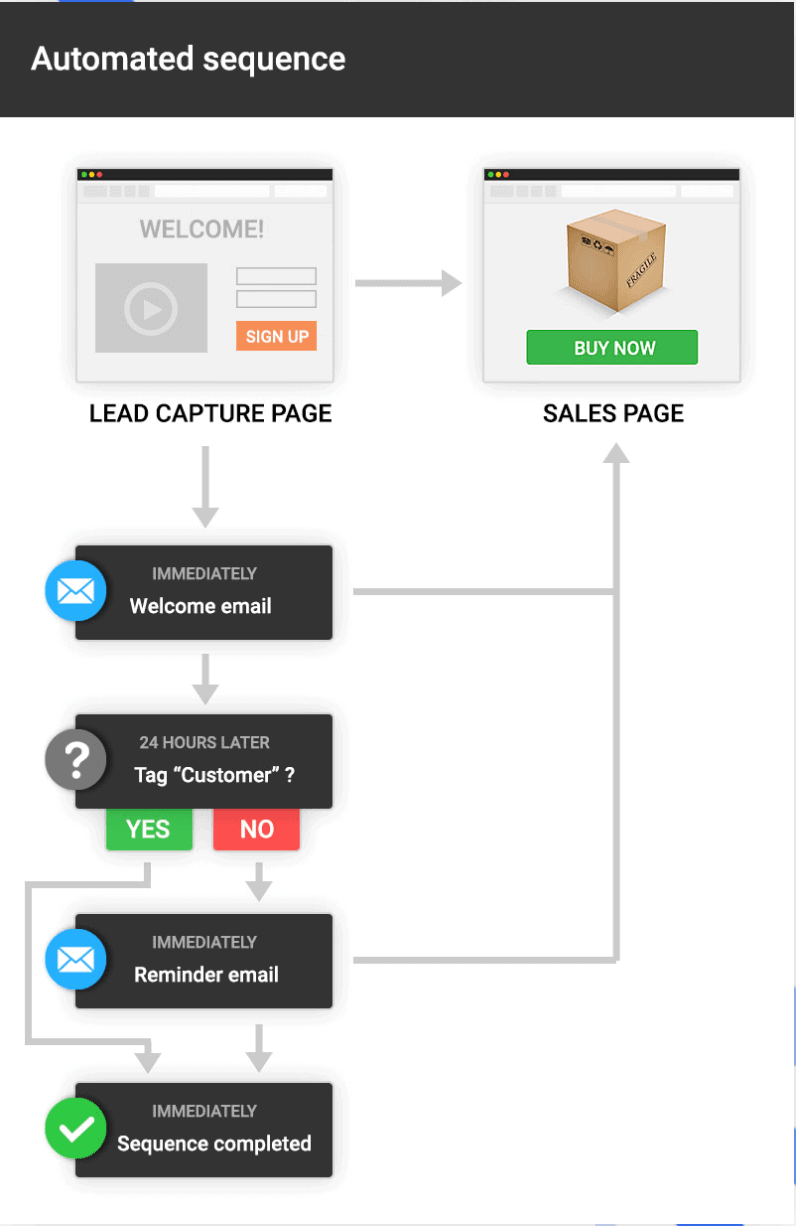 Inside Analytics, you can see automated sequences and you can see everything broken down into a dashboard that allows you to see everything in one place. 
Kartra Email Marketing
Kartra lets you turn on a host of automation based on your recipients' behaviors. It also has intelligent split testing where your email contents and subject lines, track conversions, and finally switch to whichever version converts the best automatically.
It's great to use and super simple to understand as well. It also has glorious templates. 
Automation and Email Marketing Strategies
Both Kartra and Kajabi assist users in producing emails that are extremely relevant, automating email marketing, streamlining operations, and releasing additional ROI. Both include basic capabilities such as the ability to segment emails, send broadcast emails, tag users, and set up autoresponders.
Kartra
Kartra is able to assist you in carrying out fundamental activities that are typical of email marketing platforms. These activities include the creation of an email list, the importation of contacts, and the management of lists.
Additionally, it provides you with email templates that you may use to assist you in the creation of beautiful emails. In the same way that you'll discover a lot of options for page builders, you'll also find a lot of possibilities here.
You'll have the ability to construct one-of-a-kind emails and send them out to recipients in a flash thanks to the thousands of personalization options.
You can also conduct split tests using email to see which approaches are successful and which do not and then optimize those emails for either desktop or mobile use.
Nevertheless, Kartra is not limited to functioning merely as an email builder. With the assistance of automation that is based on user behavior, it enables you to effortlessly develop and personalize email marketing campaigns.
This makes it easier to target leads so that you may send communications that are highly relevant to their behaviors depending on their activities.
Better open rates, engagement, and click-throughs are possible after you segment your subscribers into the appropriate funnels and use that information to personalize their experience.
Kajabi
Additionally, Kajabi provides a large number of email templates that may be used for a variety of purposes, like showcasing an event, announcing an event, sending newsletters, and many more.
Kajabi's Templates
In addition, the layout, as well as functionality, may be readily customized, just like with your pages. Additionally, Kajabi assists you in generating attractive subject lines for your emails.
You'll be able to send targeted emails to certain groups of subscribers if you segment your list using the tools provided by Kajabi.
In addition, you have the ability to construct email sequences by employing "if" and "then" rules. On the other hand, Kartra's visual builder is something that Kajabi does not have.
Additional automation options are available for use with pipelines, posts, events, and forms inside Kajabi.
Verdict:
Both Kartra and Kajabi offer outstanding email marketing features that can help your digital marketing efforts, and you should use both of these tools. Despite this, I believe that Kartra has more to provide.
Landing Page Builder
A landing page is basically a short page there, very simple and keeps people from clicking away and oftentimes gets people to buy something. It's kind of like a one-page mini-website.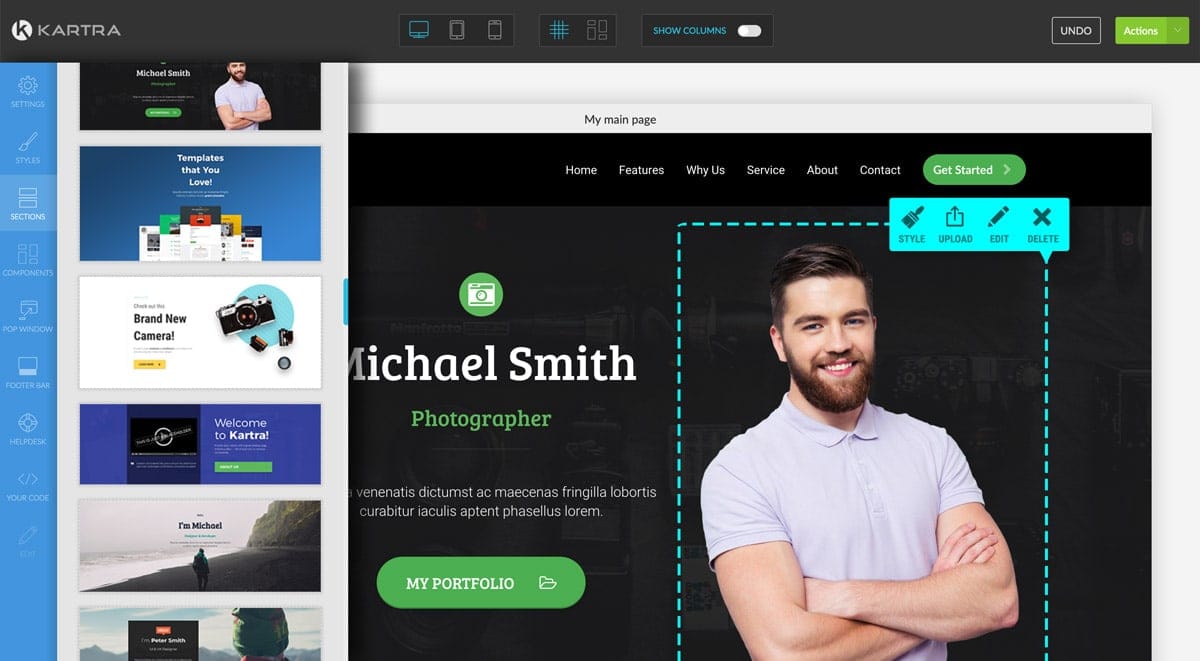 With landing pages, you can quickly drag and drop. It is very simple and straight to the point. It is a program that is encompassing that you don't have to use other things. 
Lead Generation 
Every lead has a story and your leads are your business's number one assets. They represent your prospects, customers affiliates, etc. in short, your business could not operate without them.
That's why Kartra pays so much attention to them. Everything is interconnected within one unified ecosystem and you have full visibility of it all. 
Lead Management 
You can learn the behavioral patterns of your user and how they land on your site, at what point they exit, which link they click, how they transition from the moment they sign up to the point of checkout, etc. it validates your blueprint and detects breaking points.  It also has advanced tagging and leads scoring. 
Lead Nurturing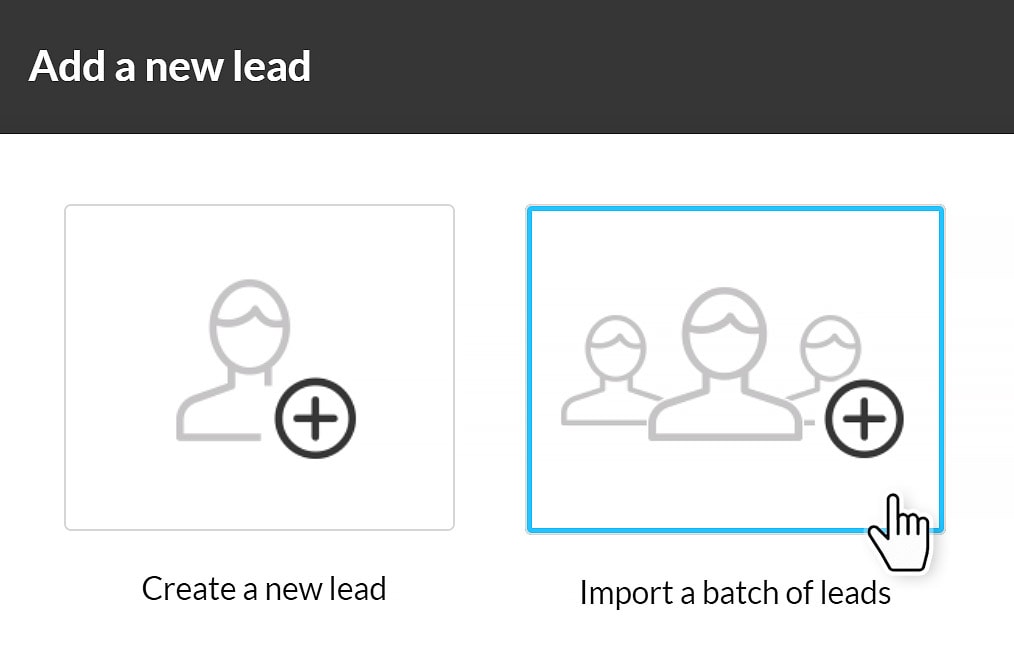 Once you start getting leads through a specific landing page that you have inside of Kartra you can tag those leads as you can see where the lead is actually from and it tells where this lead is subscribed to a specific email sequence that you have.
So, once you have those leads there's a section where you can see lists that can organize your leads. 
Shopping Cart 
You can sell unlimited profits or services which can be in digital, physical, or individual products, memberships, training courses, etc.
It has multiple price points for each product and multiple ways to pay for them: one-time recurring or installments.
 You can click on transactions.

Automatically tag your buyers.

Upsells, down sells, and order bumps. 
E-commerce 
So, if you're selling a digital course, or if you're doing e-commerce or you're pretty much-selling anything online.
Kartra allows you to add products and you can build an entire sales funnel for your products it tells you the visitors, sales, and how much revenue you have.
Everything you need to know about how your online business is doing on a day-to-day business. 
Kajabi Features: Where Kajabi wins over Kartra?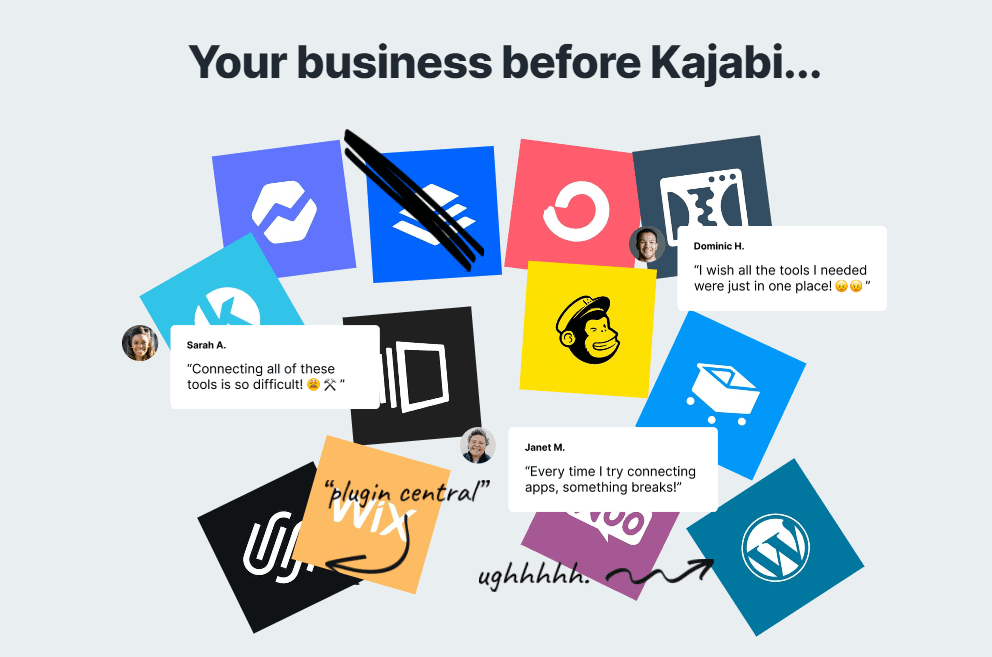 Website Builder 
If you are not a blogger and if you just want to set up a website and you don't want to use WordPress then you can build out an entire website in Kajabi.
It is pretty easy and they have all the basic features that a website would have. They also have a feature where you can set up your blog. They have a blog feature on the website so you can start setting up your blog inside of Kajabi itself.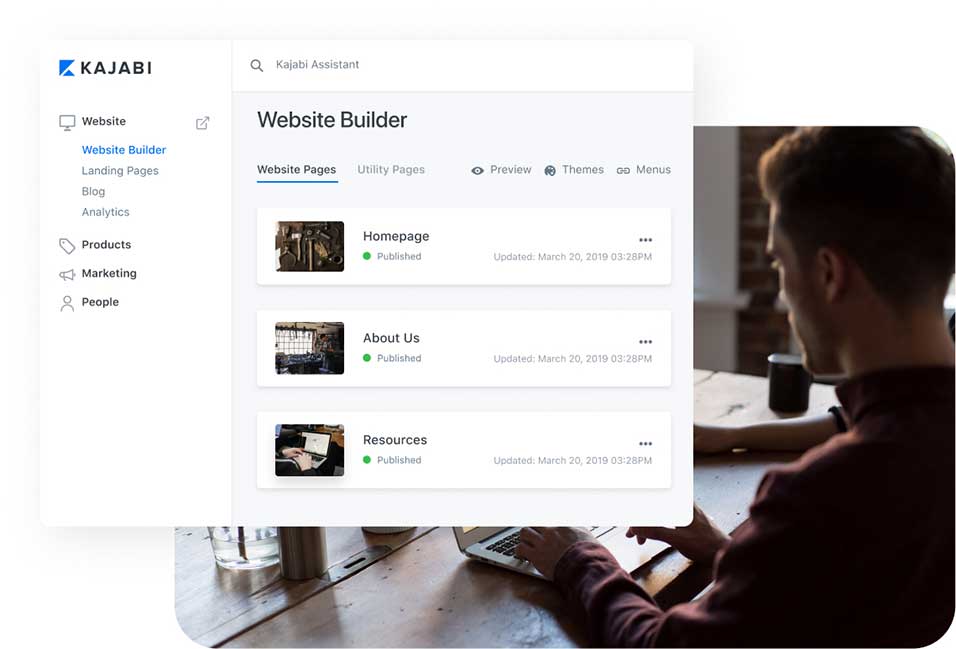 Now, this is great for you if you are a coaching consultant service provider information product creator and not a blogger vector you're a blogger you really need to think about SEO and all those thugs for which WordPress is great but again you're not a blogger then this is the great place to get started. 
There is also a footer where you can create call-to-actions and you can also have different pages present. The one thing I like about Kajabi is the product section.
Kajabi is mainly known for its membership site and you can see a lot of big names use Kajabi you can customize a lot in terms of the background, images, colors all of these things, and the membership card is the most commonly used part in Kajabi. 
Landing Pages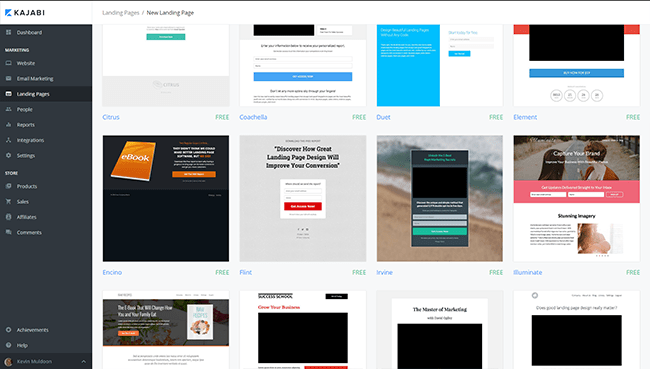 You can add a new page where you have multiple different pages to choose from the user interface as it is not laid out very well.
If I want to do a Thank You page or an opt-in page I want to see Thank you page, the opt-in page everything is called streamlined long-form sales. 
Marketing Emails 
In Marketing emails, you can create pipelines. So, basically what is the sequence, where are people coming from, what page are they looking at and where are they going next? So, you can create your pipelines in Kajabi.
This is very similar to Kartra then you have email campaigns which are again very similar to having an email platform although here you'll have all of your emails going from one platform.
So, Kajabi is an all-in-one marketing platform where you have the option to build your website, landing pages, memberships, and also your email marketing. 
The other thing under marketing is automation which is included in the Growth Plan and the Pro Plan. It is not included in the basic plan. 
Webinar and Events 
In this, you have webinars, events, and forums. So, you can create an event here and synchronize it with the webinar platform, and then people are where all the contacts who signed up to be on your email list will stay. 
Kajabi University 
When you go here you will also be able to see Kajabi University which is a great place to get started and get a feel of the platform.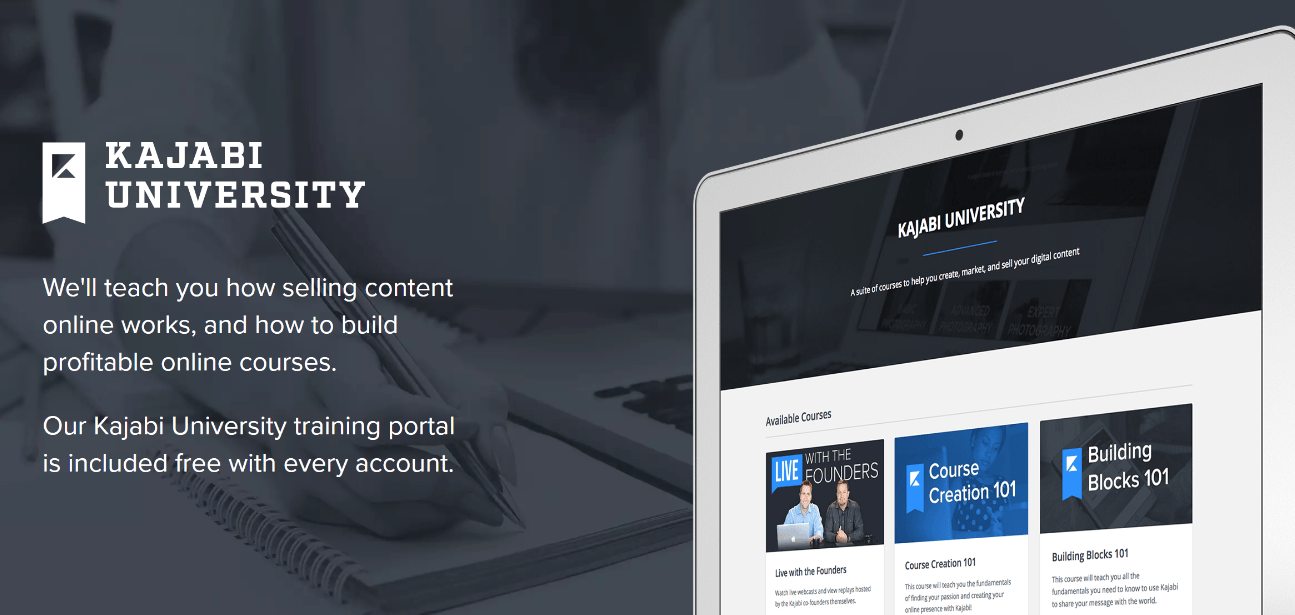 Quizzes 
You can create a quiz synchronized with the products and services which you prefer to offer to your students. You can even assign assessments to your students as well which enables engagement members.
You can also create quizzes and the questions can be in the form of multiple-choice questions, questions having more than one correct answer, check box types, and short or long answer types.
You can also enable a file upload option in which your students can upload the completed forms such as ppt, pdf, jpg, and a lot more as well. 
Surveys 
Kajabi enables you to create surveys in synchronization with the products and services you offer. You can always make a client fill in a feedback form after acquiring a service from the owner.
If you are at the completion of a course you can survey the students with different types of questions and you can also get valuable feedback through Kajabi where you can add your questions even on your landing page. 
Ease of Use: Kartra vs Kajabi
Kartra is an amazing value for what it provides. A lot of the tools are going to give great results with what you need.
It has great integrations and one of the coolest advanced features present in it. The landing pages, emails, and video content are very beneficial to the users.
You can build websites in Kartra. You can run webinars in Kartra through its integrated system. It is simple to use and easy to understand.
Kartra covers a lot of the marketing and sales automation portion including the help desk component and all of this information going into your CRM is valuable if you're trying to build contacts over time.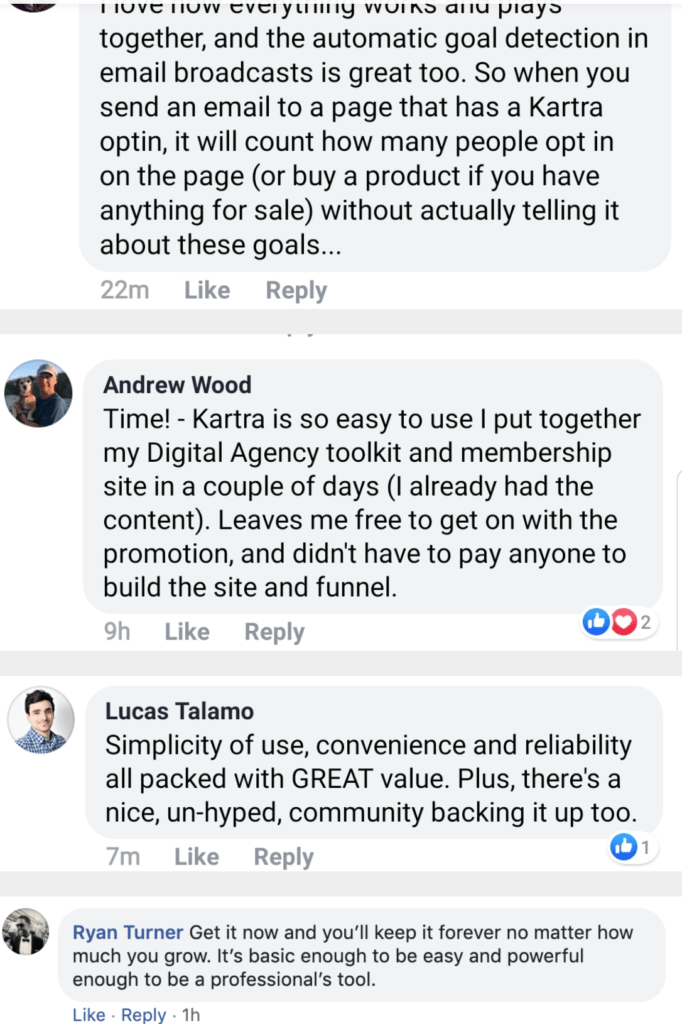 Kajabi is an all-in-one platform that is the right platform and a great choice for users who want to learn something from the online courses which are offered by Kajabi.
Kajabi is also a user-friendly platform that is all interesting to learn things from the online courses which are offered by Kajabi. It is very simple to use and easy to understand which is very beneficial to the users.
Kajabi is a very popular platform and it also has pre-made templates that are excellent to use. Kajabi is one of the successful online learning platforms where many students who want to explore things can be learned from this.
You can even develop your business or build your business through Kajabi and gain a lot of traffic to your website which is built in Kajabi. Kajabi also offers a much more refined dashboard with eye-catching pre-made templates.
The Winner: 
Both of these are very easy to use and simple to understand. But I feel Kajabi is overall a great pick for anyone interested to invest their money in learning an online course that could be beneficial for them.
Although Kartra is good too it's just Kajabi has a lot more insight when compared to Kartra. 
Kartra Vs Kajabi Membership & Course Sites
Kartra
Starting over with Kartra once more, the unbroken functionality and practicability of Kartra both excel in this aspect as well. The users of Kartra have access to a veritable plethora of functions, which are detailed in a list format.
Because of these capabilities and possibilities, the user can construct a fully individualized course as well as access tiers for a membership website.
The following is a list of some of the most often requested features that Kartra makes available to its customers:
Stunning to the eye and with a personalized and unique membership domain.
There are several different levels of membership.
Embedded videos.
Drip content.
The feature is run by automation.
Providing the ability for users to give complete courses.
In addition, the membership creation dashboard's options are laid up in such a way that it is extremely user-friendly, making it possible for you to quickly and easily create a membership site.
You will, however, be necessary to construct relevant parts inside the content area, and after you have done so, you will be able to add content within each section according to your own unique perspective.
Because you are able to construct individualized content sections and prioritize the information that is most relevant to the target audience, the custom content addition option is something that I personally think to be an advantageous aspect of the platform.
You will also use the "Access Levels" option in Kartra when you are granting access to the material for the various membership levels that you offer. With this functionality, the full procedure of providing access would be completed without a hitch.
You are going to choose "Recurring Payment" as the payment method if you want to make a recurring payment. In a nutshell, Kartra is loaded with significant alternatives that are only present because they anticipate that you may require them at some point in the future.
By taking this method, the platform will have a substantial number of features rather than an excessive number of features.
Kajabi
Let me begin by stating that in comparison to Kartra, Kajabi possesses a greater number of features that are both user-friendly and strong, particularly in the areas of creating course websites and membership sites. In general, Kajabi is one of the best platforms for membership websites.
When you are making a new product in Kajabi, you will be required to begin the process of constructing a section known as "categories." This area is an integral part of the user interface and has the name "categories."
You can create new sub-categories and posts inside the category portion of the website. When it comes to postings, you can employ videos, articles, or assessments to display the existence of your brand in a fantastic manner.
In addition to the elements that have already been described, you will now have the ability to add downloadable products and to welcome feedback or comments on your lecture or class. By taking advantage of this method of gathering feedback, you will be able to rejuvenate your digital product or address any deficiencies in your service.
In addition to that, Kajabi gives you the ability to program certain lectures to play automatically. Once a user has completed going through a post or your course, you can easily send them a tag, an email focused on conversion, or an offer in exchange for registering for an event or subscribing to it at this point, which is the part of the process referred to as the email sending section.
On the other side, Kartra does not have this fantastic automated capability, and even this is not the end of the story. In addition to these advantages, Kajabi provides its users with a number of other benefits. For instance, the best feature set is the one that enables people to construct their own communities. This is available on.
In the terminology used by Kajabi, these communities are referred to as "Products," and the following is a list of the benefits that can be gained by using them:
Viewing without limits
Conversations between individuals.
Realtime/email notifications
Custom domain
Incorporate into memberships
You may also read a comparison of Kajabi and Teachable based on the features and prices of each platform so that you can get a better sense of the membership platforms.
Karta is devoid of each of the features described in the previous paragraphs. As a result, it should not be too difficult to discern who the victor is in this circumstance.
Winner: Kajabi
Kajabi is in the lead thanks to its remarkable features, which include a community, automation, real-time contact with students, and assessment tools.
Pricing Plans of Kartra Vs Kajabi
Kartra Pricing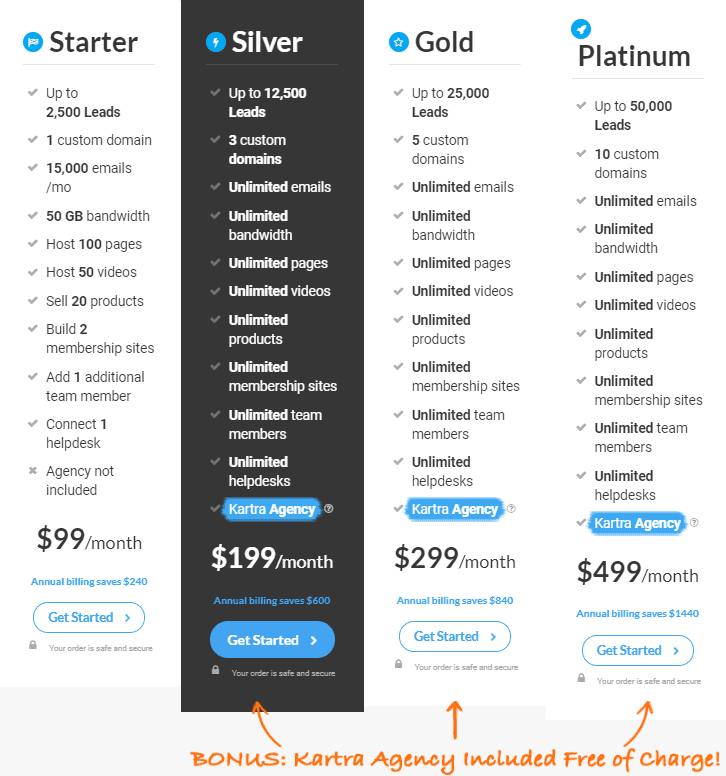 Kartra is an insane value. It starts at $99 a month but it has limitations the limitations never lock away functionality and the only functionality locked away in a higher tier is the agency functionality.
But otherwise, the only difference is the scale.
You can host 50 videos, and 100 pages and sell 20 products. So, depending on the scope and scale of your business that is when you upgrade which is why I think everything is fair rather than difficult.
Kartra offers a 30-day money-back guarantee as well. 
The pricing plans are divided into further plans:
The starter plan costs $99 per month. 

The silver plan costs $199 per month. 

The gold plan costs $299 per month. 

The platinum plan costs $499 per month. 

It has many features such as unlimited emails, unlimited bandwidth, unlimited pages, and unlimited products. 
Kajabi Pricing Plans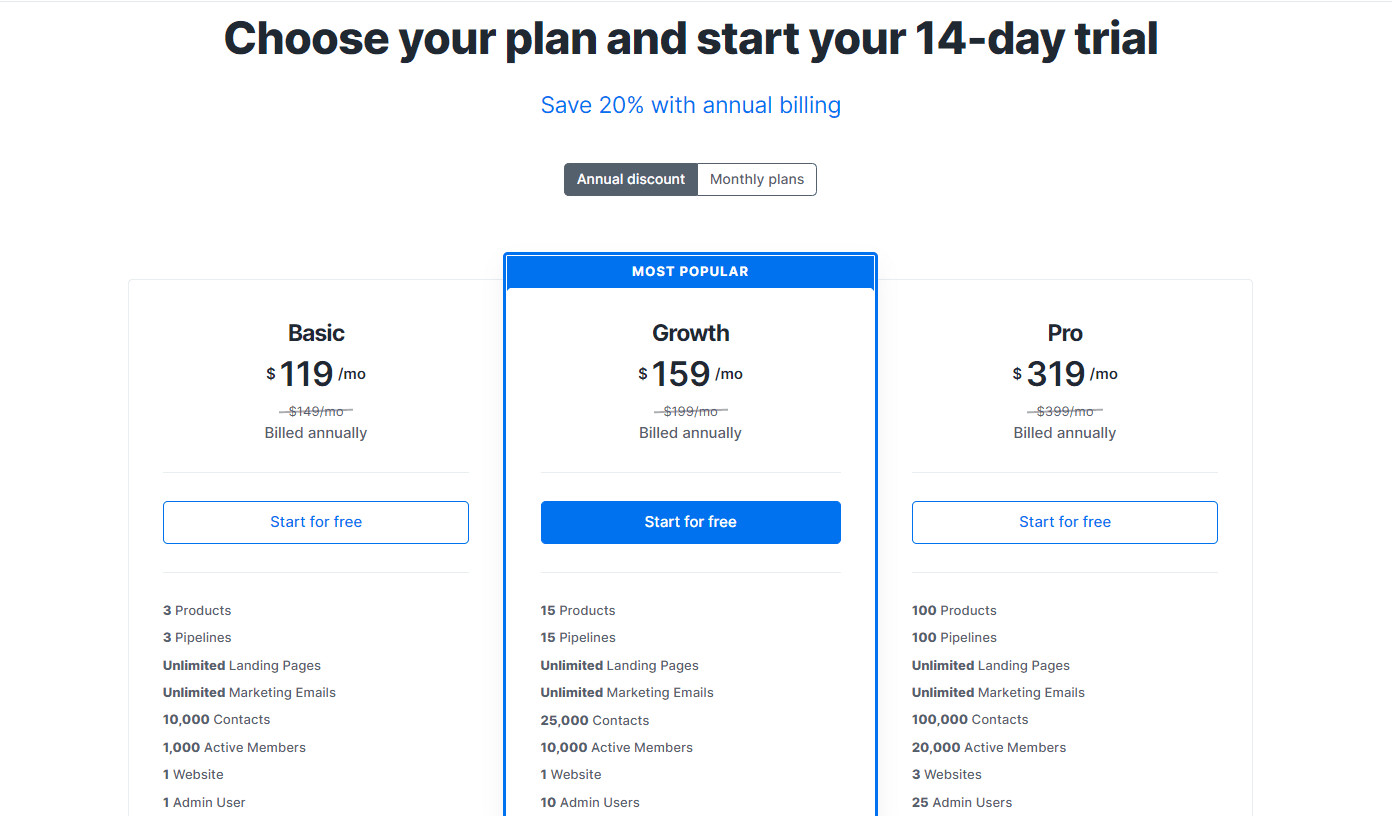 Kajabi is an all-in-one platform for your business. They offer a free trial.
The pricing plan has differences in options such as the number of pages, emails, contacts, active members, and websites you can also have the number of admin users you can have but apart from that the growth plan and the other plan which is a pro plan they have some advanced automation available.
They also have the ability for you to remove Kajabi branding and the pro plan also has a code edit so those are the basic differences you can see for all three plans.
The transaction fee is 0% and you can mainly set up most of the other things except.
I think one of the major things that are different is advanced automation. 
The pricing plan is further divided into:
The basic plan costs $119 per month.

The growth Plan costs $159 per month. 

Pro Plan costs $319 per month. 

It has some advanced features like unlimited landing pages, unlimited marketing emails, and 0% transaction fees. 
The Winner
Both pricing plans have various limitations and advanced features that can be benefited to the customers in their way. When comparing the pricing plans between both of these, Kajabi has an affordable pricing plan when compared to Kartra.
Although both of them offer various courses and features it all comes down to when you see the price plan. In this case, Kajabi is the winner. 
You can't create blog posts in the page builder.  
In my opinion, Kartra takes an edge over Kajabi in various departments. Also, I found it way easier to use than Kajabi. You can almost create any type of funnels, landing pages and any marketing solution with this tool. 
Customer Support: Kajabi vs Kartra
Kartra Support:
Kartra is an all-in-one platform and it's very easy to navigate and allows you to store all customer information for the company. Customer support is quick to respond.
But there are issues with responsive time with Kartra as there might be problems faced within the team and also the users as well.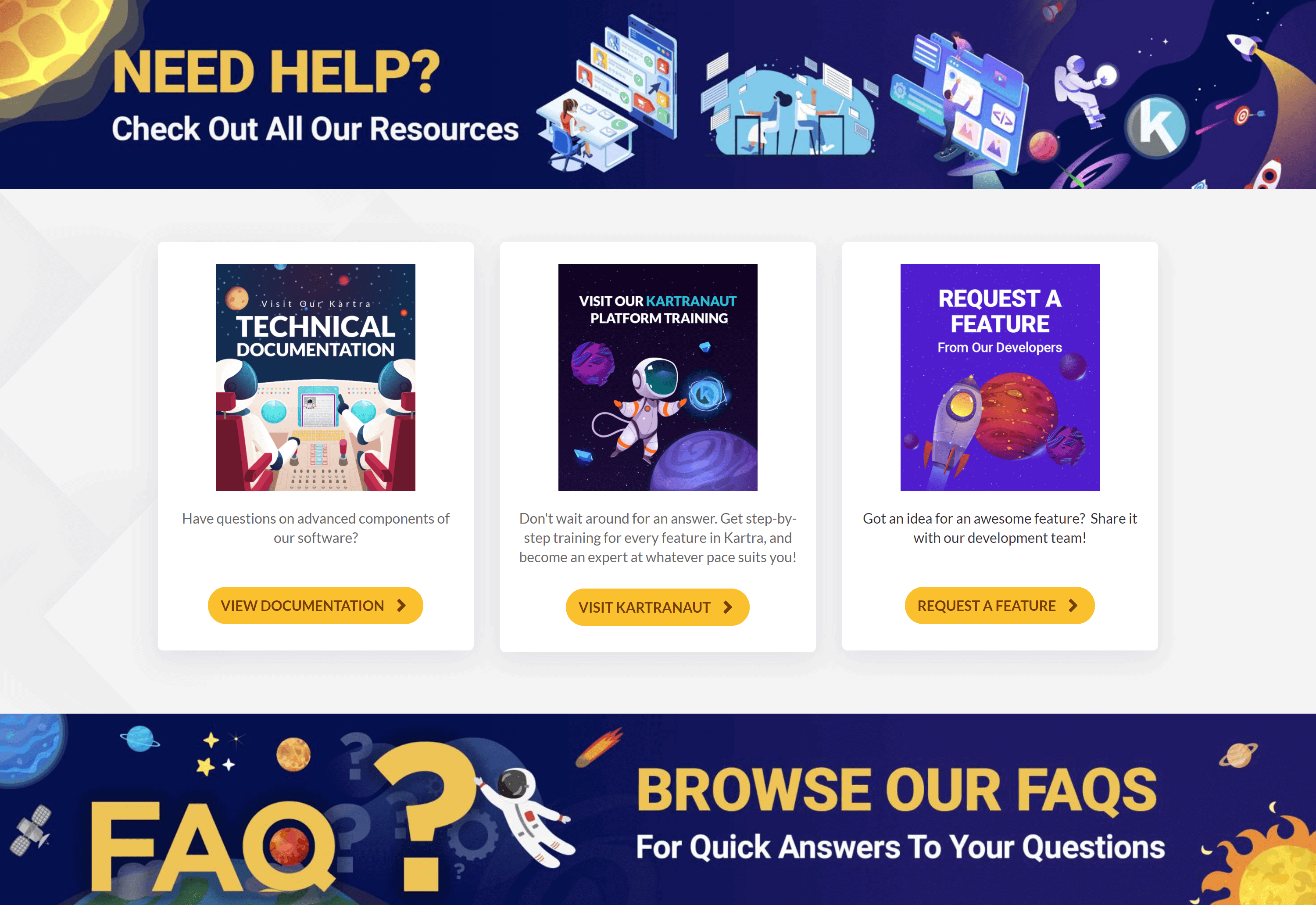 Aside from the all-inclusive, email marketing m, list building, web hosting, page building and so much more business management platform, the best feature is knowing if you need help or support for anything. Kartra is there for you.
They give you every advantage under the sun to be successful in your business through their features and individualized customer support. 
Kajabi Support:
The Customer Support in Kajabi is great as it offers services that can be beneficial to the users and it resolves all the queries of the users quickly as well.
The responsive time of the customer support team is quick and fast as well. The team is very well maintained and trained efficiently to solve the problems of the users.
One of the best things about Kajabi is they have a live chat option where they can respond to the queries of the users.
If you have purchased the pro plan you will be benefited from there as it offers round-the-clock services as well. Many of them agree that Kajabi has one of the best customer support services which helps with solving any issues.
If you have a problem with launching an online course or if you are stuck with any work then the support group responds to you immediately and will help you in answering any questions. 
Winner: 
Both Kartra and Kajabi offered great customer support but Kajabi has always been the top when compared to Kartra so Kajabi wins hands down on this one as well.
Kartra's customer Support is decent enough but it lacks responsive time when compared to Kajabi. 
Kartra Customer Reviews & Testimonials:
People love Kartra on Facebook and everywhere else!
What do People say About Kartra or Kajabi?
Kartra and Kajabi are equally good, though Kartra takes the edge.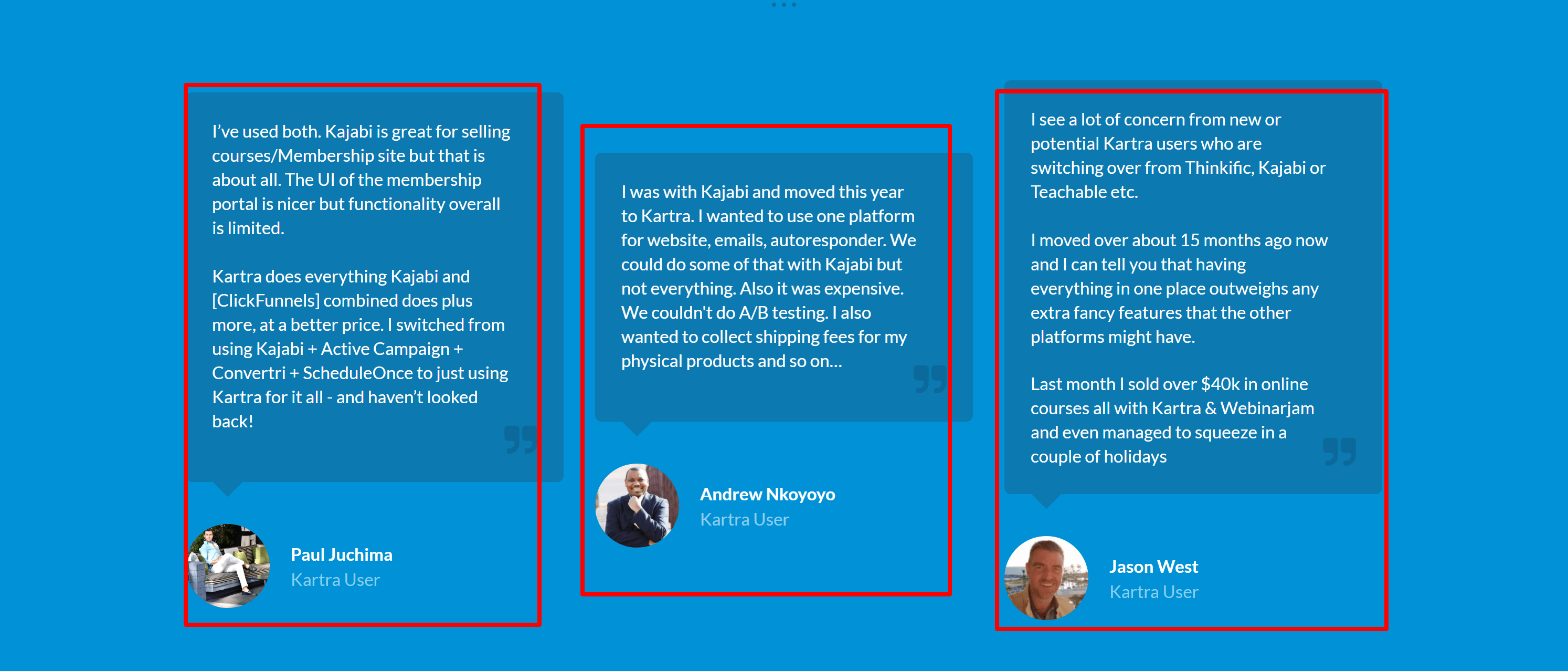 FAQs | Kartra vs Kajabi
🤷‍♀️Who is Kartra not best for?
I would highly recommend you to stay from Kartra. If you're overkill and it's probably going to be more involved than you need like a lot of the functionality, you're not gonna use, you're probably just gimme use the landing pages in the email builder and you're not going to use all that other stuff. I'd say experiment first and don't invest in too many tools and then at the minute you have validated your idea then Katra is for you.
🙆‍♂️Kajabi and Kartra are worth it?
Yes, both Katra and Kajabi are great in their way when it comes to online courses. You can build your business on both of these platforms and explore new things and learn different online courses that could be beneficial for you. Both are all-in-one built online platforms that offer courses, products, and services to build your business.
🙎What is Kajabi best for?
Kajabi is an all-in-one business tool that helps in building landing pages, marketing automation, email marketing, and also it helps in where you can capture leads, and where you can host meetings.
🙋‍♀️ Is Kartra worth the money?
Yes, Since it is already integrated with several online platforms we do not have to pay extra.
🙎‍♂️ Does Kartra provide a custom domain feature?
Yes, with the help of cPanel account you can make free domains
✅ Is Kartra Worth It?
I'd say Kartra is worth it as it offers you a 14-day free trial where you test it and experiment with it for your products and services and then when you see the results you can go forward with it. You can create one-click campaigns and it shortens the learning course of how to put all of these different things together.
😍 How good is Kartra?
Kartra is an all-in-one marketing solution that includes everything like sales funnel creator, landing page builder, website hosting, email marketing tool, marketing automation software, analytics tools, and product creation software plus more.
🚀 Is there a cheaper version of Kajabi?
Podia is a cheaper alternative to Kajabi that comes at a cost half of Kajabi. This marketing platform offers everything that Kahabi does.
⭐ Can I sell physical products on Kajabi?
You can easily sell products on Kajabi by embedding the Shopify Buy Button or by using third party services like Zapier.
🎉 Can Kartra do webinars?
Yes. Kartra can also host webinars. From there, you can create upsells as well.
🥇 Who created Kartra?
The brain behind this intelligent marketing tool is Mike Filsaime and Andy Jenkins who has previously launched the WebinarJam software. Kartra is backed by the reputed digital advertising company- Genesis DigitalLab.
🔥 Why is Kajabi so good?
Kajabi has a great set of tools including landing pages and sales funnels creator, and tools for converting site visitors into customers. It is an online course platform that gives native marketing capabilities as well.
🏆 Does Kajabi have transaction fees?
No, there are no transaction fees in Kajabi except the payment gateway fee.
💰 Is Kajabi good for SEO?
‍ Yes, Kajabi provides a variety of built-in tools and features that will help you with SEO. Some key factors of SEO include: Making your site user-friendly and mobile-friendly.
Conclusion | Is Kartra Better Than Kajabi? Kartra Vs Kajabi 2022
Kartra is for two kinds of people. Once you are a serious entrepreneur who's using a couple of these tools. You've been running your business for a little while and you're ready to take it to the next level.
Kartra can help you scale and grow your business as you can see with all the tools and functionality, add new products, add new revenue streams, and get more out of your existing contact list.
Kartra is also for someone who is a serious entrepreneur who is looking to start a new business and do it right from the start.
Karta is not for people who have a rich quick mindset, the tool is involved, and the more you put in, the more you get.
So, it is not a one-click even though they have one-click campaigns it is not like you spam links or spam ads somewhere or some kind of shady thing that doesn't work anyways.
But if you're looking to build a marketing machine that will scale over time and just bring you crazy amounts of automation and revenue over time then Kartra is for you. 
Kajabi is an all-in-one tool that is designed that way which is great. You can access and create work on any of these pages and put them all right in a row.
So, if you want to structure your log-in page or set branding around your Thank You page, or design a special page for your site when people end up there on your blog post, post page, or any of these pages announcements, contact.
You can create all of this and customize things as well.
You can host courses, email lists, landing pages, and websites. With Kajabi, you can make several thousand a month in complete automation with just Kajabi doing its thing.
In my opinion, Kartra takes an edge over Kajabi in various departments. Also, I found it way easier to use than Kajabi. You can almost create any type of funnel, landing page, or marketing solution with this tool. Unless you want a blog, Kartra must be your choice.
Check Out Other Comparisons:
Kartra on Social Media
Want an #onlinebusiness? But have no clue what product or service to create?

Online income IS possible without a product or service 一 In fact it's a $15 Billion market
Learn More ➡️ Download The Passive Income Roadmap Now –> https://t.co/775oROAd8S #PassiveIncome pic.twitter.com/D2nVkptHd4

— Kartra Official (@KartraOfficial) May 19, 2021
Did you know in Kartra ALL the different pillars of a funnel (pages, optin forms, checkout, mailing, lead tagging, memberships, etc) are already interconnected within one single ecosystem?

Try it for $1 ➡️ https://t.co/MYBLBQXoXD #salesfunnel #marketingcampaigns pic.twitter.com/U8ff0Y6IAk

— Kartra Official (@KartraOfficial) October 28, 2021
View this post on Instagram
Kajabi on Social Media
Need some tips to stand out and make your #business seen?

In this episode of #KajabiEdge, Nyasha & Reuben from The Ascension Seed talk about their journey to build an abundant business & a life they love to live.

🎧 Listen here: https://t.co/QCin2skkZT pic.twitter.com/ywdQyrzAqt

— Kajabi (@Kajabi) October 28, 2021
Name a better feeling than your #business making that first $1k. 😁 Celebratory dance for Kari! 🤩

"Thank you #Kajabi! You helped me make my site and all of the moving pieces come together in one spot to serve my clients!❤️ Now my site works for me. 😊" – Kari Schneider pic.twitter.com/cdrFLa3SyE

— Kajabi (@Kajabi) October 18, 2021
🎂 11 years
🦸‍♀️🦸‍♀️ 52K+ #KajabiHeroes
💸 $3B+ Hero-earned revenue
☕️ 5,567,421,893 cups of cold brew consumed (probably)

Thank you to the entrepreneurs & creators who make #Kajabi what it is today! If you needed a reason to have a slice of cake, this is it. 😉 Treat yourself. 🍰 pic.twitter.com/zfb3fI2SOy

— Kajabi (@Kajabi) October 14, 2021
View this post on Instagram
Watch These Kartra Videos: 
Kartra – The All-In-One marketing platform
Page Settings – Creating Your Pages
Membership Portals – Creating and managing your Memberships
Some Kajabi Videos
How To Get Started Selling Online Courses – Kajabi
Kajabi Online Course Builder: Customer Testimonial
Real People Real Solutions with Dean