Have you heard of Kartra email marketing?
If you're scratching your head about improving your business's sales and keeping your customers coming back for more, you're in the right place.
Many businesses struggle with getting people to buy their products and stick around. But guess what?
Email marketing can be the secret sauce that makes it all better.
Imagine this: Your business messages are like little notes in bottles, but they're getting lost at sea. People just aren't seeing them. That's where Kartra email marketing comes to the rescue.
Now, I get it. Email marketing used to be a bit of a headache. But not anymore!
Kartra's email tool is like a superhero for your messages. It's got pre-built templates, behavior-based automation, and even knows how to talk to people in a way that makes them take action.
With Kartra email, you'll see more subscribers opening your email and see improved conversion rates consequently. This leads to more sales.
Also Read: Kartra Review
Kartra Email Marketing Features:
Kartra is super easy to use. You can set up marketing campaigns that work automatically in just a few minutes. It's great for all kinds of online businesses.
It has built-in tools that can make your marketing better. You can make sure your leads feel special and get more people to open and click on your emails.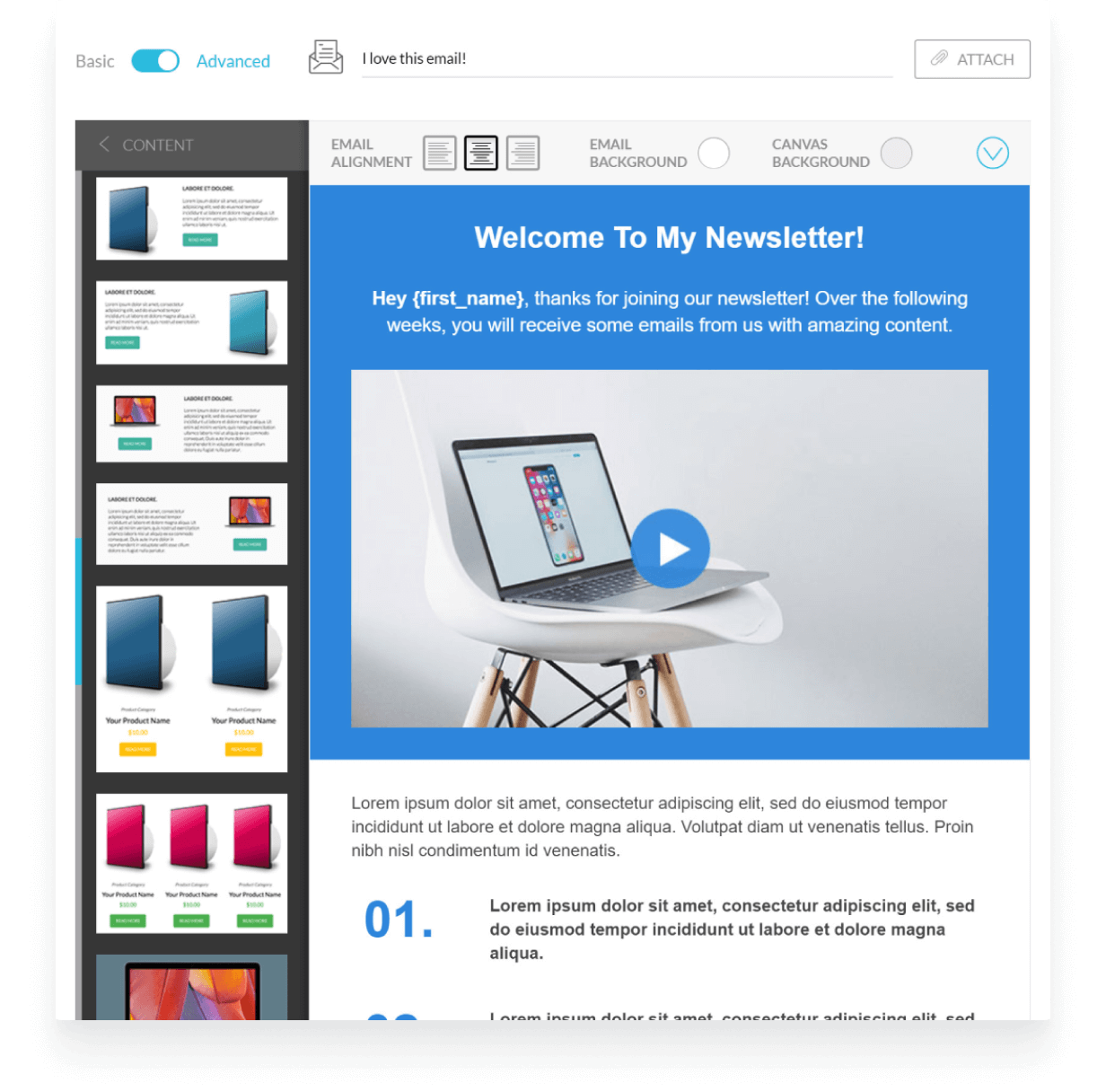 All these features make Kartra email marketing a reliable choice. Let's look at each of these features:
Lead Tagging 
Kartra has feature that lets you tag leads when they take actions, like buying something or leaving items in their cart. This tagging helps you keep track of a customer's shopping journey and is important for understanding how users interact with your product.
Pre-built Templates 
Kartra offers different email templates and ready-made campaigns. Users can choose the product or service they want to promote and get started easily.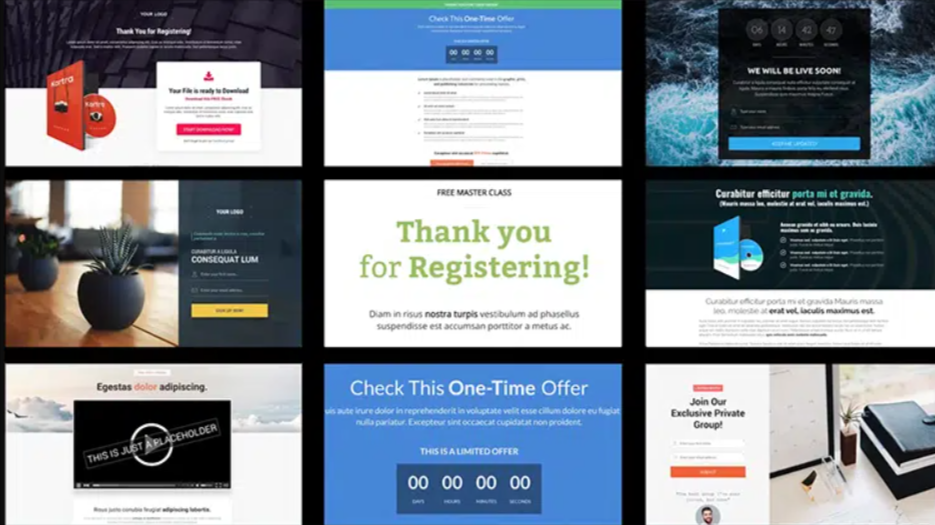 These campaign templates include various assets like sales and checkout pages, not just emails.
Since Kartra is an all-in-one platform, users can easily connect all these different parts together. Let's look at these templates:
Video sales letter
Squeeze page
Sales letter
One page
Prospector
Digital agency
Behavior-Based Automation 
You can automate your emails in Kartra because all marketing campaigns are set up in the Communication or Campaign and Funnels sections.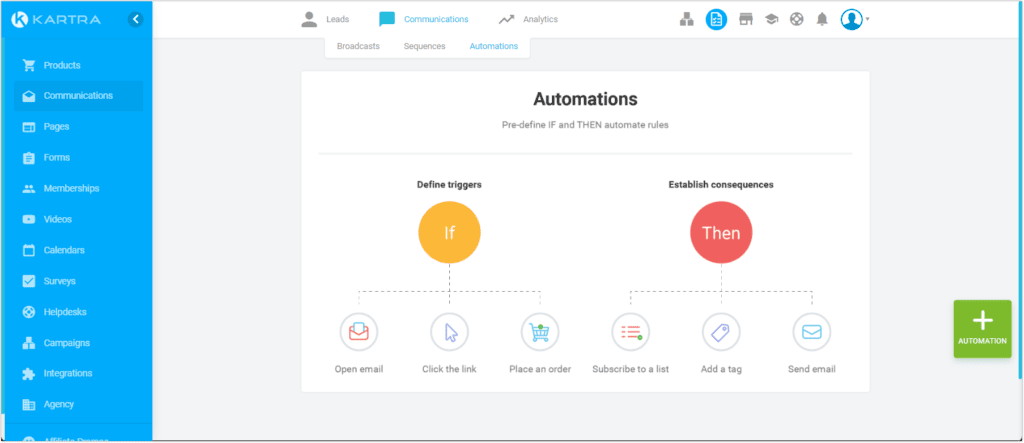 When a contact joins a group or list, the emails will run automatically, and the lead will go through the sequence.
Kartra users can also choose when to send emails, like a specific time and date or a little while after joining a group.
Kartra can be set to do things based on what a visitor does. For example, if someone leaves their cart without buying, they can get a message encouraging them to come back or a special deal to tempt them to return.
Another powerful automation tool in Kartra is the "Split and Go Tool." This tool allows users to create conditional paths that can change the campaign's direction for a recipient based on whether certain statements are true or false.
Intelligent Split Testing
Intelligent split testing in email marketing is a strategy that helps you save money and avoid wasting your marketing budget.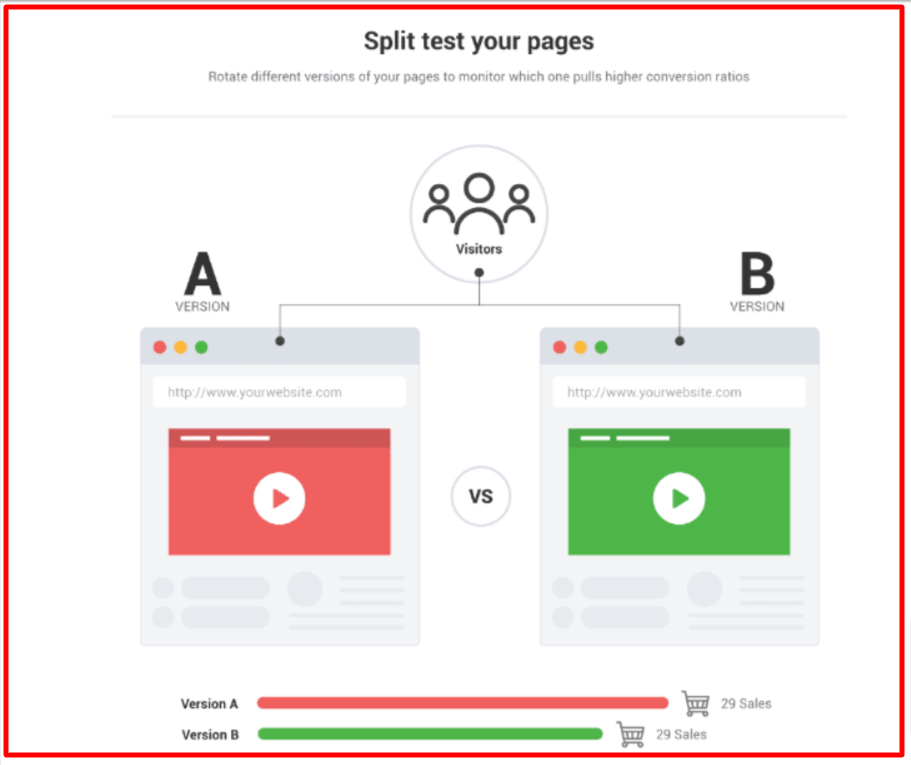 Instead of sending out a big batch of campaign emails all at once, this feature lets you do split tests to determine which email message works the best. It ensures you send the right information to the right people at the right time.
Analytics and Reporting
Kartra provides various tools to help businesses understand how their marketing campaigns are doing and find ways to make them better:
Open Rates: This shows how many people open your emails and what percentage of recipients are opening them.
Click-Through Rates: It tells you how many readers are clicking on buttons or links inside your emails.
Goals: You can track how many recipients are doing what you want them to do, like signing up, scheduling a call, or making a purchase.
Delivery Times: You can check when most people open their emails so you can send them at the right times.
Unsubscription and Spam: You can see which emails make people unsubscribe or report as spam.
Revenue: You can find out how much money you're making from each email and each click.
Email Personalization
If your email looks suspicious, it might end up in the spam folder or be marked for deletion. But when you send a personalized email, it can have a positive impact on the recipient and make them more likely to open it.
Kartra's email feature can change the email to match what each person likes, which makes it more likely to be opened.
Email Integrations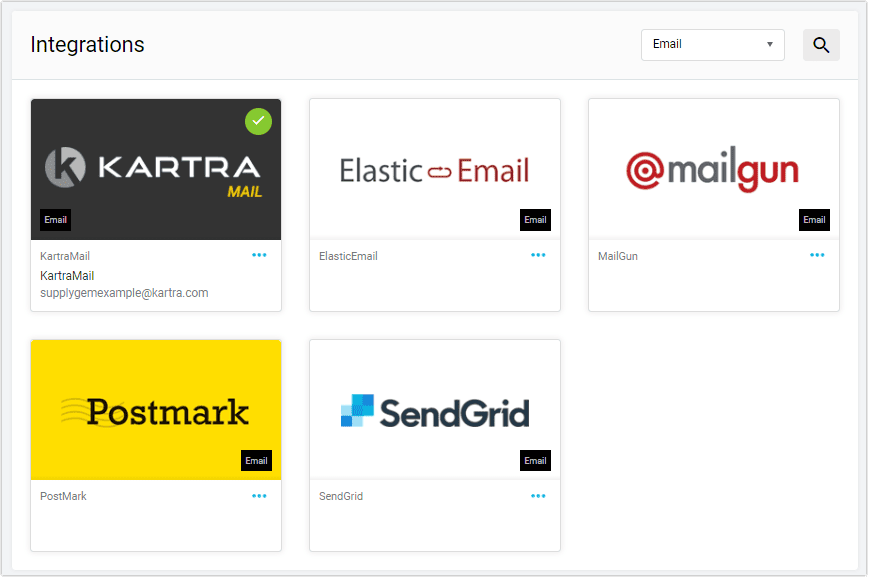 Kartra offers five native integrations with the following:
KartraMail
SendGrid
PostMark
MailGun
ElasticEmail
You can access more integrations via Zapier workflow automation.
How does Kartra Email work?
Kartra mail is a great tool to create clean emails and make sure they end up in the recipient's inbox, where they're more likely to be seen.
But to get the best results, you must know how to do it right. This section will teach beginners how to use Kartra's email broadcasting effectively.
The training covers starting with Kartra, setting up a marketing campaign, increasing product sales, and preparing for a successful product launch using email marketing.
Step 1: Create Kartra Account
Getting a Kartra account is a great way to learn about top-notch email marketing. The exciting news is that you can try Kartra for almost free.
The best part is, when you sign up for a plan, you'll activate a second trial offer, which gives you up to 30 days of a trial period.
Kartra offers four monthly pricing plans:
Starter ($99)
Silver ($199)
Gold ($299)
Platinum ($499)
What's even better is that Kartra doesn't charge extra fees for transactions, making it a great opportunity.
Step 2: Create Email Campaign
Next, move over to the "Communications" tab at the top of the page and pick the type of email campaign you want to make.
Then, click on the green "Create Campaign" button at the lower right of the screen.

A pop-up window will appear, asking you to give a name to your new email campaign. After naming it, click "Save" to move forward.
Step 3: Configure Email Campaign
Now, choose the "Send by Email" option.  Double-check the fields below to make sure everything is correct.
Click "Save," and then at the bottom of the page, click "Save and Next." From the drop-down box, choose the lead segment you want to send your emails to.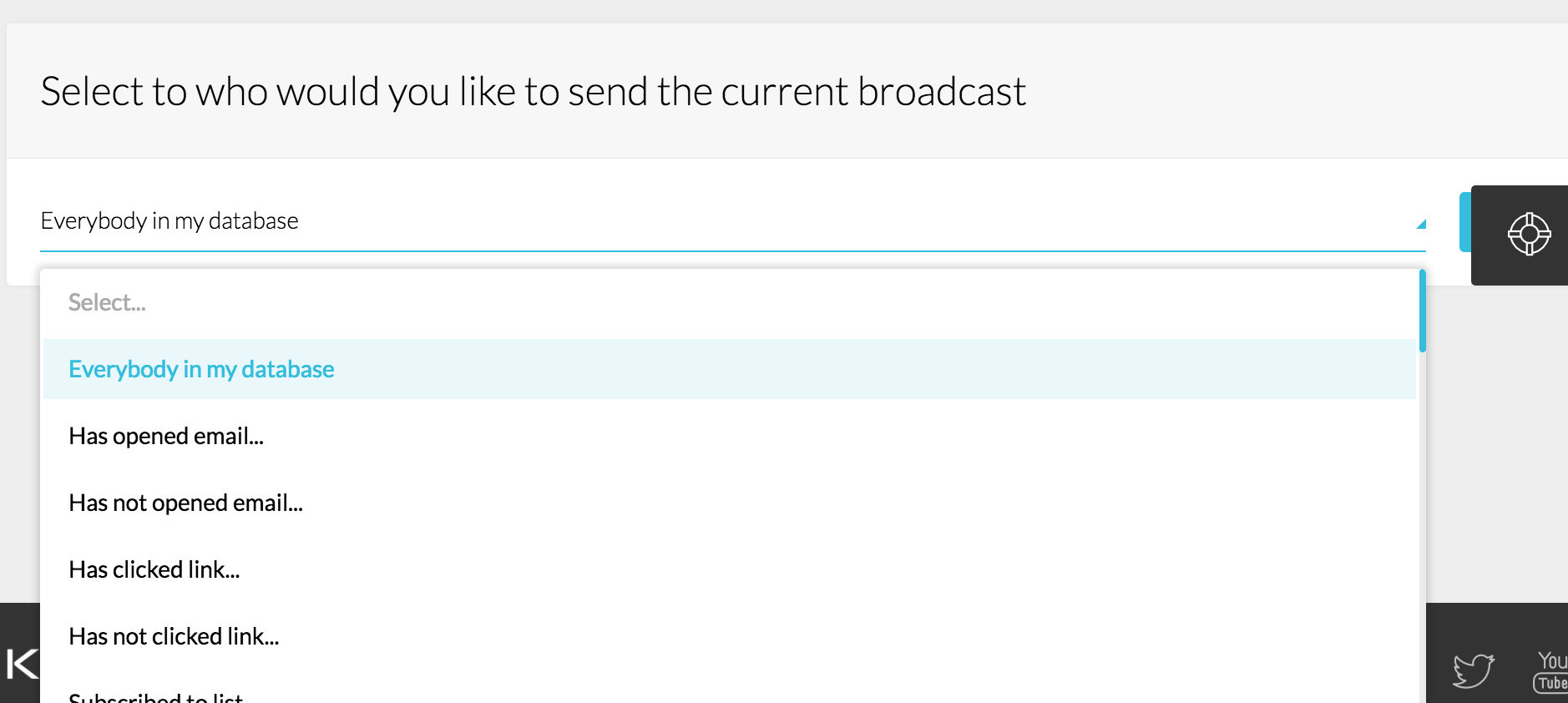 Step 4: Set up Campaign
Now, pick the kind of email broadcast you want to send. You can choose either a Single Email or A/B Split Test.
Use the email builder to design the email you want to send.
Once you're done, click "Save and Next" to move forward.
In the next step, you can use the 'If' and 'When' logic to set up the automation rules. After configuring your flow's settings, click "Add" and "Save" to continue.
Now that the email is ready and automation settings are set, the second-to-last step is deciding when to send the email.
FAQs:
Does Kartra Have Email Marketing?
Yes, Kartra offers email marketing as one of its features. It provides a range of tools and capabilities to help businesses create, automate, and manage their email marketing campaigns effectively.
Does Kartra Have Email Marketing Templates?
Yes, Kartra provides access to email marketing templates that users can utilize to create visually appealing and professional-looking emails for their campaigns. These templates are designed to make it easier for users to craft engaging and effective email messages.
Can you send emails from Kartra?
Yes, Kartra allows users to send emails as part of their email marketing campaigns. Users can create, customize, and send emails to their contact lists through the Kartra platform.
Conclusion
Kartra Mail is a modern email platform with lots of features.
First, you can use beautiful, professionally designed email templates to create emails you'll be proud to send.
But that's just the start. Kartra Mail can automate your entire marketing campaign.
With Kartra, you can set up automation based on what your leads do. Plus, it helps you pick the best emails to send with smart testing.
Most importantly, Kartra analytics is there to keep you informed about what's going on with your business.