Well, now that we are here (To know about Builderall Vs Kartra), let me give you a little tour about what all will be discussed here, so, roll up your sleeves and keep going!
Is Kartra Better Than Builderall?

I definitely think that Builderall is the better choice for eCommerce. With Kartra, you can only sell 20 products, which is ridiculously small. Builderall offers a lot more features and options for eCommerce, which makes it a much better choice for businesses that want to sell products online.

Check out Builderall here.
Kartra vs Builderall Compared
Choose Kartra if:
You want to run a data-driven company.
You want a marketing tool that is fully integrated, simple to use, and automates all of your marketing functions.
You want to supplement your income as a Kartra expert on the Kartra Marketplace.
You are willing to spend a little more money.
You want to ensure that you will always have access to customer service.
Choose Builderall if:
Want to improve the customer experience with a robust CRM?
You want to use the platform to publish blogs or a magazine.
Your pages must load quickly.
You want to use social media live streaming for marketing.
You wish to create e-learning courses.
Overview of Builderall vs Kartra
Overview of Builderall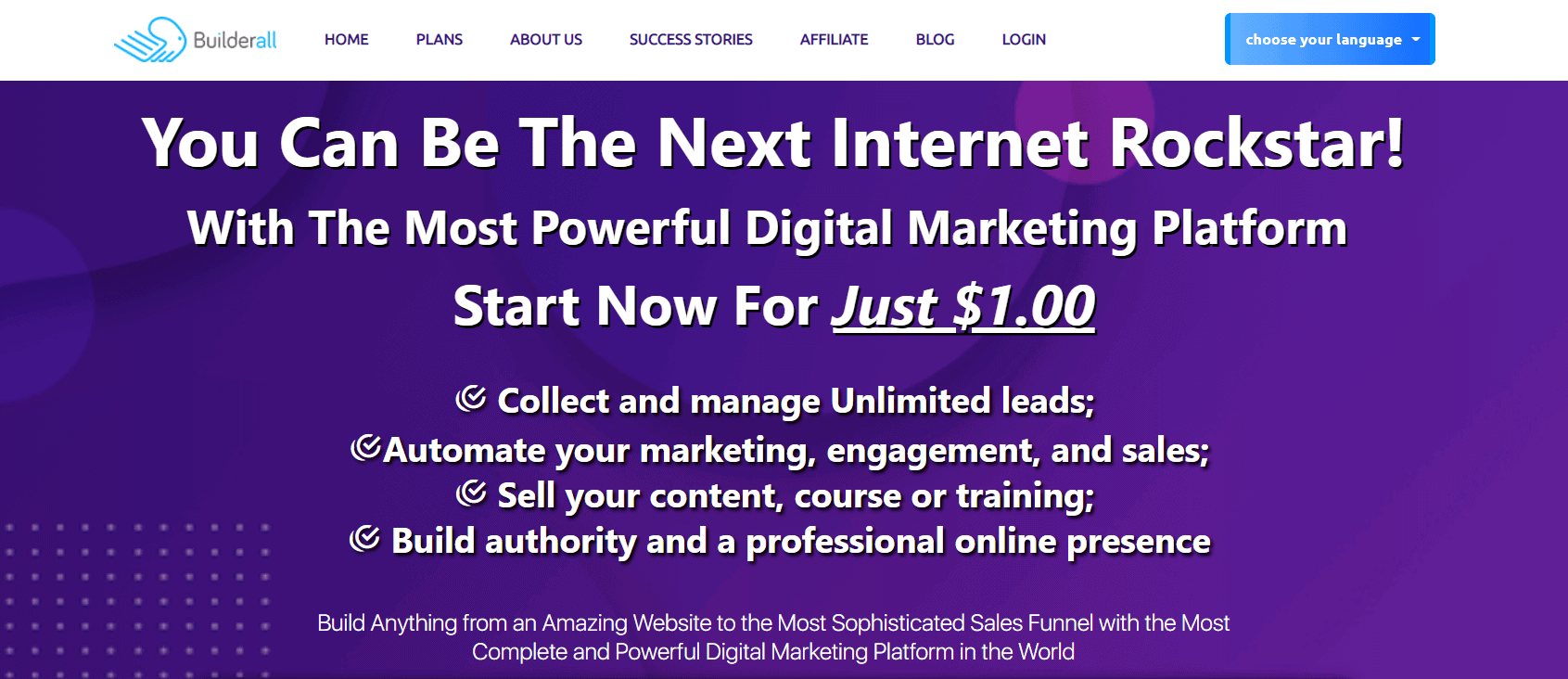 We will be starting with Builderall as it is one of the most victorious platforms available today, especially when it comes to online marketing. It has over 40,000 users grabbed under its belt which gives a good deal of boost to its success rate. 
eBusiness4us is the company that has its hands on Builderall and it has been around since 2008. The goal it has set for itself is to use digital marketing as an essential tool in the recipe of making the world a better place than it is today. 
Just like Kartra, this brand too has tried to integrate everything a person might need to start a brand new business, meaning, the marketing tools one might need will be present in a single place. 
When it gets to the number of features that you get here, Builderall does not disappoint you one bit. You are allowed to manage the emails you receive, the webinars you are interested in, SMS messages, the affiliates, and the chatbots used for messaging. 
The vital tools surely are present but with that, you get many additional ones that can prove to be super helpful.
Plus, this brand is not expensive. So, if you are tight on budget or just would like to save up some bucks for ice cream, go ahead! 
Although, that is not the only thing you should factor in here, so, let us get to the overview of Kartra! 
Overview of Kartra 

When you look at the official place, you will see that this brand has been called the "greatest all-in-one platform of all times". Now, I am not the judge of whether that is right or not but I would say that it has its advantages and disadvantages. 
It consists of everything a person may need when getting started in marketing. To keep it simple, Kartra aims at being everything a person will need when starting an online business. This lets its users work in a single place with everything they need to eliminate any unwanted hassle. 
Genesis Digital is the genius behind this platform and it is so good that the platforms they create are almost always the best when it comes to Kartra, it is no surprise that this brand has earned a well-respected position too. 
Although, it faces really tough competition with brands like Convertri and Kajabi which keeps the platform to keep getting better. The list of features this software brings to your door is a long one. And that is one of the reasons behind me favoring Kartra more than other brands. 
But to give you a short overview, this brand is a tool that is engaged with builders for sales funnel with many wonderful options, such as video hosting, campaigns that are pre-made, and BAM that save you a valuable amount of time. 
Unique Features of Builderall Vs Kartra
The Builder for Landing Pages/ Editor
We do not require a coder anymore for the task of building a web page. Plus, since the release of software options for web page builders, you are allowed to participate in the making of websites according to your requirements, and this way, the need to translate ideas to a certain coder is eliminated. 
Builderall 

Surely this brand is highly successful but this feature is not their strong trait. You are allowed to build your pages rapidly due to the drag and drop option you have for moving pictures and texts. 
Although, on the downside, the entire platform may seem slightly confusing, and building a connection between elements can get messy, unintuitive, and may feel slightly choppy. 
Kartra 
You get a fantastic selection of over 500 customizable pages and various templates for sections available in the Kartra library that range all the way from sales pages, and lead pages to checkout pages. 
The process for creating a website builder is pretty straightforward here. Luckily, the pages present here are super compatible with mobiles and tabs which means that no technical knowledge is required at all. 
Another impressive thing is that the downloads, the client testimonials or the references, etc are all pre-built. Also, they are straightforward, so they can be included in your build. 
Verdict 
The deal here is that both platforms offer a straightforward and extremely easy-to-use functionality. But I would call Kartra a winner because the levels at which it has been optimized are just amazing. 
Funnels/ Campaigns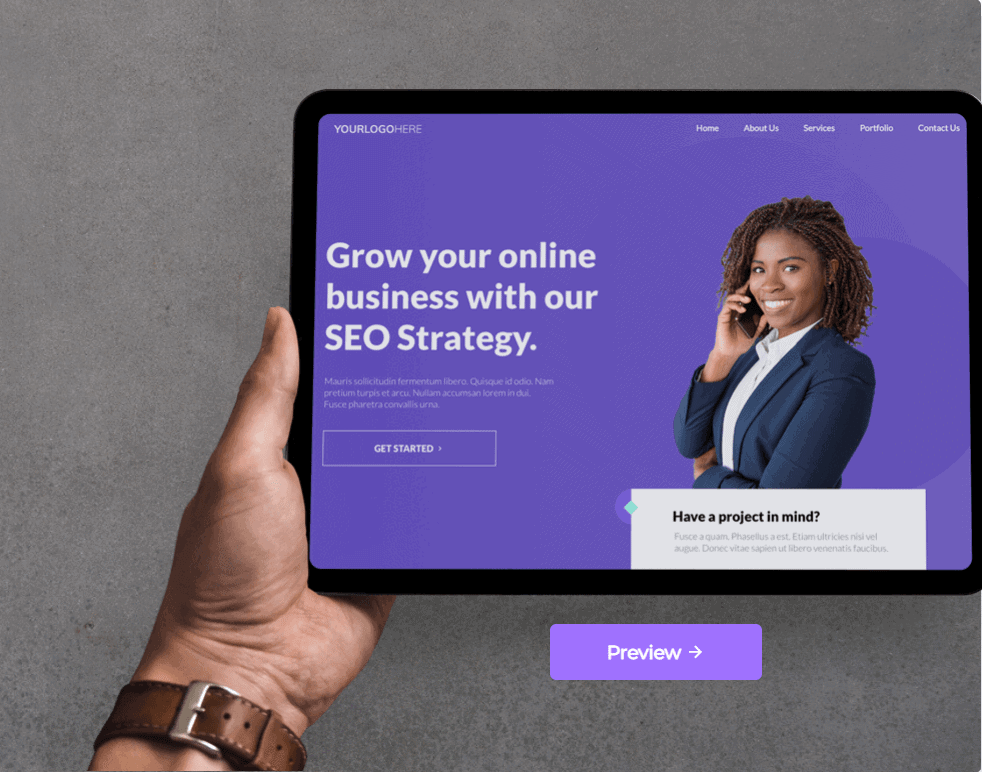 If you ask someone what a good funnel solution should be able to do, they would answer that the funnel solution should take care of answering their customer's needs from the start of their journey with them till the end of it. 
Builderall 
Again, this is not one of the strongest suits of Builderall. The Pixel Perfect Builder lets you drag and drop the images and texts that allow you to build multiple pages at a rapid pace. 
While this is a good thing, the con comes when the editor makes everything look slightly confusing. Plus, making connections between the elements may turn out to be super unintuitive, and cumbersome. 
Kartra 
Here, you are allowed to use the "Done For You Campaigns" which are specific templates an individual can use to create a custom-made funnel. The pre-built funnel consists of pages that can be used for marketing online, tagging automatically, and several other options. 
You can also sell your campaign on the Kartra market or import one of your choice from another company. 
Verdict 
When the drag and drop functionality is involved, both the platforms work just fine. The editors for pages are also quite similar which is leading to this comparison being a close call. Although, the winner is Kartra again since it provides a good deal of user experience. 
Email Automation 
Both systems offer automated systems for emails that help in running marketing campaigns and sending out emails that hold valuable information. 
Builderall 
In Builderall, The mailing boss has been utilized for the system of email automation. You are allowed to set up subscriber lists or mails, produce newer campaigns, and keep an eye on the statistics of all the campaigns that were launched earlier. 
It also enables you to run campaigns automatically well against subscribers lists and proceed to follow up on all the emails that were left unread or unanswered. 
Kartra 
Kartra is super customizable while letting you set up your email for your customer according to their past behavior. The information present on the file will help you personalize the email as the system tracks it. 
The effectiveness of your campaigns has can be determined through information such as the time at which the mail was opened or read. The mails packages change according to the different tiers you choose depending on your requirement. 
The starter pack which is also the entry-level package has a limit of about 15,000 emails per month which is not a bad deal. When you move up a step, the limit for emails is 125,000 and above that, that is, the Golden pack, 250,000 emails are maximum. 
Platinum allows up to 500,000 emails per month. 
Verdict
This round's winner is Kartar too since the price system is pretty versatile and is efficient. It also is cost-effective which gives it another point to become the winner. 
Read here: Kartra vs Leadpages vs ClickFunnels
Pricing: Builderall Vs Kartra
Builderall Pricing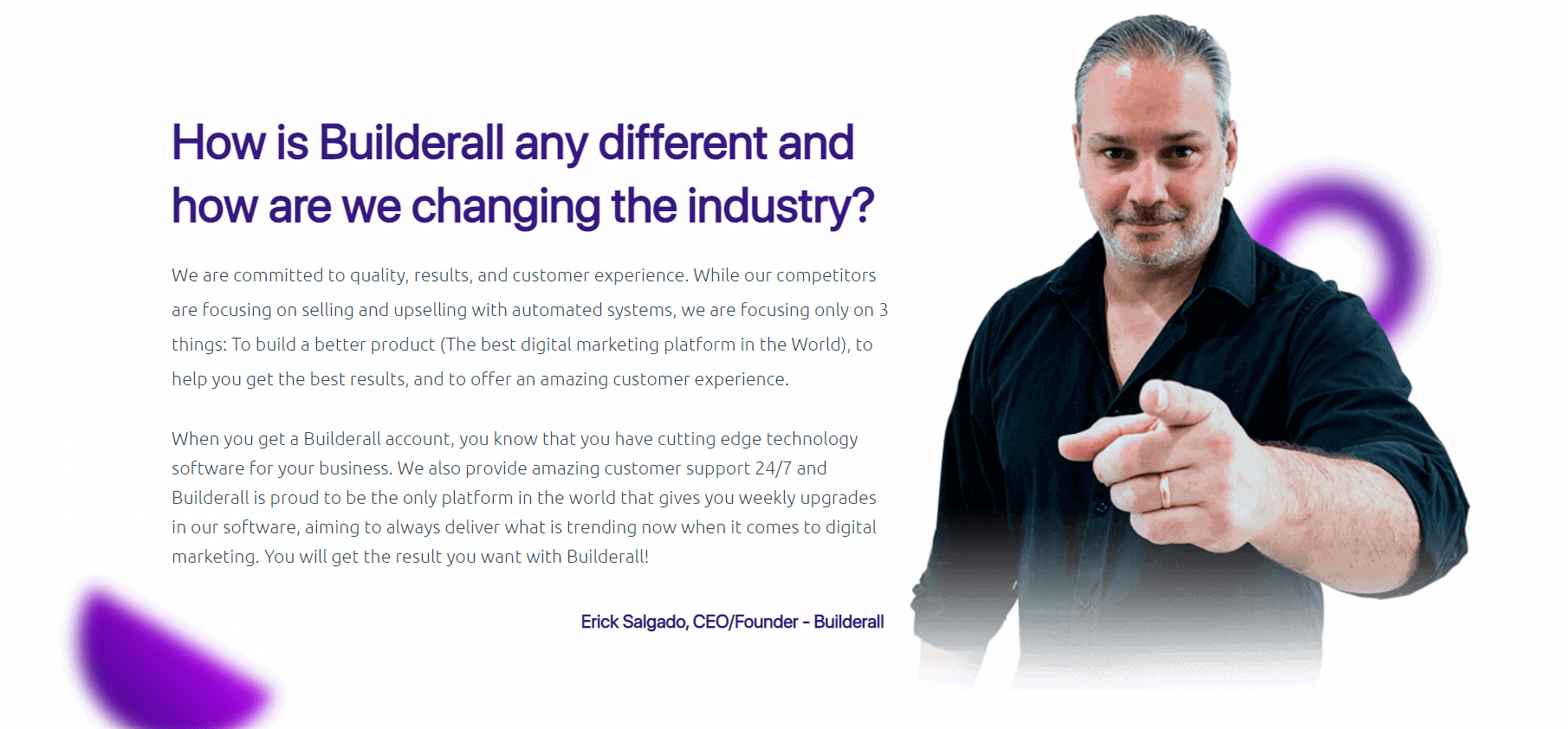 It has not been long since Builerall has come up with five different pricing plans that a user can choose from. Sure, there is a 14-day free trial that you can use to see if this platform is for you or not, in case, you were wondering about that. 
But putting that aside, there are a total of five packages you can pick from as per your budget and the things you get in them. The pricing plans are Free for $0, Builder for $19.90, Marketer for $29.90, Essential for $49.90, and The Premium for $69.90. 
As expected, the free trial does not offer some essential features, such as an A/B Testing method or a Funnel Builder. 
Now, Builder gives you access to both these features but the problem is that it does not allow you to use other features like builders for webinars, sending messages through SMS, etc. 
The case is the same as the rest of the plans, many of the features an individual finds important could be missing in the plan he wants to for. But I suggest that you go for the premium pack since it gives you everything you want and somehow is less costly than any of the plans in Kartra. 
Also, the deal is, that you are allowed to cancel your subscription at any given point. Better yet, there is a pretty good chance for refunds but only if you have not made any of the commissions required through the platform. 
Another thing you should probably remember is that you have to do it in the first 30 days since you pay for your subscription if you wish for a refund. Are you wondering if Kartra offers anything of this sort?
And if that got your attention, let me move on to the pricing plans on Kartra. 
Kartra Pricing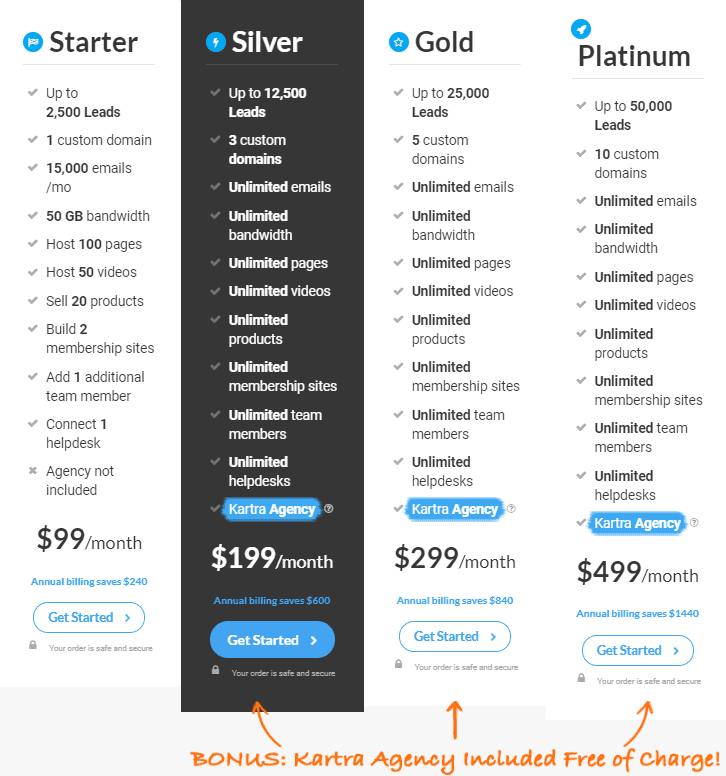 Here, all the tiers of the subscription include all the features mentioned above and a lot but the difference comes in things like the number of contacts, the leads, the domains, etc. 
The basic pack here is the Starter Pack. This pack costs about $99 per month. The next pricing plan is the Silver Pack which has a price of $199. Apart from these, there are also the Gold and Platinum plans that come for $299 and $499 each. 
Starter pack- 
You will get up to 2,500 leads here. 

You can connect only to a single helpdesk here. 

You get one custom domain. 

You are allowed to add a member to make a proper team. 

Send about 15,000 emails per month. 

You can build up to two sites for membership. 

The bandwidth of 50 GB is amazing! 

Sell up to 20 products online! 

You are allowed to host around 100 pages. 
The Silver plan- 
You will get up to 12,500 leads here. 

You can connect to many helpdesks here. 

You get three custom domains. 

There is no limit on adding as many additional members as you want to make a proper team. 

Send limitless emails per month. 

You can build many sites for membership. 

The bandwidth is unlimited which is amazing! 

Sell as many products as you want online! 

You are allowed to host as many pages as you want. 

A Kartra Agency is also available for you. 
The Golden Pack-
You will get up to 25,000 leads here. 

You can connect to many helpdesks here. 

You get five custom domains. 

There is no limit on adding as many additional members as you want to make a proper team. 

Send limitless emails per month. 

You can build many sites for membership. 

The bandwidth is unlimited which is amazing! 

Sell as many products as you want online! 

You are allowed to host as many pages as you want. 

A Kartra Agency is also available for you. 
The Platinum Plan-
You will get up to 50,000 leads here. 

You can connect to many helpdesks here. 

You get ten custom domains. 

There is no limit on adding as many additional members as you want to make a proper team. 

Send limitless emails per month. 

You can build many sites for membership. 

The bandwidth is unlimited which is amazing! 

Sell as many products as you want online! 

You are allowed to host as many pages as you want. 

A Kartra Agency is also available for you. 
Surely, if you go for the yearly pack instead of the monthly one, you will save up to 25% for the Starter Pack and a good deal of around $1440 if you go for the Platinum plan!
Just like Builderall, you are allowed to request a refund if your first 30 days are not over yet. 
But to give you a small idea of why I would this brand cheap too, you can look at the other leading platforms that perform the same tasks as this brand cost about 100 bucks the least costly tier of their subscription. 
Verdict 
Surely, the winner of this round is quite clear at the first glance. But let me give you a reason to rethink. All the features are not available on Builderall although it is much cheaper than Kartra.
So, I would suggest that you check out each website to get a better idea of what all is offered under each brand.
FAQs | Builderall Vs Kartra
🙋‍♀️Which brand should you choose, Kartra or Builderall?
To give you a simple, confusion-free answer, Kartra is the better platform here. Sure, it is a little too pricey but that does not make Builderall a better software
🤷Would it be wise to switch from Builderall to Kartra?
This depends on you. Builderall is also a great software, only Kartra is better. And it does not lose out of its worthiness through price. So, if you are happy with Builderall, stay there until you grow unsatisfied with it.
💁‍♀️How good is the support system at Builderall?
When it comes to the support system, I would say that it requires some work. It is not all that responsive which is not an attractive trait for a platform that is leading successfully at the moment.
🙋‍♀️ Is it worth the money?
Yes, Since it is already integrated with several online platforms we do not have to pay extra.
🙎‍♂️Does Kartra provide a custom domain feature?
Yes, with the help of cPanel account you can make free domains
Quick Links
Conclusion | Which one is better? Builderall Vs Kartra 2023
Here is a winner that I thought deserved the place. The brand I have chosen as the winner leads in the aspects like security, a variety of tools you can use, and the overall substantiality of the entire platform. 
Builderall, unlike Kartra, has bugs and I would prefer paying a little more to use a seamlessly working platform than struggle to fix unwanted issues within the software. This struggling can get a little too frustrating for anyone's liking and especially when you need it the most. 
Although, a piece of advice, when making your decision, always remember the things you are looking for and the benefits in a platform that will help you out further. For starters, you should consider your budget, the size of the business you are planning on running, and the kind of business too. 
Along with that, remember to keep a record of your knowledge of technology in this field. If you are a brand new starter and do not mind fewer features, Builderall is a great choice. 
But if a huge company wants a steady, seamlessly running software for marketing solutions, Kartra is a good place to start working with. So, taking into consideration your situation, make a thoughtful decision.