Kartra Vs Infusionsoft (Keap): Summary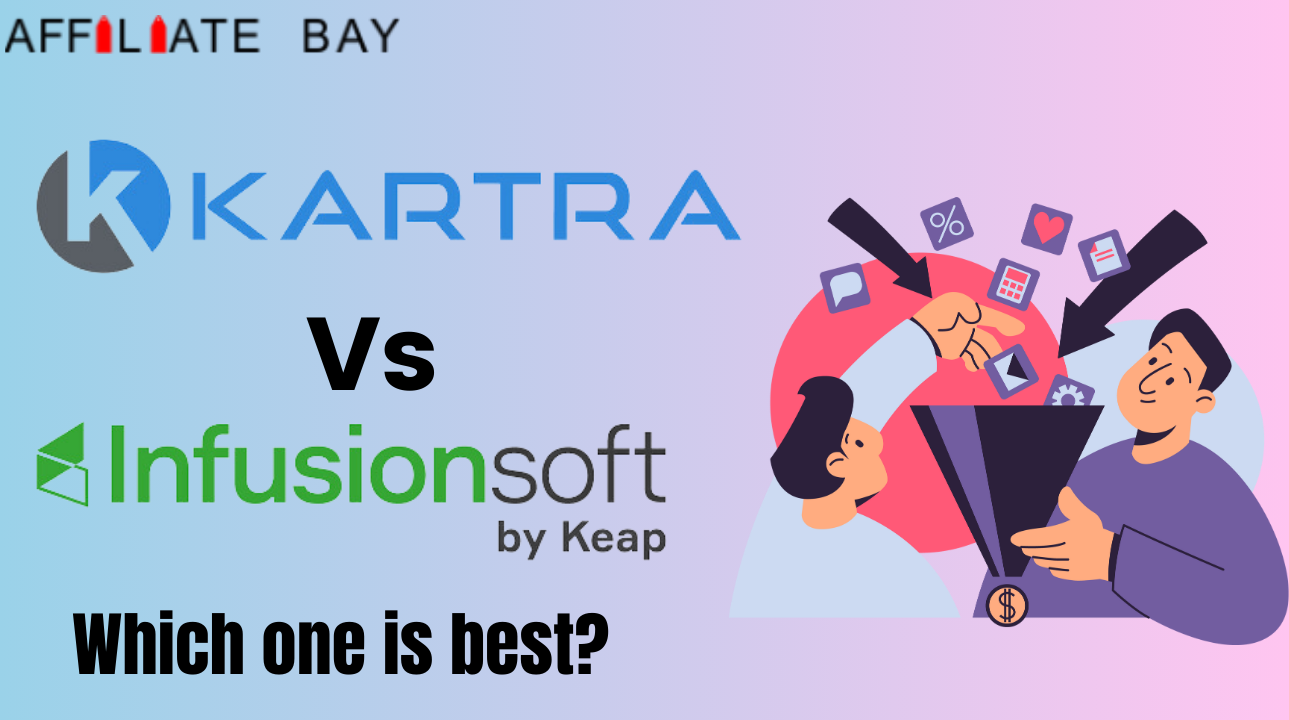 Kartra is an all-in-one marketing platform designed to cater to the comprehensive requirements of online businesses. It provides a range of solutions that cover various aspects of day-to-day operations, making it a versatile choice for businesses seeking an integrated approach.
On the other hand, Infusionsoft, now known as Keap, focuses primarily on email marketing and sales automation. It offers robust features for managing email campaigns, lead generation, and sales funnel automation.
While both Kartra and Infusionsoft/Keap provide similar solutions and services, the decision of which platform to choose depends on your specific business requirements and preferences.
Look at the popularity of these tools to know which one is trending these days:

Similarities between Kartra & Infusionsoft
Check-out Service for Sales
Both Kartra and Infusionsoft have checkout options for making sales. Infusionsoft lets you make a custom checkout page that makes it easy to add your products and prices. Kartra, on the other hand, only works with set checkout forms.
SMS Messaging
With gateways like Twilio and Plivo for Kartra and FixYourFunnel or Call Loop integrations for Infusionsoft, both tools have SMS connection systems that make it easier to send a mass text. But Infusionsoft seems to work better with Kartra than Kartra does with Infusionsoft.
Tools for automating emails
Both Kartra and Infusionsoft have a good selection of email automation tools built right into the app. However, eventually, we found out that Kartra comes out superior in this aspect as its tools are a bit more flexible.
What Is Kartra?
Kartra is a sales funnel, or a sales funnel builder similar to Clickfunnels, but it has a lot more features and integrations than Clickfunnels. It delves much deeper than any other online platform.
The integration is incredible, and it's a one-click all-in-one sales funnel builder that includes everything that has been configured for you.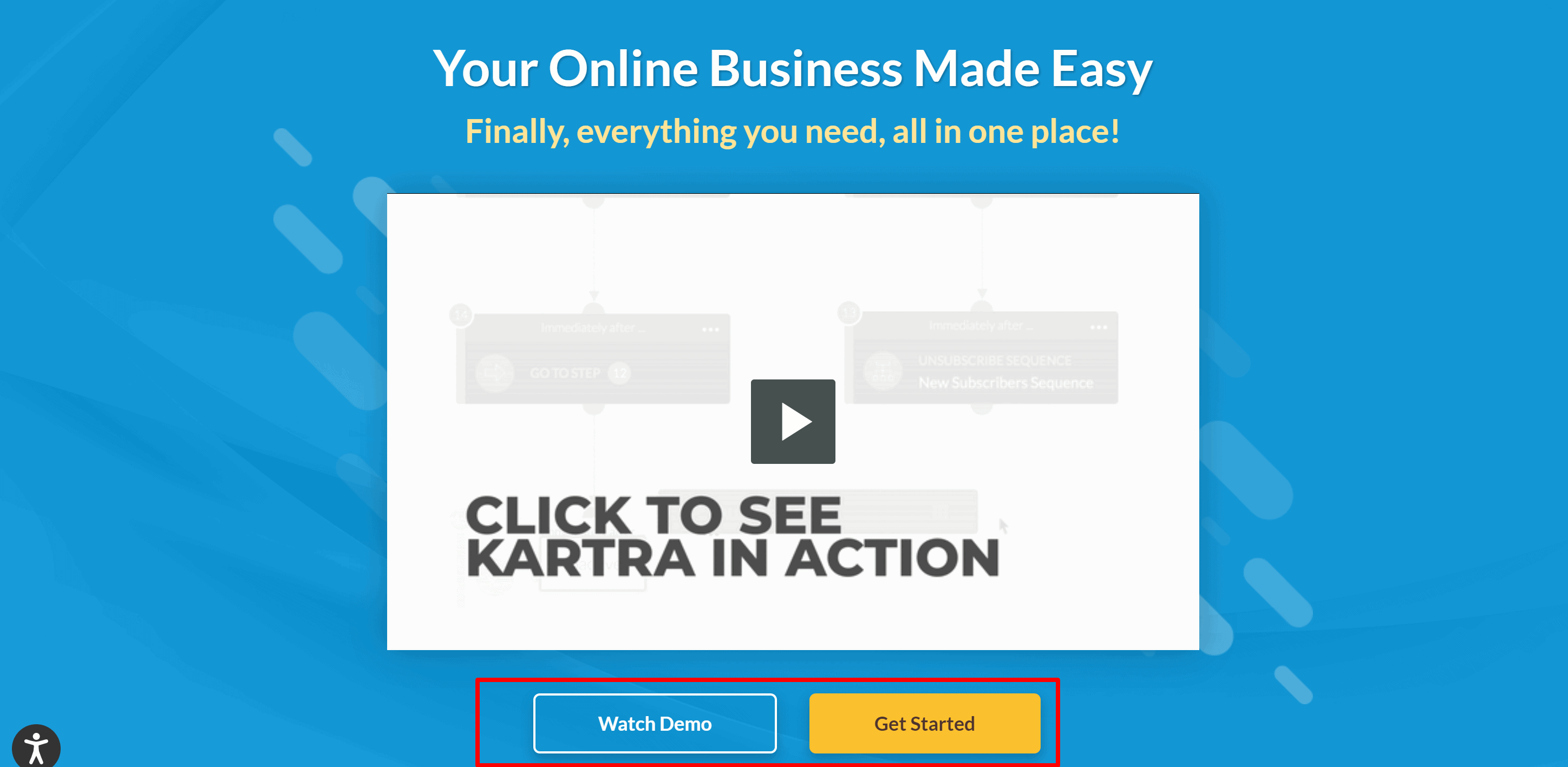 They also have a plethora of templates, such as landing pages and sales funnels, to guide you through the process, and within these templates, you can integrate your email marketing campaign.
Everything is integrated into the sales funnels if you want to add a membership site or webinars.
So all you have to do is plug the product in. You can upload videos directly to their website and have them hosted there.
Read my Kartra review.
What is Infusionsoft?
Infusionsoft (Keap) is much more than just an email service provider, and if that's not your thing, you've come to the wrong place.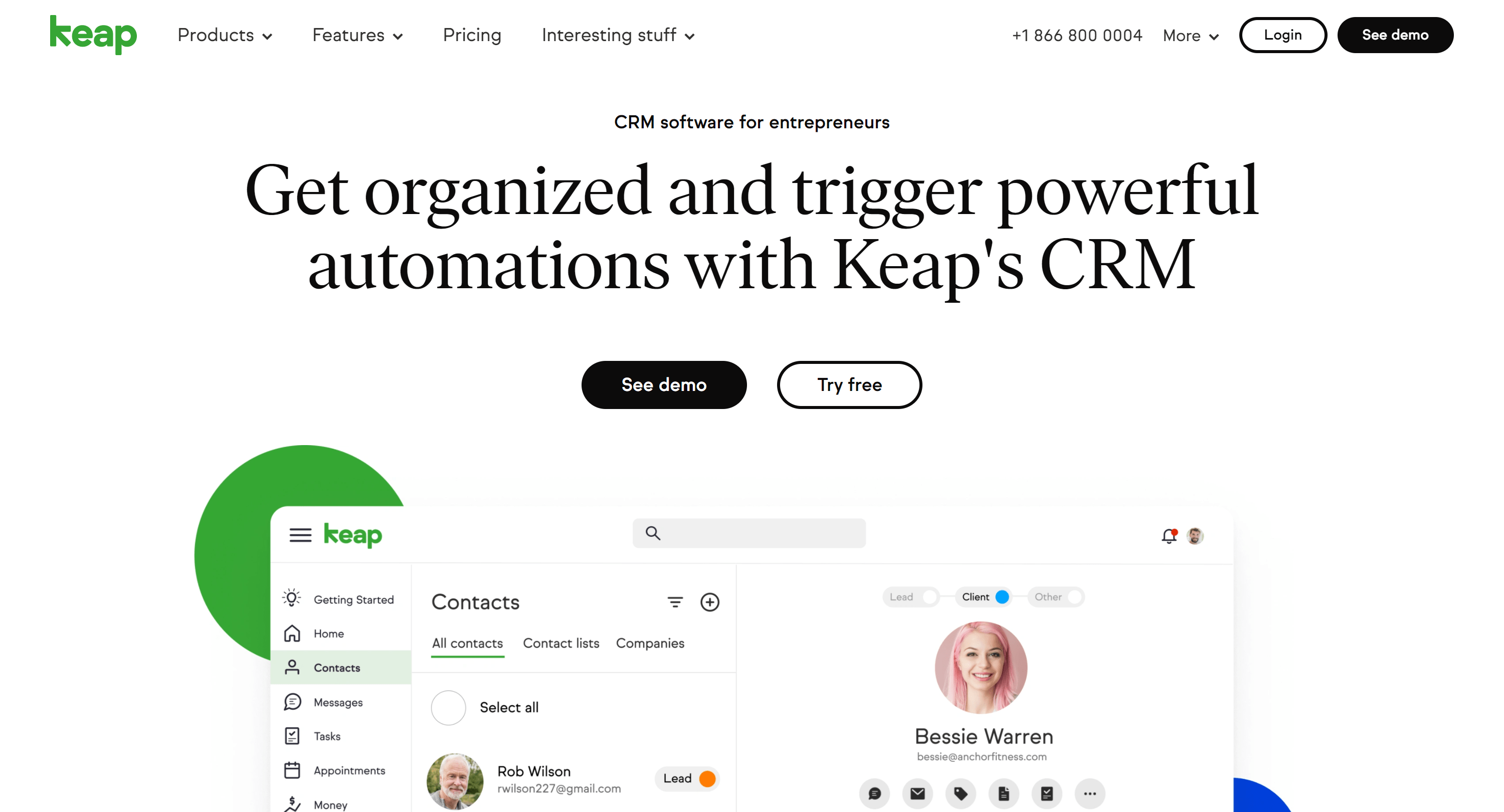 Infusionsoft will only send you an email if you have an Infusionsoft account and are not using something else to process your orders or perform some of the other functions Infusionsoft is designed to perform.
You have the option of using Infusionsoft for everything or using something else to process your orders. Infusionsoft is not a list-centric platform, so bear with me for a moment.
Everything is based on lists and is based on their logic. So, who is this person if they end up on this list, and what should I do about it?
Infusionsoft (Keap) does not have any lists.
Kartra vs Infusionsoft: Features Comparison
Email Marketing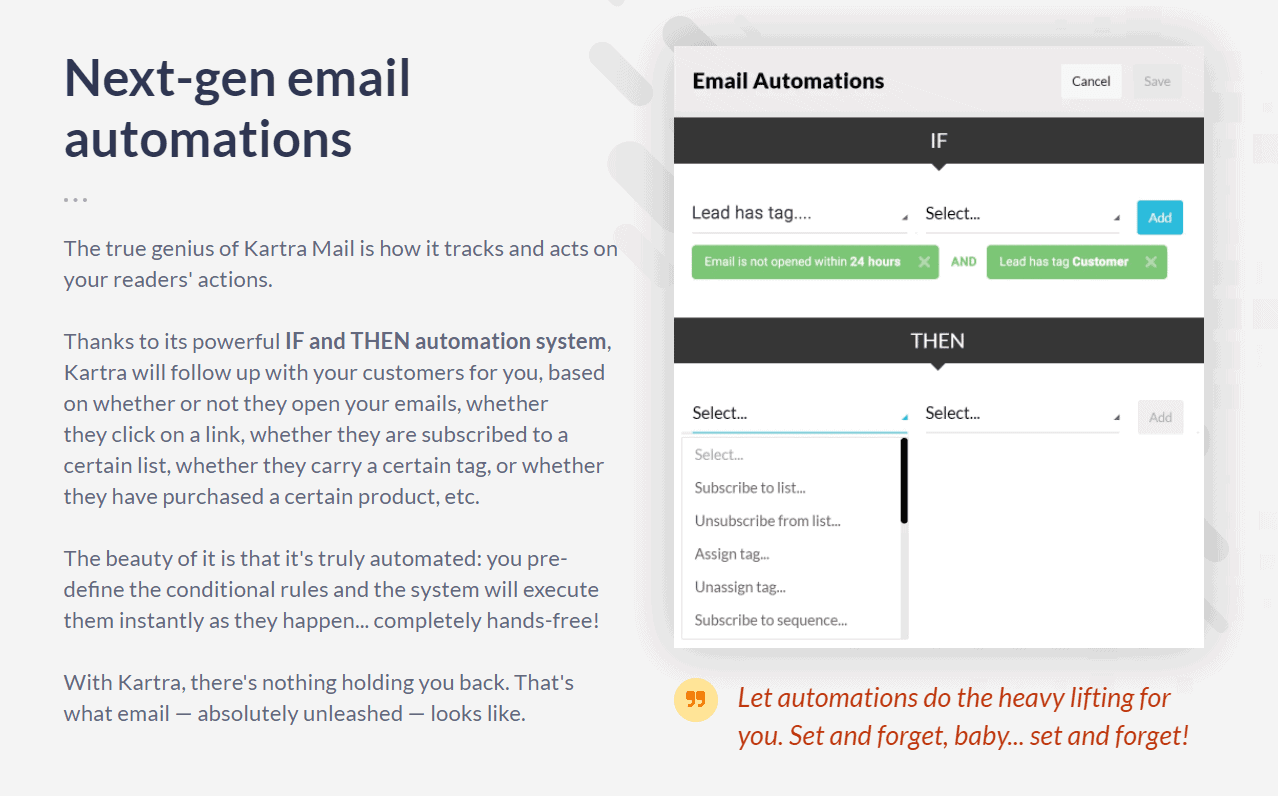 When you use Kartra to build your sales process, you can also set up your emails to be sent on their own. No more physically copying and pasting the same content; letters can be customized with a person's name, date of joining, and country.
Conditionals can be used based on how customers act. That is, people who didn't read the last email will automatically get another one, and idle users can be taken off the list.
There are also templates you can use to make completely unique emails with timers, movies, endorsements, and other things.
With the Starter package, you get 15,000 emails per month. With the Silver package, 125,000 emails are sent each month. For the Gold and Platinum plans, keep raising the amount.
With Infusionsoft, you can automate the sending of deals and even thank-you texts to customers. You can use segmentation if you don't want to spam your whole list of contacts. Emails can be sent with different themes and offers based on what people are interested in.
One important thing, though, is that they work with social media. Anyone with a social media account on any site can get emails. At each plan level, you can send as many emails as you want.
Verdict
Even though both have automated and the ability to change templates, Infusionsoft is better than Kartra because it can connect to social media. It can be a way to get a lot of people to your site.
Landing Pages 
A landing page is essentially a short page that keeps people from leaving and oftentimes gets them to buy something. It's similar to a one-page mini-website.
You can quickly drag and drop landing pages. It is straightforward and to the point. It is such an all-encompassing program that you do not need to use anything else.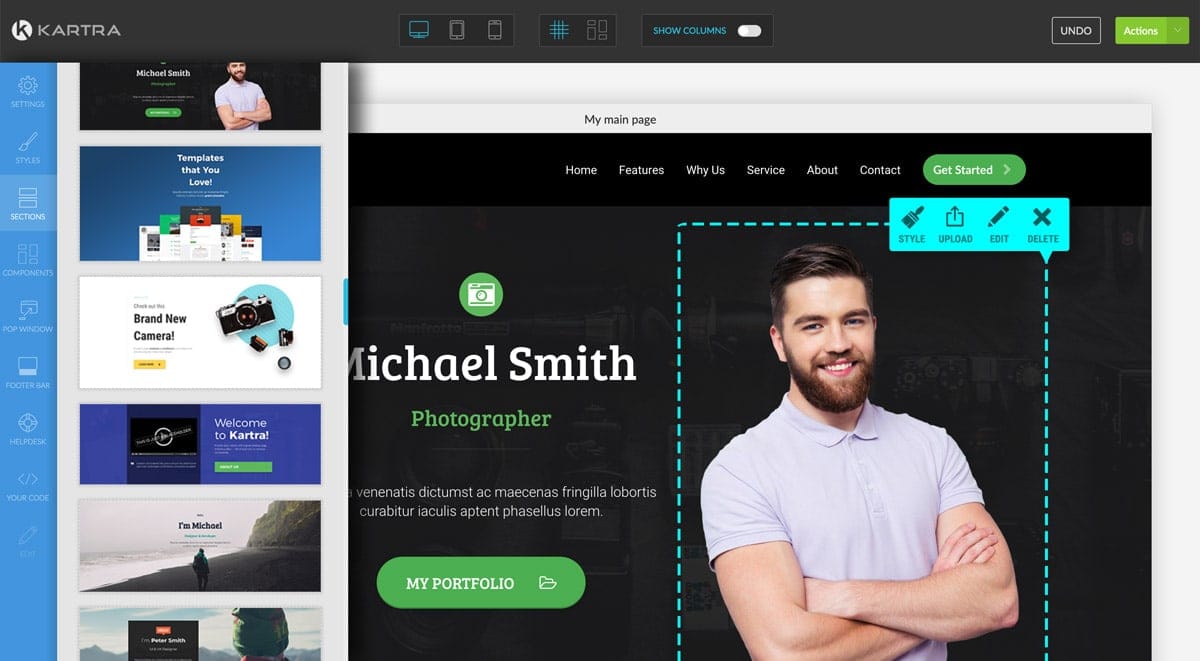 Infusionsoft allows you to create personalized landing pages. It's worth noting that, while you can change the background of any given template, you can't change the colors of the elements inside, such as button text. These templates are also limited to landing pages only.
Verdict 
Infusionsoft allows for some customization, but Kartra has a wider range of templates and those templates are available for any type of page.
Integrations
Kartra does allow for integration with third-party applications, removing the need for customers to start from scratch or learn any new information.
Payment processing integrations are the most common type, with examples including Stripe, PayPal, Authorize.net, and Braintree.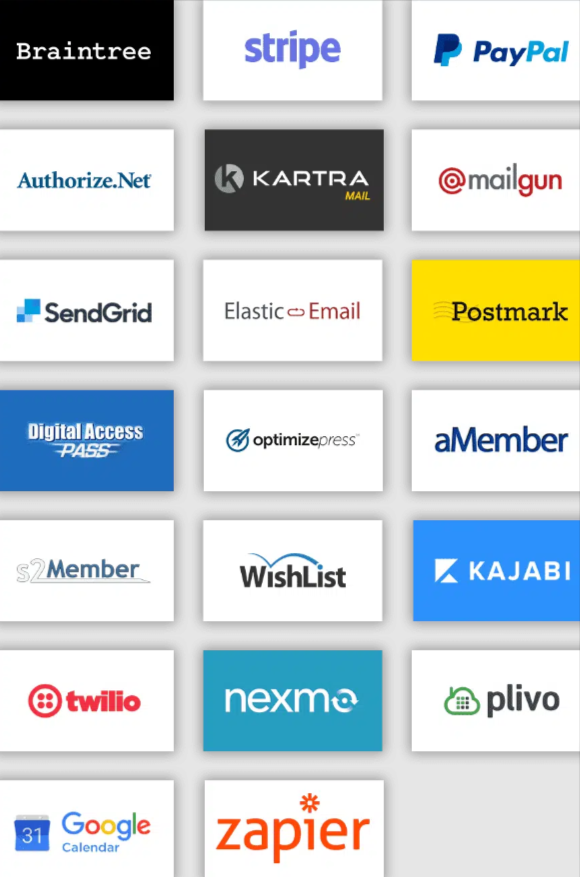 It is also compatible with Google Calendar and Twilio, a messaging service. The variety of integrations that can be implemented with
Although Infusionsoft allows for a greater number of integrations, the platform places an undue emphasis on these connections. Infusionsoft is quite extensive. E-commerce integration options include ThriveCart and Privy.
Verdict
It's possible that you'll end up paying more for services that require these integrations.
Kartra distinguishes itself from the competition by wishing to provide all of these services on its own platform while still allowing integrations to be made as needed.
Analytics & Reporting Features
Kartra looks at every part of a business, including how well emails, landing pages, automation, and sequences work, as well as how well memberships, goods, and emails do.
Keap also offers powerful insights with data points on conversions by sales stage, lead source, and other factors.
Also, thorough reports are made about how many people fill out forms, open emails, click through, and do other things.
Which platform has better tools for analytics and reporting?
In this way, both systems do a good job. They both give their users all the information they need.
Customization Features
Since each course and website has its own goods and services to sell, it makes sense for platforms to have features that can be changed.
The more a platform can be changed to fit a creator's needs, the better material they can make.
My Comparison Of Support – Kartra Vs Infusionsoft
When choosing a software product or service, support plays a vital role in the decision-making process. Regardless of how good or user-friendly software may be, customers often have questions or need assistance, making support quality crucial.
Let's now look at the support of Kartra and Infusionsoft.
Kartra
Kartra not only excels in terms of technology but also prioritizes its customers' needs. Here's what you can expect from Kartra in terms of support:
Kartra provides a learning center called Kartranaut, where users can access step-by-step tutorials on how to effectively utilize the various tools offered by Kartra.
Infusionsoft (Keap)
Similar to Kartra, Infusionsoft (Keap) has made efforts to provide robust support to its customers:
Facebook Community Support: Infusionsoft offers a Facebook community where users can seek support, ask questions, and connect with other users.
24/7 Chat Support: Customers can access live chat support round the clock, ensuring prompt assistance whenever needed.
Tutorial Articles and FAQs: Infusionsoft provides a range of tutorial articles and FAQs to help users navigate the software and find answers to common queries.
Webinar Tutorials: Infusionsoft also offers webinar tutorials, which can be valuable resources for users seeking in-depth guidance.
Verdict
While both software platforms have made efforts to support their customers, Kartra holds an advantage due to its ease of use and the user-friendly Kartranaut interface. In contrast, Infusionsoft's support materials may appear scattered. Hence, Kartra emerges as the winner in terms of support quality.
Conclusion | Is Kartra Better Than InfusionSoft? 
In conclusion, Kartra is a user-friendly platform that allows businesses to visually construct campaigns that touch on every aspect of their operations.
It offers a wide range of features, including opt-in forms, emails, automation, tagging, triggers, and more, which can be easily connected via a drag-and-drop sequence builder. This makes it a powerful and efficient tool for running a business.
Additionally, Kartra also offers the opportunity to earn extra money by selling campaigns.
On the other hand, Infusionsoft is also a simple and easy-to-use platform, geared towards small and mid-sized companies, which helps with generating leads, managing marketing initiatives, streamlining the sales process, and closing deals efficiently.
However, when compared with Kartra, Infusionsoft falls short in terms of features and options.
Although Kartra might be more pricey than Infusionsoft, it provides incredible value for money and is the better option for businesses looking for a comprehensive all-in-one solution
Kartra might be more pricey than Keap but it is better in terms of features and provides incredible value for money.
Check out more posts: