The moment a stranger comes across your business whether it's through an ad or a trade show or simply a good search their sales journey starts. 
There's copy to write, pages to design, emails to send, and automation to figure out. People began to notice how challenging it was so online companies like Kartra and Infusionsoft started popping up claiming to help you build your funnel with a click. 
Kartra and Infusionsoft are solid well-rounded sales campaigns that will ensure this journey is smooth and ends with the best with the buy button yet campaigns are not easy to create from scratch.
But, let's say which one takes the edge when compared head-to-head.
Kartra vs Infusionsoft: Should You Buy Kartra or InfusionSoft? 
What Is Kartra?
Kartra is a sales funnel, simply put it's a sales funnel builder similar to something like Clickfunnels but it has a lot more features and integrations than Clickfunnels has. It goes much deeper into it than any other online platform.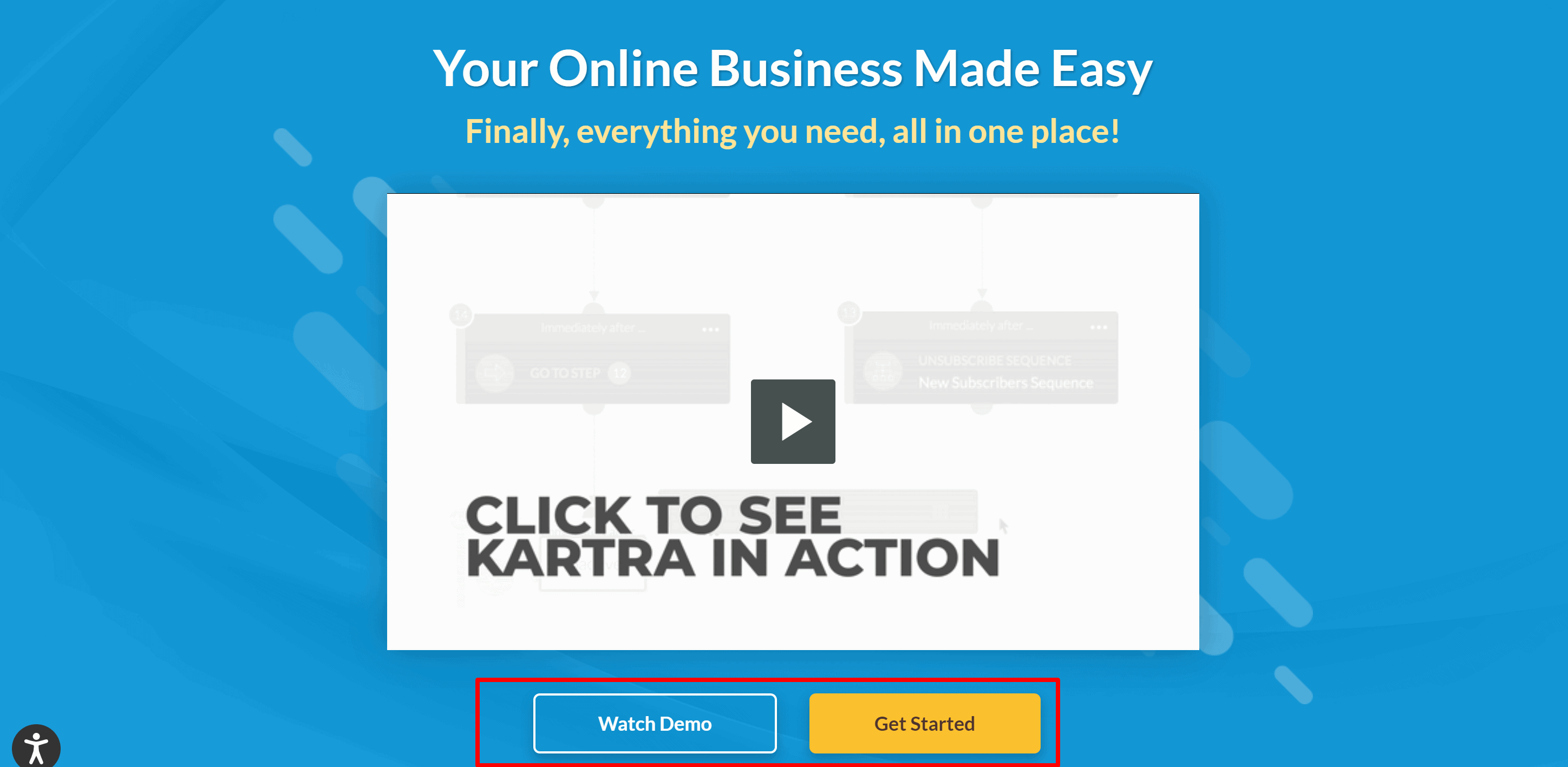 The integration is crazy and it's a one-click all-in-one sales funnel builder that encompasses everything that is set up for you.
They also have plenty of templates landing, sales funnels templates that take you through the process, and within these templates, you have the integrations of your email marketing campaign.
If you want to add a membership site, or webinars, everything is integrated into the sales funnels.
So, all you have to do is plug-in in the product. You can upload videos natively to their site and have them hosted on their site. 
What is Infusionsoft?
Infusionsoft (Keap) is way more than just your email service provider and if it's not your kind then you're in the wrong place. You should not be using it.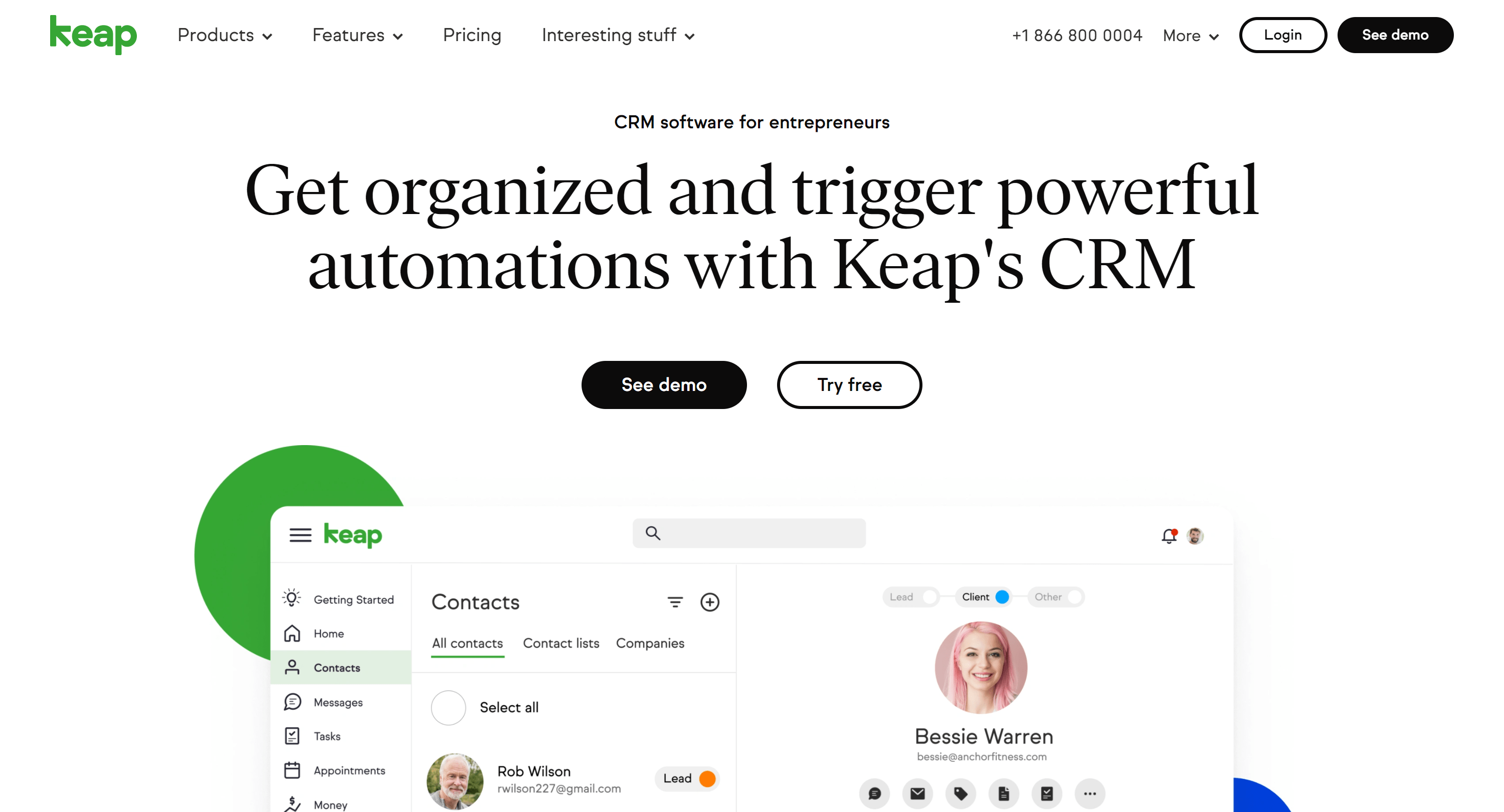 Infusionsoft only sends an email if you have an Infusionsoft account and you're using something else for processing your orders and for some of the other functions Infusionsoft is made for you.
You can either use Infusionsoft for everything or use something else for processing your orders. Infusionsoft is not listed-centric so let me Quality that for a second.
Everything is their logic and is going to be based on lists. So, what is this person if they go to this list, what should I do about this list?
Infusionsoft (Keap) does not have lists it's contact-centric. 
Common Features of Kartra & Infusionsoft: 
Marketing and Sales Automation 
It allows you to automatically remove people from a list if they purchase a product and you simply set up automation and you don't have to worry about it.
You can even have an idea about all of the different automation that you can run at the same time. Inside of Analytics, you can see automated sequences and you can see everything broken down into a dashboard that allows you to see everything in one place.
With Infusionsoft, you also get the function of a campaign builder.
These campaigns are built in a sequence of your choosing which will be according to your goals. Once a goal is achieved such as a person filling in their contact information, a chain of events will start automatically.
Tags can be used which will be a naming system to help in tracking leads. 
Verdict 
Kartra would be the winner in this case as each step of their automation has been simplified even for a beginner. Infusionsoft's interface is a little complicated to handle. But if you're an expert in marketing software then this works well for you. 
Email Marketing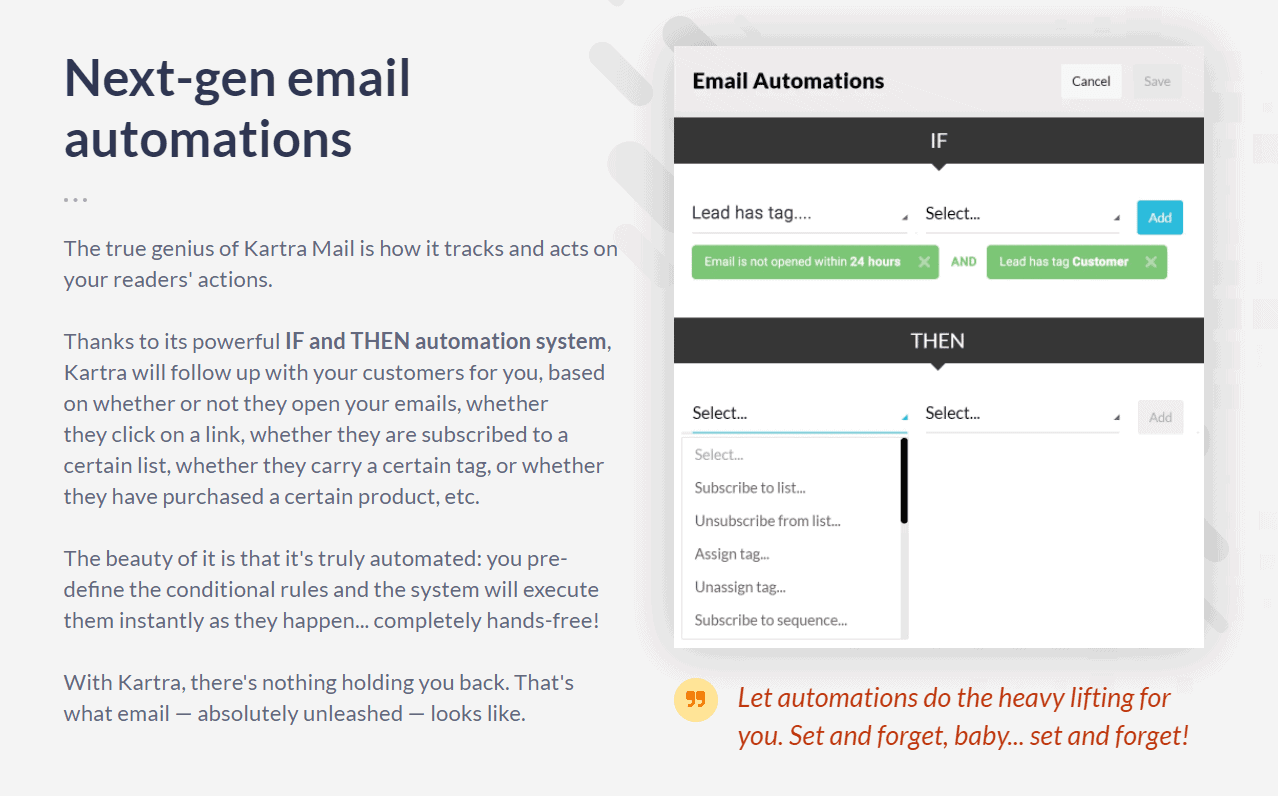 Kartra lets you turn on a host of automation based on your recipients' behaviors.
It also has intelligent split testing where your email contents and subject lines, track conversions, and finally switch to whichever version converts the best automatically.
It's great to use and super simple to understand as well. It also has glorious templates.
You can automate any promotions to send, or even Thank You messages to consumers with Infusionsoft (Keap). Segmentation is available when you do not want to spam your whole contact list. Emails with separate headlines and offers can be sent according to interests. 
Verdict 
While both have automation and template customization features, Infusionsoft (Keap) takes the lead over Kartra with their socks media integration. It can be a way to generate a lot of traffic. 
Landing Pages 
A landing page is basically a short page there, very simple and keeps people from clicking away and oftentimes gets people to buy something. It's kind of like a one-page mini-website.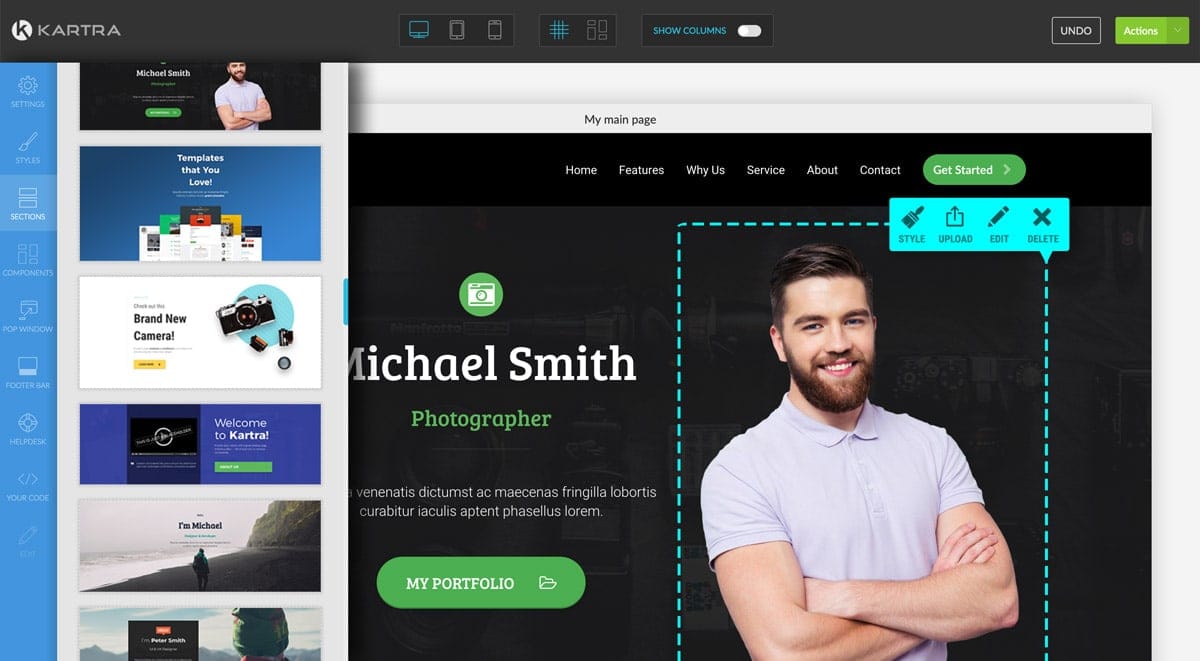 With landing pages, you can quickly drag and drop. It is very simple and straight to the point. It is a program that is encompassing that you don't have to use other things. 
You can custom-make your landing pages with Infusionsoft. It is noteworthy that while you can change the background of any given template, you cannot customize the elements inside such as button text colors. These templates are also only for landing pages, not others. 
Verdict 
Infusionsoft has some type of customization, but Kartra is ahead with the range of templates it provides as well as those templates being available for any kind of page. 
You can learn more about all of this in our Kartra review.
Analytics 
With every feature, Kartra provides it also has an analysis running behind it. You can see which emails are leading to people visiting their sites. You can see which profits are most profitable.  You can see which funnels lead to more sales.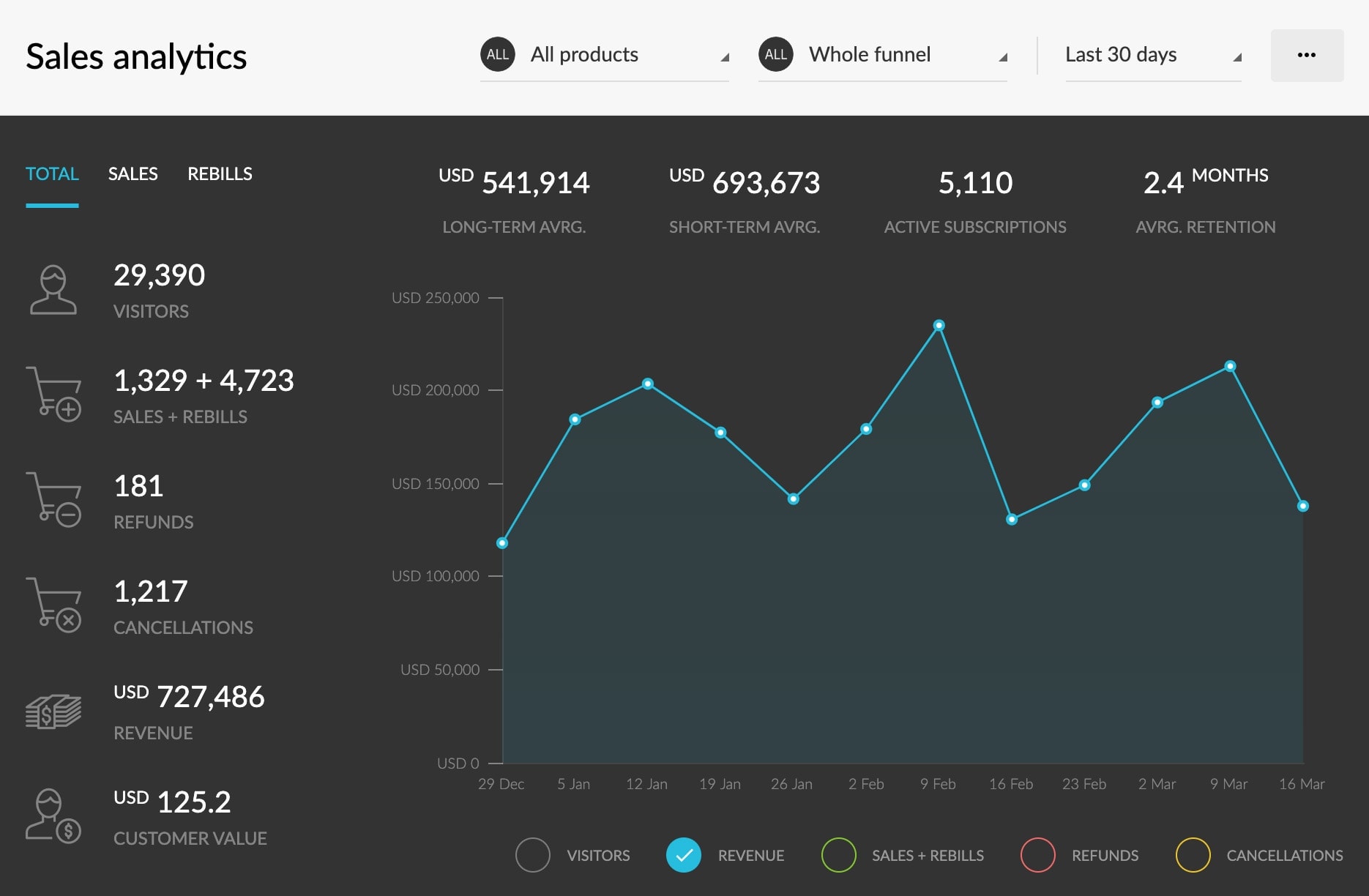 Infusionsoft also provides reports to track your progress. You can see where most contact is occurring. You can see your revenue sources and forecasted sales generated.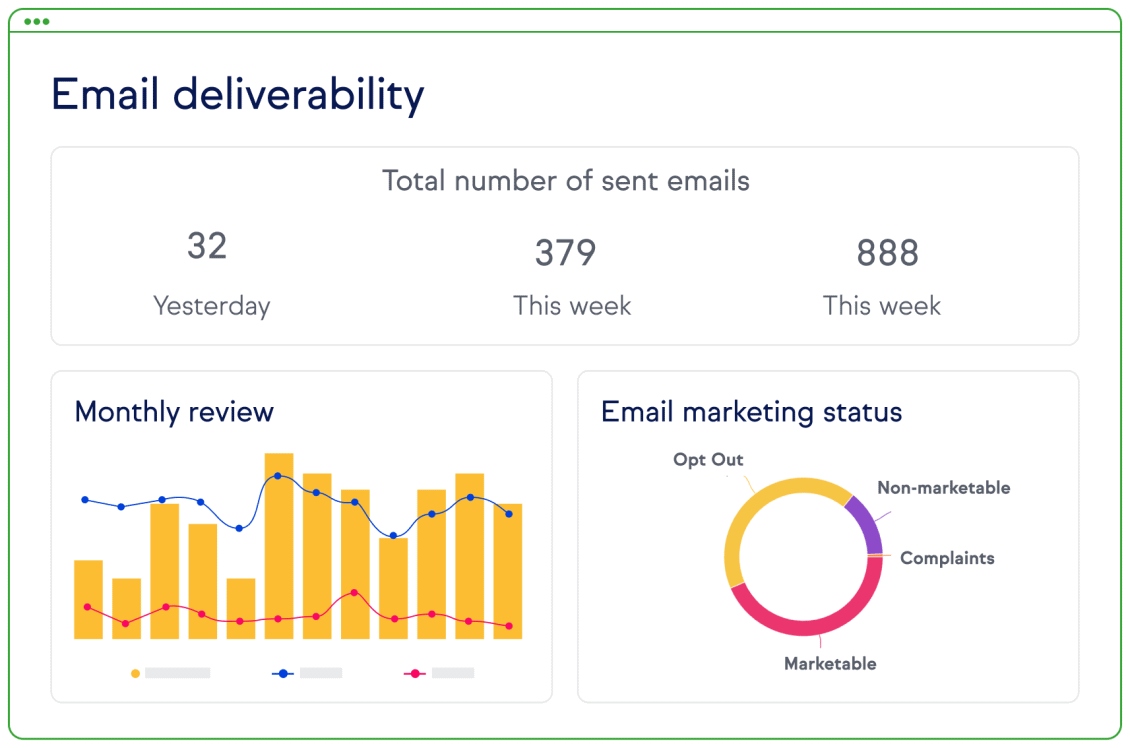 Verdict 
Karta is the clear winner as it has analytics that has the advantage of being built-in, and does not require an add-on as Infusionsoft does. Kartra'S split testing can also be used for any page, unlike Infusionsoft (Keap) which is only for email marketing. 
Customer Relationship Management 
Kartra does have a customer relationship management center that provides details on every action a consumer has taken. Whether they bought a product, opened an email, watched a video, sales that did not go through, or even contact history.
Infusionsoft has what is considered the number one ranked CRM system in technology. It has four aspects: your contacts can be added, merged, organized, and segmented according to their records. 
Verdict 
Kartra does allow for connections with third-party apps so that consumers do not have to start or learn anything from the scratch. Infusionsoft allows for a significant number of categories for integrations. 
Integrations
Kartra does allow for connections to be made with third-party applications, relieving customers of the need to start from scratch or learn any new information.
Integrations for payment processing are the most common type, and examples include Stripe, PayPal, Authorize.net, and Braintree.
Additionally, it is compatible with Google calendar and the messaging service Twilio. The amount of different types of integrations that may be implemented with Infusionsoft is quite extensive. ThriveCart and Privy are two examples of e-commerce connection options.
Verdict
Although Infusionsoft does permit a bigger number of integrations, the platform places an excessive amount of importance on these connections.
It is possible that you will wind up spending additional money on services that require these connections.
Kartra stands out from the competition since they want to deliver all of these services on their own platform while yet allowing for connections to be made whenever they are needed.
More Kartra Features For Your Business
My first point of interest is the capacity to set up membership websites, which is one of the available features.
Note that this is one of my favorite little-known features, so keep that in mind. When contrasted with Infusionsoft, this represents another significant benefit for our product.
If you are selling any kind of goods or service, memberships are a tremendously vital component of your business. Kartra has, in point of fact, been strongly recommended even more so than membership site developers.
The same user-friendly drag-and-drop editor may be found on Kartra membership sites as well. This will make the learning curve much more manageable for you, which is a significant benefit. In either case, once you've gotten started, I think it would be best to try out their membership websites.
In addition to this, Kartra gives you the ability to construct sophisticated and automated marketing programs.
When thinking about marketing automation as a whole, there is unquestionably a significant amount of overlap here. On the other hand, there is a great deal more available when it comes to Kartra funnels and pages. Utilizing their marketing automation is only one piece of the larger puzzle that is marketing.
No evergreen webinar feature.
When compared head-to-head, Kartra wins the battle of Kartra vs Keap (Infusionsoft) in terms of value of money and the number of tools it gives. Infusionsoft has tons of integration but the integration process is a tedious whereas Kartra integrates through Zapier.
Benefits of Kartra Over InfusionSoft:
Kartra is an all-in-one marketing tool where you can create page builders through sales funnels where you can build your business.
You can manage your membership help desk for your customers.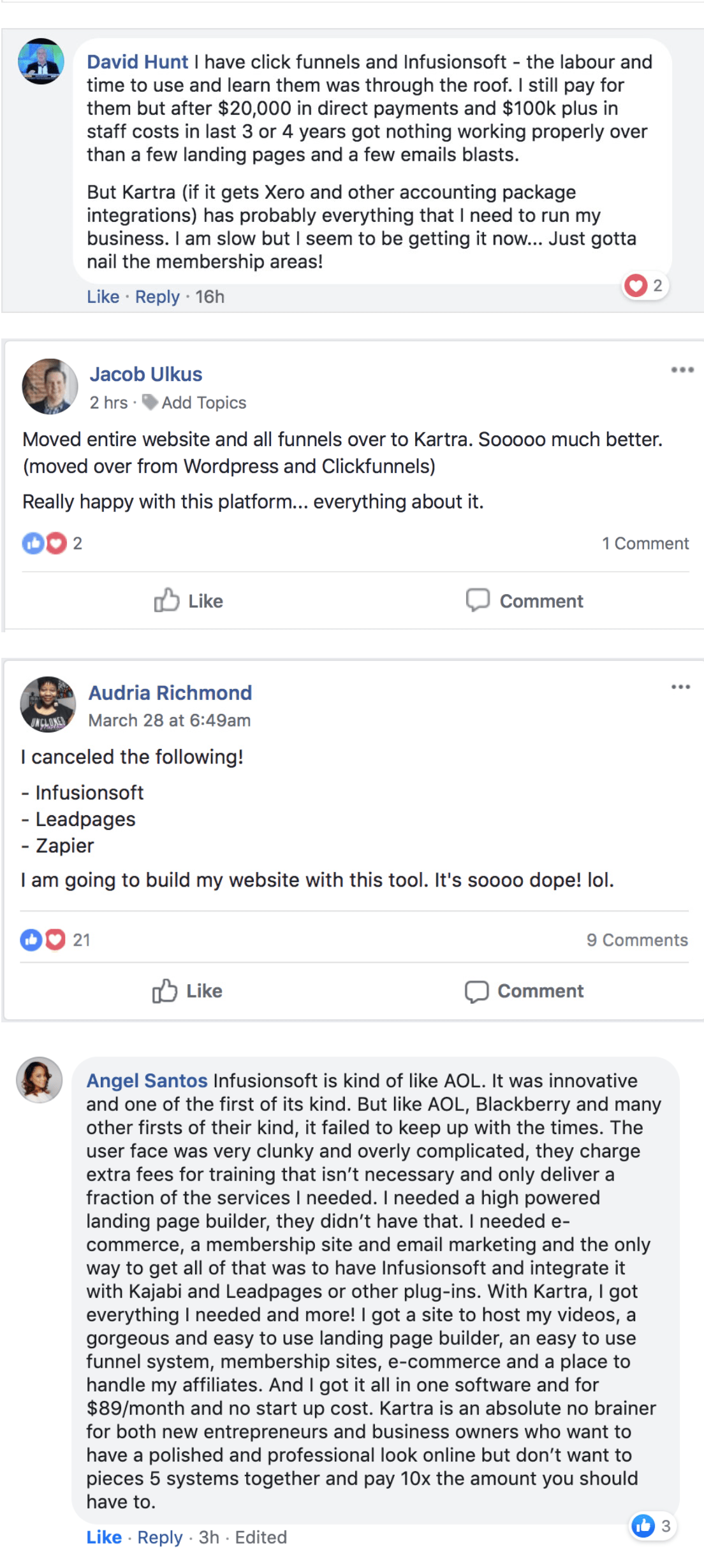 You can have a funnel builder and page builder that takes payments. You can even have your email marketing tool replaced and you can send all your emails and automation inside that.
You even have a membership area for delivering your membership areas and you're delivering your digital products and courses. 
You even have a deadline funnel which is an automated timer system where you can essentially run black Friday deals or deals are normally just on a set day but you can create these offers in an evergreen way.
That locks it down so it's unique to each person that either signs up or joins something.
But there's no way around it for them. It's locked down one-time offers they see so this is incredibly useful for improving your conversion rates. 
You can even host videos inside for your membership area and your membership system.
Kartra is exceptionally good because the analytics that you have inside means you can create automation based on whether people watch your video.
They get to a certain point and you can add tags to email so you can do much different automation just and what they do inside that video. 
You can take bookings a lot like a calendar so you have the option to have calendars where people can either pay for a booking or schedule a call or anything like that which is great for local businesses and coaching businesses.
You even have link tracking inside so it can manage the link tracking so you can see where your traffic is coming from and what is working.
Benefits of Infusionsoft (Keap) over Kartra:

If you're looking to sell products and services online then it is highly recommended that you build an email list because 90% of the leads that land on your website will not be interested in buying straight away so it's a good idea to collect their details and then follow up with them 
This can be done by giving away free content, even an ebook, audio services, or perhaps getting them to subscribe to your newsletter.
Now once you've collected the email and telephone number it is a good idea to set up 10-20 emails to go for the next 30-60 days and you can send out a broadcast email whenever you have a new blog post.
Perhaps you've got some discounts or coupons or you've got a promotional webinar that you're trying to get people to go to.
It's said that they need to see your products seven times before they will buy them. So, by following up by email you get a chance to increase conversions.
If you deliver your products and services with cutting-edge graphical design web pages then people tend to judge a book by its cover so they are likely going to deliver it with cutting-edge marketing funnels then likely your products and services are going to be good.
Infusionsoft (Keap) makes it easy to point and click and create websites on demand and if you're looking to deliver products and services or build a list then you could choose other platforms like WordPress.
The problem is then you're going to have to install third-party plug-ins and other systems to deliver the type of product that Infusionsoft can do. 
Verdict
Both Kartra and Infusionsoft are great to use and they have advanced features that are exceptionally good at what they do and offer to the users.
But Kartra wins this as it provides great benefits with lots of features that are very easy to use and simple to understand and makes the user's business grow as well.
Kartra Reviews & Testimonial (What Customers Say About Kartra?)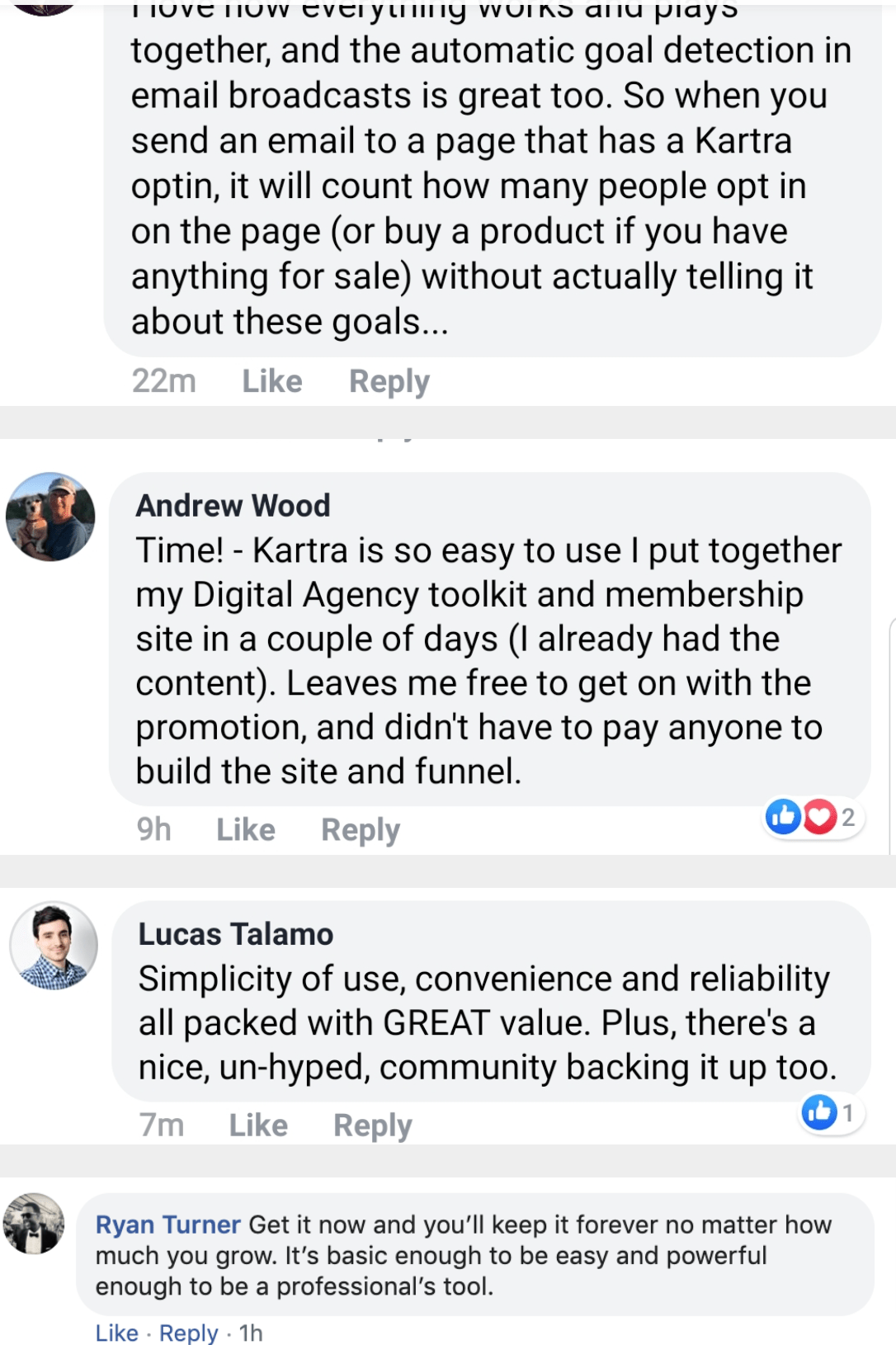 InfusionSoft Reviews By Customers:


FAQs About Kartra vs Infusionsoft (KEAP)
🙆Kartra can be used for?
Kartra is very simple to use and easy to understand. As it has deep integrations and it also offers email marketing, you can upload videos and you even have webinars, membership sites of the affiliates, and landing pages. It can be used as a background for your pages. You also have templates for landing pages if you just want them to capture emails.
🤷‍♂️ Which one is worth it?
I would say both Kartra and Infusionsoft are great to use and they have advanced features each of their own which makes it all the more interesting and exciting to use it. But when compared to I feel Karta is better as it helps you with page builders, sales funnels, templates, and email marketing.
🙋 Infusionsoft is best for?
Infusionsoft comes with fully-fledged customizable lead capture pages, squeeze pages, sales pages, shopping cart integration, memberships delivery, product delivery, and affiliate management. It's an all-in-one solution and it is also transformed into an operational management tool as well.
👉🏻 What are the system requirements?
Katra is a Saas (Software as a Service) application And you don't have to download a thing. All you need is an internet-connected computing device
🙌🏻Do I need coding skills?
No with Katra you don't need coding skill
👍When to Choose Infusionsoft ?
You want a greater number of integrations. You want more straightforward SMS messaging connections. You want personalized sales checkout pages. You want your email marketing to target social media users. You want payments to be through an in-site application.
Conclusion | Is Kartra Better Than InfusionSoft? Kartra vs Infusionsoft (Keap) 2022
Kartra is a simple platform that visually lets you see piece-together campaigns that touch on every aspect of your business and it is not stressful to use.
As Kartra is the tested proven campaign that competes with copy designs and automation to be available to you at a press of a button.
You can even sell your campaigns and earn extra money on the side all that and more is possible in Kartra.
You see because Kartra contains all the tools you need to run your business your campaigns will be so much more than simple web-page funnels as they include opt-in forms, emails, automation, tagging, triggers, and more all simply connected via drag-and-drop sequence builder. 
Infusionsoft is simple to use and easy to understand and CRM is important to lots of companies there are many solutions out there to evaluate.
Infusionsoft is geared towards small and mid-sized companies and includes tools that help with generating leads, managing marketing initiatives, streamlining the sales process, and closing deals efficiently.
I have made the declaration and the winner will be Kartra. The reason for choosing Kartra is its number of tools and all that in one dashboard, InfusionSoft tries to match up with Kartra but has a lot of improvisations and is yet too far to go.
Kartra might be more pricey than Keap but it is better in terms of features and provides incredible value for money.
Check out more posts:
Kartra on Social Media
Want an #onlinebusiness? But have no clue what product or service to create?

Online income IS possible without a product or service 一 In fact it's a $15 Billion market
Learn More ➡️ Download The Passive Income Roadmap Now –> https://t.co/775oROAd8S #PassiveIncome pic.twitter.com/D2nVkptHd4

— Kartra Official (@KartraOfficial) May 19, 2021
Did you know in Kartra ALL the different pillars of a funnel (pages, optin forms, checkout, mailing, lead tagging, memberships, etc) are already interconnected within one single ecosystem?

Try it for $1 ➡️ https://t.co/MYBLBQXoXD #salesfunnel #marketingcampaigns pic.twitter.com/U8ff0Y6IAk

— Kartra Official (@KartraOfficial) October 28, 2021
View this post on Instagram
InfusionSoft (Keap) on Social Media
While Keap can automate almost anything in your sales and marketing processes, Dave's experience is at the core of it all; Grow your business, deliver superb customer service, and obtain the freedom you always dreamed of as an entrepreneur. pic.twitter.com/WBnvohrYuM

— Keap (@KeapGrowing) October 21, 2021
Using the 5 love languages to market your business. 💚

1. Words of Affirmation: Text Marketing 💬
2. Quality time: Here's an appointment link📅
3. Acts of Service: Sign up for a free consultation✍️
4. Gifts: Here's a discount code🎁
5. Physical Touch: Networking🤝 pic.twitter.com/sY12mVrV5D

— Keap (@KeapGrowing) October 18, 2021
Do we have you convinced yet? Reason #3 why #IKON2021 is going to change your business!

Get your tickets here: https://t.co/Y7HusYeELo pic.twitter.com/XeY26Q8NC6

— Keap (@KeapGrowing) October 13, 2021