If you are a business owner or entrepreneur looking to develop your business or build a website for your company and have landed on this page, to compare and decide between Deadline Funnel vs ClickFunnels.
Deadline Funnel Vs. ClickFunnels Overview
Deadline Funnel
Deadline Funnel is one amazing tool that every business person should have. The Deadline Funnel tool allows you to add a countdown timer to your sales pages.
It allows you to add countdown timers on sales pages to attract more people. It builds anxiety in people to choose the service you provide.
Let's say If you're selling a product online, and you do a big product launch for an online course, you might want to add some countdown timers to a sales page, and that's precisely what Deadline Funnel does.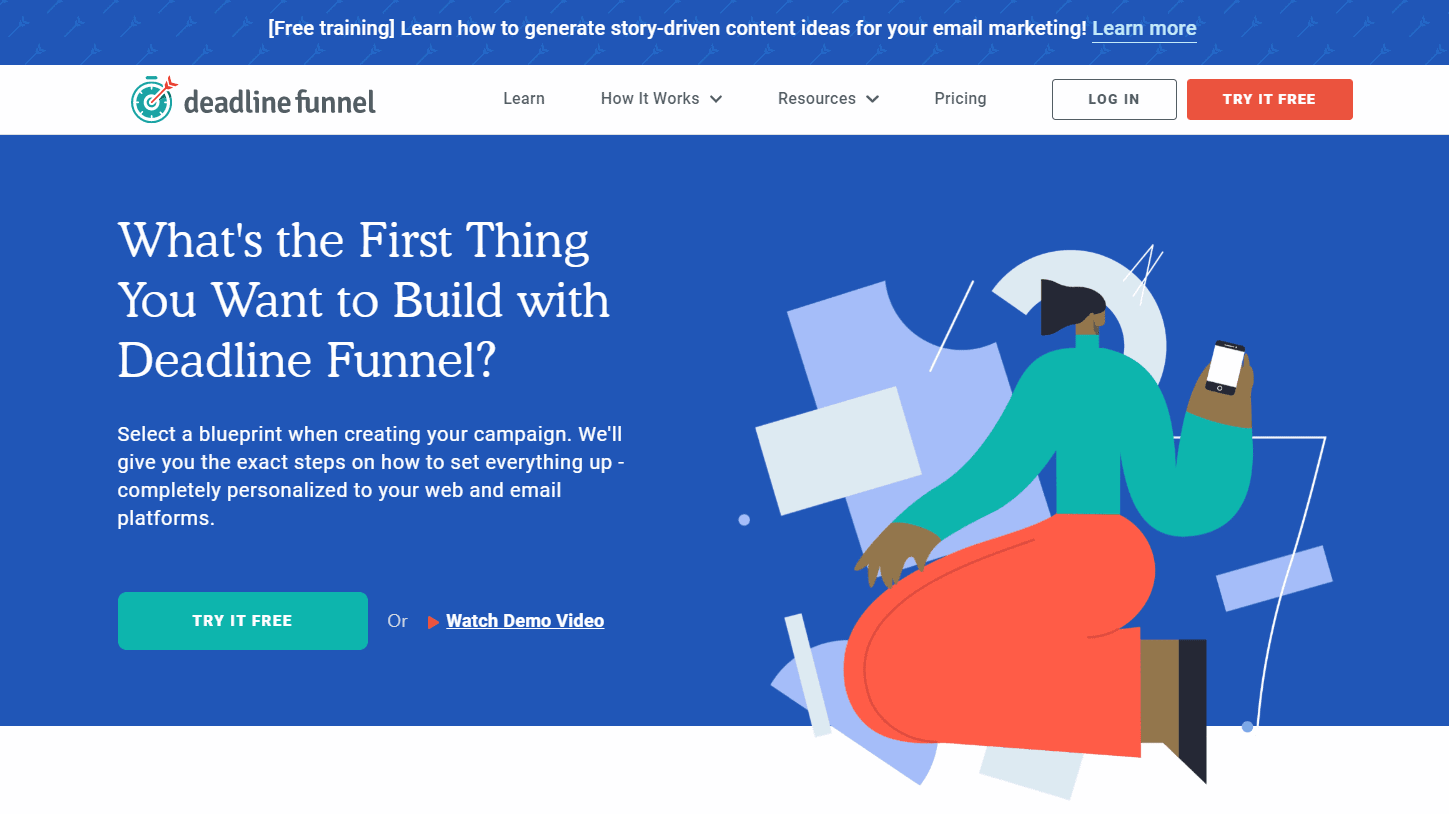 The Deadline Funnel allows you to go out there and add amazing countdown timers to your sales page so that when people get hit with your pitch, the Deadline funnel shows timers that it's going to be live for certain days. This makes people opt for your service.
During this limited period, they have to decide to buy. If they don't decide to buy, they're going to lose out and that page will no longer be available to them.  hence this feature helps to convert traffic into customers.
ClickFunnels
ClickFunnels is without a doubt the most comprehensive tool on the market. With its amazing drag-and-drop editor, ClickFunnels not only allows you to construct multiple pages for your sales funnel, but it also assists you in creating the actual sales funnel and connecting all of the pages.
Apart from the fact that it allows you to create full sales funnels, what makes ClickFunnels stand out is that it contains all of the capabilities that most other similar products lack. It is highly efficient and is primarily concerned with creating revenue.
ClickFunnels is a fully hosted enterprise solution that controls everything with the highest level of security. This allows you to send as much traffic to your sales funnels, lead pages, or any other form of funnel you create in their system.
These can then be uploaded to any website, whether it's a WordPress site or not.
You can export them as HTML, and a WordPress plug-in is available for WordPress websites. You can also link it to your Facebook account.
Ease of Use: Deadline Funnel vs ClickFunnels 
The important thing we should discuss is the ease of use. The tool which is easier to use helps in making more profits as you won't spend extra time.
Deadline Funnel Ease of Use 
Deadline Funnel is quite simple to use and comprehend. You may easily create content while simultaneously increasing conversions. It includes fantastic animated countdown timers that are simple to integrate into sales pages.
On your website, you may convert leads and make sales quickly. This has the potential to significantly increase the size of your company. Users are strongly encouraged to use Deadline Funnel.
Creators, marketers, and business owners will benefit the most from it. You can also include upsells and opt-in pages. Deadline Funnel has a lot of satisfied consumers.
ClickFunnels Ease of Use 
ClickFunnels offers a user-friendly interface as well.
It is more concerned with generating leads and converting them into sales. The drag-and-drop feature is one of ClickFunnels' finest features. It's simple to use, and you can create and adjust templates to meet your specific needs.
Pricing Plans: Which is more affordable | Deadline Funnel vs ClickFunnels
As you learned about the features now, let's understand their pricing plans.
Deadline Funnel
They offer you a 14-day free trial where you can experiment with it and test whether or not it works for you.
There's no reason to sign-up; you can play around and see how it works.
There are 3 plans in Deadline Funnel
Start Plan
The Start Plan costs $49 per month.
It includes three campaigns.
Offers you 1000 leads per month.
It provides you with email plus customer support.
Create Plan
This plan costs $99 per month.
It offers you unlimited campaigns.
Provides you with 10,000 leads per month.
It provides you with priority email plus chat support.
Scale Plan
This plan costs $199 per month.
As everything is provided in create and plus plan.
It offers you 100,000 leads per month.
It provides you with five client accounts.
ClickFunnels
The Starter Plan costs around $97 per month.
The Platinum Plan costs around $297 per month.
The Two Comma Club X costs around $2,497 per month.
They also give you a free trial.
Quick Links
Conclusion: Is Deadline Funnel better than ClickFunnels?
Finally, we've arrived at the conclusion section, so let's see which tool is perfect for your organization.
Deadline By adding countdown clocks to your website, email, page builder, or funnel builder, funnel software may help entrepreneurs increase conversion rates on their websites. It creates a sense of scarcity and urgency in individuals, which aids in the conversion of traffic into sales.
In ClickFunnels, everything is connected. Split-testing is built right into your system.
Although ClickFunnels does not yet have a complete affiliate management system, several funnel designs and funnel membership areas have already been established, allowing your affiliates to check in and see their stats, as well as track their statistics and other information for your products and services.
The apparent winner is Deadline Funnel. It includes a lot of possibilities for you to look into where you may invest your money in a variety of ways with an easy-to-use layout that is straightforward to understand. It is also user-friendly. They provide amazing customer service and a fantastic affiliate programme through which you can make money by referring others.