Thrive Ultimatum vs Deadline Funnel 2023
About Thrive Ultimatum
Thrive Ultimatum is an amazing Deadline Funnel alternative that provides various benefits.
It's a WordPress marketing tool that promotes a sense of urgency. Its major goal is to create a sense of urgency in the audience so that they visit your sites and become customers or subscribers.
You can benefit from continuing, fixed, auto-recurring campaigns with this. You can also make it visible to whoever you want and grant access to a specific user.
It includes a lot of customization possibilities, and you can do a lot of things with it, like create pop-up pages, and landing pages, choose from a variety of templates, and so on.
About Deadline Funnel:
If you need to boost your market sales quickly or meet a deadline, this may be the ideal alternative for you. It offers a variety of designs that you can modify to your liking. You can also use evergreen timers to develop or raise campaigns.
Creating urgency, on the other hand, ensures lead conversion because offers may be restricted in time.
Customers will be compelled to think about and acquire something spectacular being revealed to them because they are fortunate enough and if they back out, they will lose the deal, which will not be offered again.
Features Comparison of Thrive Ultimatum vs Deadline Funnel 
| | | |
| --- | --- | --- |
|  Features |  Deadline Funnel |  Thrive Ultimatum |
|  Ease of Use |  Win | |
| |  Win | |
| |  Win | |
| | |  Win |
| |  Win | |
|  Sticky bars in the header and footer on  the same page |  Win | |
|  Delay display of sticky bar | |  Win |
|  Hide the timer until a certain number of days remaining |  Win | |
| |  Deadline Funnel Wins | |
Key Features of Deadline Funnel
BluePrints: Deadline Funnel offers funnel blueprints to assist in campaign setup. They provide us with guidelines and step-by-step instructions for creating tailored campaigns.
Personalization of Deadlines: We gain a fantastic feature in Deadline Funnel: we can make customized deadlines for certain persons, such as your subscribers. Each person will be able to see a separate deadline on this page.
Integration: Deadline Funnel has various integrations. It supports your website or any email marketing tools. You can create offers for your existing audience and increase your sales.
Reporting: The nicest part of Deadline Funnel is that it keeps track of all of your campaigns. You can see how the campaigns performed and generated income with the Deadline funnel's personalized reports. These reports will assist you in developing fresh campaign strategies in the future. The Deadline Funnel generates the reports once a week.
Key Features of Thrive Ultimatum
Pre-Built Templates: Beautiful pre-designed templates are available in Thrive Ultimatum. Using the simple "Drag & Drop" tool, you can use and edit them. It gives your campaigns a more appealing appearance. You can customize these templates by changing the colors, adding photographs, or inserting your company's logo.
Lockdown Feature: You'll be able to create timers and unique offers for only recognized visitors in Thrive Ultimatum  The sales page can be only visible to persons you allow, such as your email subscribers, using the Lockdown option.
Tracks Visitor's Time: Thrive Ultimatum can track how long a visitor spent on your page. It helps in understanding customers and strategizing new strategies.
Ease of Use: Thrive Ultimatum vs Deadline Funnel 
Deadline Funnel:
When it comes to this platform, has been created to be simple. This allows newcomers to avoid being confused while still progressing with the tool.
All of the options and functions to which you have access have been properly organized to guide you through the process. This makes it a lot easier to spot them and use them in the way you want.
Thrive Ultimatum:
This platform, too, has well-designed pages. As skilled techs or developers, they must devote their time to more important jobs rather than trivial ones, such as acclimating to a platform. Thrive Ultimatum is simple to use and doesn't require any coding knowledge.
Beginners may use Thrive Ultimatum to learn and construct landing pages, as well as set timers.
This brand, like Deadline Funnel, is no less than Deadline Funnel when it comes to usage. Yes, both of these brands are relatively easy to use.
Pricing: Deadline Funnel vs Thrive Ultimatum
Deadline Funnel Pricing:

There are 3 plans in Deadline Funnel
Start Plan
The Start Plan costs $49 per month.
It includes three campaigns.
Offers you 1000 leads per month.
It provides you with email plus customer support.
Create Plan
This plan costs $99 per month.
It offers you unlimited campaigns.
Provides you with 10,000 leads per month.
It provides you with priority email plus chat support.
Scale Plan
This plan costs $199 per month.
As everything provides in creating and plus plan.
It offers you 100,000 leads per month.
It provides you with five client accounts.
Thrive Ultimatum: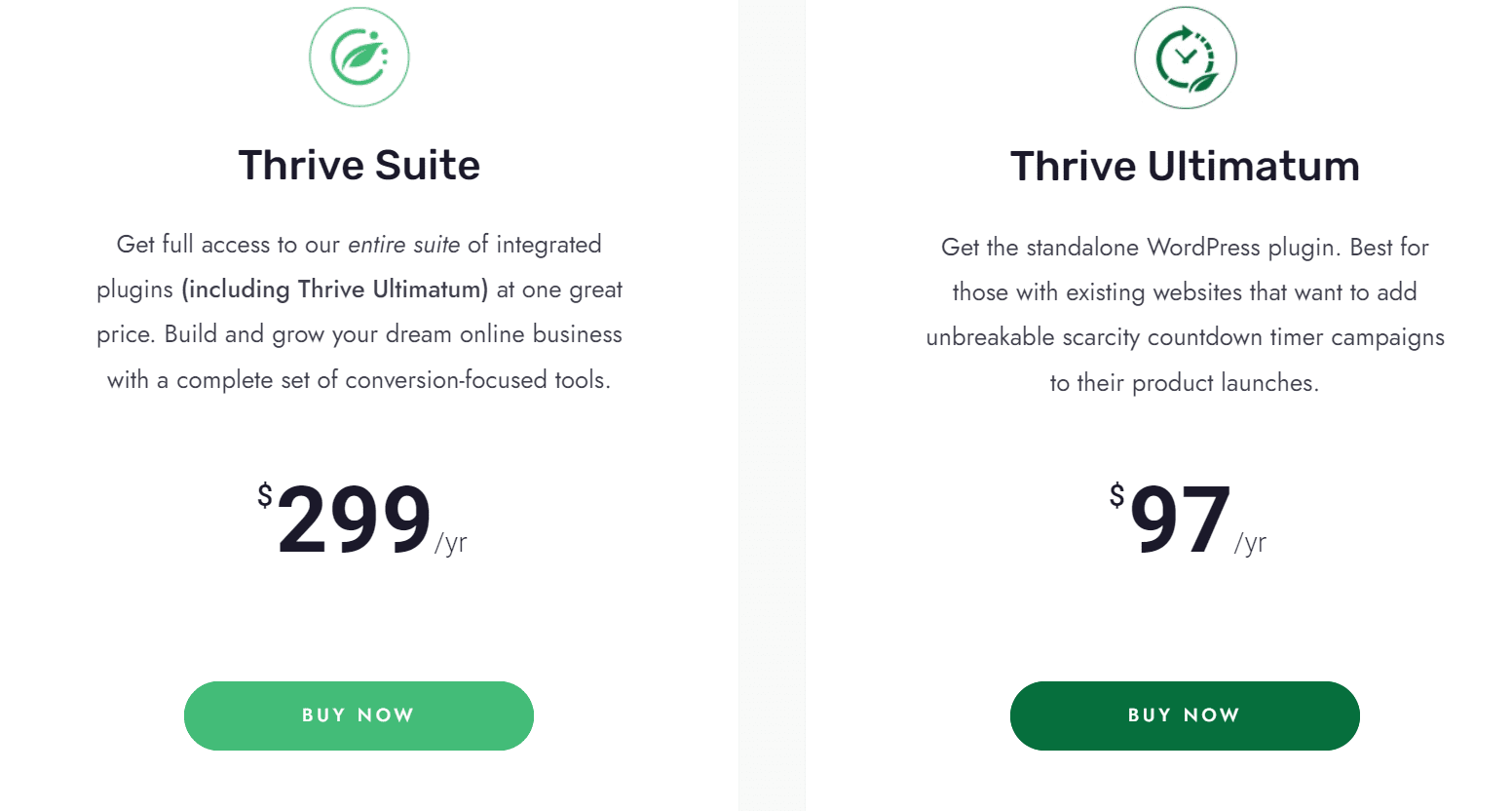 It does not have pricing plans fixed for the monthly duration or something similar. Instead, it offers licenses:
It costs $97 for Thrive Ultimatum
It costs $299 for Thrive Suite
Customer Review-
Deadline Funnel Customer Review:

Thrive Ultimatum Customer Review: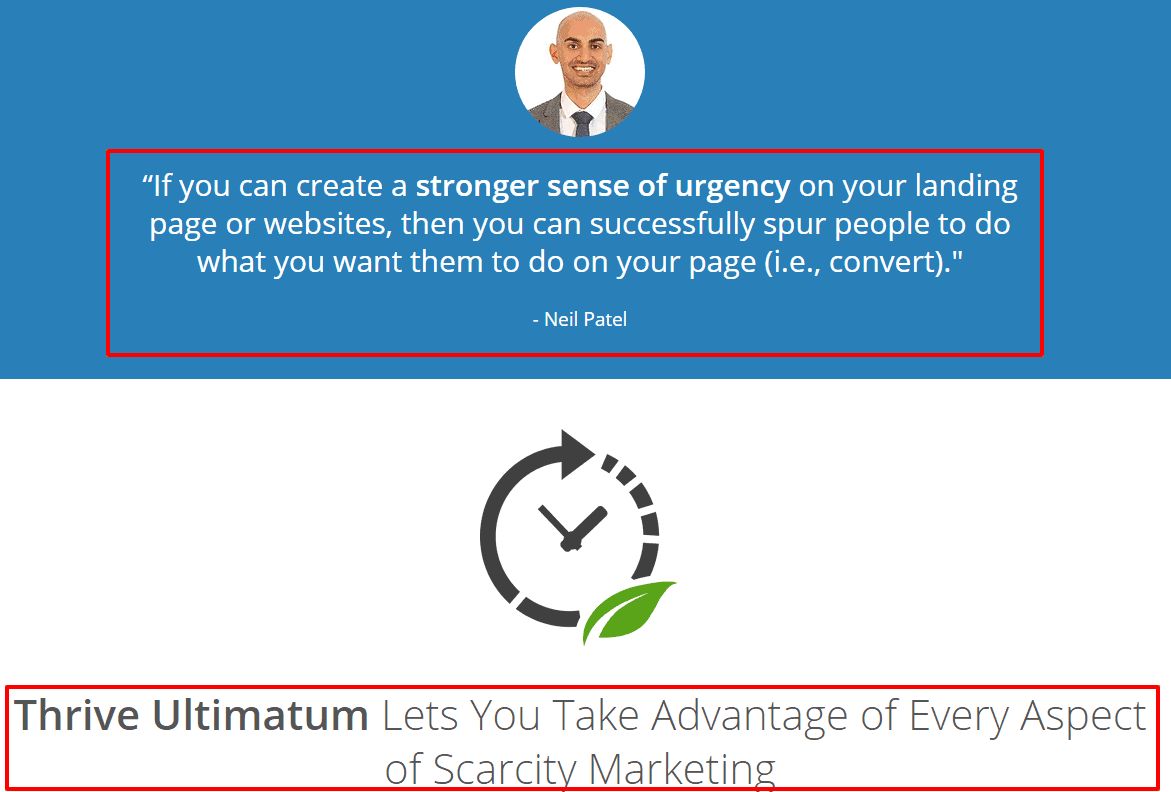 Quick Links
Conclusion: Which is Better? Thrive Ultimatum or Deadline Funnel?
When comparing the two funnels on a micro level, I found that Deadline funnels are superior to Thrive Ultimatum since they can be used on landing sites, emails, and sales pages.
You may use either product to add a timer to any webpage to create a sense of urgency. Both allow you to create campaigns that are both evergreen and have a specific end date. So, which option is best for you? Let's have a look at it.
Deadline Funnel allows you to incorporate deadlines and timers in emails sent to subscribers. You can use a timer on any website over which you have control. Some copying and pasting are3 required, as well as the use of code snippets.
As a result, The Deadline Funnel benefits over Thrive Ultimatum.