If you are looking for inspirational Grant Cardone quotes, you are at the right place.
Grant Cardone is an entrepreneur, sales guru, and internationally famous businessman who has written eight books. In addition to these achievements, he is a well-known real estate investor who has used crowdsourcing to purchase $1.3 billion in assets under control (AUM).
In early 2019, he organised the world's largest business conference of all time, GrowthCon3, which drew 35,000 people to Marlins Park, a baseball stadium, and he just launched a digital advertising agency (CardoneKern) with long-time copywriter Frank Kern.
Grant was raised in a family of five children by a single mother after his father died while he was a teenager, and he is an example of how to rise from poor beginnings to great success.
Most Inspirational Grant Cardone Quotes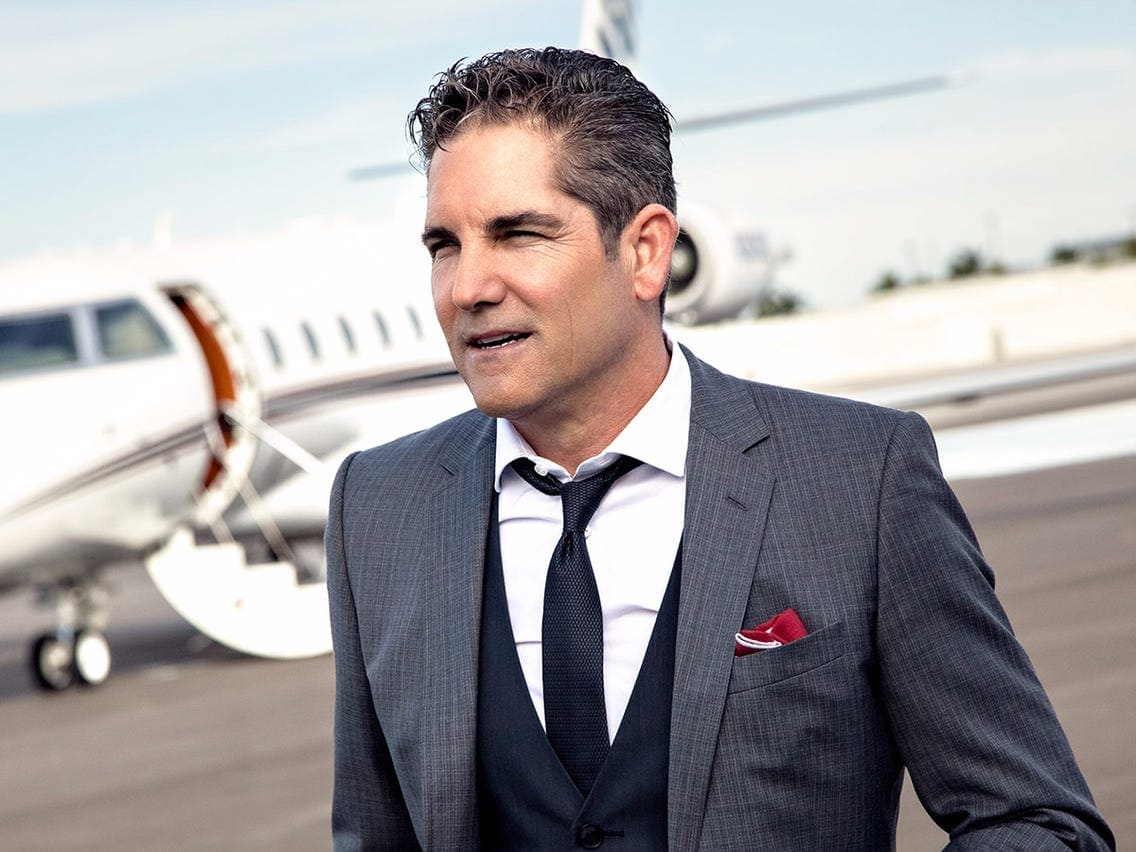 "Your greatness is limited only by the investments you make in yourself.
"Success is your duty, obligation, and responsibility."
"Never lower your target. Increase your actions."
"Comfort makes more prisoners than all the jails combined."
"If the people around you are giving you advice to slow down or to take it easy – you are surrounded by the wrong people."
"Luck is just one of the byproducts of those who take the most action."
"You sleep like you're rich. I wake up like I'm broke."
"Let the rest do whatever, while you do whatever it takes."
"Never quit and you are guaranteed to find your greatness."
"There are three steps to wealth: First you have to make money, then you have to keep it, then you have to multiply it."
"Be obsessed or be average."
"Never take advice from a quitter or a pretender."
"Those that say your dreams are ridiculous have given up on theirs."
"Money is simple. Buy cash flow producing assets."Grant Cardone tips on money
"The major difference between successful and unsuccessful people is that the former look for problems to resolve, whereas the latter make every attempt to avoid them."
"Do the things you don't wanna do, so that one day you can do the things that you wanna do. Pay the price. Sacrifice something."
"Success is no different than any other skill. Duplicate the actions and mind-sets of successful people and you will create success for yourself."
"Let others do whatever, while you do whatever it takes."
"There are certain things in life that have limits, but you don't unless you impose limits on yourself."
"You are mistargeting by setting objectives that are too low and don't allow for sufficient motivation."
"You sleep like you're rich. I'm up like I'm broke"
"What I think about me matters more than what you think about me."
"Nothing happens to you. It happens because of you."
"If you want to be in the 1%, don't do what the 99% do."
"Every one wants to eat but few are willing to hunt."
"Spectators pay, players get paid."
"You will not have a successful life surrounded by negative people."
"No guts. no glory. No legend. No story."
"When you know something in essence you can predict the results. And he or she who can predict results has true confidence and freedom."
"Everyone experiences fear, but it is how you respond to it that ultimately makes the difference in your life!"
"No one will benefit from your failure. However, if you were able to reverse it and attain the goals and dreams you set for yourself—now, that would be something."
"The goal has to be more valuable than the risk—or you have determined the wrong target."
"You won't get much done if you only grind on the days you feel good."
"As long as you are alive, you will either live to accomplish your own goals and dreams or be used as a resource to accomplish someone else's."
"Average is a failing plan! Average doesn't work in any area of life. Anything that you give only average amounts of attention to will start to subside and will eventually cease to exist."
"Born broke is not the issue, staying broke is."
"Regardless of the timing, the economy, the product, or how big your venture is, the right acts done to the right degree over time will make you successful."
"'Small' thinking has and always will be punished in one way or another."
"There are certain things in life that have limits, but you don't unless you impose limits on yourself."
"If you have attention on your problems, your goals aren't big enough."
"Fast is the new big. Perfection is the killer to production. Perfection is basically a symptom of procrastination."
"If you're average, you'll hate me."
"Your greatness is limited by only the investments you make in yourself."
"There's no shortage of money in this world. Start hustling"
"Average is a failing formula."
"Don't go to work to work, go to work to prosper."
"Love me or hate me, at least now you know me."
"Success is your duty, obligation and responsibility."
"Extremely successful people know that their efforts must continue in order for them to realize new achievements. Once the hunt for a desired object or goal is abandoned, the cycle of success comes to an end."
"The goal is not comfort, it is freedom!"
"The people that say, 'your dreams are impossible' have already quit on theirs."
"The economy is not the problem, how people respond is the problem!"
"Disciplined, consistent, and persistent actions are more of a determining factor in the creation of success than any other combination of things."
"Very successful people don't seek comfort; they seek success and are willing to do what is most uncomfortable."
"Don't watch the news, make the news. Don't read the newspaper, write newspaper articles. Don't only read books, also learn to write them."
"Very successful people don't seek comfort. They seek success and are willing to do what is most uncomfortable. But most of the world is seeking comfort and familiarity, which are traps that cause you to settle for the mediocre. If you want to get to the next level of your business, you've got to be comfortable being uncomfortable."
"Weak and overwhelmed individuals respond to others' success by attacking it."
"When people start limiting the amount of success they desire, I assure you they will limit what will be required of them in order to achieve success and will fail miserably at doing what it takes to keep it."
"You know, you don't need to grow old to die. I was dying at the age of 20 as a result of no direction and no purpose."
"Any target attacked with the right actions in the right amounts with persistence is attainable."
"The ambitious are criticized by those that have given up."
"Treating success as an option is one of the major reasons why more people don't create it for themselves—and why most people don't even get close to living up to their full potential."
"I suggest that you become obsessed about the things you want; otherwise, you are going to spend a lifetime being obsessed with making up excuses as to why you didn't get the life you wanted."
"No matter how much it may seem otherwise, no one has control of your life but you".
"The days, the weeks and months that you're most lit up is when you're full on purpose."
Do you have more inspirational Grant Cardone quotes that you have heard? Do let us know in the comments.
Also read: