Is DocuSign Free? How long is DocuSign free trial?
DocuSign is a well-known eSignature service that provides speedy eSign solutions. You can have documents signed anywhere in the world with simply a link or email. The best aspect is that it is absolutely free and secure to use.
DocuSign is a simple and useful tool that notifies you when any of the contracts or agreements you've submitted have been signed. Giving approvals doesn't have to be a chore using DocuSign!
Is DocuSign Free?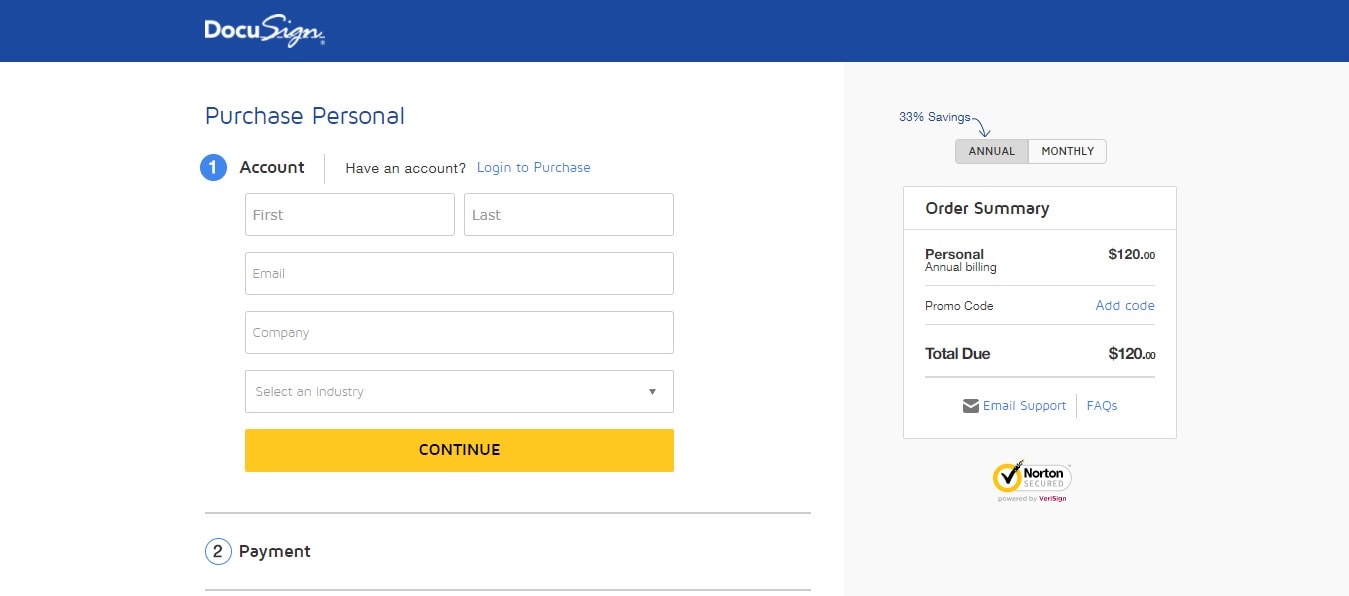 DocuSign, like most online software companies, offers a free month-long trial of their service. You can continue to utilise their service after that by purchasing one of their paid subscription plans.
However, if you, like most individuals, don't have a need for an electronic signing service, you can use DocuSign to do it for free. Everything you'll need is right here: document generation, basic field/form filling, and signature requests. Best of all, you don't even need to create an account, start a trial, or download any software.
If you're wondering about saving more on DocuSign, check out the DocuSign coupons.
How much does DocuSign cost?
DocuSign software has four pricing plans depending on the individual's use.
These four plans are:
Personal Plan ($10 per month) or $120/year
Single user
Dedicated mobile app
Automated reminders and mobile notifications
Standard Plan ($25/month) or $300/year
5 users
All Personal plan features
Shared documents
Comments
Shared templates
Reusable templates
Team reports
In-person eSignatures
Customized branding
Business Pro Plan ($40/month) or $480/year
Up to 5 users
All Standard plan features
Signer attachments
Collaborative fields
Advanced fields
Drawing fields
Single click consent
SMS authentication
PowerForms
Collect Payments
Bulk Send
Advanced Plan (Customized) 
All business pro plan features
APIs
Integrations, connectors
Embedded signing
Advanced branding
Identification & authentication
Single-sign on (SSO)
Organization administration
Customizable usage limits
Industry modules
Enterprise level support
How to Sign a Document for Free with DocuSign?
Here is how to sign your document in DocuSign for free:
Use our online eSign tool to sign documents.
Insert your file into the toolbox.
If you're self-signing, start by creating a signature.
Alternatively, you can request a signature by clicking "Add Signer."
Yes, you can use the eSign tool for free. To verify that each person's signature is signed, sealed, and sent on time, we will send confirmation emails to you (the requester) and all signers.
We've got you covered with DocuSign's eSignature service.
Assume you choose our Pro subscription plan (which is the same as Docusign's Business Pro plan). In that scenario, we'll also enable sophisticated authentication, a real-time audit trail, and improved digital signatures to ensure that you and your clients have a seamless, easy, and efficient business process.
Requirement to Sign files
Docusign and Docusign Pro both have a robust range of document signing options. You're not confined to one type of document; you can start the signature process by dragging and dropping images, such as PNG or JPG, or even Word files, into the toolbox.
You can use checkmarks, text, dates, and other collaboration areas to ensure that your form is full and ready to submit, as many digital documents need.
Conclusion: Is DocuSign Free?
Overall, DocuSign provides us with more advanced and faster technology that allows users to sign, distribute, and approve documents from any location and at any time. DocuSign also provides a terrific benefits package for employees, including a free DocuSign account.