Getting a new phone is always an exciting moment, but let's face it, the whole data transfer process can quickly turn that excitement into frustration.
Deciding what to transfer, ensuring nothing important gets left behind, and safeguarding your WhatsApp chats can be quite a headache. After all, who wants to lose those precious conversations and memories?
In today's digital age, our smartphones hold a treasure trove of sensitive and personal information. That's why a reliable and user-friendly tool like Wondershare MobileTrans has caught my attention. It's designed to simplify the data transfer process, making it easy and worry-free.
In this Wondershare Mobiletrans review, I will guide you through the features, the user interface, and pricing plans and if it is worth it.
Bottom Line Upfront:

MobileTrans stands out as an exceptional file transfer tool, especially for those seeking a smooth transition to a new device while preserving essential data. This software streamlines and expedites data transfers between various device combinations, including iOS to iOS, Android to Android, and even between Android and iOS devices.

The free and paid plans options make this software a great choice for file transfers. I recommend it if you are using it to transfer the data between Windows and Android phones. For Mac transfer, this could not be the best of the options.
Overview Wonershare Mobiletrans Review 
MobileTrans is versatile software available for Windows, Mac, iOS, and Android platforms, offering seamless data transfer, backup, and restoration capabilities between mobile devices when connected to computers.

Its standout feature is the ability to transfer data between phones, even when they run different operating systems, making it a standout among data transfer tools.
MobileTrans supports the transfer of up to 18 file types, including videos, photos, music, notes, messages, contacts, emojis, and more, making it a comprehensive solution. It boasts compatibility with over 6000 smartphone models, including Android, iOS, and HarmonyOS.
What truly distinguishes MobileTrans is its effortless and secure WhatsApp data transfer, backup, and restoration capabilities between Android and iOS devices.
Specifications
CPU
1GHz (32 bit or 64 bit)
Hard Disk Space
200 MB of free space required
Computer OS
Mac 10.8 and above, Windows XP and above.
RAM
256 MB (1024 MB)
Price
Starting at $29.95 for the yearly license (Windows)
$39.95/year (Mac)
Features of Wondershare MobileTrans
Let's take a quick view of the amazing features of Wondershare MobileTrans.
1) Whatsapp Transfer
MobileTrans offers a remarkable WhatsApp transfer feature that sets it apart. While platforms like WhatsApp, Kik, WeChat, and others typically handle message backups and restorations on an all-or-nothing basis, MobileTrans introduces a new level of control and flexibility.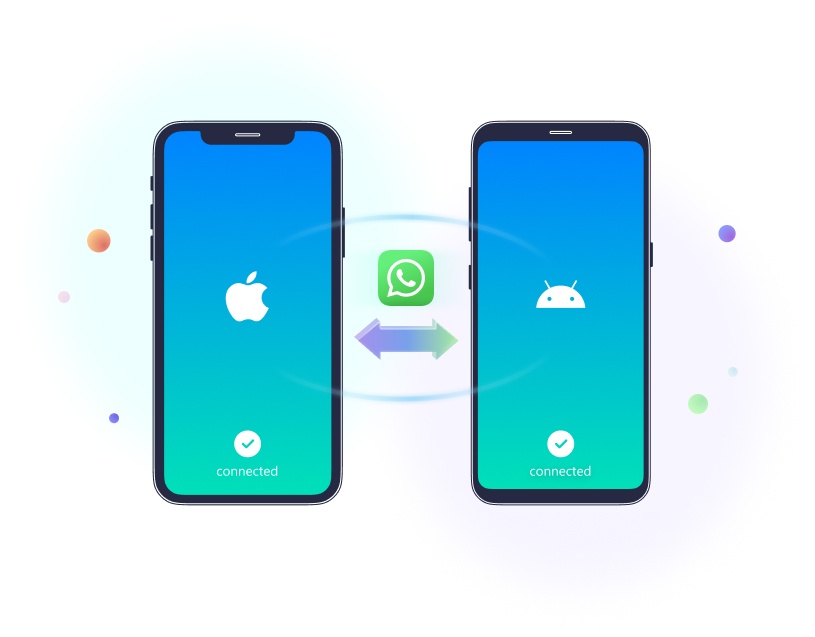 With MobileTrans, you can selectively back up and transfer data from these social media platforms. Whether it's messages or audio files, MobileTrans allows you to transfer specific chats and media easily.
The process is straightforward and hassle-free.
Connect your two devices, specify the type of content you wish to transfer, and click that magic "Start" button.
What's more, MobileTrans offers the convenience of reversing the transfer direction at the touch of a button, giving you complete control over your data migration.
2) Phone Transfer
Phone Transfer offered by MobileTrans empowers users to move up to 18 diverse file types between iOS and Android devices with unwavering reliability.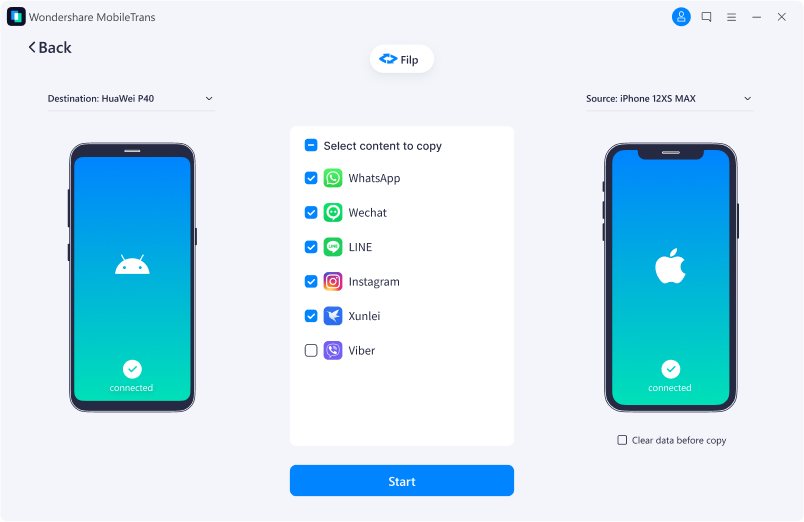 Whether it's music, applications, notes, messages, contacts, videos, or photos, this versatile tool facilitates smooth transfers among various smartphone brands and models, spanning Android and iOS platforms.
The best part?
There's no need for intricate device resets or data deletion to initiate the transfer process, making it accessible to users of all technical backgrounds. You can swiftly migrate files from your Android device to an iOS one in just three straightforward steps, mirroring the simplicity of the WhatsApp data transfer process.
Here's how it works: Select "Phone-to-Phone Transfer" from the MobileTrans interface.
Next, connect both your source and destination devices to your computer and hit the 'start' button. Pick the content you intend to transfer and press 'start.'
3) Phone Backup and Restore 
MobileTrans lets you easily back up your iOS or Android device to your PC or Mac with just one click. You get to decide what you want to back up – call logs, photos, videos, apps, and messages – and you can do this as many times as you need, as long as your computer has enough space.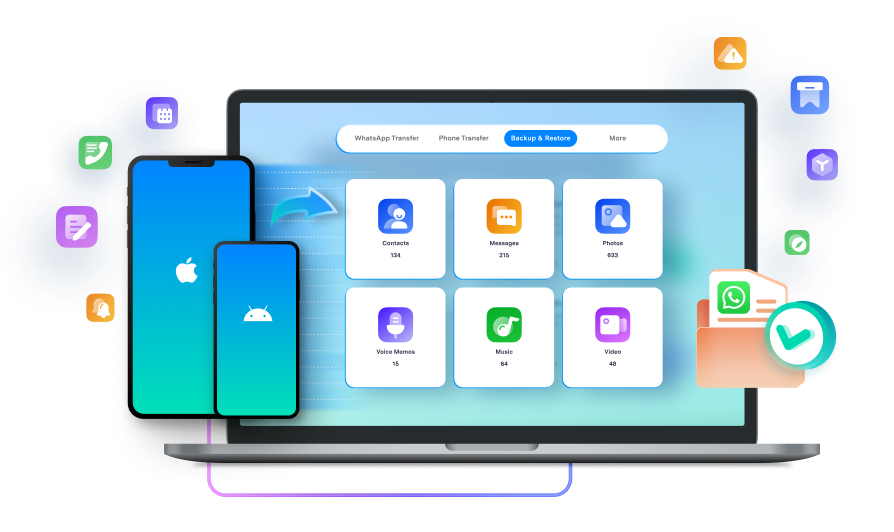 Backing up your data with MobileTrans is like the guide you shared for WhatsApp data backup and restore. It's all about giving you control.
You can choose what kind of data you want to back up or bring back to your phone. Plus, the tool creates separate files for each backup to keep everything organized and safe so your data won't get mixed up.
4) Import or Export
Do you want a file from your computer on your phone?
Sometimes, cloud apps can be tricky, especially with big files. But with the MobileTrans app, you can easily connect your phone to your computer and move files between them. To do this, you'll need to turn on USB debugging, but don't worry, the software will help you do it step by step.
Once that's set up, you can take any file from your computer and put it on your phone. You even get to choose which folder it goes into.
Here's how it works:
Connect your phone to your computer.
The MobileTrans app on your computer will show you a list of your phone's folders.
You can pick the folder where your files are and move them from your computer to your phone. It's all done through your computer, so it's easy and safe.
What I like about Mobiletrans?
There are surely some great reasons to like Mobiletrans for your data transfer. Have a look at these first:
Supports All Devices 
Mobiletrans supports almost all devices and works perfectly with Apple, Samsung, HTC, LG, Sony, Google, HUAWEI, Motorola, ZTE, and more smartphones and tablets.
It's fully compatible with major providers like AT&T, Verizon, Sprint, and T-Mobile. Name it any phone; it supports every device and all formats are supported.
Intuitive Process
MobileTrans enables you to transfer all your data in a simple process.
Following are some simple steps to be followed:
Download, install, and run MobileTrans Phone Transfer.
Connect both of your devices to your computer.
Click "Phone to Phone Transfer".
Let's take an example- Transfer from iOS to any Android phone. There are just two steps to be taken care of:
Connect your device to the computer: Open Wondershare MobileTrans and click "Phone to Phone Transfer."
Then, get both of your devices connected. Here, let's take an iOS and an Android device. The data will be transferred from the source device to the destination one. You can use the "Flip" button to exchange their position.
Choose the file and start to transfer: Check the files you would like to transfer. Then click on "Start Transfer" to begin the process.
For efficiency, don't disconnect the devices until the process is complete. You can check the "Clear Data before Copy" box if you want to erase data on the destination phone before copying the new data.
Fast Transfer Speeds
Takes less than 3 minutes to finish all your transfers. MobileTrans can also be used to backup your data on a third device.
Backup almost all the content on your mobile, including contacts, text messages, calendar, call logs, photos, music, videos, apps, app data, etc., to your computer. Support the backup for Android, iOS, Symbian, and most featured phones.
Create a safe and complete backup for your phone or tablet in just a few minutes – faster than any other tool in the market. Also, you can restore your data in case you lose something.
Restore from the cloud services – such as iCloud, Microsoft One Drive.
Retrieve data from backup files created by other mobile managers – such as iTunes, Samsung Kies, Blackberry, Mobile Go, etc. options are provided for both a selective part restore and a full restore.
Wipe Out Data on Your Phone & Table Completely
Erase photos, contacts, messages, call logs, and all private data. The advanced Data-Erase-Algorithm guarantees no chance for data recovery.
It supports all phones or tablets from Apple, Samsung, LG, HTC, Sony, Nokia, Huawei, Motorola, etc.
Pros and Cons
| | |
| --- | --- |
| Pros | Cons |
| Highly compatible with over 6000+ devices | License is restricted to one system. |
| 1-click backup and restore | Mac license is expensive |
| Easy to Use | |
| Fast transfer speeds | |
| Mobiletrans app for iOS and Android available | |
| Supports various file types | |
| Free version available | |
Frequently Asked Questions:
Is Mobile trans app safe to use?
Yes. The free version allows you to transfer up to ten files.
Is it possible to transfer WhatsApp messages to an iPhone with MobileTrans?
Yes, it is possible to transfer WhatsApp messages to an iPhone using MobileTrans. MobileTrans offers a feature that allows you to transfer WhatsApp data, including messages, from one device to another, even if they are running on different operating systems, such as from Android to iPhone.
How long does data backup usually take with MobileTrans?
The time it takes to back up your data with MobileTrans depends on how much data you have. If you have a lot of data, it will take longer to finish the backup because it needs more time to copy everything.
Is it possible to view your files backed up by MobileTrans on a PC?
Yes, it is possible to view the files that you have backed up with MobileTrans on a PC. MobileTrans typically stores the backup files on your computer, and you can access and view them using your computer's file explorer or a file management tool.
My Verdict
If you ask me if Mobiletrans helps with seamless data transfer? I would say Yes, go for it.
Mobiletrans excels in simplifying the process of migrating data from your previous phone to a new one, even if it run on different operating systems. Moreover, it offers the valuable ability to back up your phone data to your computer, providing a safety net against data loss, with the added perk of restoring it when needed.
I like that it extends beyond popular messaging apps like WhatsApp, Viber, and Kik, allowing you to move your data across various devices.
But hold on! There are a few caveats to consider.
The occasional technical glitches and the unpredictability of successful transfers can be frustrating.
Also, the transfer process, particularly with large files, may demand a fair amount of time.
As usual, the free version does offer essential features like phone and app data backup, along with a trial for the phone transfer functionality (limited to ten files).
MobileTrans allows data transfers between Android and iOS with relatively few restrictions.
It's a convenient tool for those seeking a straightforward solution for managing their mobile data, especially when changing devices or safeguarding their valuable information.
Also Read: