You might have heard about iTunes if you use an iPhone, iPad, or iPod and want to manage them on your PC or Mac. But sometimes, it might not be enough, especially if you want to easily move music and videos between your computer and your Apple devices.
I was going through the hassle of choosing the best data transfer tool.
That's when I found iCareFone. It's a tool that can do more than just transfer – like taking backups, fixing problems, and more.
I tried out this tool for my data transfer and had a surreal experience. In this review, I have shared the detailed iCarefone review along with features, pros, and cons as well as the pricing.
I will also talk about what it can do, what's good about it, and maybe where it's not the best. By the end, you should better know if iCareFone is the right fit for you.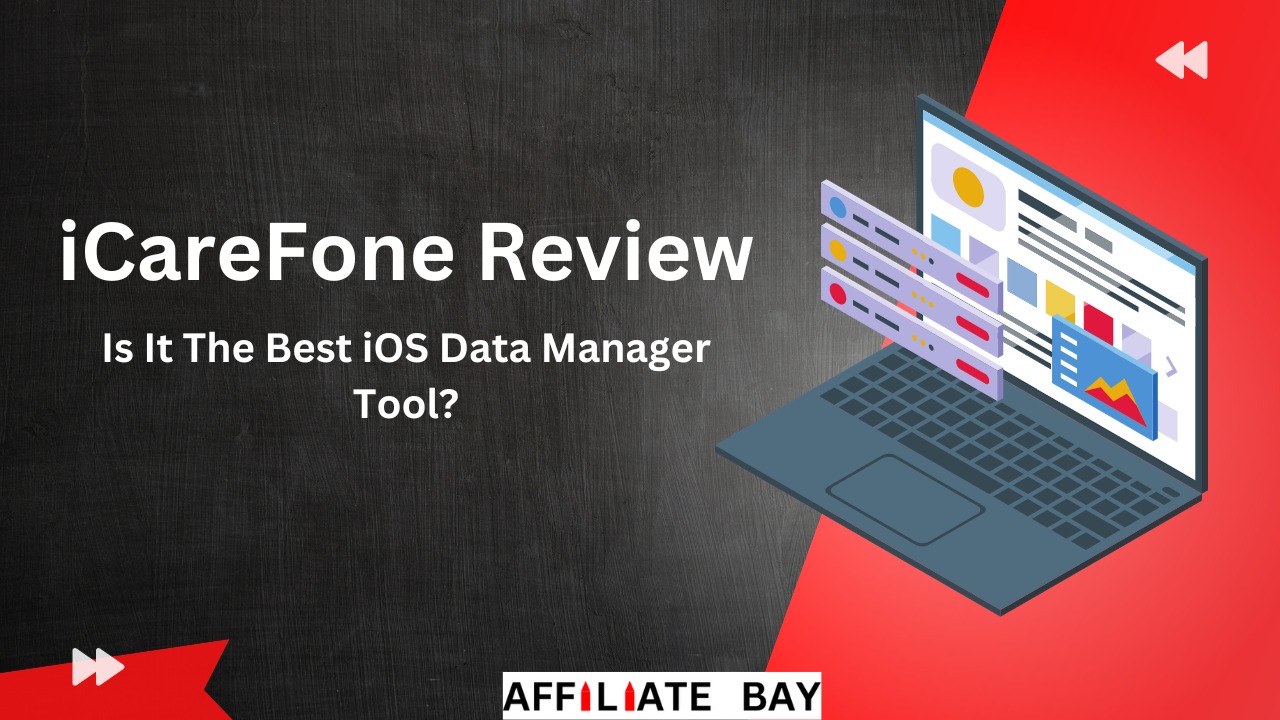 Bottom Line Upfront:

Tenorshare iCareFone is a helpful tool for iPhone users. It does a good job of fixing common iPhone problems, making more space on your device, and making it work better. It offers lots of features like fixing, speeding up, cleaning up, backing up, and blocking ads and iOS system repair. It's easy to use and the interface is simple.

However, some features like speeding up, cleaning up, blocking ads, and fixing bugs could be better. Still, Tenorshare iCareFone is a great choice for keeping your iPhone running well and in good shape.
Tenorshare iCareFone Review
Tenorshare iCareFone is a software designed to help iPhone, iPad, and iPod users manage their iOS devices more effectively. It is an alternative to iTunes, the well-known Apple software for device management.
iCareFone offers a range of features beyond simple file transfers, making it a comprehensive solution for various iOS-related tasks.
With iCareFone, users can transfer media files, such as music, photos, and videos, between their iOS devices and Windows or Mac computers.
The software further allows users to create backups of their device data, which can be crucial for safeguarding important information. iCareFone offers tools to repair common iOS issues, enhancing the overall performance and stability of the devices.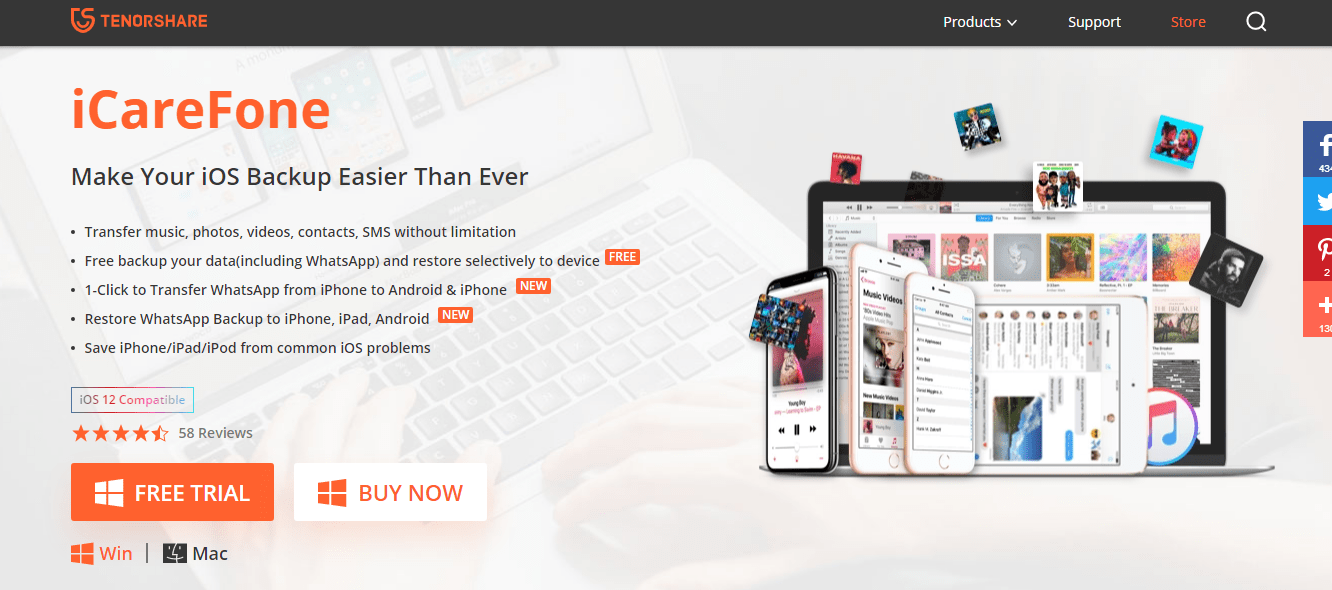 Users can import documents to the iPhone/iPad/iPod and easily transfer files between iOS devices and iTunes. Users can also independently or group include contacts, books, and bookmarks.
If you need to remove documents or applications, you can remove them in a bunch, helping you free up a lot of space.
This software guarantees ideal performance on the respected device by cleaning all those junk files.
Key Features of Tenorshare iCareFone
Tenorshare iCareFone brings a lot of features that will satisfy any iPhone client. From dealing with your iPhone to moving data to making a recovery to fixing issues, Tenorshare iCareFone does everything.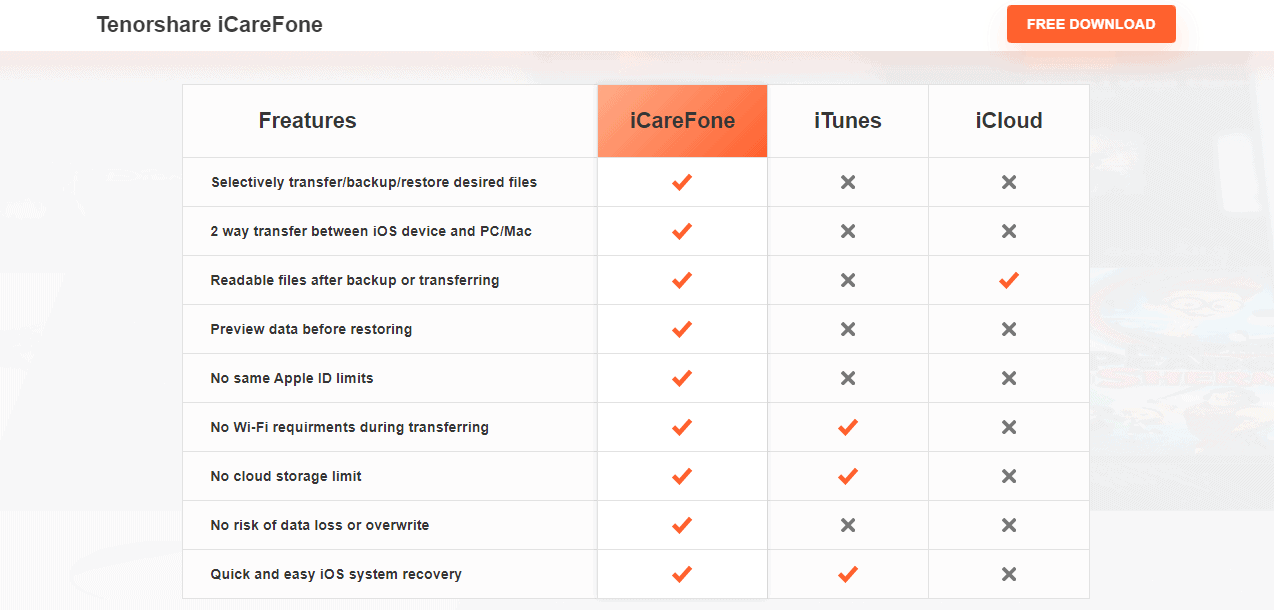 Here are the top features that the product brings to the table:
Transfer Data Between Windows and Mac
This is the most common thing that most iPhone management tools do. So, I won't go into a lot of detail about it.
When you use iCareFone, you can easily move your pictures, videos, music, voice recordings, calendar events, bookmarks, contacts, messages, and more between your iPhone, iPad, iPod, and computer (whether it's a PC or a Mac).
Fix iOS Stuck Problems
Have you ever had your iPhone stuck while refreshing or simply restarting repeatedly for no reason whatsoever? If you have, Tenorshare iCareFone will be helpful for you as it can fix all of the iOS stuck issues.
So, if your phone is stuck in a boot circle or your applications are crashing every time, you can use this product to fix every one of these issues by just clicking a button.
Clean and Speedup 
While iOS is great at dealing with residual files since the OS doesn't give you any authority over cleaning the residual documents.
Extra time, your gadget gets unbearably slow due to increasing junk files, caches, applications, and other invisible documents. Using the iCareFone application, you can easily find and remove each garbage file that is making your iPhone slow.
The application can also use its inherent compress feature to compress your photographs to release considerably more storage on your device.
Block Ads 
While iOS is a secure system, it isn't so dependable. Your iPhone can just effectively be assaulted like some other device. Most assaults on iPhones occur through noxious pop-up ads that obscure sites put on to earn cash.
The iCareFone application will hinder every one of those malignant advertisements, whether they are on Safari or in-application promotions, consequently keeping your iPhone shielded from any destructive assault.
Recovery and Restore 
Much like iTunes, you can use iCareFone to rapidly recover your device and utilize that backup to reestablish your iPhone. The product backs up the entirety of your media.

(including photographs, music, videos, phone messages, and more), applications (application data and related connections), and system information
(SMS Message, iMessage, Contact, Call History, Note, Calendar, Reminder, Safari Bookmark, Safari History, and more) with only a click.
Manage Files
One of my most loved features of iCareFone is the document management system that comes with this software. This tool allows you to effortlessly export and import documents from your iPhone to your PC.

You can perform activities like batch transfer, mass erases, and two-path moves to effectively share any document type, including but not limited to contacts, photographs, applications, bookmarks, notes, iBooks, schedules, and even iOS 11 HEIC pictures and HEVC videos.
User Interface
iCareFone offers a cutting-edge and easy-to-explore User Interface. When you launch the software, the landing page will show most of the information at a glance.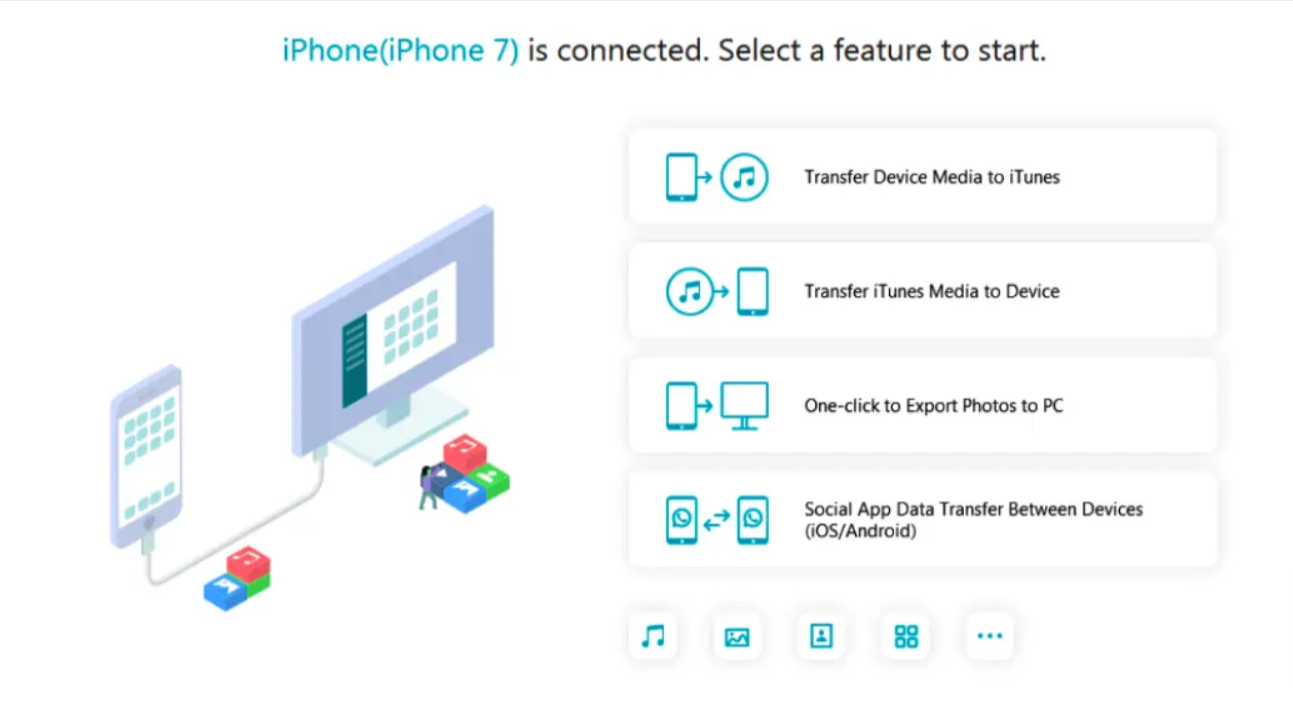 You can see your iPhone's storage status and the status for the last scan, last backup dates, and last cleanup details.
You will see a matrix of all the real features of the software, which you can be accessed by clicking on them.
The tool is straightforward and should not take anybody a moment or two to figure out.
Social App Transfer
You can also move your WhatsApp data and Line data between Android and iOS phones super easily. And if you back up your WhatsApp and Line data, you can get it back whenever you want.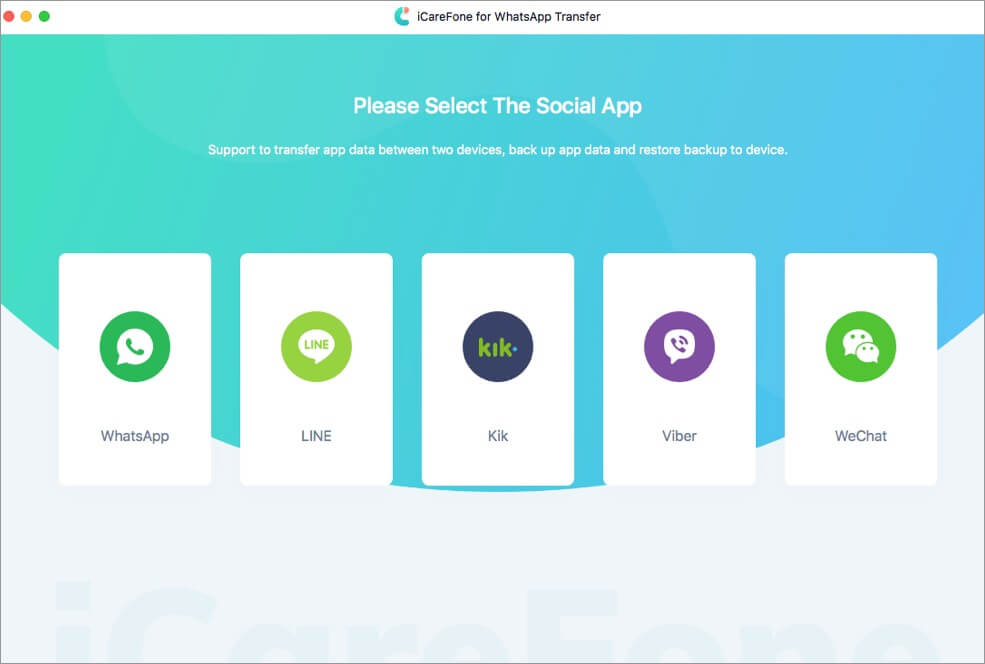 This works for WhatsApp transfer and Line, but maybe they'll add more apps later.
Tenorshare iCareFone Pricing
Tenorshare iCareFone is accessible for both Windows and macOS devices and can be downloaded from their site. The software accompanies a free trial version for testing, which you can use to look at this software.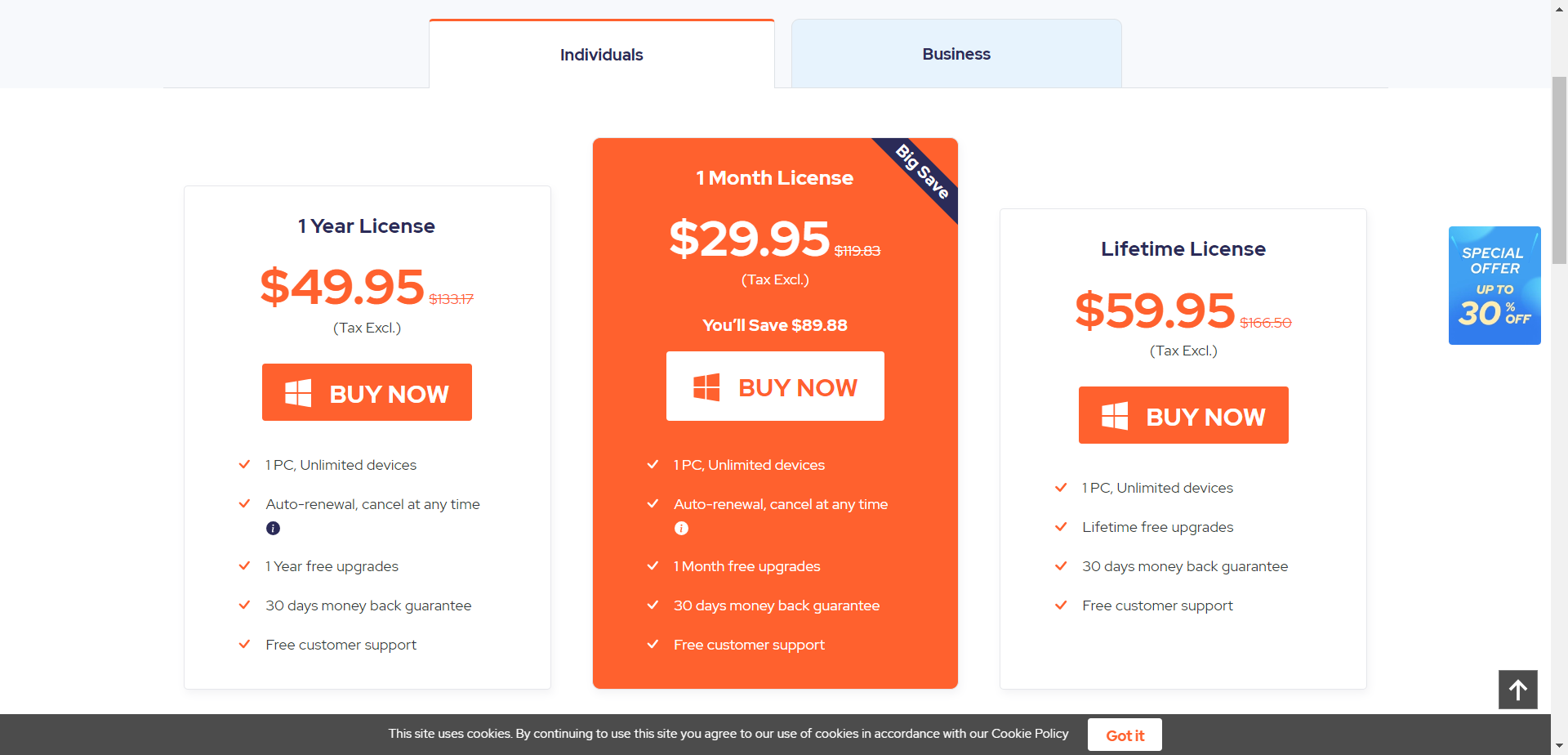 But when it comes to pricing, the company uses a differential pricing plan for the macOS and Windows versions of the software.
On Macs, a single legitimate permit for one device will cost you $59.95/year.
If you need to use the product on numerous Macs, you should purchase the Family Pack, which not only enables you to run the product on five distinct Macs and costs just $79.95, but it also lasts forever.
Also, a single license on Windows costs $39.95/year, while the Family Pack costs $59.95. As you can see, if you purchase a single license or a Family Pack, the Windows version is $20 less expensive than the Mac variant of the software.
Best Alternatives to iCarefone
EaseUS Mobimover
EaseUS MobiMover offers a user-friendly alternative to iCareFone for iOS data management and transfer, with robust features for seamless file sharing between devices.
iMazing
iMazing provides a comprehensive alternative to iCareFone, offering advanced iOS device management, backup, and transferring data capabilities, along with a sleek and intuitive interface. Besides moving data between your iPhone and computer, it can also get files from your iTunes backups. It works nicely on both Windows and Mac computers. iMazing can be really useful for handling your iOS gadgets in different situations.
AnyTrans
AnyTrans is a versatile alternative to iCareFone, specializing in efficient data transfer and management across iOS devices, offering additional features like media management and app backup.
iMobie AnyTrans is a popular phone data manager for both PC and Mac users. This software offers various useful features, including a ringtone maker and screen mirroring tool, which you might find handy.
FAQs on iCareFone
Is iCareFone Safe?
Yes. iCareFone is completely safe to use.
Is It Free?
iCareFone is free but comes with the limitations. You can get a paid license to get the benefits.
Does iCarefone offer iTunes backup?
Absolutely. It's capable of taking a complete backup of your iPhone, iPad, or iPod, just like iTunes does. And whenever you need, you can use it to restore those backups.
Does TenorShare iCareFone Repair Common iOS Errors?
Yes. You can use the iOS system repair feature to fix the ongoing issues with the iPhone.
Quick Links:
Conclusion: Is iCareFone Good for Data Transfer? 
If you've read this iCareFone review carefully, you might be ready to decide. No doubt, it's great software for transferring data anywhere. Even though it doesn't have wireless transfer, it still holds up well. With features like fixing iOS issues and transferring social app data, it goes beyond the basics.
To sum up, Tenorshare iCareFone is probably the best iOS data manager on Windows and Mac. The product completely satisfies one's desire for iOS device management.
But hey, if you want my take, I'd suggest giving it a go, especially if you need to move social app data and do backup & restore, along with regular iPhone management data.
Albeit you are on a tight budget, you can try the EaseUS Mobimover. It's a great alternative to iCarefone.
I hope this post suits your purpose, and if you like this post, please leave a comment below. Also, share this post on various social media platforms like Facebook, Twitter, and LinkedIn.