In this post, we have highlighted the iMyfone D-Back Review 2023.
Do you wish to recover all your last data from your iOS devices?
Are you in search of software that will safely help you recover everything that you might have lost from your iPad/iPhone?
iMyFone D-Back is just the correct software for you. Developed by iMyFone Technology Co. Ltd., iMyFone D-Back is the best tool for data recovery on your iOS Devices.
You can easily use it to recover any type of data including, images, messages, contacts, notes, etc from your iPad/iPhone devices with a lot of ease.
Through this iMyFone D-Back review, I will help you discover everything you need to know about iMyFone D-Back.
Let's get started.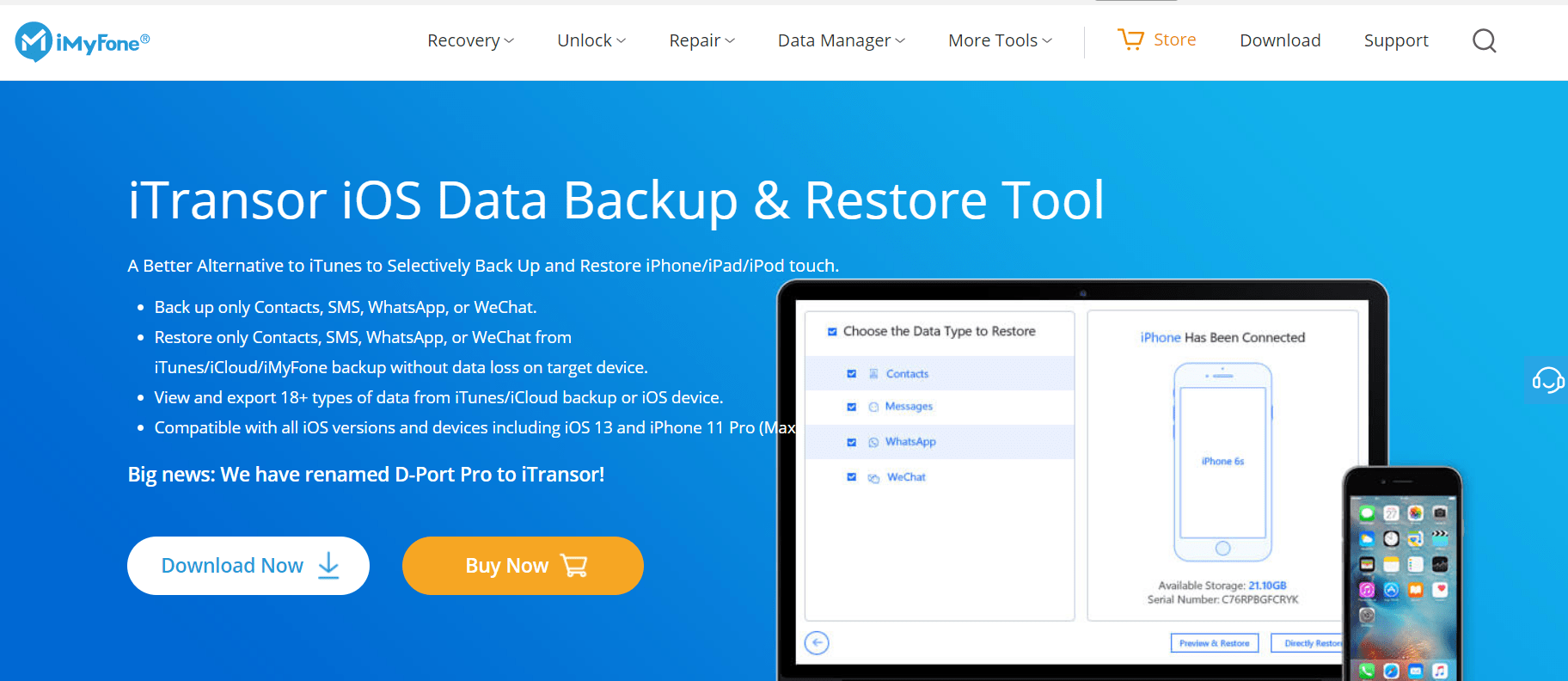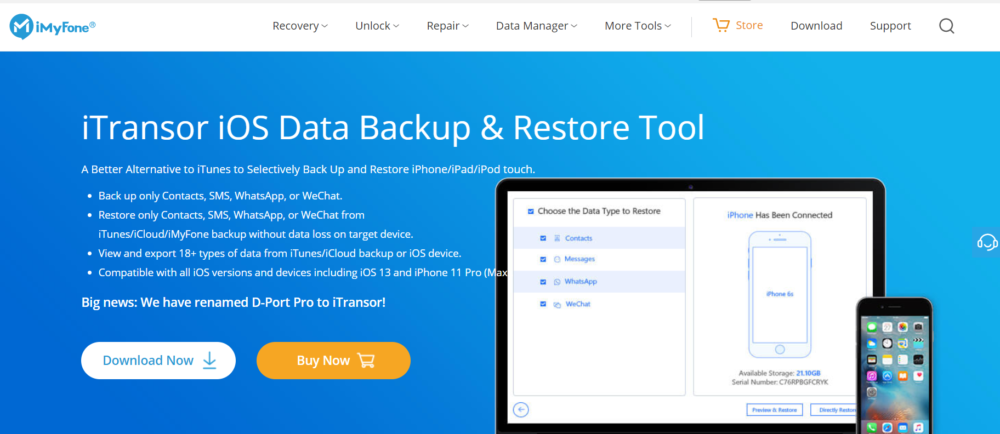 iMyfone D-Back Review 2023– Is It The Best iOS Data Recovery Tool?
System Requirements
Let us take a look at the system requirements for using iMyFone D-Back
For iMyFone Win minimum of 1GHz (32 bit or 64 bit) or above is recommended
For iMyFone Mac minimum of 1GHz Intel or above is recommended
For Win minimum of 256 MB or more of RAM (1024MB Recommended)
For Mac minimum of  512 MB or more is recommended 
Minimum of 200 MB or above free space is required for both Platforms
Windows 10/8/7
Mac10.15, 10.14, 10.10 (Yosemite), Mac OS X 10.13, 10.12, 10.11, 10.9 (Mavericks)


List of Supported devices
Support IOS devices: IOS 7.0 and above
iOS devices: iPhone 4 and all the newer versions of the iPhone.
To Install This Software
It is fairly easy to install an iMyFone D-Back. You can get the software from their website directly. Make sure you have the system requirements before installing the software.
Download the Software from their website and install it by opening the downloaded package.  
iMyFone D-Back Features and Specs
Features of iMyFone D-back for iOS
Fixing the iOS system even if it is stuck on the black-white Apple logo or even if it is disabled. iMyFone helps in iPhone data recovery.

iMyFone D-back offers a preview content option where you can preview the content that you want to recover rather than recovering everything

It has a smart recovery function included which can help you recover safely and easily as per your needs.

You can recover data from Itunes. You have the flexibility to view and extract data selectively from your Itunes backup.

The unique algorithm allows recovery possible with the highest success rate

Is your phone bricked or jailbroken and not accessible, no worries D-Back can restore selective data even from the iCloud database.

iMyFone D-Back supports Encrypted data recovery, that means you can recover data which is encrypted hassle-free
Features of iMyFone D-Back for Android
iMyFone D-back for android has a  high-speed recovery feature where can you can recover data in a flash

You can recover data  from both your memory card as well you internal storage

You can choose what files you need to recover using Selective preview option

iMyFone D-Back works for both rooted and non-rooted android

You can recover and export lost data in the following formats CSV, HTML, and VCF to your PC
Specifications 
You can recover from almost all iOS or Android devices. it is specifically designed to recover all kinds of files like pictures, videos, documents, contacts, text messages, WhatsApp messages, emails, Whatsapp media.
D-Back can be used for retrieving cloud data in cases of iCloud data.
Recover Deleted Data Even After Factory Reset
Yes, it is possible to recover from your phone, the lost data, even after a factory reset. When you delete or wipe data from your phone even using factory reset the data is never truly deleted. It is partially present in the phone's storage.
The data is not deleted and stays hidden and is only erased when it is overwritten. So that is why there is a high possibility that you can recover the data if you use a powerful tool, this where iMyFone D-Back comes in.
iMyFone D-Back is powerful enough to recover the deleted data even after a factory reset. You just need the database file to recover the files.
Once you start the software, press the option for smart recovery. Now press the option on how you lost the last in the following screen. Just layback iMyFone D-back will search, analyze for lost files and show how you can recover the lost files or deleted data.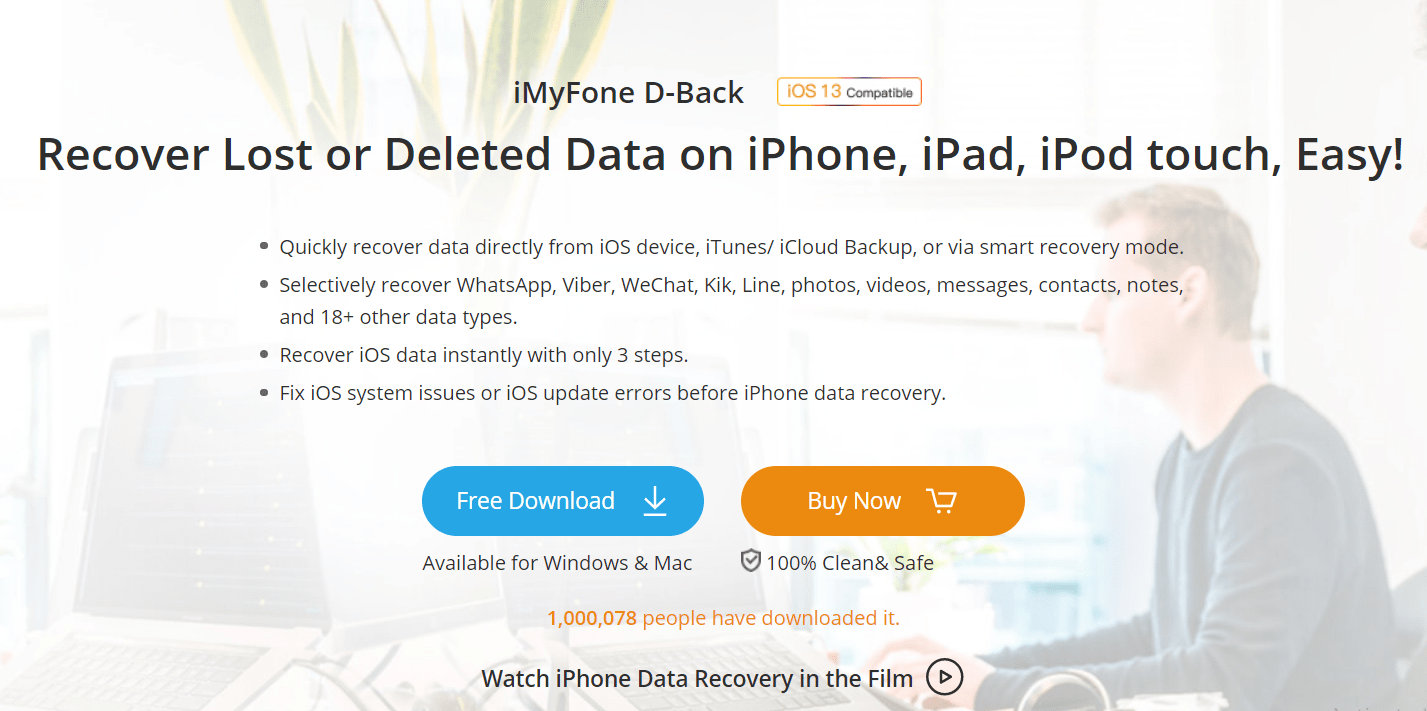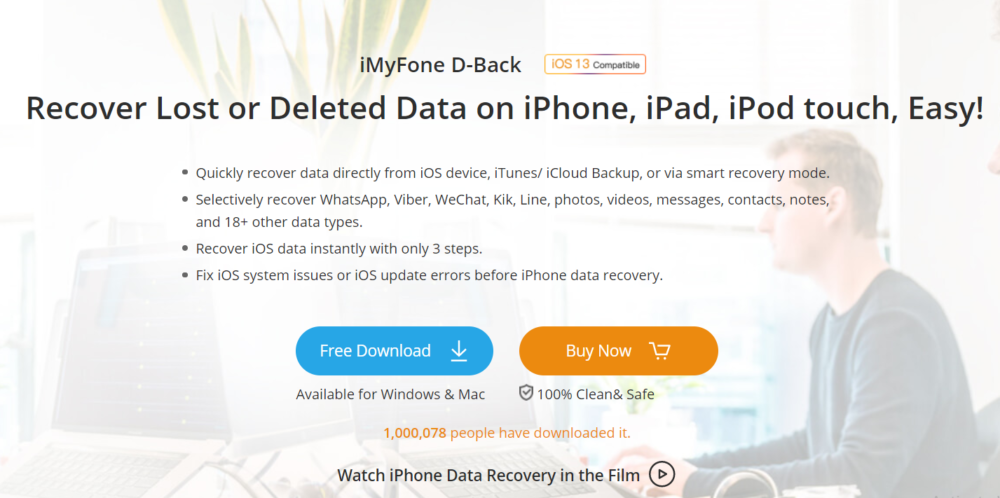 Fast Scan and Recovery Speed
The software scans the device at a fast pace and provides results within a minute. The scanned results are then provided so that you can preview the content.
You can select whatever data you need the software to recover and then Press the "RECOVER" option. In a matter of minutes, you will have all your lost data recovered. 
Preview and Selective Restore
As explained above when the scan is completed by the D-Back software there is a window where the option to "Select for the Files to recover" is displayed.
Once you reach this part you can now select the data by individually clicking over it. This is one of the special features of the software which is known as Selective restoration. 
You can press the recover option once you have selected the required files. Here is a tip for you, when you are scanning, search for the files that you need rather than searching for everything to save your precious time.
Restore Photos, Videos, Music and Any type of Data Your iPhone Supports
The restoration is not limited to photos or videos, with D-Back you literally can restore any type of data.
Gone are the days when you had to choose between your photos or your contacts, D-Back can get everything back. Photos, videos, contacts, chats, text messages, etc 
Recovers Whatsapp, iMessage, WeChat, Viber, and More
I believe you are sure by this point that D-back can recover almost everything. Well, you guessed it right D-Back can, in fact, recover iMessages, Whatsapp data, Viber data, Wechat data, and almost every other messaging app data available.
You can even get the messaging app media that might have got lost during the reset or bricking of the device. 
Once you have selected the required messaging app data you need to restore, just press the recover option and wait. Within minutes you will have all the selected data recovered to the respective folders.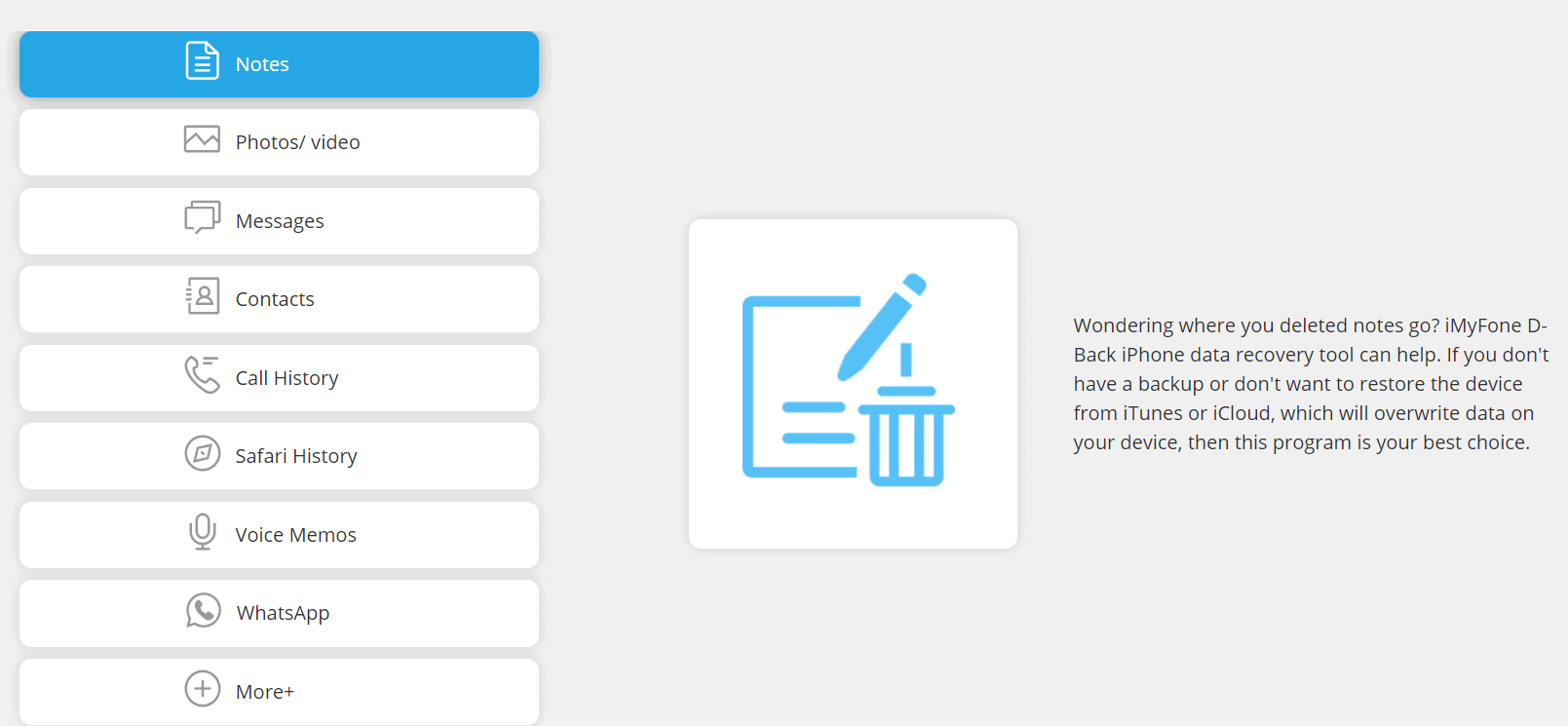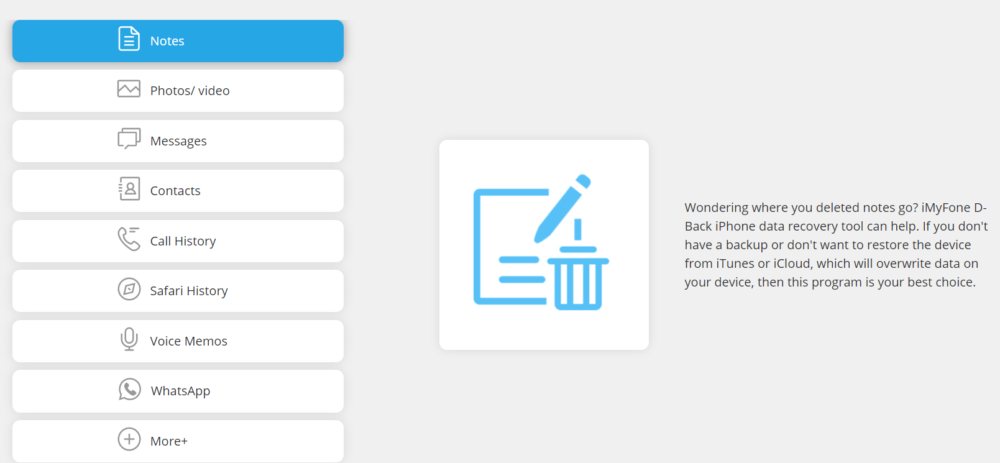 Repair Common iOS Problems
You can repair common iOS problems with D-Back. Many users face the problem after their device is usually broken or bricked.
Doesn't matter if your screen is broken or your device is bricked as long as your device is recognizable through your PC you can recover your data back without any problem.
You just need to make sure that your PC can recognize your device when you connect it through a USB cable. Even if this option fails you can retrieve the data from your cloud services and Itunes backup. 
Other Fixes that D-Back offers are;
The Standard Mode offers you a fix to the most common iOS issues like your device being stuck on/black screen/white screen/DFU mode/Apple logo, freezing screen,  restarting loops, not turning on, etc.

You can use the Enter/Exit Recovery Mode to repair iOS devices stuck on Recovery Mode with just one click.

If the standard model cannot get the job done you can switch to the Advanced Mode which can fix the iOS issues or you can forget your device passcode.
Few Points you need to keep in mind before using these features:
The iOS version on your device will be updated to the latest version after using this software.

The device will be restored to the default mode if it is a jailbroken device after using this software.

Your device will be unlocked after using this software if it was locked earlier.
Access the data even after forgetting the password
This case is almost identical to the scenario where you have a bricked or broken screen phone. You can access the data on the phone using the iMyFone D-Back software on your desktop. 
Click on this link for alternatives
User Interface of iMyFone D-Back
The user interface for the app is pretty simple and clean. The user interface ensures that even a  beginner could get the recovery job without much assistance. You still get the 24/7 assistance if you are stuck somewhere.
The operations and functions in the software are pretty explanatory and this guide covers almost every aspect of the software there is. 
The UI is pretty slick, clean for its size. User friendly and lag-free as the latter is important for the software because once the software starts recovering the lost file it is partially moving the database from the storage to the actual file.
So it might get corrupted and the data could be lost forever if the software lags at a crucial point like this.
iMyFone D-Back Performance and In-Depth Review
iMyFone D-Back is nothing short of an amazing app when it comes to recovery software. The software provides tons of features for a really affordable price with multiple device options. The pricing plans are pretty solid but let us check that out later.
The product does what it was meant to do in an easy way. As advertised it gets you data back like magic. 
The software understands the day to day problems you face and makes sure you get all the benefits under the same roof. It is definitely worth the bucks you spend as it recovers data blazing fast.
Within a matter of a few minutes, you can get back all lost data as if nothing ever happened. The software even includes advanced issues fixes for devices that are broken, jailbroken, or bricked. 
Data Recovery Process
Step 1:
Install the iMyFone D-Back software on your desktop and open it 
Step 2:
Once you are inside the app you will be presented with data recovery options that are available
Step 3:
Once you are inside the recovery mode, choose the way how you lost your data and let the software scan for it
Step 4:
The files are displayed on the window after they are scanned, select the files that  you need to be recovered and then when you are done with the selecting process just press the "Recover" option and wait
Step 5:
You will have your files recovered within a few minutes (Just do not stop the application while the recovery is running)
these are five simple steps and you can recover your data.
Forgotten Passcode and iOS System Repair 
The application provides users with fixes for iOS devices with forgotten passcodes and system error. All you have to do to access this feature is to press the Fix iOS system option on the main window. This will lead you to a window with three options to select from
Standard Mode 

Enter/Exit Recovery mode

Advanced Mode
For system repairs and locked passcodes, we will be selecting the advanced mode( Advanced mode is only to be selected when standard mode fails to deliver).
Make sure you have your device connected to your desktop, now click on the advanced mode and you will be presented with a firmware version window. Now select the firmware version on this window according to your device and press next.
This will make your desktop download the required firmware and the "Start to Fix" button will appear (Pressing this will erase your device). Sit back and relax. 
Wait for a few minutes, it may take some time. The software will close itself and your device will start on its own. There you have it, your device is unlocked even with a forgotten Passcode.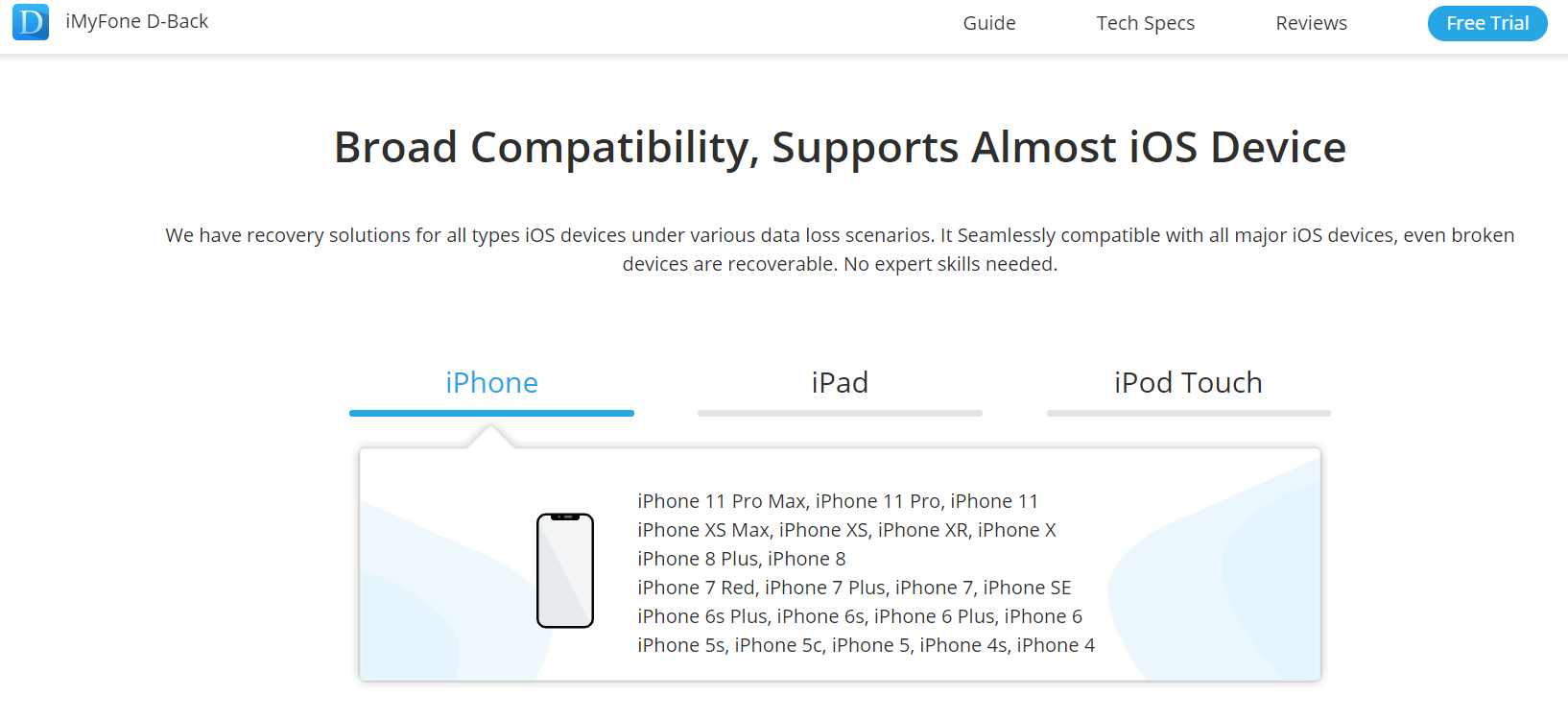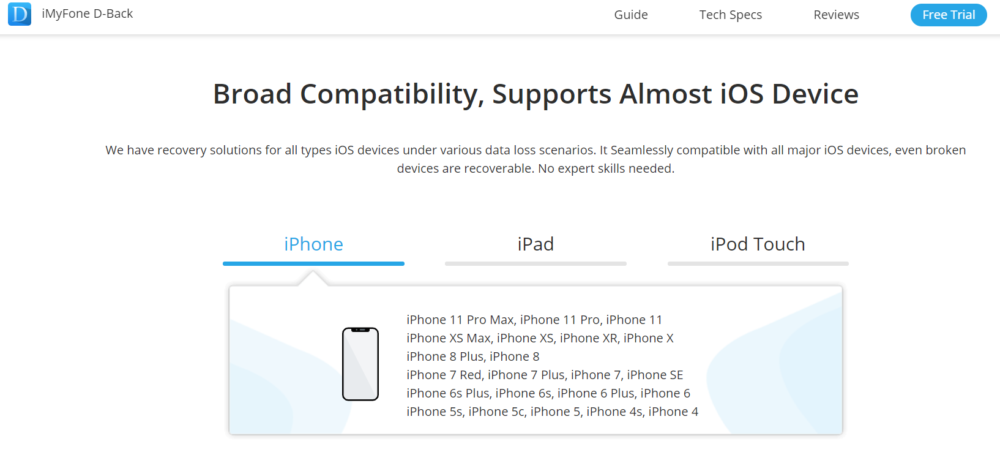 iMyFone D-Back Pros and Cons
iMyFone D-Back PROS
iMyFone D-Back CONS

The interface and design are very user-friendly.

It is very simple to use and you can retrieve your lost data in a few steps.

You can easily recover very wide data types from an iPad or iPhone.

It has four recovery modes that give you a very high data recovery rate.

You can preview and select the data that you want to recover.

You can use the free trial version before buying the full version.

It works very well with all the iOS devices having various iOS versions.

The recovery speed is very slow.

The screen of the software can not be maximized. 

Hitting the start button while switching tabs is compulsory.

You cannot easily customize the main page.
Pricing at iMyFone D-Back Review
The pricing plan for windows and Mac are the same:
1 month Plan – 39.95$
1 Year Plan – 49.95$
Lifetime Plan (5 devices) – 69.95$
Lifetime Plan (20 device) – 129.95$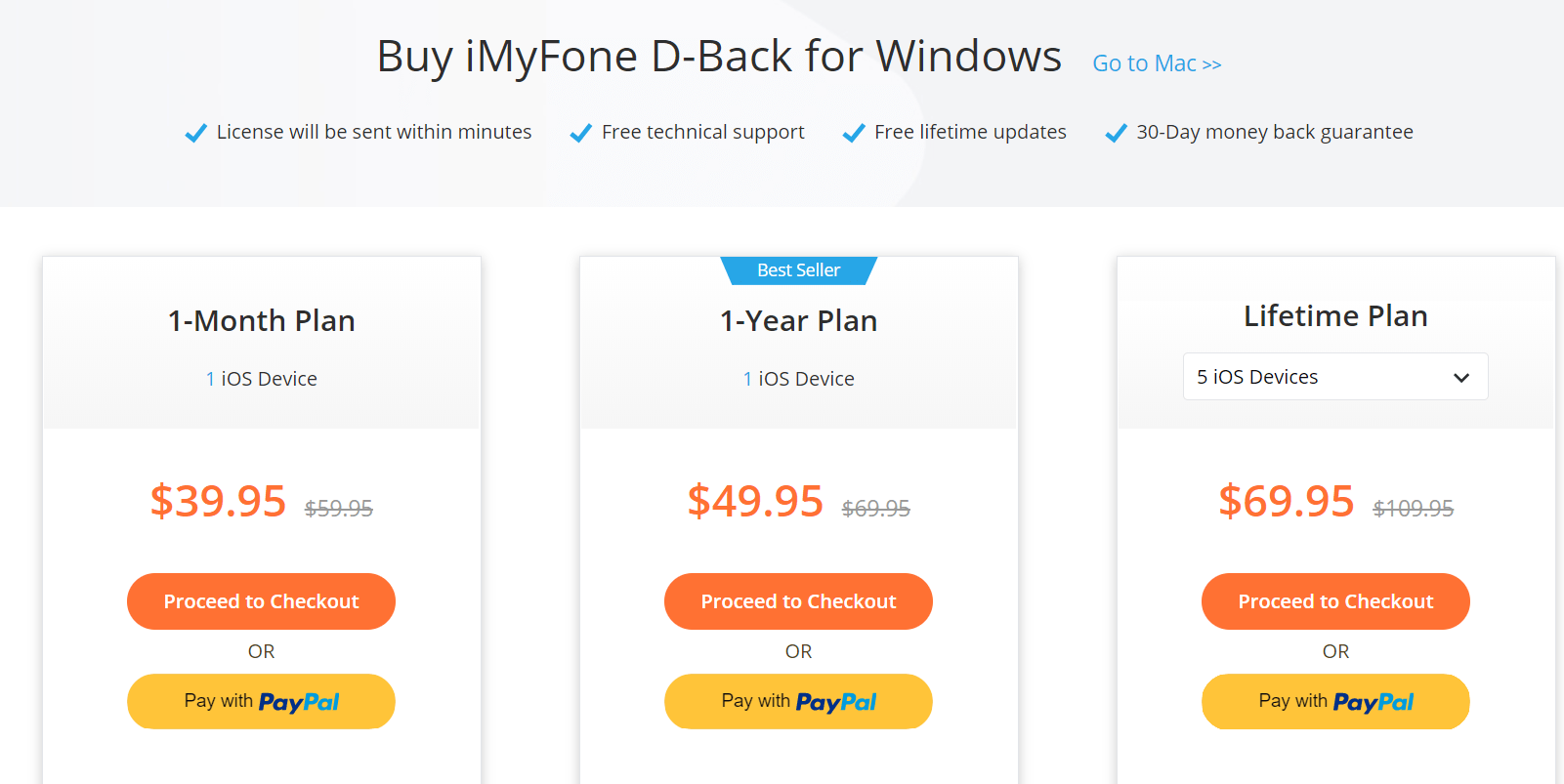 Click here for detailed pricing
Quick Links
FAQs | iMyFone D-Back Review
🤓 Is the iMyFone D-Back back safe?
Yes, it is completely safe.
💁‍♀️ Is the iMyFone legitimate?
The program is safe and completely legitimate.
🙇‍♂️ Does Dr. Fone actually work?
Yes, we have tested it and it works like a charm.
🤷‍♂️ Can Dr. Fone be trusted?
Yes, you can trust Dr. Fone.
Final Verdict | iMyFone D-Back Review
iMyFone D-Back is a really solid application with an easy to use interface. It succeeds as advertised and brings you an all in one solution while ensuring you retrieve all of your confidential data.
It is pretty straightforward to use and is priced at an affordable price when you are looking for a professional solution.
I would highly recommend this software if you are in search of recovery or fixing solution. Make sure to test out its free trial before purchasing.
I hope you found this iMyFone D-Back Review useful.