Have you ever tried to transfer data from one iPhone to another? Well, I know it's not a seamless experience for many.
I got introduced to the EaseUS Mobimover software back when I switched to another iPhone.  I got friendly with it, and eventually, I decided to write this review.
The purpose of my EaseUS Mobimover review is to tell about its functionalities and usage. By the end of this review, you'll realize why Mobimover is worth the investment and if it's good for data transfer between Apple devices. 💰💰
What is MobiMover?
MobiMover is a free software that lets you transfer all your data from the iPhone, sync your devices, and take backups when required.  It not only helps you to transfer data but also helps you to manage your transferred data.
You can transfer and take backups of all your contact notes, calendar entries, messages, voicemails, bookmarks, books, videos, photos, audio files, and safari data.
In short, MobiMover can help you transfer any file available on your device to your computer.
If you are currently using any paid software or even iCloud, you should try using MobiMover, as it is always better to have a local data backup and a cloud backup for ease of access.
If something goes wrong with your cloud storage, the loss is very difficult to rectify. It is at such times that a local backup is very useful.
MobiMover also helps you to quickly transfer all the files from your old iPhone to the new one. This amazing feature comes in handy while switching phones and does save you in many cases.
EaseUS Mobimover Features
One of the major focuses of my MobiMover Review is its list of features. Have a look at the most extensive features of EaseUS Mobimover and how it helps in different types of transfer:
Phone to PC
MobiMover also has this cool Quick Transfer feature, split into three parts: Phone to PC, Phone to Phone, and PC to Phone. The Phone to PC lets me save my iPhone data onto my computer.
Whether you want to transfer photos, videos, contacts, and other data, they can be moved to my computer to keep them safe.
Phone to Phone 
But wait, there's more to EaseUS MobiMover than just PC to Phone transfer!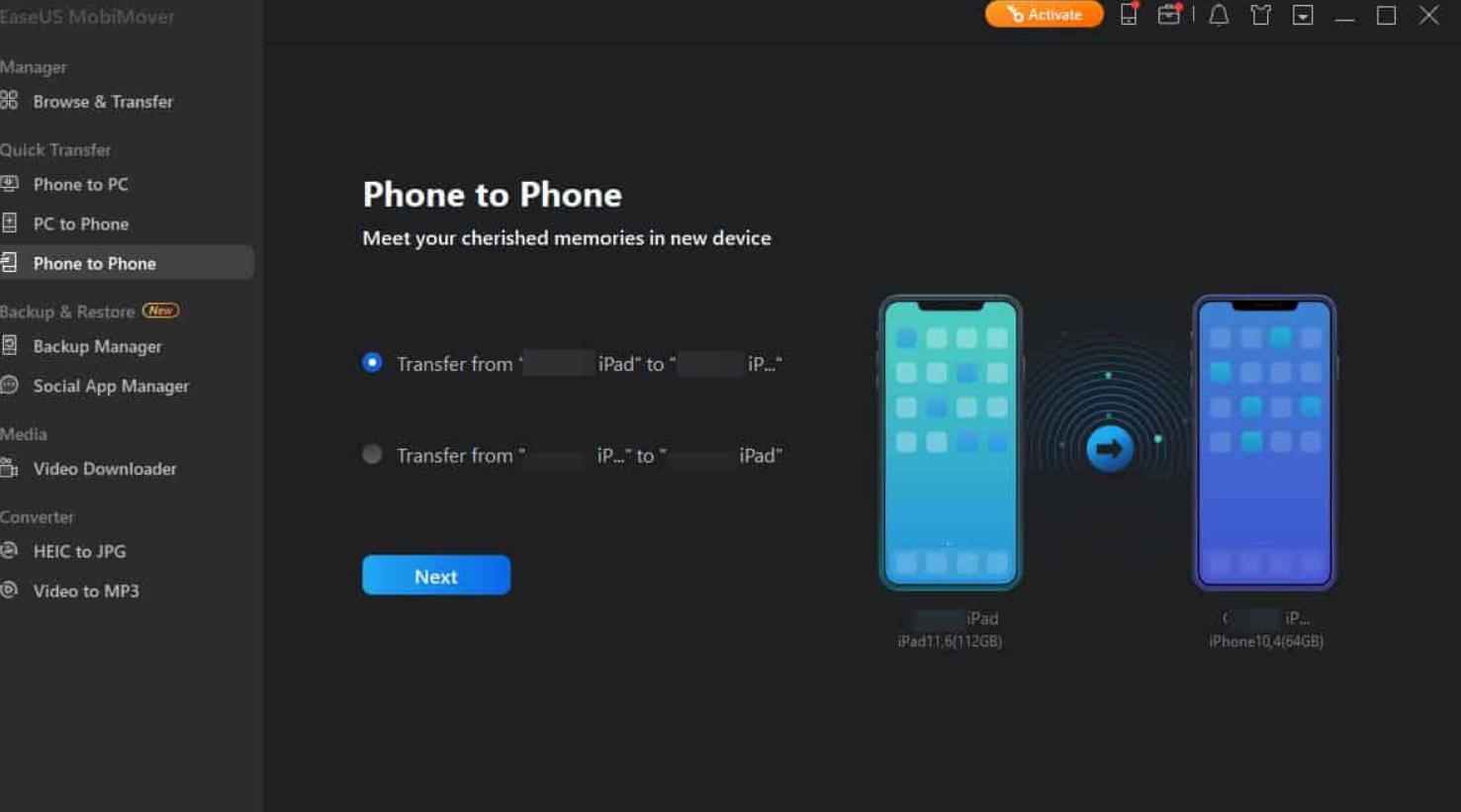 This gem of a tool goes the extra mile. This feature is a great plus whether you are importing or exporting data between two iOS devices.
Picture this: you're swapping your old iPhone for a brand new one or maybe even switching data to an iPad – MobiMover's got your back!
Just like its other cool features, the Phone-to-phone transfer feature is a real champ. It's super smooth and made shifting data between my phone is a piece of cake.
PC to Phone
You can do more with MobiMover! It doesn't just bring your phone data to your computer – you can also move computer data to your phone. MobiMover lets you pick what you want and move it from your computer to your iPhone or iPad.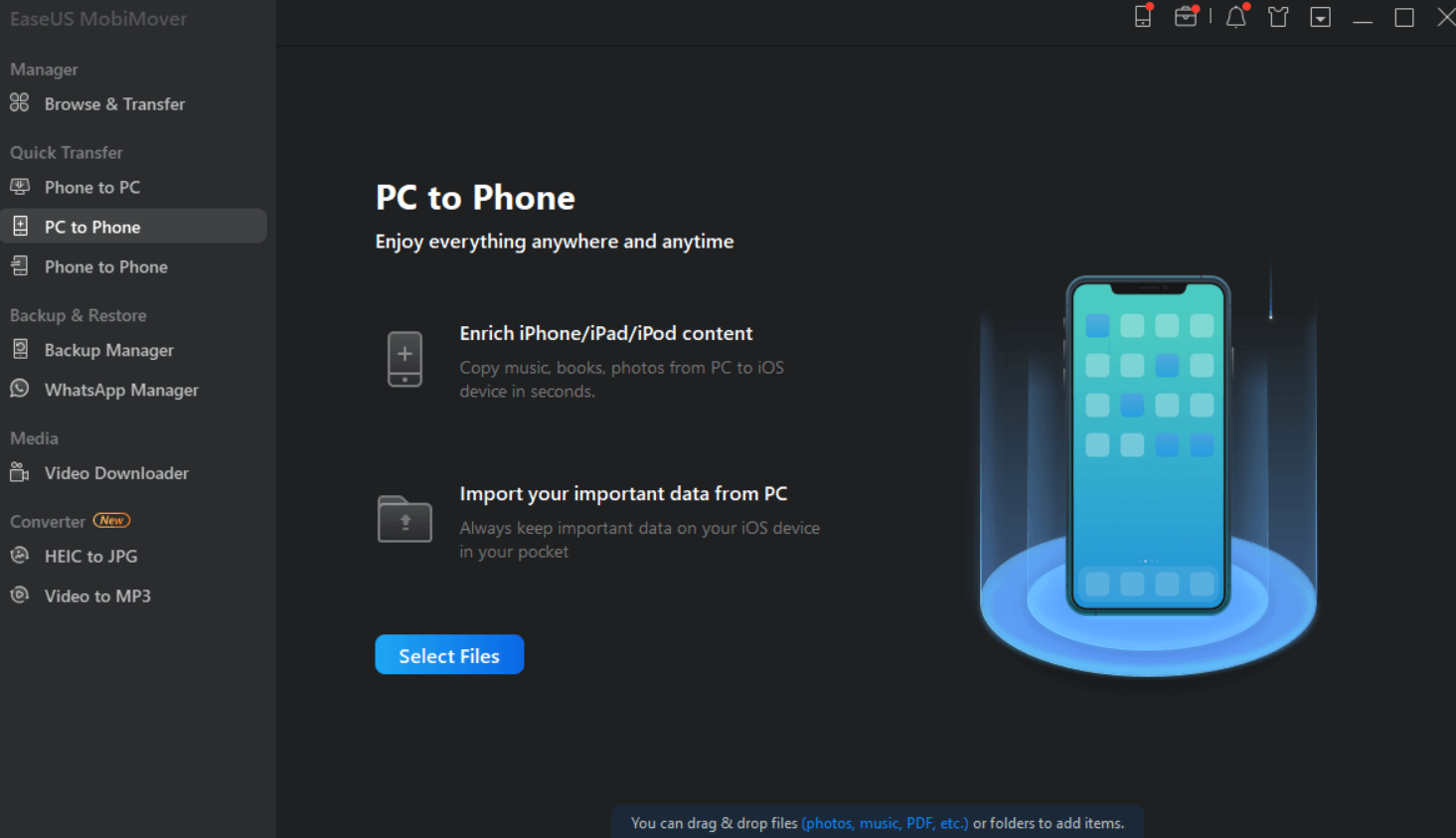 The way it works is really simple and clear. It's easy to transfer things. This is a fantastic way to share files between your computer and your Apple device.
Browse and Transfer
When you plug your phone into EaseUS MobiMover, you can simply look at your data and move what you want from the main screen. This special thing lets you choose while your device is connected.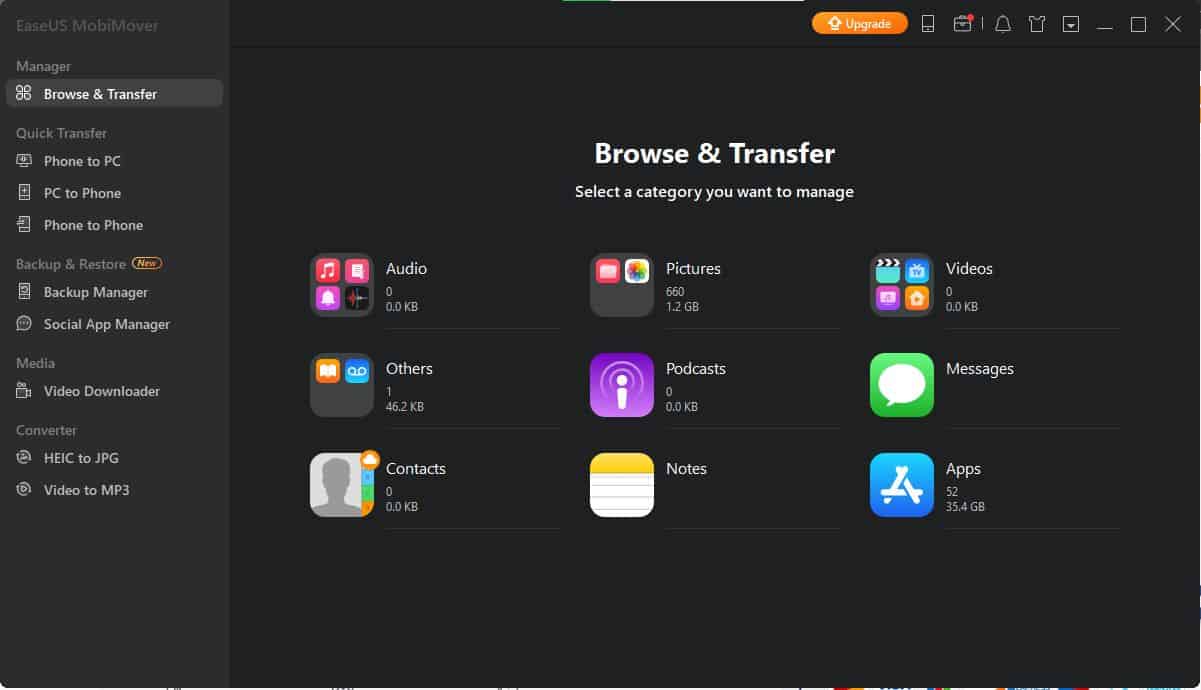 You can do two things: send data from your computer to your iPhone or bring things from your iPhone to your computer. It's like a data switch.
Social App Manager
Social media app data is indispensable.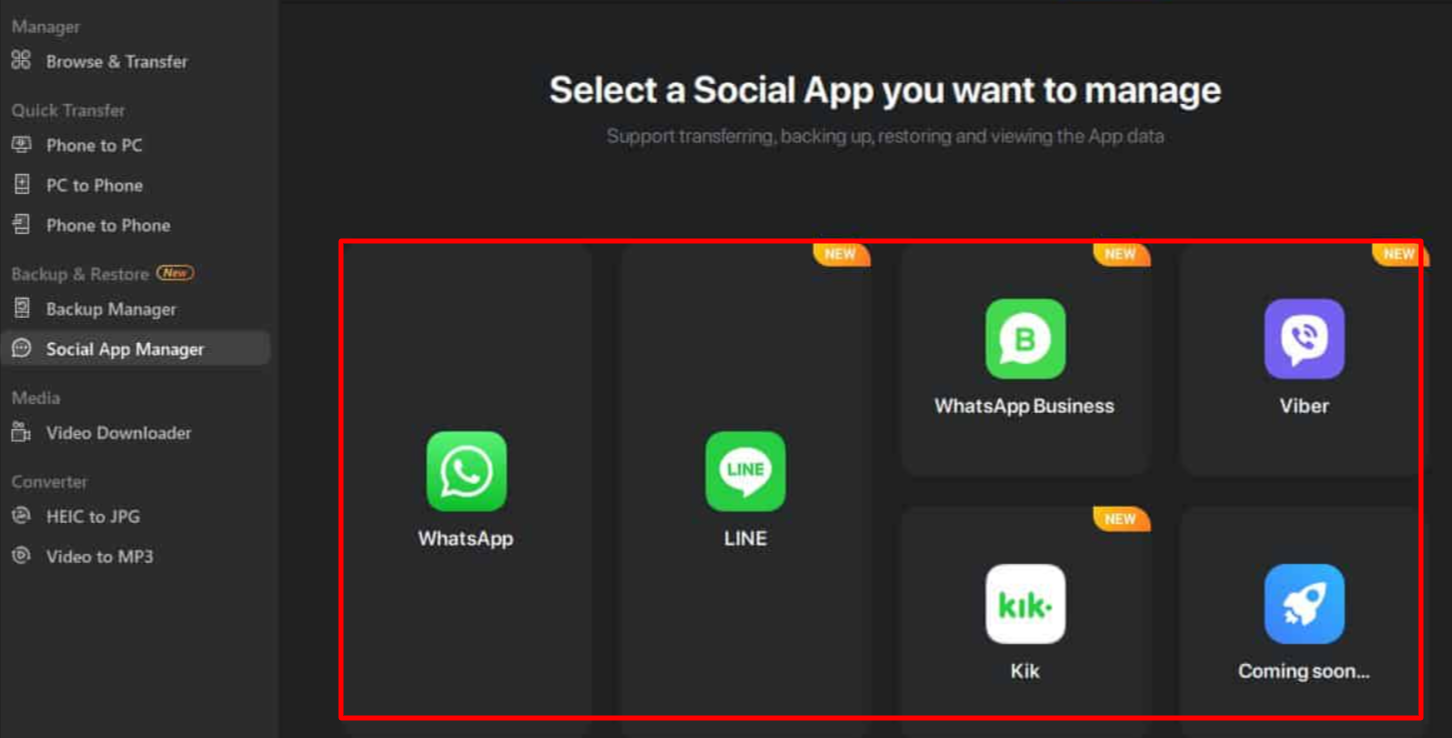 This makes sure your important messages and data stay secure. Some apps store everything on their servers, making accessing them on other devices simple. But some apps don't do that.
For instance, apps like WhatsApp require you to make your personal data backups to save your messages. MobiMover's Social Media Manager comes to the rescue here. Using these apps, you can back up, recover, and even shift data. This trick works for WhatsApp, WhatsApp Business, LINE, Kik, and Viber.
Video Downloader 
MobiMover isn't just about managing data – it has some extra perks that any iOS user will find handy. One of those treats is the MobiMover Video Downloader.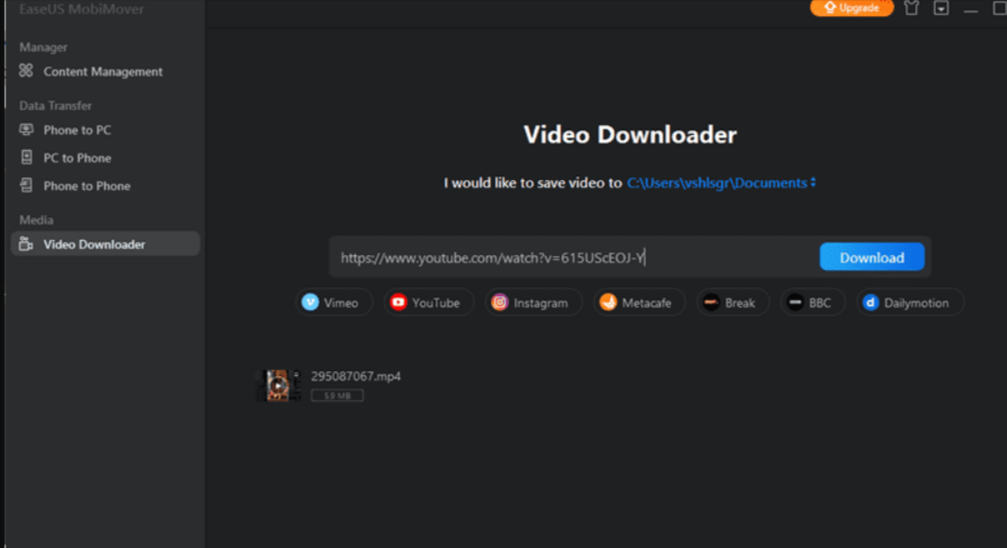 This lets you download YouTube videos and videos from other platforms like Facebook, Twitter, Vimeo, Metacafe, Dailymotion, and SoundCloud.
Always keep iPhone well organized.
The best feature of EaseUS MobiMover is that it is free and helps you keep your phone organized.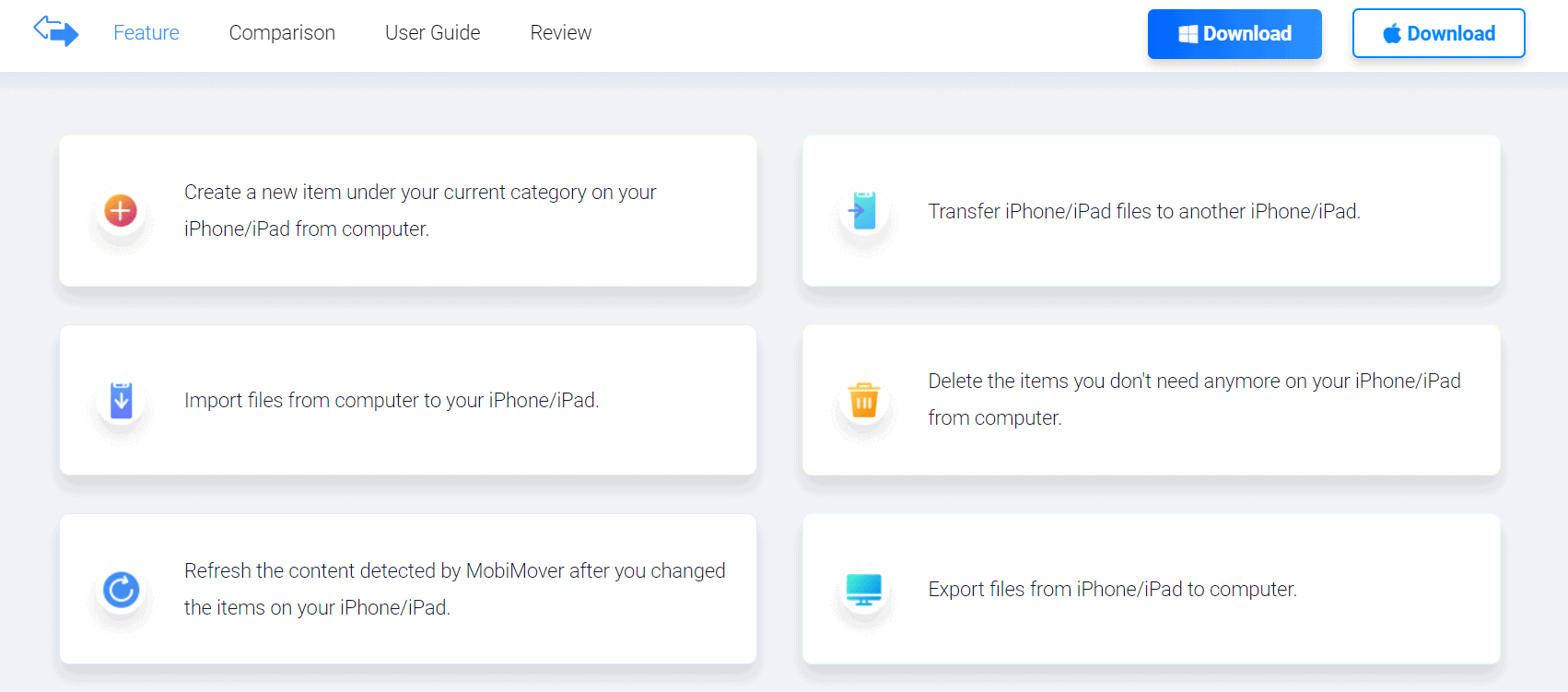 You can easily transfer your data, add or delete, and edit the thighs on your iPhone or iPad.

You can create new items and new categories on your iOS device.

You can transfer your files from one iOS device to another.

You can easily delete all the unwanted items on your iPhone/iPad through your computer.

You can easily import and export your files between your iOS device and computer.

Can't watch a movie without the internet? Download it now!
MobiMover has an amazing video downloader that helps you download all types of movies and videos on the internet. You can easily enjoy your movie without the internet in offline mode now!
Transfer and transcode at the same time
EaseUS Mobi Mover will help you automatically identify the formats of videos available and transcode them into the format your device would support.
This method of transfer and transcode is the easiest method to ensure you don't face any issues regarding the different formats of videos.
How to Use EaseUS MobiMover Free?
Now, let us see how to use the EaseUS MobiMover.
First, you must download the software and launch it on your PC. Then, you must connect your iPhone/iPad to your PC through the USB port.
If you wish to easily transfer data between two iOS devices, you will need to connect both through two USB ports simultaneously.
Then, in the program, you would be required to choose the type of transfer that you wish to initiate.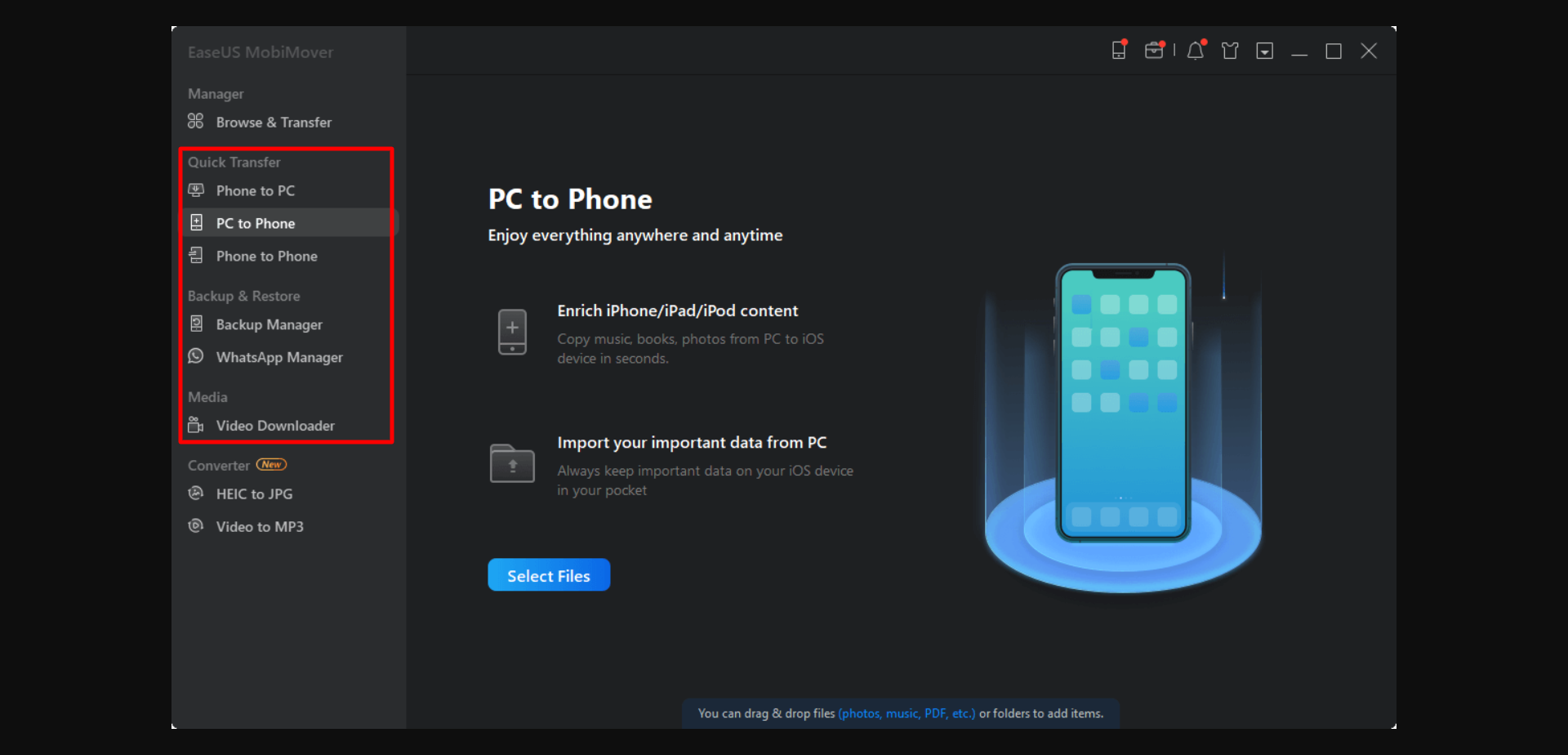 Choose transfer from This Device to the file or folder you wish to transfer from Windows.
Then choose a transfer to a computer or other devices to choose from the type of files/folders you wish to transfer to your iPhone or iPad.
You also have the choice to choose Custom Transfer. This will allow you to customize your file transfer and easily choose the exact file you wish to transfer to your device.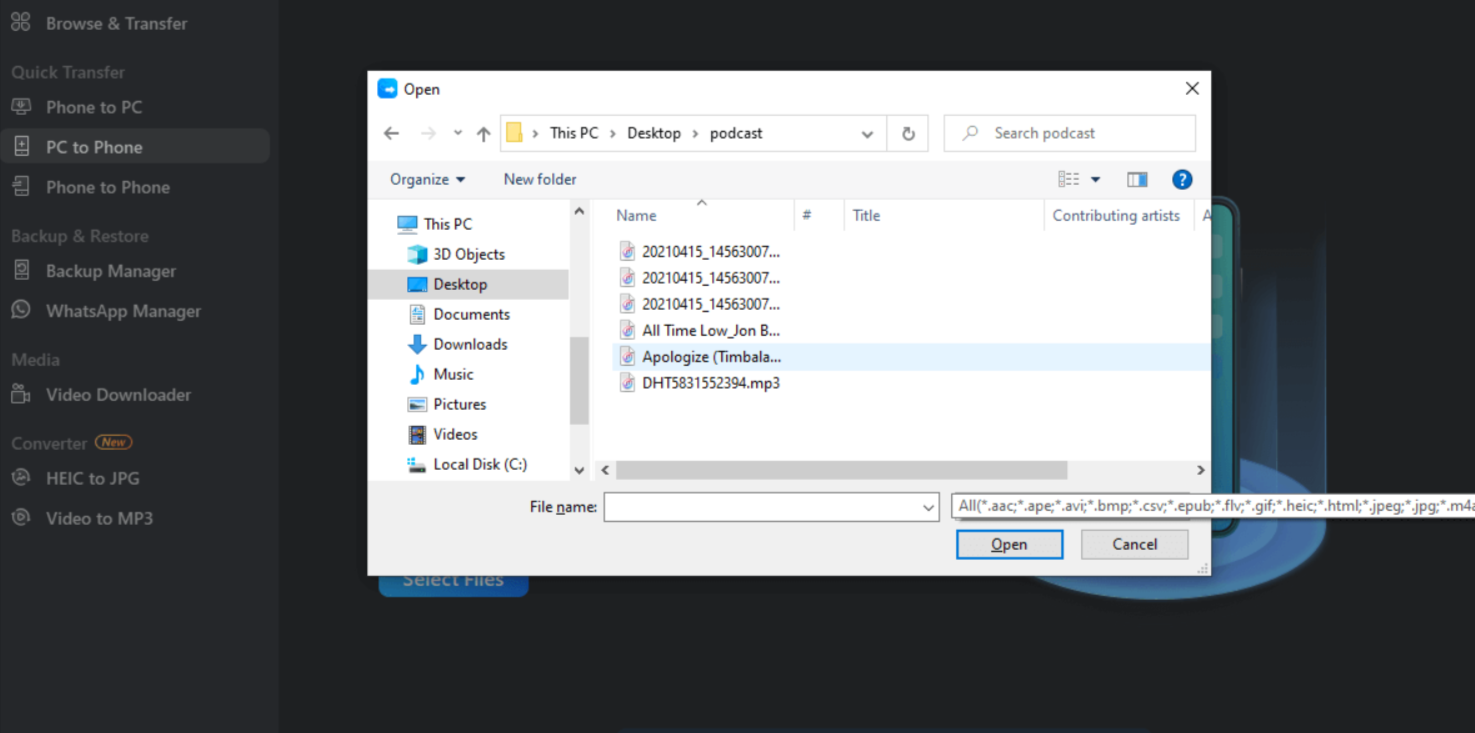 This is a great option as it helps you organize all the files on your device and choose the file types before choosing the destination of their transfer.
After selecting the data you want to transfer from your iOS device, choose the icons at the right and decide if you are transferring them to another PC or phone.
Using this method, you can easily make batches and transfer various files to different devices simultaneously. MobiMover has a very easy-to-use and great User interface that makes transferring files a very easy task.
When you transfer files on a device, they appear in their respective apps, but when you transfer the files from your device to the computer, you can easily select where you want the destination of files.
MobiMover is not just for transferring data files but also a great tool for organizing your files.
If your iPhone or iPad's screen looks very cramped, then you can just use MobiMover to clearly view all the files on your phone and select as well as delete the ones that you don't require. It will help you free your device space.
Note: Though you require iTunes to transfer the files, some specific files, like books, calendars, notes, etc. require you to deactivate iCloud on the device to start transferring files.
EaseUs MobiMover Pricing
As I mentioned in my MobiMover review, the software has both Windows and Mac tools.  It offers different licenses for Windows and Mac users. Here is the plethora of options available.
For Windows: 
You can use MobiMover on three computers at once with one license.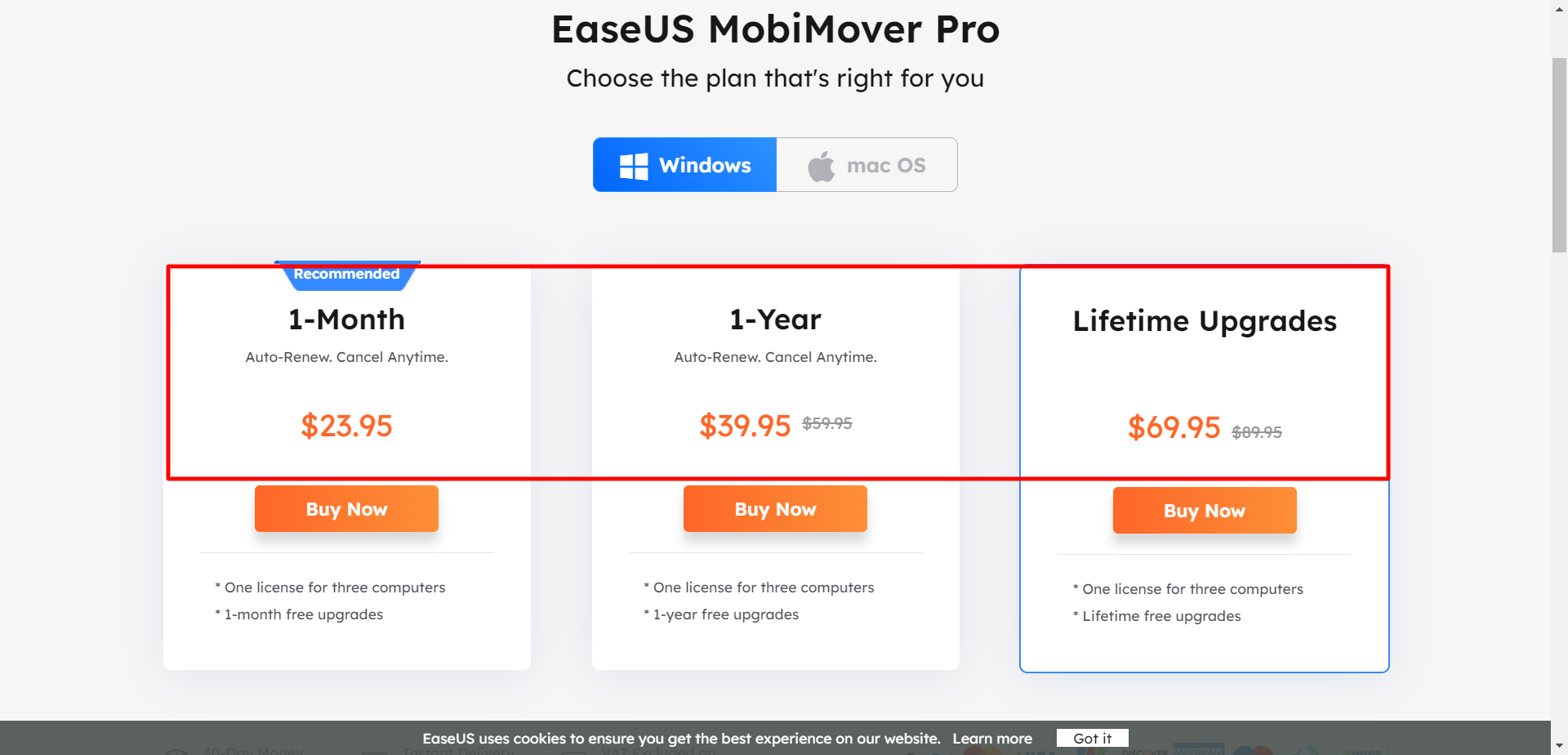 All subscriptions include free upgrades during the subscription period.
1-Month Subscription: $23.95
1-Year Subscription: $29.95
Lifetime License: $69.95
For Mac:
Just like PC, one Mac license covers three computers.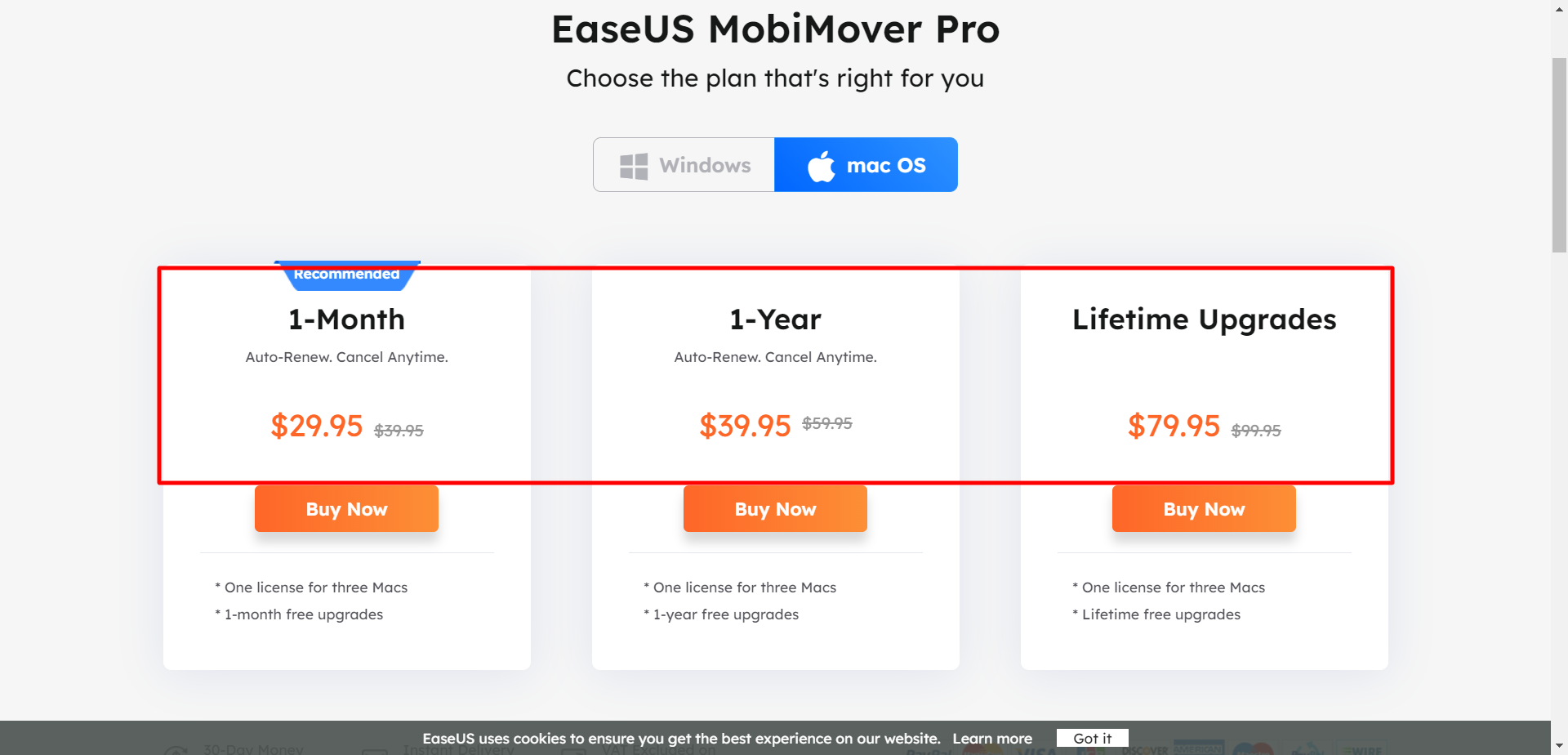 Free upgrades are also included for the subscription duration.
1-Month Subscription: $29.95
1-Year Subscription: $39.95
Lifetime Subscription: $79.95
Both PC Windows and Mac plans come with a 30-day money-back guarantee. And there's also a free version available, but it comes with limited data you can do.
Customer Support 
The customer support provided by EaseUS for MobiMover is truly exceptional.
If you encounter any issues, simply head to the EaseUS Support Center, which covers assistance for all their products. When asking for help with MobiMover, you'll discover a wealth of resources, including informative video tutorials, a comprehensive FAQ section, enlightening software articles, and round-the-clock live chat support (available post-subscription purchase).
The EaseUS support center ensures users receive the assistance required to maximize their MobiMover experience.
FAQs on MobiMover Review
Is EaseUS MobiMover an app?
Yes, EaseUS MobiMover is indeed an application. It's a user-friendly software designed to facilitate seamless data transfer and management between iOS devices and computers.
Is EaseUS MobiMover free?
EaseUS MobiMover is free to use, but the free version has some limits. You can only move 20 files each day. You can move files between your computer and phone and between two phones. It helps you organize your iPhone files and create backups too.
Does EaseUS MobiMover require iTunes?
EaseUS MobiMover needs iTunes installed to transfer files, but not in the usual way. However, Mobimover uses iTunes's interface and drivers to transfer files. So, you must have the latest iTunes on your computer for EaseUS MobiMover to work properly.
EaseUS MobiMover Review Wrapping Up
As mentioned in my EaseUS MobiMover Review, it is the most powerful and effective software I have encountered. It is 100% safe and provides great support to users.
EaseUS MobiMover is, without a doubt, the best data transfer software available for iOS devices, and it is also free, making it worth trying! Based on my observation, this secure iPhone data manager empowers users to manage their data efficiently. It enables you to seamlessly transfer, back up, and restore your data, simplifying the entire process.
On AffiliateBay, my team has reviewed other content management tools for Apple devices like Backuptrans, AnyTrans, and Wondershare. Here's your special purchase button for Mobimover.