In this article we have featured WordPress Statistics For 2023. WordPress has undoubtedly gone a long way since it was initially introduced in 2003, and the WordPress statistics that assist to characterise this powerful software tool have also progressed significantly since then.
WordPress, the world's most popular and frequently used content management system, today powers 43.3% of all websites on the internet, yet few people outside of the WordPress user community are familiar with the story of how it got its start in the first place.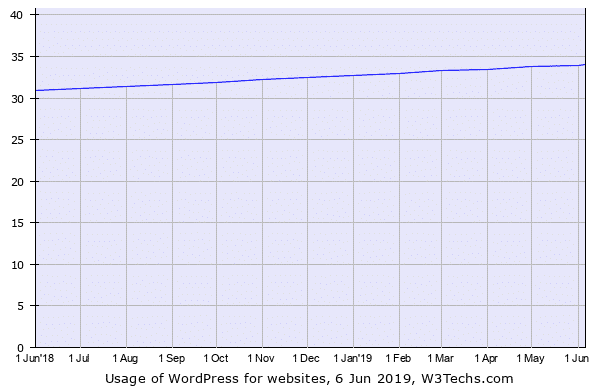 The WordPress Statistics [By Year]
Websites powered by WordPress account for 34% of all websites on the internet, making it the most popular content management system in the world. In addition to that:
WordPress has a market share of 60.8% in the content management system (CMS) market.
WordPress is used by 14.7% of the world's most visited websites.
WordPress is used to build about 500 sites every day, whereas just 60-80 sites per day are developed utilizing platforms such as Shopify and Squarespace.
The WordPress Plugin Directory now has more than 55,000 plugins.
Approximately 22% of the top 1 million ecommerce websites in the world are powered by WooCommerce.
WordPress was originally established and developed by Matt Mullenweg and Mike Little, who were prompted to take action after the makers of the existing blog software b2/cafelog decided to terminate their work on it.
Mullenweg and Little agreed that a more elegant personal publishing system was required, and they set out to create one together.
The initial version of WordPress was based on the open source project b2/cafelog; however, both Mullenweg and Little, as well as many other open source contributors, have subsequently made major improvements to the software, distinguishing it as distinct from b2/cafelog.
WordPress is based on PHP and MySQL and is licensed under the GNU General Public License version 2, which implies that anybody can use and change it without restriction.
WordPress is estimated to have taken 151 people years to develop, at a cost of more than $8 million. The whole collaborative effort behind building WordPress is estimated to have taken 151 individuals years to develop.
WordPress Statistics Interesting Facts
WordPress is used by 35% of the internet population.
Even though it may seem unbelievable, WordPress.com and Netcraft estimate that the content management system previously considered obscure now powers more than 35% of the web. Its remarkable versatility, which allows it to be used anywhere from small personal blogs to small company websites to powering Fortune 500 companies like as Sony Music and the Forbes blog, is the driving force behind its success.
When you consider that the total number of active websites is believed to be over 1.3 billion, this means that over 455,000,000 websites are currently running WordPress.
Each month, users create 70 million new posts and 77 million new comments on social media sites.
Over 2,333,333 new posts are made every day, 97,222 new posts are made every hour, and 1,620 new posts are made every single minute! In light of the fact that the typical post is approximately 300 words in length, we are talking about nearly half a million words being produced per minute on WordPress. (source)
WordPress is searched for 2,940,000 times per month, according to Google.
We know that the keyword "WordPress" is searched 2,940,000 times every month by people all around the world, according to data from KWFinder, a reputable keyword-analysis tool. You can readily envision how much higher the overall search volume would be if we included all relevant long-tail keywords in our analysis of total search traffic.
WordPress dominates Google's search engine results page (SERP) with 2.28 billion results.
Yes, there are more than two and a quarter billion WordPress-related search results on Google, according to Google Trends. As a point of contrast, the search term "sex" returns 5.11 billion results, which isn't all that much more when you think about it.
WordPress is available in a total of 196 different languages.
A brief peek at the WordPress translation website reveals that there are 196 locales, with 40 of those being completely translated. There are a total of 196 locations that are available. We're curious as to how long it will take before WordPress is available in practically every language on the face of the planet.
WordPress receives more traffic than Twitter.
WordPress receives 163 million unique visitors every month, which is more than twice the number of visitors received by Twitter, which receives "only" 156 million unique visitors per month, according to Automattic.
WordPress has 501 times less employees than Amazon, according to the company.
WordPress has accomplished incredible things with only 1,148 people, which is pretty remarkable. Even more impressive is the fact that these personnel are dispersed throughout the world and are able to fulfill their tasks entirely from their homes.
Only about a third of all WordPress installations have been updated to the most recent version.
However, despite the fact that WordPress aggressively encourages its users to upgrade to the most recent version, only 23% of users have taken the initiative. Version 5.2 is still in use by more than 27% of the population. User's security and personal information are put at danger by those who are hesitant to make the necessary upgrades to their websites. if this describes you, we recommend that you read our WordPress security guide.
Since 2011, the number of people who use WordPress has climbed by an average of 12 % per year.
Since January 2011, W3Techs has been tracking the use of WordPress and other content management systems, including Joomla and Drupal. WordPress was utilised by 13.1% of the websites that were online in 2011. Since then, the average annual growth rate of WordPress usage has been 12 %, bringing the total to 43.2% in 2022, according to StatCounter.
WordPress is the content management system of choice for 65.2% of all websites that utilise one. 
WordPress is utilised by 65.2% of all websites that employ a content management system, which is a significant market share. Shopify, the second most popular content management system, has a market share of 6.6%. On the following three spots are Wix (2.8% market share), Squarespace (2.7% market share), and Joomla (2.6% market share).
Quick Links:
The Current State of WordPress: A Comprehensive Analysis
WordPress has evolved at a breakneck pace during the previous two decades. WordPress has grown in terms of users, plugins, themes, and security issues since it transitioned from a blogging platform to a highly expandable content management system (CMS). The statistics presented above can assist you in staying up to date on the current state of WordPress — as well as suggesting how it might develop in the future.