In this post, we are going to talk about the Best Anonymous Blogging Platforms.
Blogging is a terrific way for writers to communicate their opinions, beliefs, and thoughts, and its popularity has exploded since the creation of the Internet.
Despite your want to express yourself, there are moments when you would like to remain anonymous.
Recently, we've witnessed a significant division of political viewpoints and the emergence of a cancel culture, which means that anyone who so much as slightly disagrees with you will come for your head or the digital equivalent.
There is a risk that your public blog articles will have a serious impact on your private life.
In terms of publishing sensitive thoughts, social media platforms like Facebook and Twitter have grown unpopular among bloggers who desire to stay anonymous.
There are ways to blog anonymously, whether your beliefs are contentious or you're simply uncomfortable revealing yourself as the author of your post.
There are numerous benefits to selecting this option, including the knowledge that you will never be personally targeted for the content you share.
I have created a list of the top 10 anonymous blogging platforms that you can use to start blogging anonymously.
10 Best Anonymous Blogging Platforms
Here's the list of the 10 best anonymous blogging platforms.
Write.as is designed for individuals who want to blog anonymously without the trouble of registration. This 2015-launched blog describes itself as a minimalist writing platform with an emphasis on privacy.
Initially, they developed tools and services that enabled anyone to publish their work online while maintaining their privacy. The purpose of each of their products is to remain out of your way so that you are free to create.
To begin blogging on this website, simply click "write something" on the homepage. When finished, click the "publish" icon. Indeed, it is that easy.
By default, Write.as will make you an anonymous user. You have the opportunity to change this and establish a real username.
If you change your username to Mark, the URL for your blog will become write.as/mark, and all of your written content will be shown in chronological order.

The ultimate goal of this blog and the company's raison d'être is to protect Internet privacy, which has become increasingly difficult to find in recent years.
Since the site's inception, hundreds of thousands of individuals have utilized it for anonymous blogging. 
In their own words: "In the end, we want to use the Internet as a tool to disseminate empathy throughout the world; to help people share their stories so that we may all have a better understanding of one another."
Write.as provides three different payment plans: core, pro, and team. The core option is the fundamental, free option that everyone is permitted to utilize.
The pro option grants you a permanent, customized online presence.
You can select custom templates, newsletters, and photo hosting, and you can maintain three distinct blogs. The team option enables you to collect submissions, collaborate on them, and publish them to a shared publication.
It includes shared blogs, team management, and all pro option features.
This website has its own following (which you can join via various social media) and you may follow writers on the site.
You can post anonymously or under multiple aliases, as the service does not track your activity.
The main disadvantages of this website are that the text formatting functions are quite rudimentary and you cannot submit movies, photos, or other files (in the free version).
Telegra.ph was launched in 2016 by the same company as the anonymous messaging software Telegram (mind the pattern). The website does not require registration or login with social networking accounts.
It has a Medium-like interface and allows you to embed images from your computer.
Once you click "Publish," your writing is published immediately, and the posts can be shared on social media (although, that kind of beats the whole point of anonymous blogging).
The simplicity of this site does not come without drawbacks, however. In the absence of user history, you will lose track of your published post if you lose the link.
You must maintain the URL to your post after publishing it (if you want to check up on it and read the comments).

The nature of anonymity will also allow online trolls and abusers to take advantage of this, which has been a concern for digital companies since the inception of social media.
Telegraph lets search engines index the content of posts, which diminishes anonymity considerably.
Telegram, the anonymous messaging application, has reportedly been utilized frequently by terrorist organizations, including ISIS. Thus, both Telegram and Telegra.ph is on the NSA's radar.
This solution has numerous advantages, including the ability to upload images, short URLs, a secure connection, and an attractive design.
Txt.fyi is the most realistic website on the list. This is an exact quotation from its description: "Welcome to the most incompetent web-based publishing platform."
This is a straightforward text editor that publishes your pages as static posts. It is driven by WordPress. The website is highly quick, lightweight, and has a throwback 1980s design.
It's quite simple, it's a side project for a coder and writer, not a business, so he has no financial incentive in finding a method to make money off you, there's an explicit declaration that the blog is as tracker-free as possible, and the connection is encrypted.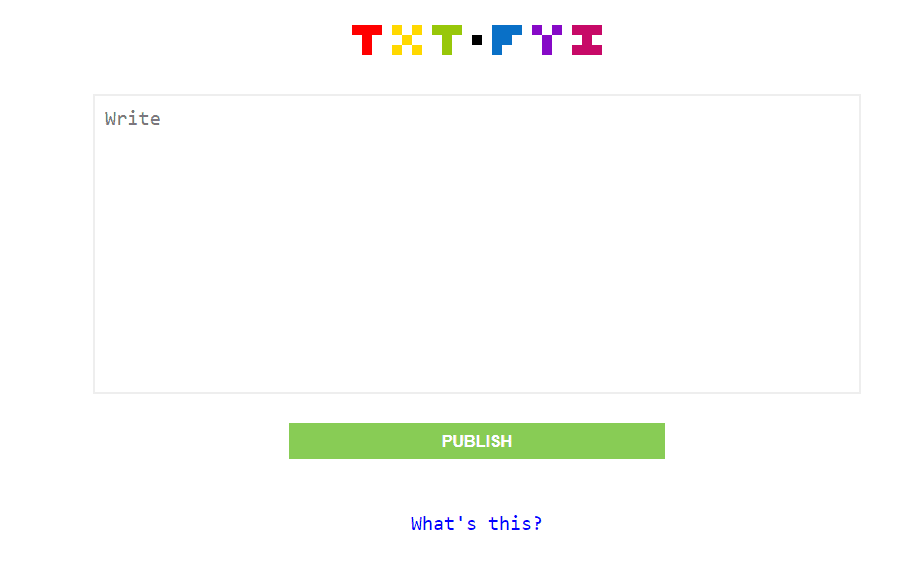 There are a couple of disadvantages: in order for others to view your post, you must tell them the URL, and you cannot submit photographs.
There is no monitoring, advertising technology, web fonts, analytics, javascript, cookies, databases, user accounts, comments, friending, likes, or follower counts. Practically, the only way for anyone to discover a posting is if the author links to it elsewhere.
Search engines have been directed not to index postings, thus you will be unable to locate a post without a link.
The ability to publish images and videos distinguishes Notepin from other blogs on this list as the blog's primary advantage. When working with Notepin, you choose a username that is included in your URL.
You can write whatever you want and include images when making. Technically, Notepin allows you to upload any file, however, any files that are not photos will appear as placeholder text.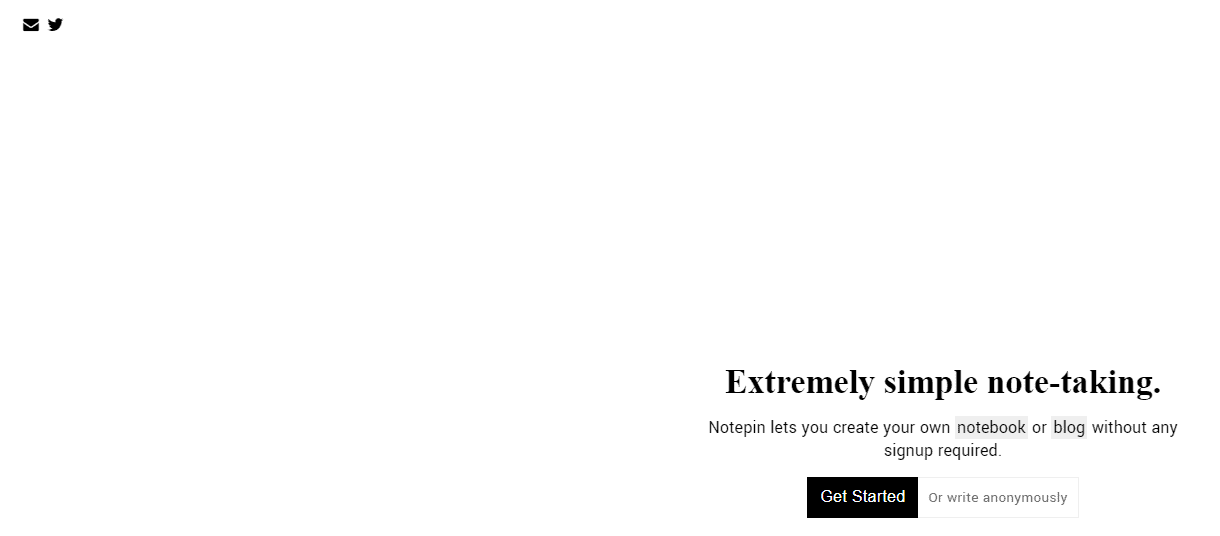 There are two payment options for Notepin: pro and blogging. Pro, which costs $11 per year, enables you to upload images, customize your blog with seven different themes, play background ambient sounds to help you focus on writing, provide a speed reader that can read 300 words per minute, toggle between night and day mode, and receive updates on Notepin's new features.
The blogging option, $29 per year, includes everything the pro option does, plus it adds email subscriptions to your blog, lets you connect your own custom domain with SSL support, integrates Google Analytics to track your blog's traffic, customizes your SEO, lets you create private posts, removes Notepin branding, and provides password protection.
5. David Partson's Excrypted Page Maker
This one is relatively unidentified, as it literally has no name and we know very little about it. It also encrypts and hides behind a password anything you write.
However, as it is the creator's side project, we cannot be certain that his encryption is totally secure.
A further disadvantage is that the URLs are so lengthy that users will almost probably need to utilize a URL shortener prior to dissemination, which will introduce a new tracking method.
6. Lyfster
Lyfster is an app that may be downloaded immediately to alleviate this burden. Unlike Vent (which we'll examine next), Lyfster's user interface does not emphasize emotional support, allowing you to effortlessly discuss any topic without seeking comfort.
You have the option to publish anonymously or with a username, and you can create your writings purely in text format or include media such as photographs.
In terms of functionality, the app functions quite similarly to Vent; other users can search your uploaded content.
Even while Lyfster appears to be taking a step back from confessional content, it appears that the app's community rejects this notion. Most individuals who express heartbreaks receive a great deal of emotional support.
Lyfster insists on advertising itself as an anonymous posting platform, however, the majority of confessional content is still posted by the community.
7. Vent
Vent is primarily used for, well, venting. Vent, which was created in 2014, has allowed users to vent their concerns and doubts for almost five years.
Vent's offer for confessional content is "Get it off your chest," but here you can do so anonymously (although it does ask for your email, that information stays only with the app).
The vent is an amazing mobile phone application since it allows you to communicate your opinions on the fly. It is accessible for both Android and iOS platforms.
The software lets users to search for a keyword, which increases the visibility of your posts to a larger audience. This reinforces the notion that you receive the necessary assistance from others who are genuinely interested in whatever is troubling you.
The application will demand an email address for verification, but this will only be available to you, and you can set your username to anything you wish.
Vent makes it easy for your audience to search and find your content, lets people to connect and communicate, and does not appear in Google search results.
It also allows you to post from your mobile phone while on the road. Vent's only real downside is that it requires email verification.
8. Anonymous WordPress Blogging
Well, just in case you were unaware, WordPress offers the ability to blog anonymously.
To give credit where credit is due, all the apps and websites we've just discussed deserve their due, but WordPress is the only blogging platform that even comes close to competing.
WordPress allows you to remain anonymous as an author while yet having your posts appear in search engine results.
You can enjoy all the benefits of a standard WordPress blog while maintaining your anonymity, but you will need to take a few additional steps.

First, you must create a WordPress account with a temporary email address; do not use Gmail. After that, you must purchase a domain and a web host.
When doing so, employ a proxy and (I cannot emphasize this enough) pay using cryptocurrencies. No one will be able to trace the site back to you in this manner.
When you make a purchase while identifying yourself, anyone can trace it back to you. Because WordPress posts are indexed by search engines, even if your site is anonymous, its posts will still be visible in searches.
9. Vigyaa
Vigyaa asserts to be the only platform that offers complete anonymity, with no login required and no IP tracing.
It was envisioned as a place where anyone who desires to communicate their thoughts, concerns, emotions, ideas, experiences, and more can do so without fear of being judged or stigmatized.
The developers believe that by establishing an anonymous platform, communication hurdles and stigmas can be overcome. A website is a safe zone where everyone can openly express their thoughts and feelings.
The servers of Vigyaa simply keep the article's URL, titles, and IDs in the browser's local storage; they do not store any personally identifiable information.
No login is necessary.
The website offers a reply feature and a feature that allows you to follow a post. Thus, the users have greater control over the posts that interest them. This was made in the spirit of sharing freely and reading others' accounts.
The website urges expressly that you do not "reveal any personal information in order to safeguard your identity and ensure that your posts do not reflect any hatred against a particular individual or social group."
We anticipate that our users' posts will be courteous and considerate. Regular moderation of the posts will be performed to guarantee compliance with the requirements.
If you find the postings on Vigyaa.io to be enlightening and would like to share them on other platforms, please use the share link and refrain from copying and pasting."
The website's primary objective is to assist individuals in overcoming mental health concerns such as depression, anxiety, and other overlooked conditions.
In addition, there is a portion of the blog devoted to anonymous confessions, narcissistic abuse, and societal injustice. The blog also features a helpline with a wealth of guidance for anyone in need.
10. Ghost
Like WordPress, Ghost is not advertised primarily as an anonymous blogging platform. Ghost provides some of the most powerful privacy protections among the blogging systems on this list.
Bloggers who wish to apply all the standard features that make their blog discoverable (custom themes, SEO optimization, easy monetization, etc.) should consider Ghost.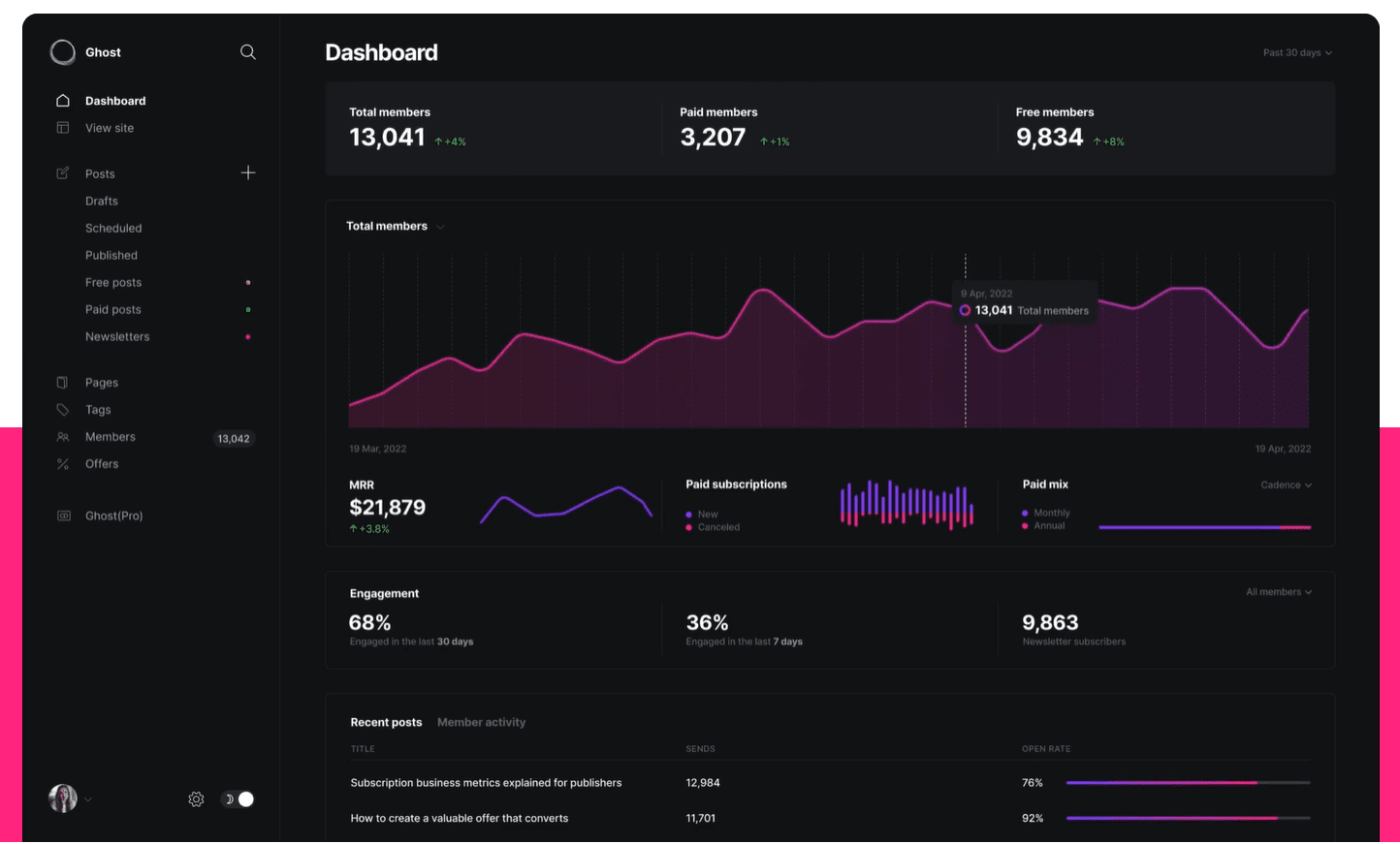 In 2019, Ghost required SSL for all new installations. User login attempts and password reset requests are capped at five per IP per hour.
All user invitation and password reset tokens are encoded with a server-side secret using base64 encoding. Tokens are always single-use and perishable.
Quick Links:
Conclusion: Best Anonymous Blogging Platforms 2023
As a blogger, it can be difficult to maintain true anonymity. However, the platforms in this article provide very high levels of anonymity for bloggers.
It is crucial to note, however, that the Internet is a rabbit hole that is difficult to fully investigate and may be impossible to traverse without leaving a trace.
When embarking on this journey, you should do everything in your power to protect yourself from those who would object to your message.