I'm sure you might have thought about getting the Datacamp alternatives once in your life. DataCamp has great instructors, and they make learning online easy peasy. It has a vast library of courses, but there is a major drawback.
But you might want to look for other options because of the pricing. Also, the free account doesn't give you much – just a sneak peek at the first parts of the classes.
Plus, the regular price starts at $12.42 a month, but you must pay for a whole year! Though there are some Datacamp discounts, you might still feel burdened sometimes.
In this article, I have shared the best Datacamp alternatives and the features of each. Also, see if these courses fit within your budget.
What is DataCamp?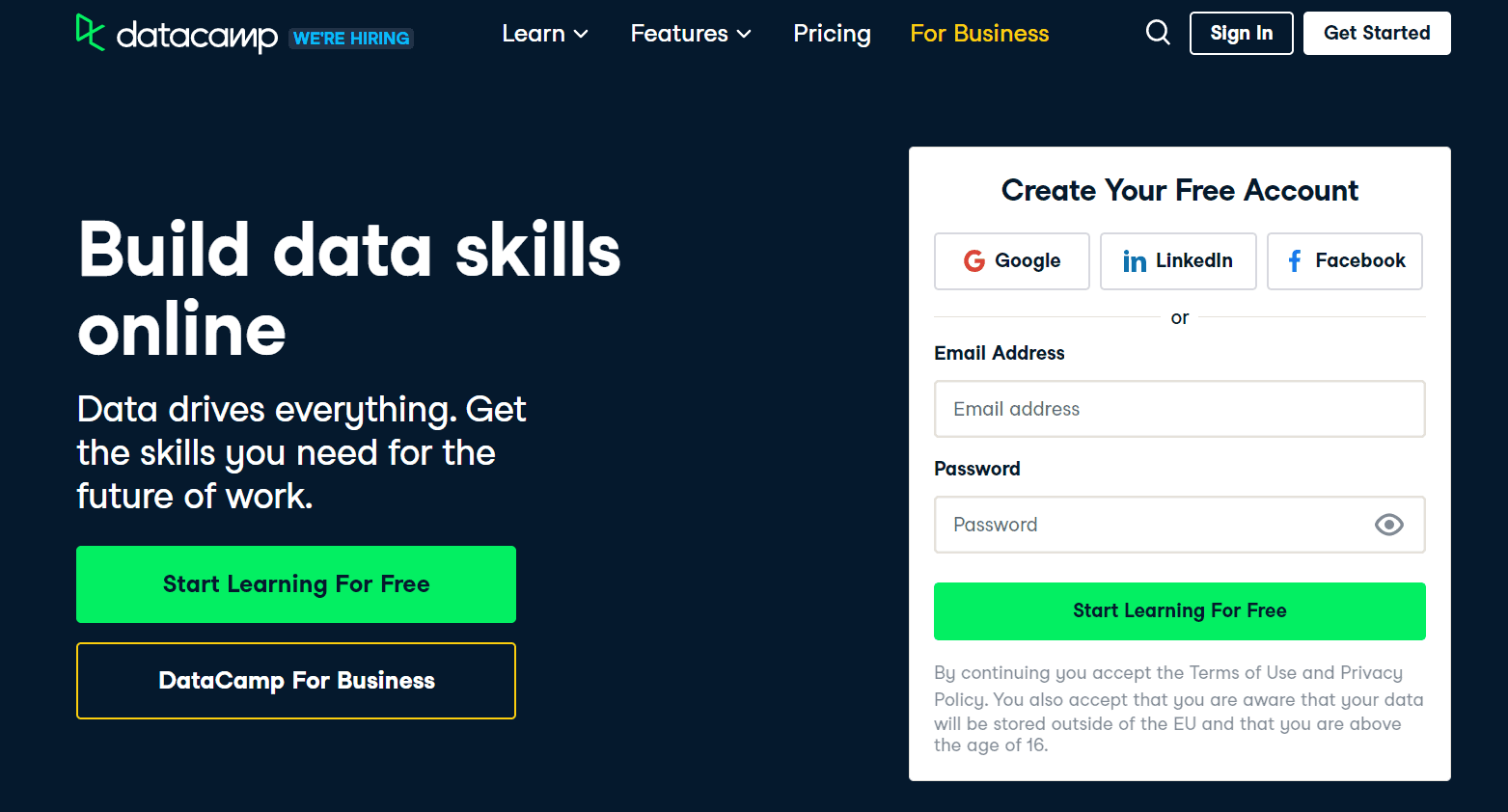 DataCamp is an online interactive programming course platform specifically for data scientists. The course provider has a massive library of data science and technical courses.
These courses include Python, R, and SQL, covering topics like Machine Learning, Data Visualization with Matplotlib, and Data Manipulation with pandas. One thing that makes it worth picking is the course quality. They are nicely put together and follow a structure, which is why customers often give it good reviews.
I have written a complete Datacamp review for better understanding.
But, yes the cost is a concern which is why I have shared this long list of Datacamp alternatives. 
8 Best Datacamp Alternatives 
Here is a list of my best alternatives to Datacamp:
Coursera
Udacity
Codecademy
Dataquest
Udemy
Pluralsight
edX
1. Coursera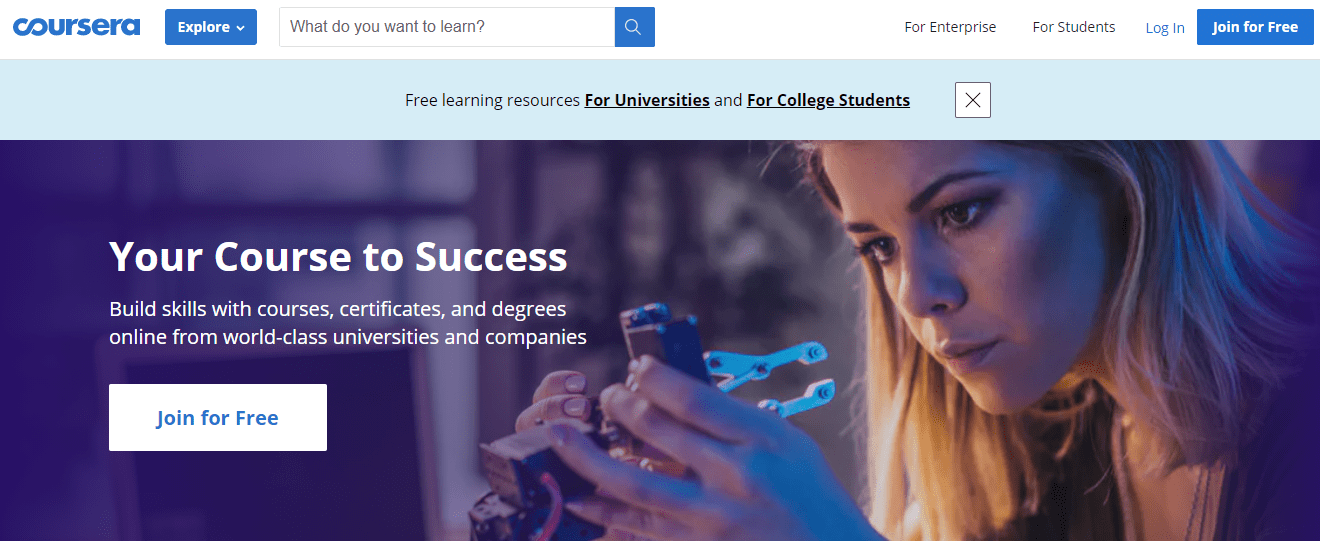 When looking for alternatives to DataCamp, Coursera stands out as a top choice. While it's not the same, Coursera is a big player in online learning. It's famous for partnering with big names like Stanford and Google to create courses.
Coursera has an extensive catalog of over 7000 courses covering various subjects, from psychology to programming.
In comparison, DataCamp focuses on a more limited set of topics. When it comes to data science, Coursera can compete with DataCamp. It offers highly-rated programs like the IBM Data Science Professional Certificate and Google Data Analytics Professional Certificate, similar to DataCamp's career and skill tracks. Both Coursera and DataCamp offer free content, but there are differences.
Coursera provides complete courses for free, whereas DataCamp offers only the first chapters of its courses without charge. Coursera has various learning formats, and its pricing depends on your chosen program.
If you're exploring alternatives to DataCamp, Coursera is a strong contender to consider.
Coursera Pricing:
Coursera has a unique pricing structure. Unlike DataCamp, where you pay for a subscription to access all its content, Coursera's pricing is based on individual courses, and the cost can vary from one course to another.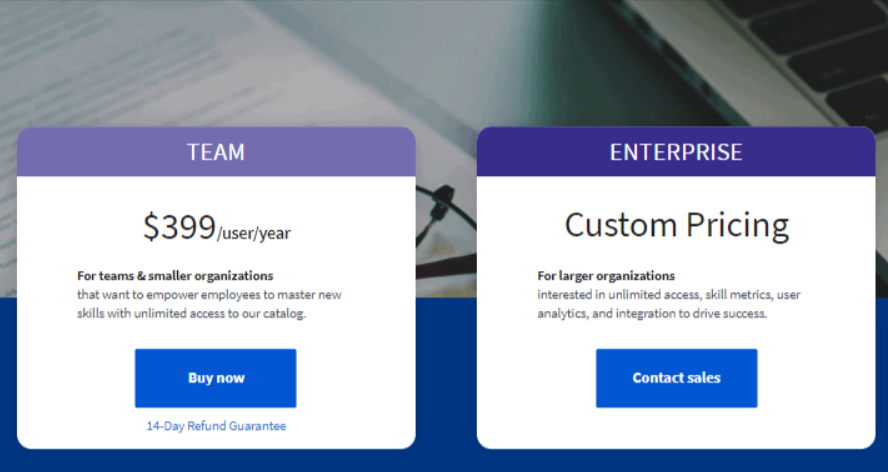 For businesses and teams looking to use Coursera, they offer special pricing plans to help save on individual course costs. These plans are:
Team Plan: Priced at $399 per user per year.
Enterprise Plan: Custom pricing, which means the cost depends on the specific needs and size of the enterprise.
Also read:
Datacamp vs Coursera
2. Udacity

Another alternative to DataCamp is Udacity, a tech-focused e-learning platform. While Udacity's major emphasis is on software development, it also offers programs covering marketing and business-related topics.
Udacity provides learning opportunities in Data Science, Data Analysis, Machine Learning, and related subjects within its tech-focused programs. Udacity's programs are often more intensive and longer in duration compared to DataCamp's courses.
In terms of subject diversity, Udacity offers a wider range of topics compared to DataCamp, which has a more specific focus on data-related subjects. However, one key difference is the cost.
Udacity Pricing
When it comes to pricing, Udacity offers flexibility in payment options. You can pay as you go every month or opt to pay for four months in advance.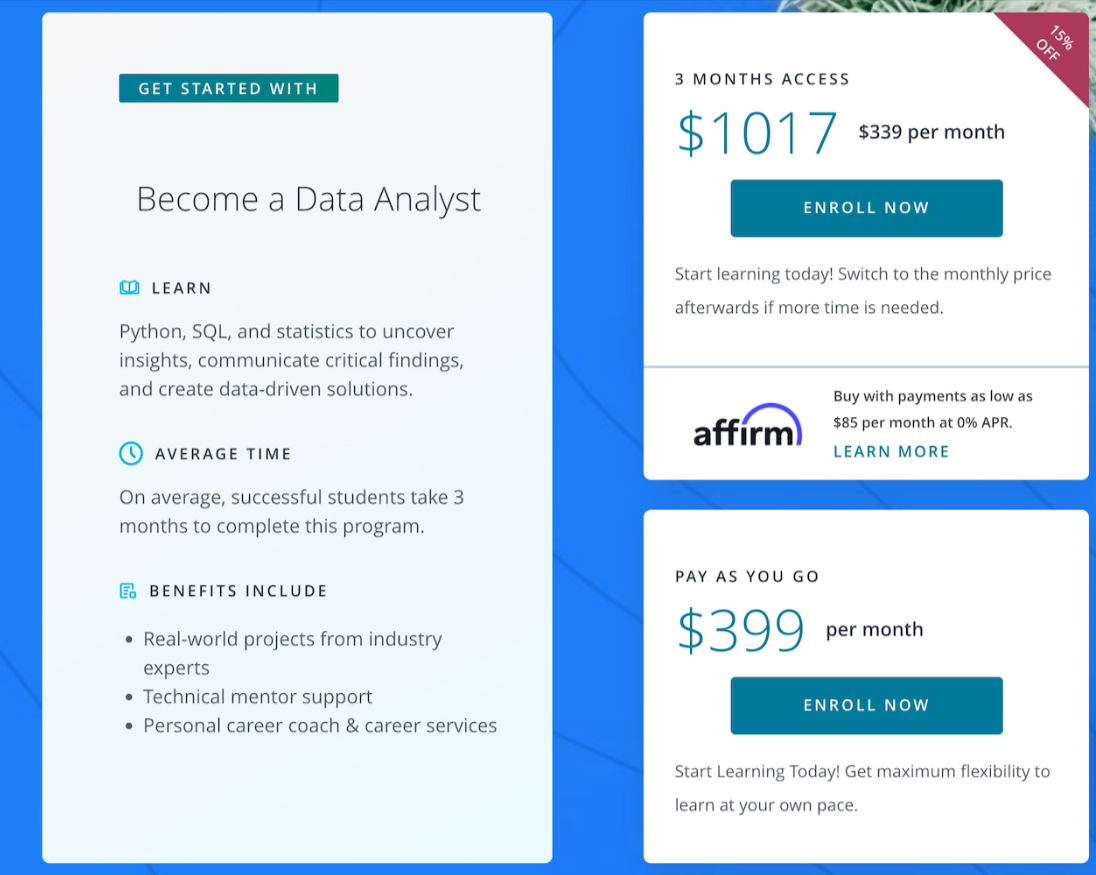 Udacity tends to be pricier, for example, its Data Analyst program costs $1436 for a 4-month duration. But, in return, Udacity offers additional benefits such as technical mentorship and career coaching.
3. Codecademy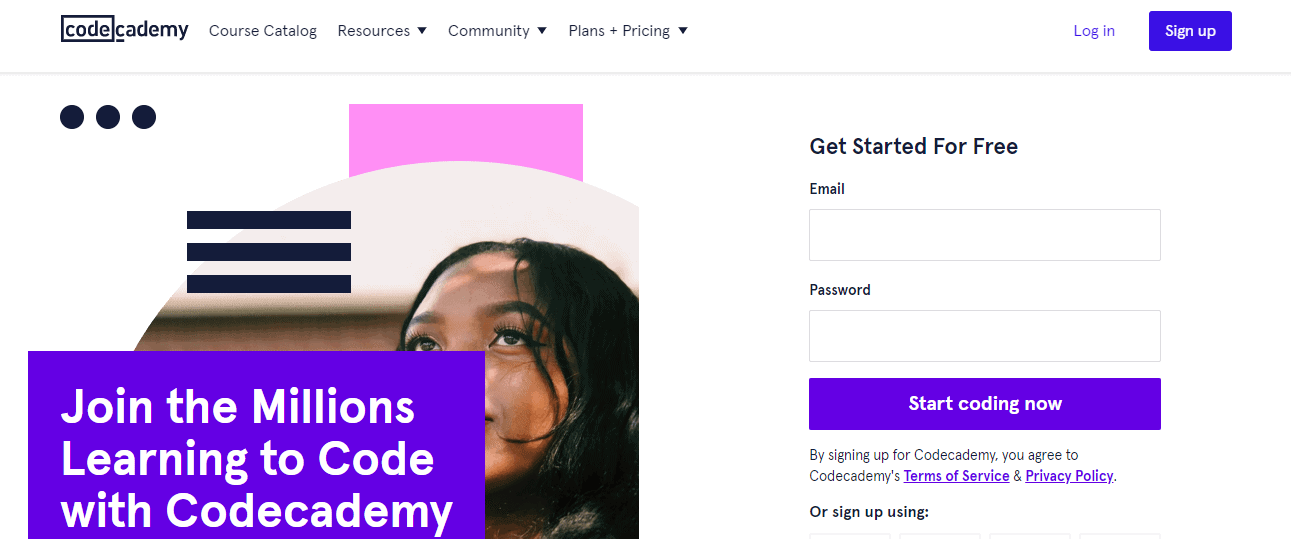 Codecademy offers a broader range of courses compared to DataCamp. They cover popular programming languages like Python, JavaScript, and Java, whereas DataCamp primarily focuses on R and Python. DataCamp's primary focus is on teaching data-related skills. In contrast, Codecademy has no specific focus, making it a versatile choice for learners interested in various programming languages and topics.
Both Codecademy and DataCamp provide various learning options, including shorter courses and longer programs, making it suitable for learners at different levels.
They both offer user-friendly interfaces for coding, making it easy for beginners to get started. In the context of data science, Codecademy's data science course covers data analysis with Python, R, SQL, and data visualization.
Codecademy Pricing
Codecademy offers a variety of pricing plans to cater to different types of learners and organizations. These plans include:
Codecademy Basic: This plan is free and provides access to basic courses.
Codecademy Pro For Students: Priced at $149.99 per year, this plan is designed for students and provides full access to the platform.
Codecademy Pro For Individuals: This plan costs $19.99 per month, but if you opt for an annual payment, it reduces to $15.99 monthly. It is suitable for learners who want to access more content and features.
Codecademy For Teams: This plan offers custom pricing and is designed for organizations and teams, providing a tailored solution to their learning needs.
4. Dataquest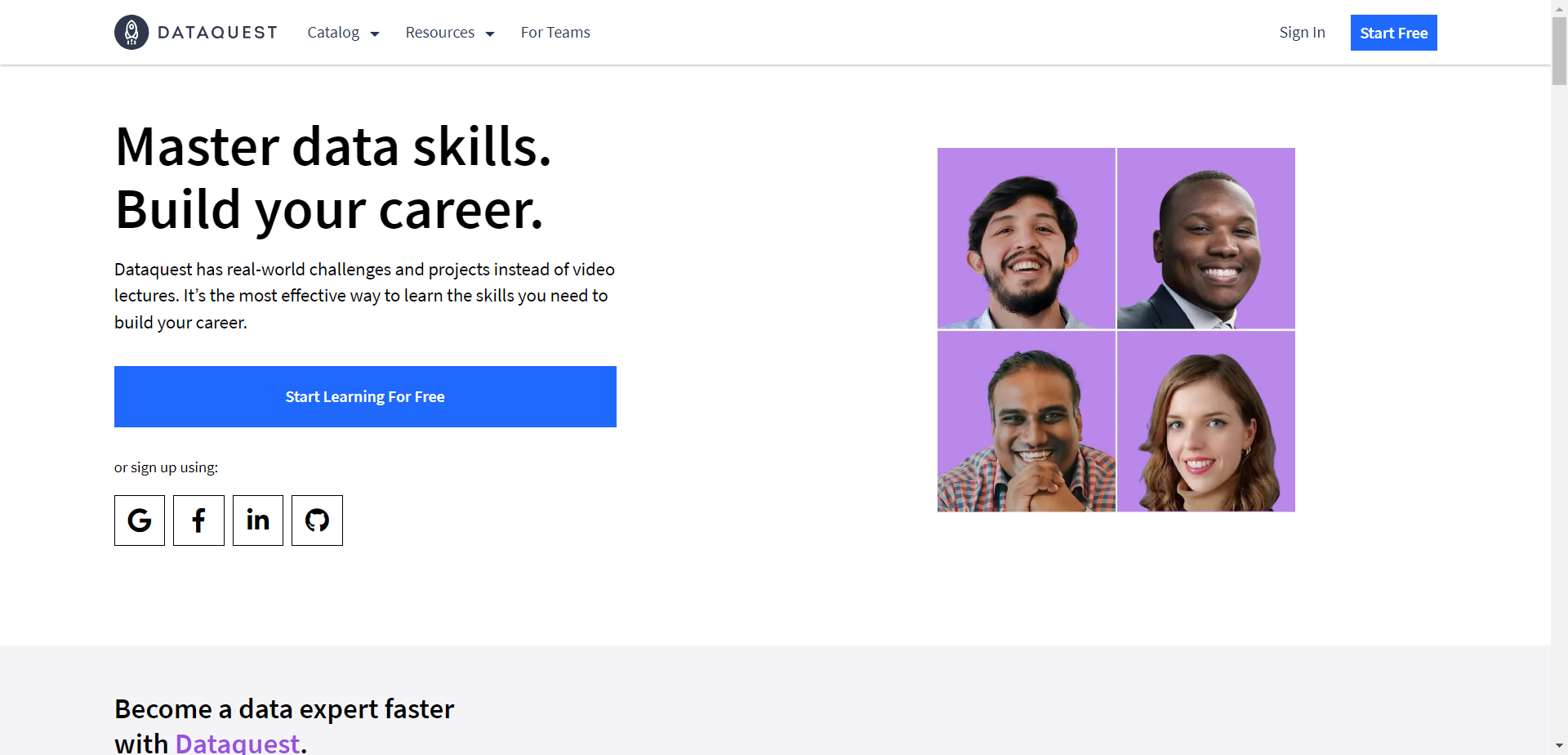 Dataquest is one of the affordable and comprehensive alternatives to DataCamp, offering similar solutions for data-related learning. Both platforms cover essential subjects for working with data, such as Python, R, and SQL. They share common learning formats, including single courses, career, and skill tracks.
DataCamp offers a more extensive selection of courses, with over 360 compared to Dataquest's approximately 70. Both platforms provide coding challenges and project-based training to enhance hands-on learning. The interface for coding practice is quite similar between the two platforms, although Dataquest may have more issues with bugs in its interface.
One key similarity between Dataquest and DataCamp is their self-guided learning approach, which allows learners to progress at their own pace. As you advance through the courses, you can build a portfolio by completing data projects.
Another thing worth noticing is Dataquest's teaching style differs from DataCamp. DataCamp includes instructor video lectures, while Dataquest opts for an interactive approach, where concepts are presented in a hands-on, self-guided format. This could be an important factor for learners who prefer learning through hands-on practice rather than traditional video lectures.
Dataquest Pricing:

Dataquest offers four distinct pricing plans to cater to a variety of learners and teams:
Free Plan: This plan is free, making it accessible for those who want to explore the platform and its content without any financial commitment.
Premium Annual Plan: Priced at $33.25 per month, this plan is billed annually. It offers full access to Dataquest's premium content for a yearly subscription.
Premium Monthly Plan: This plan is available at $49.00 per month for those who prefer monthly billing. It provides the same premium content as the annual plan but with a monthly payment option.
Teams Plan: Dataquest also offers custom pricing for teams and organizations. The pricing for this plan is tailored to the specific needs and size of the team, providing a flexible solution for group learning.
These pricing options make Dataquest accessible to many learners, from those on a tight budget to individuals and organizations looking for premium data-related learning resources.
5. Udemy

Udemy has emerged as a popular online learning platform with a vast student community of over 40 million individuals. It's a versatile platform that offers courses on various subjects, making it a go-to choice for many learners.
Among the most sought-after courses on Udemy are Python programming courses, with a staggering enrollment of more than 30 million students. Udemy is another favorite destination for aspiring data scientists, offering a flexible learning experience where students can learn at their own pace.
One of Udemy's main advantages over DataCamp is the availability of free courses.
Udemy hosts many free data science-related courses, making it accessible to a wide range of learners, including those on a tight budget.
Udemy Pricing
Udemy's pricing model is course-based rather than subscription-based, meaning you only pay for the specific courses you want to learn. This flexibility ensures learners can choose and pay for courses according to their interests and learning needs rather than committing to a subscription.
6. Pluralsight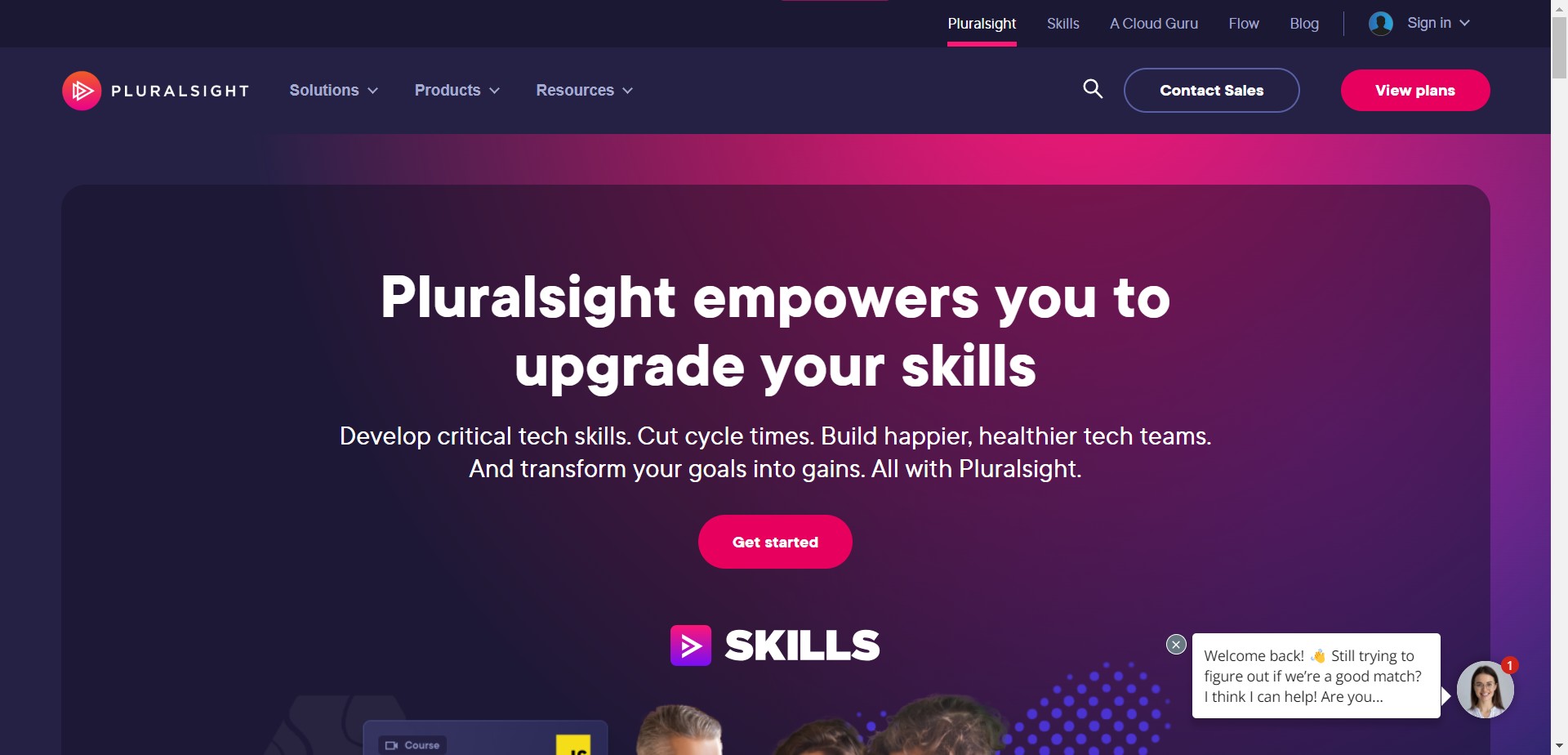 Pluralsight is another notable tech-focused e-learning platform that provides a wide range of courses, including programming languages like Java, JavaScript, C, Python, and R. Much like DataCamp, it offers specialized programs, such as those related to Machine Learning and data science. Pluralsight targets businesses aiming to enhance their teams' skills and deliver improved customer service.
The platform is renowned for offering trending digital skills, with a strong focus on data science, and boasts an extensive library of over 2,500 courses. While only a few free courses are available on Pluralsight, they provide a free trial option for all their courses.
To access their content beyond the trial period, a subscription is required. Pluralsight0 does not include not only Core Python but also courses on interpreting data with R and working with Microsoft Azure.
Its focus on Python and R programming languages makes it a compelling alternative to DataCamp for learners seeking to strengthen their data-related skills.
Pluralsight Pricing: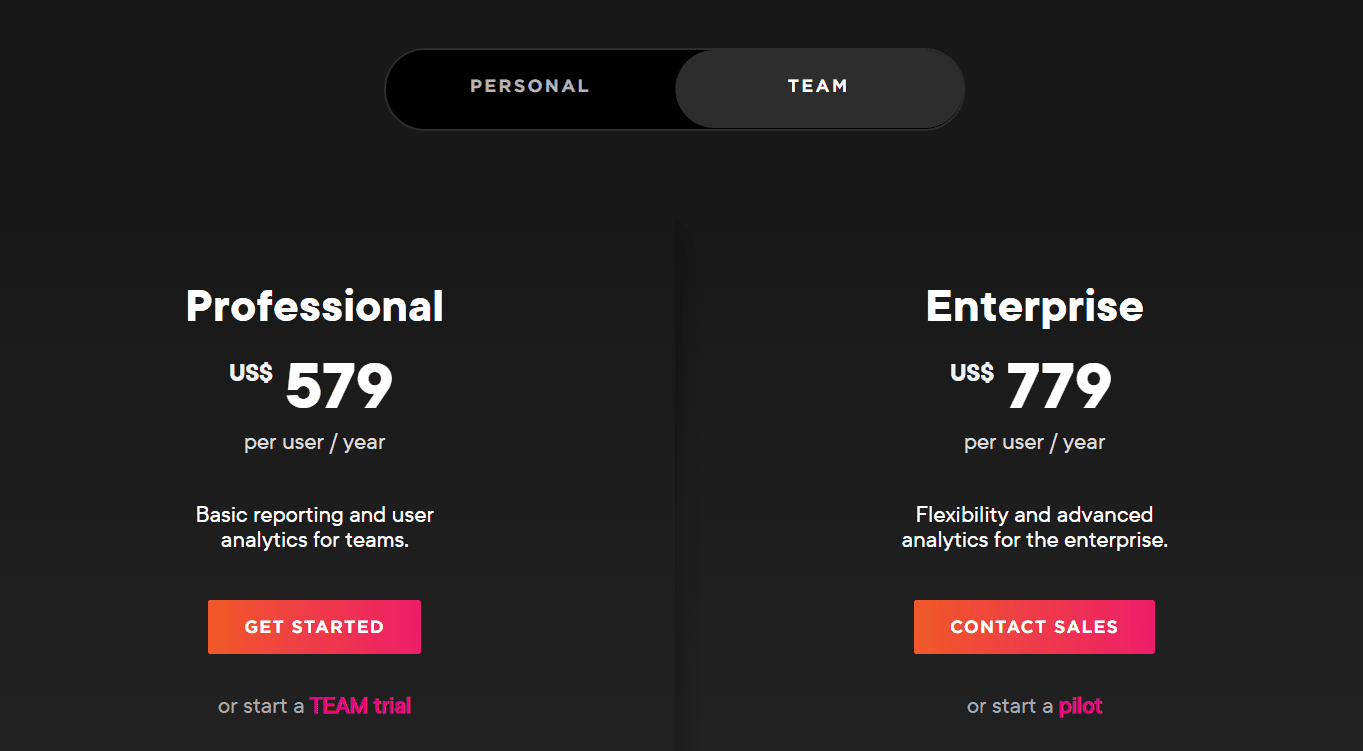 Pluralsight offers different pricing options to cater to both individuals and teams: For Individuals:
Standard Plan: Priced at $19 per month or $159 per year, the Standard Plan provides access to Pluralsight's content for individual learners.
Premium Plan: Available at $29 per month or $239 per year, the Premium Plan offers a more comprehensive learning experience with additional features for individual users.
For Teams:
Starter Plan: Designed for teams, this plan costs $399 per user per year, making it suitable for small teams looking to enhance their skills.
Professional Plan: Priced at $579 per user per year, the Professional Plan is intended for larger teams with a need for more advanced training resources.
Enterprise Plan: Tailored for enterprise-level organizations, this plan costs $779 per user per year, offering a comprehensive solution for businesses with extensive learning and training requirements.
7. edX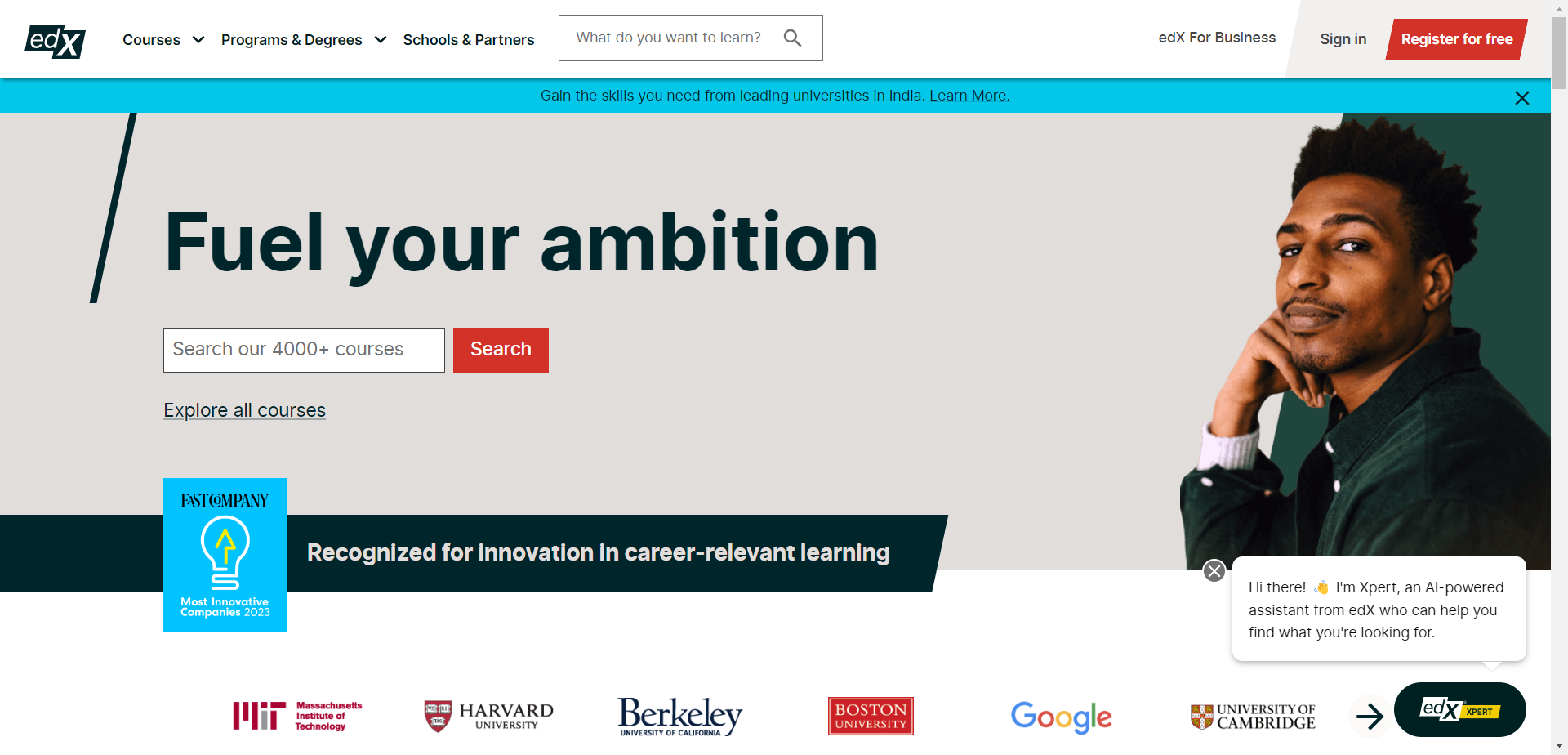 Founded by professors from prestigious institutions like Harvard and MIT, edX offers courses taught by some of the world's top-ranked universities and industry-leading companies.
With a rich repository of over 3,000 courses and more than 600,000 active students, edX is an excellent choice for those seeking professional certificates and high-quality education. Among the data science courses offered on edX are "R Basics" and "Machine Learning," while programs include "IBM Data Science," "HarvardX Data Science," and "Python Data Science."
Given its affiliations with esteemed learning institutions, edX ensures learners can access expert tutors and top-quality educational content. While many of the courses on edX are free to audit, you will need to pay for the programs. Payment for courses typically covers certification or an upgrade to access additional features.
One notable difference between DataCamp and edX is that not all edX courses are self-paced. Learners must enroll in courses and programs before the start date and follow a structured curriculum to progress through the material.
edX Pricing
EdX offers a flexible pricing structure for its premium courses and certifications, with varying costs depending on the specific course. Prices typically range from $50 to $300, ensuring learners can select courses that align with their budgets and educational needs. For teams and organizations, edX provides standard pricing plans:
For Groups: This plan is priced at $349 per learner per year and designed for groups of learners seeking to access edX's premium content.
For Enterprises: EdX offers custom pricing for enterprise-level organizations, tailoring the cost to the specific requirements and size of the enterprise.
FAQs:
Is Udemy or DataCamp better?
If you're looking for a broad range of course offerings at an affordable price, Udemy might be the best choice. If you're looking for accredited certificates and degrees, Coursera is the way to go. And if you're specifically interested in data science, DataCamp is a great option with a focus on hands-on learning.
Is DataCamp good for beginners?
DataCamp is great for complete beginners, offering step-by-step career tracks like Data Scientist with Python and Data Analyst with Python to provide a clear learning path for new learners in data science.
Can I add a DataCamp certificate to LinkedIn?
Yes. You can add Datacamp certificate to Linkedin.
Conclusion: Which is the Best Datacamp Alternative?
In conclusion, when considering alternatives to DataCamp, Coursera emerges as the top choice.
With a vast array of accredited courses and degrees from prestigious universities, Coursera offers a comprehensive learning experience suitable for a wide range of learners.
Its reputation for academic excellence and structured programs make it an excellent platform for those seeking in-depth knowledge and recognized certifications.