Best Ad Networks for Push Ads:
Here are some of the best Push Ad Notifications
1. Push House
Introduction
Slovakia-based push ad notification network Push House is the leading advertising portal globally. They are operating in more than 180 countries with fantastic performance.
Push House has a strong subscribers base of 525744891. Portal receives billions of impressions and millions of clicks per day. The exciting thing is that numbers are still growing.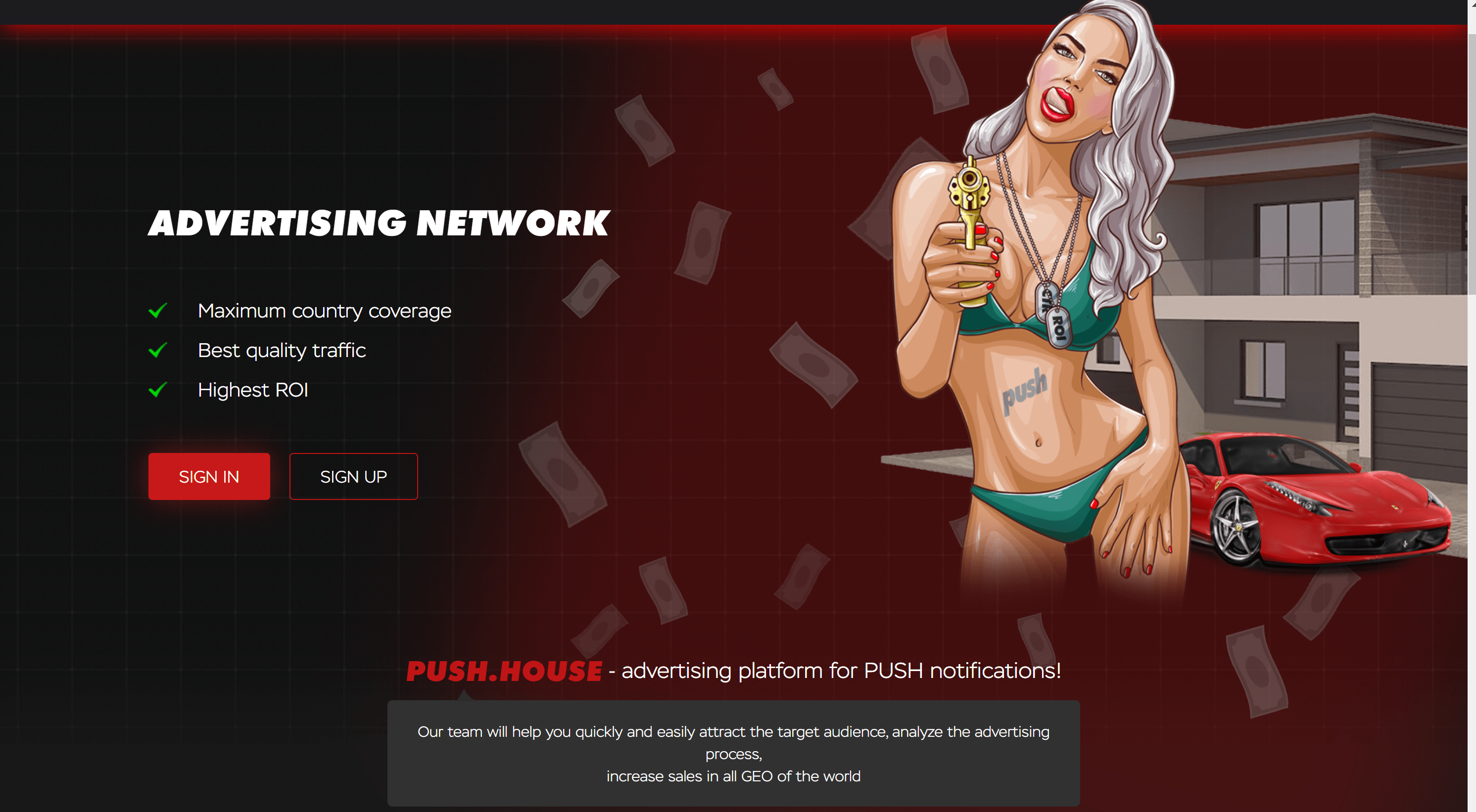 Features
1. Real-Time Bidding
Push House provides a real-time bidding feature. RTB is a part of the media buying process. Subscribers do buy and sell advertisements on a real-time per-impression basis.
This process is generally facilitated by an ad exchange or a supply-side platform (SSP).
2. Customer Support
Push House is offering services across the world and getting subscribers in millions. To serve them and provide quality services, they have a 24/7 support team.
Their expert support team is equipped to handle any customer queries and grievances. You can rely on them for any usage and service-related issues.
3. Specific Targeting
To get an optimum return on investment, Push House offers different kinds of Targeting. You can do the following Targeting with your account.
Convenient Targeting

City-based Targeting

IP Targeting

OS version Targeting

Subscription age Targeting

Browser Language Targeting

Device Targeting
4. Third-Party Integration
Push House provides an option for subscribers to configure and connect the content traffic from third-party platforms.
They have tie-ups with several tracking sites such as Octotracker, Binom, Bemob, AdsBridge, Cpatracker Keitaro, and PeerClick.
They ensure every push notification to be special and unique by ad, domain, and link.
5. Affiliate Marketing
Affiliate Marketing is another fantastic feature of Push House. With little effort, you can make an excellent passive income.
In this affiliate program, you share a promotional link of Push House, and if anybody joins the network through that link, you will get a three percent commission.
Pricing
Push House provides both CPM and CPC, pricing models. You will pay less if you maintain a higher CTR.
Push House accepts a minimum deposit of 50 dollars for portal usage.

2. Propeller Ads Network
Propeller Ads network was established in 2011 and were once the leading portal for pup-under traffic. This network has forayed into push ads, native ads, pop, interstitial ads in recent years.
Affiliate Marketers across the world are well aware of the Propeller Ads network.
This network works in more than 195 countries with more than three billion impressions and more than 350 million subscribers for push notification advertisements.

Features
1. Multiple verticals
Propeller Network functions in different verticals. Their active verticals are Nutra, sweepstakes, mainstream dating, betting, gambling, cryptocurrency, e-commerce, forex, and finance.
2. Customer Targeting
Propelling Ad network provides the following targeting options:
User activity targeting

Operating system

Connection & device types

Mobile carrier

Geographical location

Frequency capping

Day Partying

Browser & language
3. Multiple pricing models
You can avail of CPC and CPM pricing models with the Propeller network. Your payable amount depends upon the quality of traffic. If your traffic is more and of quality, you will be paying less.
Pricing model
Propeller Ads Network provides both CPM and CPC pricing models, which means that if you maintain a higher CTR, you need to pay less for traffic.
You need to make a minimum deposit with Propeller Ads. The portal deposits 1000 dollars for wire transfers and 100 dollars for credit cards.
Their accepted payment methods are UnionPay, PayPal, Skrill, Web money, American Express, ePayments, Debit/Credit Cards (Visa/Mastercard), and wire transfers.
3. RichPush
Introduction
My third push ad network in discussion is RichPush. This portal gives one of the highest conversions, affiliate business globally. They are operating in over 220 countries.
RichPush proudly serves over 450 million push ads subscribers and receives 4 billion impressions daily.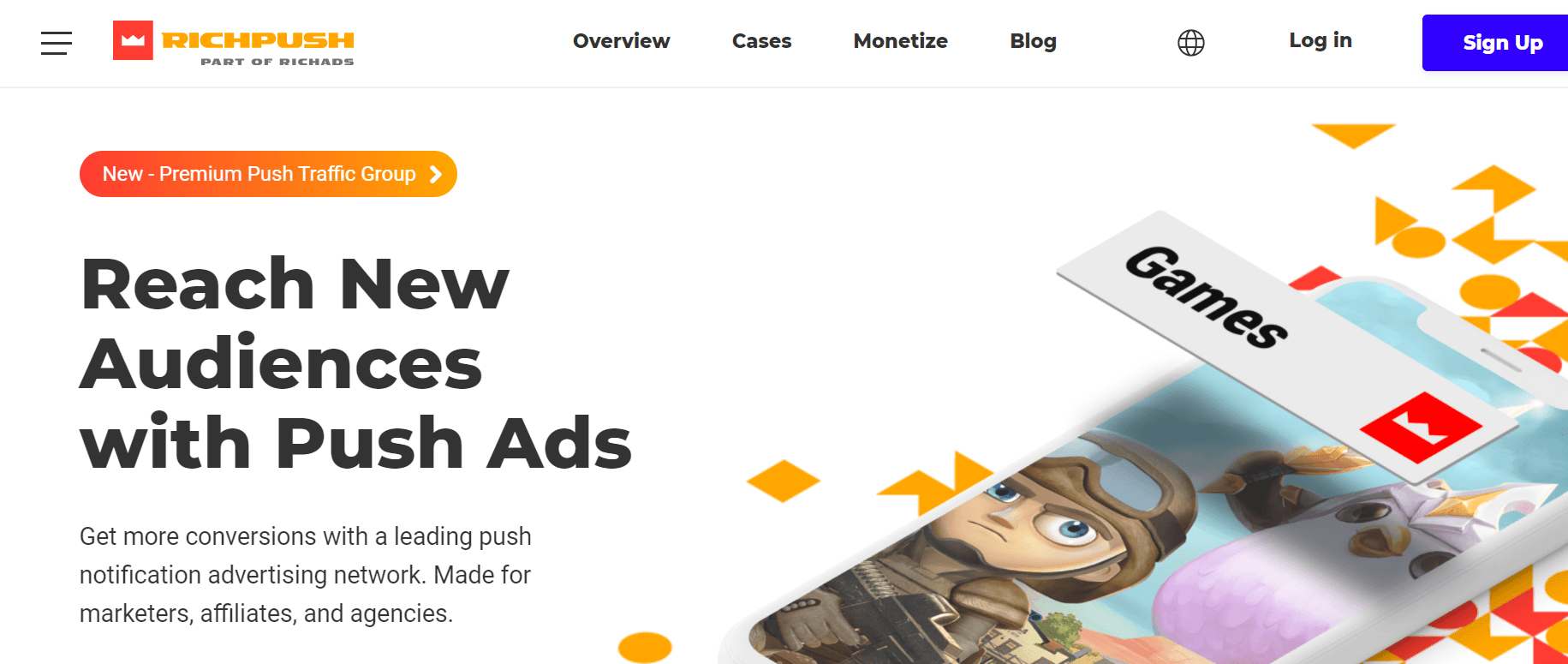 Features
RichPush offers several attractive features for the subscribers. I am sharing a couple of them below:
1. Dedicated account manager
RichPush assigns a dedicated account manager for each subscriber. The manager helps make whitelists, ad campaigns, traffic analysis, and any queries related to the services.
2. Low cost per click
RichPush charges only 0.003 dollars per click from clients. With such a small amount, you can target a massive volume of traffic across the world.
An exception is for Tier 1 and 2 countries. They charge a little extra for these countries.
3. Advertisement viewership
One of the primary metrics to decide the success of your ad campaign is the percentage of viewership. RichPush offers around 94 percent of viewership on all of their advertisement campaigns.
This percentage of viewership is an excellent performance for any ad campaign.
4. Global Reach
RichPush has more than thirty-five crores subscribers from over 150 countries.
The countries include India, Mexico, Thailand, Russia, Brazil, the Philippines, The USA, The UK, Canada, Iran, Colombia, Indonesia, etc.
They have not kept any unique joining process, and anybody from anywhere can join the network. RichPush is serving almost every geographical location around the world.
5. No Bots for traffic
Bot traffic generates fake traffic. RichPush does not allow bot traffic on their platform. The portal is a complete human experience and allows real traffic.
Your customers would not get push notifications from bots.RichPush does not allow publishers to use bots to get more traffic on their websites.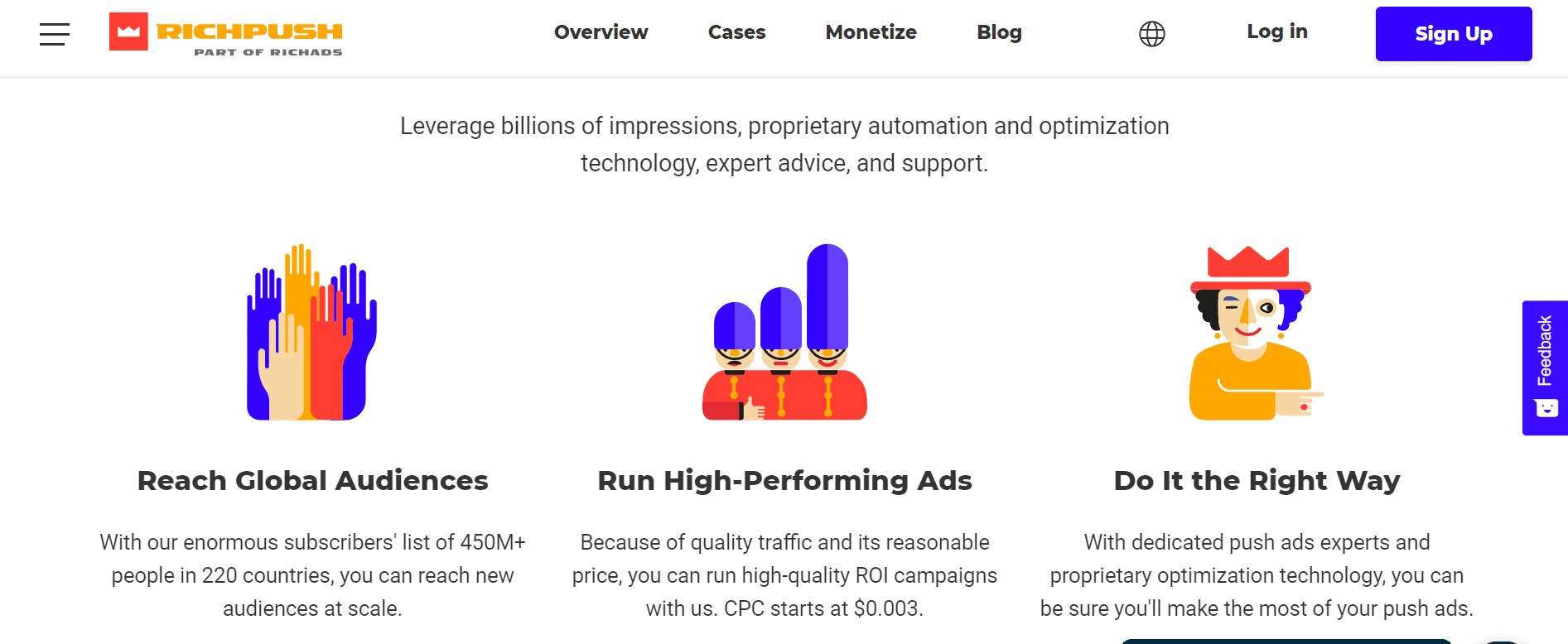 Pros and Cons of RichPush
All available push ads networks have some advantages as well as some disadvantages. Let's see some of the pros and cons of the RichPush network in this section.
Pricing details
There is no minimum payout. You can withdraw any amount you have earned.
RichPush takes a minimum deposit of 50 dollars from advertisers and offers a comprehensive package.
RichPush accepts payment via several modes such as PayPal, WebMoney, Wire Transfer, CC, etc.
RichPush processes outstanding payments of publishers within 30 days
Affiliates can earn ten percent commission on referrals
RichPush also offers several discounts for first-time users. As an advertiser, you can get a 15 percent exclusive discount on your first advertising campaign.
So, visit the website today and avail the benefit.
4. MGID
Introduction
MGID started operation in 2004. It is one of the oldest ad networks for publishers. This network provides a platform where native advertising content can be displayed on the publisher's website.
Seasoned affiliates use this platform for native ads and push advertising. Marketers trust this network for high conversions and returns on investment.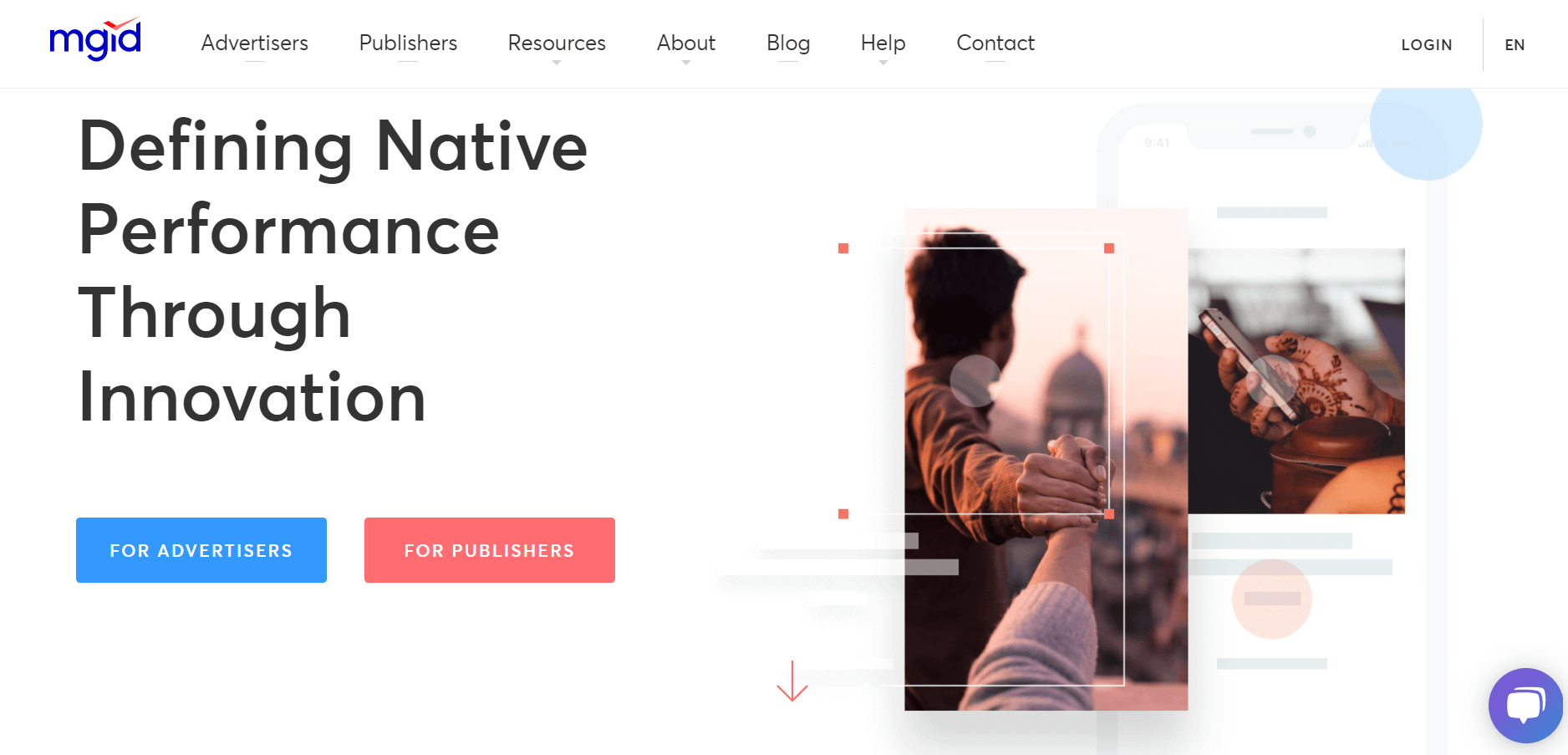 Features
1. Verticals
1) MGID works in the following verticals:
Finance

Gambling

Sweepstakes

Voucher & coupons

Health & beauty
2)      Different types of advertisements are available for the subscribers to choose from.
3)     Their available ad formats are banners, videos, images, and text. These formats are optimized for mobile, laptops, and desktop devices.
4)    Mobile devices are the primary source of traffic these days. Around 70 percent of the traffic of MGID comes from mobile devices, and so all of their formats are mobile-friendly.
5)     Targeted advertising led to higher conversions and sales.
6)    Advertisers only pay for clicks by blog visitors of publishers. This is a CPC based advertising model. This feature causes a better ROI of ad spend.
7)      Advertisers can choose ad spaces and publishers for their ad campaigns.
8)      Specific Targeting via language, browser, device, OS, and Geo.
9)      You have the option to choose between content promotion and product promotion.
Pricing Details
You need at least 100 dollars to start working on this network. MGID is worth your dollars in getting global reach, high conversion, and qualified leads with their dedicated account manager.
5. Clickadu
Introduction
Our seventh network on the list is Clickadu. This network is one of the newest in the market, offering various advertisement services.
Clickadu was established in 2014 and serves in more than 240 countries currently.
They have performed excellently in these seven years of existence. Their numbers speak for themselves.
Clickadu is receiving over 2.8 billion impressions daily.
The conversion rate stands at 3.3 million.
Portal is handling more than 26500 active ad campaigns currently.

Major Features of Clickadu
1. Extensive targeting options
Clickadu provides multiple targeting options.
Available targeting options are:
1)  All devices
2)  Frequency and capping
3)  Country and carrier
4)  Campaign schedule
5)  OS version
6)  Proxy
7)  The browser and browser language
8)  White and blacklist as per IDs
9)  Traffic from anti-AdBlock zones 
SmartCPA and SmartCPM model
Clickadu offers efficient price models with SmartCPM and SmartCPA for conversion-only billing.
Check out this fantastic feature at the Clickadu network.
Pricing Details
Publishers can go for weekly or bi-weekly options for payout 
The minimum deposit amount is 100 dollars.
Clickadu supports several payment options, including PayPal, WebMoney, Crypto-Wallets, Paxum, and bank transfer.
Complete automated payment system.
Acceptable currencies for the transaction are Dollars and euros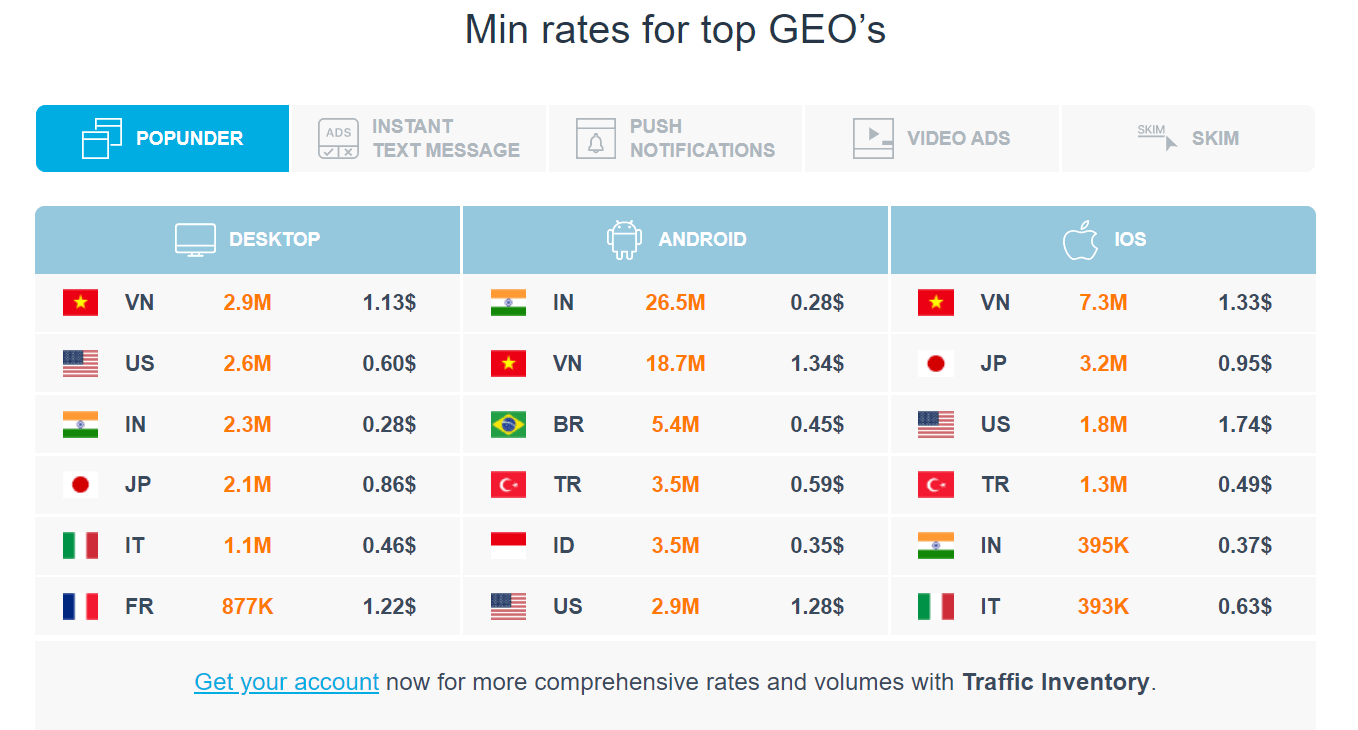 6. Zeropark
Introduction
Our last push ad notification network is Zeropark for this article. This portal has offered excellent services since 2011.
Zenpark supports all types of advertising, including adult and gambling websites.
They strictly ban certain websites as per the jurisdiction of the USA, EU, and Poland.
Major Features 
AI-based Ad Portal
Zeropark uses an AI-based system for their supported ad formats.
Target campaigns
Zeropark offers targeted campaigns for keyword, target, multi-geo, and run on the network.
Pricing Details
1)  Zeropark accepts PayPal and wire transfers as modes of payment.
2)  The minimum withdrawal limit is 100 dollars for PayPal and 1000 dollars for wire transfer.
3)  Payout made monthly.
4)  Zeropark does not charge for withdrawals, but payment platforms charge their internal fees.
5)  PayPal takes 3 to 5 percent of the transaction amount. Wire transfer charges differently for different banks.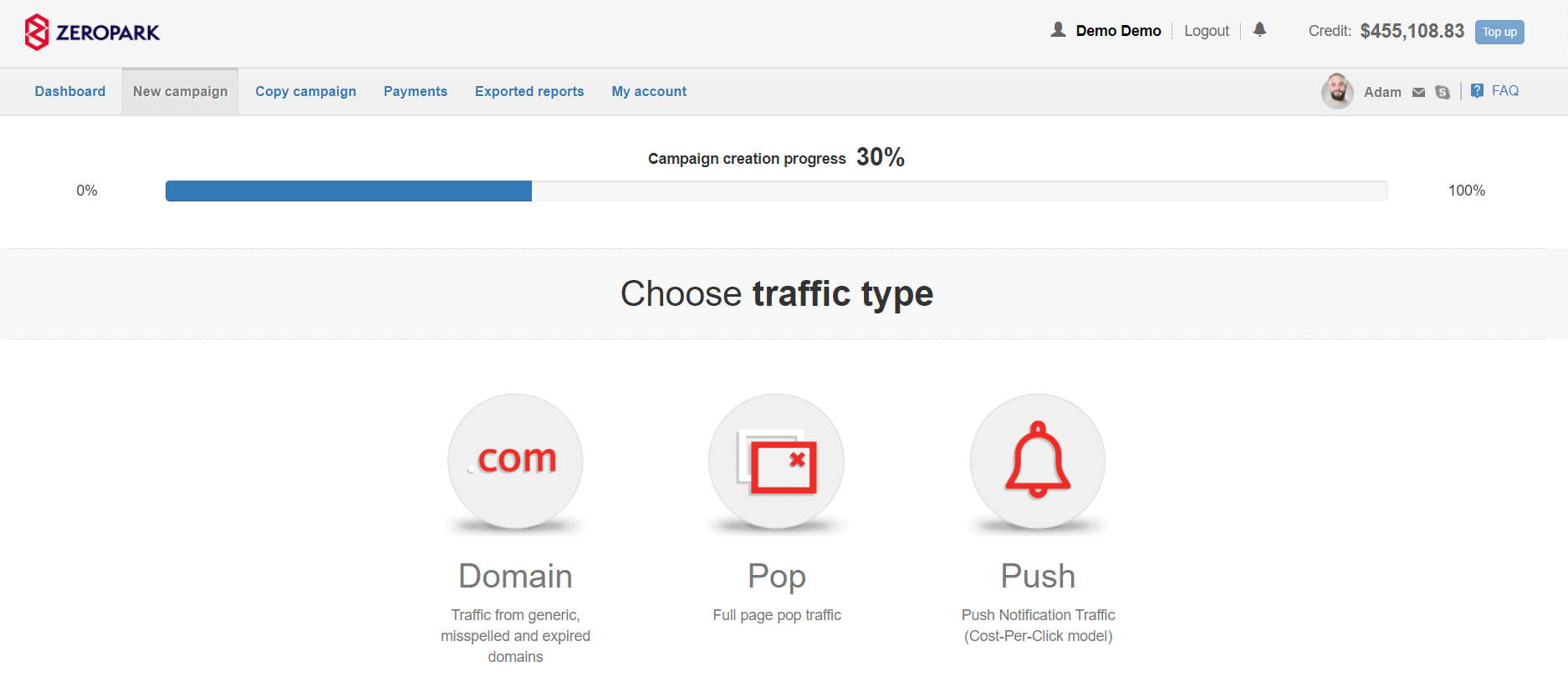 Quick Links 
FAQ's | Best Push Ad Notification Networks
👉Why is Push Notification an excellent way to increase business?
Push Ad notification improves customer experience at crucial touchpoints. Push ads provide real-time data, making a more informed targeted approach for the ad campaign. A knowledgeable and targeted approach helps in more conversions as well as more revenue.
👏Can we use bots for traffic on my website?
Firstly, most of the network does not allow you to use bots for traffic. Secondly, when you use bots, you get primarily fake traffic, which is useless for conversions. You don't want to waste money on this fake traffic.
🔥How to choose the best push ad notification network?
Choose your push ad network based on reach, traffic, minimum deposit required, types of ads available, how many targeting are available, system employed for quality leads, customer support, and how experienced they are in this business.
🤔What are push ads?
Ads are delivered on a user's desktop or mobile device even when they're not browsing. Users need to opt-in to receive them, which makes push ads less intrusive than other ad formats.
😍Which ad network pays the most?
RhythmOne:Display, video, mobile, rich media, and native ads.:$100
👉Who uses pay per click?
Social networks such as Facebook, LinkedIn, Pinterest and Twitter have also adopted pay-per-click as one of their advertising models. The amount advertisers pay depends on the publisher and is usually driven by two major factors: quality of the ad, and the maximum bid the advertiser is willing to pay per click.
Conclusion | Best Push Ad Notification Networks 2021
With this, I have reached the concluding section of today's article on push ad notification networks.
Though push ads might be still growing, you will find dozens of networks available in the market.
To help you find the best push Ad notification network for your campaign, I have explained everything above.
My personal favorite is the Push House network because of its various targeting options, affordability, global reach, quality leads, and higher conversion rates.
I have used this network and gained excellent returns on investment during my ad campaigns.
I hope this article will help you in finding your best push notification ad network.
Consider all these factors and plan your campaign accordingly.
Push Hour wins with flying colors on all these aspects.
That's all for the article.
Good Luck!!!!