Top 7 Best Ad Networks for Push Ads:
Here are some of the best Push Ad Notifications
1. AdMaven
AdMaven is an advertising technology platform that provides marketers and publishers with advertising and monetization solutions. AdMaven guarantees that advertisers' CPM and conversion rates will increase. It boosts returns and increases total income for publishers.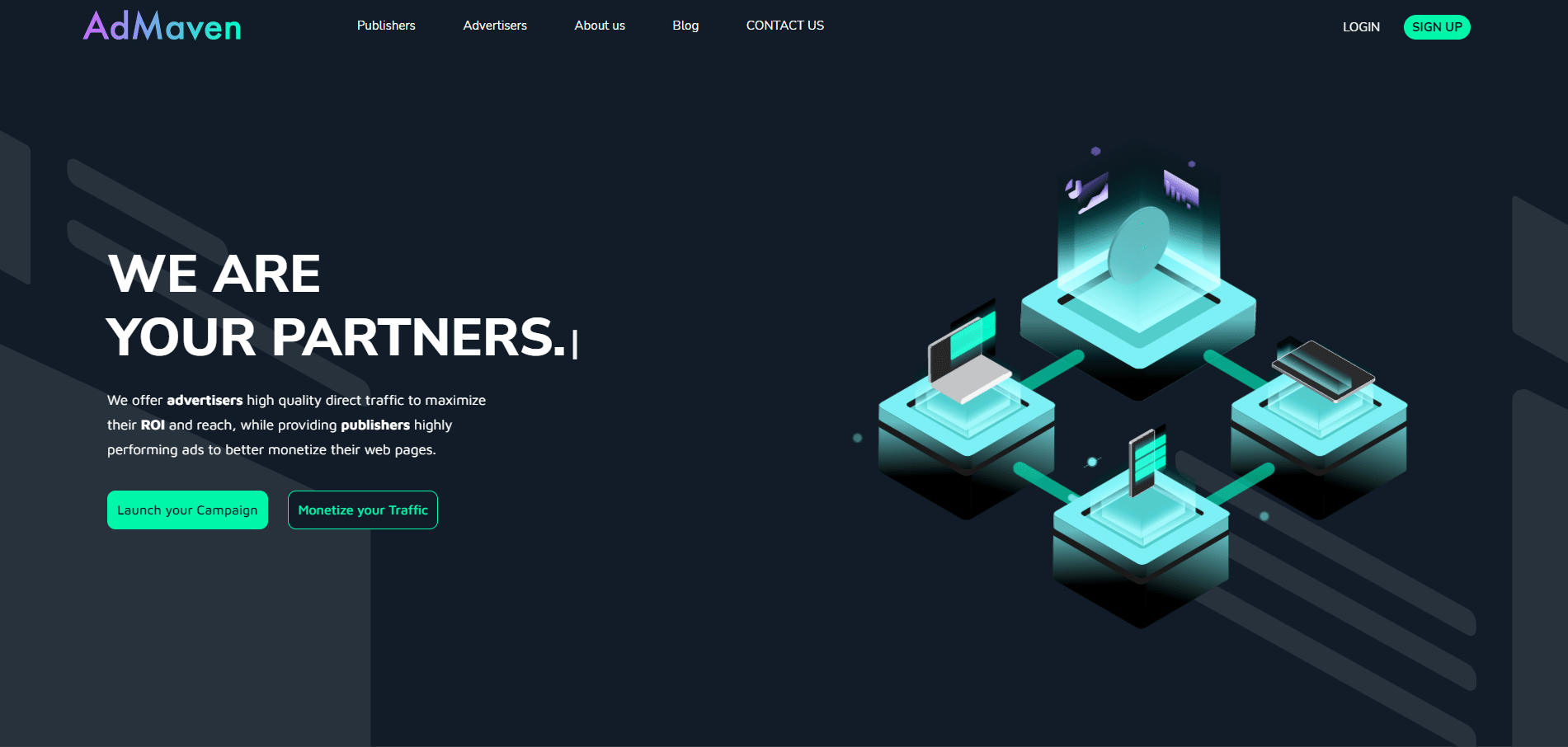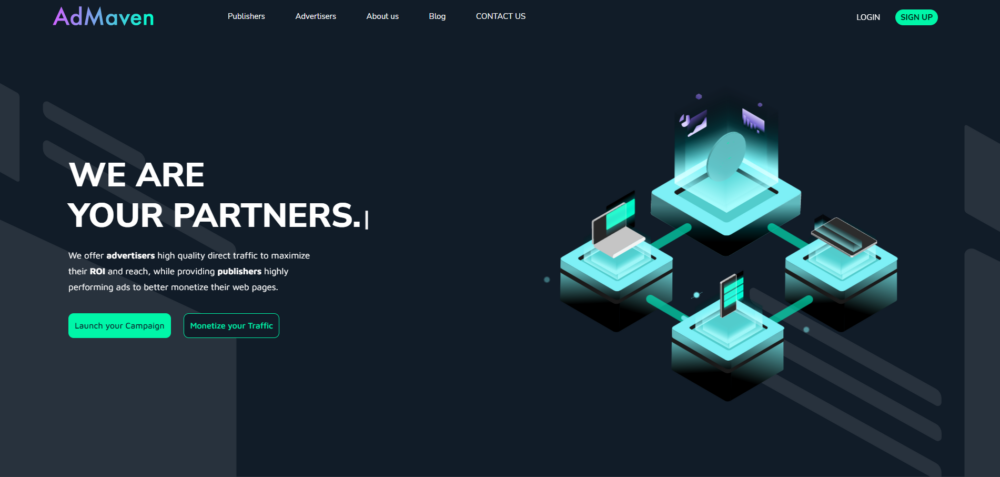 Publishers may monetize their inventory on AdMaven using a variety of ad types (conventional pop-ads, native floater banners, interstitial, push notifications, download buttons, and more), resulting in a diversified ad income mix. This enables publishers to diversify their income streams and thereby mitigate business risk.
Features:


1. Higher CPM:
AdMaven charges a greater cost per thousand impressions. As a result, more income is earned. Additionally, they have proprietary real-time bidding (RTB) technology that links disparate networks.
2. A wide array of tools:
AdMaven provides publishers with a variety of ad sizes and styles to utilize on their websites. They feature a plethora of technologies that assist in customizing adverts based on user behavior and purpose.
3. Dedicated support: 
Each publisher is allotted an experienced and devoted account manager. This keeps publishers on track and helps them to make intelligent choices about their websites.
4. Global coverage:
Advertisers may use AdMaven's worldwide audience and reach. The advertising network has a track record of collaborating efficiently with prominent websites and growing huge audiences for advertisers.
5. Monetization opportunities:
AdMaven's monetization capabilities are unmatched for all types of users and impressions across all devices and regions. When combined with a high eCPM, this leads to greater revenue for publishers.
Why do I recommend AdMaven? [Top 6 Reasons]
1. Accurate Reports:
For improved analysis, accurate reports with complete transparency are required. 
2. Great User Experience:
Genuine user experience; high-quality advertisements with a minimum of intrusiveness 
3. Great Impression rates:
Employing advanced technology for real-time bidding enables the publisher to achieve the highest possible impression rates.
4. Widespread:
Its market and marketers span over 200 nations.
5. Track and monitor:
The 'site management' area of AdMaven's dashboard enables publishers to track and monitor site impressions. 
6. Worldwide coverage:
Worldwide, there are over 2 billion daily impressions.
Payments
The first two payments are free, but PayPal has the right to levy further fees. There is a $40 fee for wire transactions. 
The minimum payment on Bitcoin is $500 and Admaven does not charge a fee, however, to get funds, AdMaven will transmit $1 to $5 for testing purposes before transferring the whole balance. Read more about AdMaven's payment rules here. 
AdMaven Withdrawal Charges: 
PayPal – AdMaven does not charge any fees (but PayPal might charge a 3-5% fee, depending on country of origin, PayPal account, and amount).
Payoneer – Admaven does not charge any fees.
Wire (bank transfer) – Admaven charges $40 for bank transfers.
Bitcoin – Admaven does not charge any fees, but to receive your money on this platform we will send 1-5$ as a test before transferring your full total.
Minimum payout for Paypal and Payoneer: $50

Minimum payout for Bitcoin and Paxum: $500

Minimum payout for Webmoney and Wire Transfer: $1000
2. Push House
Push.House is a leading push notification advertising network with worldwide coverage in Push and In-Page traffic.
Push.House has a strong subscriber base of over 700m subscribers from all over the world. The network receives billions of impressions and millions of clicks per day. The exciting thing is that numbers are still growing.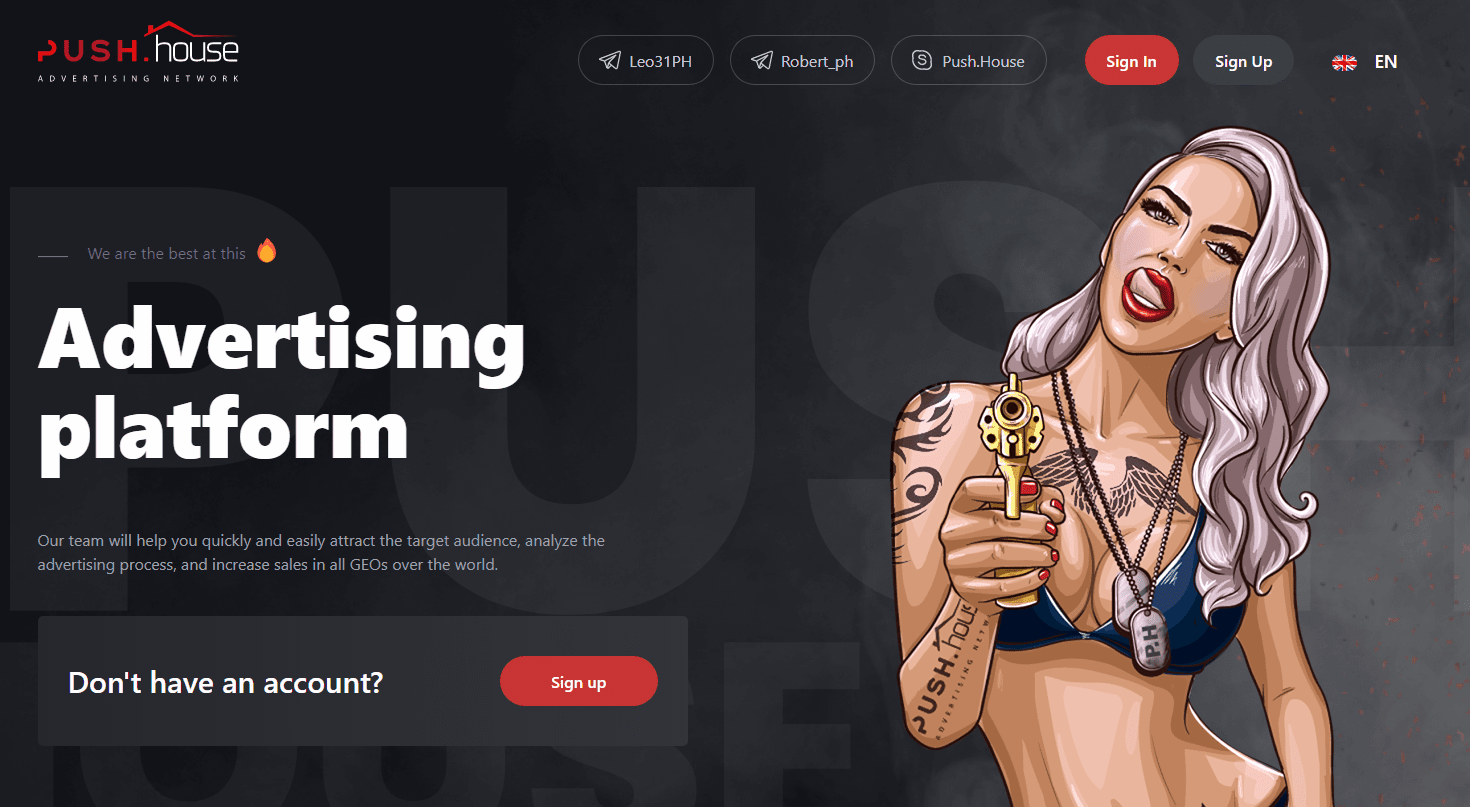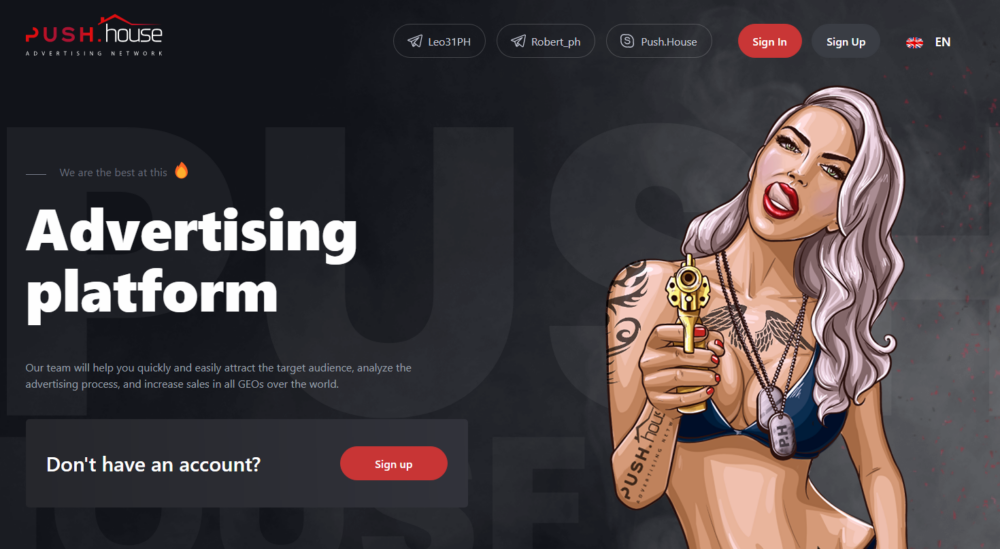 Features
1. Convenient dashboard and responsive sup
Push.House gives the advertisers the opportunity to work within an intuitive dashboard with clean minimalistic design which is great as it is suitable for both seasoned affiliates and newbies.
Also, the support team can navigate you through the whole process from depositing your money till creating your ad if you are facing any difficulties.
2. Huge network volume
Push.House has tons of high-quality traffic to over 180 countries over the world, which makes it a perfect choice for your affiliate marketing campaigns.
Top-performing Geos include India, Indonesia, Russia, Brazil, Italy, USA, and much much more!
At the moment, there are two main ad formats that you can use to reach your target audience, Classic Push and In-Page Push.
3. Low CPC bids
CPC for Classic Push start from $0.002 and ONLY $0.0001for In-Page Push! Such low costs make it easier to run tests, optimize your campaigns and ultimately make them more profitable.
Even though CPC bids might be lower than other networks, it never affects the quality of traffic Push.House provides for its advertisers.
4. Targeting
To make your campaigns more efficient and pay only for the traffic that works for you, you can use the various targeting tools provided by the network, which include:
Targeting by devices and OS versions
Targeting by cities and countries
Targeting by age of subscriptions
Targeting by browser language
5. A lot of discounts and bonuses
Push.House always gives away a lot of discounts and bonuses for its users. Even right now Push.House is giving a free +10% PROMO CODE AFFILIATEBAY (Use this promo code to get +10% to your first deposit) for all webmasters!
Payments: 
You cannot withdraw money from Push.House as it's only an advertising network.
Push.House accepts deposit from a variety of payment methods and the minimum deposit to run ads on Push.House is only $50.

3. RichPush
My third push ad network in discussion is RichPush. This portal gives one of the highest conversions, affiliate business globally. They are operating in over 220 countries.
RichPush proudly serves over 450 million push ads subscribers and receives 4 billion impressions daily.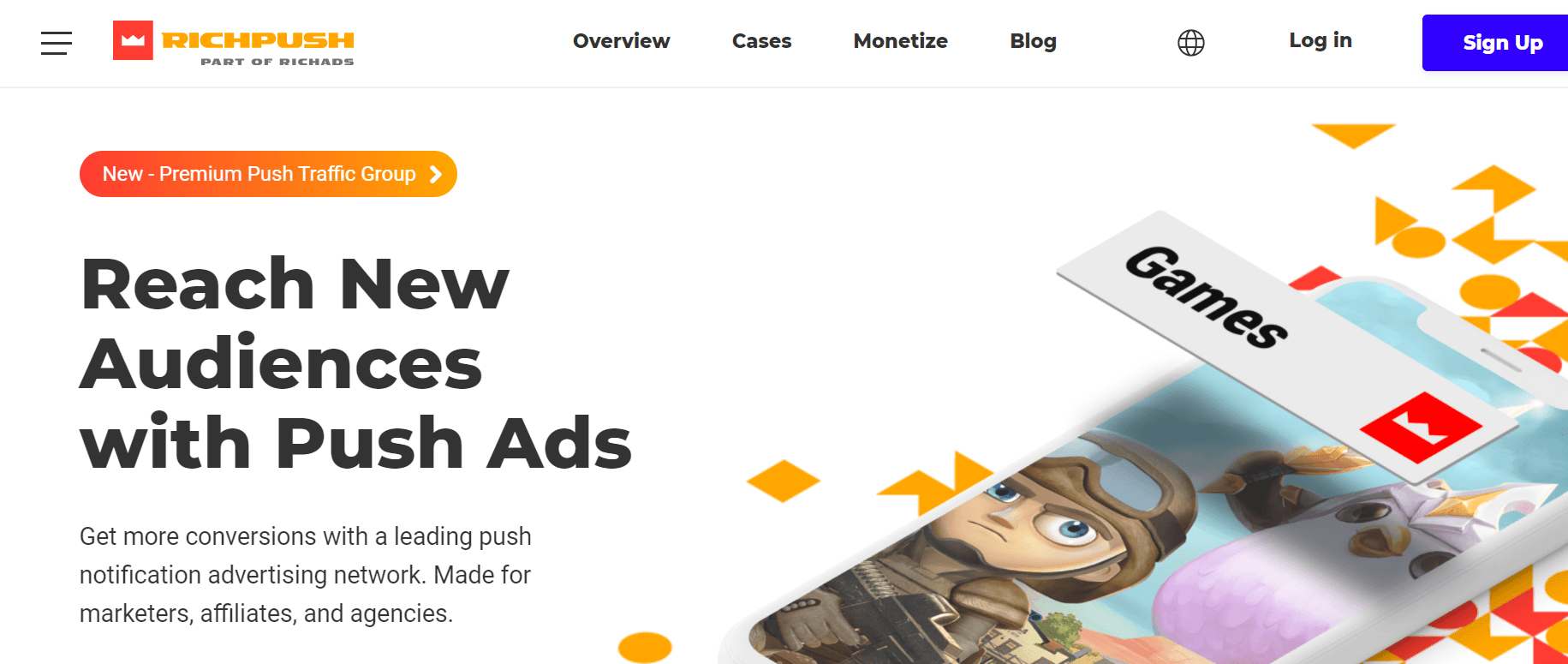 Features:
RichPush offers several attractive features for subscribers. I am sharing a couple of them below:
1. Dedicated account manager
RichPush assigns a dedicated account manager for each subscriber. The manager helps make whitelists, ad campaigns, traffic analysis, and any queries related to the services.
2. Low cost per click
RichPush charges only 0.003 dollars per click from clients. With such a small amount, you can target a massive volume of traffic across the world.
An exception is for Tier 1 and 2 countries. They charge a little extra for these countries.
3. Advertisement viewership
One of the primary metrics to decide the success of your ad campaign is the percentage of viewership. RichPush offers around 94 percent of viewership on all of its advertisement campaigns.
This percentage of viewership is an excellent performance for any ad campaign.
4. Global Reach
RichPush has more than thirty-five crores subscribers from over 150 countries.
The countries include India, Mexico, Thailand, Russia, Brazil, the Philippines, The USA, The UK, Canada, Iran, Colombia, Indonesia, etc.
They have not kept any unique joining process, and anybody from anywhere can join the network. RichPush is serving almost every geographical location around the world.
5. No Bots for traffic
Bot traffic generates fake traffic. RichPush does not allow bot traffic on their platform. The portal is a complete human experience and allows real traffic.
Your customers would not get push notifications from bots.RichPush does not allow publishers to use bots to get more traffic on their websites.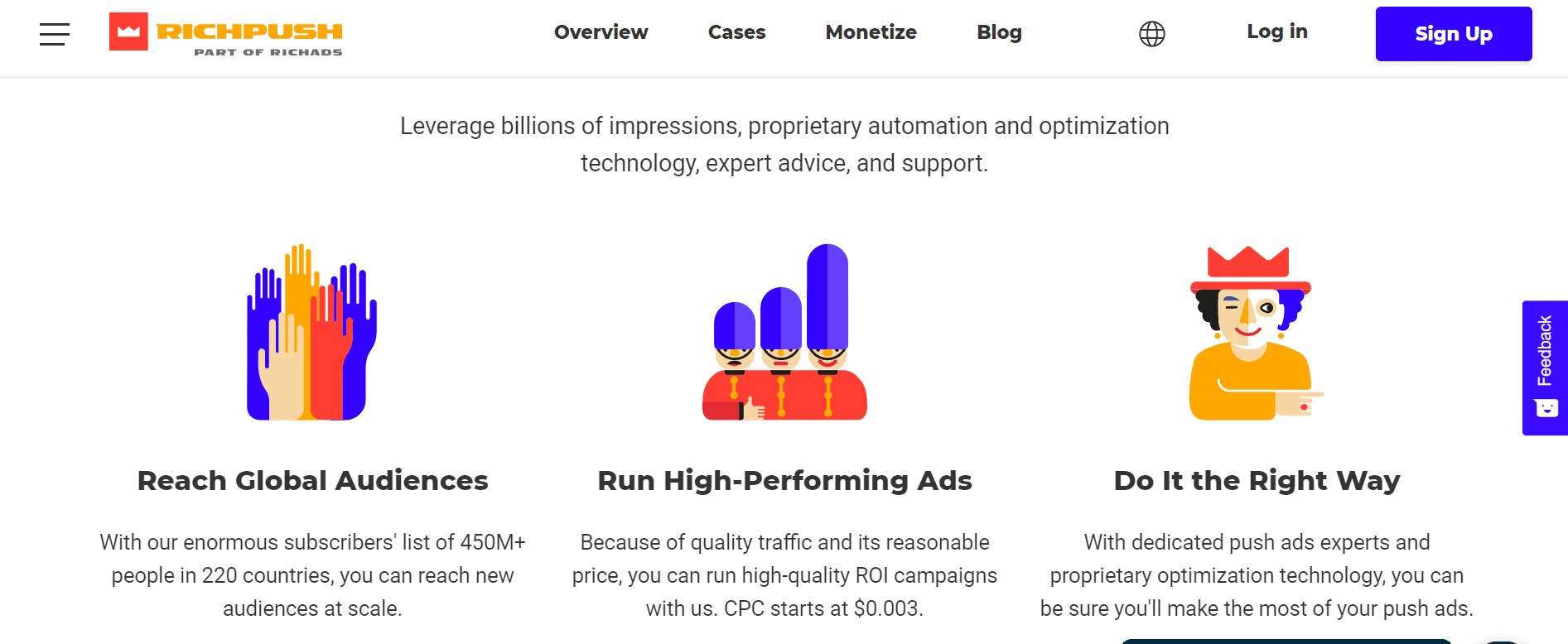 Pros and Cons of RichPush
All available push ads networks have some advantages as well as some disadvantages. Let's see some of the pros and cons of the RichPush network in this section.
Payments:
There is no minimum payout. You can withdraw any amount you have earned.
RichPush takes a minimum deposit of 50 dollars from advertisers and offers a comprehensive package.
RichPush accepts payment via several modes such as PayPal, WebMoney, Wire Transfer, CC, etc.
RichPush processes outstanding payments of publishers within 30 days
Affiliates can earn ten percent commission on referrals
RichPush also offers several discounts for first-time users. As an advertiser, you can get a 15 percent exclusive discount on your first advertising campaign.
So, visit the website today and avail the benefit.
4. MGID
MGID started operation in 2004. It is one of the oldest ad networks for publishers. This network provides a platform where native advertising content can be displayed on the publisher's website.
Seasoned affiliates use this platform for native ads and push advertising. Marketers trust this network for high conversions and returns on investment.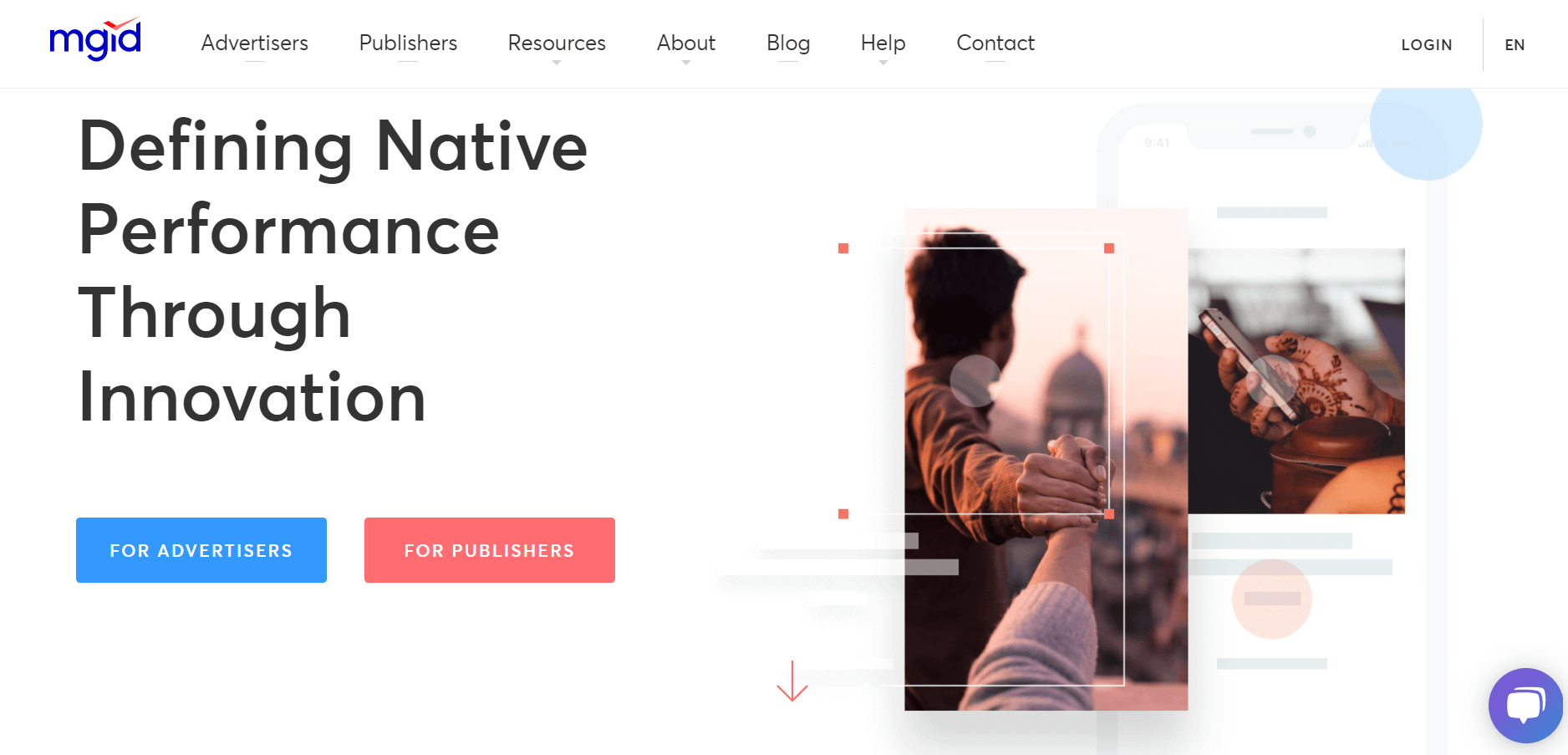 Features:
1. Verticals
1. MGID works in the following verticals:
Finance

Gambling

Sweepstakes

Voucher & coupons

Health & beauty
2. Different types of advertisements are available for the subscribers to choose from.
3. Their available ad formats are banners, videos, images, and text. These formats are optimized for mobile, laptops, and desktop devices.
4. Mobile devices are the primary source of traffic these days. Around 70 percent of the traffic of MGID comes from mobile devices, and so all of their formats are mobile-friendly.
5. Targeted advertising led to higher conversions and sales.
6. Advertisers only pay for clicks by blog visitors of publishers. This is a CPC-based advertising model. This feature causes a better ROI of ad spend.
7. Advertisers can choose ad spaces and publishers for their ad campaigns.
8. Specific Targeting via language, browser, device, OS, and Geo.
9. You have the option to choose between content promotion and product promotion.
Payments: 
You need at least 100 dollars to start working on this network. MGID is worth your dollars in getting global reach, high conversion, and qualified leads with their dedicated account manager.
5. Clickadu
Our seventh network on the list is Clickadu. This network is one of the newest in the market, offering various advertisement services.
Clickadu was established in 2014 and serves in more than 240 countries currently. They have performed excellently in these seven years of existence. Their numbers speak for themselves.
Clickadu is receiving over 2.8 billion impressions daily. The conversion rate stands at 3.3 million. Portal is handling more than 26500 active ad campaigns currently.

Features:
1. Extensive targeting options
Clickadu provides multiple targeting options.
Available targeting options are:
1. All devices
2. Frequency and capping
3. Country and carrier
4. Campaign schedule
5. OS version
6. Proxy
7. The browser and browser language
8. White and blacklist as per IDs
9. Traffic from anti-AdBlock zones 
2. SmartCPA and SmartCPM model
Clickadu offers efficient price models with SmartCPM and SmartCPA for conversion-only billing.
Check out this fantastic feature at the Clickadu network.
Payments: 
Publishers can go for weekly or bi-weekly options for payout 
The minimum deposit amount is 100 dollars.
Clickadu supports several payment options, including PayPal, WebMoney, Crypto-Wallets, Paxum, and bank transfer.
Complete automated payment system.
Acceptable currencies for the transaction are Dollars and euros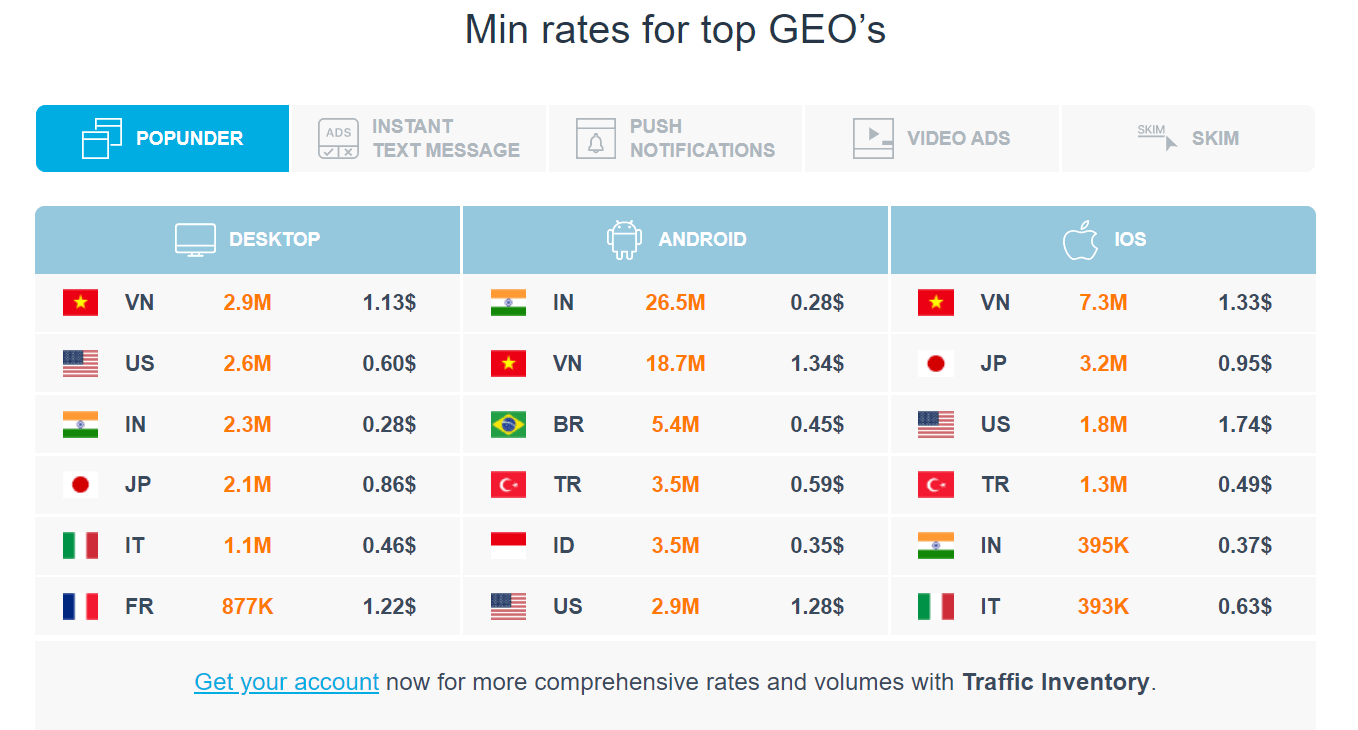 6. Zeropark
Our last push ad notification network is Zeropark for this article. This portal has offered excellent services since 2011.
Zenpark supports all types of advertising, including adult and gambling websites.
They strictly ban certain websites as per the jurisdiction of the USA, EU, and Poland.
Features:  
1. AI-based Ad Portal
Zeropark uses an AI-based system for its supported ad formats.
2. Target campaigns
Zeropark offers targeted campaigns for keyword, target, multi-geo, and run on the network.
Payments: 
1. Zeropark accepts PayPal and wire transfers as modes of payment.
2. The minimum withdrawal limit is 100 dollars for PayPal and 1000 dollars for wire transfer.
3. Payout made monthly.
4. Zeropark does not charge for withdrawals, but payment platforms charge their internal fees.
5. PayPal takes 3 to 5 percent of the transaction amount. Wire transfer charges differently for different banks.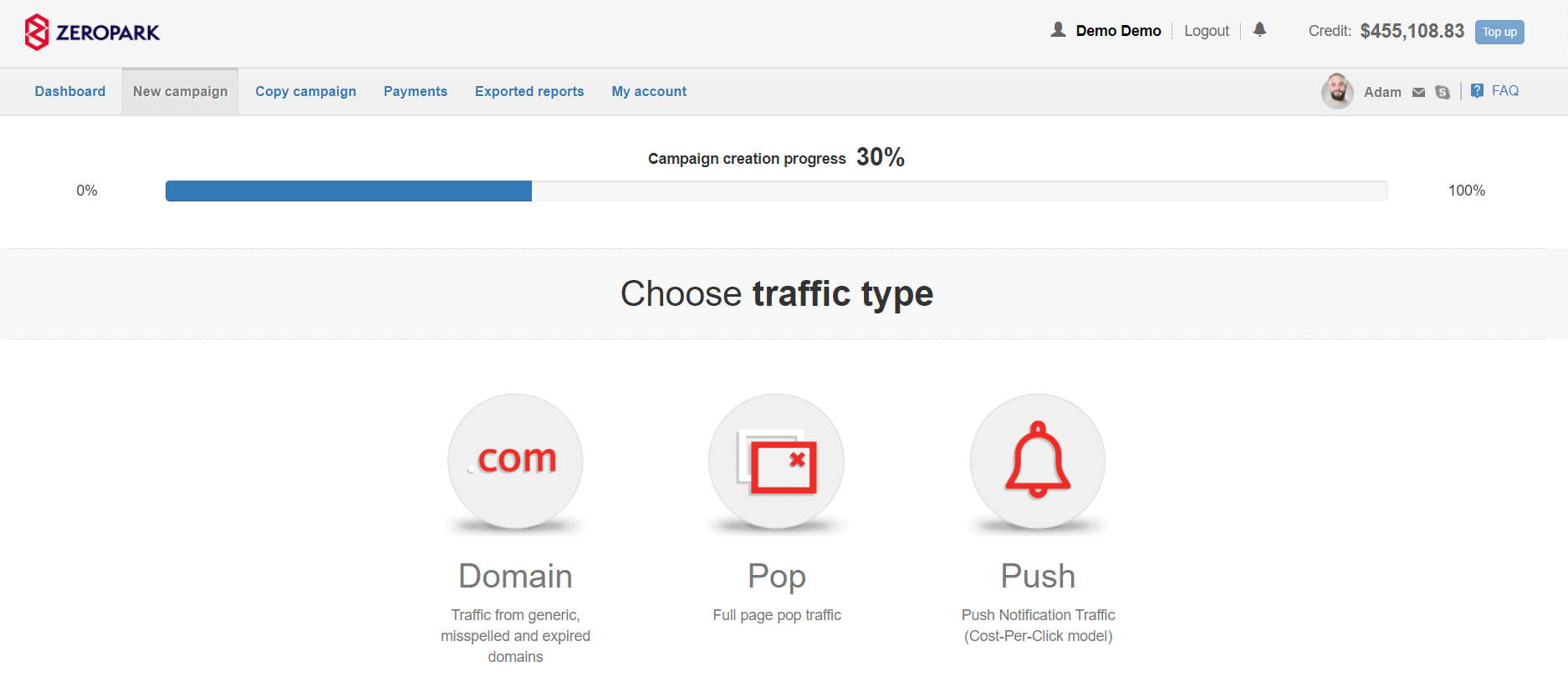 7. Propeller Ads Network
Propeller Ads network was established in 2011 and was once the leading portal for pup-under traffic. This network has forayed into push ads, native ads, pop, interstitial ads in recent years.
Affiliate Marketers across the world are well aware of the Propeller Ads network.
This network works in more than 195 countries with more than three billion impressions and more than 350 million subscribers for push notification advertisements.

Features:
1. Multiple verticals
Propeller Network functions in different verticals. Their active verticals are Nutra, sweepstakes, mainstream dating, betting, gambling, cryptocurrency, e-commerce, forex, and finance.
2. Customer Targeting
Propelling Ad network provides the following targeting options:
User activity targeting

Operating system

Connection & device types

Mobile carrier

Geographical location

Frequency capping

Day Partying

Browser & language
3. Multiple pricing models
You can avail of CPC and CPM pricing models with the Propeller network. Your payable amount depends upon the quality of traffic. If your traffic is more and of quality, you will be paying less.
Payments:
Propeller Ads Network provides both CPM and CPC pricing models, which means that if you maintain a higher CTR, you need to pay less for traffic.
You need to make a minimum deposit with Propeller Ads. The portal deposits 1000 dollars for wire transfers and 100 dollars for credit cards.
Their accepted payment methods are UnionPay, PayPal, Skrill, Web money, American Express, ePayments, Debit/Credit Cards (Visa/Mastercard), and wire transfers.
Quick Links 
FAQ's | Best Push Ad Notification Networks
👉Why is Push Notification an excellent way to increase business?
Push Ad notification improves customer experience at crucial touchpoints. Push ads provide real-time data, making a more informed targeted approach for the ad campaign. A knowledgeable and targeted approach helps in more conversions as well as more revenue.
👏Can we use bots for traffic on my website?
Firstly, most of the network does not allow you to use bots for traffic. Secondly, when you use bots, you get primarily fake traffic, which is useless for conversions. You don't want to waste money on this fake traffic.
🔥How to choose the best push ad notification network?
Choose your push ad network based on reach, traffic, minimum deposit required, types of ads available, how many targeting are available, system employed for quality leads, customer support, and how experienced they are in this business.
🤔What are push ads?
Ads are delivered on a user's desktop or mobile device even when they're not browsing. Users need to opt-in to receive them, which makes push ads less intrusive than other ad formats.
😍Which ad network pays the most?
RhythmOne: Display, video, mobile, rich media, and native ads.:$100
👉Who uses pay per click?
Social networks such as Facebook, LinkedIn, Pinterest and Twitter have also adopted pay-per-click as one of their advertising models. The amount advertisers pay depends on the publisher and is usually driven by two major factors: quality of the ad, and the maximum bid the advertiser is willing to pay per click.
Conclusion | Best Push Ad Notification Networks 2022
With this, I have reached the concluding section of today's article on push ad notification networks.
Though push ads might be still growing, you will find dozens of networks available in the market.
To help you find the best push Ad notification network for your campaign, I have explained everything above.
My personal favorite is the Push House network because of its various targeting options, affordability, global reach, quality leads, and higher conversion rates.
I have used this network and gained excellent returns on investment during my ad campaigns.
I hope this article will help you in finding your best push notification ad network.
Consider all these factors and plan your campaign accordingly.
Push Hour wins with flying colors on all these aspects.
That's all for the article.
Good Luck!!!!