Do you wish to know more about Push House? You have got down right where you should. Here in this article Push.House Review, you will get curated details about the platform called Push House.
If you are someone who feels that their advertisements aren't efficient and cannot produce the revenue suggested, then now is the time to switch to Push House.
What is Push House, you may ask? In simple terms, as the name itself suggests, it is a pretty convenient push ads portal. Before we get into the detailed review, let us talk about this platform a bit more in detail. 
What Is Push.House?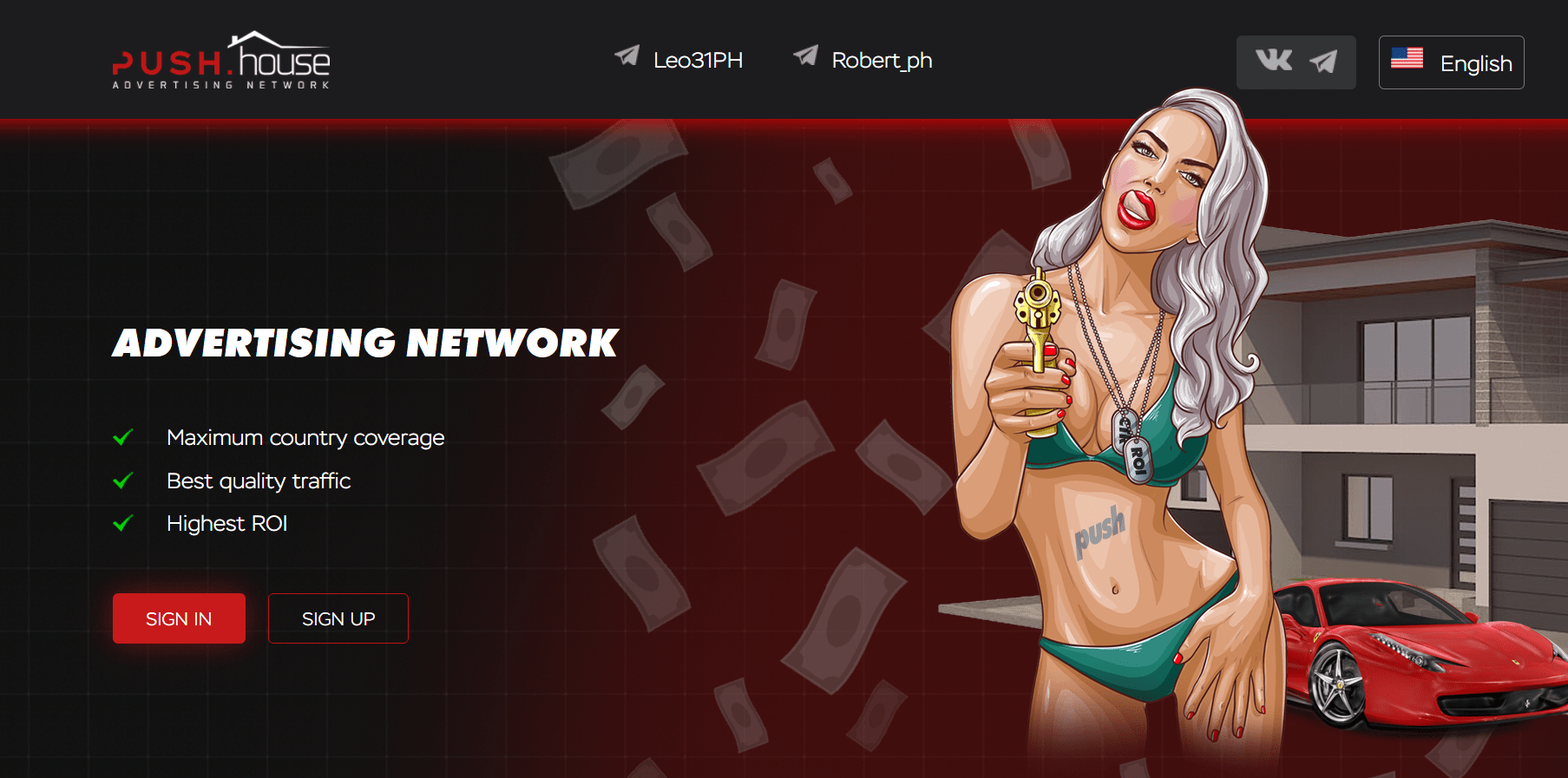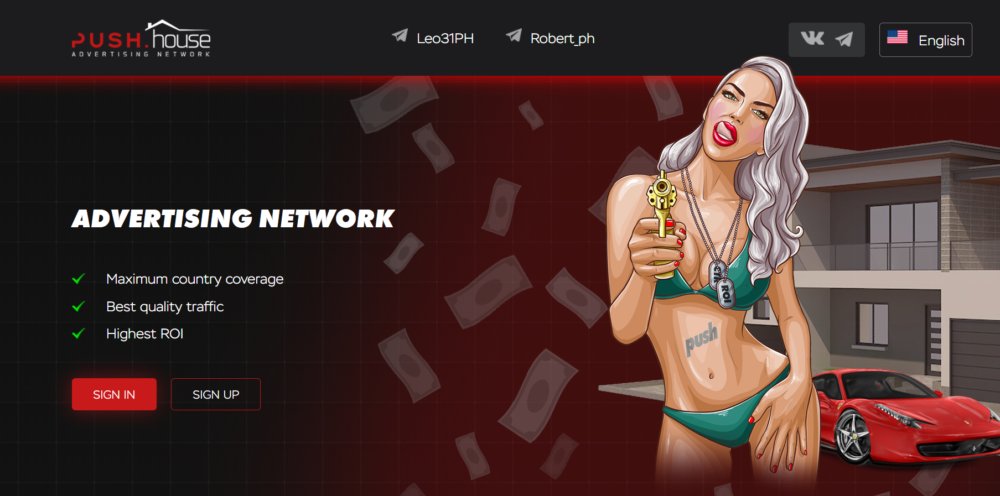 Push House is a Ukraine-Based company that works in the domain of Push Ads. It is designed in order to monetize websites in a much better way by putting into use Push Notifications.
The company is growing at an incredible speed and claims to have an active user base of over 30 million subscribers coming from 180 countries across the globe with more than 600 Thousand clicks every month and 300 million impressions.
The numbers just keep on rising with every passing month. 
Their advanced algorithm allows the user to send push notifications to their target audience as well as ads that are relevant to their customers. This way, they get high rates of conversion, which in turn gets them more income.
The company aims to lead the industry by providing top-tier target audiences to the advertisers, making it one of the best CPC Ad networks. 
Push House is still persistent with the development of new features, which will prove out to be helpful for their advertisers to drive much more traffic, leads, and sales that will, in turn, boost their business. 
So now that we have a basic idea about what this company is all about, we can jump further into the details of this platform. 
Why Choose Push.House?

This is a pretty valid question to ask. What makes Push House worth giving in your time. There are a plethora of reasons that make choosing this network a wise choice.
For starters, Push Ads is the only network of its type that is known for maintaining its quality as well as improving it with each passing day. 
The company has managed to secure an incredible reputation across the globe, and the reason behind it is the quality of service it manages to offer its user base.
Push House is working in more than 180 countries across the globe, making them a leader in Push Advertising Network as they are ruling over all the other networks with their incredible features and amazing quality that others lack. 
One of the reasons that make it stand out from every other network is them selling quality and unique traffic to its audience.
By putting into use Push House, it becomes easy to generate a humongous level of revenue by the implementation of push ads that are pretty simple to set up. The platform rewards its users with numerous bonuses and discounts when getting started. 
Now that we know why you should choose the platform, let us talk about how you can get started.
Getting Started With Push House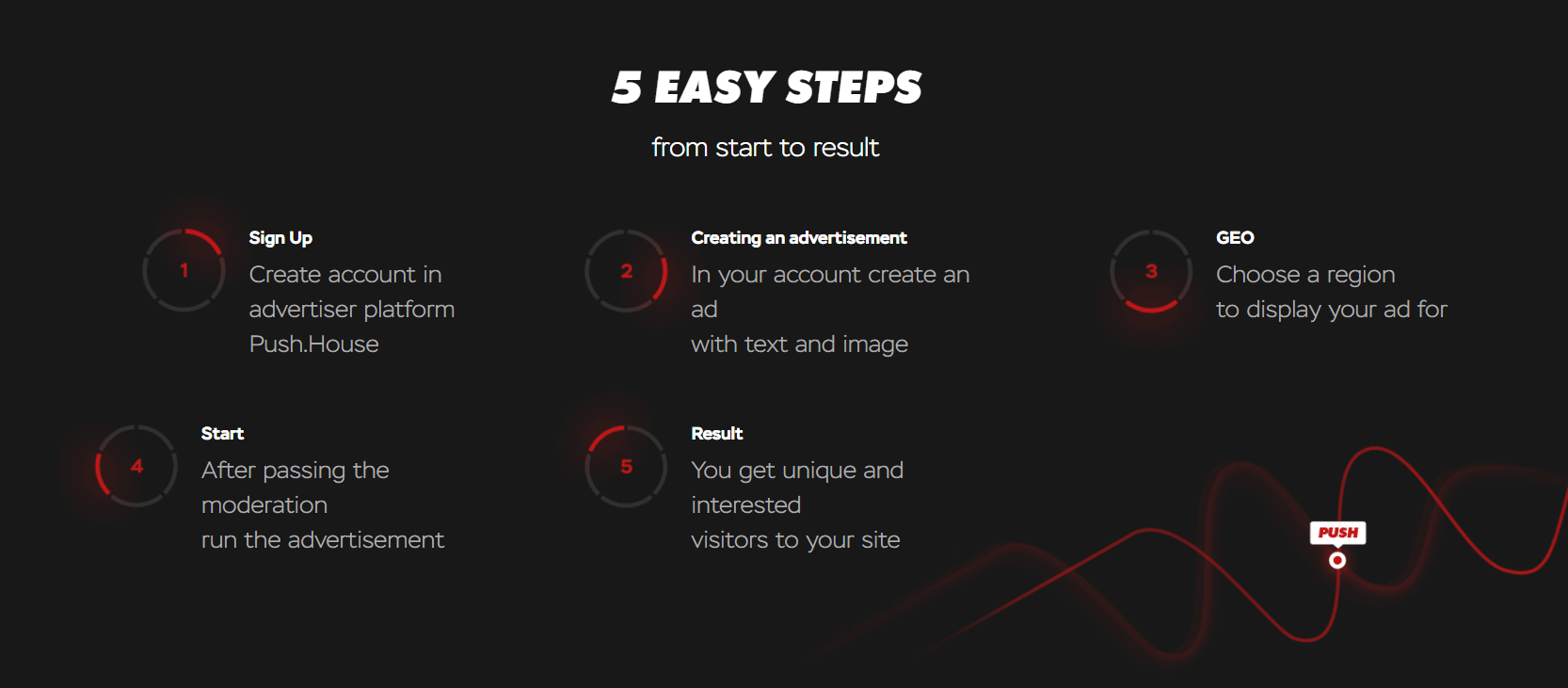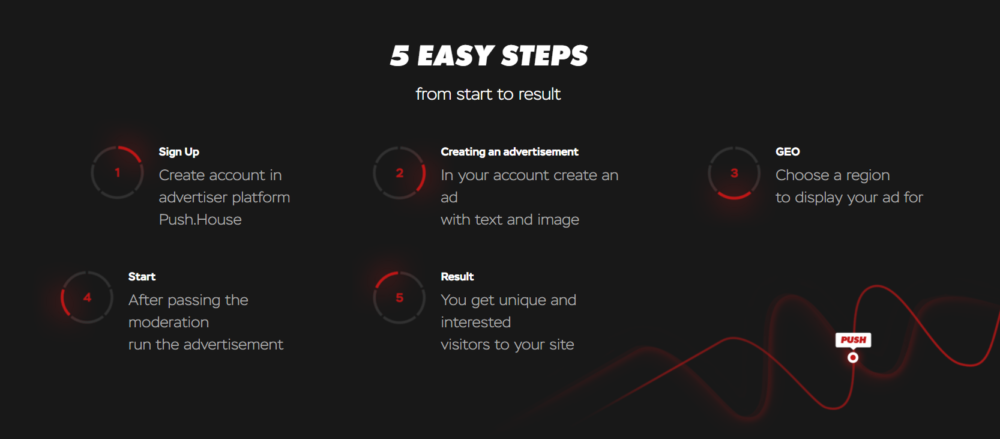 It is pretty easy to get going with Push House. All you need to do is perform a few steps in order to create your account on the platform. Let us get down to the stepwise process of getting started with the Push House Ad Network. 
Start With Creating An Account
Before you begin with using the network, you first have to begin with creating your account on the website. On the website's homepage, you will be able to see two tabs, "SIGN IN" and "SIGN UP."
Then you have to click on the signup tab. After that, fill in all the details that are required. Once you are done, verify the account and then go to the next step.
If you already have an account earlier on this platform, then simply log in to the already created account. 
Now Create An Advertisement
Once your account gets verified as well as approved, you can then head towards the ad creation space. All you have to do is create the first ad, to begin with, it. Give a title name to the ad, a description, or an image if it is needed.
Finally, you have to put the website address in your ad so that when someone clicks your ad, they will get redirected to the website.
Next Step Is Audience Selection
Now, this step is the most crucial one when it comes to driving the users as well as revenue to your website. Opt for the audience you wish to target. Once you select the target audience, you will be able to generate high conversion rates.
The higher the conversion rate, the more revenue. After you set your audience, start with advertising the campaign. 
Now You Can Relax And Enjoy Your Results
Now that you have done all that you have to from your end, it is now time for the platform to amuse you with the services. In just a few hours, once you begin with the campaign, you will start to get the quality and unique audience to the website with a really high conversion rate.
In order to monitor the statistics of the campaign, you simply need to go to the dashboard for tracking the campaign's real-time results like the revenue, clicks, impressions, and other details of the campaign. 
Push.House Review For Publishers
Push.House Review For Publishers can prove out to be an incredible choice for a publisher who is in search of ways in order to earn money from their website.
The platform is definitely the best Push Ad Network that helps the publisher in generating income by just displaying advertisements on the website.
With Push House, you can monetize the website and make money from it with the help of Push Ads that are highly targeted.
When you set up your push ads for the website, you can probably get to see an incredible impact on the earnings with the Push House magic.
If you are a publisher, you will come across numerous other ways of earning much more by putting into use CPA Marketing, Affiliate Marketing, and Link Shorteners. 
It is pretty easy to get approval on the Push Ads and begin with the monetization of the website.
There are some must-follow rules that you definitely have to follow, like –
not clicking on the ads of your own, use multiple accounts, use of fake traffic or bots, etc if you fail to follow the needed requirements, eventually, your account will get banned. 
Requirements For Publishers To Join
The mechanism of how Push House works is pretty straightforward. The platform permits its publishers in establishing the website via advertisement through push notifications.
You can get yourself registered on this incredible network as well as enjoy the amusing features by registering yourself to the site if you have a rising level of traffic on your website.
Though there aren't any particular prerequisites of joining the Ad network, there are a few things listed below that you should keep in mind. 
It is forbidden to have multiple accounts. 

A publisher, before they join the Push House, should have real visitors and traffic on their site.

A publisher isn't allowed to use the traffic exchange sites or bots for generating clicks and traffic and earning money.

A publisher isn't permitted to earn by clicking the ads they are creating. 

A publisher cannot mess up with third-party privacy.
Benefits For Publishers at Push.House
There are various benefits that Publishers can get are as given below:
Weekly Payout.

Timely Payments.

Offers Highest Payout in comparison to its competitors in the market.

Accepts traffic that comes from more than 180 countries. 

Offers the publishers 24/7 live support.

For every Push Subscription, publishers get Instant payment.

For real-time tracking of the results, you get live tracking systems. 
Push.House Review For Advertisers


With Push House, the advertisers get incredible features concerning push notifications. The platform is pretty helpful and also one amongst the best methods for advertising these days in order to promote your services and products.
Because the Push Notification appears on the screen in the format of small pop-ups. These are primarily media messages or text messages, just like an SMS.
This is the reason Push Notifications are known to fetch higher rates of conversion, which is pretty advantageous for the advertisers in order to gain improved ROI (Return On Investment). 
An advertiser gets an incredible rate of conversion and top-tier traffic that will be helpful for an advertiser in growing their business quickly on the Internet. 
The platform deals with both CPC as well as CPM models. This basically means that you have to pay only for the outcome. Push House supports over 180 countries that means the advertiser gets to target the audience from across the globe.
This is pretty much beneficial for both the advertisers as well as marketers as they can engage the users by posting them notifications regarding the updates, new products, and discount offers that make your customers stay in touch with the advertisers.
For an Affiliate marketer who is trying to promote CPA marketing or Affiliate marketing, then the Push Ads can prove out to be a great option as you can get more leads and sales.
Benefits For Advertisers at Push.House
If you are an advertiser, you might be surely thinking of the benefits you will get if you opt for Push House instead of other Push Ad Networks. Push House offers incredible benefits for the advertisers, a few of which are listed down.
The platform offers the advertisers 100 percent brand security. 

Their anti-fraud system gets you only the targeted traffic and real users, and thus you do not get any bot or fake traffic.

The advertisers get personal managers for their accounts. 

The advertisers get a really high Return On Investment.

The advertisers get multiple options of payment. 

The advertisers get support from all across the globe. 

It is easy to get connected with the publishers and get visitors who are interested in what you have to offer. 

The platform blocks the bot traffic.
Payment Methods of Push.House


The platform offers all the major forms of payment methods, making it easy for the advertisers to pay in any way they wish.
Push House accepts payments of all types like Bitcoin, ePayments, Web Money, PayPal, AdvCash, Payeer, Perfect Money, QIWI, and MasterCard/VISA.
Push.House Affiliate Program
Push.House offers an affiliate program that can get you extra income by inviting the family and friends or even the followers to join the Ad Network. You get a commission of about 3 percent from the referrals when anyone joins in through the referral link.
All you need to do is apply for their affiliate program, and you get a tracking link for the promotion.
Is Push.House Ad Network Recommended?
Yes. The platform is very much recommended as it is the best and one of the fastest-growing networks for both advertisers as well as publishers.
If you are someone who wishes to promote their business and get incredible results, then Push Ad Network can do wonders for you.
Hopefully, this article will help you in figuring out if the platform can work best for your needs and help in the quick and efficient growth of your business on the Internet.
Quick Links 
FAQs | Push.House Review
🤷‍♀️ How Should I Join the Push House?
For joining the platform as a publisher, all you need to do is register in the system. After that, you need to add the website to the platform. The next step is to get the link as well as the code, and then you are good to go. For joining the platform as an advertiser, you need to sign up on the platform, create an ad, select the audience, and then you are good to go.
🙋‍♂️ Is Push House A Recommended Platform?
Yes, it is a highly recommended platform because of the quality services it has to offer for both the publishers as well as the advertisers.
💁‍♂️ What Payment Options Does Push House Offer?
Push House has a plethora of payment options to offer and accepts payment of all types like Bitcoin, ePayments, Web Money, PayPal, AdvCash, Payeer, Perfect Money, QIWI, and MasterCard/VISA. You can contact the support team for the custom method of Payment if the payment method of the country isn't listed.
Conclusion | Push.House Review 2023
Conclusion for this blog Push.House Review is that Push.House is one of the most trusted and best push notifications ads networks that enables one to monetize their site easily.
For both professional and entry-level partner advertisers and publishers, PushHouse is a reliable ad network. I'll definitely recommend this network for all the users.