If you have any skin in the dating game, in the sense that you like promoting dating options, then you should investigate Mirelia Networks.
Mirelia Networks is a self-service demand-side platform with high-quality dating traffic from members' areas.
The staff at Mirelia Networks has more than ten years of expertise in affiliate marketing and is highly competent in digital ad tech solutions that can exponentially increase your ROI.
So let's analyze the statistics.
Currently, the network receives 1.5 billion monthly impressions and 30 million hits. They have 1.5 million daily users over a network of their unique members-only sites in over 20+ tier 1 GEOs.
This equates to a large number of highly converting traffic from members' areas (direct traffic).
As no commission is paid to publishers, affiliates may get more significant rewards and premium adult traffic at affordable prices.
Most of Mirelia's traffic is mobile, with 90% coming from mobile users and the remaining 10% divided evenly between desktops and tablets.
Mirelia is, therefore one of the major traffic generators in the adult dating sector.
Let us check out the Mirelia network review in detail.
Mirelia Networks Review 2023: What Is Mirelia Network?
Mirelia Networks is an advertising network created by specialists in the online dating industry that focuses largely on mobile and desktop display adult traffic from Tier 1 GEOs.
Mirelia Networks is an advertising network created by specialists in the online dating industry that focuses mainly on desktop and mobile display adult traffic from Tier 1 GEOs.
Since 2018, Mirelia Networks has been in existence. The network's staff has more than eight years of expertise in online dating and distributes adult traffic from the Members Area to its partners.
The internal websites of Mirelia get more than 1.5 million unique visitors daily, and the network produces more than 1.5 billion ad impressions per month from 20 GEOs.
Simultaneously, the company's internal analysts and media purchasing department are evaluating the growth of the websites' audiences with each passing day.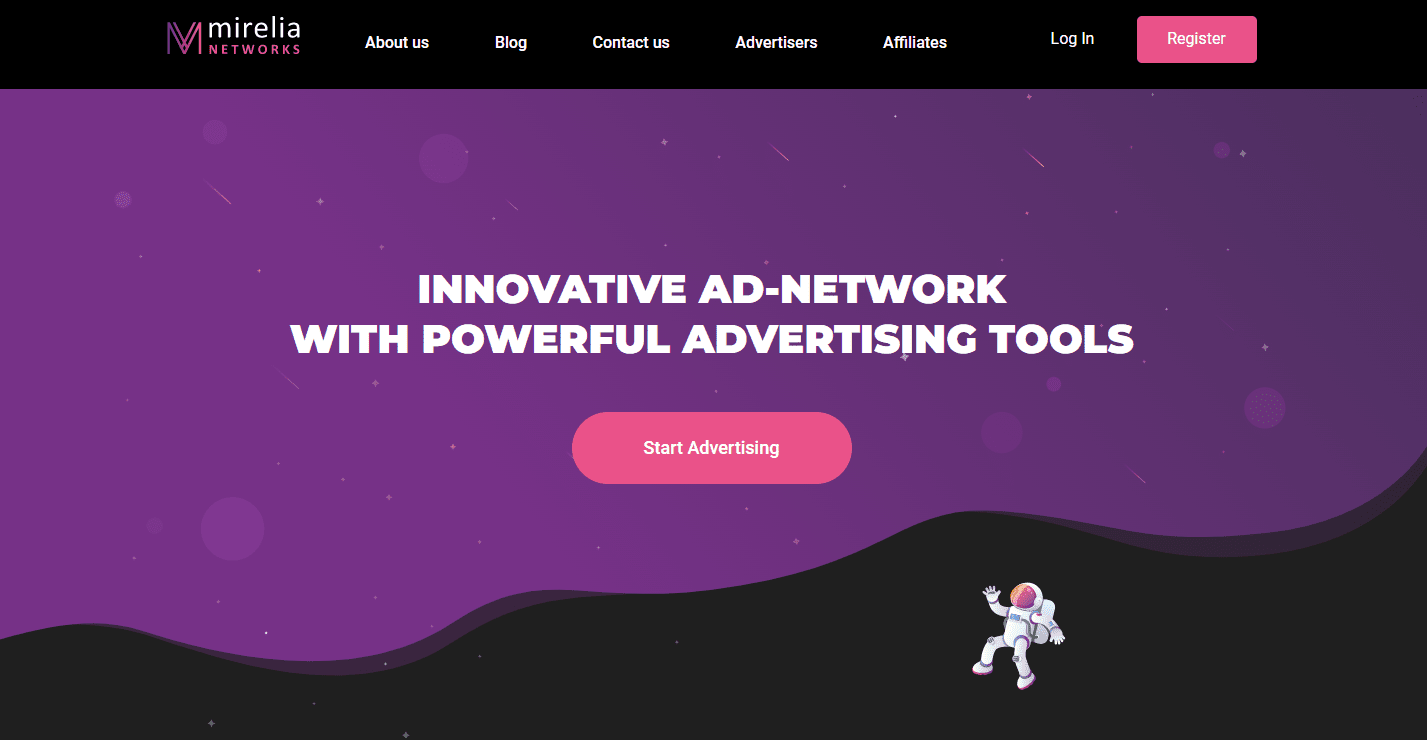 Advertisers may purchase traffic from Mirelia Networks using two different business models: CPM and CPC (the latter will be available after you reach out to your manager).
The CPC model is only accessible for dating-related offerings. In addition to gambling, phone sex, games, adult paysites, dating, and cams, you will be able to market more offers if you work on CPM.
Given that Mirelia Networks concentrates on adult traffic, you should monetize it with adult offerings. In most cases, the ad approval procedure on Mirelia Networks is quick.
The Help section of the network's official website describes all of the regulations. You will not be allowed to operate with Mirelia if you run fraudulent traffic or advertise tech support offerings and other questionable content.
If you are unsure if your offer satisfies the requirements, you may contact your account manager, who will do everything possible to assist you.
Mirelia Networks – Ladders & Traffic
Mirelia utilizes a novel way to landers. In contrast to the majority of DSPs that need you to submit your own creatives, Mirelia has them already integrated. This is excellent news for affiliates using Smartlinks and will save them a lot of time.
Mirelia Networks – Tracking & Optimization
Once your campaign has been created, saved, and activated, you can begin testing the traffic and targeting and begin the optimization process. Mirelia connects with the majority of tracking systems, making campaign optimization simple.
Although it is recommended to use your tracker, it is crucial not to miss the statistics page. This will provide immediate report production and real-time data for all active campaigns.
Following the split above, it is time to monitor this in your campaigns. Simply provide your split value to your tacking link using a parameter such as &utm term = mirelia split1.
Then, after allowing this to run for a day, just review the results using your tracker and alter your bids to give more weight to the winning split. Thus, you may raise your ROI and the volume of your winning campaign.
Quick Links:
Conclusion: Mirelia Networks Review 2023
Mirelia Networks is a data-driven DSP with a large selection of high-converting creatives to complement your marketing plan.
The site is well-designed and employs unique ad tech solutions to provide high-quality traffic and leads to dating affiliates.
The intelligent targeting options are precious, and the anti-fraud software and top-tier security ensure that advertisers are in good hands.
As an affiliate, you can get reasonable pricing and personalized live service via a unique DSP that provides exceptional performance and value.
In addition, various payment options are available to finance your account.
Even though the platform is a bit different from what you may be used to, most affiliates will be up and running within minutes.
Additionally, the platform offers several optimizations, monitoring tools, and real-time analytics to increase your ROI.
Sign up for a Mirelia Networks account to get amazing results from high-quality member-only traffic.