In this article, I will discuss TrafficStars Review. I will be talking about TrafficStars' features, pros and cons, and pricing plans. This will help you and might gain you a lot of profits. 
Introduction to TrafficStars Review
TrafficStars is an ad network where it offers clean and intuitive networks for the users. You should add it to your list of adult networks. It also offers well-known premium sites with ad networks that offer good quality and generate a great volume of traffic to your website.
It has an easy-to-use interface which makes it easy to navigate your ad campaigns. You should try it.  
In this guild we will talk about:
A basic overview of TrafficStars.

Some of the best features of TrafficStars.

What are its pricing plans? 

Pros and Cons. 

Finally, we will talk about how it works for you. 
Overview of TrafficStars
TrafficStars, a premium self-serve ad network with high-quality adult traffic that serves 3 billion ad impressions daily to an exclusive Publisher xHamster and Premium Publishers such as PornHub, Spankbang, Sex.com, GotPorn and many more.
TrafficStars offers:
1. Worldwide desktop and mobile traffic.
Top 10 GEOs: US, DE, UK, FR, IN, JP, IT, BR, CA, ES.
2. Expert support
Dedicated Account managers assigned to each account
3. CPC, CPM, and DCPM pricing
4. Various Ad Formats:
Banners, Native, Video Pre-Roll, Video IM Slider, Push, Popunder, Full Page Interstitial
5. Targeting options
By Country, Site, Language, Category, OS, Device, Browser, Carrier, IP Range, Keywords, Retargeting, Look-alike audience, Frequency capping, Dayparting
TrafficStars helps in enhancing the product and expanding the cooperation with partners. TrafficStars has real-time bidding which is a programmatic option where these pieces of demand-side platforms meet supply-side platforms in digital marketplaces and admirers get the entry in real-time.
Firstly, this provides a little time so normally from the time one user visits a website till delivering the impressions of the ad it takes about 20-100 milliseconds.
So, it's a repeated process that is very efficient. When a user visits a website a corresponding bid request is being sent to you in exchange so this bid request contains some information based on the browser, IP language, and also it contains a piece of behavioral information.
So, down the ad exchange passes these bureaucrats with information to all the advertisers connected to the platform, to the marketplace and then the auction starts so everybody makes bots and the highest bids get the user. 
Features | TrafficStars Review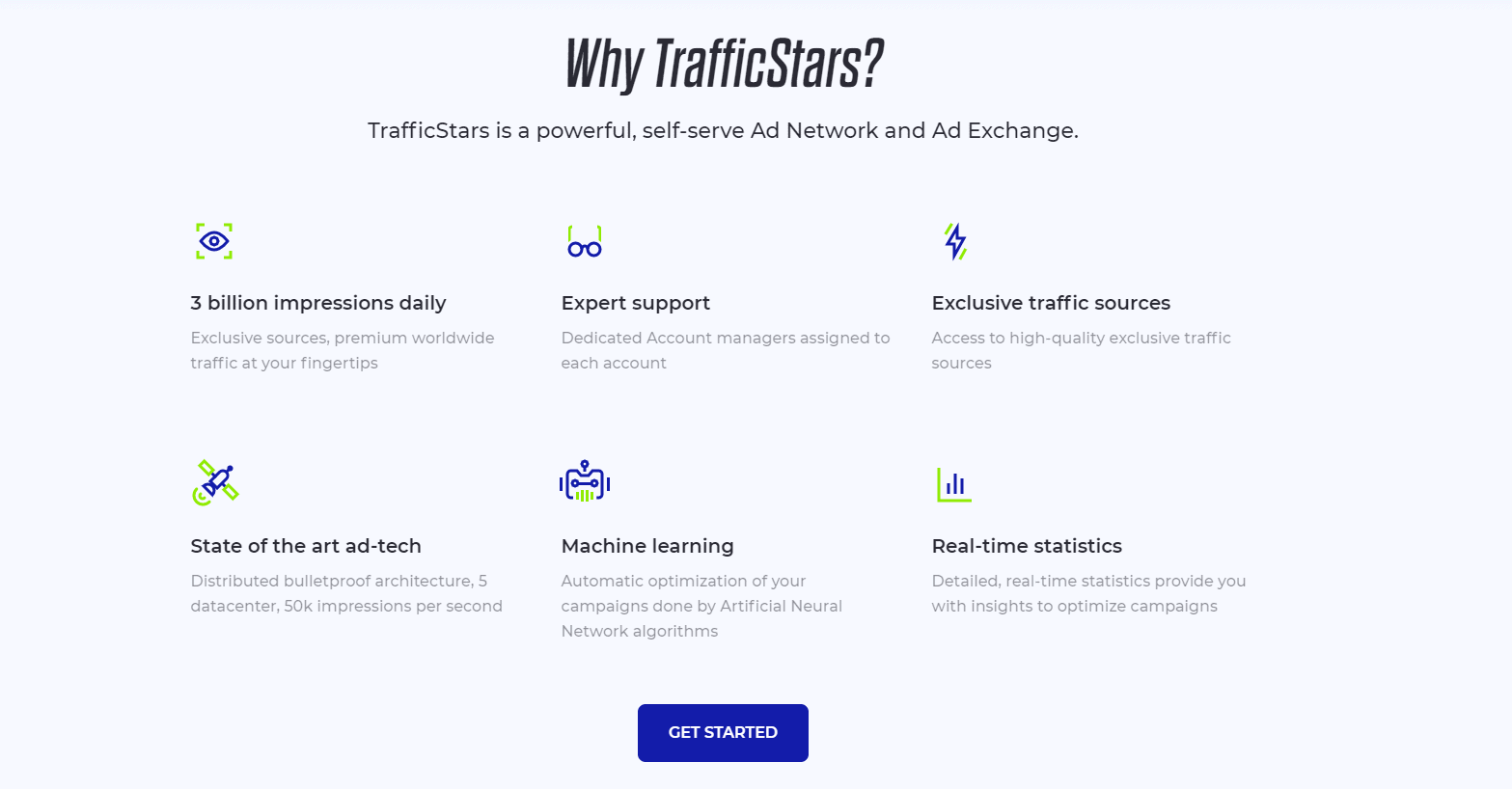 Campaign Creation and Tracking 
First, you need to log-in to the TrafficStars account click on the green button that says create a campaign. You need to go through the usual campaign name and select all the categories from which you wanna receive traffic from.
For ad format, select native continues with the campaign creation process, select the countries you want to target, and choose which ad group you want the campaign to be in.
Don't forget to choose the targeting options you want and select any scheduling settings you need to control when you receive traffic. 
Under the audience tag, you will be able to select run or prime audience. On run, you will be able to see all the native ad spots in the collection of premium sites.
As this is a new format new publishers are adding native ad spots to their websites daily for this reason you can set-up a native campaign to be the first to the new placements as soon it is added. 
Settings 
First, you need to log-in to your TrafficStars account and then click on the red button that says create a campaign. On the campaign creation page, you will find the following tabs. Settings, targeting, scheduling, audience, pricing, and ads.
The campaign name is important to help you quickly identify a campaign's format, vertical websites, etc. 
TrafficStars recommends setting up a name such as a product, country, site, and ad spot if targeted.
The category selection tool allows you to match your campaign to only certain video categories which allows you to create ads that cater to specific audiences unless you have already done some testing or are printing an audience-specific product target all categories to avoid limiting your ability to receive traffic.
In the ad format section, you will be hale to choose between pop-under traffic different formats of banners as well as direct traffic and native ad campaigns.
Moving on you should select the countries you would like to target types their names on the search and choose as many as you want.
Finally, use the add group tool to organize your campaigns as you see fit. If you haven't created an ad group yet you will be able to do so on the campaign listings page. 
Targeting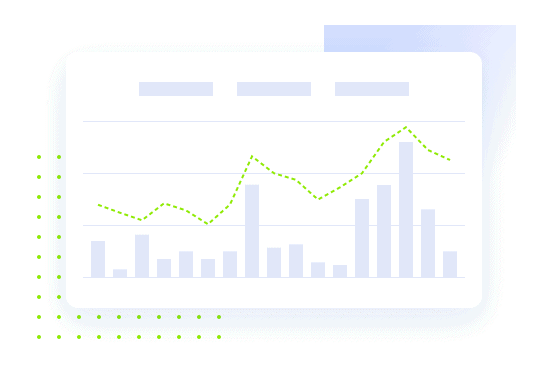 On the targeting tab, you will find out powerful targeting tools that help you segment your campaign. The following parameters are available languages, devices, operating systems, browsers, carriers, and IP ranges.
The language selecting tool will allow you to target users navigating using specific language settings. This is helpful to target only English speakers living abroad. 
For example, with the devices operating systems, browsers, and carrier selection tools you will be able to further segment your campaign.
For example, target only users using android mobile devices navigating with chrome browser on a certain telephone carrier or only using Wi-Fi.
The IP range tool is a way to target or exclude specific internet service providers in targeting a campaign by providing a list of IP addresses. 
Scheduling 
On the scheduling tag, you will find departing choose during which hours a campaign should run and on during which days of the week. Remember to choose the correct time zones as well.
You can easily select the whole column of a certain hour or the whole row of a certain day. Select all or deselect all or you can use the quick selection tool to target working hours day or night.
The start-end date then chooses the ending and starting date an hour for the campaign. Remember to choose the correct time zones as well. 
Audience 
Select websites in which you would like your ad to appear you can choose between a run of network or Prime. On the run, target all available ad spots for the chosen ad format. You can then blacklist or whitelist using the domain tool.
On prime, choose the only specific websites and AD spots that you would like to target. 
Ads 
Under the ads tab, you will be Male to upload your creatives, banners, and pop-infers and set a priority and frequency capping. Priority means which banners will have a higher probability of being shown to the users.
This tool works with a weight system so the higher the number you choose the more your AD will be shown.
Frequency capping allows you to choose how many times you want to show your ad to a unique visitor for 24 hours. Remember that a low cap may lead to fewer impressions on your campaign. 
Once the campaign is saved it will be reviewed by our compliance team and start running if it's approved as always the TrafficStars team is on hand to help with any further questions you may have.
So, please do contact your account manager or the support team. 
Tracking 
For popular traffic sources, TrafficStars had already pre-configured all the settings which can be time-saving indeed! You find a link in the tracking and API section where every advertiser with their account can see a short text regarding the link they need to use.
When you go through that link you can make changes and save them and Laos don't forget about the dynamic parameters where you can in your offer link which is a great way of keeping track of everything going on on our site. 
Reports and Optimisation 
When you successfully launch your campaigns you would like to keep track of their performance.
To do that, you can get access to a full list of your campaigns in your dashboard which can be referred to as the blue 'Campaign listing' button.
Or you see all the performance tracking by clicking on the 'Advertisers' button at the top of your account menu and you can select campaign listing. 
In this way, you can view all the stats of your campaigns to date which you would like to see.
One more interesting thing about TrafficStars is it reports include hourly stats where you can take advantage of the possibility to track earnings and return on investments directly on the platform.
It allows you to see useful stats for your campaign. 
Offers and Verticals 
The type of traffic TrafficStars offers is for adults and the cost models include CPM, CPC, Dynamic CPM, and CPMU and the ad types they provide are banners, push and In-page push ads, popunders, native ads, video pre-roll, videos IM slider, Video X pre-roll, full-page and interstitial Ads. 
Payment and Investments 
In TrafficStars the minimum payment for deposits is $100 and the payment methods which they offer for making the payment is through PayPal, Paxum, Wire Transfer, Visa, American Express, Discover, MasterCard. JCB, MIR, and Union Play. 
Customer Support at TrafficStars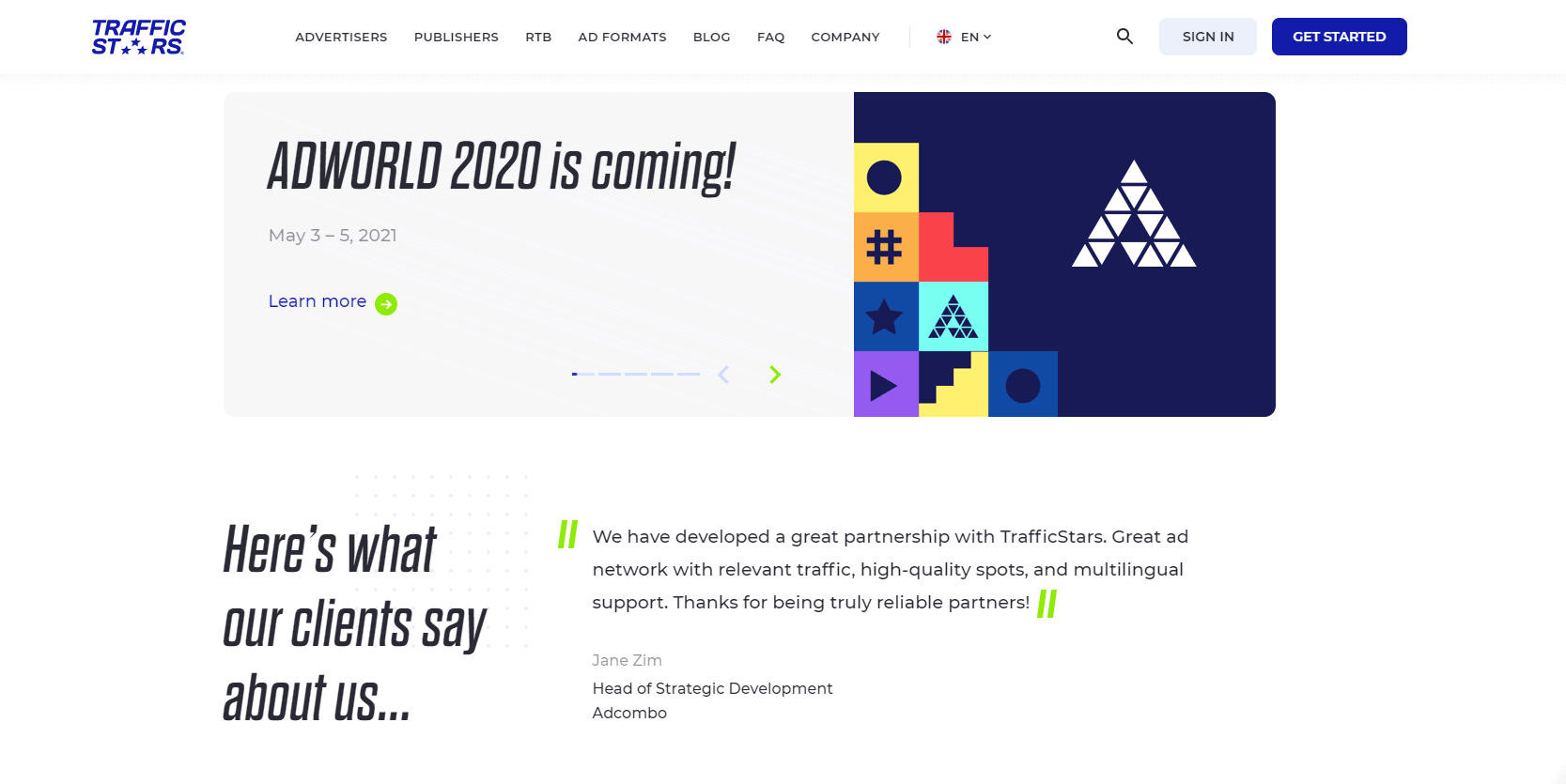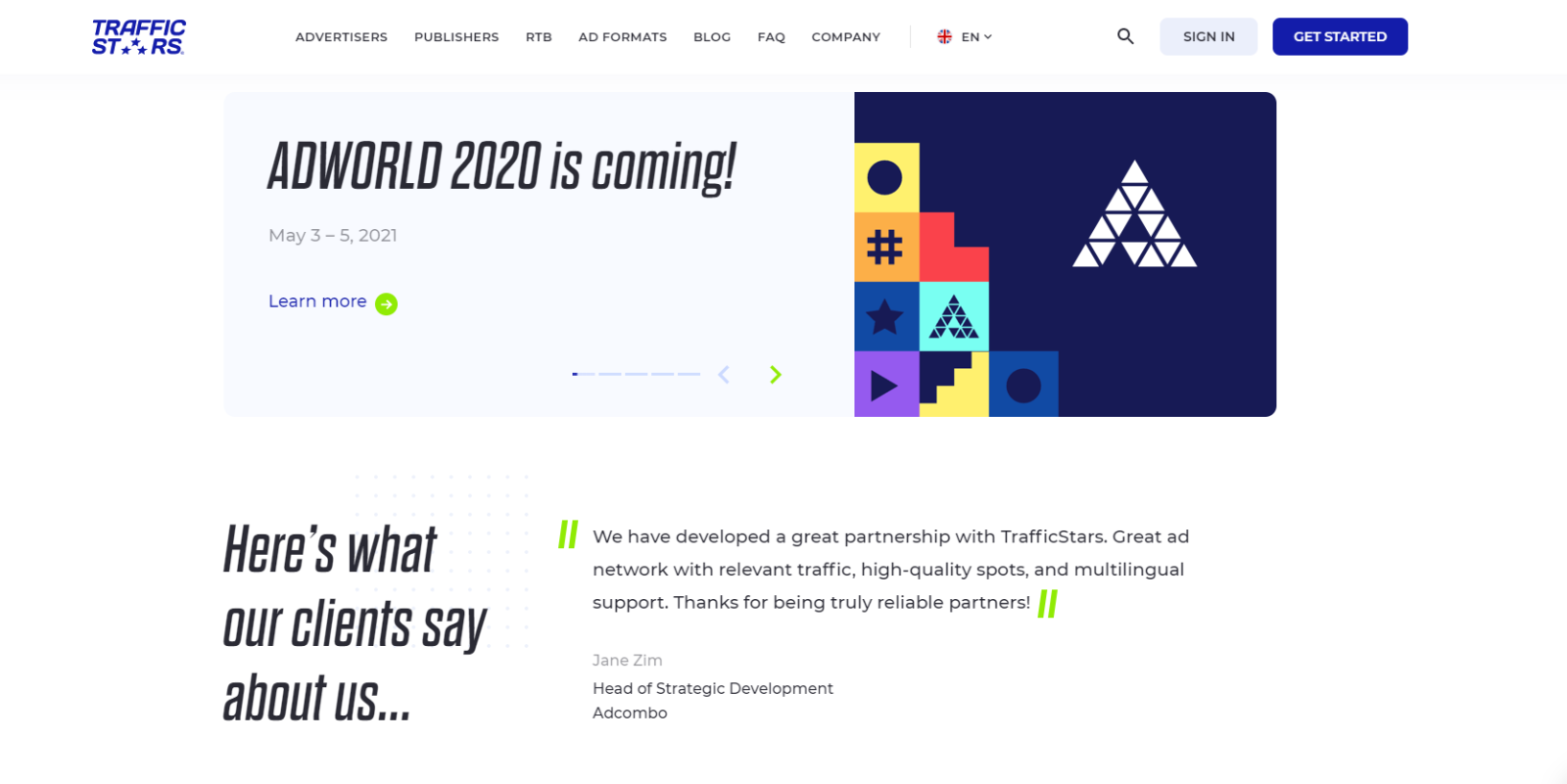 TrafficStars has great customer service as it offers services that can solve the queries of the users. They also have a personal account manager who looks after your stats if you have any queries with your campaigns.
The support response speed replies within 24 hours after the query are raised.
The support rating is great as well and you can contact them through email or they also have an option for an online help desk where you can reach them at any time for your queries as they offer services where they will revert to you within 24 hours of the queries registered.
You can Laos contact them through Email Address: [email protected] 
Pricing Plans of TrafficStars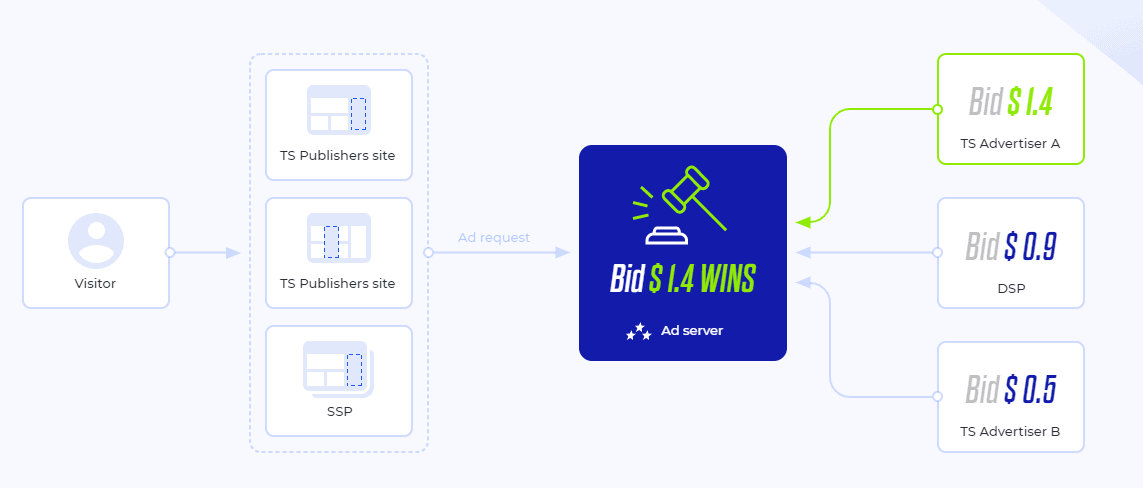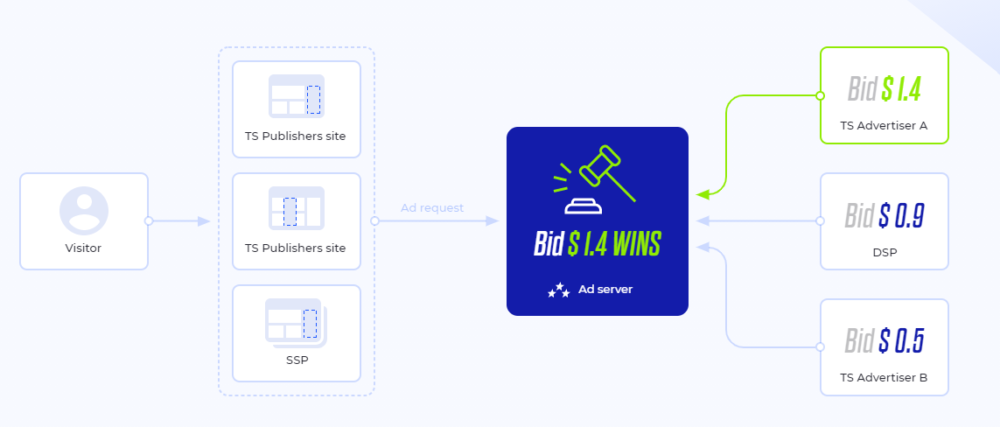 You can choose the desired pricing model CPM calls per thousand impressions or CPC is not available for pop-under campaigns. When using CPM you can also choose the standard and dynamic CPM.
The dynamic CPM tool lets you set a maximum CPM bid and let the TrafficStars algorithm do the bidding for you within 24-hours.
You can also know the minimum bid for the Geo ad format and device that you have selected and as well as an estimated top bid. 
Quick Links
FAQs | TrafficStars Review  
🙋‍♀️Why should advertisers use TrafficStars?
Advertisers don't have to spend a lot of money on the impressions as they are the users who don't need it as it's targeted. Yes, of course, they can target what they need like IP, trading system, device language and they will get exactly what the user wants to do so they don't have to show out wrong things which reduce the cost and give better performance to the campaign.
🙎‍♂️ What are the benefits for publishers with TrafficStars?
So, firstly publishers have access to a huge range of advertisers and they can get their inventor value because the auction is very big and a lot of advertisers make different bites and the highest bid wins the auction. So, publishers firstly get their adventure value, and secondly, they can monetize more traffic with TrafficStars.
🤷‍♂️ What should publishers and advertisers do if they are interested in TrafficStars?
They can register in TrafficStars on an exchange platform or build their in-house solution as TrafficStars does. They have an in-house platform and they are constantly working on making it compatible with big players in the market because every company builds their own solution calling them standard. So, they try to change it in a way technically so that they can integrate with more partners.
Conclusion | TrafficStars Review 2023
TrafficStars Native Ads are defined in a way that is consistent with the form, style, and voice of the website they appear on.
They are presented as content recommendations from the website and they invite the users to engage with additional content.
They might find it interesting because of these characteristics native-ads are considered less misleading than regular banner ads and are typically viewed 53% more frequently than display ads as a result both the click-through rates and conversion rates of these ads are usually a lot higher.