Partners House Review
Have you begun capitalizing on push notifications?
If you still aren't aware of the newest trend of money-making in advertising, then you are seriously missing out on something.
But hang on, we are here to guide you on everything related to push notifications and how to grow your business through the most powerful methods. Like it is said," Be late than never". So, read the article to know the details and start using them on your business ASAP.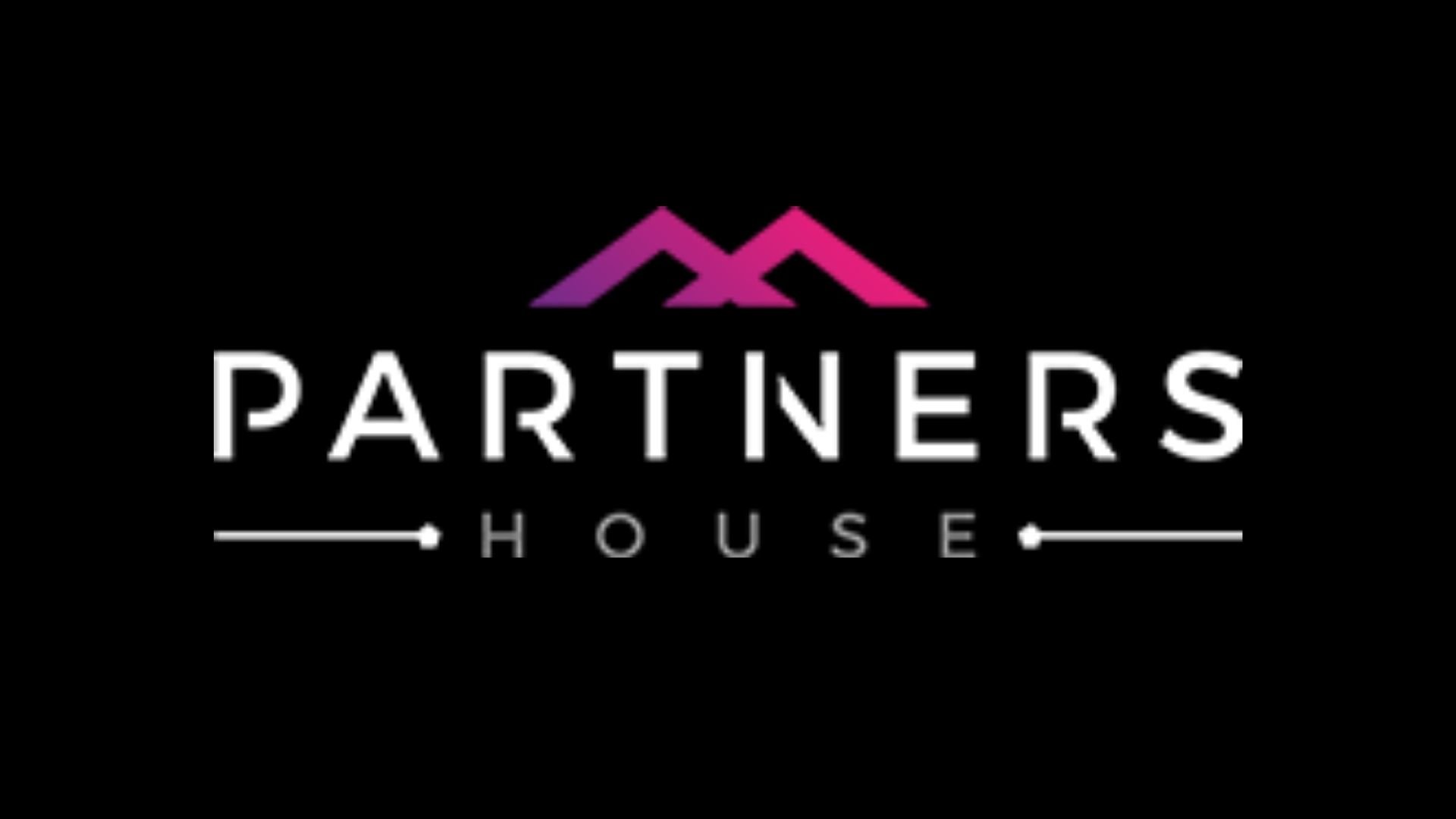 What are Push Notifications?
Push Notifications is a very favored advertisement design. With the growing use of mobile phones, it has become easier to reach people and advertise. Publicizing has got a new name, and that is Push Notifications. It is easy to advertise among different groups with the help of in-app publicizing.
In this, you get notifications by other applications and they appear as a pop-up on your screen, whether you are using a smartphone or an iPad.
In this brief moment, the advertiser connects with you (client) and increases his prospects of more sales. If that push notification advertisement catches your attention or suits your requirement, it solves your problem plus adds value to the sales of the advertiser.
Detailed Partners House Review 2023: Is This Ad Network Worth?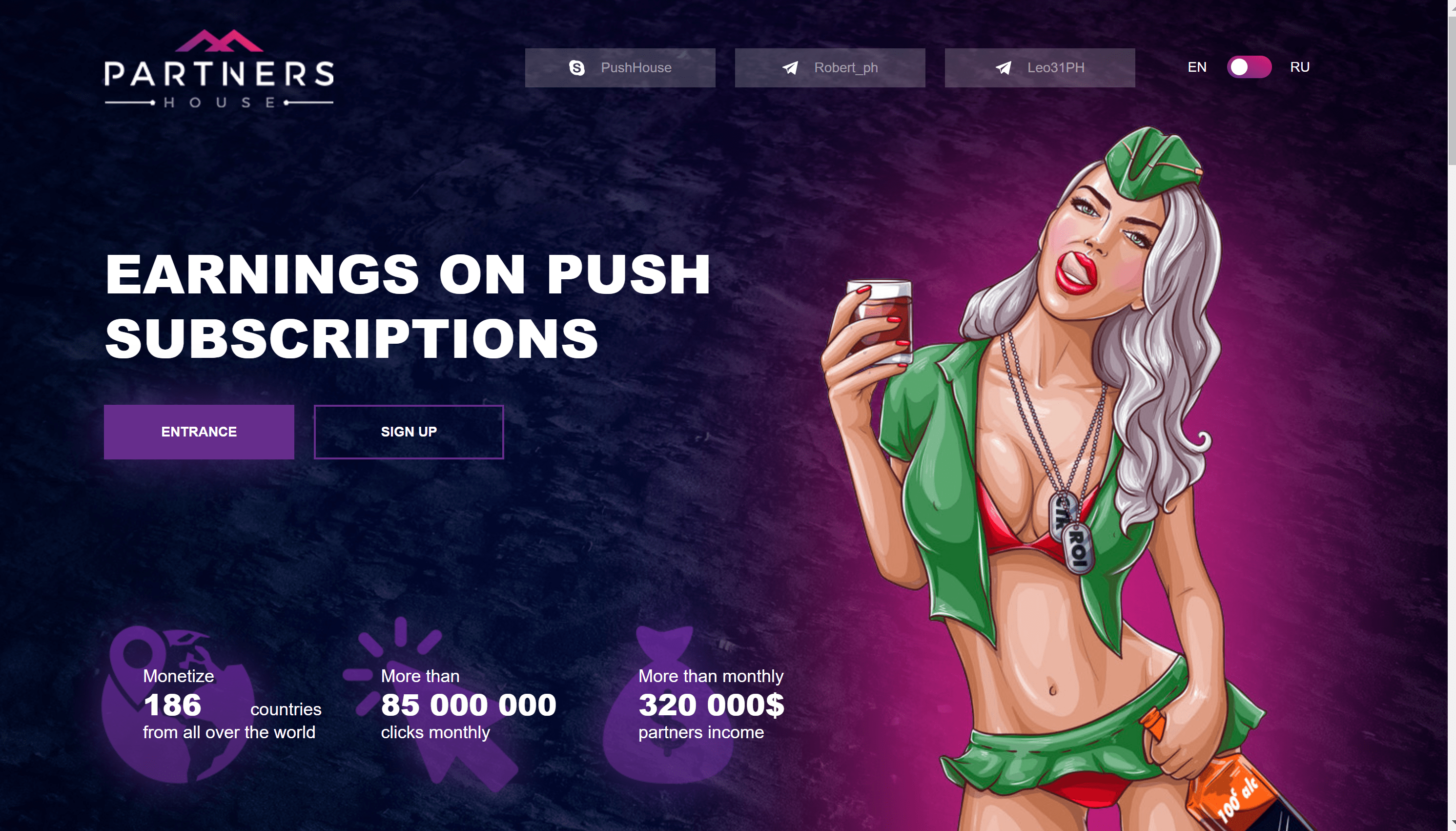 Partners House helps you in monetizing your website traffic with the help of designing Push Notifications.
These notifications are helpful in earning a passive income each month by reaching out to several clients. Partners House has over 90 million Push Subscribers, from more than 180 countries.
And, this makes it one of the fastest-growing Push Notifications Ad Network and is still growing. It is known for successfully delivering 1,000,000,000 Impressions and 4,000,000 clicks daily. It has gained immense popularity among Advertisers and Partners.
Everything You Need to Know about Partners House
Partners House is a Push Notification Ad Network company, based in Ukraine. It is one of the best ad networks founded in 2019.
Name of the Company – Partners House
Website – https://partners.house/
Commission Type – RevShare, CPA
Monetization Methods – Push Notifications
Countries – Worldwide
Minimum Pay-out – $50
Payment Frequency – Net 7
Payment Option – Paypal, Bitcoin, ePayments, VISA, Mastercard, Perfect Money, QIWI, Payeer, and AdvCash
Requirements for Publishers – Nothing
Partners House for Advertisers
Advertisers benefit from Partners House as it helps them in promoting their products and services, with the help of wonderful Push Notifications.
It aids digital advertisers to get maximum profits through a small inventory. Partners House is the ideal platform for realizing such dreams because it creates a link between the advertiser with millions of bloggers and publishers, by having million clicks and impressions on their website.
It is a win-win situation for the advertiser as it can easily reach the target audience.
Partners House also lets you target your traffic, like selecting the countries they want to advertise in, any specific gender or devices they are targeting, etc.
The advertisers just have to customize their target audience and inform Partners House, rest everything is taken care of by them. The advertisers get the freedom to monitor and track the performance of their ads via the Dashboard.
Benefits for Advertisers

Here is a list of some of the benefits for advertisers when they advertise via Partners House Push Notifications:
They deliver great Return of Investment (ROI) to the advertising companies
It is easy to enrol and signup.
It helps in quick monetization of their business.
They have 24×7 customer support.
They make use of RTB.
Their CPC and CPM is noticeable.
The network is anti-scurry.
How to start going with Partners House?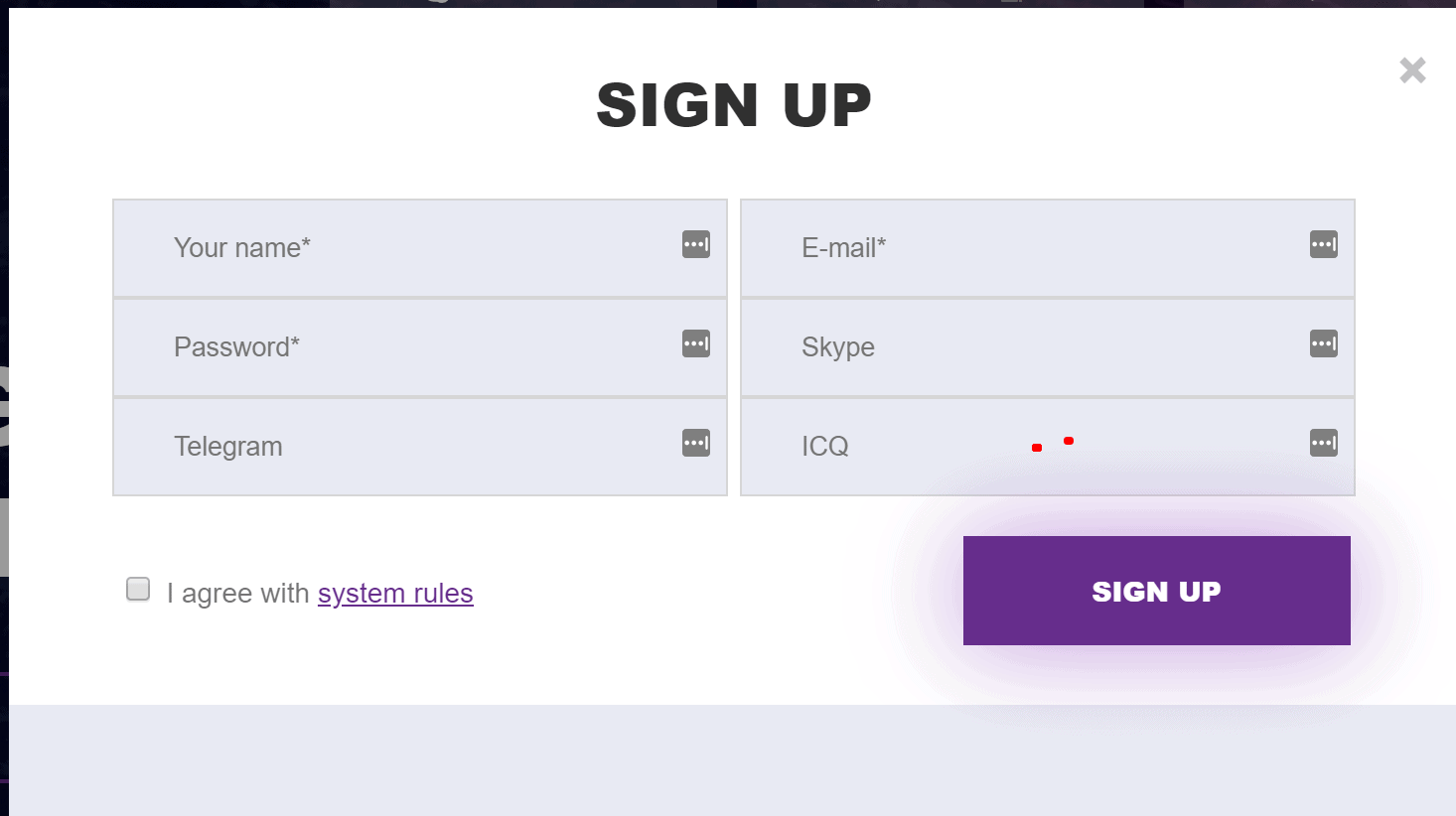 Partners House is a very user-friendly and forthright Push Notification Ad Network.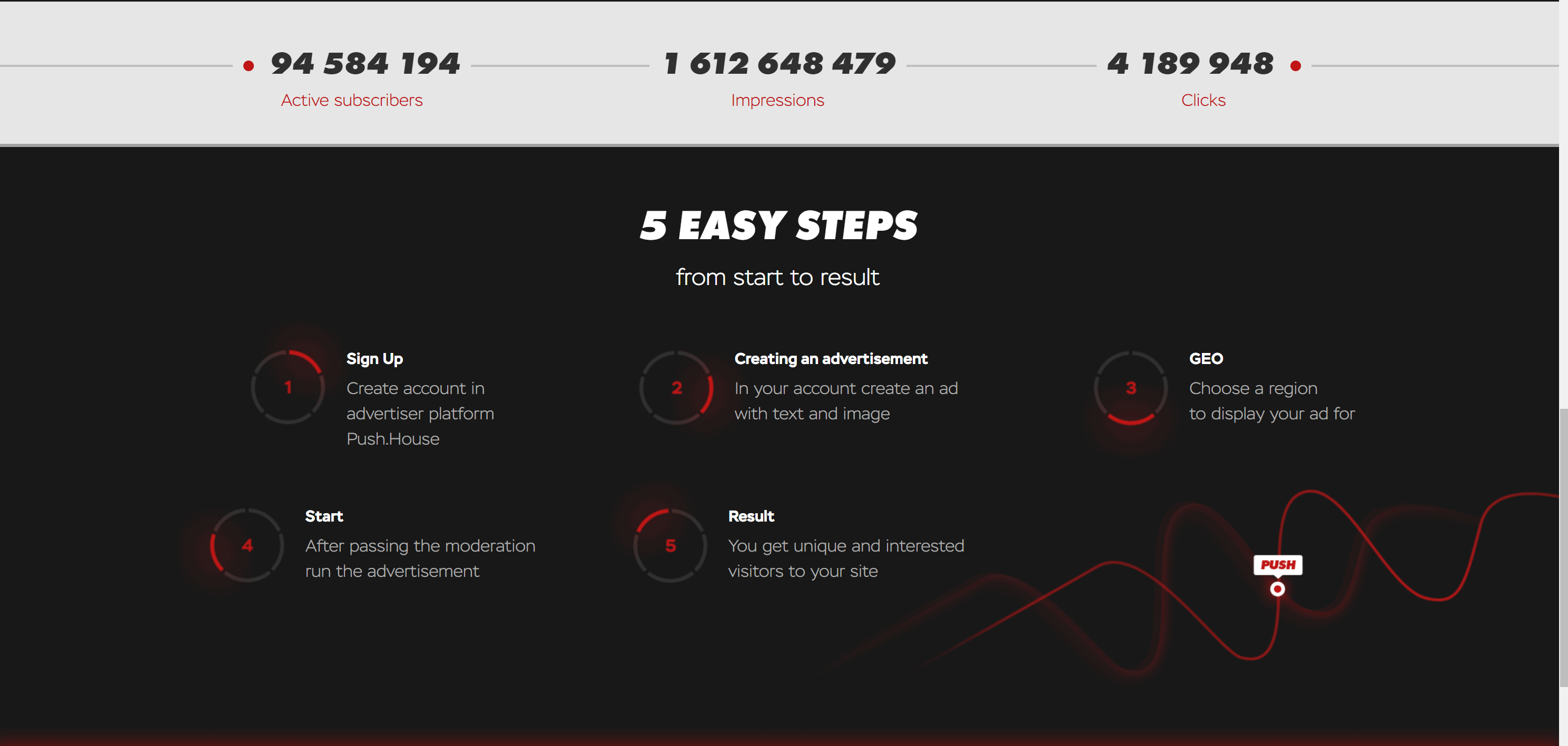 The moment a customer clicks on the advertisement, you will start earning. I will share the easy steps you can follow to get going with your campaigns with Partners House:
Create Account – Open the Partners House website page and click on the signup button. A registration page opens up, where you have to fill in the details as asked and click on 'Create New Account'. Thereafter you have to confirm your account via email.
Choose the Campaign – After signup, you need to add your advertisement. Mention all the ad details like its title, daily budget, image, ad description, etc. Also give your website link with the add, which will help the interested audience to your website page.
Choose the Target Audience – Once your advertisement is made, you now need to choose the target audience whom you want to see the ad. Like, you can choose the audience of a specific country or countries, or of specific age, etc. Once chosen, you can run your ad.
Results Time – Once your ad is run, the account manager checks and investigates your campaign and then approve it.
Thereafter, you can access your dashboard and check the analytics of your running ad.
This dashboard is user-friendly and easy to operate. If you face any issues, you have a 24/7 active customer support by Partners House. You can check the real-time clicks and impressions via this dashboard and keep yourself updated with the progress of the campaign. Isn't it simple!
Partners House for Publishers
Publishers benefit a lot from Partners House, as it helps in monetizing their business to a great extent. It promises a passive income every month.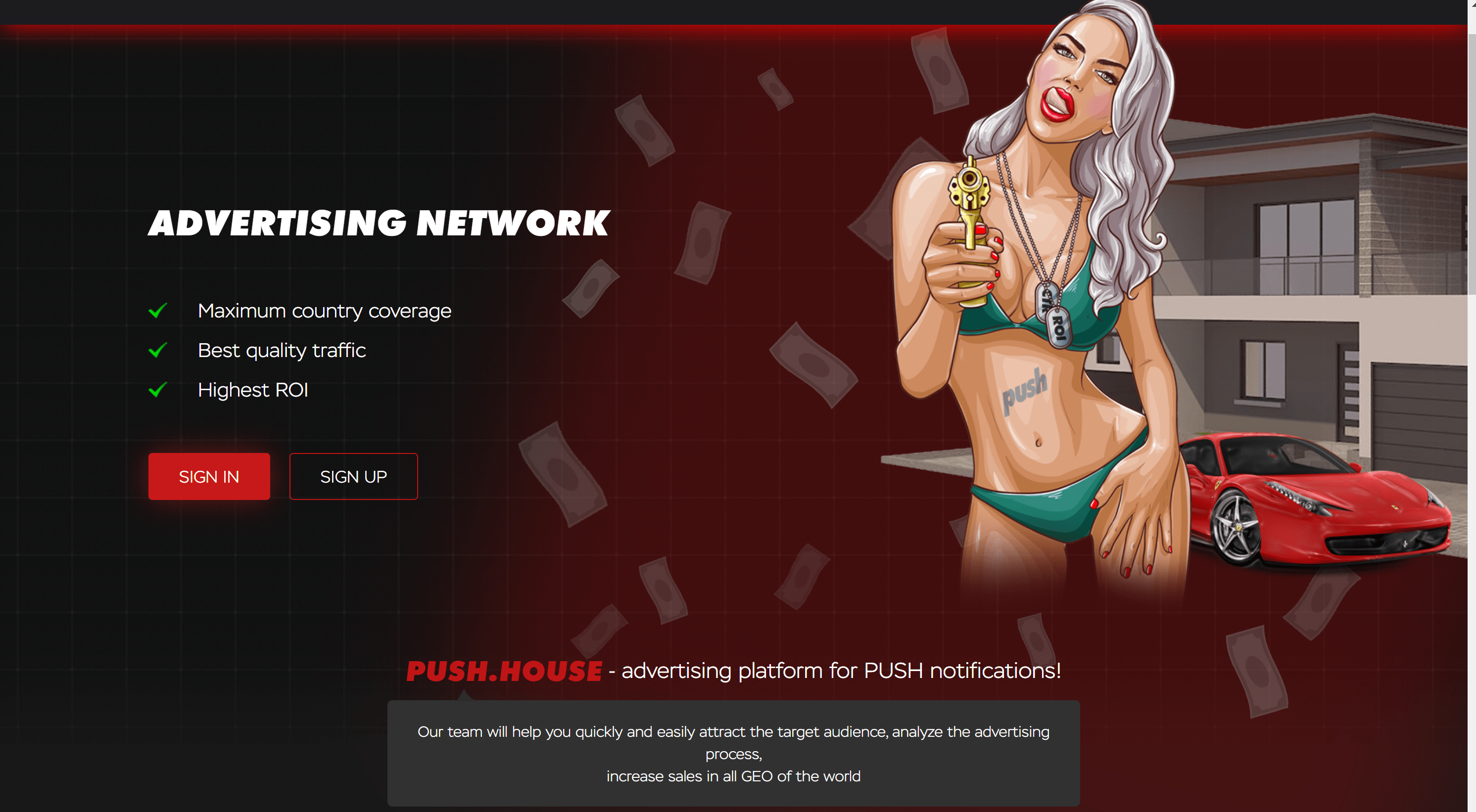 All the publishers and bloggers who are gaining high quality targeted traffic gain from each and every click of the subscriber. This implies, more clicks, more revenue.
Partners House is one of the best Ad Networks for small bloggers and publishers, as it understands their needs and gives them the best service.
As a publisher/blogger, you simply have to join Partners House, take a link and code, then place it on the website to get amazing earnings.
Requirements for Publishers

Partners House has no listed requirements for Publishers, but a few terms which should be followed before joining:
Real clicks and impressions
One account per publisher
High-quality traffic on the website
Cannot earn while clicking your own ads
Cannot use any defaming content to target the audience
Cannot use illegal content for attracting third parties
No plagiarized material to be used
Now I will list some Benefits for Publishers:
It has 24/7 customer support
It helps in real-time tracking and monitoring of statistics and earnings
It gives a 3% referral commission
It is an anti-scam Ad network
It is a fantastic source of e-Commerce
It pays weekly and is always on time
The subscribers get exciting payouts
It has 3458419 Push Subscribers
Can do affiliate marketing and use smart ways to monetize
The price per click ranges from $0.007 to $0.023
The CPA price is great, starting from $0.01 to $0.055
They come with the maximum payment methods
Cons
The guiding tutorials for Partners House are very few in number.
Partners House Payment Details
Country – Ukraine
Skype – PushHouse
Email –  [email protected]
Once you have earned a minimum of $50, you can withdraw the amount using the following payment methods. It is an automatic process. The payment details are:
Advertising Type – Push Notifications
Commission Type – RevShare, CPA
Minimum Payment – $50
Payment Frequency – Net 7
Payment Methods – ePayments, VISA, Web Money, QIWI, Perfect Money, Payeer, AdvCash, and MasterCard
Some of the Partners House alternative Push Notification ad networks are – MegaPush, DatsPush, Push House, RichPush, and Evadav.
Also Read:
Conclusion: Is Partners House a recommended Ad Network?
As per my review on Partners House and going through the performance and working methods of other ad networks, Partners House is the best and has amazing features.
It is a new ad network, but still has managed to achieve great milestones and make a mark in the market. It is emerging as the best ad networks because of its straightforward user interface and its ability to make a huge profit from a small revenue. It helps in attracting more and more target audience and helps in earning a great income each month.
Thus, I highly recommend this ad network for enhancing your business, digitally.