Today, we'll be reviewing the Adcash Advertiser and Publisher network. We'll give you an overview of the network itself, its many features, and how you can sign up to start boosting your onsite ad revenue on both sides of the spectrum. We'll also dive into campaign setup, payment options, and how to navigate through the self-service platform.
Adcash Company Stats
Homepage:

Adcash

Established In 2007

Employee Count: 70+

Ownership type: Private

Social Media Profiles: LinkedIn, Twitter, Facebook, Youtube, Instagram

Ad formats offered: Pop-Under, Interstitial, In-Page Push, Native ads, Banners. 
Whether you're looking to advertise products and offers online, generate cutting-edge campaigns, or monetize your existing site traffic, Adcash has a tailored approach and host of features suitable for the job. 
Adcash and other top platforms like it are viable alternatives to Google Adsense and other programs. With the flexibility to generate and host multiple ad formats, Adcash is popular amongst its global user base and creates increased traction with each passing year. 
In this Adcash review, we'll be giving you a complete overview of the platform, taking both the Advertiser & Publisher perspective. So let's get started.
About Adcash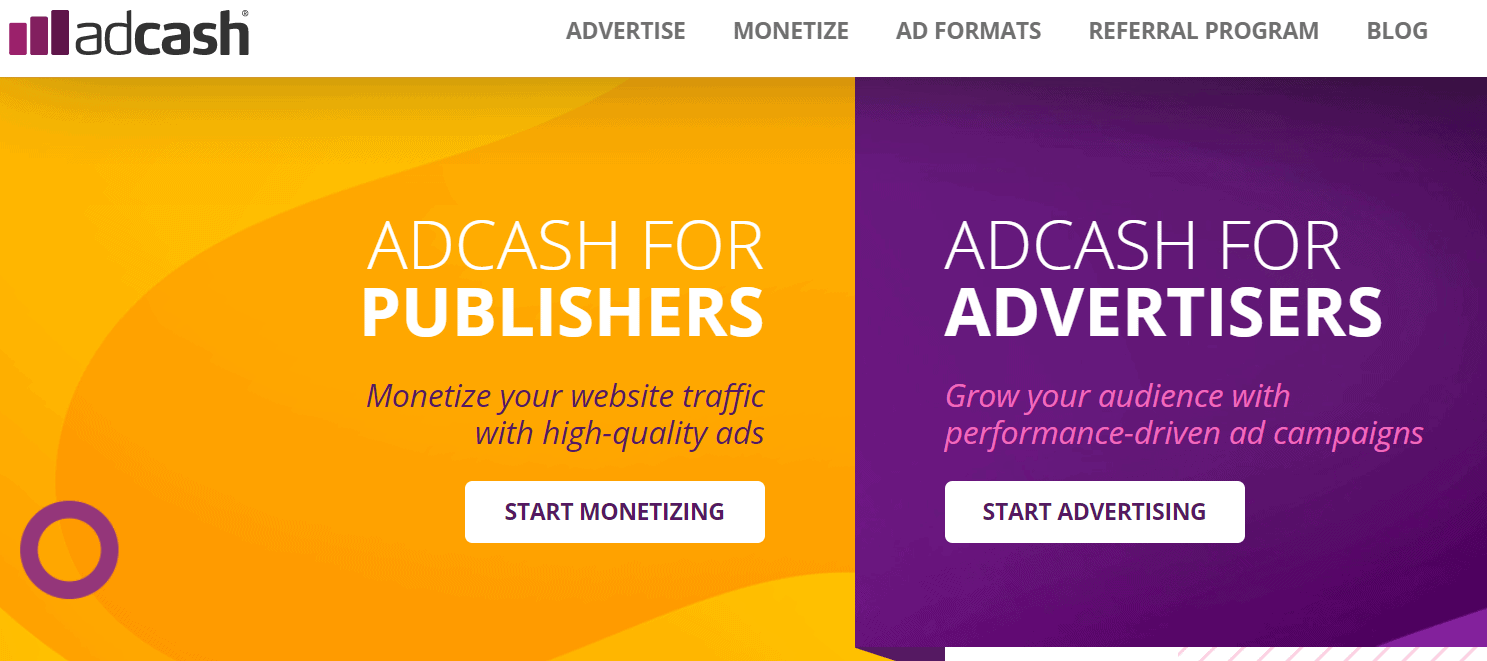 Adcash is a leading online advertising platform with a worldwide reach. The network caters its services to direct advertisers, media buyers, and affiliates. On the publisher side, they partner with direct publishers/web admins and website owners, as well as a wide range of SSPs.
A strong leader in online brand promotion, Adcash is active in 195 countries across the world. Their intelligent ad technology and list of features make the platform simple, enjoyable, and most importantly, profitable!
In the last year, the Adcash Publisher and Advertiser platforms have helped countless individuals and businesses effectively monetize their audience and increase their return on ad spend (ROAS).
Here are the latest company stats as of August 2021.
6+ Billion ad impressions per month.
300+ Billion ad requests per month.
200+ million unique users per day.
250,000+ conversions per day.
10k+ active customers (advertisers & publishers).
10k+ active campaigns.
An active footprint in 195 different countries.

Adcash Online Support
There is a fast and efficient support team standing by to assist Advertisers and Publishers with any questions or queries they might have and dedicated account managers who are available to assist with any specific questions.
Reach out to the team to optimize traffic segments, filter effectively, target the right Geos, etc. The team speaks multiple languages, including English, French, Spanish, Italian, Russian, and Turkish, ensuring communication is never a problem.
Self Managed Platform
Adcash is a self-managed platform, allowing advertisers and publishers to set up everything according to their unique specifications. Adcash created the platform through years of hands-on experience working with advertisers from every corner of the globe.
The Adcash platform is user-friendly and seamless in its navigation, meaning anybody can use it, regardless of their experience level. It only takes a few minutes to set up your first campaign as an Advertiser or create Ad Tags (aka "Zones") as a Publisher.
Multiple Ad Formats
Adcash currently offers publishers and advertisers five leading ad formats, with the most profitable being.
In-Page Push
These alert-like ads are meant to mimic the traditional push notification in their design. They are well-targeted, engaging, and less intrusive to the overall end-user experience.
Pop-Under
Pop-under ads offer massive potential for advertisers to increase awareness and publishers to maximize their earning potential. By appearing behind the browser window of the end-user, the ads seamlessly integrate into the UX flow.
Interstitial Ads
Interstitials appear while a website or page is loading. The time between browsing is used to reach the end-user with an immersive, tailored, and engaging ad experience. The ad also has a hard-coded 5-second countdown window, meaning a guaranteed delay in exit times.
Live Statistics
Both Advertisers & Publishers can track statistics in real-time via the platform's reporting dashboard or via API.
Flexible payment solutions
The Adcash Advertiser payment methods include Credit Card, PayPal, WebMoney, Skrill, Wire Transfer, as well as through some selected Cryptocurrencies.
The minimum deposit into the Advertiser platform is $1000 for the managed platform and $100 for the self-service platform
Adcash for Advertisers
The Adcash Advertiser platform gives you access to two main types of traffic: Desktop & Mobile Web. You also have two campaign creation wizards: Express & Advanced.
Express: a 1-page campaign creation wizard for a specific ad format for which you initially choose to create a campaign.
Advanced: a 5-step campaign creation wizard that allows you to run your campaign across all available ad formats.
Some of the platform's key features and value ads for advertisers include.
The Ability to Reach Global Audiences
Advertisers have full access to an exclusive network of Publishers and 50+ external supply partners.
Targeting
Advertisers can target their audience based on Geo, user interest, website category, language, devices, Operating system, and many others.
Anti Ad Fraud Technology
Cutting edge Anti Ad Fraud technology saved advertisers $12.1M in 2020.
CPA Target Bid Type
CPA Target Bid Type is an automated and dynamic form of CPM bidding type where you let the Adcash platform know your CPA goals, set up your tracking, and let the platform do the rest.
It will then find the converting segments to focus on and automatically lower or stop the bidding on the expensive and non-converting ones.
User Interest Targeting
The most noteworthy feature available on both the Advanced and the Express campaigns is the User Interest Targeting feature. This feature is pretty impressive, and by using it, your offers and ads will be displayed to the users who have previously shown interest in the deal or offer.
Advertiser Performance Tab
The Adcash Performance Tab has integrated three new metrics onto the existing Advertiser (Advanced Campaign) platform. These new metrics are designed to…
Show Advertisers exactly how many auctions their campaign has participated in.
Display the campaign Win Rate (i.e., the percentage of auctions a campaign bid and won on that, in turn, converted into actual ad impressions).
Takes into account the running ROAS for all campaigns.
All in all, the Adcash platform allows affiliates, media buyers, and direct advertisers to quickly reach out to their targeted audience thanks to the massive reach Adcash enjoys and the enormous network of publishers it works with.
The best thing about it is that it has a minimum budget requirement of $100, which is pretty low. It also offers Real-time analytics and reporting with customized reports that are scheduled. Their campaign types include CPM, CPC, CPA, and CPI.
With Adcash, it's easier for advertisers to work with quality publishers who can display their campaigns and offers to the broadest possible online audiences.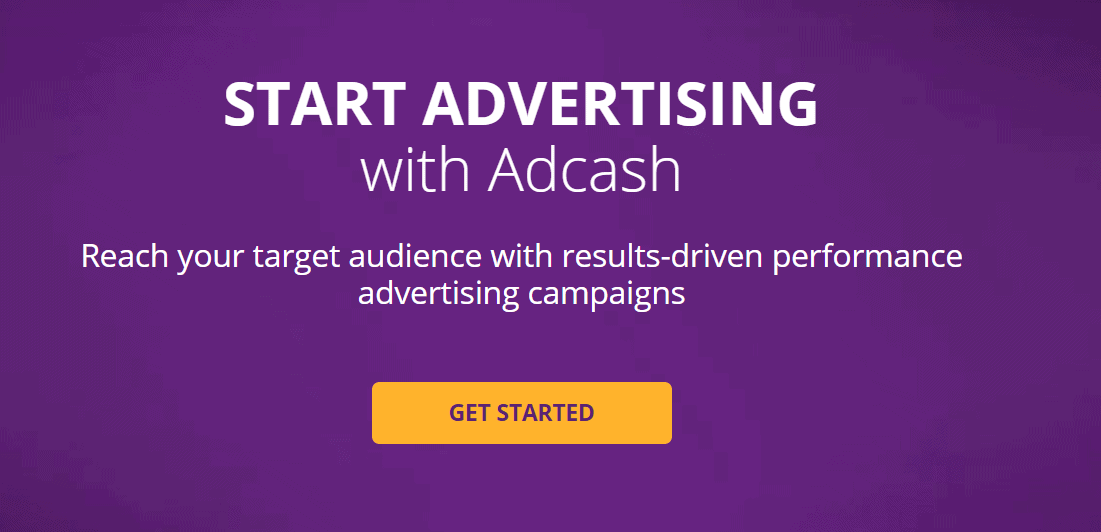 Adcash For Publishers
The reason why I would recommend Adcash to publishers is that it is a lot more advantageous for publishers than other ad networks. There is no language and no minimum traffic requirements. Even a newbie blogger can start publishing using this platform. However, I would recommend going through their terms of services before starting.
The registration process takes less than 5 minutes. Choose the currency for the payout, and your account will be readily approved if your site complies with its guidelines. With Adcash, you can use five different ad formats as a publisher, including the Autotag Feature. 
Some of the platform's key features and value ads for publishers include.


High Fill Rates
Higher fill rates give Publishers and website owners the tools and ability to maximize exposure for their onsite content while at the same time monetizing the highest number of impressions and click-throughs. This is all automated and conducted in real-time for maximum efficiency and turnaround.

Anti Adblock Technology
The Adcash Publisher platform is now able to bypass more Ad Blockers than ever before. This means that a wide variety of high-quality, site-specific ads can circumnavigate the system and reach the widest possible audience without being halted by private Ad Blocking protocols.
Varied Payment Protocols and Requests
The Adcash publisher platform has several high-quality, quick, and seamless ways for publishers to get paid out in exchange for their onsite traffic. These fast and flexible payment options include Bank Wire Transfer, PayPal, Payoneer, Skrill, Webmoney, and Bitcoin. 
Additionally, the Adcash Publisher platform does not charge any fees for processing payments. Payments should be requested at the beginning of the month and are usually paid out 30 days after the initial request. The minimum payout request is €25 (or currency equivalent). 
Publisher Autotag
The recently introduced Autotag feature allows website owners to integrate three ads in 1 directly to their site. The tag can easily simplify integration and boost onsite revenue by showcasing three top converting ad formats (Pop-Under, Interstitial, and In-Page Push). Find out more about the new Autotag Feature right here.
Why I would recommend using Adcash?

To summarize, on the Advertiser side, the overall benefits include:
Advanced Targeting.
Anti-Fraud Technology.
Automated ROI optimization.
Conversion Tracking.
Exclusive Publishers & RTB supply.
Fast Campaign Creation.
Self-Serve Platform.
Real-Time Reporting.
On the Publisher side, the overall benefits include:
Anti Adblock Technology.
Clean Ads.
Easy Integration.
Fast Payments.
High Fill Rate & eCPMs.
Live Statistics.
Multiple Ad Formats.
Worldwide Coverage.
Adcash is an online advertising network that brings advertisers and publishers together to boost their return on Investment. In other words, it is a link exchange company.
You can customize your ad formats, update payment details and do much more. I have faced issues even on the AdSense dashboard regarding the above points. But I am happy to say that you will not encounter such problems with Adcash.
Also Read:
Final Thoughts: Is Adcash Recommended? Adcash Review
Overall, I recommend you try out Adcash. The setup is pretty simple; getting your website approved usually doesn't take long, and the features are designed so that you can try out a few different methods without having to muddle through a lot of technical details.
It's a great way to start and keep working to monetize your traffic with good service and ease of use.
All in all, Adcash is one of the most unique and robust tools out there in the market to monetize your blogs and websites.
Both publishers, as well as advertisers, can get benefits from this platform. If you are a publisher, you will get paid for the ads displayed, and if you are an advertiser, you can earn a decent amount of money from the boost in click-throughs.
All of this makes Adcash an incredible ad network that every advertiser and publisher should try.