Looking for an unbiased Anstrex Review? You are the right place.
My love for Native Ads is never-ending, and for a good reason because they have high credibility and perform much better.
According to a native advertising report from AdYouLike, the global native ad market is expected to be worth $400 billion by 2025 — a whopping 372% jump from 2020.
With the Native Ads Spy tool, you can easily spy on the Native Ads strategy of your competitors and get detailed insights without putting in too much effort.
That's where the Ad spy tool like Anstrex steps in. So, what makes Anstrex so good?
Read further about this Anstrex review with the features, benefits, pricing, and pros and cons. By the end of the Anstrex Review, you can decide if this is worth the purchase 0r not.
Why use an Ad Spy Tool?
Good reasons exist to use a tool like Anstrex to spy on ads.
Here are the most important ones:
1. It helps you stay ahead of your competitors.
Knowing what your competitors are doing is essential to keep your business ahead. An ad spy tool gives you that information to use their strategies and beat them at their own game.
2. It saves you time and money.
When you know what works for your competitors, you don't have to waste time and money trying out different ads. You can use what works for them and see quick results. Also, using the spy tool is a cheaper way to do market research than hiring someone to do it for you.
3. It helps you find new products and marketing strategies.
Anstrex is an excellent tool for finding profitable products and marketing strategies. By seeing what works for your competitors, you can quickly adapt their system and get good results for your own business.
We believe in the power of ad spy tools to give you information about your competitors and help you develop new ideas to promote your offers.
That's why we've listed and reviewed some of the best ad spy tools available today.
What is Anstrex?
Anstrex is one of the most advanced and popularly used Native Ad Spy tools available today. It is popularly used by websites and business owners who show native and push ads on their sites.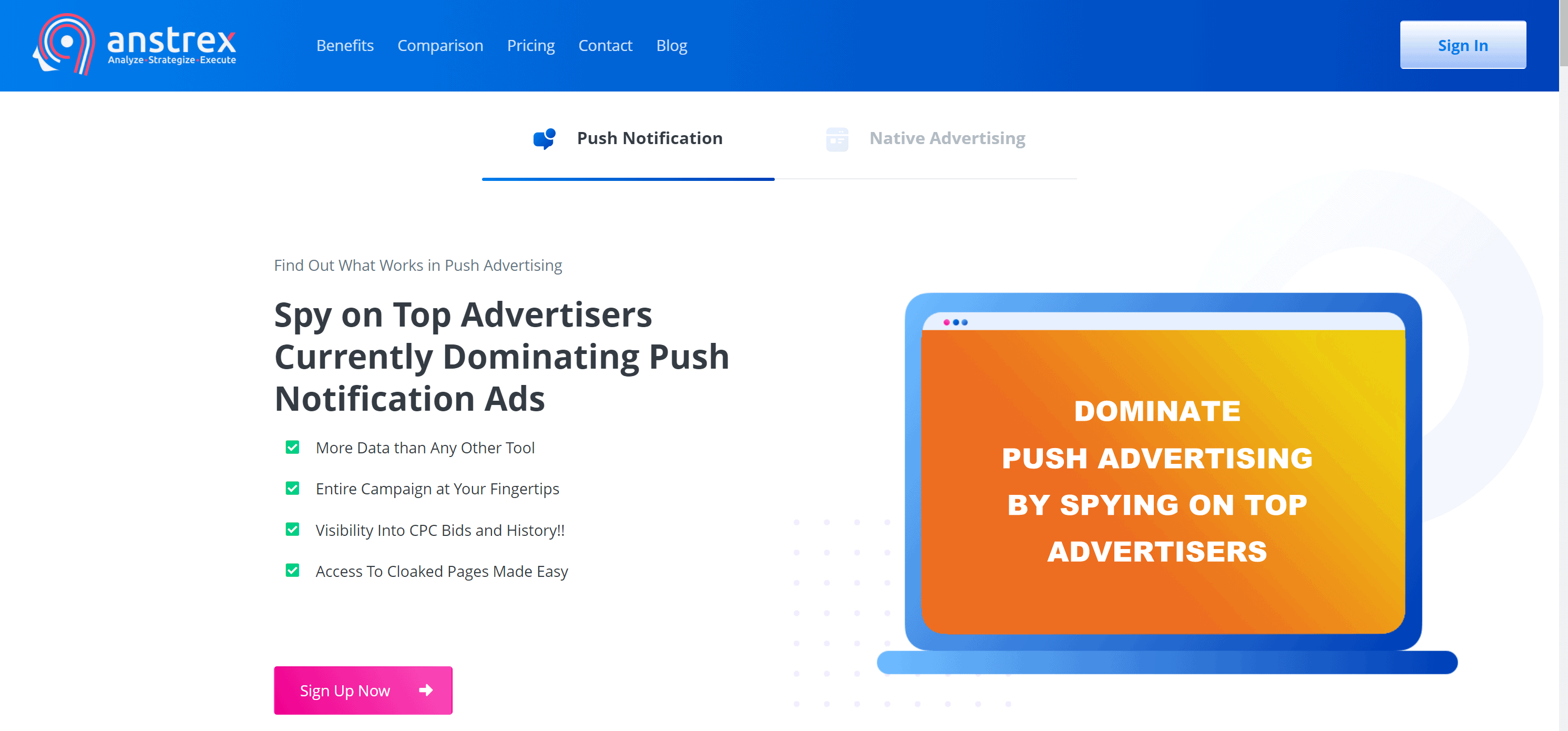 It helps you trace competitors' affiliate campaigns in your niche with the help of Anstrex affiliates monitor, which offers 200 networks that help spy on your competition's most effective campaign strategies.
Thus, you can analyze entire campaigns from competitors in your niche and considerably improve your ROI with its revolutionary Affiliate Offers Wall.
Their tools allow users access to profitable competitor data with more than 58000 advertisers from 27 native Ad networks covering fifteen countries.
Anstrex also has an overwhelming community of "Anstrex power users" on its private form. The tool specializes in Native Ads tools and Dropshipping products spy tools.
Let's discover my favorite features of the Anstrex and how I have used it in ad creation.
How To Use Anstrex? (Step-By-Step Guide)
One of the major USPs of Anstrex is its ease of use. Over the years, I have seen various changes and updates with Anstrex. They have added filters, search analytics, analyzing native ad campaign, and other metrics to help marketers increase profit.
1. Dashboard:
The main goal of my Anstrex review is to explain its working and dashboard. Anstrex has an easy-to-use dashboard that gives you an overview of all traffic channels. The dashboard is pretty intuitive and easy to get started.
The top of the dashboard has various filters that you can apply to sort parameters based on:
Ad Network
Country
Platform (Desktop & Mobile)
Language
Affiliate network
Tracker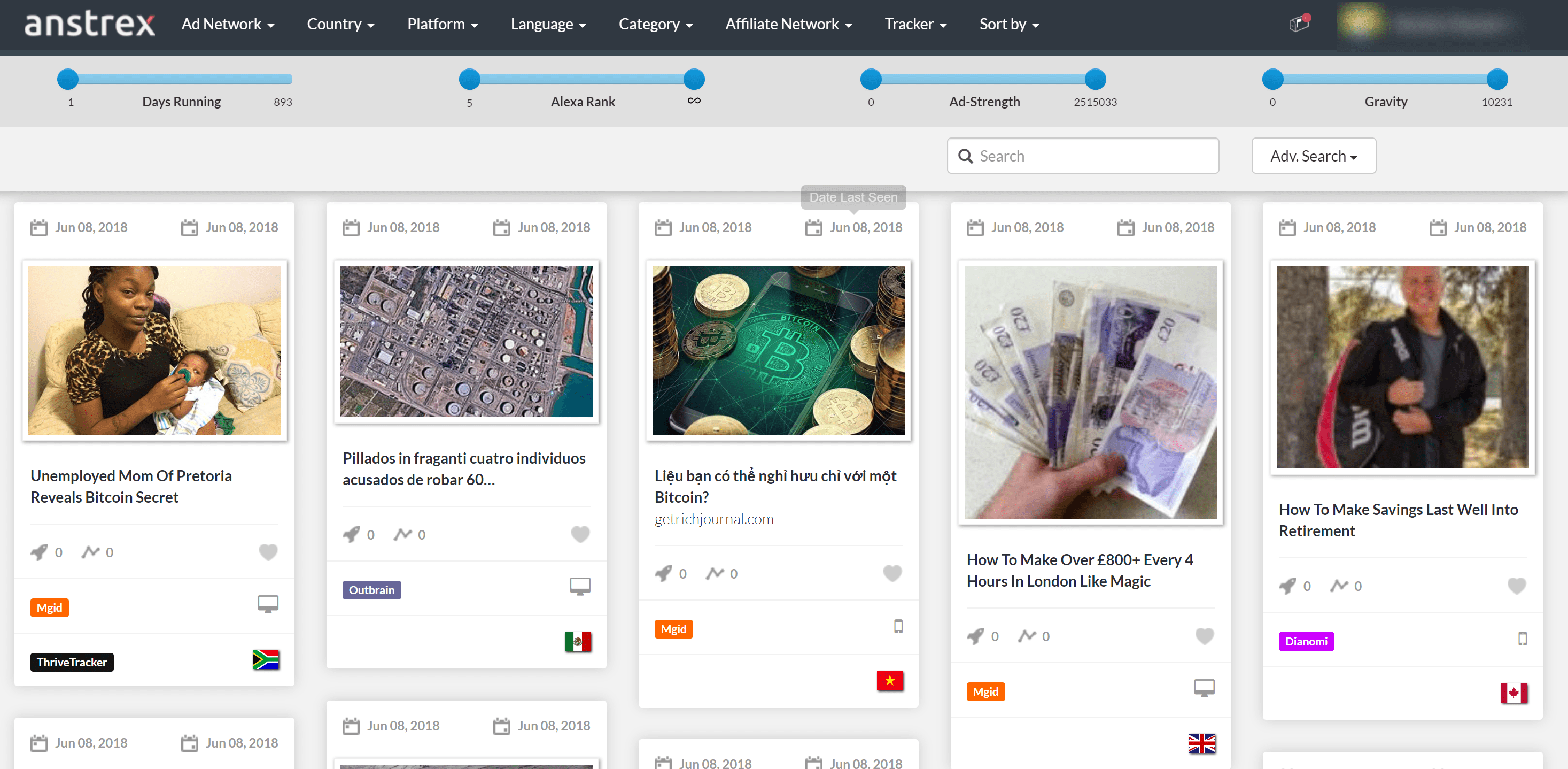 Step 1: Here's what the analytics dashboard of Anstrex looks like: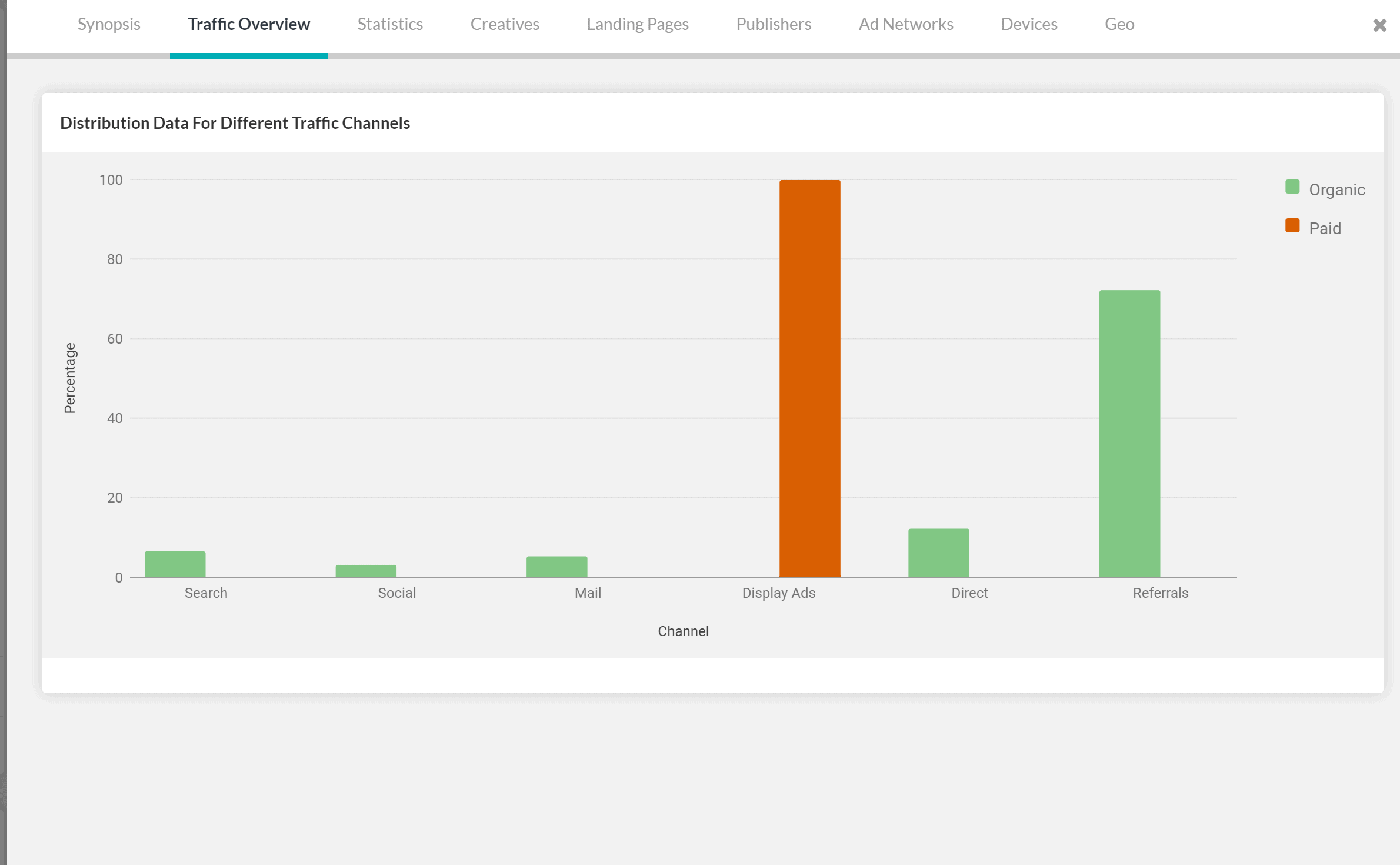 Step 2: You can choose the type of Ad networks using the filters.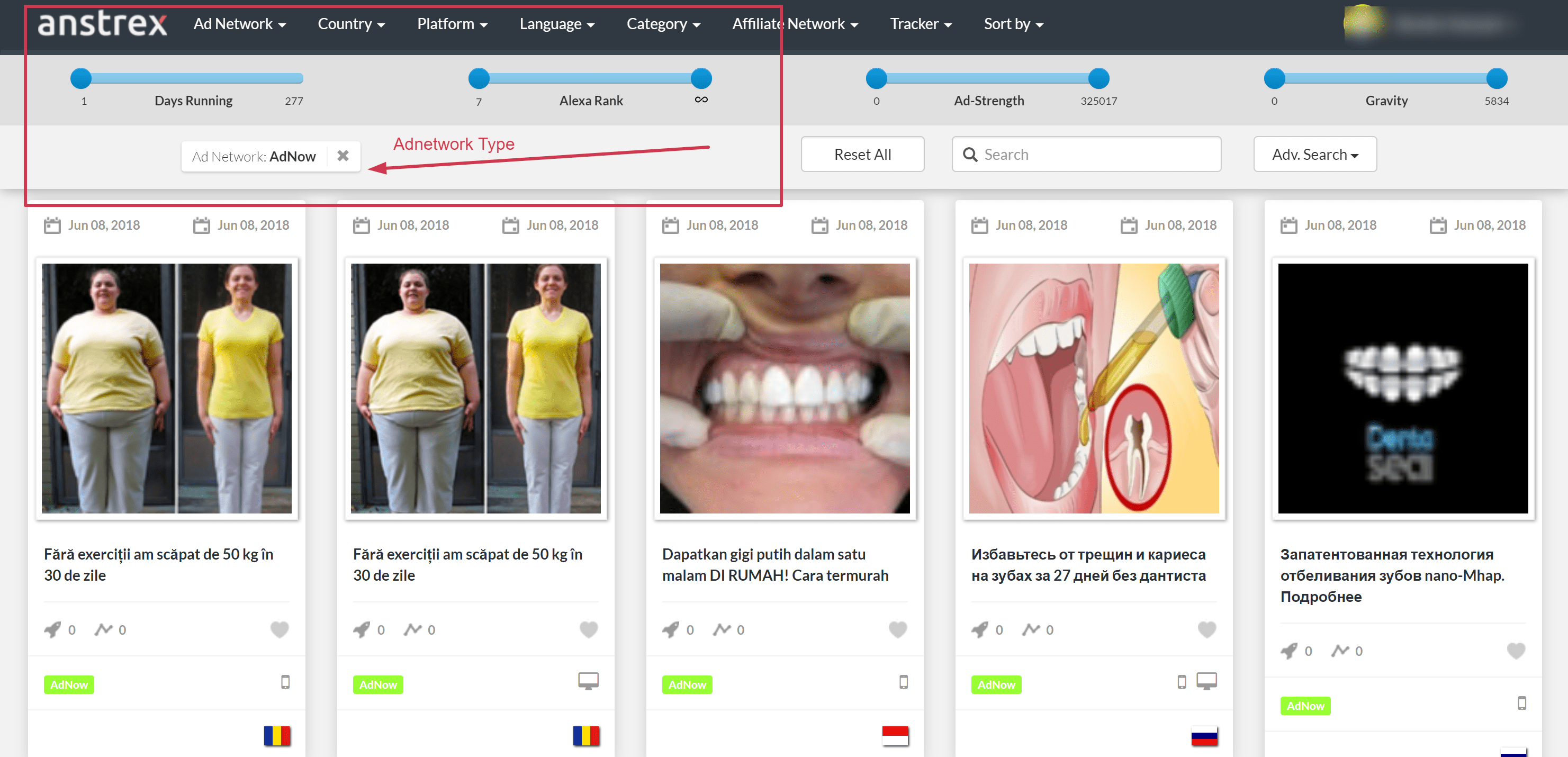 Step 3: Use the Mobile or Desktop traffic to sort which one to show.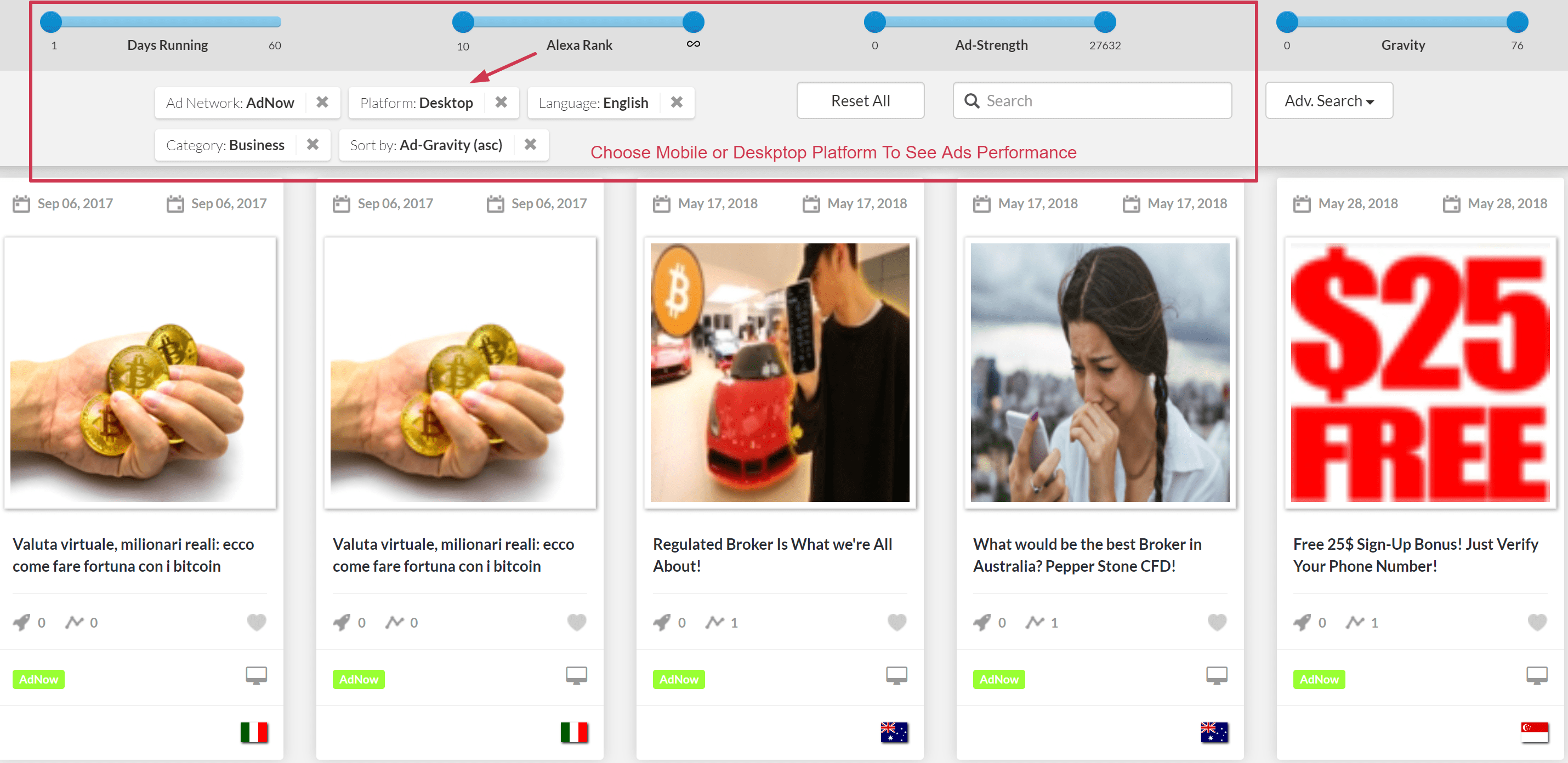 Step 4: Lastly, you can also select the language of your choice.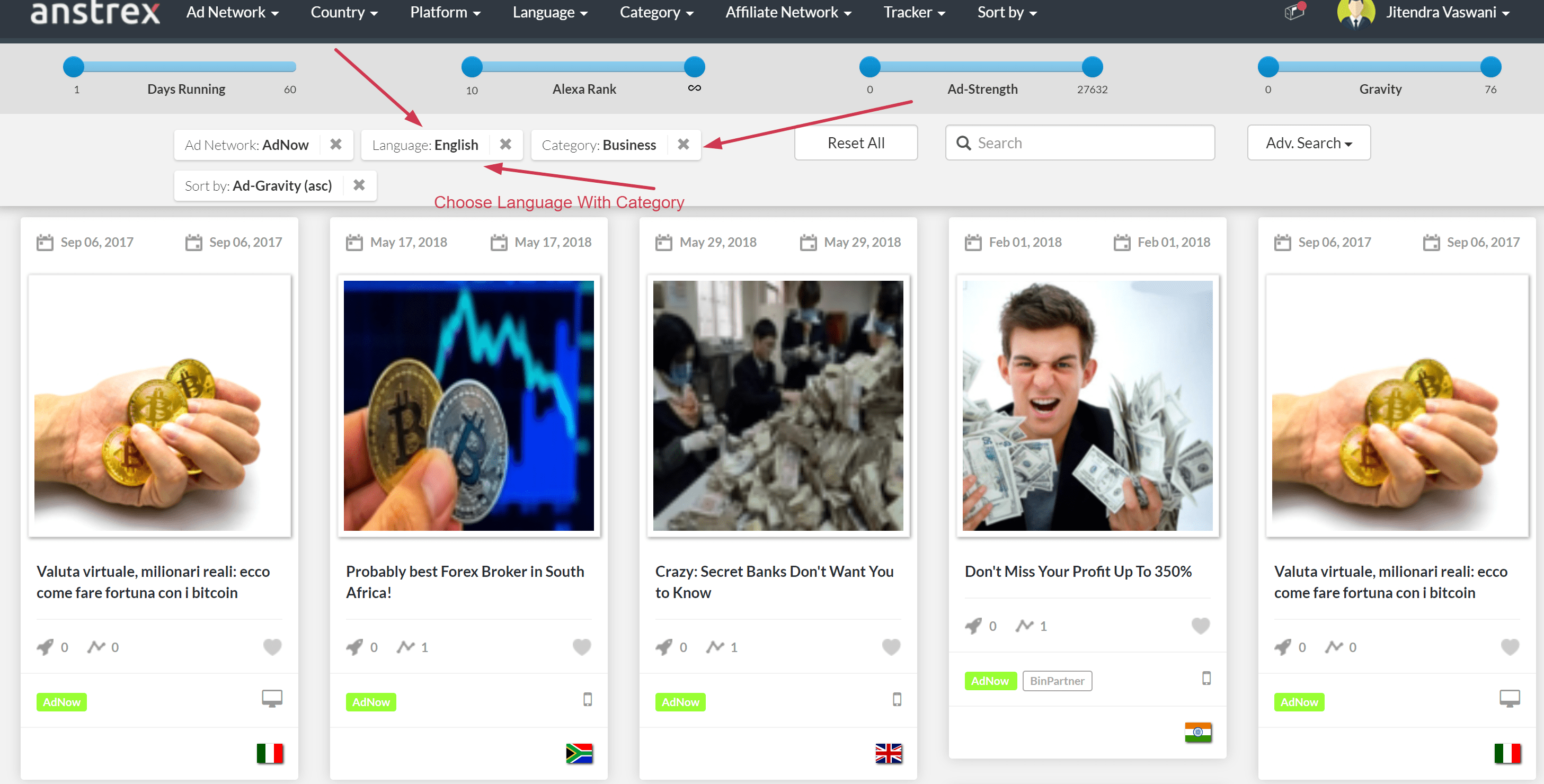 2. The Search filters 
It enables you to find the required budget, required capabilities, and what's best for you. 

You do not need to do keyword searches because it offers a filter search feature. 

It offers the feature of advanced keyword search, not to need to hustle, including primary and advanced searches.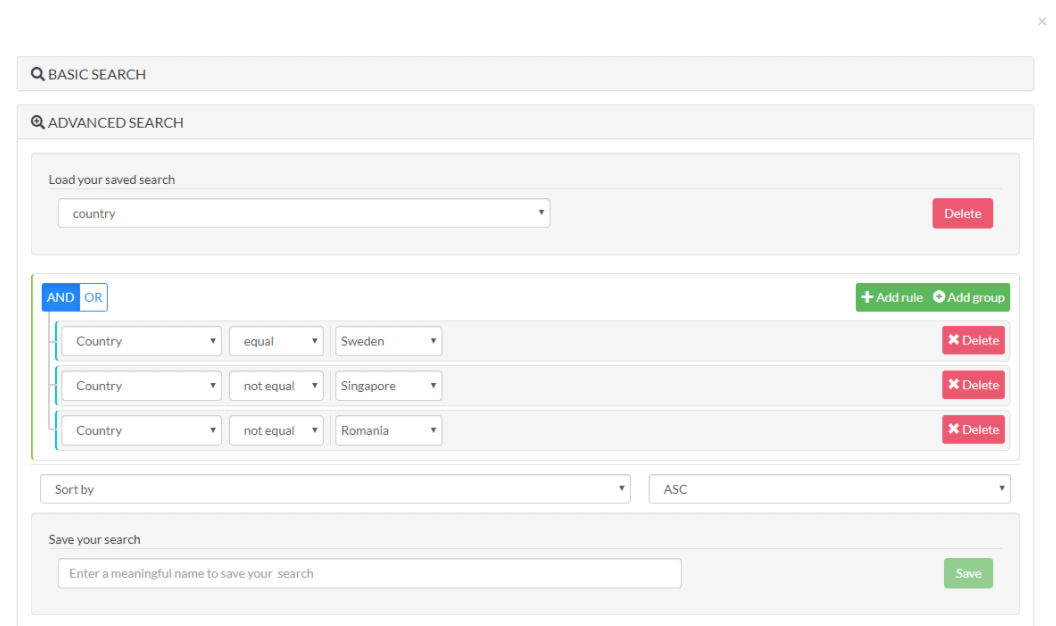 Advanced search allows you to add multiple data and filter simultaneously. 

A basic search is used for specific keywords.

Test the Filters
Begin by testing the available filters to refine your ad search.
Ad Network Filter
Use the Ad Network Filter to find ads from specific traffic networks.
Anstrex collects ads from 27 native ad networks, 38 push notification ad networks, and 32 pop ad networks.
Geo Filter
Utilize the Geo-Filter to narrow down ads by country:

In native ads, filter from 80 countries.
In pops, push ads, and drop ship, narrow down results from 92 countries.
Device Filter
Employ the Device Filter to sort ads based on the promoting device:

Native ads: Desktop or mobile.
Push ads: Mac, Windows, Android, Tablet.
Pop ads: Android, Desktop, Mac, iOS.
Language Filter
The Language Filter is available for all tools except the dropshipping research tool.
Category Filter
The Category Filter is exclusive to the native ads tool and includes categories such as arts, business, computers, games, health, home, recreation, science, society, sports, and unknown.
Carrier Filter
The Carrier Filter applies to pop ads only, allowing you to narrow results based on more than 850 mobile carriers.
Type Filter
Use the Type Filter for push notification ads to specify whether you want to see classic push ads or in-page push ads. This filter applies to the push notification ads spy tool.
Affiliate Network Filter
The Affiliate Network Filter helps you display or hide results from specific affiliate networks:

Native ads tool covers at least 200 affiliate networks.
The push ads tool covers more than 250.
Pop ads tool covers more than a hundred.
Tracker Filter
The Tracker Filter allows you to filter ads based on the tracking systems. It's beneficial for finding ads run by affiliates.
Technology Filter
The Technology Filter is handy if you want to focus on specific publishing platforms or technology, such as WordPress, WooCommerce, Adsense Arbitrage for native ads, Android apps, Chrome Extension, or WordPress for pop ads.
Following these structured steps, you can efficiently narrow down Anstrex's extensive ad database to find precisely what you're looking for based on your preferences and requirements.
3. Landing page download with one click
One unique feature of Anstrex is that it can download and deploy competitors' landing pages within minutes. I could access the synopsis tab, and you can adjust the competitor's landing pages.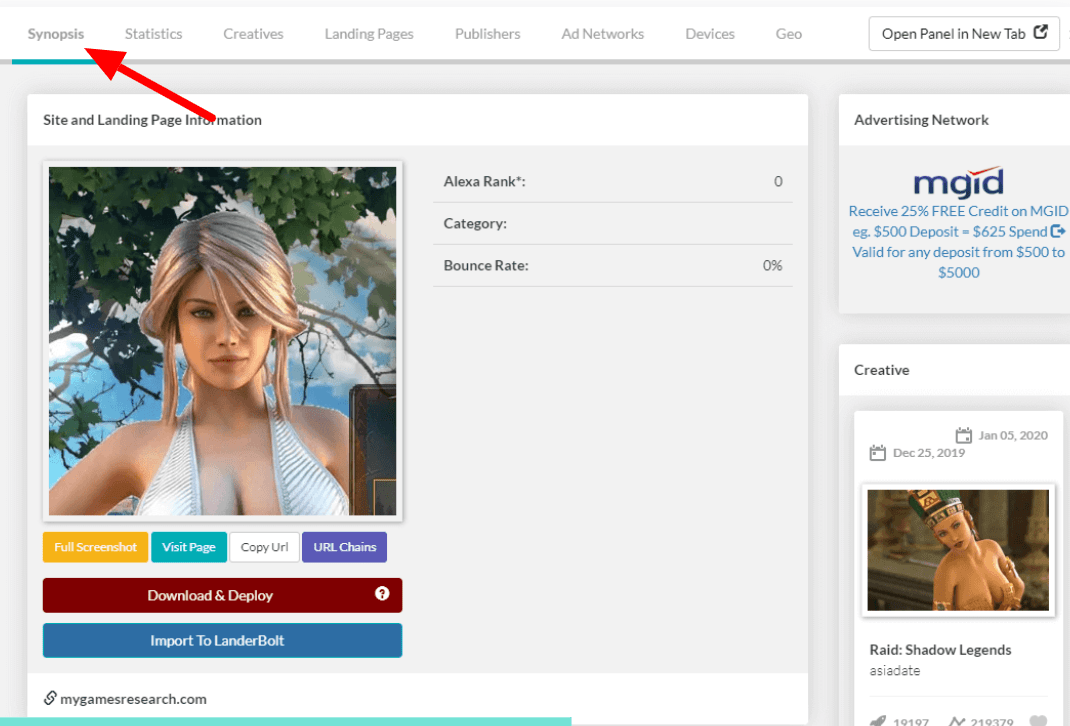 This real-time saver feature can help you find the best-performing landing pages more efficiently.
You can take inspiration from others but do not plagiarize it.
Anstrex Features 
One thing that I have personally realized after using Anstrex myself is that their features and services certainly have the potential to make you the best advertiser online.


The tool has been designed in such a way that it provides an interface that is intuitive and easy to use, enabling you to find successful campaigns in any category quickly.
The advanced search and filtering options are unique, which help you access a huge amount of competitive data filtered by country, platform, language, affiliate network, and more.
It is also the only tool in the market that allows you to deploy the optimized landing pages directly to your server with your affiliate links with just a few mouse clicks.

Anstrex also has a prompt alert feature that will enable you to monitor your competition closely. You will be instantly notified by email whenever your competitor(s) launches a new ad so that you will never miss any moves your competition makes.
Keyword Search and Filtering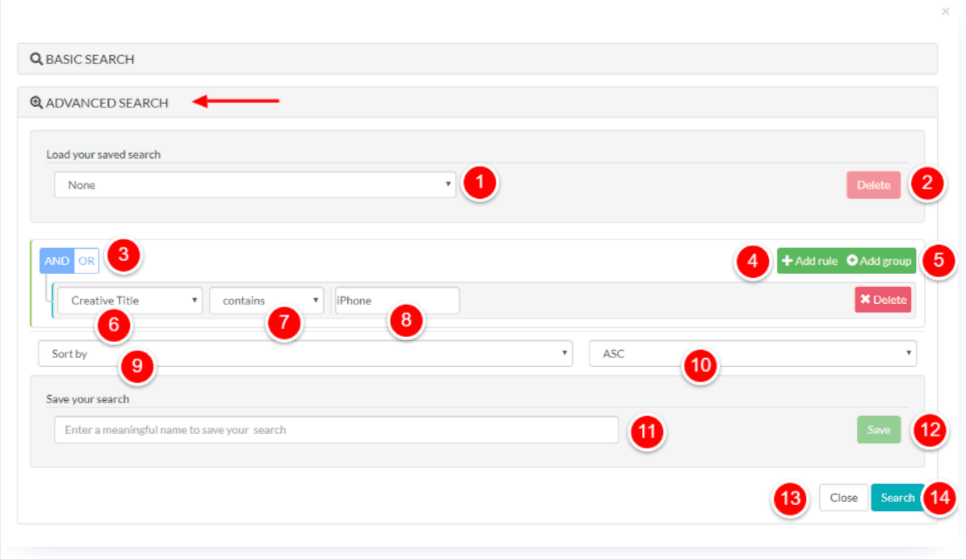 One of the major USPs of Anstrex is keyword-based filtering. 
This is one of my favorite features- Search filters.
It offers two types of filtering options:
Non-keyword Search Filters
Keyword-based filters
Non-keyword search is a way to find ads that have been doing well. These are easy, and no one has to type in a keyword to find them. All you do is pick the criteria for an ad (e.g., the highest ranking, best in recent times). You can also use the ad strength (desc) and ad gravity (desc) sorting options to find these ads.
Ad strength tells you how effective your ads have been in the past. Ad gravity tells you how good an ad is doing right now.
Keyword Based Filters
You can also use the sorting order mentioned above to narrow your search for a particular niche.
If you want to find a product for your niche, start by sorting the push notification ads in descending order according to how many results each ad gets. Then type that keyword into one of those rows, and it'll show all products containing this term and their prices – just like magic.
Anstrex has two keyword-based search filters:
Basic Keyword Search

Anstrex is one of the ad intelligence tool because of its language filter options. I found ads in languages other than English in the Translated text feature.
A basic keyword search will help you when you want to search for one keyword. You can type the word into the creative column box, and it will show you many different push notification ads related to what you typed in.
Advanced Keyword Search 

If you want to use more filters and get more specific ads, an advanced keyword search for Anstrex gives out more opportunities.
The filters and search box only allow you to apply quick filters across fields like ad network, geo, and language. When you type in the search box, it will show you results for what you typed in.
Real-Time Analysis
With this feature, marketers do not only track potential customers and trends but also design the campaigns that are most profitable to them. This feature helps marketers create a sense of urgency among the buyers.
There are generally two types of tools for this purpose. One is the Anstrex Native Advertising, whereas the other is the Anstrex Push Notifications ads tool.
Real-time marketing features help your customers know more about your brands and services.
Test & Deploy Your Landing Pages
Anstrex offers you complete freedom to test the landing pages with just one click. You can quickly access and spy on the competitor's landing pages and get the data based on changing market strategies for a specific product, brand, geographical location, and related parameters.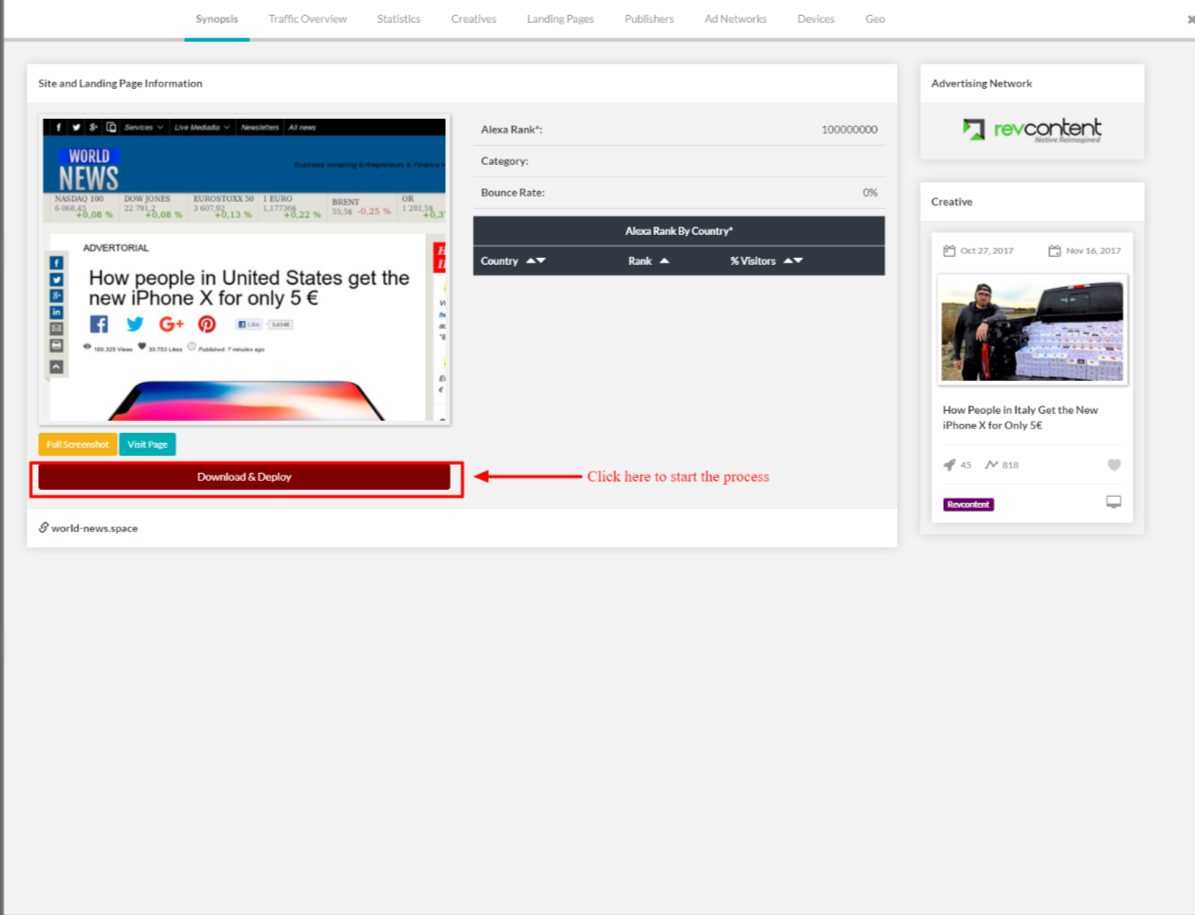 Anstrex offers various tools and plugins to test the specific landing page and customize them according to business and specific industry.
You can download any page you like by clicking on it. While downloading the page, you can still browse and look for more campaigns.
It is important to note that once a download expires (after 24 hours), that program and the downloaded data will no longer be visible.
You can use the landing page to deploy the feature to upload it on the server without the need for downloading it or saving an offline copy.
Using the landing page editing, you can pick any landing page and edit it from scratch. You can use the quick editor option to edit your landing page if you want to edit the minor features.
Regarding the significant editing features, you can switch to the comprehensive editor feature.
After you edit it, you can save the web page offline (or upload it) to your computer. Keeping a copy of it offline is better since online downloads and edits expire after 24 hours.
If you're looking for a quick way to spy on other marketing campaigns and analyse them in depth, Anstrex is the tool for you! It gets a 9.5 out of 10 from me, and I highly recommend it to brand advertisers, performance marketers, bloggers, and ad networks.
4 Anstrex Ad Spy Tools: Pops, Natives, Push Notifications & Dropshipping
Anstrex offers 4 different types of Ad Spy Tools. Let's take a look at each one of them:
Pops Ads Spy Tool
Subscription Fee: $89.99/mo
Pop-up ads can be annoying but can also be very effective when used correctly.

With this tool, you can see which pre-landing pages are successful for your competitors and learn from their strategies so you can create compelling ads without being annoying.
The tool has collected about 1.2 million ads from 92 countries and over 850 mobile carriers. Using the Advanced Search option, you can filter the ads based on different criteria like type, pop-up ad networks, location, platform, language, carrier, affiliate network, tracker, publishing technology, and keywords.
Native Ads Spy Tools
Subscription Fee: $69.99/mo
The "Native Ads spy" tool is like a secret agent, and it's all about those sneaky native ads that blend in so smoothly with the websites we visit.

Do you know what's great about this tool?
It lets you peek into the world of native ads and see exactly what's working for your competitors. It's like getting the inside scoop on their successful campaigns! You can take inspiration from their strategies and apply them to your business.
This spy tool has collected a whopping 10 million native ads from all over the world! Can you believe it? That's a treasure trove of ad inspiration right there. And get this: these ads come from nearly 160 thousand advertisers. That's a lot of clever minds at work!
You can easily find the perfect ads by filtering through the options.
Push Notifications Spy Tool
Subscription Fee: $89.99/mo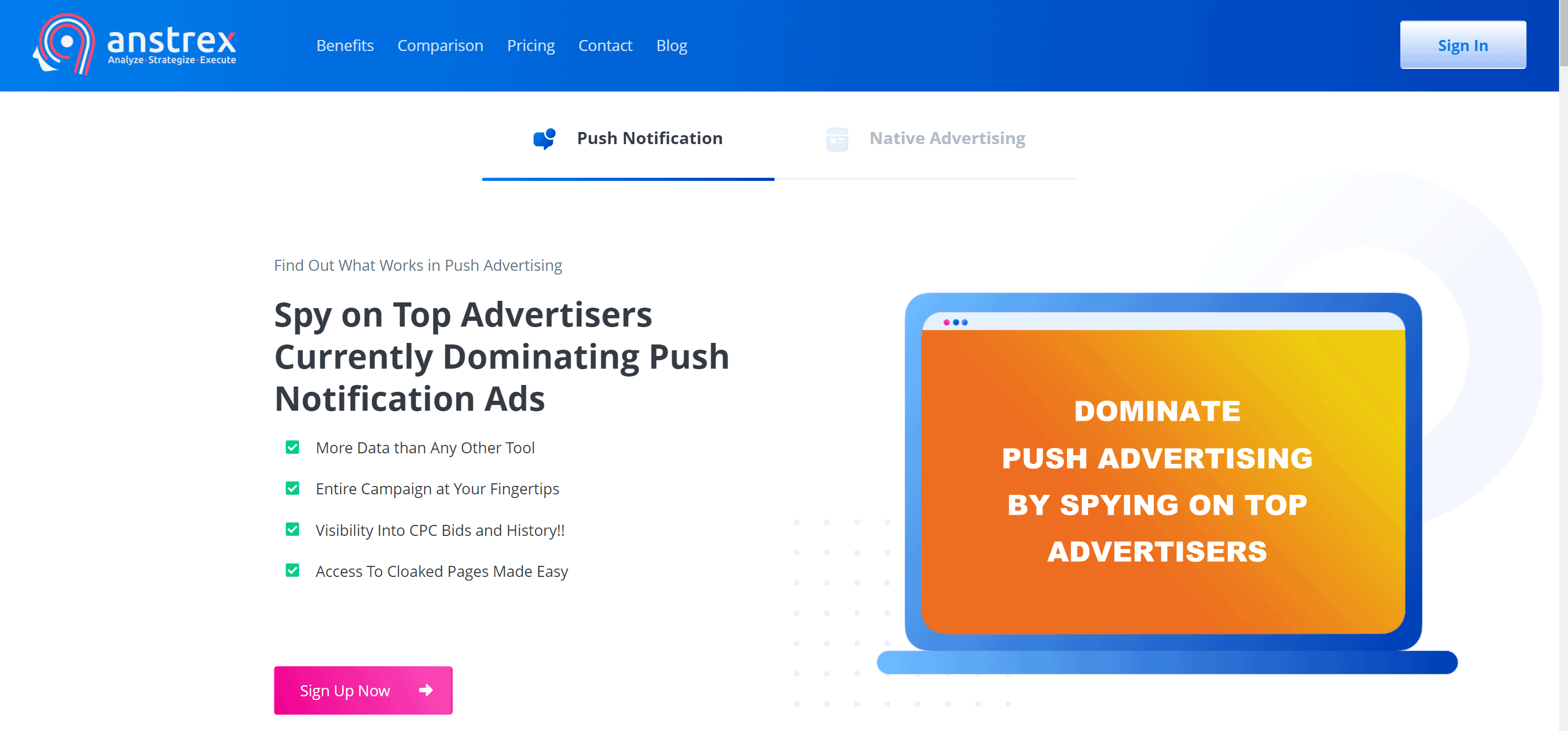 Anstrex is a tool that helps you discover and study native and push notification ads. The Push Notification ads spy tool is necessary if your business sends push notifications. You know those little messages on your phone or computer when you have an app? Well, they can be super helpful for promoting sales or new products.
With the Anstrex Push Notifications spy tool, you can check out what other marketers do with their push notifications. You get to see which styles and techniques work best for them, and then you can use those ideas yourself.
Dropshipping Spy Tool
Subscription Fee: N/A
The Dropshipping Spy Tool is a helpful research tool that makes it easy to find profitable products to sell in your online store.

With this tool, you can discover which products are popular and selling well, determine the profit margins you can expect, and even find out where to get these products.
This tool has a massive database of over 6 million products from 92 countries. It includes information from 10 thousand retailers and three of the most popular dropshipping suppliers in the world: AliExpress, DHGate, and Banggood.
FAQs About Anstrex:
👉 Is Anstrex a Good Ad Spy Tool?
Anstrex is a #1 Push Ad Spy tool and also works for the Dropshippers. Anstrex works for both the native and push ads. It spies on your competitors and helps build campaigns based on the metrics. It has an intuitive dashboard with features such as keyword research, boolean search, rapid deployment and landing page rippers.
✅ Which is better - Adplexity or Anstrex?
In comparison between Adplexity and Anstrex, I found that Anstrex has a database of a total of 65 countries whereas Adplexity has for 27 countries. Anstrex has a collection of 38 networks in comparison to Adplexity with only 8 ad networks. Also, Anstrex costs $59 for a month as compared to AdPlexity with $249 as a monthly subscription.
💼 Does Anstrex offer refunds?
Yes. Anstrex offers a 100% refund within 2 days of purchase of their plan.
Other Posts To Read:
Conclusion: Is Anstrex The Best Ad Spy Tool?
Do I recommend Anstrex? Of course, It's the Best! 
Anstrex ad spying tool is handy for those who take the competition seriously. The user-friendly interface makes it easy for everyone to use. Unlocking ad world secrets will be easy for you when you use this software.
You have already seen what the top marketers say about this tool. You would be willing to give it a try now!
Not to forget the Anstrex Coupons that I have shared above. Apply it and get the discount.
I hope my Anstrex Review 2023 helped you to get adequate info about this tool and was able to help your decision to buy the best native ad spy tool. Do not forget to get the Anstrex discount code and save 20% on your favorite native ad spy tool.