Are you looking for an unbiased opinion about Simply Schedule Appointments Review? If yes, then let me proceed.
Simply Schedule Appointments is a straightforward yet effective appointment scheduling plugin for WordPress, as the name implies.
You can configure your scheduling calendars to accept your first booking within five minutes by using this plugin. And that is doable with the free edition of the program.
With the premium edition, you'll gain access to a number of exclusive features that will aid in the growth of your business. However, you may be wondering, 'Is this the finest appointment booking WordPress plugin for my site?'
Do not be concerned! The following is a comprehensive review of the Simply Schedule Appointments WordPress plugin. Therefore, examine its features, advantages, disadvantages, and support to ascertain the answers to your questions.
Now, let us begin.
Simply Schedule Appointments Review: Complete Overview
Simply Schedule Appointments (SSA) is one of the most user-friendly WordPress appointment booking plugins available.
This plugin is easy to set up and allows you to quickly create multiple booking calendars on your website. You can also do the following:
Indicate the day and time that you are available for appointments on each one.

Limit the number of daily appointments that appear on your calendar.

Allow consumers to plan phone conversations, meetings, in-person meetings, or coaching sessions.
To display the booking calendars, simply add their custom shortcodes to the page where you'd like to accept bookings. It's so straightforward that anyone can use it to develop a fully functional booking system.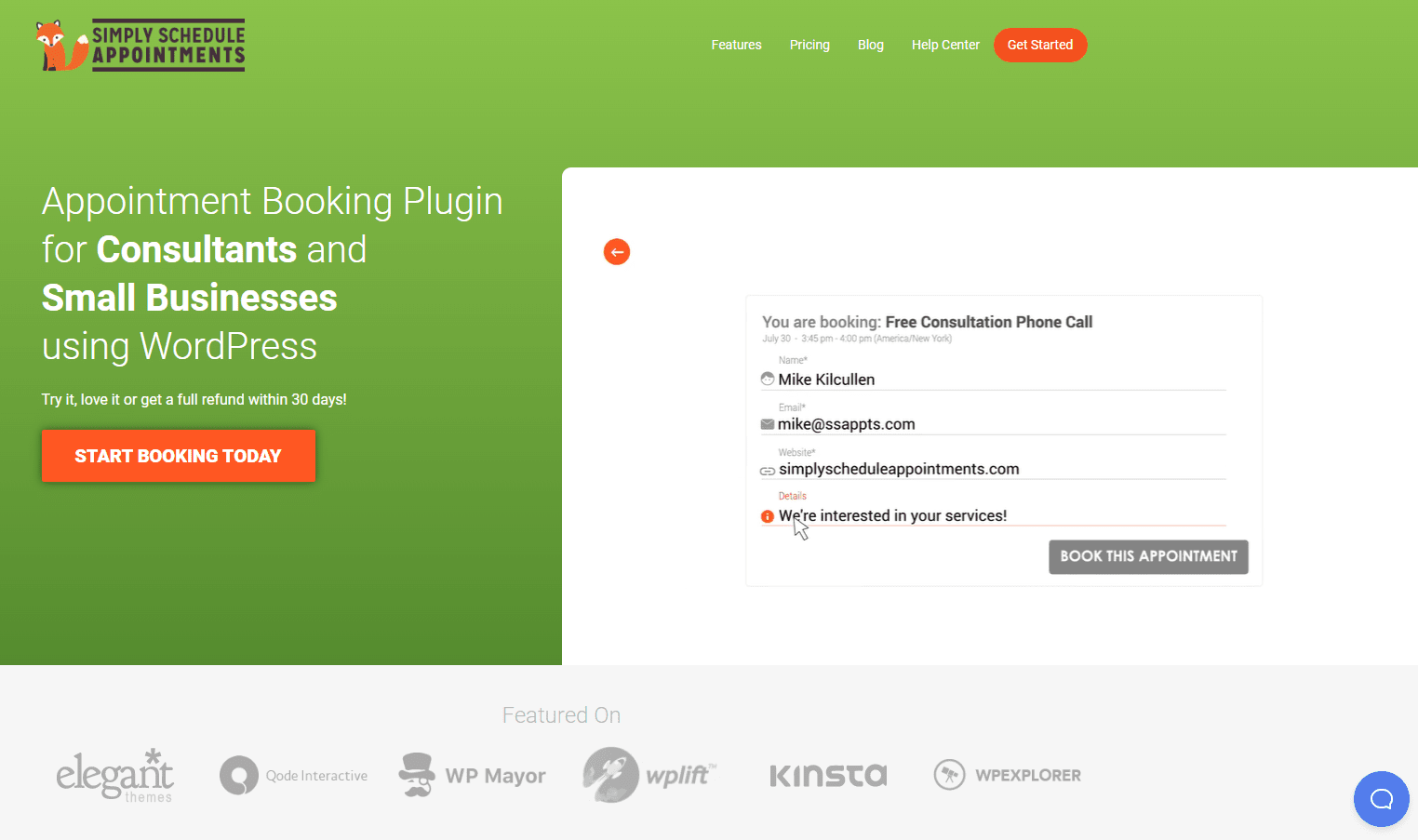 SSA includes two useful WordPress blocks. One will display all of your appointment types, while the other will display impending appointments. Here is why you should definitely try SSA: 
You can use modules to further customize your booking site by integrating it with page builders such as Elementor, Divi, and Beaver Builder.

The calendars are totally responsive and will display properly on any device.

You'll have a plethora of customization choices to ensure that your calendar looks fantastic.

Your consumers will find it simple to schedule appointments. They can view your availability and choose an appropriate day and time to arrange an appointment.

As a result, this plugin is best suited for independent consultants and small organizations.

It is perfect for booking client meetings, events, patients, and services.

The SSA plugin is already installed on over 10,000 websites. It has an excellent user rating of an average of 5-stars.
Let's proceed to the next section of this Simply Schedule Appointments review for a more extensive look at its features.
Simply Schedule Appointments Pricing Plans: How Much It Cost?
Are you ready to begin arranging appointments with this feature-rich plugin? Then, in this section of the review, I'll discuss the Simply Schedule Appointments plugin's pricing options.
SSA is available as a free download as well as a paid version. You must choose the appropriate plan for your site based on the features you desire.
Now, there are a few pricing options available for the premium edition. Furthermore, they are relatively affordable. I've included a brief overview of the company's three pricing tiers below. They are as follows: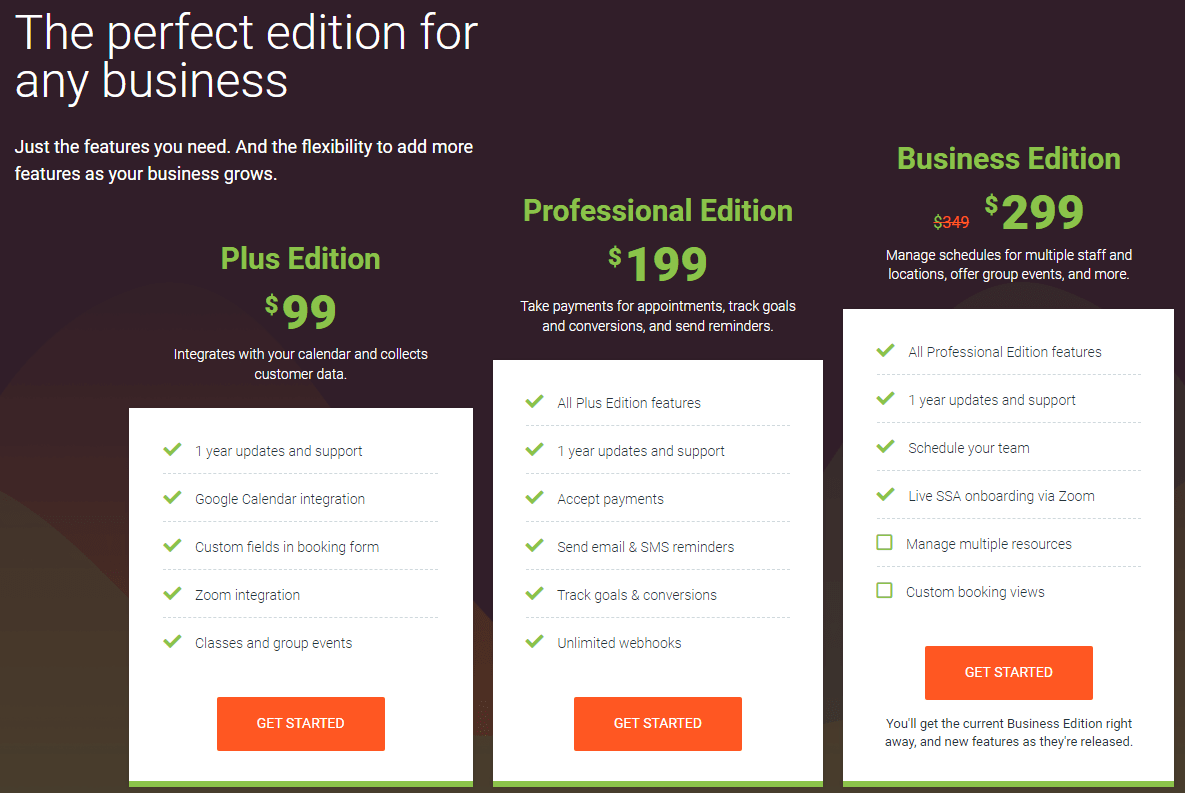 1. Plus Edition
Support and upgrades are included in the $99 price. Pricing for multi-site plans ranges from $149 for 25 sites to $199 for 1000 sites. Among the characteristics included in this plan are the following:
All of the complementary features.

Integration with Google Calendar.

Booking forms with customized fields.

Zoom integration, for example.
2. Professional Edition
This package is priced at $199 and includes one year of support and updates. The multi-site pricing plan is $249 for up to 25 locations and $399 for up to 1000 locations. Among the characteristics included in this plan are the following:
All features of the Plus plan.
Payments accepted.
Webhooks are available indefinitely.
Send email and SMS reminders, among other things.
3. Business Edition
It also includes one year of service and updates for $299. While the multi-site pricing plan is $349 for 25 sites and $599 for 1000 sites, it costs $349 for 25 sites and $599 for 1000 sites.
Among the characteristics included in this plan are the following:
All features of the Professional plan.
Make a schedule for your team.
Onboarding SSAs in real-time through Zoom, etc.
You can also visit the plugin's original website's Pricing page to review the plugin's capabilities in detail.
Simply Schedule Appointments: Customer Support Options
In any plugin, it's critical to pay attention to the customer support settings. Simply Schedule Appointments also delivers adequate customer service, as I will detail later in my review.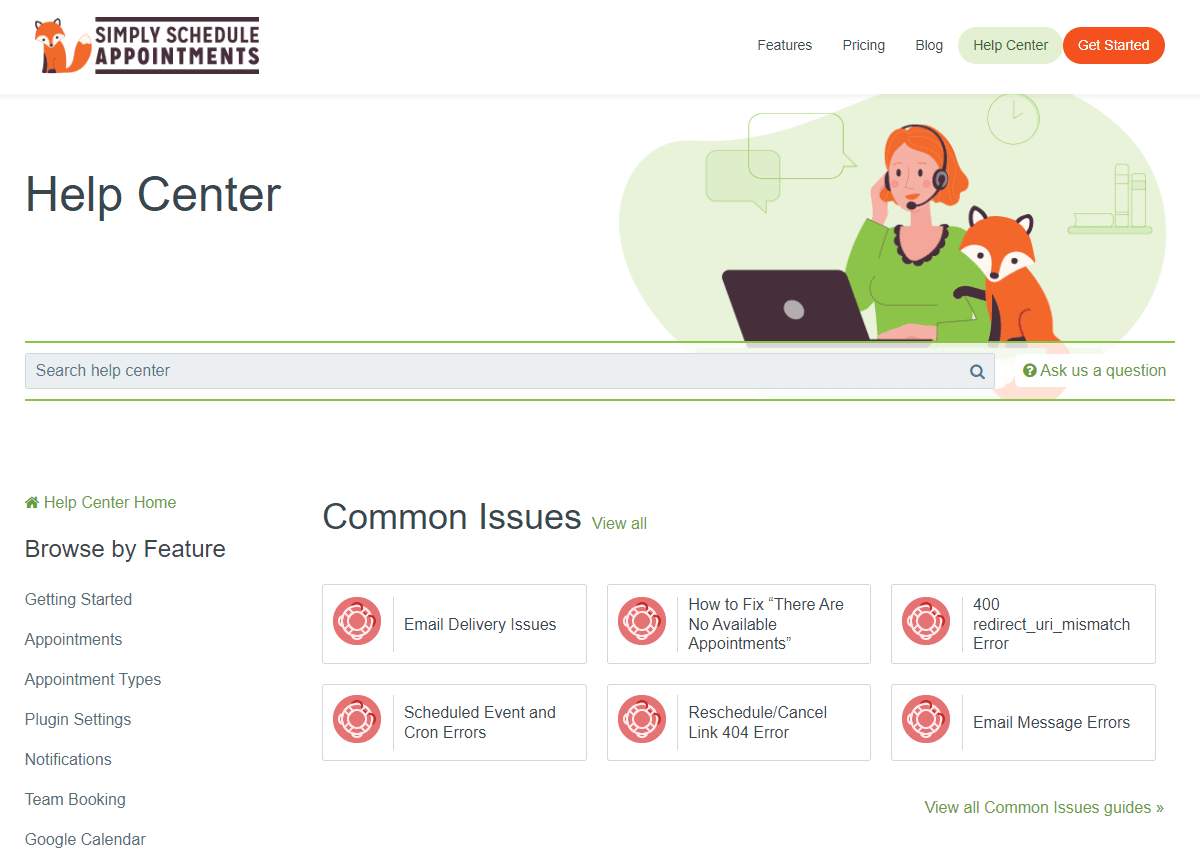 If you're using the free version, the best place to start is the WordPress.org Support Forum. It includes the users' questions or concerns. Therefore, determine whether or not their inquiries have been resolved.
While the company's website provides more support. On the Help Center page, there is a section titled "Common Issues." Here you'll discover guides for resolving common plugin-related issues.
Built-in Support Options
And the company's help offerings do not stop at its website. If you're using the plugin, you can access the plugin's built-in support services directly from your WordPress dashboard.
Simply navigate to Appointment > Support. There, you'll get a concise set of diagnostic data that may indicate the resolution to your concerns or issues. For example, an out-of-date plugin version, unsuccessful scheduling events resulting in missing alerts, and so on.
Additionally, you can select the Contact Support Team button if you are unable to locate anything on the Support tab. A popup window will then emerge to capture your email address and message. By sending this message, you will be submitting a support request to the team.
Quick Links:
Conclusion: Simply Schedule Appointments Review 2023
That is all from me. This concludes the Simply Schedule Appointments review. I hope that after reading it, you're eager to try and consider utilizing the plugin.
In general, this plugin provides fantastic capabilities for conveniently scheduling appointments. As a result, I propose that you use this Simply Schedule Appointments review guide to test it out for yourself.
And if you run into any difficulties, please leave a comment in the box below. I'd love to hear about your experiences with this wonderful plugin.