Are you looking for a comprehensive Sell The Trend Review? I've got your back. Here's a comprehensive Sell The Trend review to see if this tool is worth your money.
As an eCommerce business owner, you constantly look for trending and profitable dropshipping items.
Finding the correct item that will sell out quickly takes time and effort. It would be best to have something in high demand with little competition. This can only be easy if you have tools to assist you.
Sell The Trend Review 2023– Is It  A Top Product Research Tool?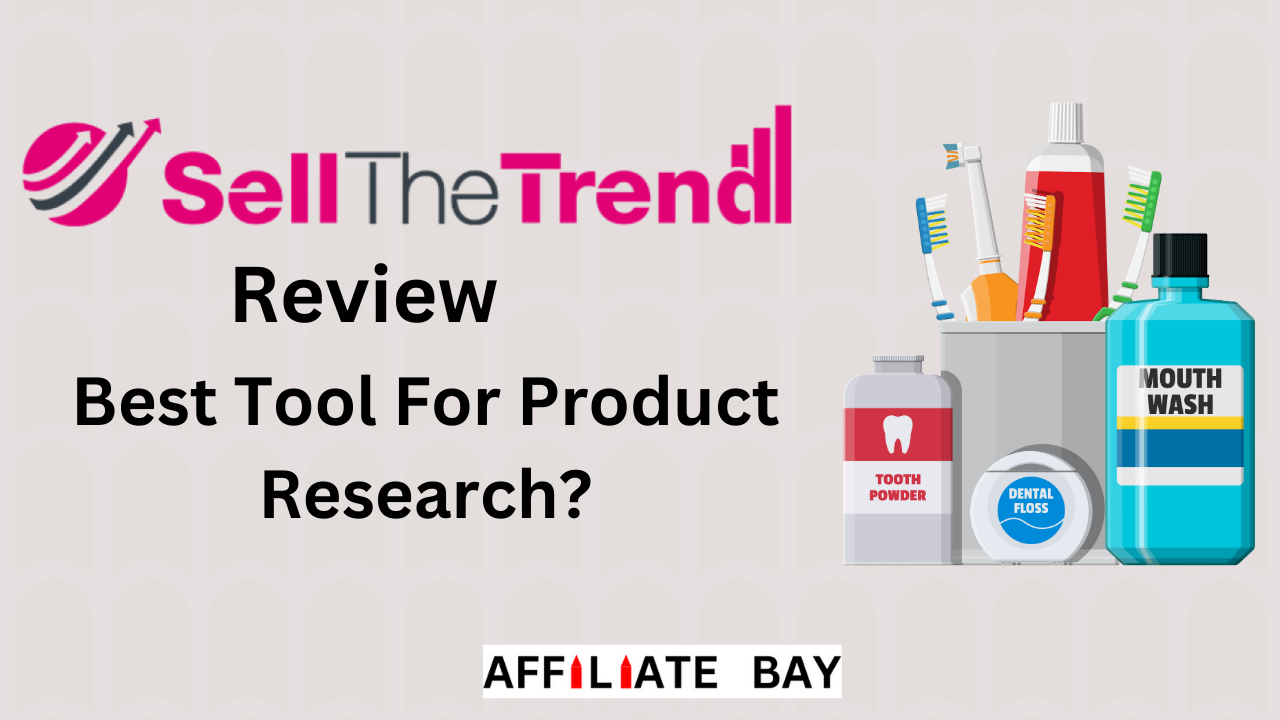 What is Sell The Trend?
Sell The Trend is a well-known online software created to assist eCommerce business owners in locating trending and profitable items for dropshipping.
The software includes a dedicated tool allowing users to collect keyword search data. Users can easily search for items trending on major eCommerce platforms such as Amazon, AliExpress, and Shopify.
You gain access to some tools that analyze sales data from these high-performing platforms and return the best results for your store's selling game.
The Sell The Trend tool does much more than find the right products to sell. Importing items into your Shopify or WooCommerce online store is simple.
The software even includes an audience builder for Facebook ads and access to a dropshipping course.
Top 6 Best Sell The Trend Tools
Sell The Trend has created some powerful native tools to assist users in retrieving and analyzing market data in minutes based on relevant keyword searches.
Their tools allow you to search through the products of powerful eCommerce platforms such as Amazon, AliExpress, and Shopify. You can further modify these search results by using various filters and sorting options to obtain more accurate results.
1. AliExpress Trend Explorer
As an eCommerce business owner dealing in dropshipping products, you would love access to all hot products, new stars, and hidden gems on AliExpress.
If you're looking for something like that, the AliExpress Trend Explorer is an excellent resource!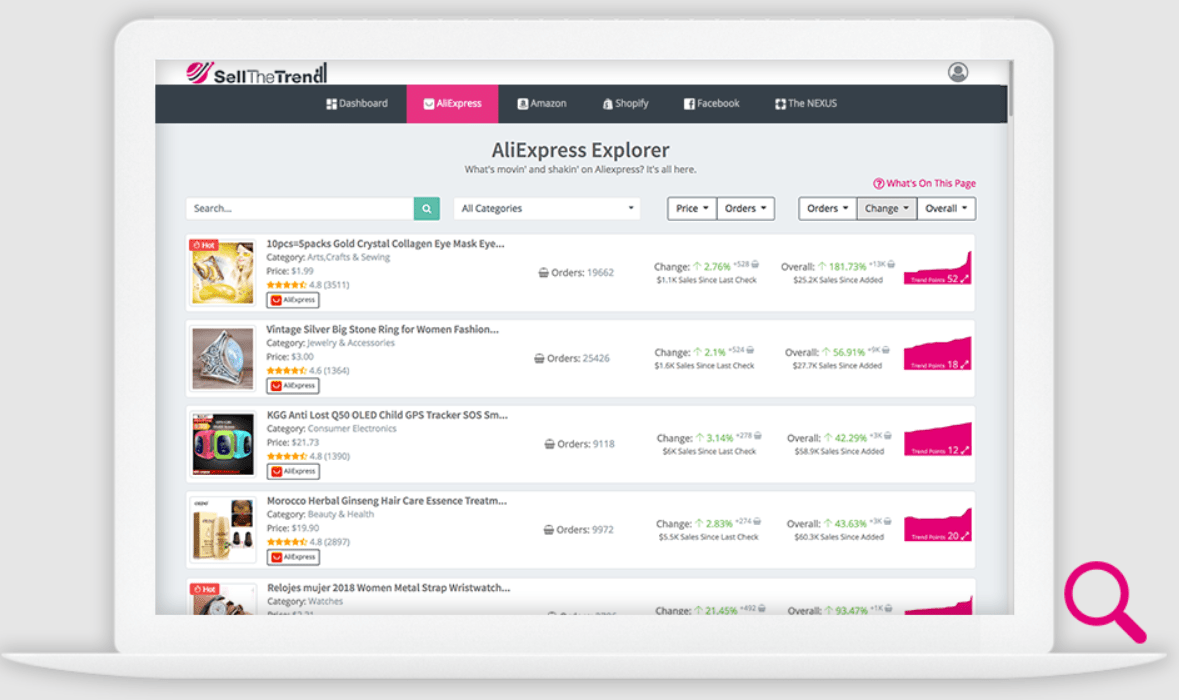 Sell The Trends is a tool that, by default, provides powerful filtering and sorting options to help you narrow down your product searches and find the best products for dropshipping.
For example;
The filter can display only products priced over a certain amount.
You may change the quest results to only show items for a certain number of orders.
You can also sort it if that product has a video available.
Even the number of stars that the product must have can be filtered. This is excellent if you want to see goods with it.
As a person looking for dropshipping products for your brand, you would appreciate that they display so much data, particularly the graph.
It's fantastic to see how well the product is selling on AliExpress. Just keep scrolling, and new products will appear now and then.

2. Amazon Trend Explorer
Because Amazon is the largest company in the eCommerce market today, it is understandably a great place to do product research and determine which products sell well and which do not.
Manually searching for such popular items on Amazon can be time-consuming. Sell The Trend Amazon Trend Explorer comes in handy here!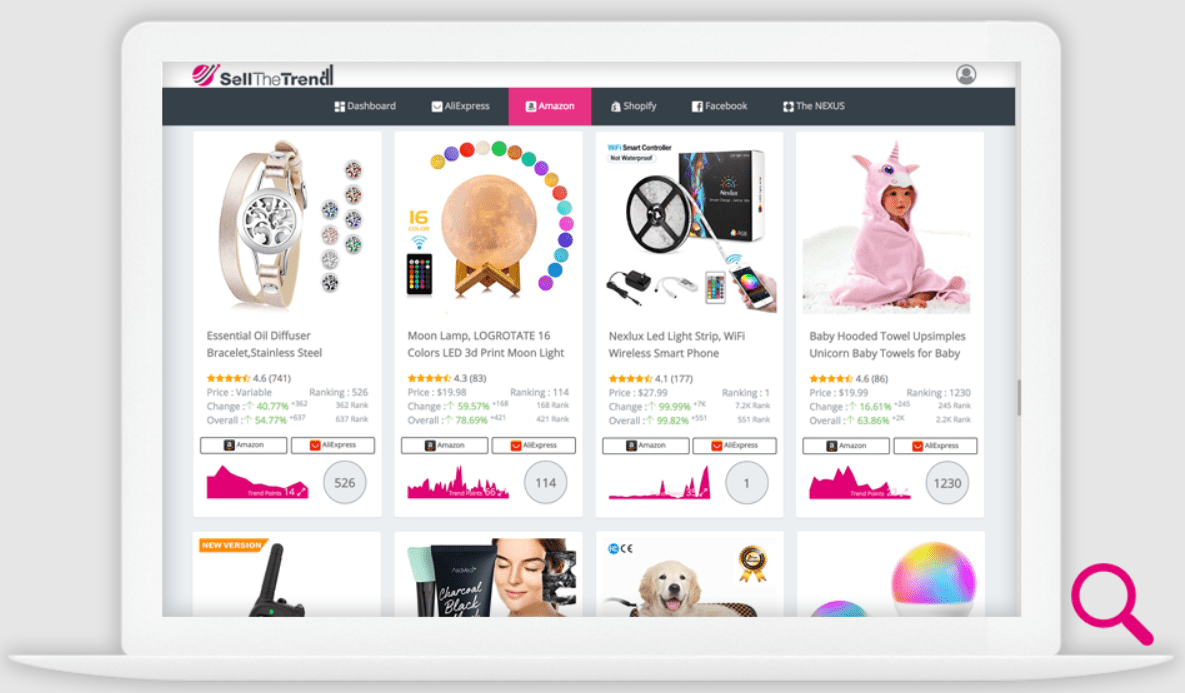 This tool will display all of the relevant hot products, hidden gems, and new stars on Amazon at that time. It is similar to the AliExpress Trend Explorer assigning Trend Points to each product.
This can be an excellent tool if you are tired of manually searching Amazon for the right trending products for your store by analyzing how each product ranks in each category.
You use Amazon to get product ideas and see what's hot and selling well because it's a good indicator of whether something sells well on Amazon.
3. Shopify Product Explorer
This tool will display every product from the store the server is tracking.
Like the previously discussed explorer tools, this explorer includes filtering and sorting options.
You can filter your search by "Dropshipping Verified," a huge plus. This option will only show you products from stores specializing in drop shipping.
4. Shopify Store Explorer
The Shopify store explorer displays all the stores the server is currently monitoring.
Like the Product Explorer tool, this allows you to filter searches by dropshipping stores, showing you Shopify dropshipping stores.
This is possible because their server has a wealth of data available to you.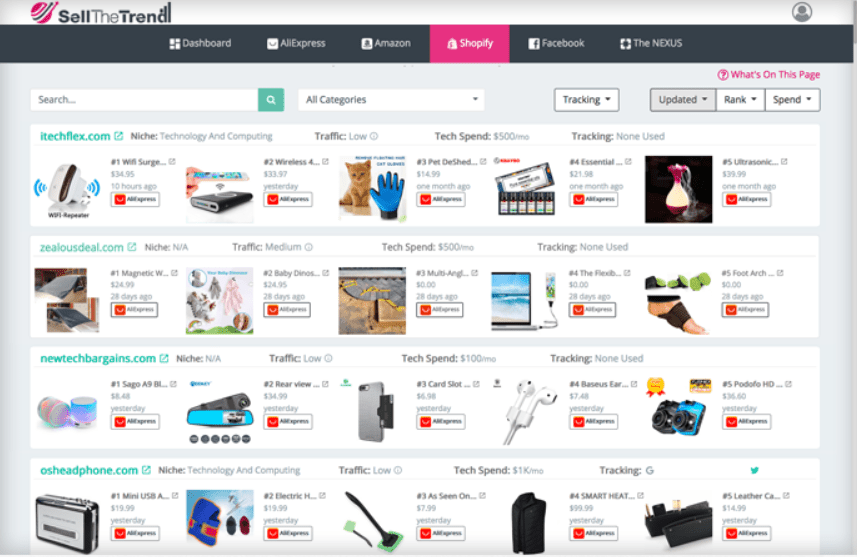 The information available on this tool:
The monthly traffic for each store, or "Low Traffic" if data is not available
Monthly technology spend, such as Shopify app costs
Any testing detected, such as from Google or Facebook
Social media profiles for the store
Identification of social media accounts for the store (e.g., Twitter, Instagram)
You can use it to identify other Shopify dropshipping stores and see how they handle product descriptions, home pages, etc.
Note: This tool can be used in a way that suits the needs of your brand, making it easier to find other Shopify dropshipping stores and see what others are doing with their product descriptions, home pages, and so on.
5. Nexus Product Research Machine
One of their most powerful tools, the "Nexus," is aimed at product research.
Nexus created this tool for those who do not want to or do not have the time to conduct manual searches for dropshipping products!
As mentioned, the Nexus Product Research Machine combines the tools' capabilities. This tool will show you which products are popular, trending, and rising.
It even displays which Shopify stores are popular and trending! This tool allows you to find many products to sell without spending much time on them!

How To Use Sell The Trend?
Sell The Trend is a product research tool designed to assist sellers in identifying trends to profit more.
You can use Sell The Trend for free for seven days if you take advantage of their trial offer. Sell The Trend does not necessitate the installation of any software.
Here's how to use Sell The Trend to generate product ideas:
Step 1:
Sellers must go to SellTheTrend.com and enter their Product Keywords, typically found on the product package or the product description page.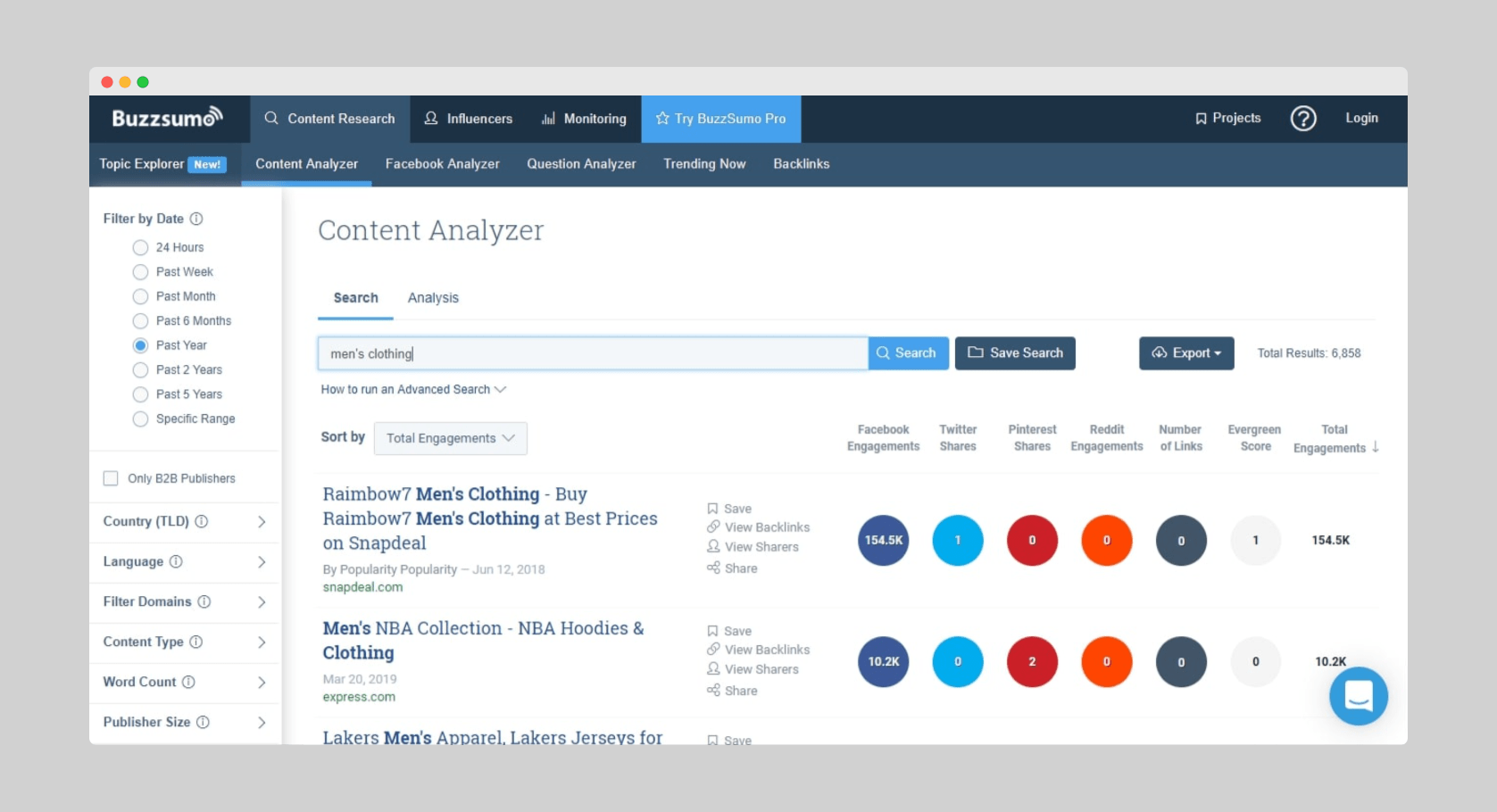 Sellers may also enter Brands they want to research if they know what products they want but still need to learn the specific keywords.
Step 2:
Sellers would then select "Advanced Options" from the menu, the default options in Sell The Trend.
Sellers must then click the "Submit" button, after which Sell The Trend will generate a list of products and their Google Merchant Center product IDs. From the results, sellers can choose one or more products.
Step 3:
Sellers can then go to Google Shopping and change their spending limit, after which Sell The Trend will automatically run reports showing Sellers what works best for them at that time based on the Brand, Keyword, Price Range, and Country filters selected on each report.
These product reports are available for download as.csv files, which you can open in spreadsheet software such as Microsoft Excel or Open Office Calc.
Sell The Trend offers three types of Reports:
1. Product Category Report
Sellers can view Sell The Trend's top-performing products across all categories by selecting a Product Category.
In this report, sellers can select a Brand, Price Range, and Country filter. Based on the filters selected, Sell The Trend will provide the best results to Sellers.
2. Niche Report
Sellers can view Sell The Trends' top-performing products within a specific industry or niche by selecting an industry or niche.
In this report, sellers can select a Brand, Price Range, and Country filter. Based on the filters selected, Sell The Trend will provide the best results to Sellers.
This report is especially beneficial for those who want to generate ideas and concepts and are inspired by what others are doing in the market.
Sellers can see which products Sell The Trend recommends and how they can create their version of the same product. Sellers can also use this report to cross-sell or upsell.
Sell The Trend has one Filter that Sellers can choose when generating ideas:
Sellers can use the Country filter to find the best-performing products in that country (e.g., the US).
In this report, sellers can select a Brand, Price Range, and Country filter. Sell The Trend will show the Seller's results based on their chosen filters.
3. Summary Report
At the end of each Product Report, a Summary Report shows how many top-performing products were discovered for Sellers and Sell The Trend's total commission earned.
The Summary Report can be saved as an a.csv file for future reference by sellers.
Sell The Trend Additional Tools
If the product research tools listed above aren't enough to persuade you that this tool is fantastic, they have a few more awesome tools to get the best dropshipping store.
These tools below may not be ideal for more experienced drop shippers (some features may be missing), but remember that they are all included in one tool. There is no need to pay anything extra.
1. Importing products & fulfilling orders
Sell The Trend items can be easily imported into your Shopify or WooCommerce store (or directly from AliExpress).
2. Store Intelligence
This new tool allows you to enter the URL of a Shopify store and show you a lot of information. Avg. monthly traffic is similar to monthly traffic. A commodity's price, monthly orders, and monthly profits.
3. Product Videos
This tool provides a quick link to the product videos section. You can use the same filtering and sorting options as any other tool in this article. You can also access and import the video directly from Sell The Trend by pressing the play button.
4. Facebook Audience Builder
If you need ideas for your Facebook Ad targeting, Sell The Trend has you covered with this tool.
Select a famous audience or type your keyword in the search bar. They can advise you on which interests to target if you want to sell something in that niche.
5. Video Ads Creator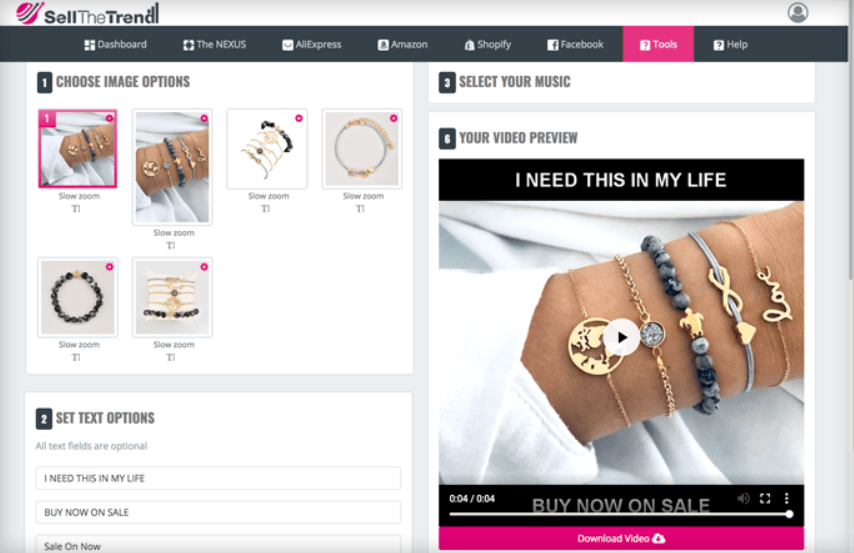 This is ideal if you are new to dropshipping or still need to learn how to create a video ad. You can upload your images directly to this tool or let it retrieve them from an image URL.
6. Engagement Rating Calculator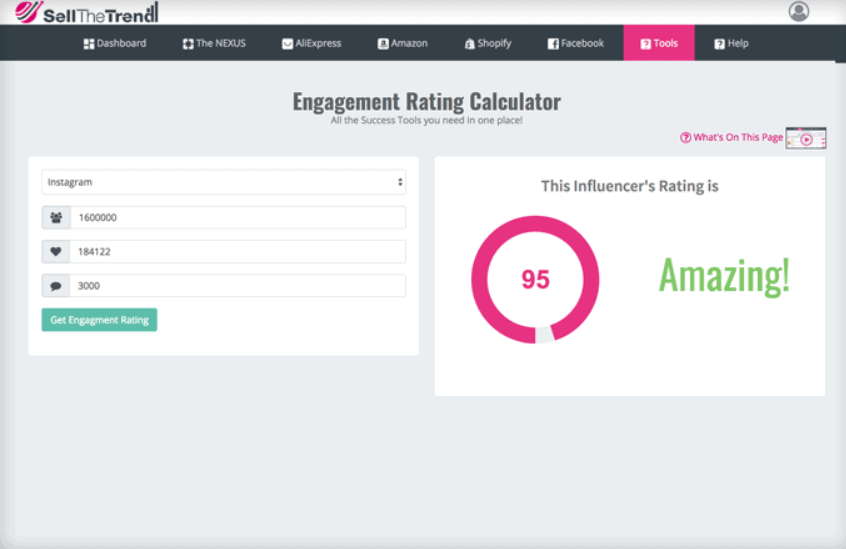 You can use this tool to find Instagram and Twitter influencers. It is a simple way to determine the influencer's ranking.
Only enter the number of Instagram fans, likes, and comments. You can also join the number of retweets for Twitter influencers.
The likes, comments, and retweets come from a single post, or you can get a rough estimate of their average from all their entries (or the last 9, for example).
9-in-1 services product research tool
SellTheTrend is a popular online software that has been designed to help Ecommerce business owners find trending and profitable items for dropshipping.
Top 3 Things I Love About Sell The Trend
Sell The Trend is a fantastic tool for Dropshippers. There are several reasons why I love this software. But the main reasons mostly relate to its ease of use, intuitive interface, and efficiency.
Here are three things that are great about Sell The Trend.
1. "Favorite" section in every tool
People always enjoy the "Favorites" feature in apps and software, which allows them to "Like" a specific item and add it to a list of favorites for future reference or use.
Sell The Trend has used this feature in every tool they've created, with a "Red heart" icon in the product or store's corner.
You can tap this icon to add the item to your favorites and continue scrolling without worrying about where you saw that fantastic product, store, or ad!
2. Numerous filter and sorting options
When using a search tool, the more filters and sorting options you have, the better and more accurate the results you can get.
Sell The Trend has included filter options in their market and product research tools to help you find more relevant and accurate search results based on the keyword you've entered.
3. Each page has a "What's on this page" text
This is a feature you've seen on many websites. When you move your mouse over a product name or image, a small text box with a brief description appears.
Similarly, when you hover your mouse over the product, a short text will appear informing you of what the current tool does.

Ecomhunt and Sell The Trend
There are many similarities between Ecomhunt and Sell The Trend. They both have a product rank, an EPC, and a product page rank.
Ecomhunt provides a more in-depth product analysis, whereas Sell The Trend is more mathematical with EPC and PPR. Ecomhunts EPC is concerned with on-site conversions, whereas Sell The Trends EPC is concerned with conversion rates.
They offer tools like Pools, Listing Analyzer, Niche Prospector, and Spy Finder, but only Sell The Trend offers Cloud accounts, while Ecomhunt has only recently begun to do so.
Sell The Trend Testimonials & User Reviews
Here is what the users have to say about Sell The Trend tool: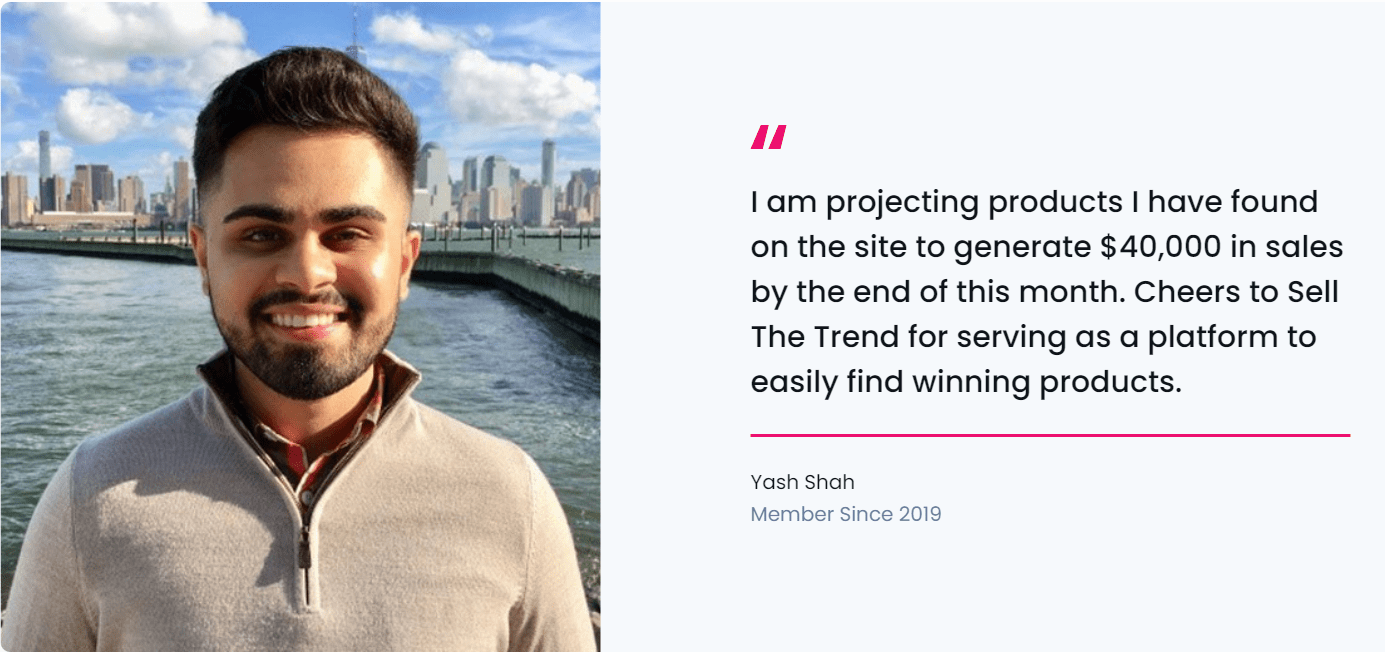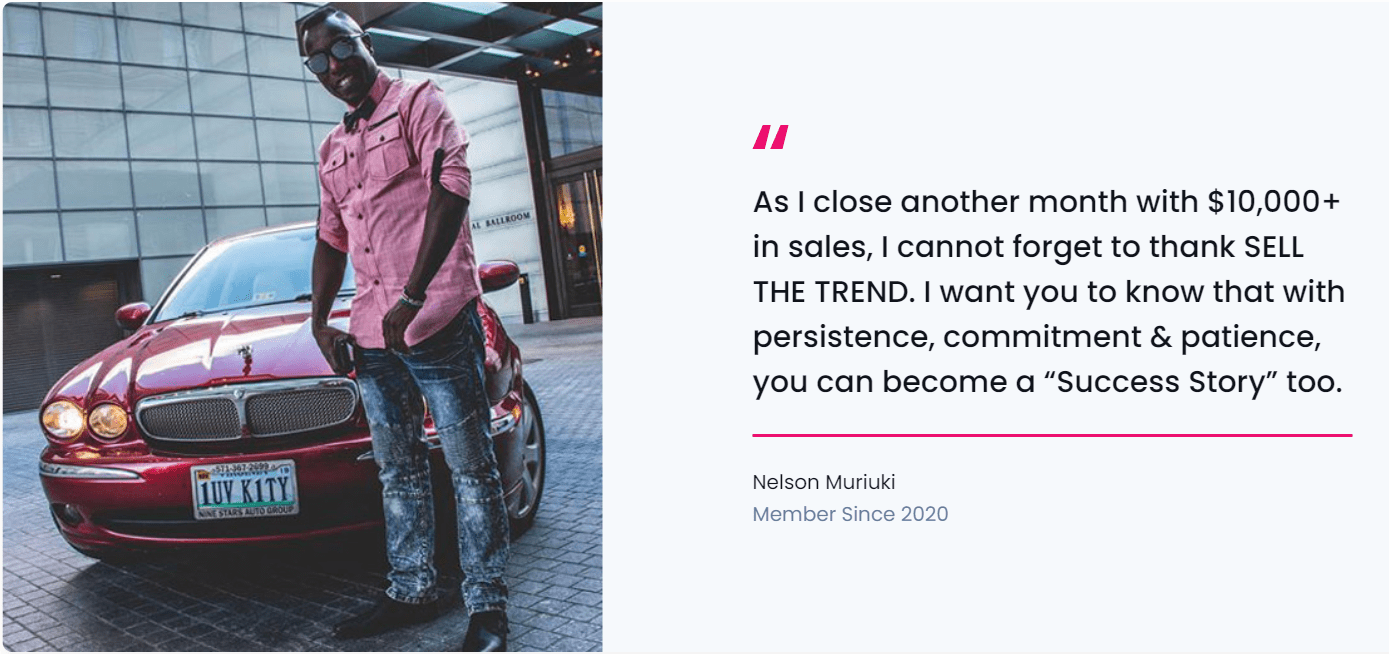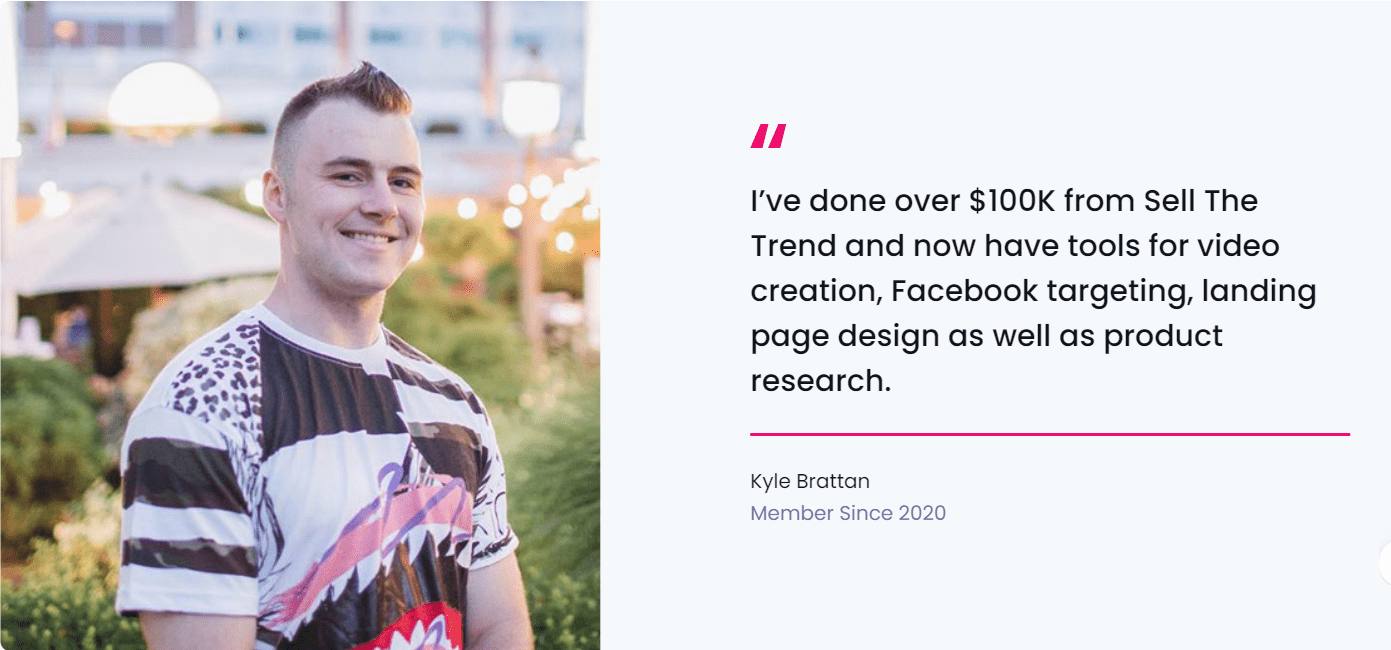 Sell The Trend Alternatives
Here are the three best alternatives to Sell The Trend:
1. Niche Scraper
Niche Scraper is a powerful and robust search engine that will assist you in discovering the best and most relevant keywords in any niche. It has all the features you need for a quick and efficient search.
You can use it for any project that necessitates extensive research. You will also receive precise data that most keyword tools on the market need to provide.
There are great features, such as Up/Downvotes, eBay and Amazon niche suggestions, Wordtracker data, Semrush data, and more!
2. Ecomhunt
With over 10 million products in its database, Ecomhunt is a rapidly growing platform for eCommerce entrepreneurs.
It provides the best tools for online sourcing, marketing, and selling. Amazon, eBay, and other marketplaces have everything you need to sell.
Ecomhunt strives to provide an incredible user experience, which includes its search engine, which is more advanced than most of its competitors and delivers high-quality results.
3. AliShark
AliShark is a tool that will assist you in locating profitable products. It can be used on any marketplace, including Amazon, eBay, and
Alibaba. The software includes a user-friendly interface, an advanced search engine, and other features.
AliShark is an excellent tool for market research. Many users have reported that the software assisted them in generating great product ideas and launching their online businesses.
You don't have to go through endless products on any marketplace and read their reviews and specifications if you use AliShark. You must enter a keyword into AliShark's powerful search engine to get instant results with all the required information.
FAQs About Sell The Trend Review
What is Sellthetrend?
Sell The Trend is software designed to help you find the best items for dropshipping. With their dedicated tool, you can effortlessly check for items currently trending on major eCommerce platforms like Amazon, AliExpress, and Shopify. It's easy as pie!
How much is Sell The Trend?
Sell The Trend offers a free trial. It is good to try it yourself before buying, and if you don't like it, you can cancel anytime without any charges. The monthly cost of Sell The Trend is $39 per month.
How Does Sell The Trend works?
This is how Sell The Trend works: You can choose thousands of products. They are honest, and they will help you sell things. Import the products into your store with just one click. Then people will come to your store and buy from you!
Is Sell The Trend any good?
With Sell, The Trend doesn't have to worry about researching trends anymore because they have done everything for you. All of the hard work has been done so you can focus on what matters – your business! Sell The Trend makes your life easier and more profitable with its innovative software.
More Questions On Sell The Trend: 
Here are some more questions and answers that you might have about Sell The Trend:
Does Sell The Trend have a trial?
Sell The Trend does offer a free trial. With Sell The Trend, you get 7-days of unlimited use, and no credit card is required.
Sell The Trend also offers a 30-Days of unlimited use, with a monthly fee payable through Paypal or Credit Card. You can also get the Lifetime Membership, which provides an annual fee payable through Paypal or a Credit card.
Is Sell The Trend worth it?
Sell The Trend Review is a powerful way for Sellers to set and track their performance in Amazon Sellers Central. Sellers can use Sell The Trend to create customized Sell The Trend charts with Sell The Trend Reviews.
Sellers also get Tracking data in the Sell The Trend, which monitors their account over time and shows them when and where they're trending on Amazon and what happens when they do.
Quick Links
Conclusion
Sell The Trend is one of the most effective dropshipping product research tools we've come across.
It includes all the tools and features you need to find the best products for your dropshipping store.
Their server searches the databases of major e-commerce platforms such as Amazon, AliExpress, and Shopify to help you analyze and discover which items are best for your dropshipping business, which are the most popular goods, trends, and even items that do not sell well in a market with stiff competition.
You'll find various tutorial videos demonstrating how the Sell The Trend tools work and how to get the most out of them.