Top 10 Sports Affiliate Programs in 2023
Here are the best sports affiliate programs that you should check out today:
1) PM Affiliates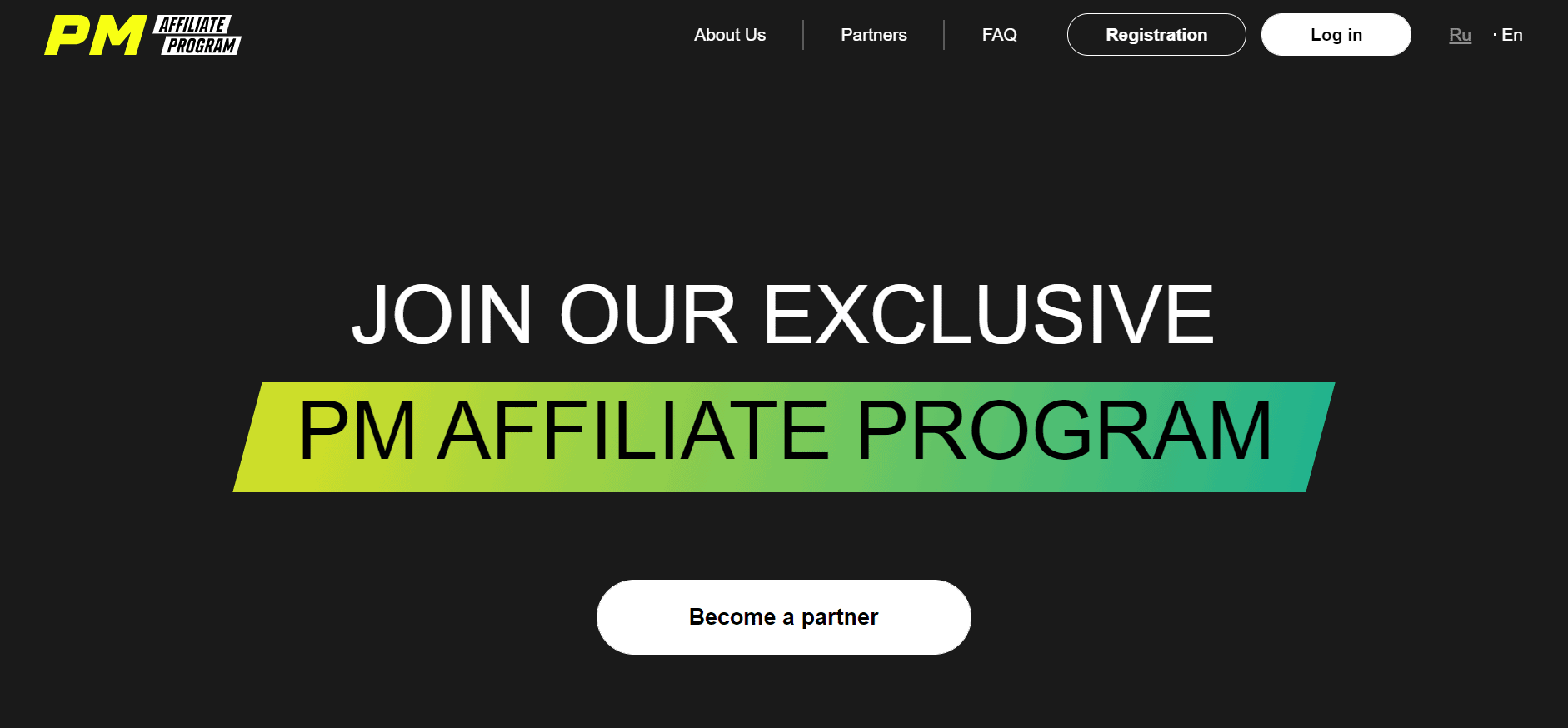 The first on our list is the torch-bearer of the Sports Affiliate industry. PM affiliate is known for enjoying massive popularity in its target audience.
This well-recognized brand has a history of more than two decades and boasts a user base of about a million active players from 15 countries across the globe. 
The main reason behind its popularity is the favorable work environment it has to offer to its webmasters, along with a wide array of materials as well as tools.
Not just that, PM affiliates provide flexible business models, the products that are most likely to convert, in-house applications, high affiliate rates in the market, ready-made landers and creatives, a dedicated manager, and a lot more.
PM affiliates are also renowned for their expertise in cybersport and casino, along with the sports affiliates.
Key Highlights
→ Flexible Payment Options
PM affiliates offer three payment modes viz: 
CPA: Here, the affiliate commission is dependent upon the GEO you will be advertising in. 

Revenue Share: You get 30 percent of the profits that the client you sent makes. Chances are you might even get about 50 percent provided you are successful in driving humongous volumes of quality traffic.

Hybrid Model: You can be earning money on use that you refer to twice that is on both RevShare as well as CPA. This model works on a case basis. 
The CPA model is best for the ones who run targeted traffic and get the traffic from other paid sources.
They work on the marketing strategies that need a stable flow of cash in order to pay the recoup cost and overhead expenses.
Users running on RevShare have more organic traffic and have their SEO-optimized blogs or websites. This is considered to be a pretty lucrative model when it comes to the long run. 
→ Traffic Efficiency
PM Affiliates are well-known for making all the possible efforts in order to retain their players as well as improve the efficiency of the traffic.
→ A Dedicated Manager
PM affiliates offer you a dedicated affiliate manager that can help you with all the important information as well as the promotional material. 
The payouts of PM Affiliates are made once every month. The minimum amount of payout is $100. But if in case you earn over $200 in the period of two weeks, then you can get your payout for the 14 days.
2. BPI Sports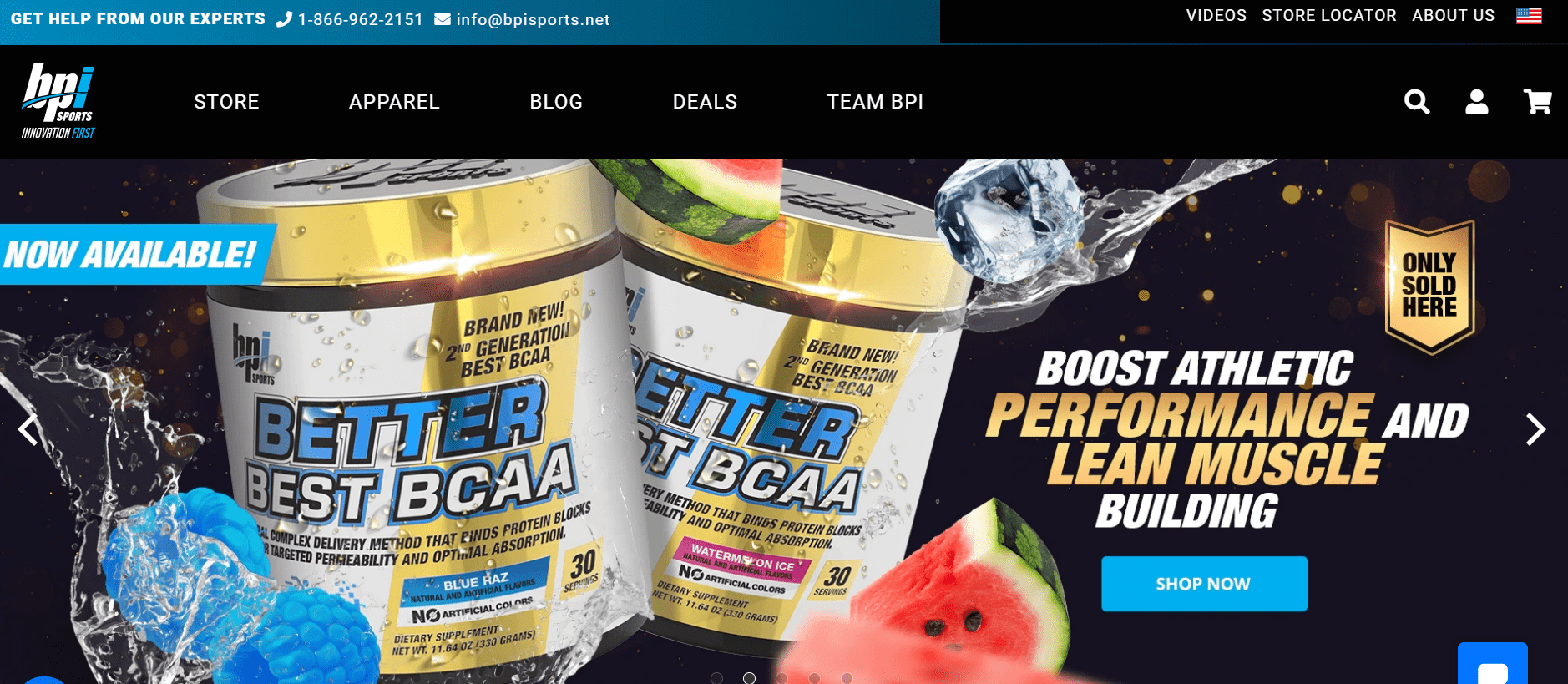 With the rise of people across the globe who are interested in building up their bodies like their favorite celebrities, this niche has become super popular in the sports arena.
Tapping into this can get you great returns. BPI Sports is known for offering the best in quality and wide range of supplements as well as personal care products that are helpful for men and women for getting into shape.
Their product range includes supplements that comprise pre-workout formulas, fat burners, and protein powders.
You can thus market their products to the traffic involved in an athletic and body-building lifestyle. 
BPI Sports is here in the market for over a decade and supplies its products in more than 100 countries across the world.
The company provides a plethora of accessories and apparel options like shakers and gym bags that can be marketed to all the fitness freaks with the correct content.
The company is well-known for the great commission they offer, making their sports affiliate programs one of the best in this industry.
BPI Sports also lets you return the unopened, unused supplements or merchandise or the damaged products within 30 days of purchase.
The commission offered by BPI is 10 percent per sale, and they offer a cookie duration of 60 days.
The platform uses AvantLink in order to manage the affiliate program and offers a calendar consisting of official banners and compelling offers.
Affiliates also get a newsletter every month that includes the latest news, promotions as well as tips on increasing sales. 
Key Highlights
→ High-Quality Products
→ High Conversion Rates
→ A Dedicated Affiliate Manager
→ A Mobile-friendly Website
→ 30-Days Money Back Guarantee
→ Fast And Easy Returns
→ Certified Good Practices For Manufacturing
→ A Single Dashboard For Easy Tracking Of Your Clicks, Transactions, Revenues, And Payments. 
3. Eastern Mountain Sports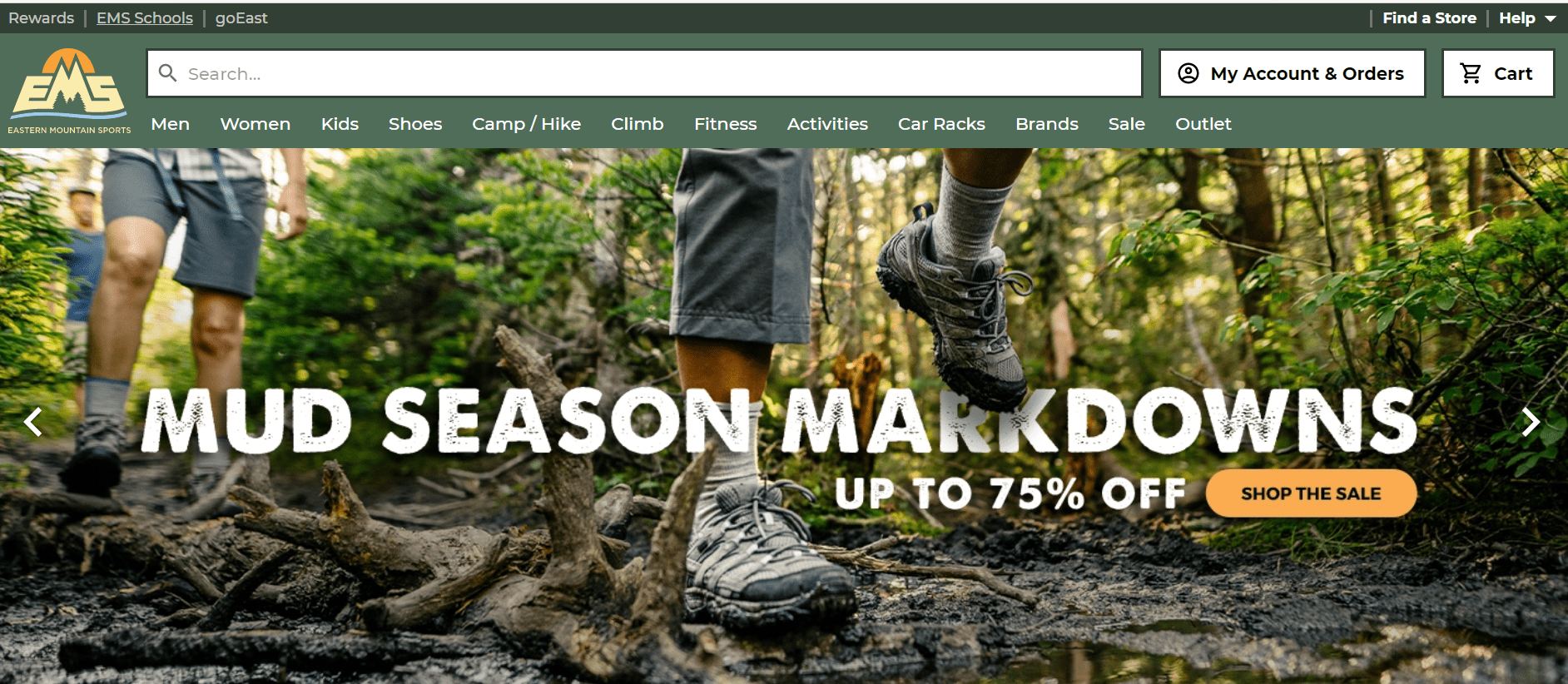 The next platform that we will be talking about on our list is Eastern Mountain Sports. Their company is renowned for offering gear that can work for almost any and every outdoor activity.
Eastern Mountain Sports offer a wide array of products ranging from climbing gear, cycling gear, skiing gear to equipment for paddle sports. 
What makes this brand the best of all is that they stock up their shelves only with the best brands across the globe like GoPro, Mountain Hardware, Thule, and The North Face.
They also sell bikes and kayaks, but you can get them only in their outlet and retail stores. This means that you cannot be marketing these products in order to earn the commission. 
Despite the fact that the platform has a slightly lower level of commission to offer as compared to the others in this industry, the pricing of their products, as well as the humongous volumes of the users with the intent of purchasing, can lead to high levels of conversion.
This can make up for the lower commission rates. This program can work wonders for those sports affiliates that are pretty experienced in this niche and know how to convert instantly.
The commission offered by Eastern Mountain Sports is 7 percent per sale, and they offer a cookie duration of 14 days.
The VIP rates are about 9 percent for the affiliates that attract traffic in high volumes.
Their affiliate program is undertaken through ShareASale, LinkShare, and Avantlink that offers user-friendly and in-depth performance reporting. 
Key Highlights
→ Big Brands In Their Stock Helps You Fetch More Commission
→ Power-Packed With Great Deals That Helps In Attracting A Constant Flow Of Traffic
→ A Purchase Guarantee By The Brand Allowing The Customers To Return An Item And Get Complete Refund
4. AL's Sporting Goods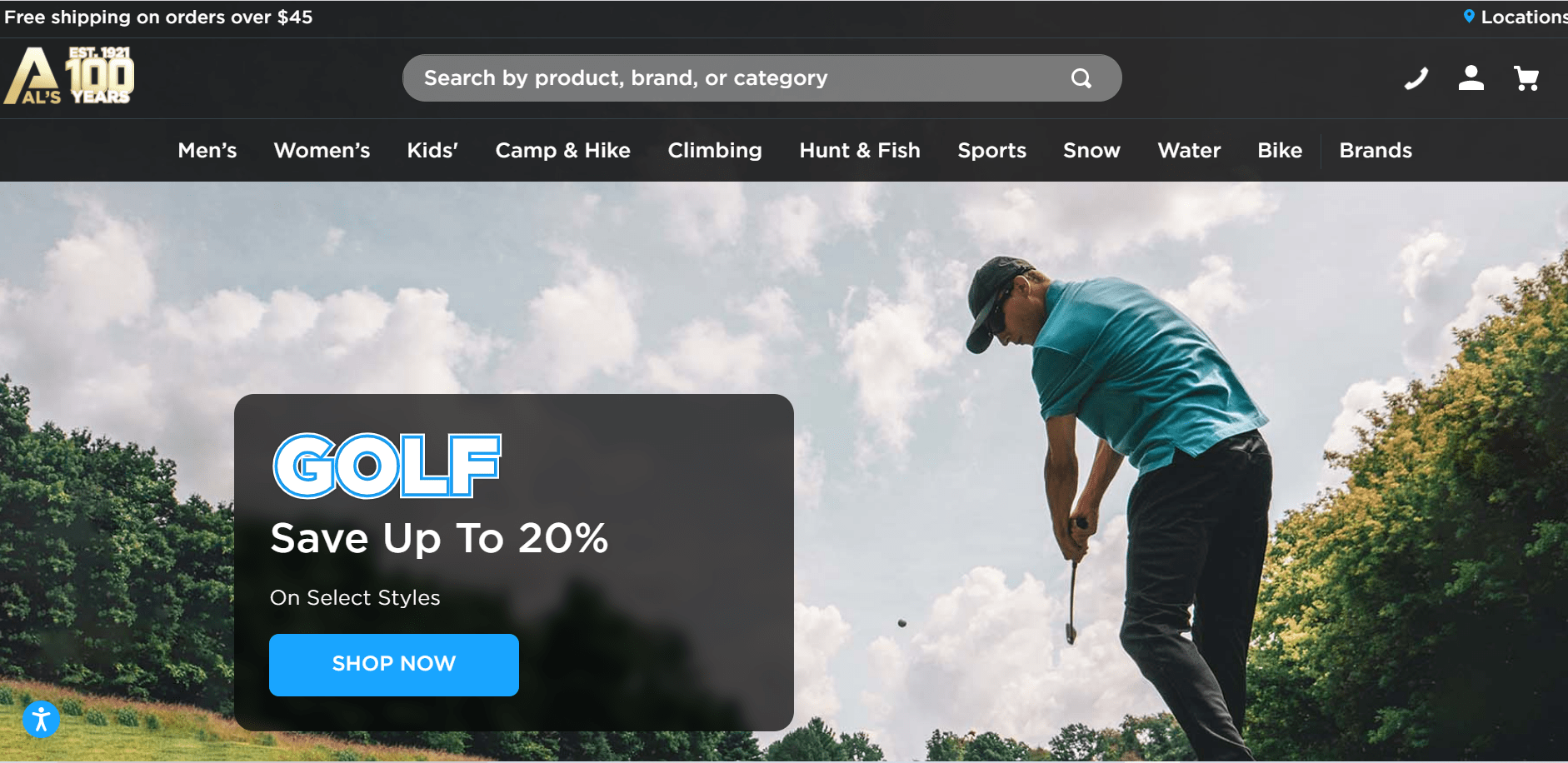 Authenticity is the key element when it comes to marketing, and AL's sporting goods is a brand that holds it tight to the core since its establishment a century ago.
The brand is known to offer various products for men, women, and kids like clothing, jackets, sweaters, pants, and things you need for camping, hiking, fishing, hunting, and various other sports. 
Their affiliate program has well-known brands like The North Face, Under Armour, Nike, etc. The more the big brand, the more the customers willing to buy them, and thus you get high conversion.
AL's sporting goods offers gear from more than 1.200 vendors for each and every sport, and therefore you have a wide array of goods that you can select from and market them.
Their products are easy to market to almost any sports fanatic. All the orders that are priced above $75 are eligible for free ground shipping.
Apart from all these incredible facts, what makes it unique and almost an ideal platform for sports affiliates is the cookie duration it has to offer.
You get a cookie duration of about 5 months here, which basically intends that you get a period of about 150 days to get credits from your link.
The affiliates get 10 percent for every successful sale they make, and the average value of the cart is about $120.
AL's sporting goods offer various promotions and discount codes along with a highly competitive commission rate and long cookie life.
The platform also offers a refund on the return of unused and new items purchased from AL's for a period of 60 days. 
Key Highlights
→ A Very High Average Order
→ Very Long Cookie Life Of 150 Days
→ Carries Highly-Recognized Brand Names
→ High Sporting Collection Coming From Top-Class Brands Can Fetch You High-Conversion Rates And Thus Higher Commission.
5. Fanatics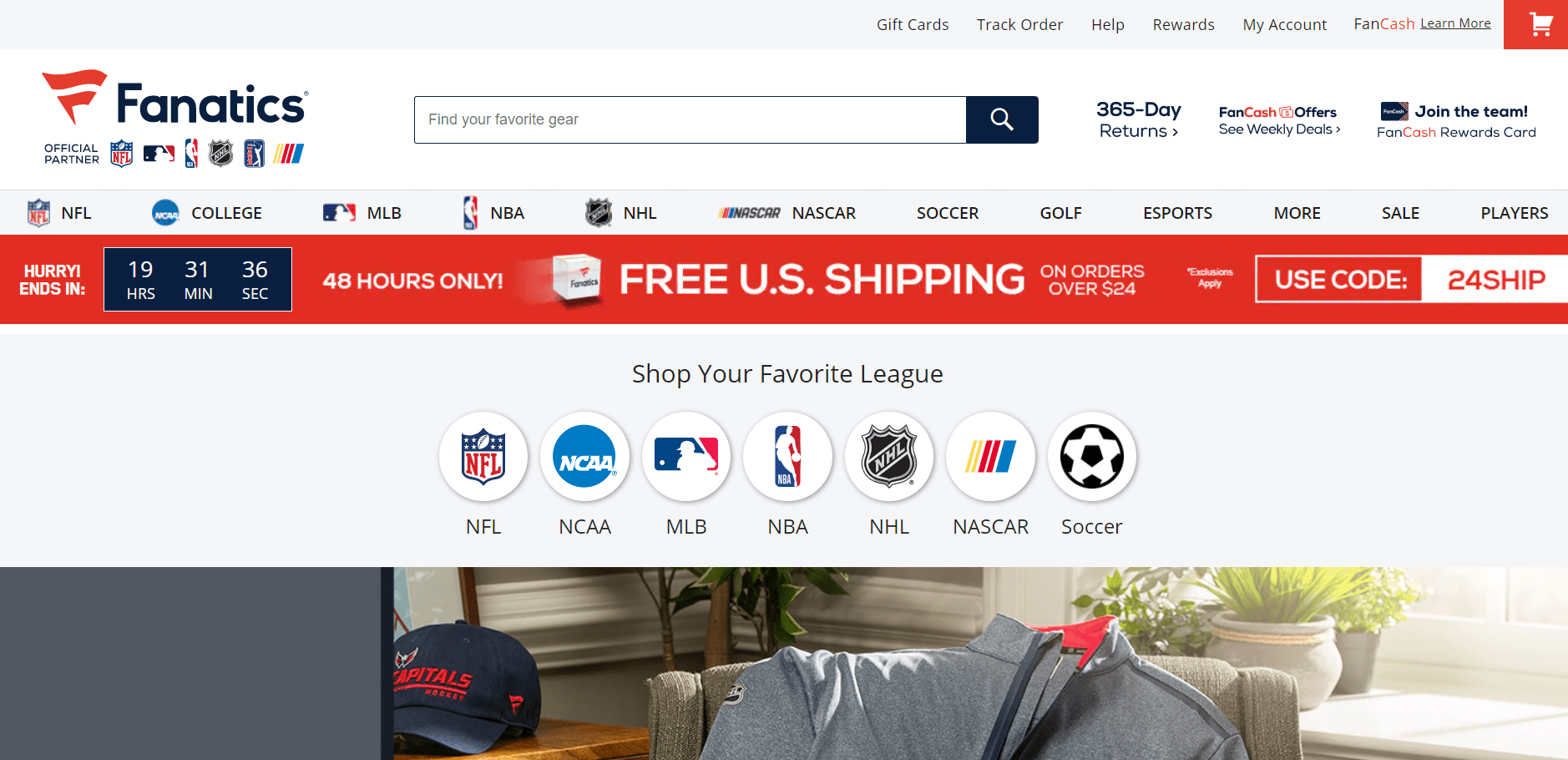 Fanatics is one of the largest retail shops for sports merchandise online across the globe and officially sells merchandise, accessories, and apparel from NHL, UFC, MLS, NASCAR, NCAA, NFL, MLB, NBA, and a lot more.
All these websites have affiliate programs where they offer various commission rates to their affiliates.
The platform is known for its hassle-free and comfortable return policy within 365 days of purchase. They also offer Fanatic Rewards, and this way, your savings is boosted. 
It can be difficult to get approval for the partnership program because the company is pretty selective about the people they choose to work with.
But once you are approved to join their program, you get to lay your hands on their catalog of more than 5,00,000 products that span over all the professional sports leagues.
The platform also offers licensed products for the eSports teams, international soccer clubs, and college sports teams. 
The Fanatics offer around 10 percent commission on the basis of traffic, connection strength with the audience, and engagement. They set their exact rates in real-time.
So, if you are someone with a sports blog, having an association with the Fanatics can prove to be the ultimate way to make money in the sports arena.
But in order to make it big with the Fanatics, it is important to have marketing expertise of a significant level. Success here needs authority in this niche.
The only drawback with the Fanatics is the low cookie life they have to offer. The website offers its affiliates a cookie life of about 7 days.
Key Highlights
→ Tough To Get Approval For The Partnership Program
→ Offers Merchandises, Apparels, And Accessories From The Well-Recognized Brand
→ A Comfortable Return-Policy Of Whopping 365 Days. 
→ Fanatics Rewards Can Help In Boosting The Savings
6. Enigma Fishing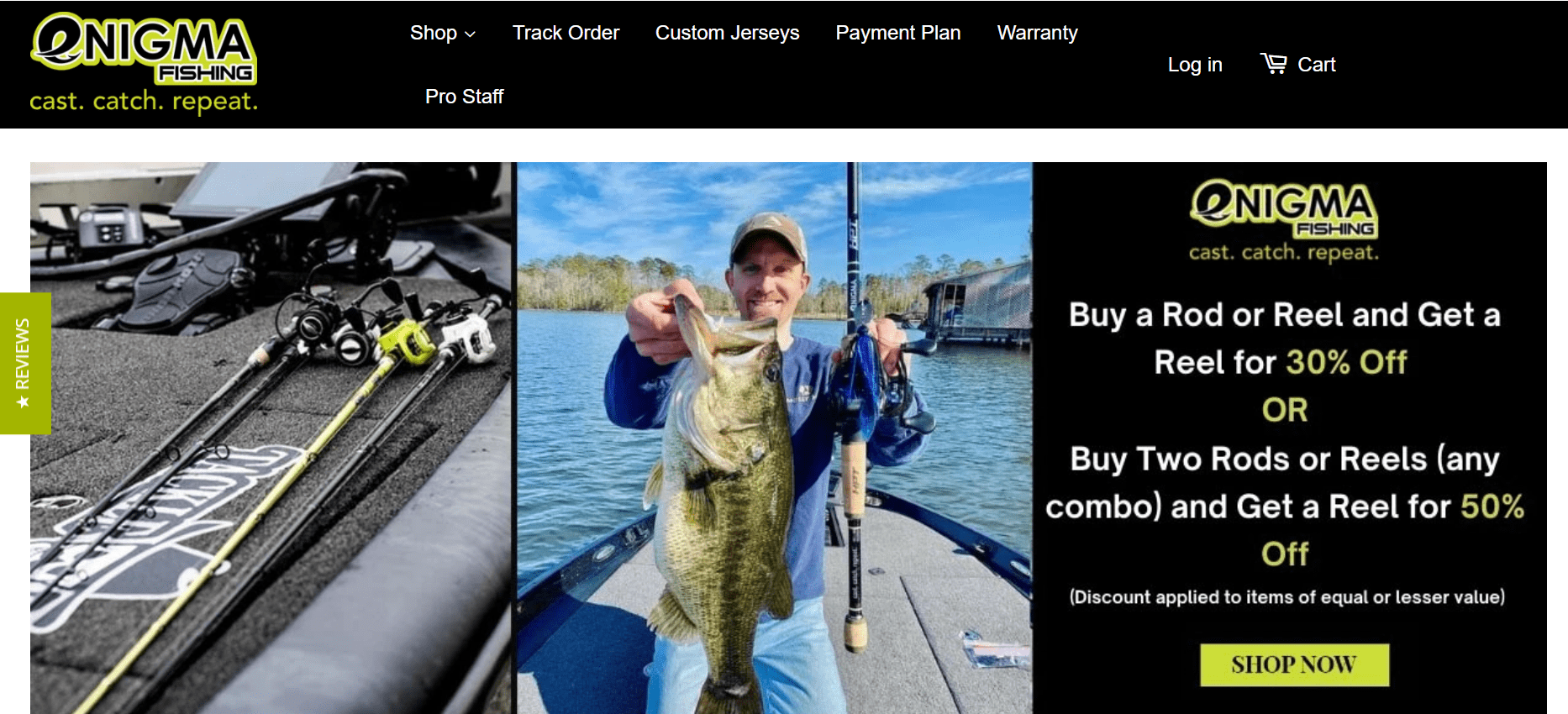 The next on our list is Enigma Fishing, an incredible option that you can choose if you wish to market the fishing products. It was started with an aim of taking this sport to another level.
The brand aimed towards facilitating the new ones in getting their fishing equipment without burning a hole in their pockets and also help them find the sponsorship that they are in search of. 
About 49 million Americans participate in recreational fishing every year, and thus you have a wide user base to target.
If approximations are to be believed, then the Anglers spend about $7.4 billion collectively every year on the sport and about $7.8 billion on lodging and food when they are on their fishing trip.
Thus, with a platform like Enigma Fishing, you can promote a wide array of products ranging from tackle to fishing gear to hotel accommodation and flights to the user base.
This hobby for many can prove to be a gold mine for the affiliates. They offer all the products you need like the sheers, military apparel, sunglasses, reels, roads, and tools.
What makes this company incredible is the fact that they offer a lifetime warranty on all their products, making them the first-ever company to do that.
Enigma Fishing offers about a 10 percent discount to the women and men in the military for every product they buy. The average order value of this platform is over $200. 
What is more, Enigma Fishing has great commission and a really long cookie life to offer.
The platform offers a cookie duration of about 3 months, i.e, 90 days and their commission rate is 20 percent of every sale. 
Key Highlights
→ The Platform Offer Excellent Commission Rates
→ A Very Long Cookie Duration
→ A Wide Array Of Fishing-Related Products At Reasonable Prices
→ Lifetime Warranty On The Products
7. Fitbit

One of the most renowned brands globally that offer the best activity tracker in the market is next on our list.
Fitbit offers a wide range of smartwatches that can help on every level of fitness for women and men of any age for building a healthy lifestyle.
It can track various activities like sleep quality and step count and has become a must-have technology for all fitness lovers. 
The company is well-known for its incredible reputation. The brand value of Fitbit makes it easy to be marketed. It is easy to get access to various creative assets and are frequently available.
This platform thus can be your way of turning the passion for fitness and sports into your business. Fitbit affiliate is an excellent way of turning your interest in fitness and sports into your business.
But the programs have their own pitfalls. The commission rate is just 3 percent, and the cookie duration is just 15 days. The affiliates getting higher volumes are eligible for getting better commissions.
Key Highlights
→ One Of The Most Famous Sports Brand
→ A Great Brand Value Means Great Conversion Rates Meaning High Revenue
→ Low Commission Rates And Cookie Duration
8. Gainful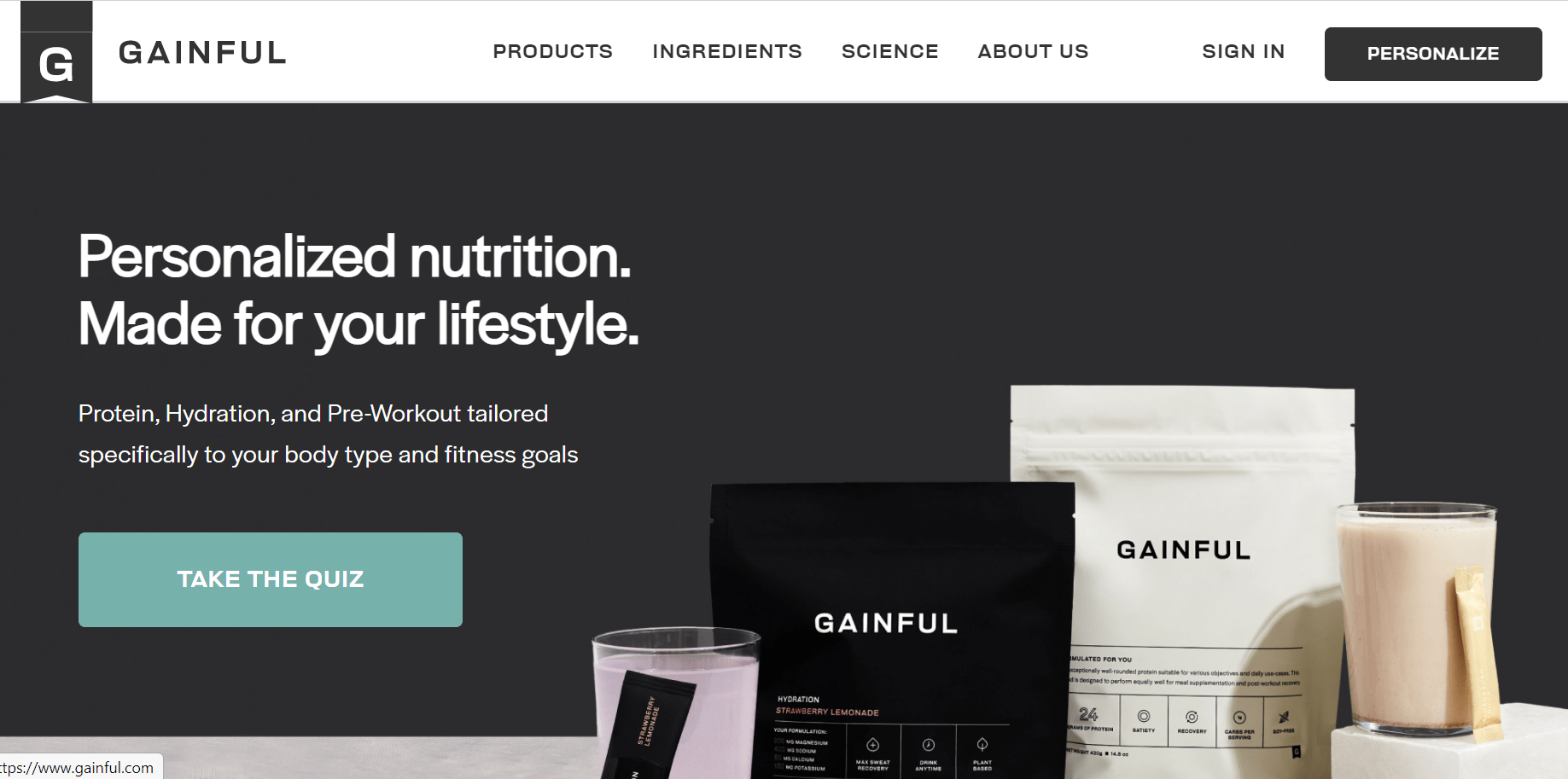 Gainful is another company offering efficient and effective supplements and is known to work on those areas that are often neglected by the other companies offering supplements.
The company believes that everyone has different goals as well as the level of fitness. Thus, the company creates personalized protein powders for the users in order to attain the fitness goals.
Gainful helps their customers to find the right mix of supplements easily. They ask the user to take a 5-minute quiz. 
They deliver the supplements right at your doorstep. You also get a subscription to receive it every 30-days. The platform offers its affiliates a 30-days cookie duration and a flat $20 on every sale.
Their incredible commission rates, marketing assets, and decent cookie duration make it a great sports affiliate program for beginners.
Key Highlights
→ Personalized Fitness Supplements For The Customers
→ Supplements Delivered Right At Your Doorstep
→ 30-Days Subscription Offer
9. GoPro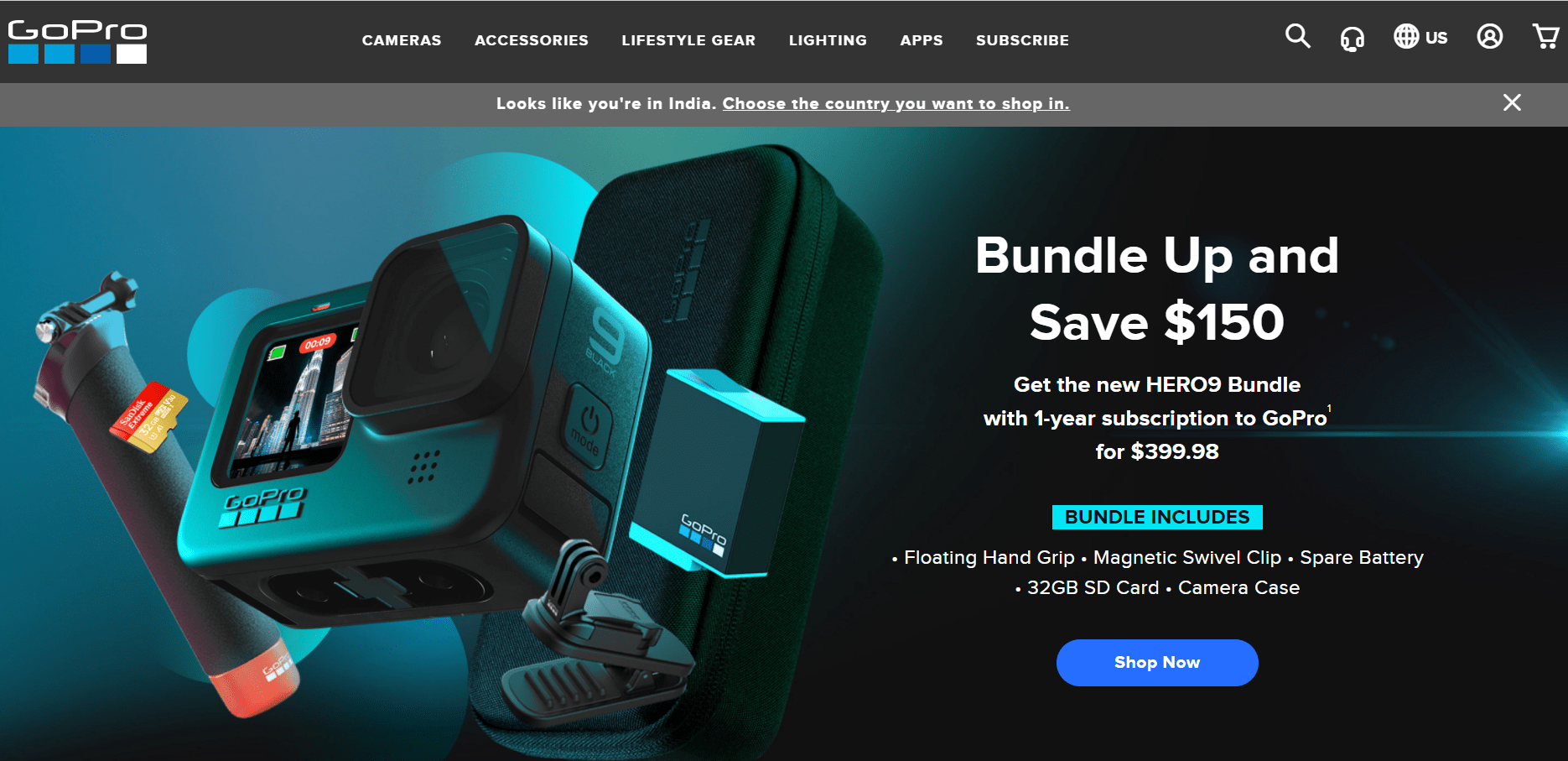 Go-Pro is one of the most renowned technology companies when it comes to the niche of the sports industry.
The company is well-known for providing their range of highly versatile cameras in today's time and all the needed accessories for that one perfect shot. 
When it comes to shooting and recording the creative and beautiful moments of their sport, the lovers do not have to depend on any other brand.
The incredible brand value established by GoPro makes it easy to market their products. GoPro offers a wide range of products and accessories ranging from bags and cases to mods and munts.
Go Pro offers a cookie duration of about 30 days, and their commission rates are 5 percent of every sale an affiliate makes.
Key Highlights
→ Renowned-Brand Leading To Greater Conversions And Better Revenue
→ The Brand Offers Best Sports Cameras Across The Globe
→ Average Commission Rates
10. HidrateSpark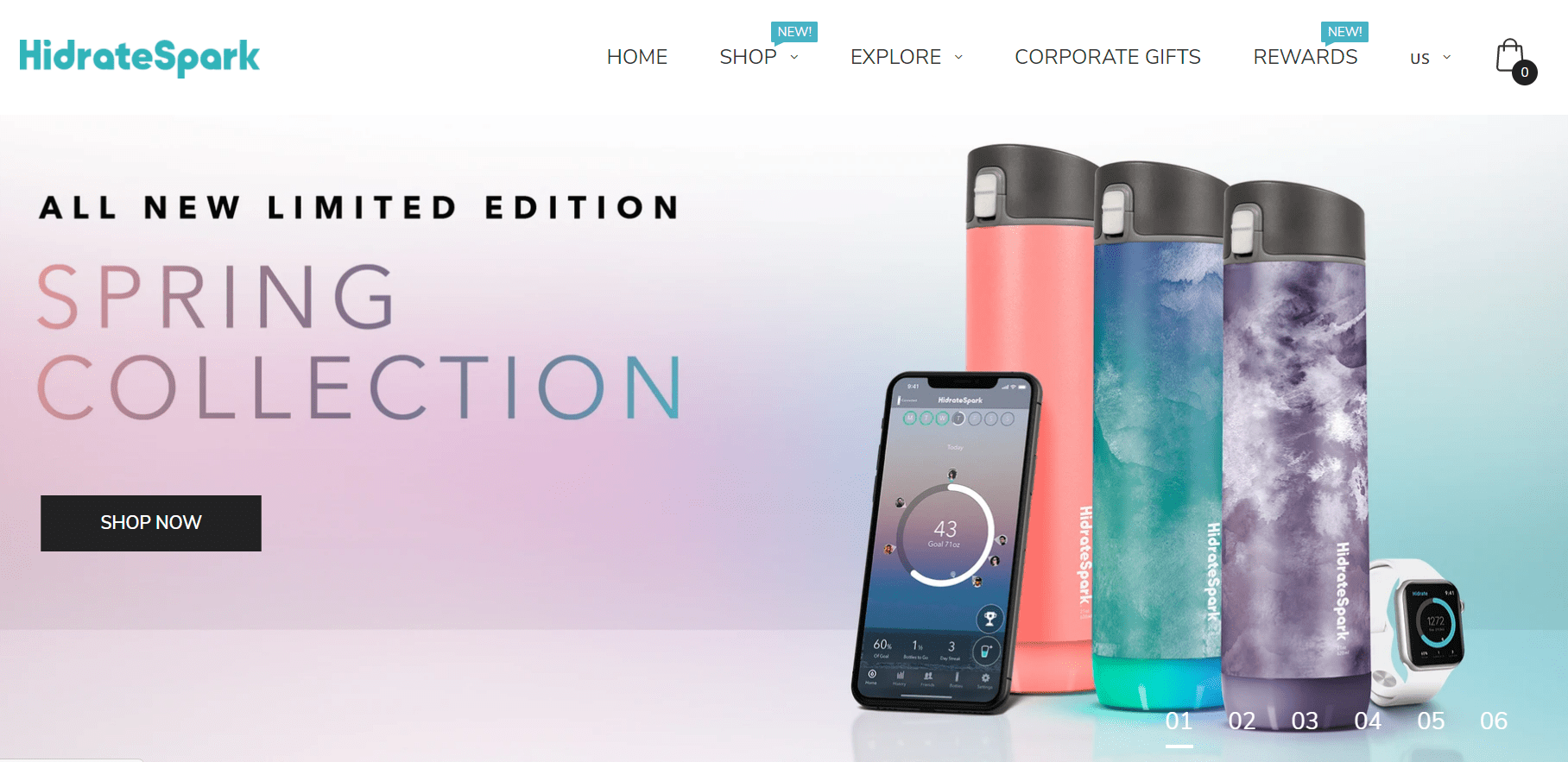 HidrateSpark is one of the most innovative tech companies when it comes to fitness and sports. The company offers smart water bottles at affordable prices.
These bottles can create customized goals for hydration on the basis of personal aims. From Apple Watch and GoogleFit to FitBit, it can sync with almost every famous fitness tracker.
These bottles glow for reminding you to stay hydrated. Marketing such an attractive product is really easy.
This is because, irrespective of the sports niche, this smart water bottle is the accessory everyone would love to purchase.
The platform offers about 10 percent commission to their affiliates and a cookie duration of 7 days.
Key Highlights
→ A Brand With An Incredibly Innovative Product
→ Synchronizes With Best Fitness Products
→ Customized Hydration Goals For Every Customer
Quick Links:
FAQs | Top 10 Sports Affiliate Programs:
😍Why is Sports Affiliate worth looking at?
Unlike various other affiliate programs, sports affiliates are often overlooked, and most of the people don't even know that these exist. However, Sports Affiliate is a very huge market with valuations of it going over 614 Billion Dollars by 2022.
👉Why are PM Affiliates very highly recommended by veterans?
PM Affiliates' plus point is the payment it offers. It offers some of the best rates in the market, and the payment options are very flexible too.
🤩What makes Sports Affiliate different from other Affiliate programs?
The thing which makes Sports Affiliate much more interesting than any other Affiliate program is the fanbase. Sports fans are very much more than being simple 'fans.' They are an encyclopedia of whatever sport they like. Hence, it is very fun to work in such a community.
😄What Exactly Is A Sports Affiliate Program?
Sports Affiliate program is a type of marketing strategy which enables you to earn money while working in a sports niche. You can earn commissions if someone buys something through your referral.
😇Where Can The Affiliate Programs Be Promoted?
You can easily promote affiliate products by posting them on your blog or website and also write honest reviews about the products to reel in the customers.
Conclusion | Top 10 Sports Affiliate Programs 2023
So this brings us to the end of our entire list of best sports affiliate programs that have the potential of attracting an audience from various sports niche.
You can choose one amongst the list depending upon your niche of interest.
In conclusion, the best sports affiliate program is the PM Affiliates. What makes this platform the best of all is the flexible payment options they have to offer as well as the traffic efficiency. It is also a great option for the ones who have just begun because of the dedicated manager the platform has to offer.