In this blog, I am going to share The PM Affiliate Program Review 2023.
Curious about PM affiliates? Wish to know more about it? You have landed at the right article.
In this article, I will be providing an in-depth review of this amazing platform that I have used and will tell you more about how it can work for you. 
As we all know, Gambling is gaining more and more popularity with each passing day. It is a luck-based, inexpensive as well as a straightforward way of seeking your chance.
Right now, we are talking about a marketing field that comes with fresh air, and what makes it so new is the fact that it is all about the promotion of the affiliates. 
So let us get started by knowing more about the platform.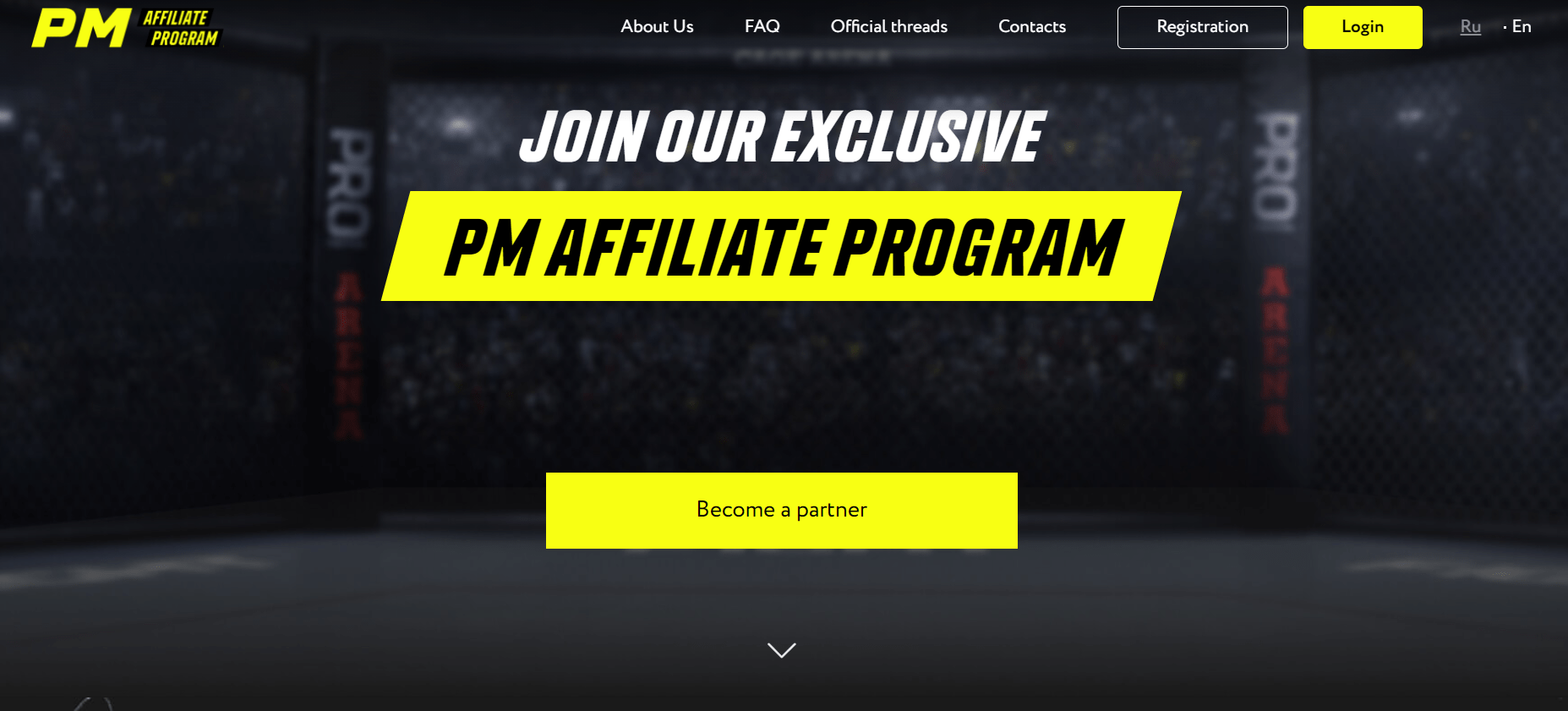 The PM Affiliate Program Review 2023– Is It Worth?
The PM Affiliate Program 
PM Affiliates is basically a direct advertiser that comes with exclusive offers from the Parimatch. Parimatch is one of the top tier iGaming Brands within the CIS and has a remarkable history of over 20 years.
In recent times, Parimatch has tried to spread its roots to eSports as well as the gambling markets. The brand is known for its super pushy and robust marketing campaigns.
The products of Parimatch are promoted by both online as well as outdoor advertising, whereas in countries like Russia that have pretty strict betting and iGaming policies, the marketing campaigns are run online.
Parimatch is also in a long-term agreement with the UFC. Under this, many of the top-tier fighters have become the brand ambassadors. This also includes well-known personalities like Connor McGregor.
All in all, this basically means a higher rate of conversion for the affiliates, all thanks to the massive brand awareness and the loyal base of the target audience. 
Their gambling product was launched recently and has successfully gained a lot of popularity as a platform for cutting-edge casino online.
It also complies well with each and every requirement like the Curacao Gambling License, various slots from the providers that range from the old and well-established ones to those that are much more familiar to the young and foreign audiences.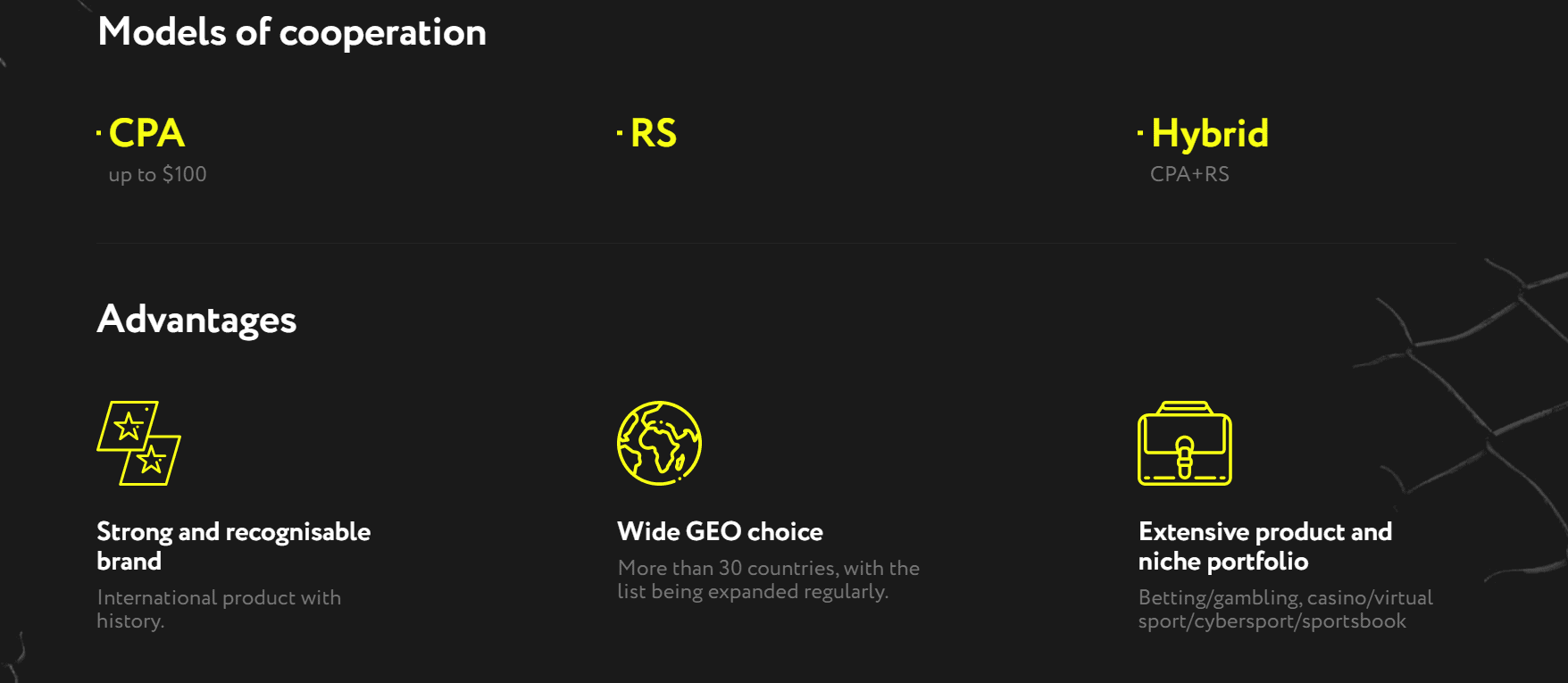 The platform offers lucrative bonuses on welcome and has a beautiful website with a pretty intuitive user interface. It has a simple registration form of three-fields that will help in boosting the conversion rates.
Each and every product website of the Parimatch is being localized with over 10 languages and also supports a plethora of payment options. The database of PM affiliates boasts various well-known products. 
PM Affiliates network is well-known as a significant advertising platform that features unique deals via Patimatch. It is basically a pretty reliable and powerful i-gaming platform for the affiliates, and they have good selling prices to offer.
It was established in the year 2012 and has three commission styles to offer viz Hybrid, RevShare, and CPA. eSports, virtual sports, betting, and gambling are the verticals they have to offer.
Its cookie length is worth 30 days, and the minimum sum of payout is $100. The platform has more than 15 GEO locations to offer, and many more locations are expected to get added very soon.
Almost each and every type of traffic is accepted, and the rejected ones are spam traffic, doorway traffic, and fraudulent traffic. The platform has well-known payment options across the globe to offer like Bitcoin, Skrill, Neteller, Paypal, Yandex. Money, WebMoney, QIWI, Wire, and the list is ever-growing.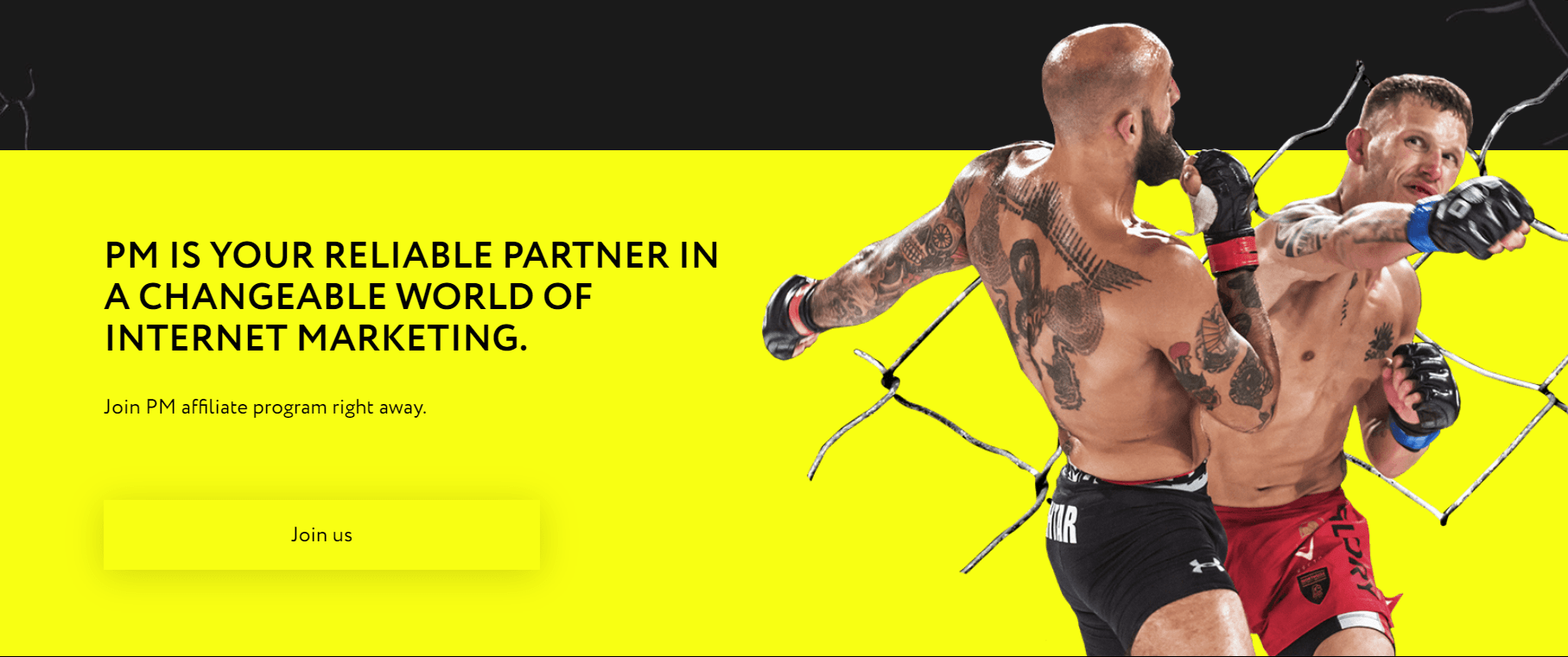 The Registration Process Of The PM Affiliate Program
The registration process is pretty simple and does not take much of your time. It is a simple form where you need to fill in your basic details like Your Name, Username, E-Mail address, Password with your country code, Skype/Telegram id, and then mention the URL of your traffic source.
Next, you have to click on the checkbox that states you are agreeing to their terms and conditions. You can also sign up for their promotional emails, and once you are done, hit on the Submit tab. 
When you are done with submitting your application, it will then be reviewed by one of their managers. The process of approval usually takes a couple of days.
During the investigation, you might be asked for the statistics for your campaign, verification of your traffic volumes, or give clarification if any other issue arises.
Once your application gets approved, you can then log in with your personal account. If you wish to speed up the process of registration, then you can reach out to them on their telegram handle. You can also get in touch with the support team if you wish to unlock access to a few offers. 
When you log in to your account, the dashboard will be the first thing you will be seeing. Your campaigns will be running on the RevShare by default, but if you want to enable the other available business models, you need to contact the support team. 
Talking About The GEOs
On this platform, traffic gets accepted from various GEOs like NG, T, BR, CY, IN, KG, TJ, AZ, UZ, KZ, BY, UA, and RU. Every month new GEOs get added to the platform.
To know more about the affiliate rates and the terms for payout in different countries, you need to get in touch with the dedicated manager. You can even know about the GEOs that are performing the best at the moment.
As for now, UA has demonstrated the best results when it comes to conversions. RU and KZ are following close behind, and BR as well as IN looks pretty promising.
The advertisers also seek to establish their presence further by the GEOs that are best converting and are also trying to expand their reach into the Central Asian Markets ( KG, AZ, US, TJ). 
The Affiliate Rates And The Payout Terms
There are three models of payment that are offered by the PM Affiliates: 
CPA:

The commission of affiliate depends upon the GEO you opt to advertise in. Make sure that you contact your dedicated manager and figure it all out before you opt-in. 

Revenue Share:

In this option, you will get 30 percent of the profits that are made by the clients you send. But if you are someone who can drive a humongous volume of worthy traffic, you can also earn up to 50 percent of their profits. 

Hybrid Model: In this model, you can be earning money if you refer a user twice, both on the RevShare and on CPA. It is enabled on a case-by-case basis.
It is very important to keep in mind that the CPA business model will work best for those who are running targeted traffic, adopt the marketing strategies that require a stable flow of cash for the recoup costs as well as the overhead expenses or get the traffic from the other paid sources. RevShare, on the other hand, works great for those who tend to drive organic traffic and also have their own blogs or websites that are Search Engine Optimized.
A popular opinion that runs in the market is that RevShare is pretty much a lucrative model when it comes to the long run. You get a payout once every month, and the minimum amount is $100.
But if you are successful in earning more than $200 in the period of 14 days, then you are eligible to get the payout for a fortnight. 
Quick Links
FAQs | The PM Affiliate Program Review
🤔 What different payment methods are supported by the PM Affiliate Program?
The currently supported payment methods are Wire, Webmoney, Yandex Money, Bitcoin transfer, or Kiwi. However, this list is updated regularly.
🤷‍♂️ In what countries does this service work?
This service is available throughout the globe, and you can incur traffic from anywhere except for the United States Of America, Curacao, France, and Great Britain. These locations are not accessible to this service.
🙋‍♀️ What is the minimum payment I can withdraw?
The minimum amount of money or payout which you can withdraw is $100.
Wrapping It Up | The PM Affiliate Program Review 2023
All in all, working with PM Affiliates was an incredible experience. The platform is the direct advertiser of a popular brand that is being promoted by the various marketing channels, and thus it enjoys massive popularity amongst the target audience.
What is pretty noteworthy about the platform is that it creates a working environment for the webmasters, which is pretty favorable and also has to offer a plethora of materials and tools like top-notch converting products, high affiliate rates, ready-made landers and creatives, in-house apps, flexible business models, dedicated manager and a lot more.
Hopefully, this article about the PM Affiliate Program review will help you in deciding if the platform will work well for your business needs.