In this review, we will delve into the impressive features and benefits that make LeadNetwork stand out among its competitors.
From direct collaboration with creditors to advanced JavaScript forms, weekly payouts, and dedicated account managers, LeadNetwork has established itself as a reliable and lucrative platform for webmasters and publishers.
We will explore the various tools and resources offered, including adaptive landing page templates, customizable promotional materials such as banner ads and email creatives, and API integration for seamless automation.
With its trusted reputation and expertise in the industry, LeadNetwork has become a go-to platform for connecting publishers with reputable lenders.
While the platform specializes in promoting specific financial products, its extensive experience, reliable payout system, and dedication to maximizing earnings make it a top choice for affiliate marketers.
Let us understand more about LeadNetwork in detail.
What is LeadNetwork? – All You Need To Know Before Starting Out
LeadNetwork is a highly reputable and industry-leading affiliate marketing platform that has established itself as a market leader through 7 years of experience and expertise.
The team at LeadNetwork.com consists of skilled specialists who work closely together to create comprehensive products and services. One of the key strengths of LeadNetwork.com is its proprietary software, which sets it apart from competitors.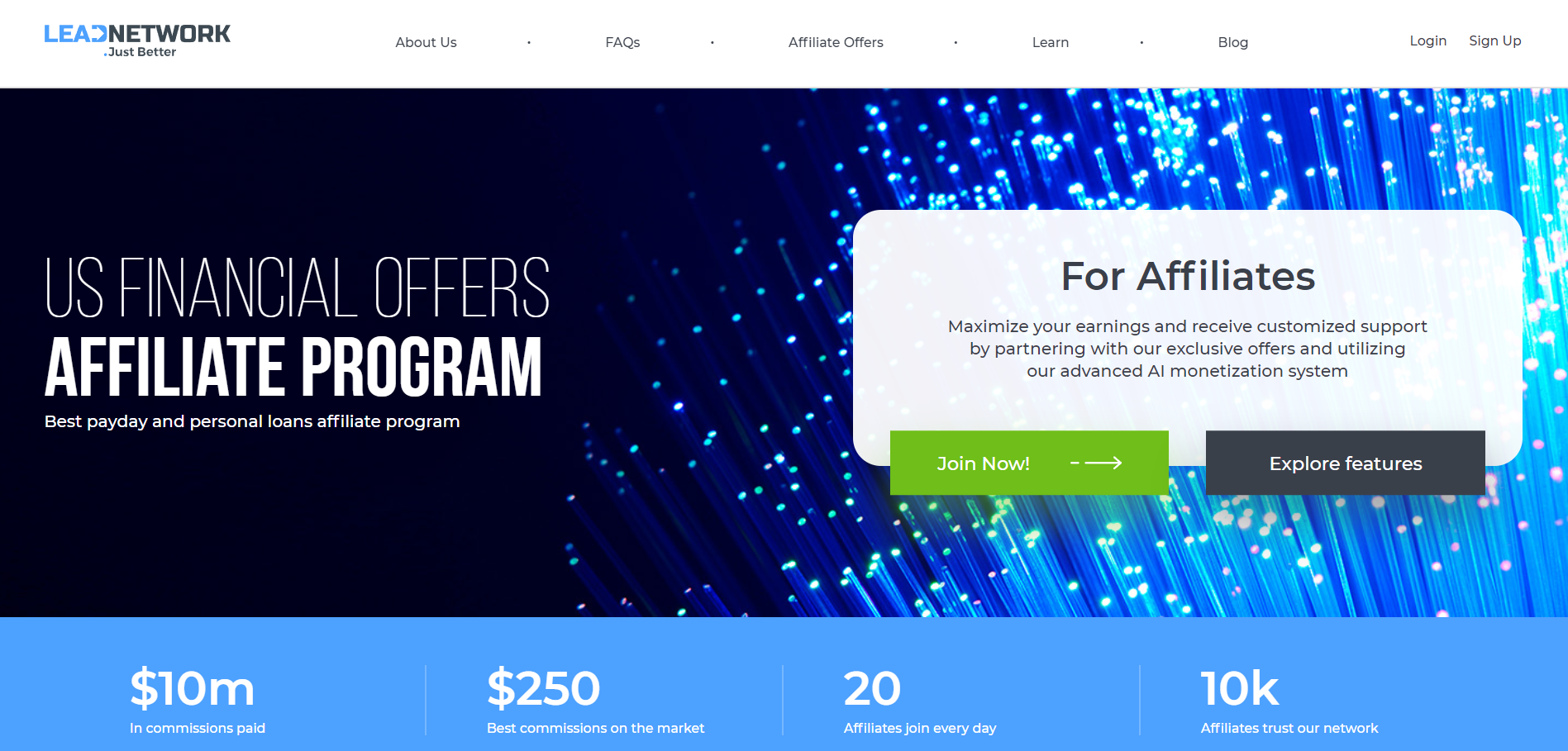 This cutting-edge technology, at the forefront of online marketplace exchange, surpasses anything offered by other platforms in terms of features and speed.
Publishers who join LeadNetwork.com gain access to a wide range of tools for managing and reporting their campaigns, as well as advanced tracking technology, all bundled into a single package.
Despite its industry-leading technology, LeadNetwork.com does not rest on its laurels. The company is committed to constant improvement and enhancement of its software's capabilities.
This dedication to innovation ensures that publishers and buyers utilizing the platform always have access to the latest advancements and opportunities in the affiliate marketing field.
LeadNetwork.com has built a solid reputation within the industry, and they are determined to maintain this standing by upholding high levels of integrity and hard work.
Their focus on maintaining a strong work ethic and delivering exceptional service contributes to their continued success.
The primary function of LeadNetwork.com is to act as a marketplace where publishers and buyers can connect in real time, around the clock.
This means that publishers can instantly reach potential buyers, enhancing their ability to generate leads, clicks, and calls.
LeadNetwork.com serves as the intermediary between these parties, facilitating the exchange of leads, clicks, and calls within the finance industry verticals of personal loans, business loans, and auto loans.
What Can You Promote With LeadNetwork?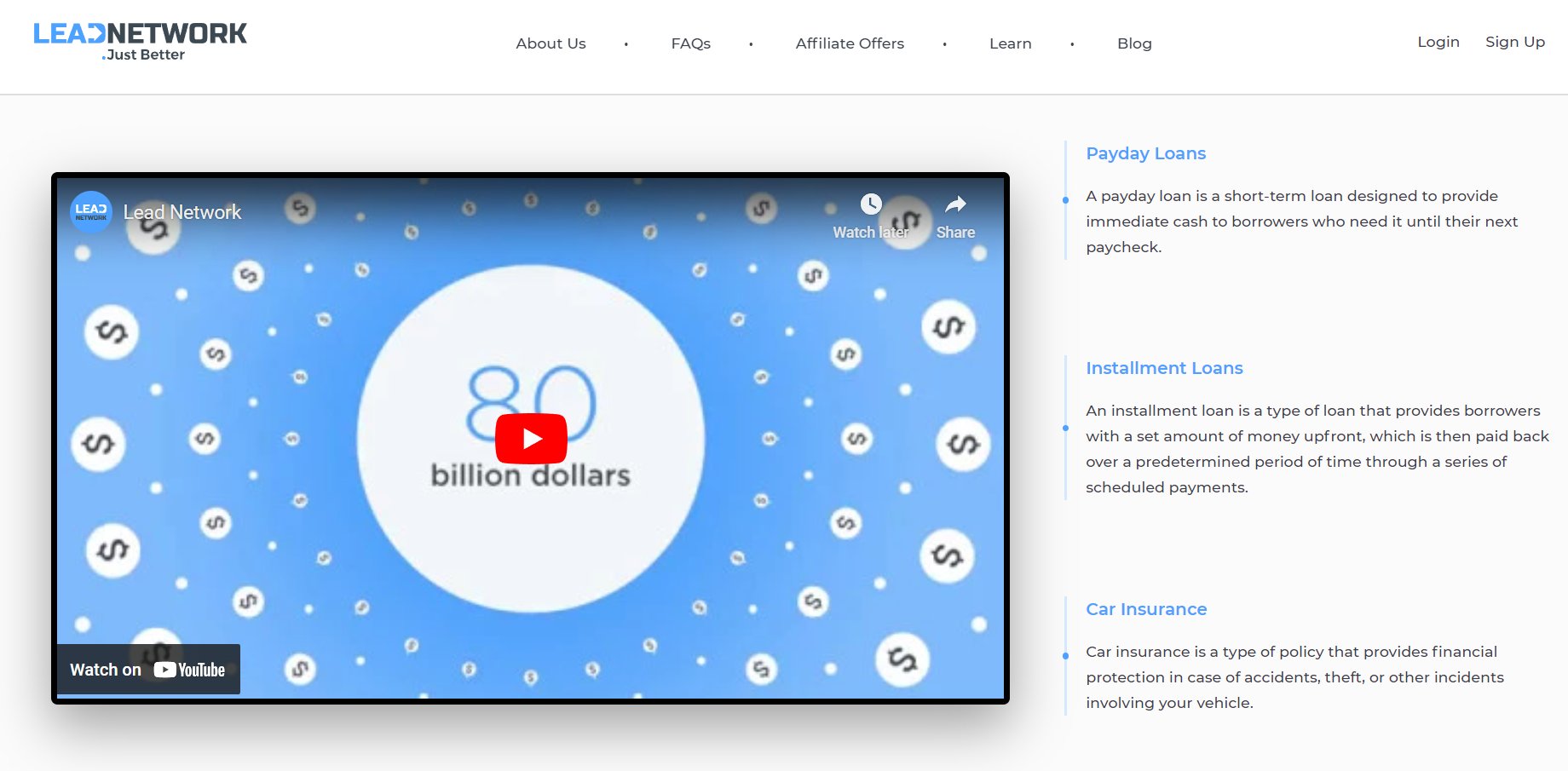 1. Payday Loans –
Immediate Cash for Short-Term Needs: Payday loans are designed to offer quick access to cash for borrowers facing urgent financial needs before their next paycheck.
These short-term loans provide immediate relief to cover unexpected expenses or bridge financial gaps. With LeadNetwork, you can promote payday loans and connect individuals with trustworthy lenders who can provide the necessary funds swiftly.
2. Installment Loans –
Flexible and Convenient Borrowing: Installment loans are a popular type of loan that provides borrowers with a specific amount of money upfront. This amount is then repaid over a predetermined period through a series of scheduled payments.
By promoting installment loans through LeadNetwork, you can help individuals access the funds they need for various purposes, such as debt consolidation, home improvements, or unexpected expenses.
3. Car Insurance –
Essential Financial Protection: Car insurance is a crucial policy that offers financial protection in various situations, including accidents, theft, or other incidents involving vehicles.
Promoting car insurance through LeadNetwork allows you to connect consumers with reputable insurance providers and help them safeguard their vehicles and finances.
Pros & Cons of LeadNetwork
Here are some of the pros & cons of LeadNetwork:
Pros
Direct collaboration with creditors for maximum earnings.

Advanced JavaScript forms for optimized lead generation.

Weekly payouts for better financial management.

Dedicated account manager for personalized support.

Adaptive landing page templates for enhanced conversions.

Customizable and engaging banner ads for effective promotion.

Pre-designed email creatives for successful email marketing campaigns.

API integration for seamless automation and optimization.

Trusted platform with direct access to reputable lenders.

Extensive experience and expertise in the affiliate marketing field.
Cons
Limited to promoting specific financial products (installment loans, payday loans, car insurance).
Quick Links:
Conclusion: LeadNetwork Review 2023
LeadNetwork emerges as a standout platform in the world of affiliate marketing.
With its direct collaboration with creditors, advanced JavaScript forms, and weekly payouts, LeadNetwork prioritizes maximizing earnings and optimizing lead generation for webmasters.
The availability of dedicated account managers, adaptive landing page templates, and customizable promotional materials further enhances the user experience and conversion rates.
The inclusion of pre-designed email creatives and API integration adds convenience and efficiency to marketing campaigns.
With its strong industry reputation and expertise, LeadNetwork serves as a trusted platform connecting publishers with reputable lenders.
While its specialization in promoting specific financial products may limit its scope, the platform's extensive experience, reliable payout system, and comprehensive suite of tools make it a top choice for affiliate marketers.