Finding a trustworthy and reliable lead generation program or loan marketplace can be challenging.
Many lead generation programs and loan marketplaces are scams designed to take your money without providing you with leads or quality leads.
LeadsMarket is a pay-per-lead affiliate program that many successful businesses have trusted. They offer an easy-to-use platform with high-quality leads at an affordable price.
Let us check out LeadsMarket Review in detail.
LeadsMarket Review 2023: What is LeadsMarket & How Does It Work?
LeadsMarket provides industry-leading tracking systems and analytics reports. They pay a portion of their income to affiliates. This proportion of income is known as revenue share.
LeadBrain (a part of LeadsMarket) automates the optimization of the whole transaction cycle to maximize affiliate profits.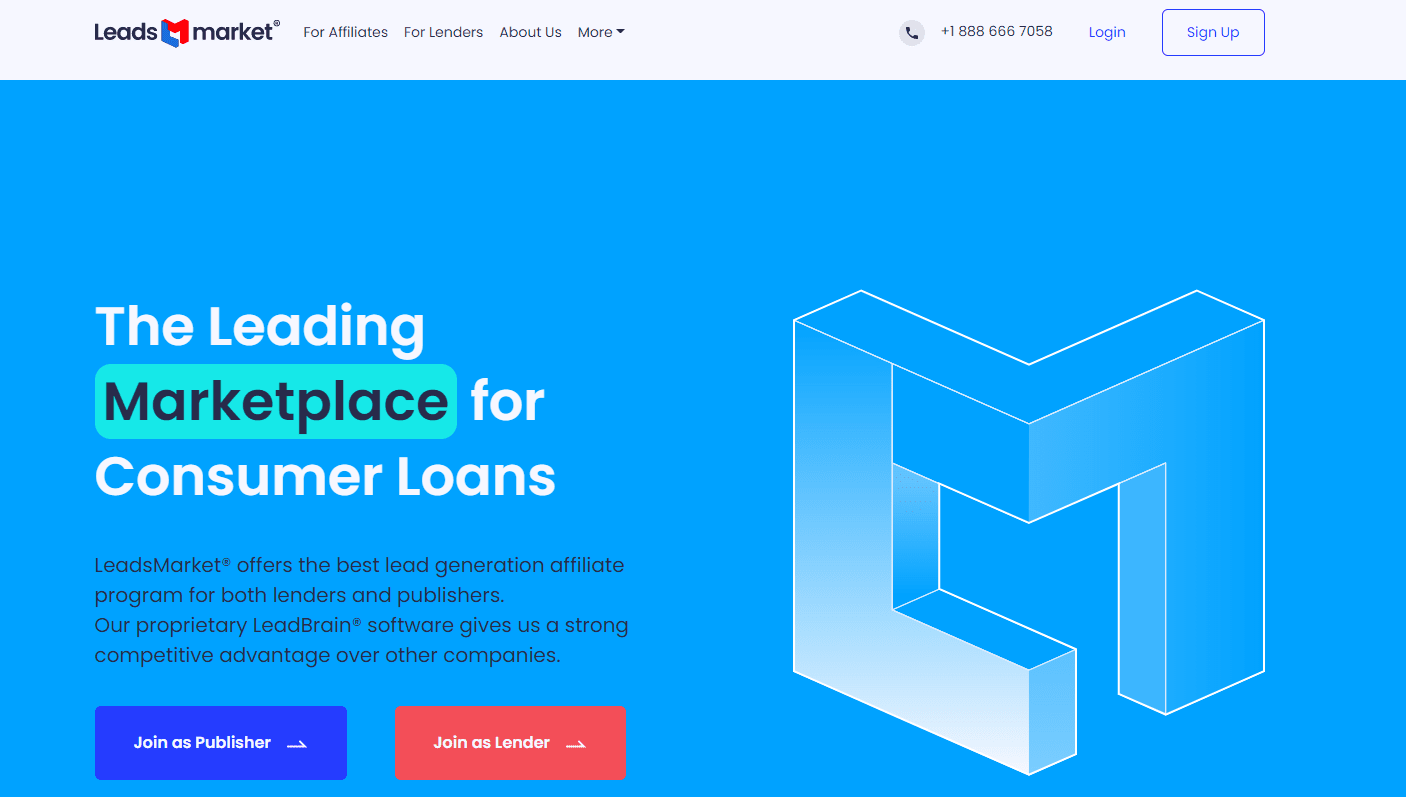 LeadBrain assists in identifying banner advertisements and email creatives with the most excellent click-through rates, automatically modifying landing pages to achieve the highest conversion rates, and identifying the highest bidding purchasers to generate more revenue for affiliates' traffic.
LeadsMarket is an online lead-generating firm that focuses on direct marketing. The founding members of LeadsMarket have assisted the majority of Fortune 500 Insurance Companies with online lead generation for more than eight years.
Why Do I Recommend LeadsMarket for Lenders?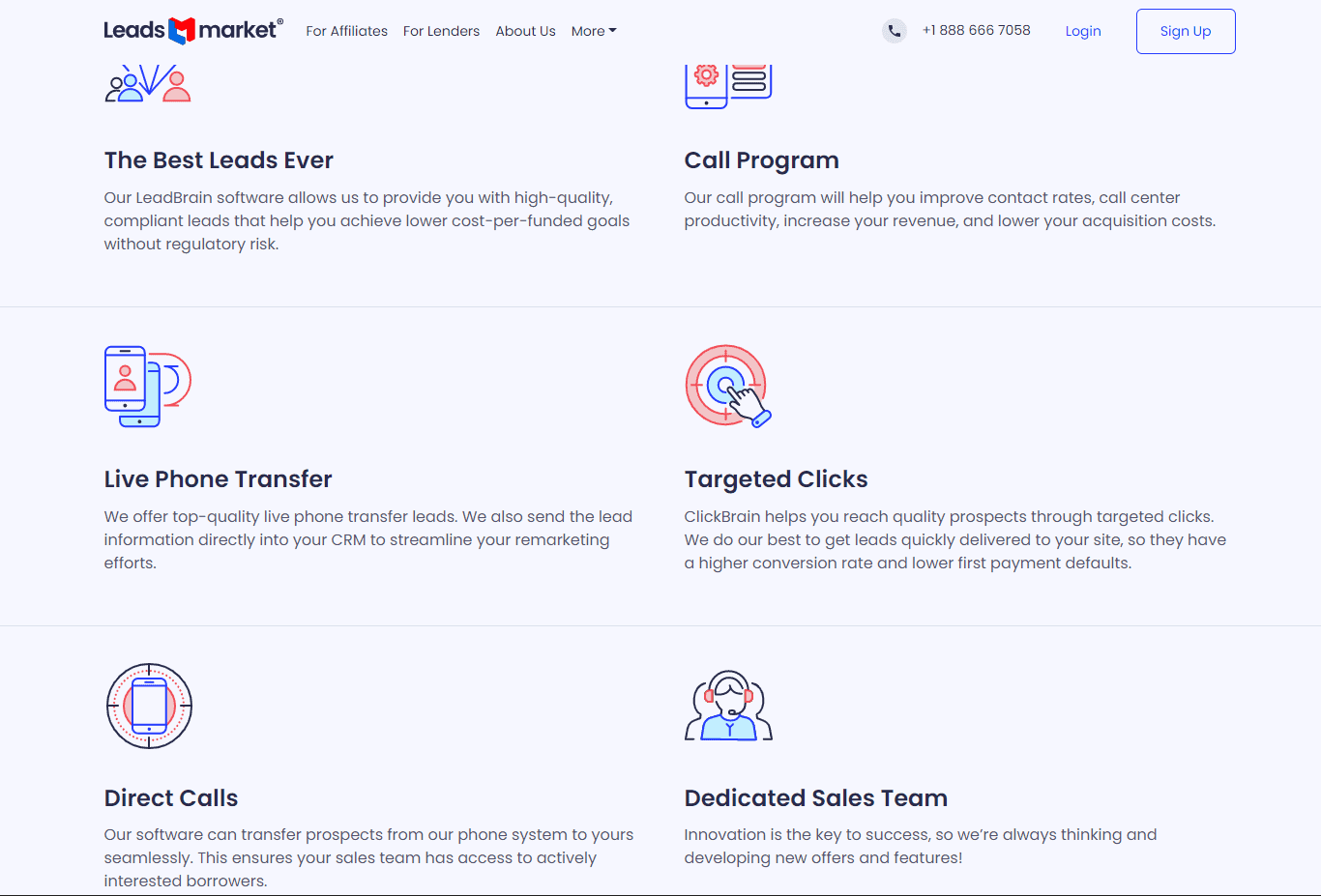 1. Dedicated Sales Team
Innovation is the key to success. Thus they are always conceiving and creating new products and services!
2. Direct Calls
Their software can quickly move leads from their phone system to yours. This guarantees that your sales staff gets access to borrowers who are actively interested.
3. Targeted Clicks
ClickBrain enables you to reach high-quality leads through focused clicks. They make every effort to promptly send leads to your website, resulting in a greater conversion rate and fewer first payment failures.
4. Live Phone Transfer
LeadsMarket provides live phone transfer leads of the highest quality. In addition, they deliver the lead data immediately to your CRM, streamlining your remarketing efforts.
5. Call Program:
The LeadsMarket call program will assist you in enhancing your contact rates, call center productivity, revenue, and acquisition expenses.
6. The Best Leads Ever
LeadsMarket's LeadBrain software enables them to provide you with compliant, high-quality leads that assist you in achieving your cost-per-funded objectives at a cheaper rate without regulatory risk.
Why Do I Recommend LeadsMarket For Publishers?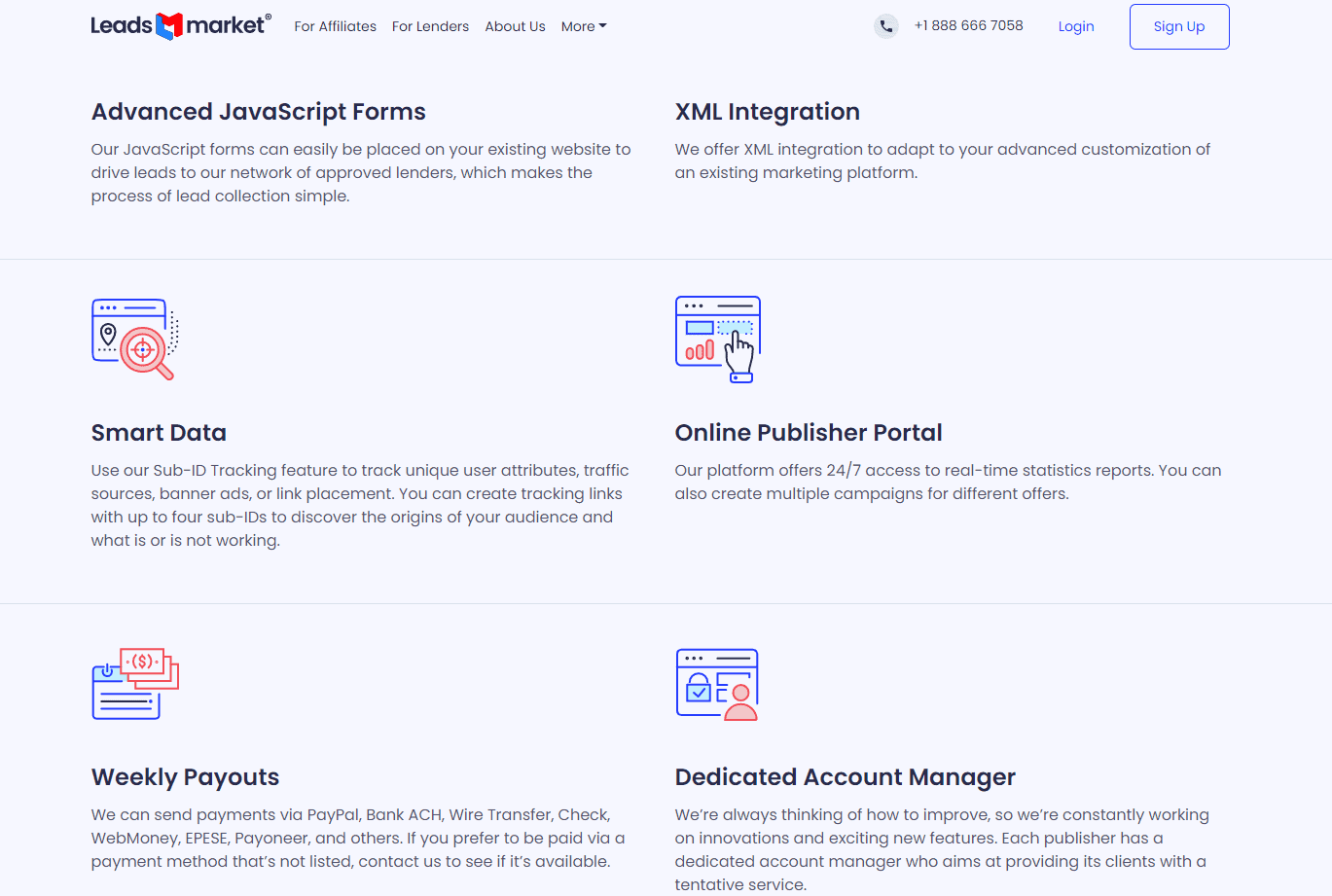 1. Dedicated Account Manager
They are continually considering methods to better themselves, and as a result, they are constantly developing new technologies and features.
Each publisher has a dedicated account manager who strives to provide outstanding customer service.
2. Weekly Payouts
They can submit payments by PayPal, Bank ACH, Wire Transfer, Check, WebMoney, EPESE, Payoneer, and others. If you wish to be paid using a method not mentioned, you should contact them to see if it is accessible.
3. Online Publisher Portal
Their technology provides access to real-time statistics information throughout the clock. Additionally, you may establish various campaigns with special offers.
4. Smart Data
Utilize their Sub-ID Tracking function to monitor unique user characteristics, traffic sources, banner adverts, and link placement. You may build tracking links with up to four sub-IDs to determine the source of your audience and what is or is not practical.
5. XML Integration
They provide XML connectivity to accommodate your sophisticated customization of an existing marketing platform.
6. Advanced JavaScript Forms
Their JavaScript forms may be readily integrated onto your current website to drive leads to their network of certified lenders, making lead collecting a straightforward procedure.
FAQs About LeadsMarket Review
Is there a minimum purchase amount at LeadsMarket?
There are no limitations or limits; you may buy as many leads as you like.
Are LeadsMarket leads exclusive?
All leads are sold solely to the lender who acquires them; there is no duplication of sales or unnecessary remarketing.
When do I get paid by LeadsMarket?
LeadsMarket pays weekly commissions to publishers who have earned $100 or more. They adhere to NET 7 payment terms, meaning commissions are received around seven days after the conclusion of each billing cycle.
Why choose LeadsMarket's pay-per-lead program?
Publishers are a significant priority for them. LeadsMarket offers the highest rewards in the business, unmatched technical support, and quick weekly payments. In addition, you will have access to customized website layouts and forms.
How does LeadsMarket.com prevent and handle fraud?
Their first objective at LeadsMarket is ensuring that their advertisers get only high-quality leads and genuine sales. They monitor each campaign to identify and combat fraud efforts, such as suppression list misuse, duplicate and proxy IP addresses, bots, click frequency, and more. If you know or think that a publication or advertiser is engaging in fraudulent activity, please fill out their contact form, and they will promptly investigate. Confirmed fraud will result in permanent exclusion from their publishing network. They report all violators to both the advertiser and federal and state authorities.
Quick Links:
Conclusion: LeadsMarket Review 2023
If you're in the market for a loan or are looking for ways to increase your website's leads, LeadsMarket is worth checking out.
They offer an easy-to-use interface and some of the highest payouts in the industry. And if you're looking to get into affiliate marketing, their program is one of the best.
With excellent customer service and a wide variety of offers, LeadsMarket is quickly becoming a leading player in the lead generation space.
I would recommend LeadsMarket, especially for affiliates.