Are you tired of dealing with slow loading times, website crashes, and security threats that put your data at risk? Look no further than eUKhost, a leading provider of premium web hosting and security services.
With a range of features that include cPanel web hosting, remote backups, SSL certificates, Imunify360 security, Mimecast email security and continuity, S/MIME certificates, spam filtering, and an all-in-one SEO tool, eUKhost has everything you need to keep your website running smoothly and securely.
In this review, we'll explore the benefits and features of eUKhost's services so you can make an informed decision about whether eUKhost is the right choice for your business.
eUKhost – Products & Pricing
1. eUKhost VPS Hosting:
Managed Virtual Private Servers (VPS Hosting) are available from eUKhost. These servers are powered by NVMe storage and are reliable and fast.
The company has been in the web hosting business for more than 21 years, which gives its customers peace of mind that they will get reliable and professional support 24 hours a day, 7 days a week.
The Managed VPS hosting package comes with features that are good for serious businesses and are geared toward them. The hosting is flexible and offers more help than most other hosts.
Also, the VPS hosting platform has a low ratio of servers sharing the same resources. This means that each server has access to more resources, which is good for businesses that get a lot of traffic.
One of the best things about eUKhost's Managed VPS Hosting is the advanced backup service, which takes care of backups so you don't have to.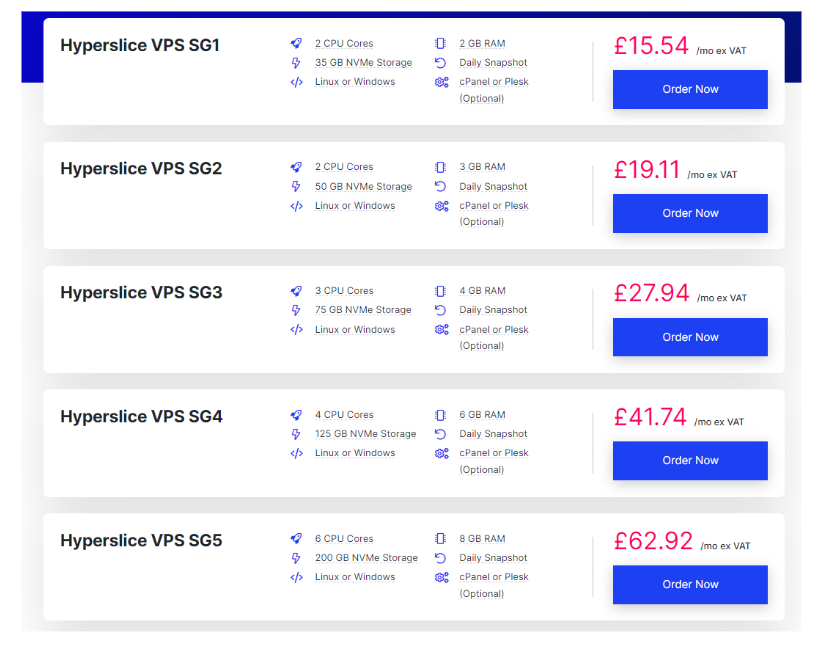 You have full control over how often backups are made, how long they are kept, and how much encryption is used. Customers also have complete access to the root level, which gives them full control over their VPS.
Customers of eUKhost's Managed VPS Hosting can also choose between cPanel, Plesk, or no control panel. Also, customers can choose from a wide range of operating systems, such as Linux and Windows.
The servers only use Intel Xeon processors, which are the best in their class, and make sure they never stop working. The VPS server nodes also come with enterprise-class, high-performance NVMe SSD storage with low latency.
Also, each server comes with a firewall that can be easily set up through the client portal.
Customers can set up a new server in less than 90 seconds and get to work right away on their projects. The servers also have daily snapshots that can keep important data safe for up to three days.
Lastly, eUKhost has professional help available 24 hours a day, 7 days a week through live chat or phone calls.
2. eUKhost Dedicated Hosting:
eUKhost Dedicated Server hosting is made for businesses that need the best performance, security, and availability in their class.
With eUKhost's managed hosting, businesses get a professionally hosted server with an IPv4 address, the latest Intel Xeon processors, and next-generation firewalls.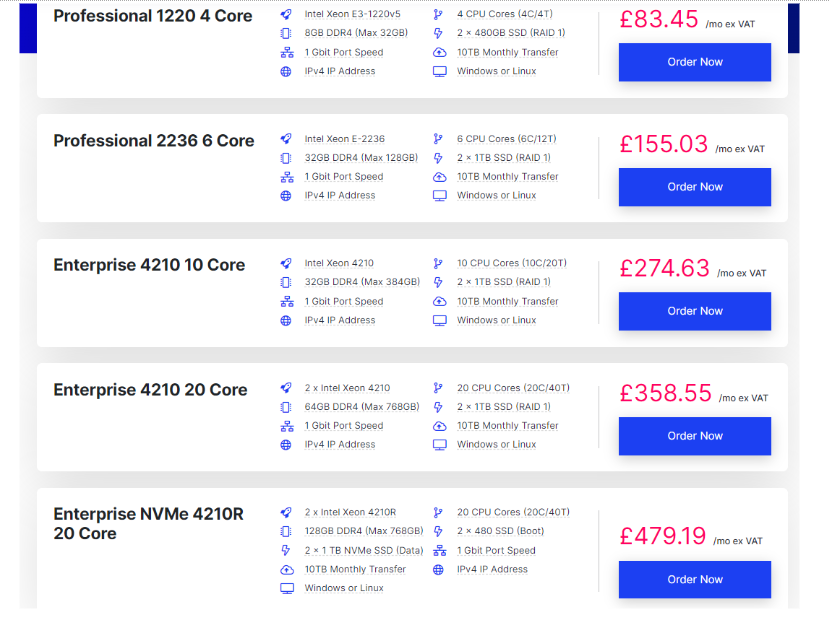 One of the best things about eUKhost's Managed Dedicated Servers is how flexible the management is. This type of support goes above and beyond what most other hosts offer.
Also, proactive monitoring makes sure that if a problem comes up, the team is ready to fix it and often does so before the user even knows about it.
Managed Dedicated Servers from eUKhost also come with professional support 24 hours a day, 7 days a week.
This support is available through live chat or phone calls. The support team is always ready to help with any problems that come up.
Businesses that need reliability, performance, and the ability to grow should use dedicated servers.
These servers are only used by one user so that users can change the hardware and software to meet their performance and availability goals.
Multiple servers can also be set up to handle different services, and if a FortiGate firewall is added, load balancing can be done to make the system truly scalable.
The latest versions of Windows Server, Linux CentOS, Ubuntu, or Debian can be found on eUKhost's Managed Dedicated Servers.
Customers can choose between traditional hard disk drives and storage based on solid-state drives (SSDs), which make it easy to access and retrieve data in a flash.
3. eUKhost Cloud Hosting:
Hyperslice, eUKhost's managed cloud server, is made for enterprise-level apps that need high uptime, performance, scalability, and support.
Customers who host mission-critical websites or apps will find these cloud servers to be the best option.
Managed cloud hosting is a great choice for growing businesses because it is reliable, has a 100% uptime SLA guarantee, and offers support 24 hours a day, 7 days a week.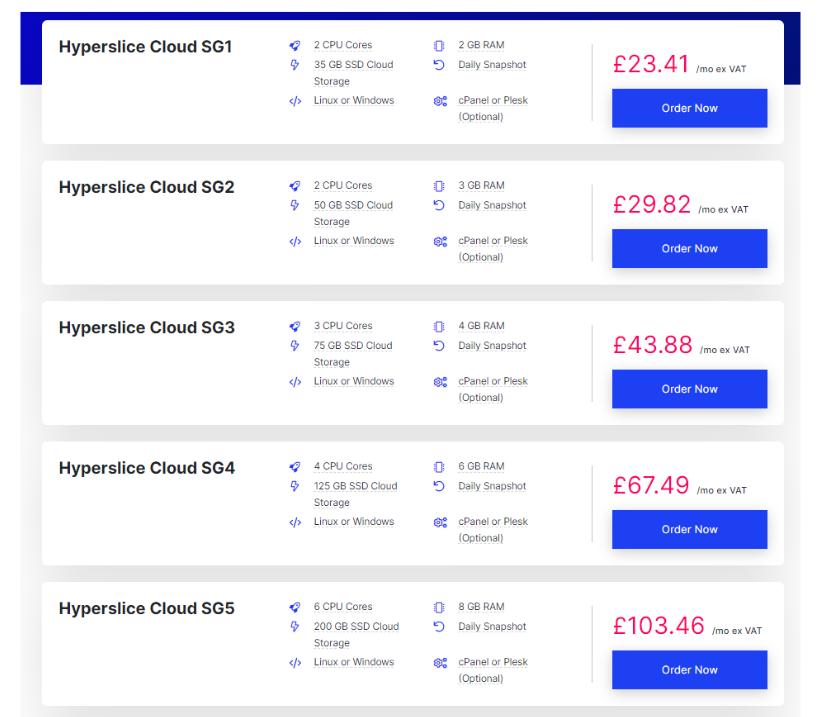 Cloud servers offer high availability and scalability because they allow servers to move between physical hardware locations.
This means that resources can be increased or kept available even if another part of the network fails. Storage and processing are also kept separate, which makes the system more reliable.
Cloud hosting from eUKhost is a reliable, high-performance, and cost-effective way to store data in the cloud.
The pure enterprise-class SSD cloud storage is priced affordably, which makes it great for environments where people read and write a lot.
In addition, eUKhost offers enterprise-class security in partnership with Fortinet. This includes an application-aware firewall and an Intrusion Prevention System (IPS) that finds and blocks threats before they can reach the server.
The experts at eUKhost have been designing, building, and managing cloud solutions for over 21 years. This makes them one of the best independent hosting companies in the UK.
With ISO-accredited data centers and a lot of VPN features, clients can move their offices to the cloud without worrying about security or reliability.
4. eUKhost WordPress Hosting:
eUKhost provides managed WordPress hosting that is made to be easy to use, secure, and fast. With this hosting plan, it's easy to host a WordPress site or blog.
The hosting plan includes 1-click WordPress installation, easy updates, patching, built-in security tools, and easy management of multiple sites through the easy-to-use WordPress Toolkit.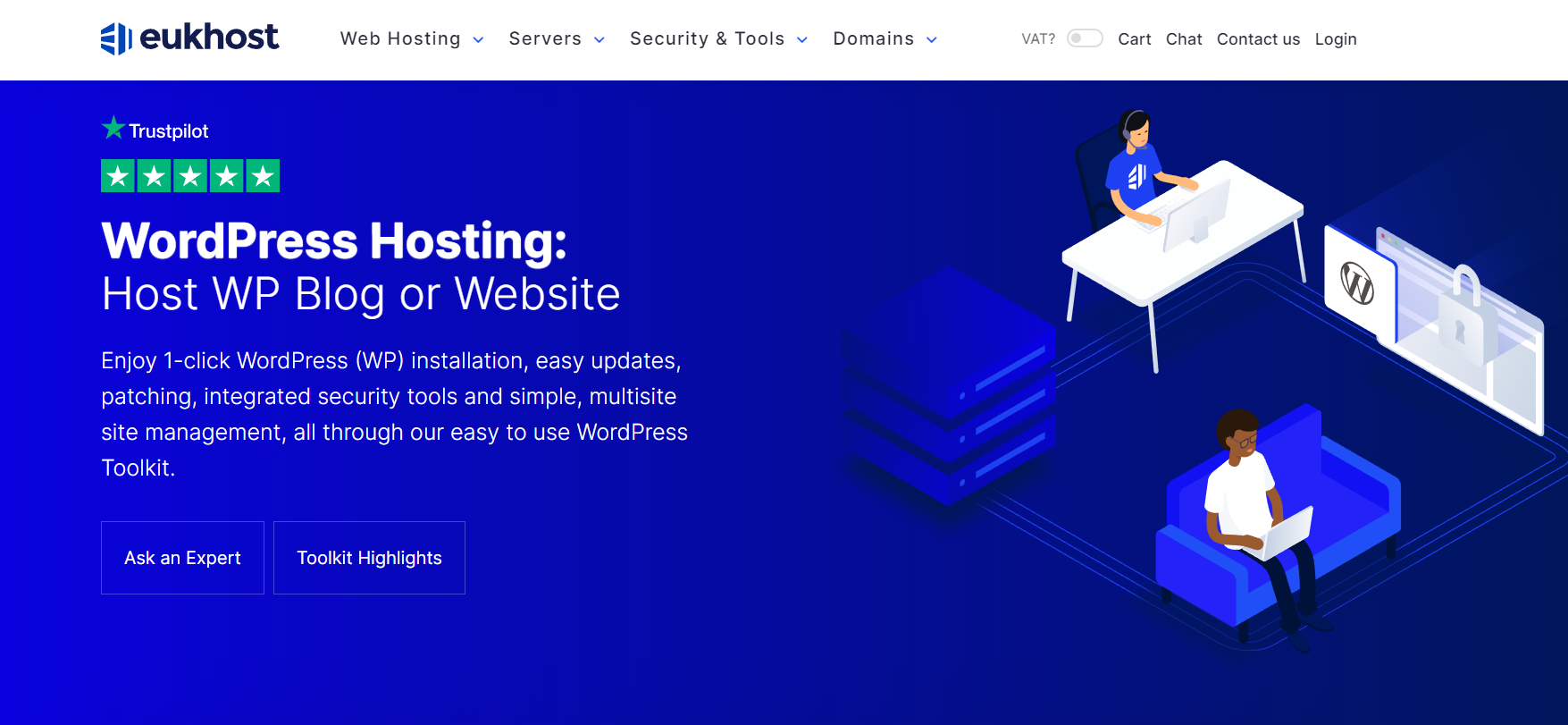 The FREE WordPress Migration service is one of the best things about managed WordPress hosting. Your WordPress site will be moved for free by eUKhost.
If you need to move more than one site, you can get a quote from the support team or use their migration tool.
With this hosting plan, you can use Let's Encrypt to install SSL for free on any of your WordPress sites. There is no cost, and there is no complicated screening process.
All WordPress hosting plans come with the latest generation of SSD storage to make sure WordPress runs quickly.
In addition, eUKhost backs up your WordPress sites every day. So, if you ever need to get your data back, you can rest assured that it is safe.
Managed WordPress hosting from eUKhost also comes with advanced security features. The WordPress application firewall helps keep hackers and bots from getting into your WordPress site quietly.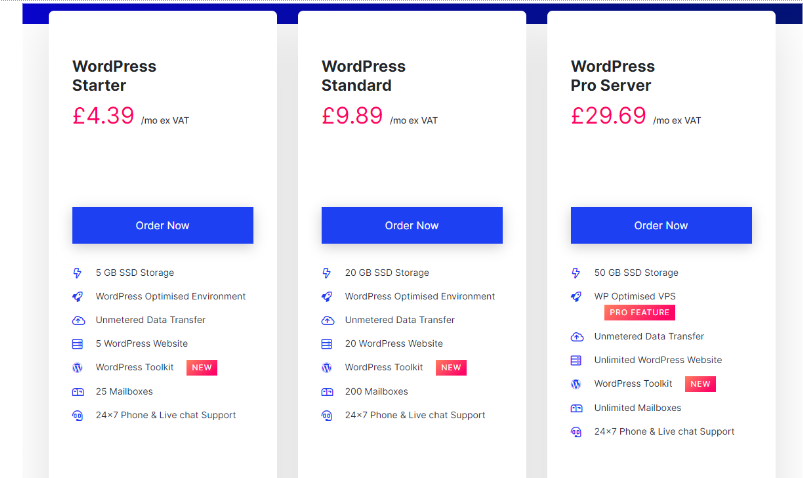 If you need help, the friendly support team is always available by phone or live chat. They know a lot about WordPress.
You can set up a new WordPress site in less than 30 seconds with eUKhost's 1-click WordPress installation.
Also, you can clone and sync an existing site from the WordPress toolkit, which cuts down on the time it takes to build a site.
The WP hosting plans are optimized for WordPress. These features help your site load faster and reduce the number of people who leave it without looking around.
Another thing that comes with the Managed WordPress Hosting plan is the WordPress Toolkit. You can use a single, easy-to-use interface to install, secure, update, and manage your WordPress sites.
5. eUKhost Premium Web Hosting:
eUKhost offers premium web hosting that is powered by the cloud and has a cPanel dashboard for ease of use. Hosting in the cloud gives users high performance and reliability.
Web hosting with cPanel is full of great features that make web hosting easy for both beginners and experts.
The easy file management feature lets users securely upload, download, and manage their files using the built-in file manager without having to set up a complicated FTP manager.
The 1-click app installer lets users get WordPress, Joomla, Drupal, WooCommerce, and many other apps with just one click.
Users can create subdomains and manage their DNS from within cPanel if they have access to an unlimited number of domains.
With the email feature, it's easy to set up as many mailboxes, forwarders, autoresponders, and user-level filters as you want.
Users can also use email filters to stop spam and malware, and the webmail client lets them check their email from anywhere.
Security is an important part of web hosting, and with eUKhost's cPanel web hosting, users can install free SSL on all of their sites, limit access, password-protect their directories, and protect their sites from malicious activity.
There are many benefits to cPanel web hosting, such as the ability to host an unlimited number of sites, free migration, free SSL, free backups, and super-fast SSD storage.
All these benefits are backed by expert support 24 hours a day, 7 days a week, and a 30-day money-back guarantee.
Users have full control over their web hosting with the cPanel control panel, which comes with add-ons like Softaculous for one-click software installations, SEO tools, and much more.
cPanel can also be accessed through the internet, which makes it easy to manage to host accounts from almost anywhere.
Web hosting is great for both individuals and businesses, whether they are starting work on their next big project or moving a website from another provider.
From one place, users can install, list, update, back up, and copy their apps.
Web hosting is easy to use, and users can start building their sites and adding content in minutes without having to deal with complicated installations.
Pros & Cons of eUKhost Review
Pros
Reliable cloud-based web hosting.

User-friendly cPanel dashboard.

Easy file management.

One-click app installer.

Unlimited domains and subdomains.

Simple email setup with spam filters.

Free SSL and directory protection.

24/7 expert support.

Affordable SSL certificates.
Cons
Entry-level plans provide few features.
Quick Links:
Conclusion: eUKhost Review 2023
eUKhost is a reliable and trusted web hosting provider with a range of services and features that cater to different needs and budgets.
From premium web hosting with cPanel and cloud-based solutions to remote backups, SSL certificates, email security, and spam filtering, eUKhost offers a comprehensive suite of solutions that help individuals and businesses to build, secure, and grow their online presence.
With 24/7 support and a 30-day money-back guarantee, eUKhost ensures customer satisfaction and peace of mind.
So, whether you're a beginner or an experienced webmaster, eUKhost is worth considering for your hosting needs.