Picture this: you're running an online business, and you've got a fancy website with visitors dropping by. But here's the catch – those visitors need to become customers. That's where the magic of conversion rate optimization (CRO) comes into play.
Now, what's CRO? Well, it's like making your website more charming to turn those curious clickers into paying buyers. Imagine if your shop had a magical spell that made more people say, "Yes, I want this!"
That's what CRO does online.
But hold up! Doing this on your own can be a bit like finding a needle in a haystack.
That's where tools like ConvertBox come to the rescue.
ConvertBox is a handy tool because it makes it really easy to create pop-up messages on your website. These pop-ups can collect people's email addresses or guide them to special offers.
What's cool about ConvertBox is that it's both simple to use and powerful. It also works well with your customer management software.
In this ConvertBox review, let's dig into the world of ConvertBox. I'll show you how it can be that secret weapon you've been looking for to make more people say, "Count me in!" Stay tuned, because it's time to unlock the treasure chest of CRO with ConvertBox. 💎💼🚀
Let the ConvertBox Review begin!
In a world of stalwarts like Leadpages and ClickFunnels, ConvertBox is a lead generation and sales funnel software. This lead generation tool helps businesses connect with the people they want to reach. With ConvertBox, you can make special web pages, forms to collect emails, and paths to turn your website visitors into customers really effectively.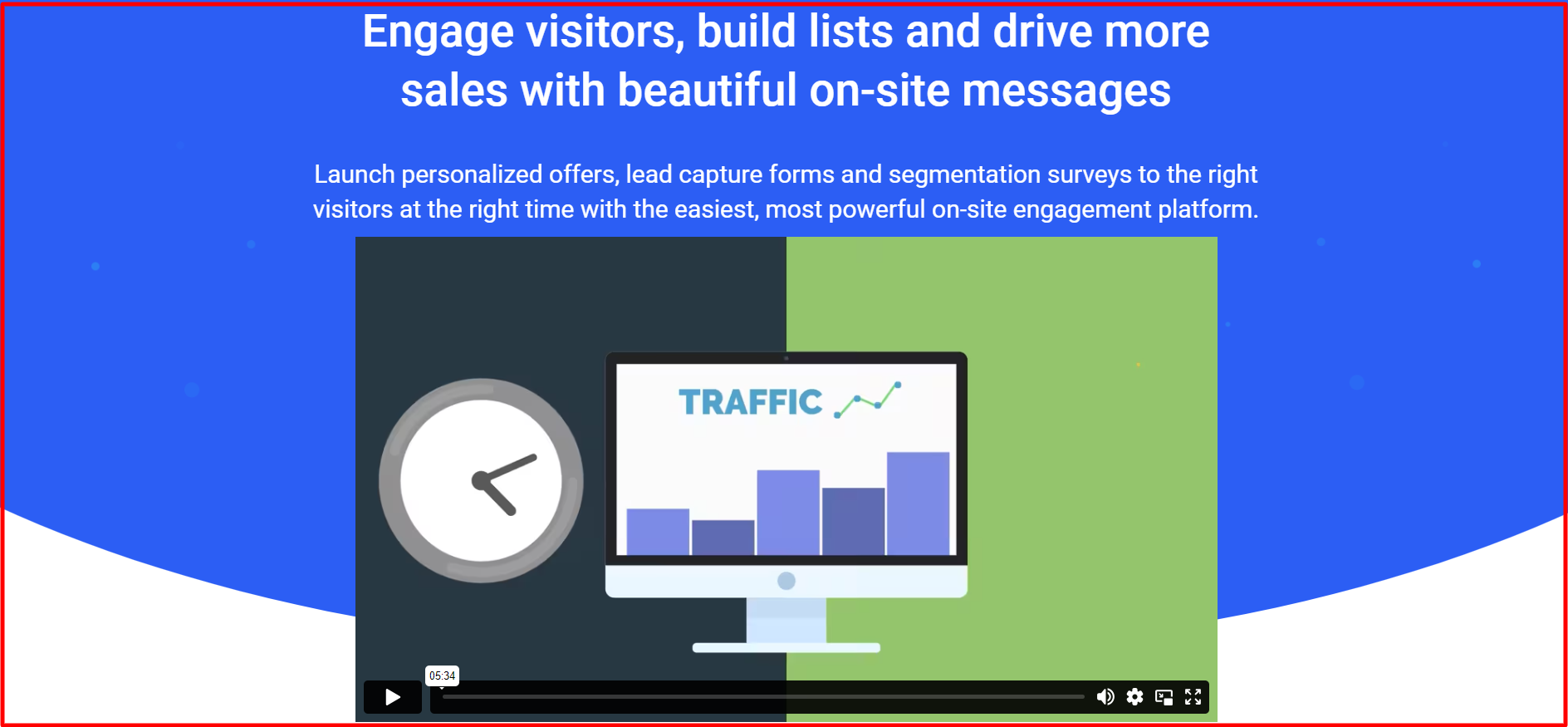 When you have the emails of potential customers, you can send them specific emails based on what they do on your website, where they are, what they like, and other things. This increases the chances that they'll become paying customers.
What makes ConvertBox really stand out is its capability to offer all the tools you need to guide website visitors along the path to becoming a customer, all in one package.
ConvertBox makes creating various types of pop-ups on your website incredibly easy. These pop-ups can help you collect email addresses or guide people to special promotions.
There are several reasons why ConvertBox is impressive. It's simple to use but powerful and integrates well with your chosen CRM (Customer Relationship Management tool).
You can create different types of lead generation boxes with ConvertBox, such as:
Chatbox Lead Generation: You can make a small chat box that appears at the bottom right or bottom left of your page.
Sticky Bars: ConvertBox supports sticky bar that always stay visible at the top of your website pages.
Full-Page Offers: You can also create full-page offers that take over your entire website to showcase special deals.
Center of the Page Modals: These are classic pop-ups that appear in the center of the page.
You can gather leads directly from these pop-ups using their form builder. Alternatively, you can engage your visitors by asking them questions and offering multiple response buttons.
This feature is interesting because it allows you to build complex funnels. For instance, you can ask people questions like, "Are you more interested in traffic or conversion?" You can create funnels with unique offers or lead magnets based on their response.
You can create as many steps in your funnel as you need, essentially using it as a quiz builder. This feature was one of the most intriguing discoveries in my ConvertBox review.
I will talk about these features in the later section
Is ConvertBox Worth It?
When I started testing ConvertBox for one of my sites, I was unsure whether it would work!
After using ConvertrBox for 4 months, I found that you can do lots of things using this piece of software such as creating special offers, collecting people's information, and guiding them through your website.
You can do all of this in one place, which is really convenient.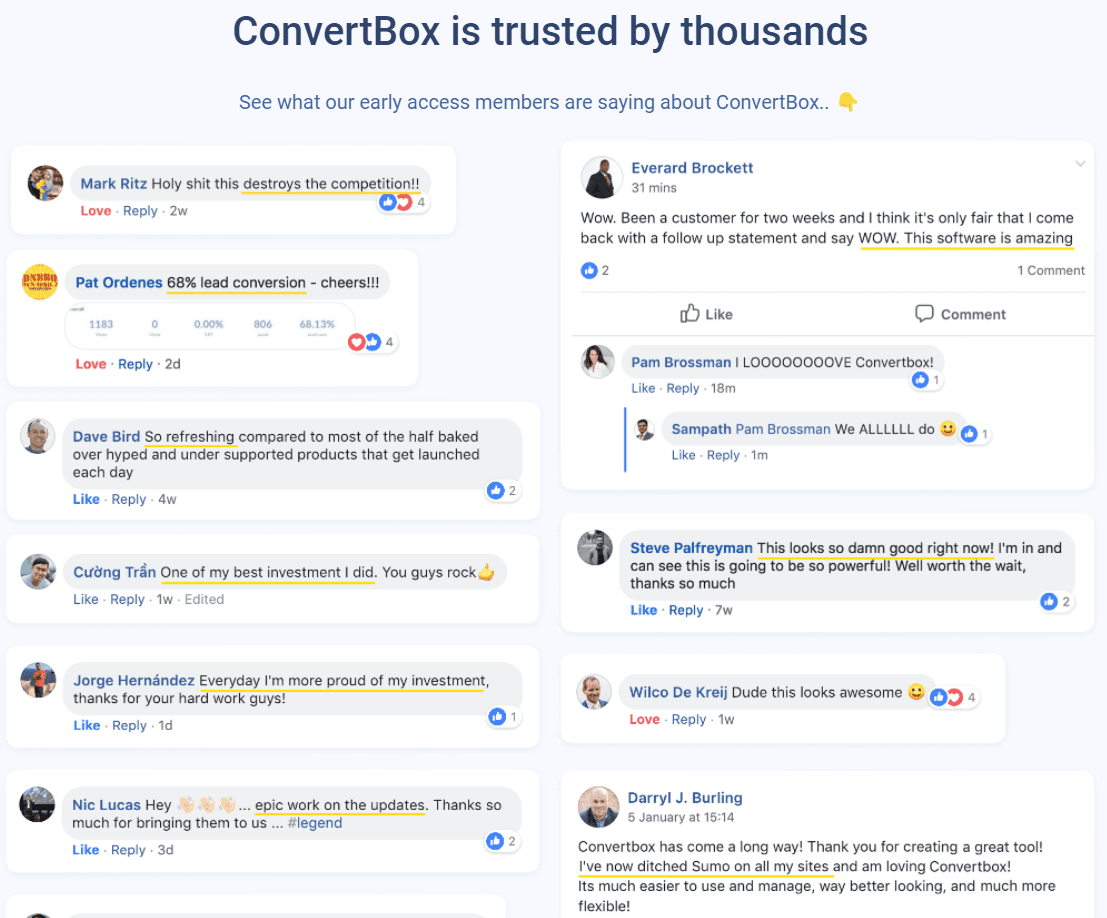 The tools on this platform are made to help you show the right things to the right people when they need it. This will eventually help with better CROs.  It's a smarter and easier way to get results and a good thing to invest in.
I think the pricing of Convertbox makes it a better choice, with a one-time fee of $495/lifetime for various features. That's incredible.
History of Convertbox
Originally called ConvertBar, ConvertBox was created by Dean Saunders.
Saunders is an experienced internet marketer and has been enhancing the platform since its beginning. His own experiences inspired many of the features added to email marketing.
In 2021, Josh Bartlett bought the company and continued to improve it. Bartlett is already known in the online world for his company, ThriveCart, which deals with online shopping.
Adding ConvertBox to his list of products was a logical move.
He shared the acquisition news on his social media, and people reacted positively.
ConvertBox Review: Major Features
With ConvertBox you can create a lead opt-in form in minutes with no hassle, thanks to its easy-to-use platform. Also, it has features that increase the quality of leads and conversion rates of your forms.
It has many features that I cannot list in this  ConvertBox Review.

There are a few essentials, however, that online marketers tend to rely on.
Dashboard
Convertbox allows you to organize all your forms on all your websites and quickly see how well each one is doing. You can also sort them by website and see all your forms, whether they're active or not.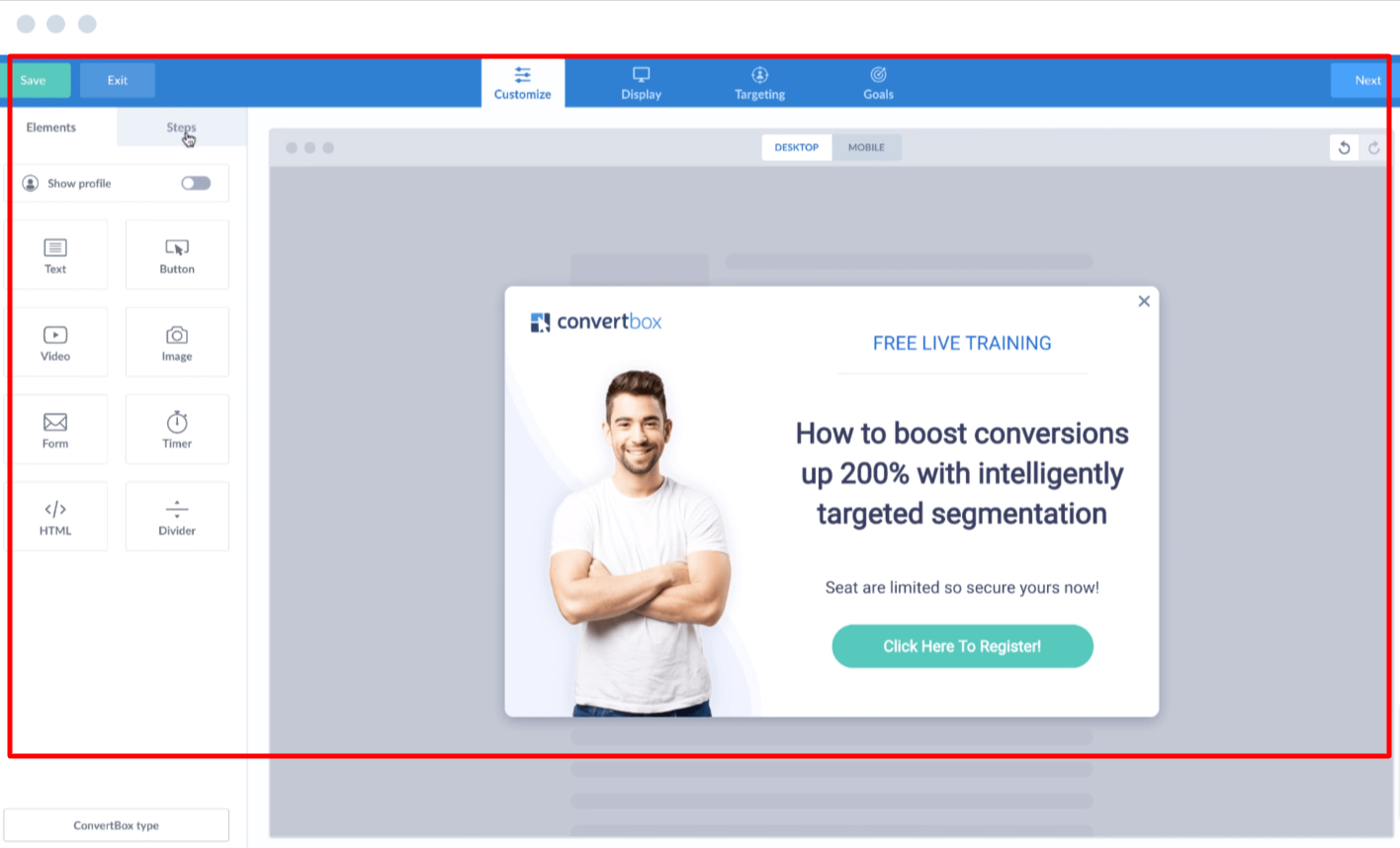 To be even more organized, you can group forms on your websites.
On the top of the dashboard, there's a monthly summary of what's happening on a specific website you pick. This helps you determine which forms are making you money and which need fixing.
Just like the visual builder, everything here is drag and drop. You can move forms around in the dashboard to make it easier to understand.
User Targeting
The way you set up who sees your ConvertBox is really important for how well it works with your website visitors. This goes for other tools that help get people to act on your site, too. If you show the wrong forms and content to people, they might leave your site quickly.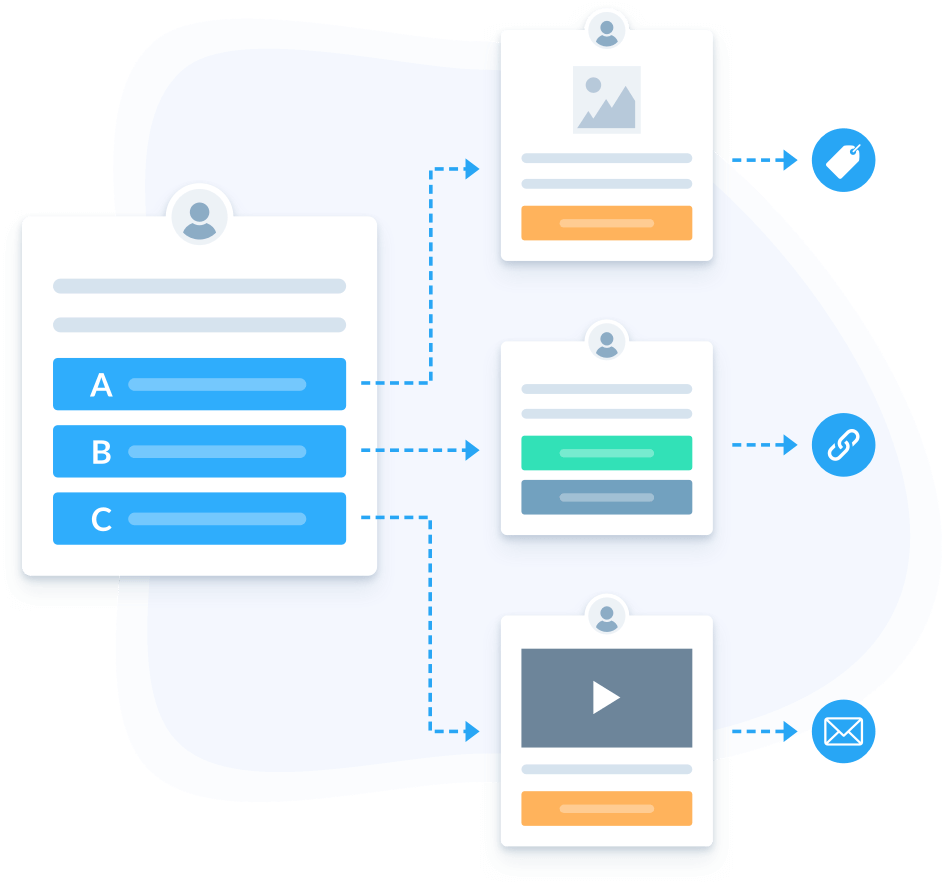 It's important to know that not everyone visiting your website is ready to buy something. Some are ready to buy, some want to learn more about what you offer before buying, and many are just browsing.
It's up to you to determine what they're looking for and show them the right email signup form.
Luckily, ConvertBox makes this pretty easy. You can group your visitors and use special rules to show them personalized email signup boxes that are more likely to get them to share their email with you.
Set your own Targeting rules
With ConvertBox, you can decide who sees certain pop-up messages on your website. You can control this based on different things, like where they came from before your site, where they are, how often they visit your site, what device they use, how far they've scrolled down the page, and when they're leaving your site.
ConvertBox works well with popular tools for managing customer information. This means you can set rules for when to show these pop-up messages based on whether a person is already in your customer information system.
For example, if you use HubSpot, ConvertBox can add information to it and read information from it.
User rules
ConvertBox doesn't just help you target users based on events or data; it also offers Segmentation Funnels. These allow you to create complex pathways that offer different deals or incentives to various groups of users, depending on their preferences.
For example, let's say you have an online shoe store. With ConvertBox, you can include questions in the pop-up. Depending on how visitors answer (yes or no), you can guide them down different paths. If they're asked if they know about your exchange policy and they answer "yes," you can show them relevant information within the pop-up.
If they answer "no," you can redirect them to a different page with more details.
Templates
ConvertBox doesn't offer a wide range of ready-made templates, which isn't surprising since it's still in its early stages. However, the templates they do provide look good, and you can customize them completely to fit your needs.

Where ConvertBox shines is in its flexibility. You can select between two types of forms: embedded or overlay. Embedded forms are ideal for permanent boxes you want to keep on your site, like for ongoing purposes. On the other hand, overlay forms are great for quick promotions or time-sensitive content.
Once you've picked the form type, you can choose from templates based on your goals.
ConvertBox offers templates for training sign-ups, live event registrations, consulting requests, lead generation efforts, personalized messages, videos, and user segmentation.
A/B Split Test
A/B tests are critical regardless of your business model.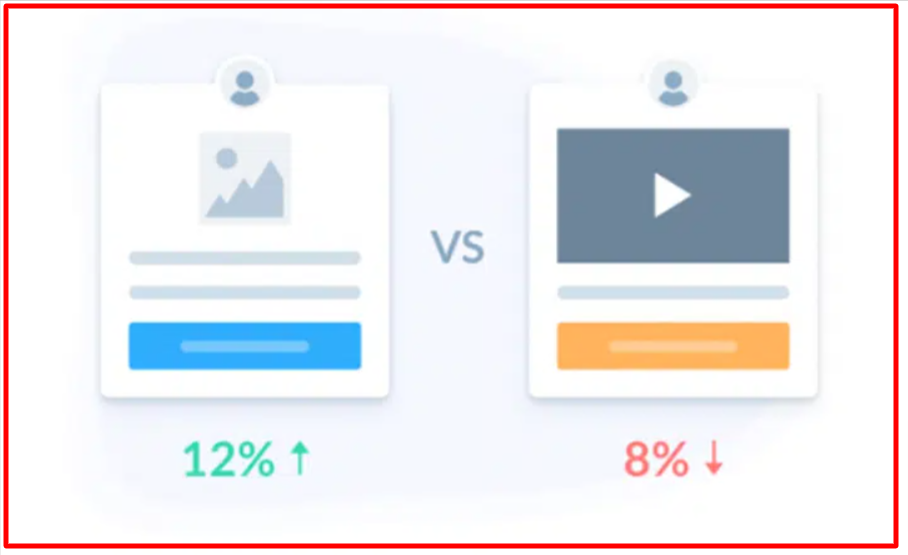 ConvertBox allows you to do this. The editor allows you to clone a current design or create a new one from scratch.
The A/B test types supported by ConvertBox are currently two.
Cookie Split test:

Each participant will see only one variant.

Regular Split test:

There are multiple variants that a person can see.
Split testing forms based on any criteria is possible. My top recommendations are…
Headline

Text for the CTA button.

Make the background text of your CTA buttons stand out from the other elements of your site by using contrast colors.

Animated images (Use GIFs to see the progress).

Emojis or not. 
A/B tests are displayed in the ConvertBox dashboard, and you can easily pause or add new variants.
Visual Editor (WYSIWYG editor)
ConvertBox is designed as a WYSIWYG editor for "What You See Is What You Get." This means that what you see on the editor is pretty much what you'll get on your website. If you've used other visual editors before, you'll find ConvertBox easy to work with.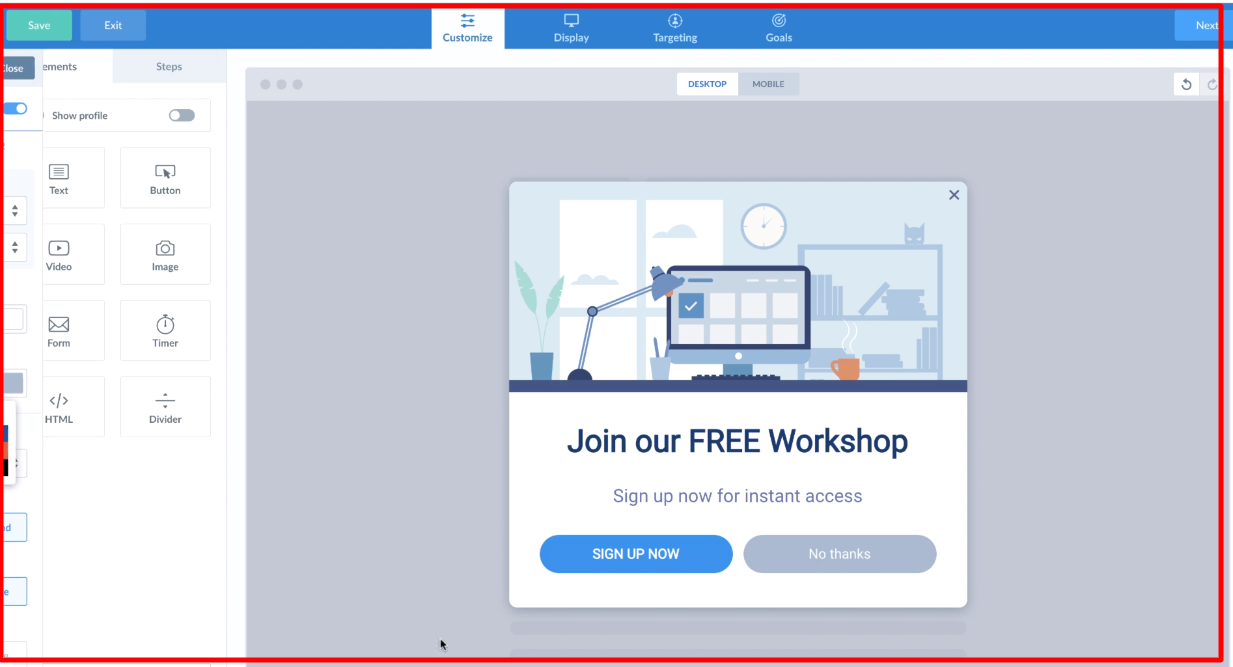 What's great is that ConvertBox takes something already meant to be simple and makes it even simpler. You'll find all your customization options neatly tucked away in a sidebar. From there, you can add things like videos, text boxes, images, and buttons to your forms.
One standout feature of ConvertBox's visual editor is that it functions like powerful web design tools such as Divi or Elementor. You can easily switch between desktop and mobile views with a simple click.
Plus, you have various styling and font options to play with.
To ensure your forms are top-notch, you can even run split tests right in the editor.
If you want a ton of customization options, ConvertBox might feel a bit limited. But if you prefer a straightforward and efficient approach, ConvertBox is perfect for you.
Multi-Choice Funnels
One fantastic feature of this platform is its ability to segment your website visitors and leads using the multi-choice funnel function.
With this platform, you can effortlessly design multi-step funnels that give visitors choices. This allows you to label and categorize them, offering personalized deals tailored to each person's interests or objectives.
This segmentation funnel feature is particularly valuable for marketers.
It enables you to construct multi-choice funnels that segment, label, and deliver personalized offers based on each visitor's unique goals and interests, leading to increased conversion rates.
Countdown Timers
Boost your conversions and sales using the platform's built-in deadline countdown timers. These timers create a sense of urgency and scarcity for your offers, encouraging more visitors to take action.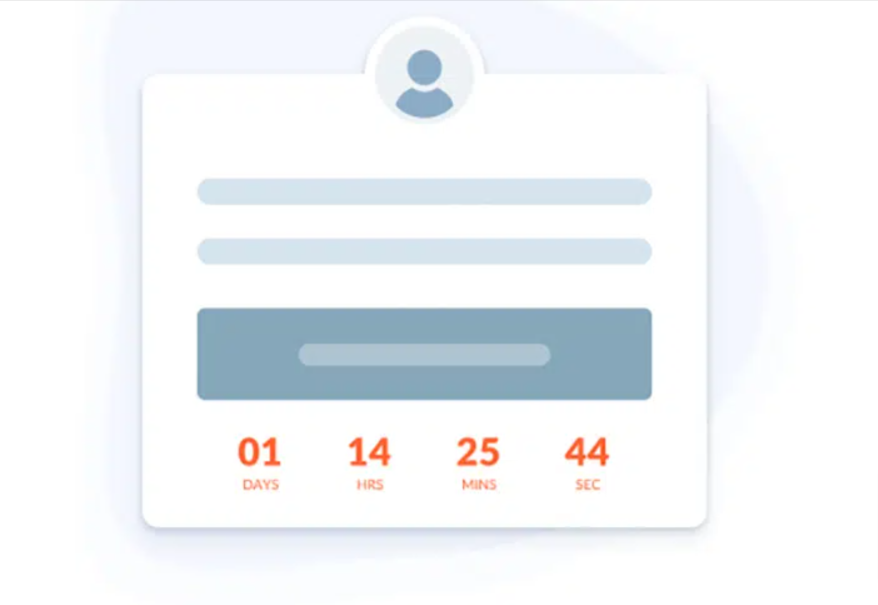 You don't need any coding skills for this, and it's as simple as a few clicks to embed a timer within your call to action on any page.
With ease, you can launch two types of promotions: evergreen, which runs continuously, and scheduled, which are time-limited. This helps you get more conversions for your offers, whether you're running a specific campaign or a site-wide promotion.
Real-Time Tracking
The statistics are easy to understand, maybe even too easy.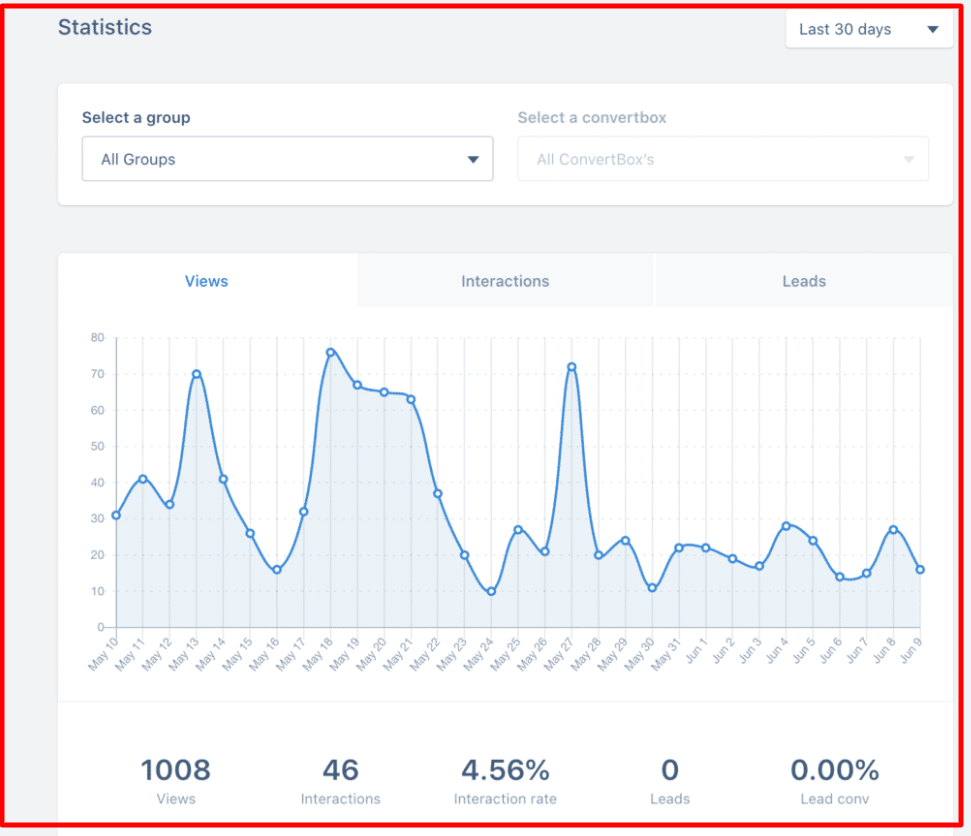 You can get a report that shows how many people viewed, interacted with (like clicking on something), and showed interest in something. You can also see stats for a particular group of things, and if you're testing different things, you can see how each one is doing.
Using multi-step modals, you can see how well each step works, including how many people complete each step and how many click on things.
Integration
If you have a lot of websites and visitors, you'll find it helpful to use automation tools. ConvertBox offers many integrations with other software services, and the number keeps adding more.
ConvertBox already has integrations with many popular software services like InfusionSoft, GetResponse, MailChimp, Aweber, etc. To enhance the functionality, the software offers API integration with custom software as well as Zapier integration/
Have a look at the integration options available in ConvertBox:
ConvertBox Review: Ease of Use
Whether a website is considered "easy to use" depends on your email marketing experience and skill level. Some lead generation tools offer many marketing tools but don't provide much guidance on using them.
On the other hand, some services are so bad that they hardly justify a paid subscription.
With ConvertBox, you can improve your forms with split testing and analytics tools. However, there are a couple of things they need to improve. First, they don't offer a lot of design options. This might be okay if you're new to websites, but experienced users might find it frustrating.
I love its form creation process which takes less than a minute to complete form.
Let's look at the step by step guide to see how to login Convertbox:
Step #1:  Go to the ConvertBox website and click the "Request Early Access" button. A pop-up window will appear, asking you to select the option that best describes you. Make your choice and proceed to the next step.
Step #2: Sign up by entering your name and email to request an invitation to ConvertBox and receive special early access pricing.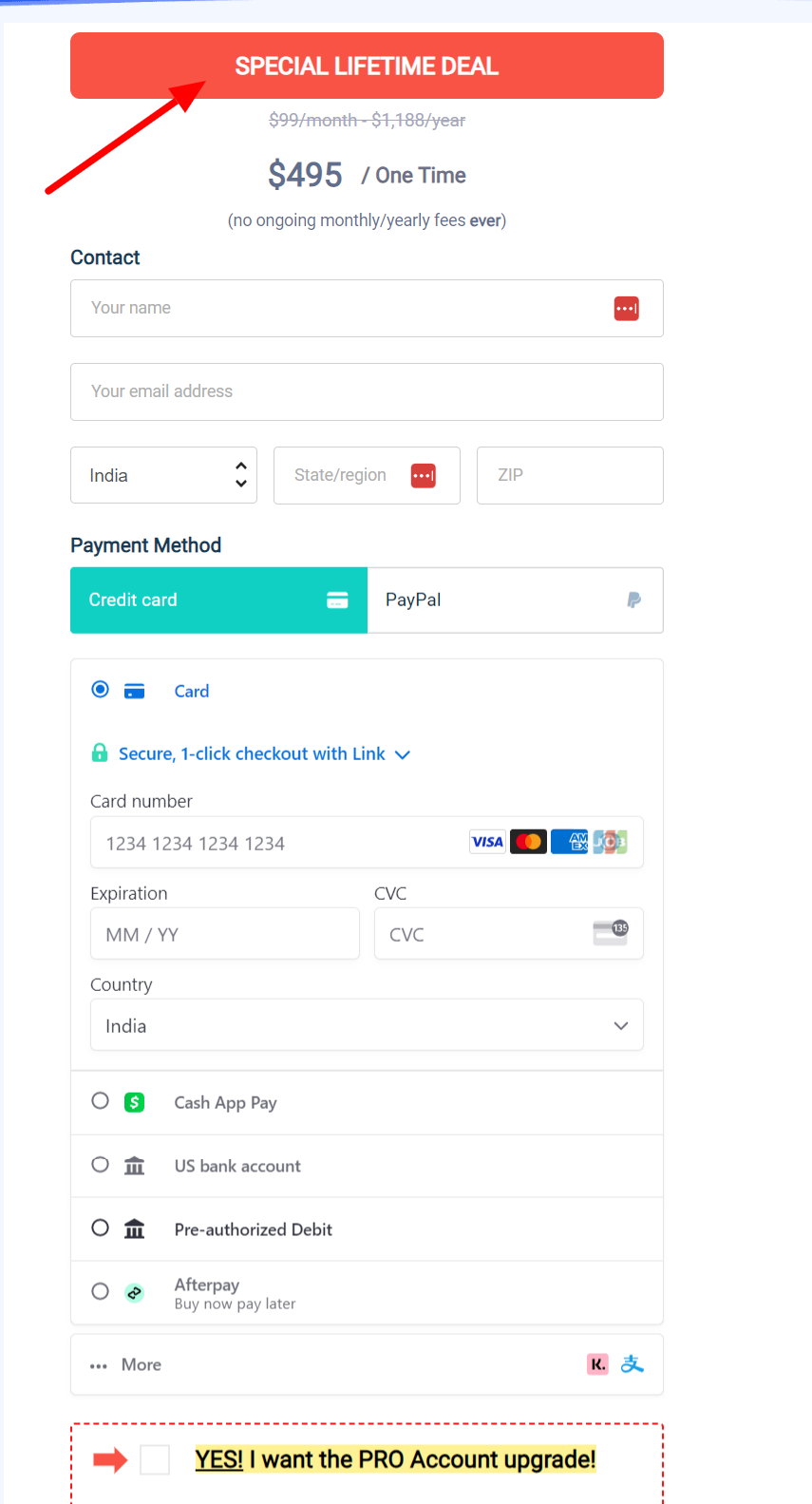 Step #3: Log in to your ConvertBox account dashboard and start creating ConvertBoxes. Once you're logged in, you'll find options for your profile, account settings, integrations, support, and more.
Start creating your ConvertBoxes based on your website goals. Begin by selecting the type of ConvertBox you want to make.
ConvertBox Review: Pricing
ConvertBox lifetime deal is great if you don't like paying monthly lead generation software fees. You'll receive all new features as well as all future updates and bug fixes!
Here is what's included in their lifetime pricing: 
Views: 250,000 per month

There are no monthly or annual fees

Branding is not allowed

Support of the highest quality

Websites 10

A limitless number of ConvertBoxes

Platform updates are free
It usually costs $99 per month or $1,118 per year. For a one-time fee, you can purchase a ConvertBox subscription for life. As well as many other benefits!
According to their pricing plans, ConvertBox has two tiers: lifetime and lifetime pro.
ConvertBox Support
Before I buy any software, I always see if the company can help me if I have any problems.
If you need help, you can go to their website and use the "ConvertBox Help Desk."
In my experience, I only needed to use the help desk two times because the software was easy to use.
You can also request help from the ConvertBox customer service team. They usually answer and help within 24 hours on weekdays.
FAQs ConvertBox Review:
Are there any ConvertBox Tutorials?
There aren't any formal training programs called ConvertBox academies to teach you how to use this software. However, there is a Basics section that serves a similar purpose. While it may not be as organized, it does offer step-by-step instructions to help you begin. If you require assistance with email marketing, we do have resources available that can be of assistance.
Does ConvertBox work on any website?
You can use ConvertBox on any website or website builder, such as Squarespace, Wix, or WordPress. Even though it's not exactly a plugin, you can get a ConvertBox plugin for WordPress if you want to add it directly to your site.
Does ConvertBox has free plan?
Currently, ConvertBox doesn't offer a free plan. However, they do have a lifetime package, which is quite affordable when compared to other form builders. They also provide a 30-day guarantee. If you give it a try and find it's not to your liking, you can easily return it with minimal hassle.
Final Thoughts on ConvertBox Review 2023
That's the end of this Convertbox review. I hope I've given you a good idea about the tool.
In my opinion, Convertbox gets a perfect 5 out of 5. It's a fantastic tool. What I like the most is how easy it is to use, even though it's really powerful and has everything I need to collect leads from my websites.
Lead generation software helps you gather important customer information, allowing you to provide better service. When you serve your audience better, you attract more visitors to your website, bringing you closer to achieving your goals.
Also Read: