People looking for web hosting services often need help choosing the right provider that meets their needs and budget.
With so many web hosting providers available, it can be overwhelming and time-consuming to research each one and determine which is the best fit.
Webhosting UK is a web hosting provider that offers reliable and affordable hosting solutions for businesses and individuals. Their hosting plans include dedicated, shared, and VPS hosting.
Let us understand more about Webhosting UK Review in detail.
Webhosting UK Review 2023: What is Webhosting UK?
Webhosting UK is a UK-based web hosting provider that offers a variety of web hosting plans, including shared hosting, email hosting, WordPress hosting, reseller hosting, VPS, cloud, and managed dedicated servers for Windows and Linux.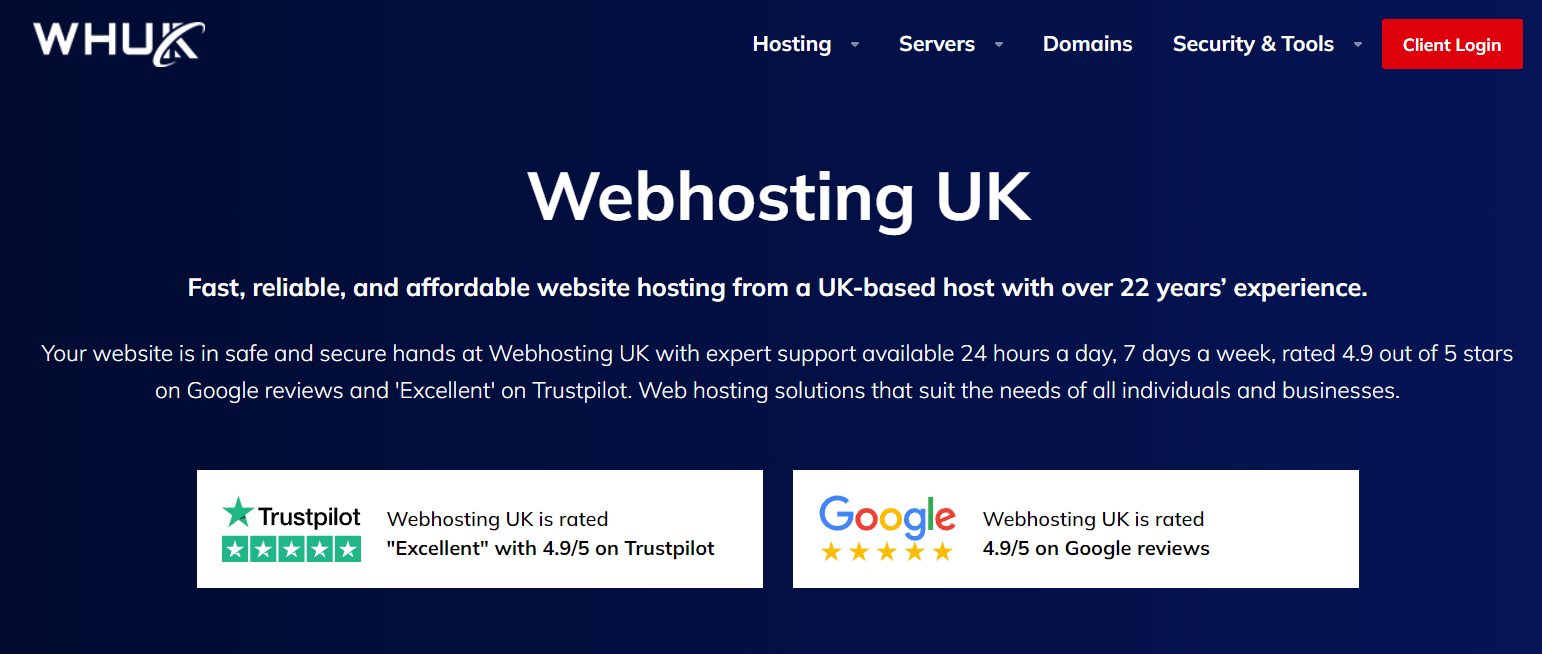 Established in 2001, Webhosting UK claims to be highly experienced and customer-oriented, offering all that small or medium-sized businesses could ask for.
Although they fail to stand out among more ambitious competitors, they manage their own tech support and monitoring and take pride in being accountable only to their customers.
Their data centers are situated in Maidenhead, England, and they claim to offer key cloud and app hosting solutions to over 35,000 clients worldwide.
What Does Webhosting Offer & Pricing
1. Linux Web Hosting:
Webhosting UK provides dependable and high-performance web hosting with shared Linux web hosting and the robust cPanel, allowing for simple site administration.
Their hosting plans include 24/7 assistance from their outstanding staff, which is known for its sturdy, flexible, and highly functioning Linux operating system, which is great for numerous users and multitasking.
Webhosting UK utilizes the most advanced solid-state storage technology to give lightning-fast speeds, guaranteeing that their SSD-accelerated storage delivers your website with unmatched speed and performance.
Also, the 1-click installation makes it simple to launch your preferred online apps with a single click.
The control panel of Webhosting UK is simple for novices without losing significant functionality for expert users.
In addition, their hosting platform is developed from the bottom up for stability and performance, guaranteeing that their shared web hosting plans have a network and infrastructure uptime SLA of 99.9%.
Webhosting UK provides over 500 TLDs for domain registration and transfer, enabling you to rapidly acquire a website address and establish an online presence.
In addition, they make daily offsite backups as part of their comprehensive disaster recovery methods, assuring the safety of your data.
The Webhosting UK cPanel control panel gives you complete authority over your Linux hosting account.
With their straightforward online interface, you can set up and configure your website precisely as you need, and administer it with ease using tools like phpMyAdmin.
2. WordPress Hosting
Webhosting UK offers WordPress Hosting services that are dependable and safe and make it simple to create a WordPress website.
With WordPress pre-installed on all of their hosting services, users can quickly and simply get started.

In addition, Webhosting UK's sophisticated anti-hacking technology and WordPress-specific firewalls safeguard customers from internet dangers.
Webhosting UK provides a free migration service for customers transferring from another web host. Moreover, they provide free daily backups that are encrypted end-to-end to assure total security.
Their plans are tailored for increased speed and security, so you can be certain that your website is in excellent hands.
The Webhosting UK WordPress Hosting platform is built to be quick and dependable, using the most recent generation of Xeon processors, ultrafast memory, and enterprise-class SSDs.
Their software platform is WordPress-optimized and employs caching technology to provide lightning-fast loading and response times.
The WordPress Hosting services offered by Webhosting UK include pre-installed themes and plugins, allowing customers to quickly begin developing websites.
Its control interface is user-friendly, making email management, domain addition, and file uploading straightforward.
Furthermore, its web-based interface is compatible with desktop, tablet, and mobile devices, allowing consumers to control their hosting from any location.
Webhosting UK's support staff is accessible around-the-clock to assist clients whenever they want it. They provide telephone, live chat, and ticket support, making it simple to get assistance at any hour of the day.
Webhosting UK's WordPress Hosting plans are intended to match your demands, regardless of your level of WordPress expertise.
Webhosting UK provides everything you need to create and run a successful WordPress website, including 1-Click WordPress installation, automatic upgrades, superior security, performance optimization, theme and plugin administration, daily offsite backups, and 24/7 support.
3. Email Hosting:
Webhosting UK provides consumers with unique email addresses for personal or corporate usage through professional email hosting services. With so many strong capabilities, email management has never been more complicated.
A customized email address is essential for establishing trust and confidence and serves as a distinct identifier that distinguishes you from the throng.

With WHUK's email hosting, you can simply establish a powerful, distinctive identity that lets your friends, customers, and coworkers know you mean business.
Webhosting UK's email hosting solution offers consumers skilled assistance around the clock. Experts in email hosting are accessible 24 hours a day, seven days a week by live chat, telephone, and support tickets.
Unlike other UK email hosting providers, WHUK does not scan your email for marketing reasons, protecting your privacy.
With email hosting in the United Kingdom, you are secured by some of the world's strictest data protection regulations.
Webhosting UK's email hosting solution includes enterprise-level mail filtering from SpamExperts, which analyzes your email for spam, viruses, and malware before it enters your inbox. This guarantees that your business is protected from a variety of dangers.
WHUK provides email archiving and recovery for clients that want to keep their email safe. Emails are encrypted and kept securely, enabling you to comply with legal requirements and quickly retrieve them.
Webhosting UK also offers collaborative solutions that facilitate teamwork. With shared calendar entries, address books, projects, files, and even mailboxes, it's simple for teams to communicate and share information.
4. VPS Hosting:
Webhosting UK offers managed Windows VPS hosting services that are focused on performance and reliability.
These UK-based servers are powered by the latest Intel Xeon processors and have pure SSD storage. They also come with 24×7 support and a 30-day money-back guarantee.
The VPS was made by people who know a lot about Windows, so it is very flexible, reliable, and cheap.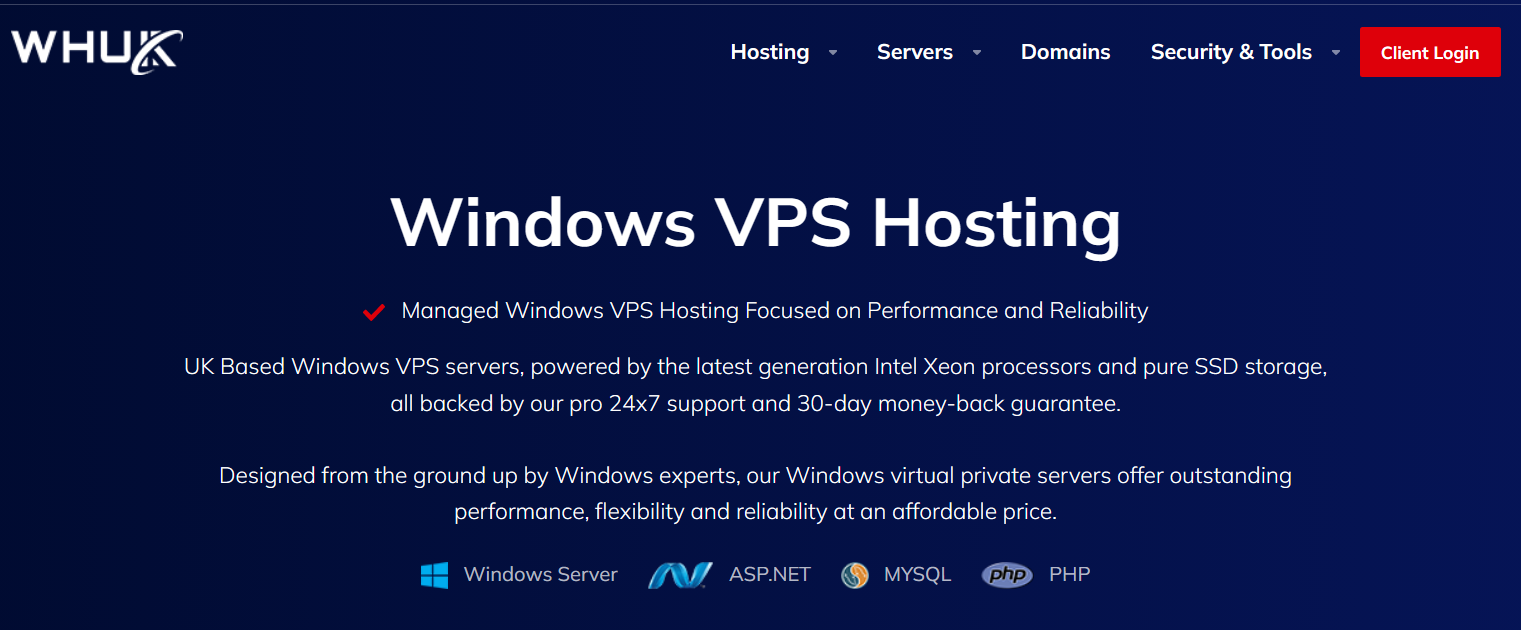 The Windows VPS servers come with Windows Server 2022 and the latest version of the Plesk control panel is already installed. This makes it easy to manage the servers.
Webhosting UK's Windows VPS hosting plans have the latest Intel Xeon CPUs and superfast SSD storage, which make them very fast and reliable.
For the user's peace of mind, the VPS management makes sure that the servers are always safe and up-to-date.
With Webhosting UK's Windows VPS hosting packages, you can use both Windows and open-source technologies, like PHP, MySQL/MariaDB, and ASP.NET.
The VPS comes in different configurations, called SG (Standard Grade), SR (Semi-Resource Grade), and SD (Superior Disk Grade), depending on the number of vCPUs, Intel Xeon cores, DDR4 ECC memory, and fast NVMe storage.
5. Cloud Hosting:
The cloud hosting platform is built with a clustered, highly redundant architecture that lets Hyperslice cloud servers float naturally between physical servers.
This means that downtime due to hardware failure is a thing of the past. With this architecture, their customers can be sure that their infrastructure will be available 100% of the time.

Their cloud servers are always available and have great storage performance. This makes them perfect for applications that need a lot of I/O, like transactional databases.
They offer support 24 hours a day, 7 days a week, and a variety of management services that can be customized to fit the needs of your business.
This makes sure that you can trust them to take care of your solution, so you can focus on running your business.
6. Dedicated Hosting:
Webhosting UK's Dedicated Hosting service gives businesses of all sizes access to high-performance servers with a variety of features and options.
All dedicated servers have performance SSDs that are made to keep their I/O performance and durability over time.
The servers also have the most up-to-date technology, like Intel Xeon CPUs, SSD, and DDR4, which give them great performance at a low cost.

The experts on the dedicated server are available 24 hours a day, 7 days a week. The server management service gives you peace of mind that the server's security and maintenance are being taken care of by experts.
Support is available 24 hours a day, 7 days a week, 365 days a year. The hosting experts will make sure that the server's security is patched and that it is running at its best.
If help or advice is needed, they are always just a phone call or click away.
The servers come with a full 1 Gbit connection at no extra cost, which lets businesses quickly connect to the internet and run programs.
The servers can also be changed in terms of memory, disk space, and network connections. The experts can give advice on the best options for each person, making sure that the business gets the right server for its needs.
Webhosting UK has a free dedicated hosting migration service for businesses that are moving from another host. This service makes the switch to the new dedicated hosting service easy and smooth.
The service also includes application optimization, which makes sure that the software on the server is optimized for the application or server role.
Quick Links:
Conclusion: Webhosting UK Review 2023
Webhosting UK is a reliable and affordable web hosting provider with various features and plans to suit different website needs.
Their data centers are in the UK and the US, ensuring fast website loading and reliable uptime. Additionally, their customer support is available 24/7 and is responsive and helpful.
Overall, Webhosting UK is a great option for businesses and individuals looking for reliable and affordable web hosting in the UK.