In this Scala Hosting Review 2023, we'll go over all the details about Scala Hosting and see if it's the right hosting solution for you.
You need a reliable, secure, and scalable hosting provider that can handle your business' needs.
Your website is the face of your business. It's important that it's always up and running, no matter what. And you don't want to spend a fortune on hosting services.
Scala Hosting is the perfect solution for businesses of all sizes. They provide low-cost cloud-based VPS hosting that is both reliable and scalable.
Plus, every managed VPS hosting plan includes free domain name registration, free SSL certificate, and free website migration.
Scala Hosting Review: What is Scala Hosting?
Scala Hosting serves over 50000+ clients from throughout the world and guarantees their 700000+ websites are up and operating.
Scala Hosting is native to the United States but offers its servers in the EU as well. If you pick their DO plan, you receive worldwide data center reach.
The company's internal R&D department focuses on producing better goods leading to the ideal experience for consumers.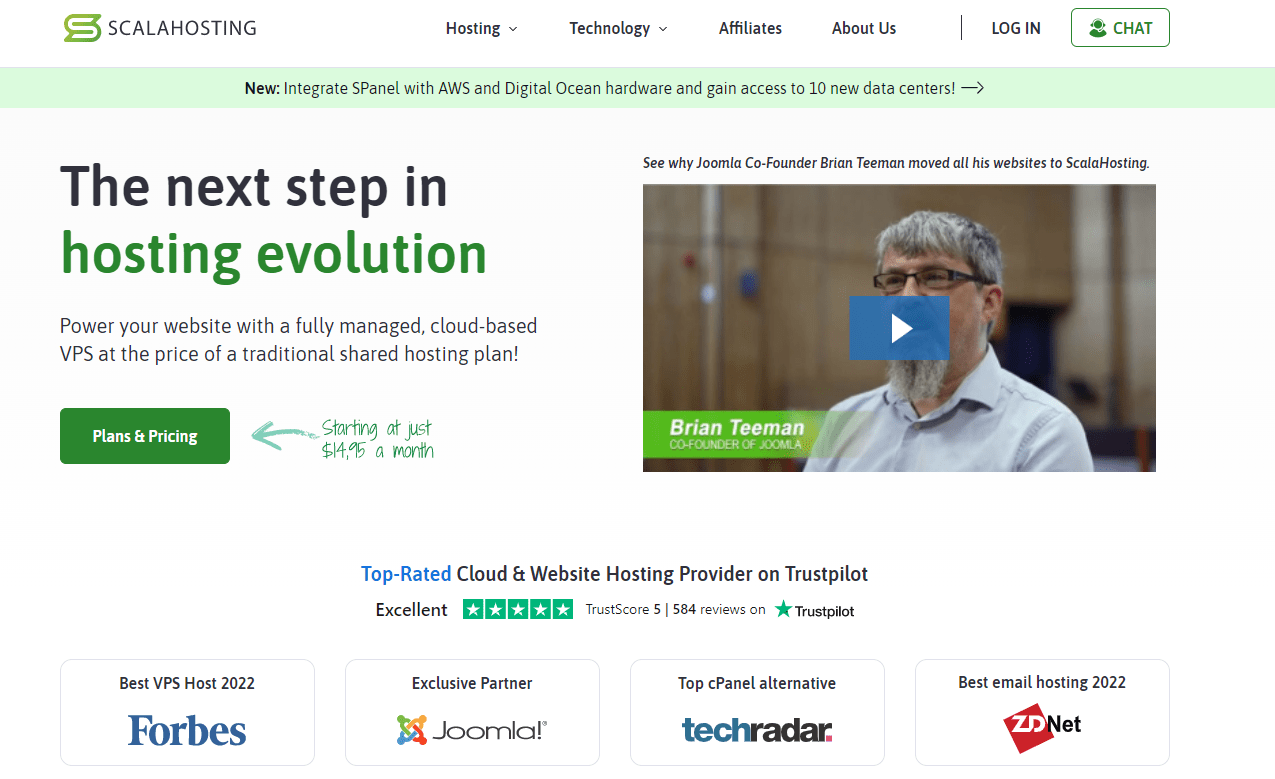 They can offer revolutionary products like SWordPress, SShield, and SPanel. A firm with a focus on offering some unique features is disrupting the status quo in the web hosting sector.
Talking about the experience, Scala Hosting is a relatively tenured web-hosting business that was formed in 2007 and has taken up its objective to build VPS hosting as a resource that is inexpensive and controllable by everybody including newbies, agencies, corporate sites, and even students.
For novice bloggers seeking WordPress-friendly platforms or enterprises wishing to develop spectacular things on the web, Scala Hosting aims at catering to all areas.
That's why the corporation has worked hard to make the cloud safe, scalable, and simple to maintain.
Also, Read This:
Scala Hosting Pricing Plans: How Much Does It Cost?
They have four plans to offer: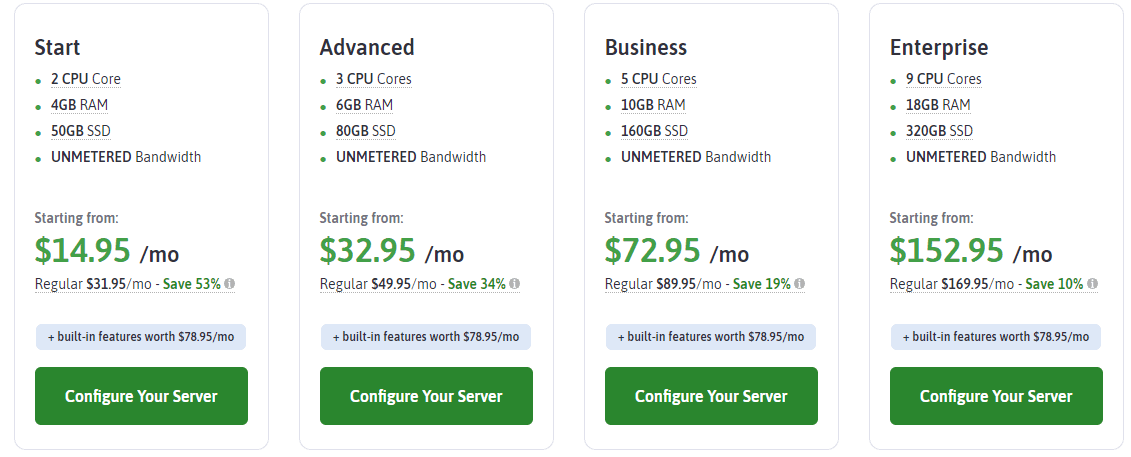 Start (Starts from $14.95 per month): This one will include unmetered bandwidth, 50 GB SSD, 4 GB RAM, and 2 CPU Core.

Advanced (Starts from $32.95 per month): This one will include unmetered bandwidth, 80 GB SSD, 6 GB RAM, and 3 CPU Core. 

Business (Starts from $72.95 per month): This one will include unmetered bandwidth, 160 GB SSD, 10 GB RAM, and 5 CPU Core. 

Enterprise (Starts from $152.95 per month): This one will include unmetered bandwidth, 320 GB SSD, 18 GB RAM, and 9 CPU Core.
FAQs on Scala Hosting Review
What kind of customer support does Scala Hosting offer?
Since difficulties may happen at any time of the day, it is essential for hosting providers to provide help around-the-clock through numerous channels. Scala Hosting provides email help around the clock at [email protected]. Scala Hosting's customer support staff includes specialists with at least three years of field experience to guarantee clients get correct guidance. Users of Scala Hosting may also consult the provider's knowledge base, which provides a plethora of tutorials and articles for managing websites and accounts.
Does Scala Host offer white label hosting?
White label hosting refers to the absence of a provider's branding on their tools and control panels. This is a handy tool for site designers and developers that bundle hosting with their services. Scala Hosting offers white label hosting, which allows third-party developers to utilize Scala Hosting to provide their hosting services to customers.
Are there any hidden costs at Scala Hosting?
Scala Hosting has no hidden fees or charges. However, consumers may pick from a variety of extra upgrades to tailor their plans to their specific requirements. For instance, customers may enhance their cloud hosting service by purchasing 10 GB of SSD storage for $ 2, one CPU core for $ 6, and 24/7 proactive monitoring for $ 5.
Does Scala Hosting handle migrations?
With Scala Hosting's free migration services, users who already have a website hosted by another company may quickly switch to the company. The provider's team of migration professionals will move and test the operation of your website on the new server.
Quick Links:
Conclusion: Scala Hosting Review 2023
Scala Hosting is a great option if you're looking for a web hosting provider that offers excellent value for money, reliability, and performance.
In comparison to other providers, Scala Hosting provides its customers with more storage space and bandwidth, as well as unlimited email accounts and databases.
They also offer a 99.9% uptime guarantee, which is one of the best in the industry.
What sets Scala Hosting apart from its competitors is its focus on providing a hassle-free experience for its customers. Unlike other providers that try to upsell you on additional services or features.
Scala Hosting keeps things simple by including everything you need in their base plans. This allows you to focus on running your business, rather than worrying about your web hosting.
If you're looking for a reliable and affordable web hosting provider, Scala Hosting is a great option to consider.
Their base plans provide everything you need to get started online, and their focus on customer satisfaction makes them a company you can trust.