Now, let's know the tools, Market Hero & ClickFunnels.
About Market Hero
Let's talk about Market Hero, an exceptional email marketing tool founded by marketer and entrepreneur Alex Becker. Operating as an independent platform, Market Hero offers capabilities encompassing sending emails, building marketing automation, and crafting forms.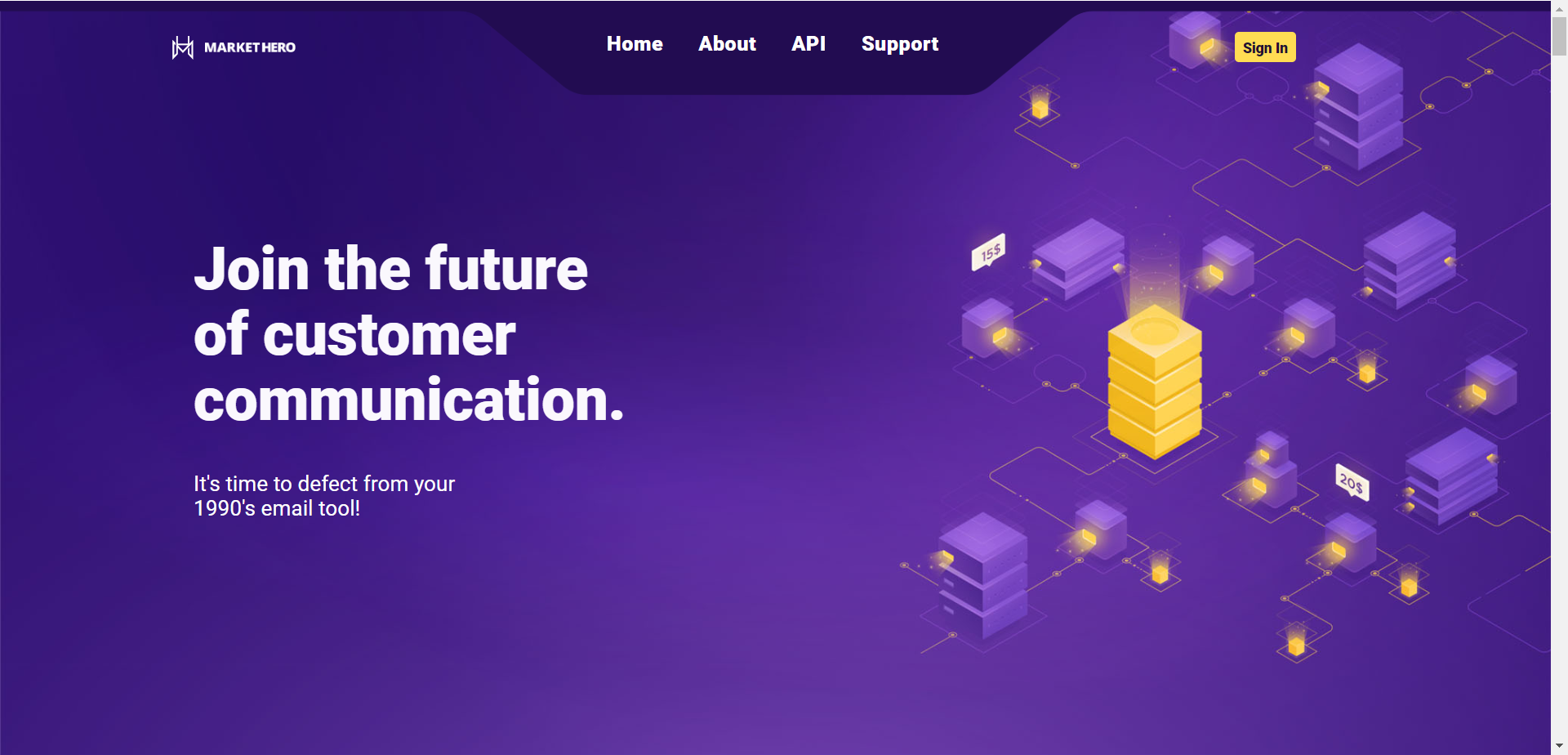 What sets Market Hero apart from its counterparts in email autoresponders is its laser focus on comprehensive sales metrics. Designed with business owners in mind, it empowers you to monitor your sales revenue with precision, going beyond the scope of traditional email marketing.
Market Hero doesn't just stop at email marketing; it's a versatile tool that enables you to monetize your leads through various avenues. It even offers guidance on advertising through platforms like YouTube using AdWords.
The platform offers training on essential strategies like retargeting and audience engagement. Moreover, it equips you with the skills to craft opt-in webinar pages and provides insights into effectively using Facebook ads.
Notably, Market Hero enables you to segment your email list in ways that go beyond the capabilities of other autoresponders.
Key features of Market Hero:
Easy to use Landing Page Builder
Market Hero offers a Landing page builder. It offers several editable landing page templates. You don't need a designer, coder, or developer to make a landing page with Market Hero.
You can easily create landing pages Without prior training or technical knowledge.
The best part is, you can integrate email marketing tools and other CRM tools into the landing pages built on Market Hero.
In this fast-paced world, it is very important to automate specific processes to reduce manual work and late responses. Market Hero supports all the major marketing Tools and Software that can ease the process.
Allows Messenger Marketing
This is a unique feature, Market Hero's competitors do not support messenger integration. With Market Hero, you can integrate Facebook Messenger and run campaigns.
When we talk about marketing and running marketing campaigns, it is not on one channel or medium; we try to cover all the major platforms. It is important to know whether our campaigns are performing well and how much ROI they bring to our business.
Just like I mentioned at the beginning, Market Hero promotes Email Marketing.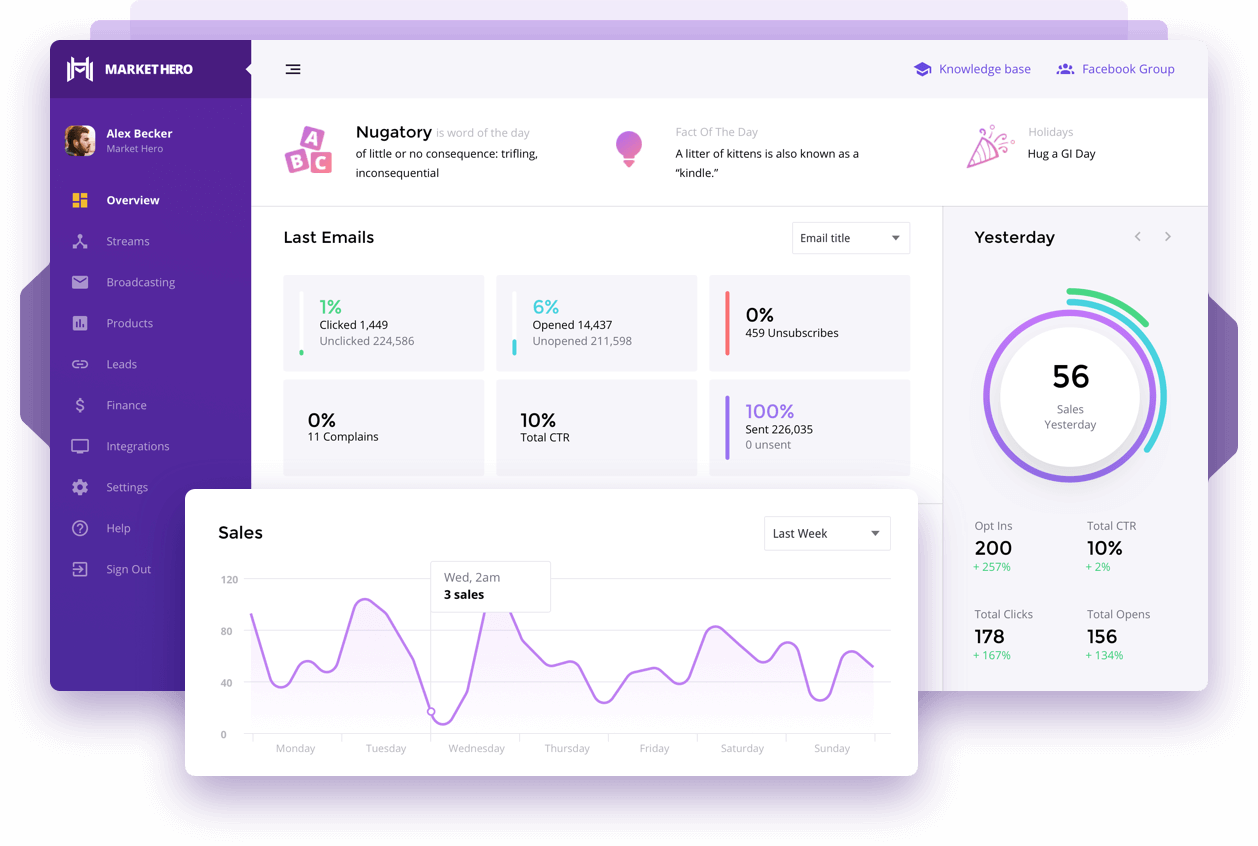 Market Hero has an amazing Email Marketing Interface. It can easily be integrated with all the leading Email marketing tools and other platforms like Zapier, Demio, SamCart, JVZoo, PayKickstart, ClickFunnels, etc.
Market Hero also supports email list segmentation, which can help you plan your marketing campaigns efficiently.
As business owners, we generate leads through several platforms, and it is important to keep them together yet segmented. Market Hero helps you segment and manage the leads efficiently.
How does Market Hero work?
The MarketHero dashboard is designed to provide users with a comprehensive and user-friendly platform for managing their email marketing and business growth efforts. Unlike traditional email marketing tools that primarily focus on sending emails, Market Hero takes a more holistic approach, emphasizing the importance of deep analytics to make your campaigns more effective.
One of Market Hero's standout features is its simplicity, which was intentionally developed to address the complexities often associated with modern autoresponders.
Upon logging into the MarketHero dashboard, users are greeted with an intuitive interface and a clean, minimalist layout. This design, coupled with clear and understandable functionalities, ensures that even individuals with basic marketing knowledge can easily navigate and utilize the platform.
Market Hero Pricing:
Market Hero offers nine different pricing packages. The basic key features and functioning of each plan are the same, but the visitor limitation, customer base, etc.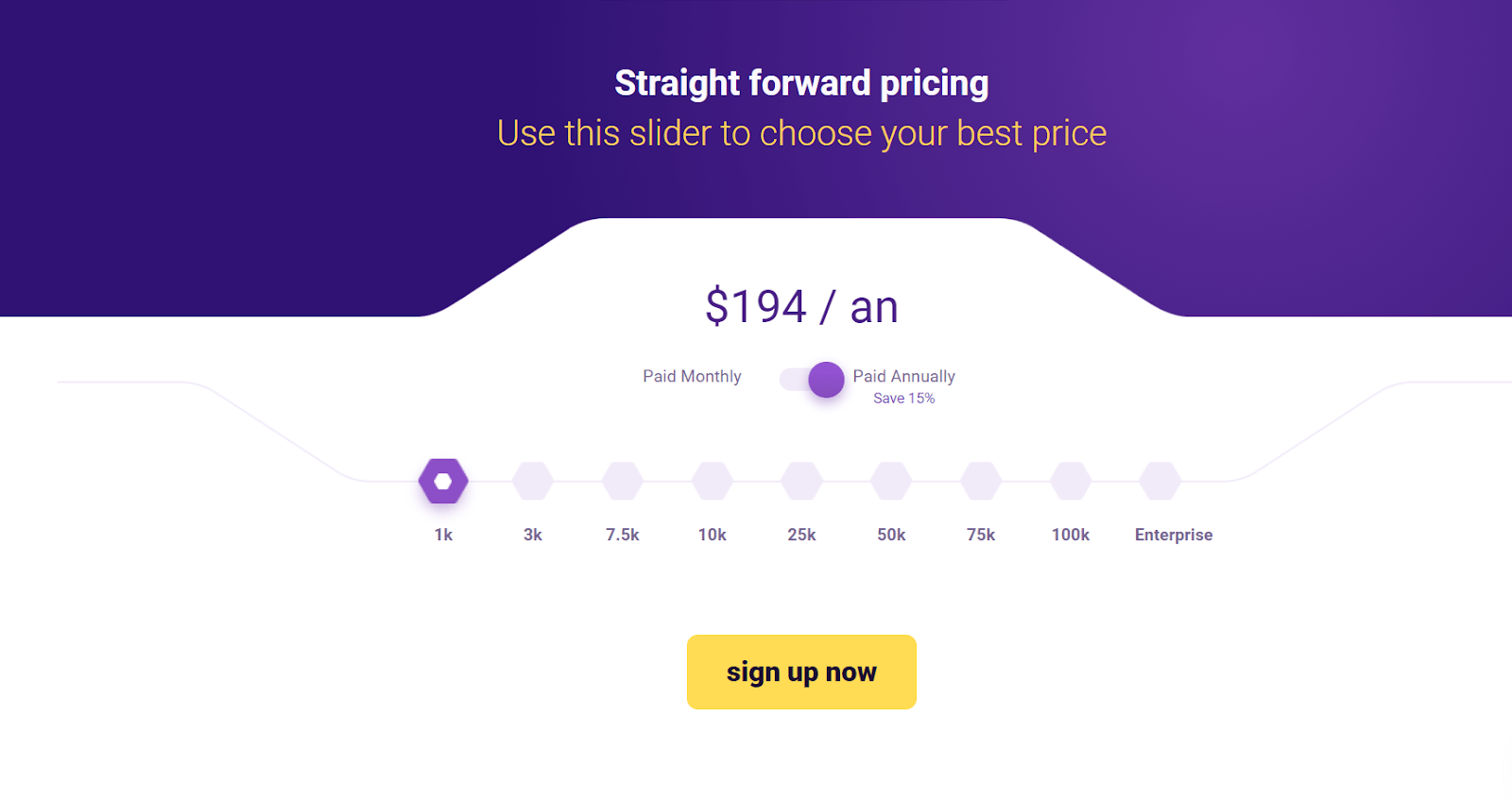 Market Hero's pricing plan starts at $194/ Annum ( ($19/ month) for a 1k client base and goes up to  $9690/ Annum ($950/ Month) for 1K subscribers or client base.
You even get an option of an Enterprise plan which is the most advanced plan by Market Hero.
Market Hero also offers a 14-day trial period. So before you make the final purchase decision, you can use the software and know what you're getting into.
What is ClickFunnels?

ClickFunnels is now one of the oldest and most highly recommended sales funnel builders.
I remember, a few years back, when I was asked to make a Sales Funnel, my manager recommended that I should use ClickFunnels.
Since then, there's been no looking back. I have even tried and tested many other Sales funnel builders.
ClickFunnels is highly recommended mainly because it has a simple and user-friendly interface which makes it easy to use and understand. This makes the funnel-building process easy, especially for the newbies.
ClickFunnels offers over 125 template designs, you can choose which best suits your brand color or campaign objective.
Once you create the funnel, you can save it for future use.
There's no limit to your funnel with ClickFunnels. You can create a funnel as long as you want.
ClickFunnels has proven to be an effective funnel builder for generating great conversions.
Key features of ClickFunnels:
Drag & Drop Landing Page Builder
When you create Landing Page or funnels, you can make it by using the Drag & Drop landing page builder. You would not require a designer, coder, or even a developer for creating effective and responsive landing pages.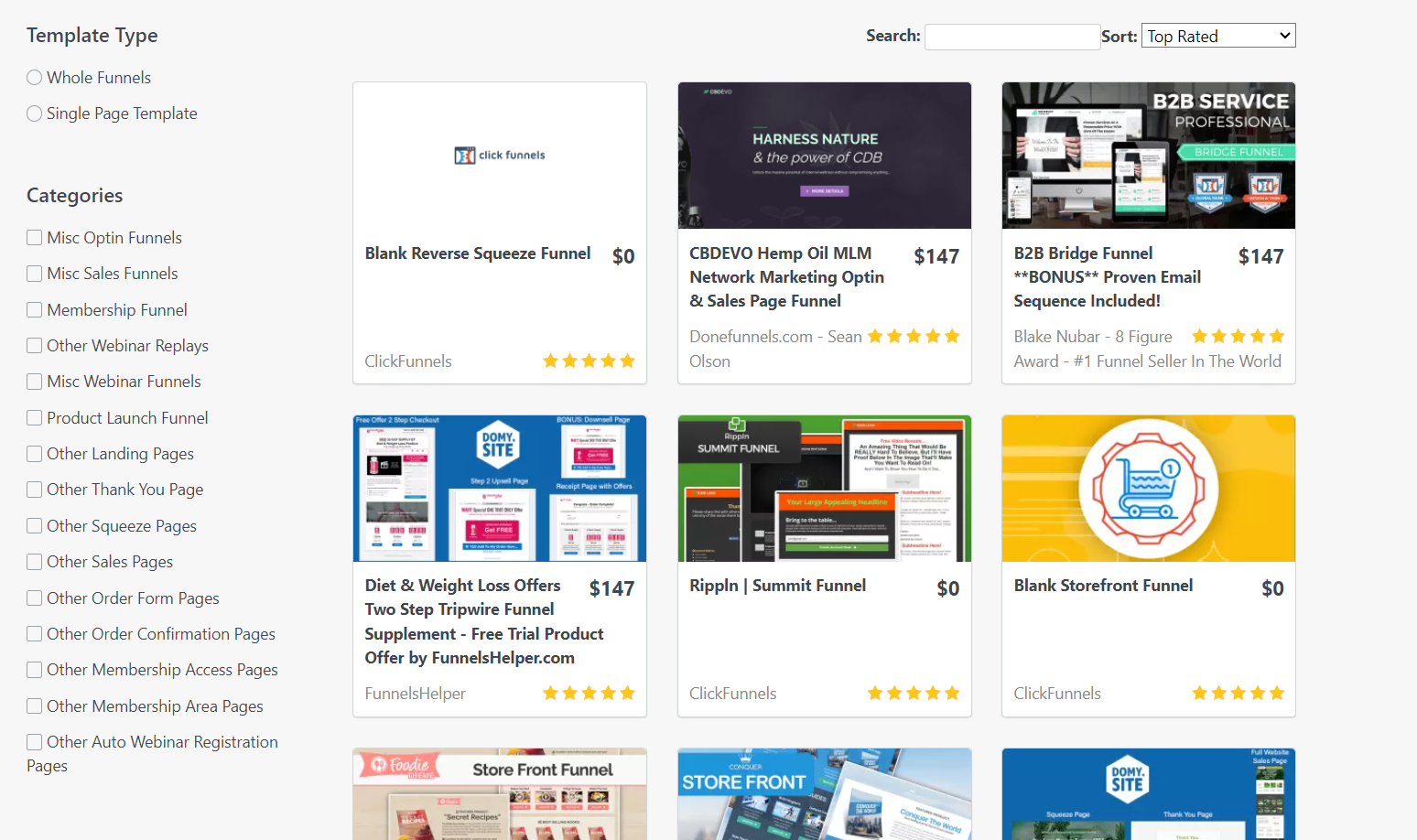 You can make your funnels and landing pages with a few mouse clicks.
Actionetics means ClickFunnels provides you with an in-built autoresponder. In case, you don't have another autoresponder to integrate, you can set up an autoresponder on ClickFunnels.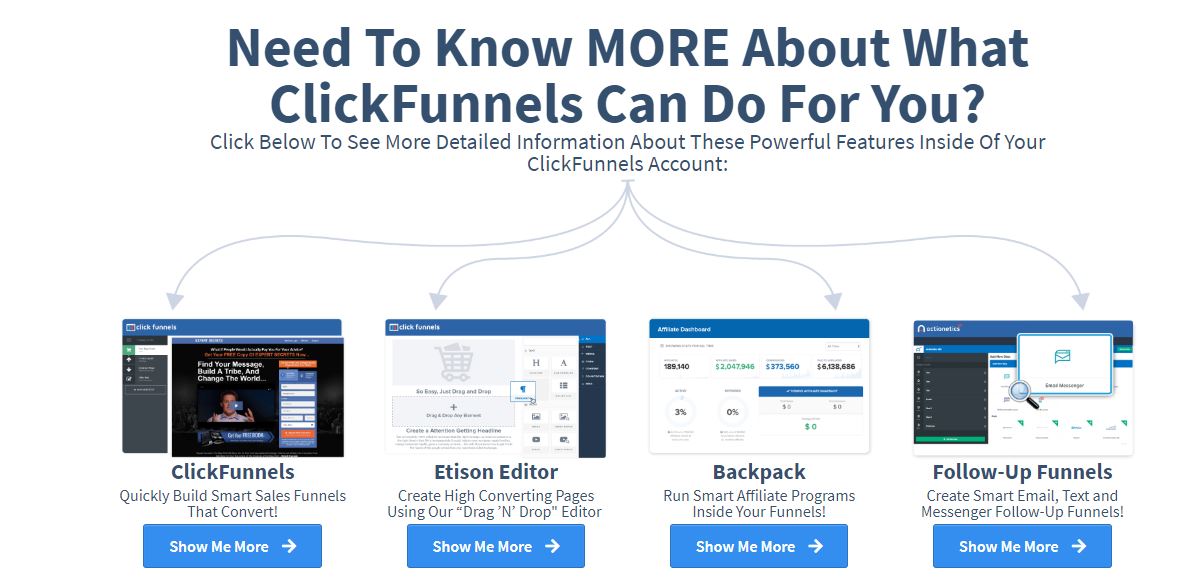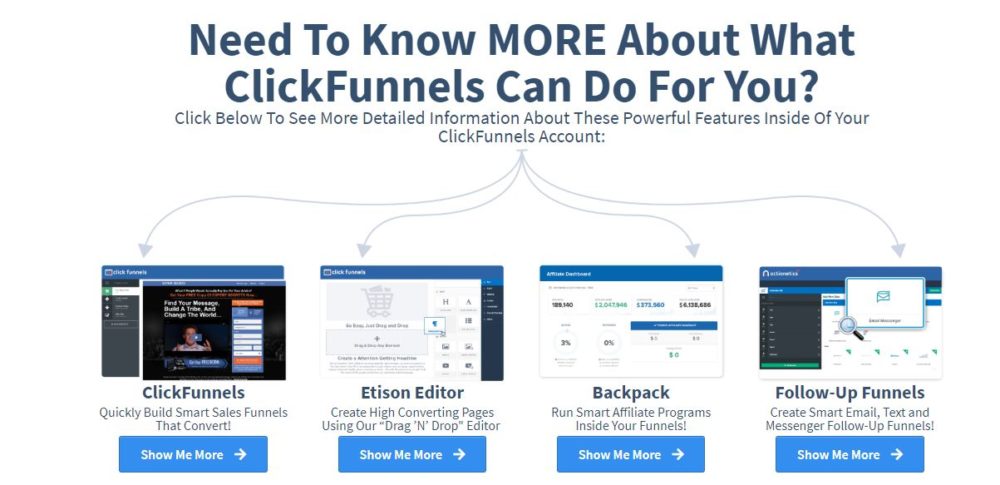 Mobile-Friendly Landing pages
Pages built using ClickFunnels are mobile-friendly, which increases the chance of a conversion.
Most people who visit a landing page through an ad are mobile users. It is highly essential to have mobile-friendly landing pages for better conversions and fewer bounce rates.
Just like an Inbuilt autoresponder, ClickFunnels also offers inbuilt shopping carts that you can integrate with your landing pages and payment gateway.
ClickFunnels supports integrations of all the leading third-party tools, which can help you automate a lot of your work.
With ClickFunnels, you can integrate email marketing tools, CRMs, Gateway of payment, etc. ClickFunnels supports all the major marketing tools, to name a few, ClickFunnels supports, HubSpot, MailChimp, ActiveCampaign, WordPress, Drip, PayPal, etc.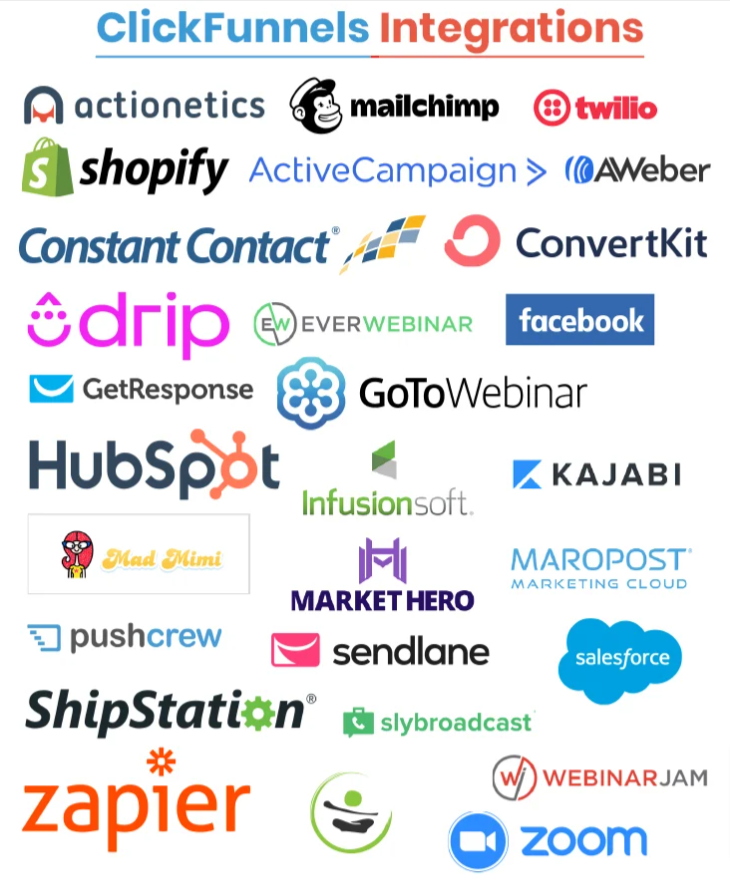 How does ClickFunnels work?
If you want to set up a landing page, especially for a product launch, ClickFunnels provides a convenient solution.
Within ClickFunnels' template library, you gain access to various types of pages, including landing pages, live product launch pages, replay pages, sales pages, and thank you pages. These templates are meticulously designed to cover every essential step in a successful sales funnel.
Building these pages from scratch can be time-consuming, resource-intensive, and costly. However, ClickFunnels simplifies this task, making it achievable and straightforward.
With ClickFunnels, you can design your entire online business without the need to create a separate website or incur additional hosting expenses. It streamlines the process, allowing you to focus on your core goal: easily implementing a successful sales funnel.
I am sure you know enough about ClickFunnels now. Let's move on to its pricing and know ClickFunnel's pricing plans.
ClickFunnels Pricing: 
ClickFunnels has three pricing plans to offer, and each plan offers a 14-day trial period. So before you make the final purchase, you know what you're getting into.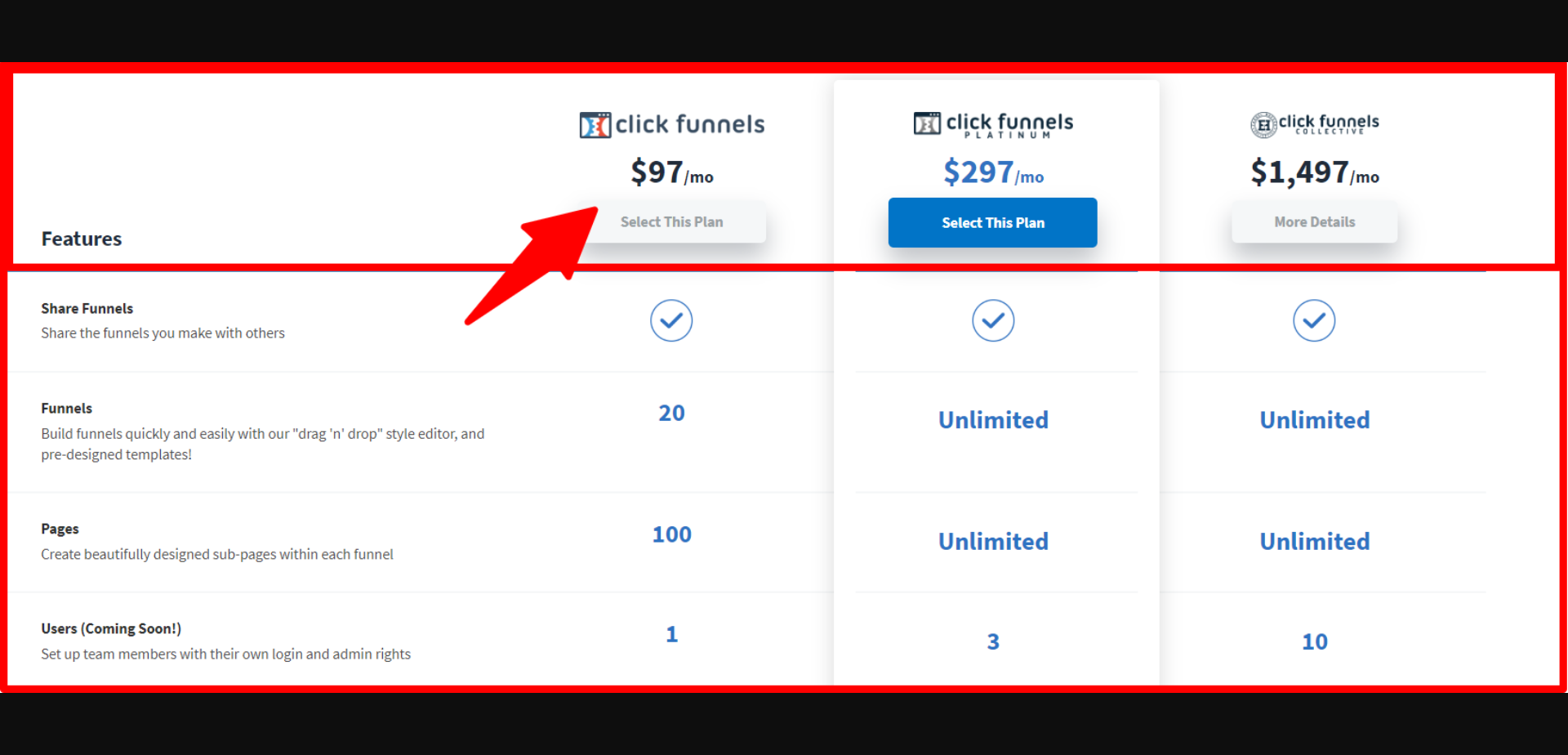 The basic features of both the plans are the same, which include Email Integration, WordPress integration, Shopify Integration, Gateway of payment support, A/B Testing, etc.
Let's know more about the first pricing plan; the first plan costs you $97/ month. This plan supports the creation of landing pages.
This plan supports traffic of up to 20,000 visitors per month, allows you to create 100 landing pages, it provides you with A/B testing and email integration.
Let's move on to the next plan, i.e., Etison Suite Plan, which costs $297/ Month. With this plan, you can create landing pages and sales funnels, and most importantly, it supports unlimited funnels and visitors.
Like the first plan, it supports email marketing tool integration, the gateway of payment, A/B Testing, etc., and all the other features.
In case you're wondering which is the right plan for you?
I am here to help you.
If you're a small to medium-sized business or a freelancer, then you must go for the first plan as it is quite affordable and offers a decent number of visitors.
In case you're a big-sized business or an agency, then you must go for the latter plan as there is no number limit.
As I always say, you know your business and budget better. Considering it, you can choose the pricing plan that best suits your requirements and budget.
FAQs | Market Hero Vs ClickFunnels
Do I have to pay for updates of ClickFunnels?
No! ClickFunnels give constant updates to their software, add new templates and you get it all for FREE! Because ClickFunnels is on the cloud when they make an update or add new features, they automatically show up in your account!
Are my funnels secure?
Yes! Security is our top priority, and we built ClickFunnels from the ground up to make sure your funnels, subscribers, and members' area are secure. You don't have to worry about staying up-to-date with plugins that can easily be compromised.
Can students get a Market Hero discount?
Yes, students can get student discounts by searching for students discounts on Market Hero websites. The student's discounts ask for specific valid credentials for the discounts.
Conclusion | Which is better, MarketHero or ClickFunnels? 
It's time to conclude the debate on Market Hero & ClickFunnels. If you see both the tools i.e., Market Hero & ClickFunnels, from a bird's eye view, both the tools are much different from one another.
Market Hero primarily focuses on Email Marketing Automation & Lead Management. ClickFunnels is known as a sales funnel builder. However, you can do both using any of the tools.
Talking about the user interface, Market Hero has a much better and cleaner interface, which makes the tool super easy to understand and use.
To use ClickFunnels, you need some time to understand and use the tool. Creating funnels using ClickFunnels can get quite tricky, especially if you're creating a long funnel.
Most of the key features of both tools are almost the same, but the pricing of both tools is much different.
For small businesses, I find Market Hero a more affordable option.
You can choose based on your understanding of the tools, budget, and business size.
Also Read: