Top 7 CRM for Insurance Agents in 2022
In the insurance business context, CRM software helps in managing leads, claims, and renewals. It automates the whole insurance process from executives to customers.
As mentioned above, I am going to start with my used CRM for an insurance business. After that, I will discuss the other six leading CRM software for the insurance business.
1. Engagebay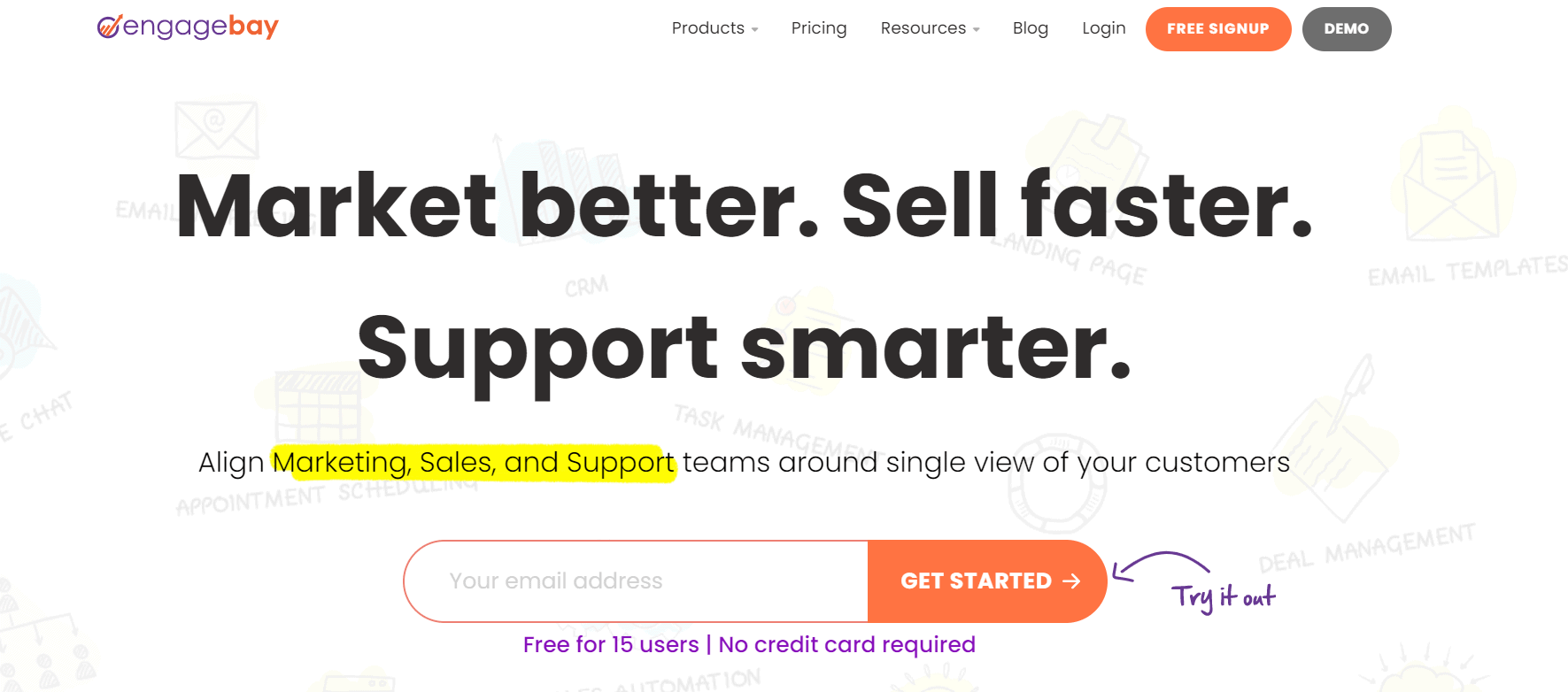 Overview
Engagebay is the best CRM for your insurance business, whether you are an insurance broker or company or an agency owner.
It is the world's most economical insurance CRM with an all-in-one service. They have served more than 28000 clients globally in several business genres.
Customer Relationship Management (CRM) software of Engagebay arranges your email lists, sales pipelines, tracks leads and claims to increase sales, renewals, and revenue.
Engagebay is the comprehensive platform for all your business needs, such as Marketing Automation, Help desk software, and live chat software in one place.
Features:
You can store unlimited customer data on Engagebay CRM Software. The sales and marketing team can track and review all the data in one dashboard.
Their automated marketing software does all backend work so that you focus on the insurance business only. 
Their helpdesk software has been designed for the best UX and UI. It provides prompt and human responses in time.
Clients can also avail their live chat software service for customer interaction. It will boost customer trust and eventually conversions for the business.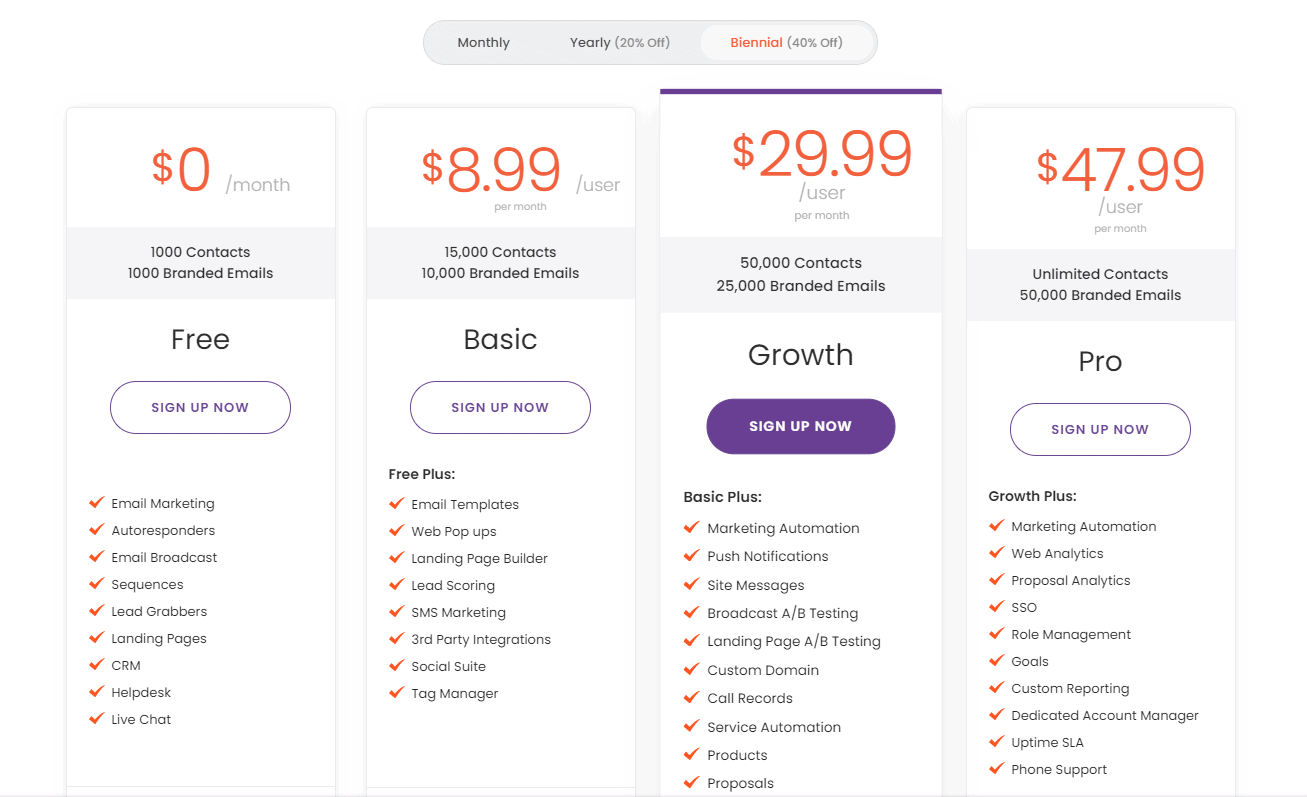 Engagebay offers several packages for their clients. You can avail of free service too, but to explore advanced features and get a quick outcome, it would be great if you choose any of their available packages.
Their available packages are as follows:
Engagebay offers CRM packages in Free, Basic, Growth, and Pro versions. They are available in the Monthly, Annual, and Biannual periods.  
It starts from 8.99 US Dollars per month.
-Businesses can avail of an All-in-one package or one specific feature according to their insurance business requirements. 
It starts from 7.79 US Dollars per month.
CRM and Sales Bay Software:
It starts from 7.79 US Dollars per month.
You can visit Engagebay for all the latest offers and discounts. Their sales team will guide you throughout the journey.
Pros and Cons of Engagebay CRM Software
Pros:
 

Engagebay CRM has been awarded best CRM Software for Customer support, Marketing, and Sales with a customer rating of more than 4.6.
Along with paid packages, customers can avail their free CRM, Live Chat, and Help desk.
Though Engagebay is best for all business categories, it is the best option for insurance brokers and agencies looking for economical packages to manage their insurance business.
 

With their advanced automation tools, businesses can experience automated customer care services, saving time and enhancing the insurance business's efficiency. Clients can organize leads and claims into groups and canned responses for FAQs so agents can resolve more queries in a shorter time frame.
Cons:
Critics might find it difficult to operate all functions on one dashboard. I will say it is difficult only for those who find technology a bit confusing.
2. Freshworks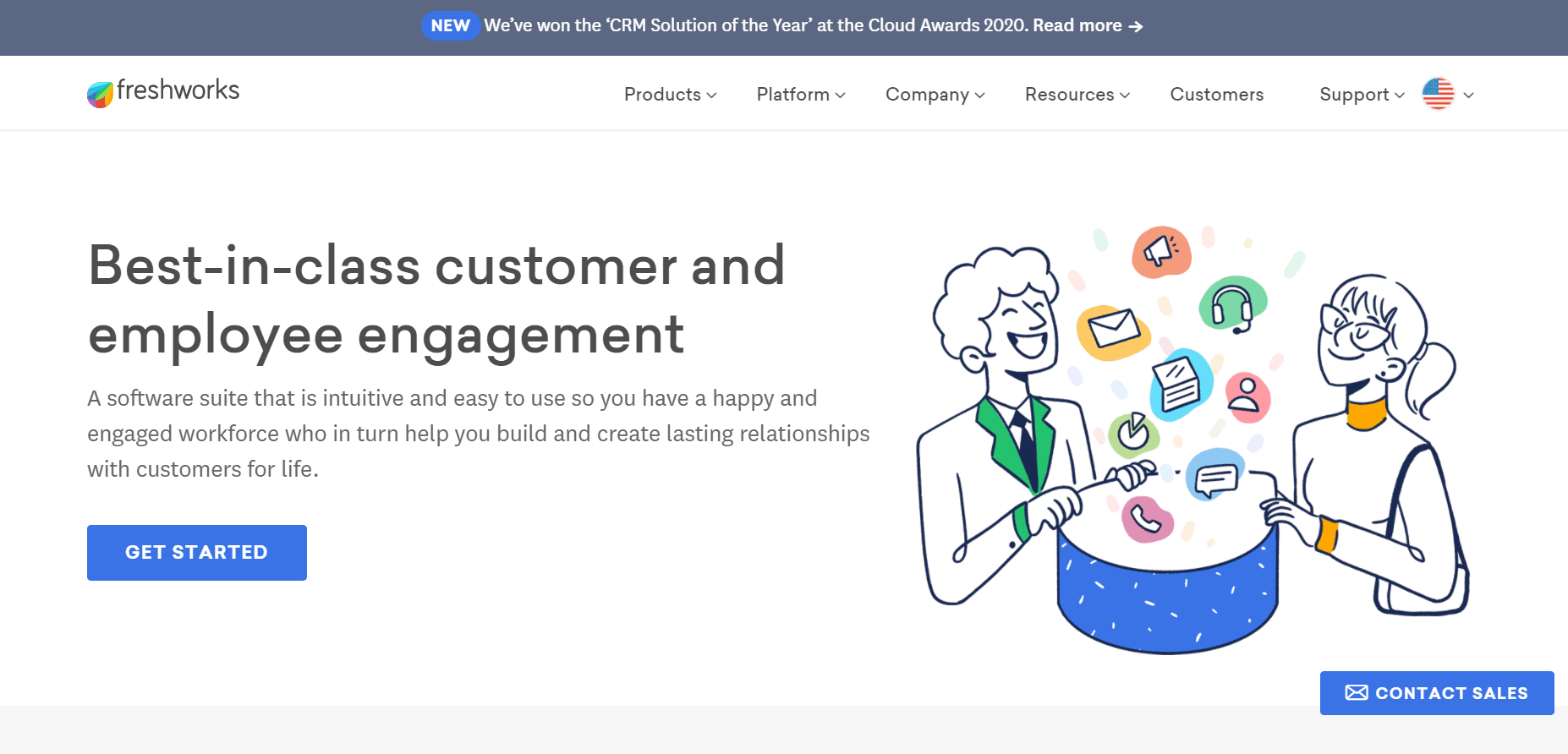 Overview:
In the other six leading CRM for the insurance business, Freshworks comes second on my list.
Freshworks have served more than 40000 clients across the world, and many more are coming. Freshworks CRM for insurance is simple to operate and requires not much customization.
This Chennai-based CRM provider crossed revenue of over 100 million US dollars in 2018.
Features: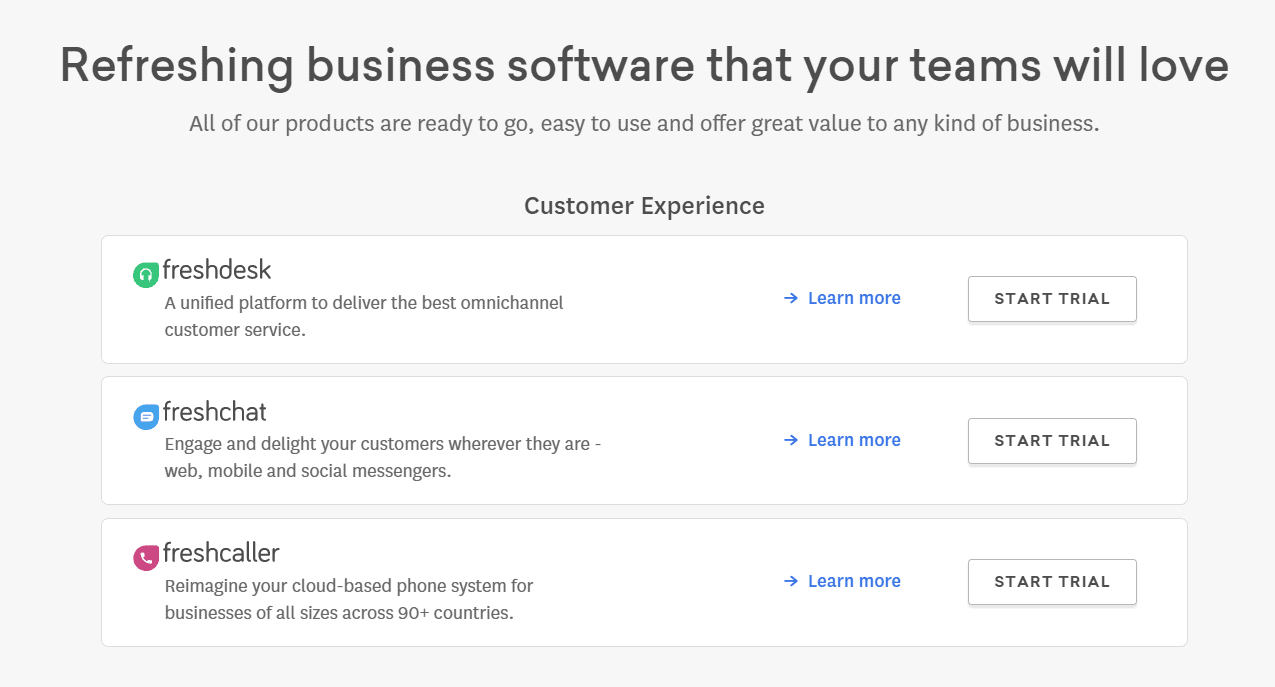 Analytics to target customer journey:
You will get relevant insights into the customer's journey from all the customer points. Brokers and sales agents can generate custom reports of leads and claims.
Freshworks offer a Neo Admin zone. Here you can access all your groups, accounts in one single place. Software is easy to operate and organize. They call it unified account management.
They offer one single place to communicate across products and share with the team. It makes work hassle-free, and no need to switch between jobs.
Pay for events you publish:
Freshworks does not come with the extra burden of server hosting, management, etc. You only pay when you post an event for your business.
 

One comprehensive touchpoint

:
Freshworks software capture data from all touchpoints during the customer journey. From one place, your team can plan to target specific claims, leads, and renewals.
Pricing:
Freshworks offers Customer for Life Cloud packages in Growth, Pro, and Enterprise categories. 
It starts from Rupees 2099 per month. 
It starts from 5099 per month 
It starts from Rupees 9199 per month. 
Along with standard packages, Freshworks also provides add-ons. 
Go and visit Freshworks CRM for your insurance business and choose your desired package. 
Pros and Cons of Freshworks CRM Software tool for the Insurance business.
Pros
:
Freshworks CRM for insurance handholds in the onboarding process for new prospects. It is a good option for someone who is using CRM for the first time.

 

Freshworks has integration with several other similar apps. It helps in interacting with prospective customers, leads, etc.

 

Freshworks follows leads and claims virtually for your insurance business. Insurance brokers and agents can track the customer journey, making it easy to target them based on behavior, preference, etc.

 
Cons:
According to some reviewers, there is much scope for improvement in tech support. It usually took a lot of time for a response.

 

Some people also opines that Freshworks should add a proposal generator for improving sales.

 
Also Read: SafetyWing Honest Review 
3. Zendesk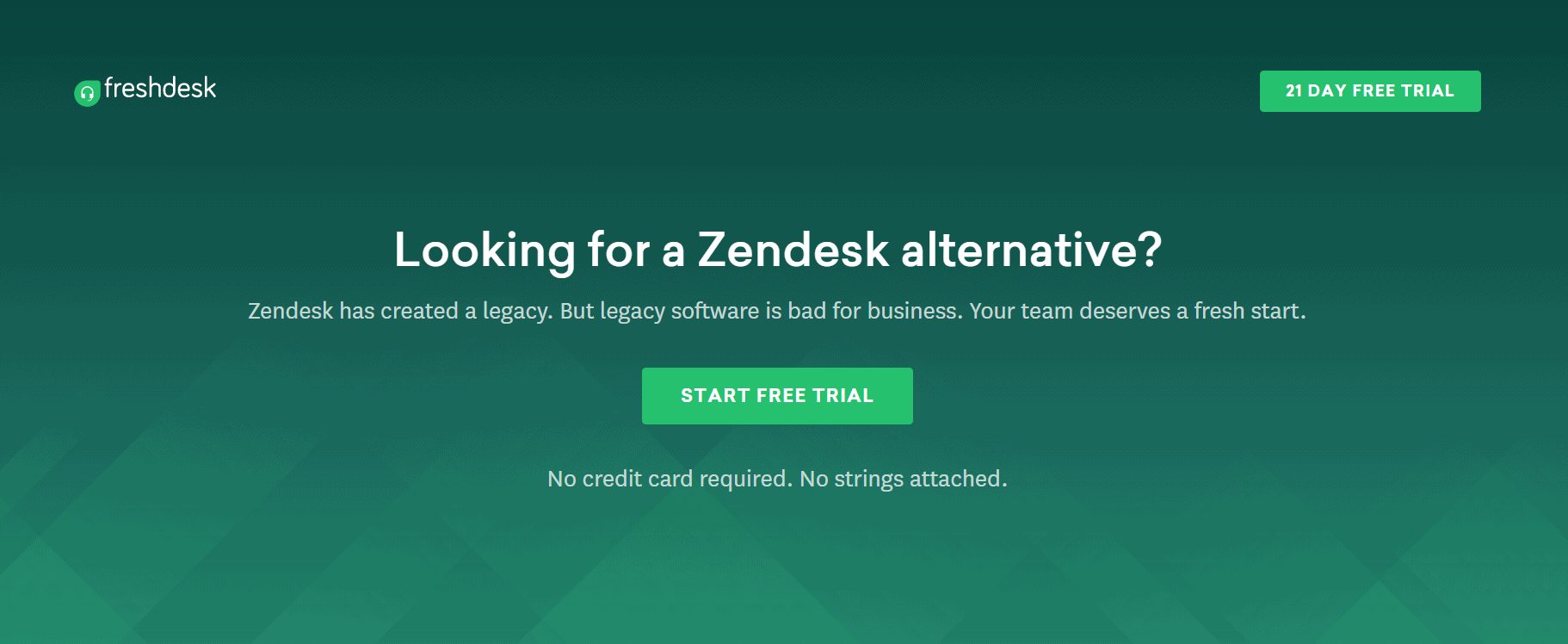 Overview:
The third CRM software for the insurance business on my list is Zendesk.
This San Francisco-based company has provided automated CRM software for multiple insurance businesses since its inception in 2007. It has a market capitalization of 17.3 Billion US Dollars.
It gives several CRM services to make your customer journey fruitful and increase leads and sales closure. 
Features:
Customized Support Solution:
Zendesk provides flexibility to customize solution tools such as AI-powered automation, advanced workflow features, and self-service to handle leads, claims and agents together.
Automation helps agents in getting specific queries according to their expertise. It saves time for both customers and agents. 
Zendesk offers exclusive offers if you are starting your insurance business. They provide 6 months of credit to up to 50 agents when signing up with Zendesk.
This credit can be redeemed for any package of Zendesk sell, talk, chat, explore, guide for free. Customers expect the same kind of experience whether you are a new insurance business or a well-known insurance company or agency—they handhold insurance business all-round help such as sales support, customer engagement, and increased leads, claims as well as renewals.
Automation and Dynamic workplace:
Zendesk provides a dynamic workplace with AI-enabled automation. This CRM will help your team to work faster, smarter and target customers more intelligently.
With automation, you can target specific customers in the niche market. You would not find any unnecessary robots or pop-ups.
Pricing: 
Zendesk has different packages for insurance brokers and agencies.  
For support in the sales process, you can avail of foundation support and suite packages. 
It starts from 19 US dollars a month. 
It starts from 49 US Dollars a month. 
In-service support, Zendesk offers the following packages: 
It starts from 19 US Dollars a month. 
It starts from 49 US Dollars a month
Visit Zendesk for attractive offers and packages.
Pros of Zendesk:  
Free credit for insurance business start-ups
You can redeem freely for six months for your insurance business. This applies to all the available services of Zendesk, such as sell, talk, guide, explore, and chat.
 

One place for all communication

.
You can manage leads and claims for the insurance business, communicate with the team, and several other useful features all at one single software.
Zendesk offers automated support tools and customer care service
to connect customers with your insurance business. Zendesk offers live chat, messaging, knowledge base functionality, and call center software. This CRM provides a relevant and effective customer experience, leading to conversion, more leads, claim, and sales. 
Zendesk CRM integrates with many mail delivery platforms
and apps, including Trustpilot, Mail Chimp, Shopify, Xero, WooCommerce, and many more to make your insurance business interactive. 
With an automated system, Zendesk offers dynamic reporting and messaging services.
Cons: 
As per some reviews and previous users, their ticket system is outdated. It is not relevant in today's scenario for any business.
Several people think that Zendesk is costly if you want to use all of their services.
4. Leadsquared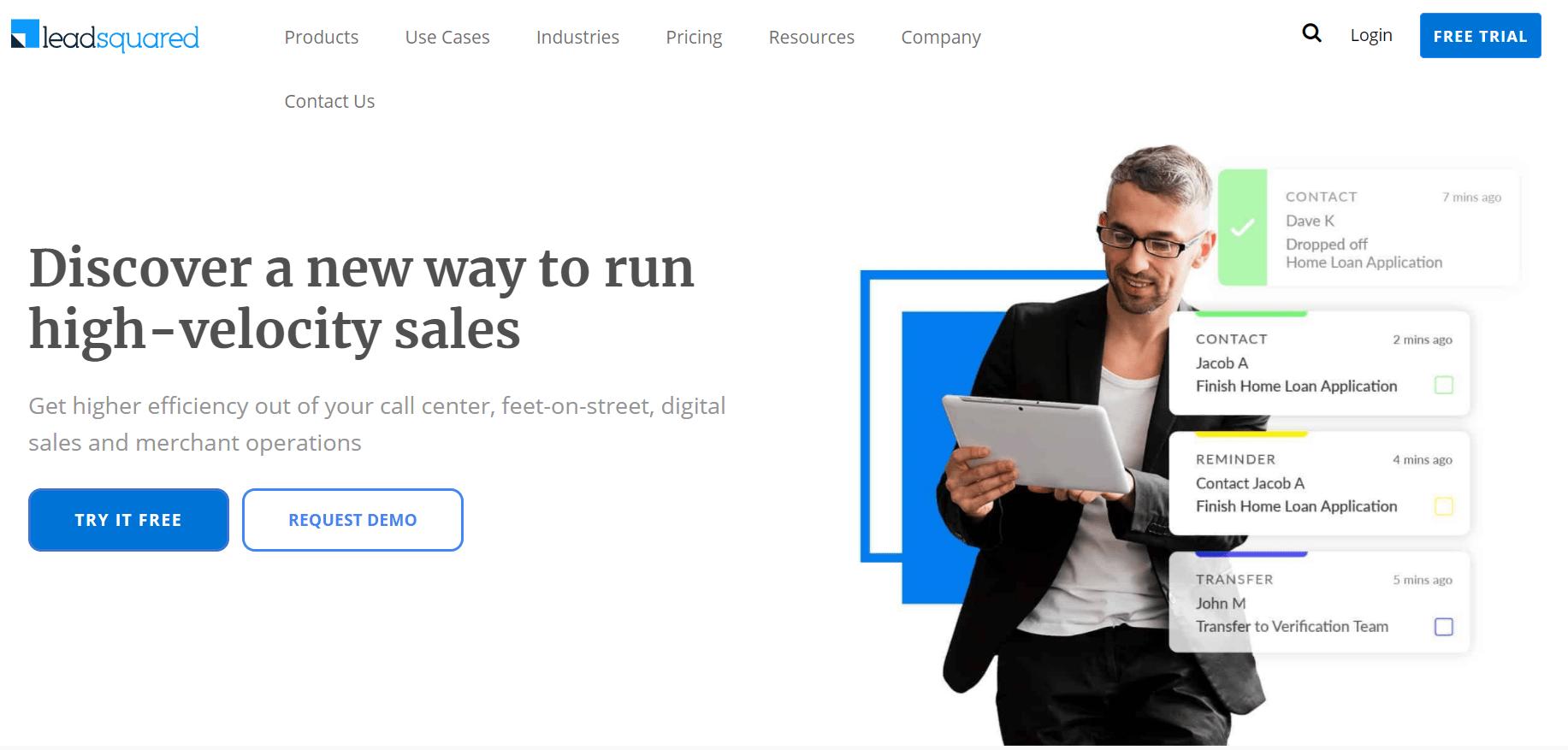 Overview: 
Bangalore-based CRM Software for the insurance business, Leadsquared, established in the year 2011. Their marketing automation and sales execution CRM allows insurance businesses to customize their customer experience and conversions.
They help brokers and agencies nurture, manage and track their leads and claims efficiently. They provide sales CRM services, Marketing automation, integrations, conversions, mobile CRM for the insurance business.
Features:
Leadsquared works on a simple process, and you don't have to be a coder to understand the process. It is totally open-source. Insurance businesses can sketch, design as they require. Their dashboard is quite dynamic and flexible.
This insurance CRM works on an automated system. So, your team can easily segment and target specific audiences, leads and deploy an insurance agent for the lead or claim specifically.
You can plan all the staff working on the digital field and call at one platform.
Leadsquared brings all your employees and processes to a unique platform. You can map distributed teams, sales touchpoints, and all processes on one single dashboard.
Pricing:
Leadsquared provides four categories of packages for the insurance business.
It starts from Rs. 1250 per month
It starts from Rs 2500 per month
It starts from Rs. 5000 per month
Leadsquared does your billing annually.
It is a custom package. You have to call them or request a callback. They will give you a quotation as per requirements.
Pros and Cons of LeadSquared:
Pros:
The ultimate package is available for customization. Insurance businesses can customize as per their specific requirements and will be billed according.

Their tools and technologies are very user-friendly and modern 

Their dashboard is user-friendly.

Several reviewers have appreciated their lead and claim follow-up reminder and capture feature.
Cons
:
According to some reviewers, CRM providers can improve the landing page experience. 

Reviewers also ask for adding an inbuilt calling system or integration.
5. Zoho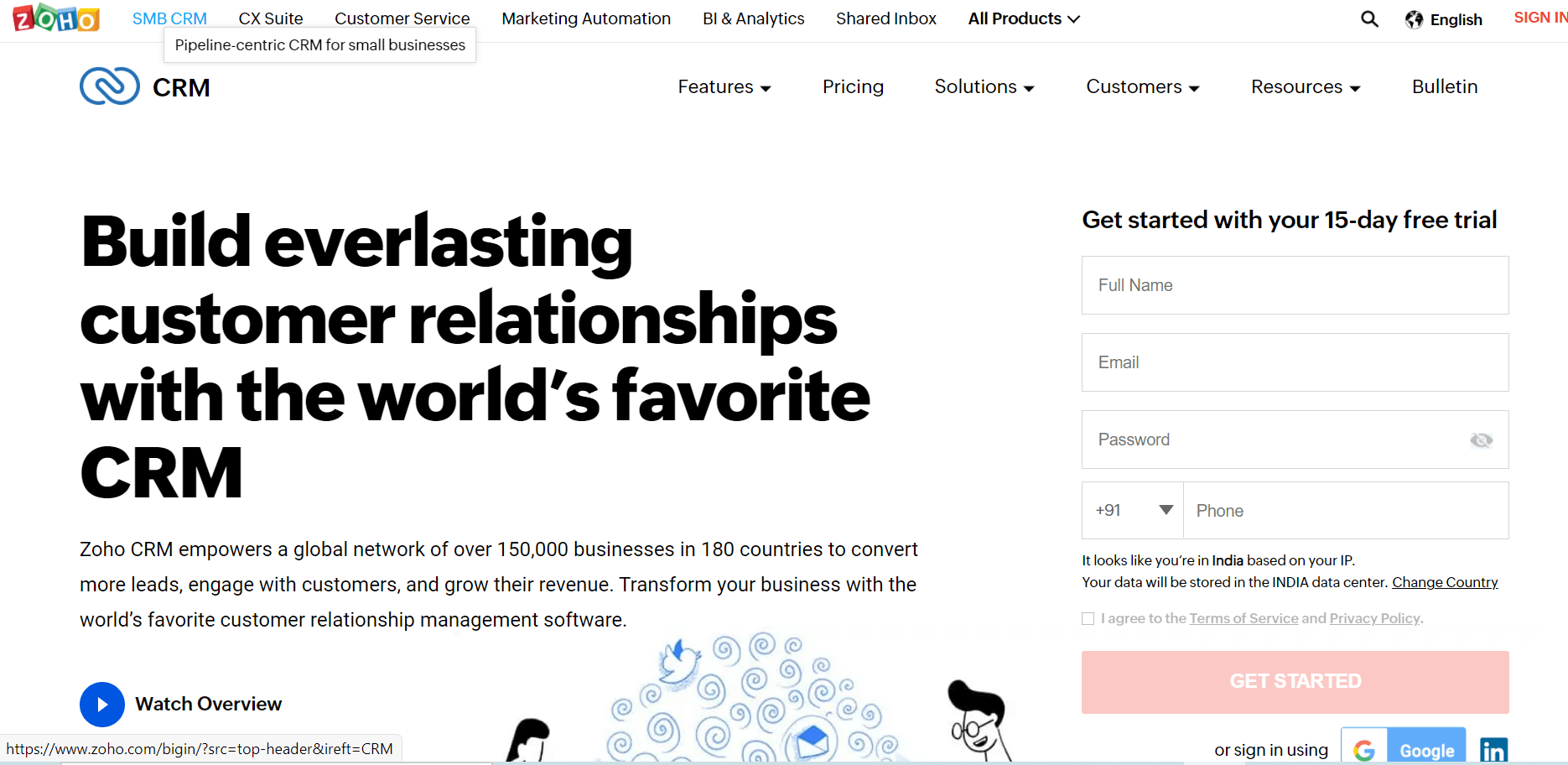 Overview:
Zoho CRM software for the insurance business is next to my best CRM list for the insurance business. They have catered to over 150,000 clients in 180 countries globally since their inception.
This time-tested insurance CRM can transform your insurance business by converting more leads, covering more claims, improved customer engagement, and revenue growth.
Zoho is an Indian multinational company established in 1996. Their headquarter is in Chennai and offices in seven locations across the world.
Features: 
Automated process for sales closures:
With Zoho CRM Software, your sales team can devote their time and energy to target customers, creating as well as nurture leads, building repos with leads, and managing claims.
The sales team can easily generate estimates and make quotations, proposals, and orders.
Analytics for better insights and communication:
With their analytics tools, your team can monitor every aspect of the sales process.
Businesses can create customized dashboards with analytical widgets for sales, such as target meters, KPIs, charts, funnels, etc.
You can do a lot more with deal insights, activity stats, lead analytics, and email analytics. Ecommerce businesses will see sales and conversion boost with these actionable data intelligence tools.
Users can access mobile CRM apps with Zoho CRM software. For the insurance business, sales, renewals, and claims are the ultimate objective, and so every lead matters.
Keep track of the agents even when they are on the field. The sales team can log in from anywhere and work on leads, claim settlement, and other works.
Zoho offers state-of-the-art security controls. Your organization and products are secured with features such as two-factor authentication, IP restrictions, audit logs, and encryption.
Only you can authorize any person to access your dashboard. So, feel secure with Zoho CRM software for your insurance business.
Pricing: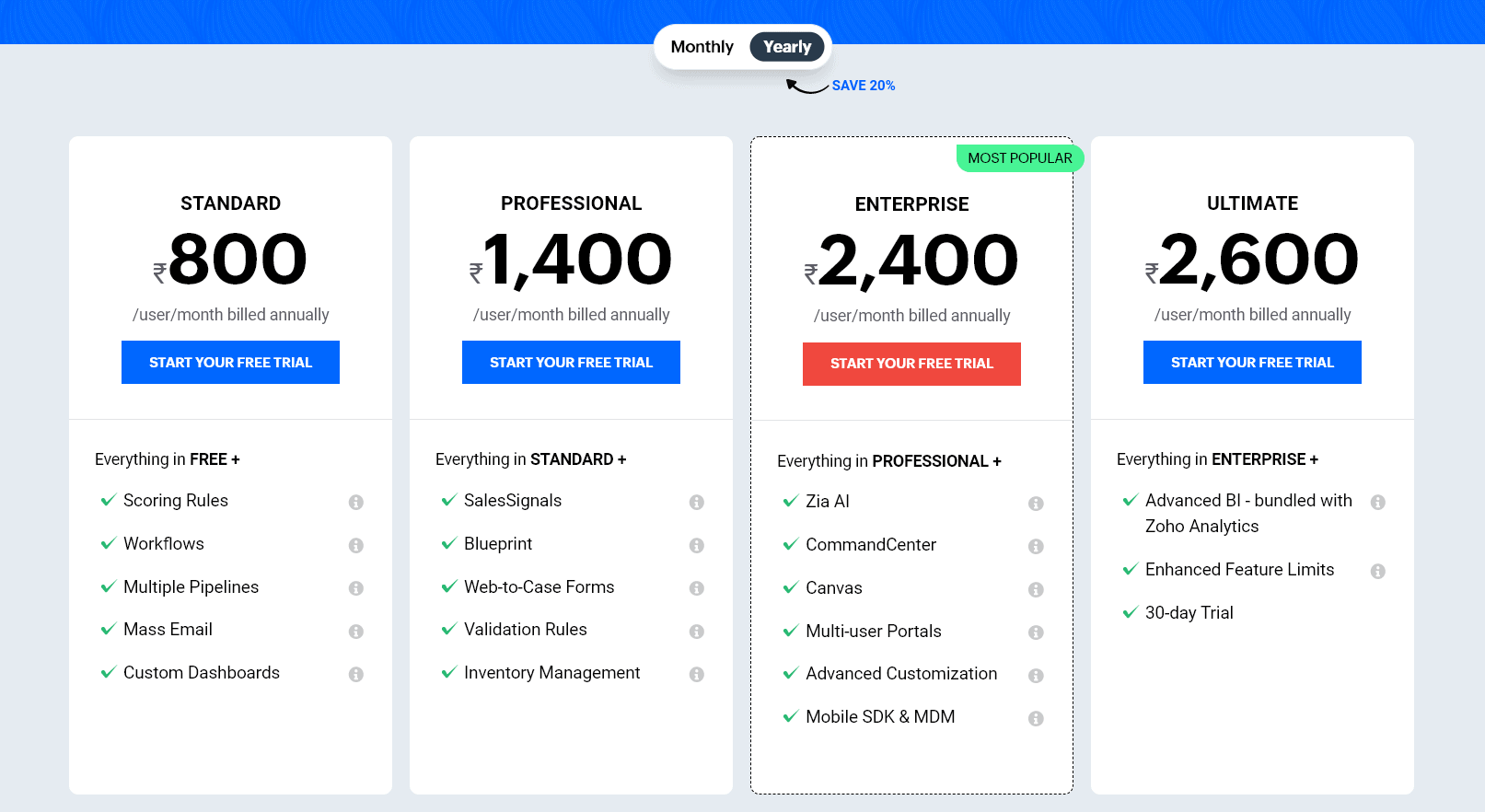 Zoho CRM comes in four packages.
Standard
:
It starts from Rs. 720 per month
It starts from Rs.1200 per month
It starts from Rs. 2100 per month
It starts from Rs. 2300 per month
You need to pay them annually.
Visit Zoho for more offers and information about their services.
Pros and Cons of Zoho CRM:
Pros:
As per the PCMag Survey, Zoho has been named the most recommended CRM software for all businesses. It is the only CRM with a positive NPS amongst hundreds of CRM available.

 

Zoho CRM software is a visionary unique way for their exceptional customer help desk, increased market expansion, and customized solutions.
According to the PCMag survey, Zoho is the most recommended insurance CRM and the only one with a positive NPS score among other leading CRM vendors.

 Z

oho is a complete platform for everything we need from an insurance CRM. To generate leads, organize them, conversion and increase sales. Zoho helps at every step with their customized solutions.

Zoho is one of the most affordable CRM available. The business of all categories can afford it and start interacting with their target customers immediately.
Cons
: 
Some reviewers complain about a problem with product integration on Zoho CRM.

Few people feel that it becomes expensive to use Zoho because they have to pay for every tool on the software separately.
6. Act!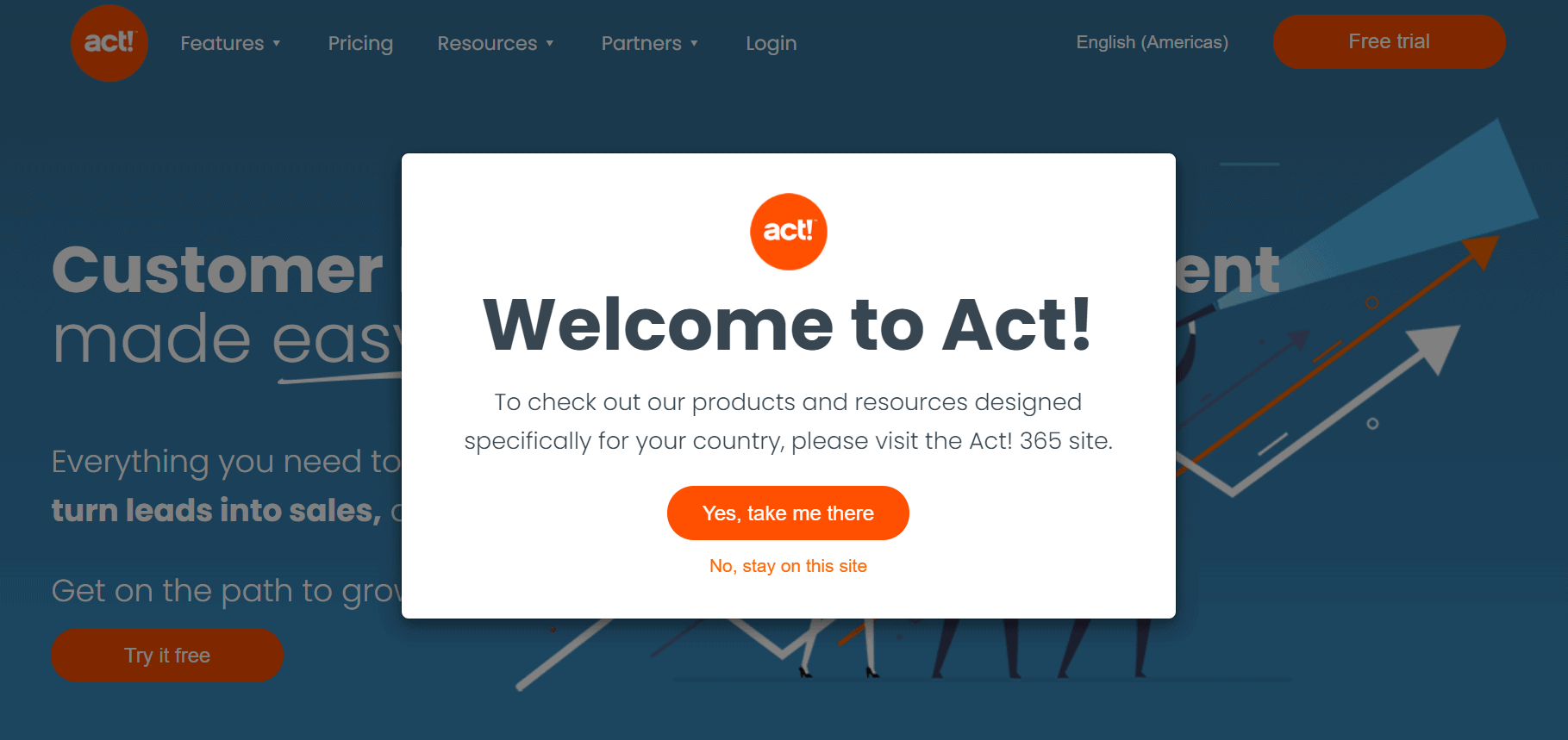 Overview:
I have reached my sixth insurance CRM on today's list. Act! Insurance CRM is a state-of-the-art CRM for all kinds of insurance businesses.
Act! Keeps track of all customer touchpoints and client's products, stored in a single database. This database can be shared within the team for optimum performance.
One of the USPs of this software is integrating data with MS Office, Google Contacts, and Gmail. This helps in a better marketing plan and targeting. Act! has reached a user base of more than 3.8 million.
Features:
Marketing automation and CRM together:
With automated marketing tools and CRM, your team can make a more informed planning decision. With proper planning, you will get more leads, conversion, and sales for your eCommerce business. Possibilities are unlimited with Act! CRM software.
 

Stay connected on All mobile devices:
Their tool Companion helps you stay connected from all mobile devices. This free CRM mobile app will keep you connected with your iPhone, iPad, and Android devices.
 Microsoft Outlook Integrations:
This is one of the unique features of Software. Users can maintain a complete database on MS Office via Act! Contact Link. It will save time, seamless workflow, and integration in one place.
With Act! Connect tool; users can access thousands of relevant apps that will make your CRM experience relevant. 
Pricing:
Act! Offers CRM packages in three variants.
It starts from 15 US Dollars per month
It starts from 30 US Dollars per month
It starts from 45 US Dollars per month.
Pros and Cons of Act! CRM:
Pros
:
 

Several reviewers have applauded their system, where 5 people can share in real-time.

Their customized layouts, fields, and seamless process create amazing documentation.

APP Connect and MS Office integration options are Unique Selling points of Act! CRM.
Cons:
Several reviewers have complained that their database does not sync to the cloud easily. Some of them have spent a whole day uploading and sync. 
Their email marketing options need improvements.
7. Maximizer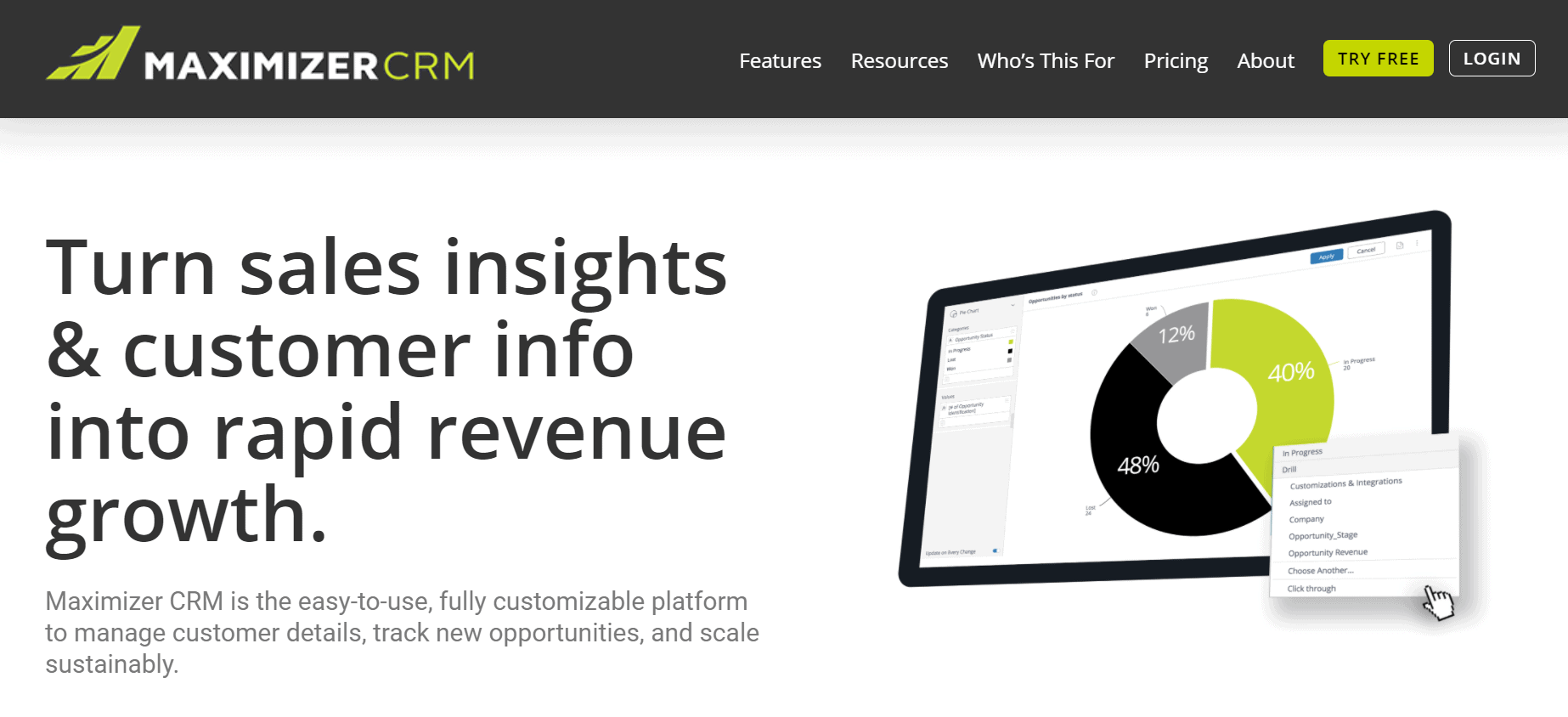 Overview: 
I have come to my last insurance CRM for this article. This Vancouver, Canada-based CRM software provider, Maximizer, has worked with more than 120,000 businesses worldwide.
Maximizer insurance CRM provides all the relevant features for an organized and successful insurance business.
Feature:
Dynamic and adaptive dashboard:
Data analytics tools have been simplified in Maximizer CRM software. Anybody from your sales team can monitor through their dynamic and adaptive dashboard.
You do not need any specialized skill set to operate the Maximizer dashboard. Users can track claims, insurance status, premium, etc., with a click of a mouse.
Automated Campaign creation and tracking

: 
Use Maximizer for relevant leads and maximum conversion. Clients can access and monitor everything from a single platform. You can create automated campaigns, generate your return on investment with an ROI calculator and track your outcome. 
A Happy and satisfied customer is the best brand ambassador for a brand. If you want your eCommerce business to be successful, you must invest in customer support services.
Maximizer CRM tool has made this simple for your insurance business. Your executives can easily track, manage and resolve any customer-related query, including premium, claim, leads.
Maximizer offers two options to secure data. One is the cloud option. This method is cost-efficient and protected by Tier IV certified data centers.
You will get access to all updates and features very quickly with the cloud option. The second method is On-Premise CRM.
In this option, you store your data on your web server. Maximizer provides a URL for this option, which you can use to access your dashboard anywhere on a desktop, laptop, or tablet.
Pricing:
Insurance businesses can avail of three packages.
It starts from 29 US Dollars per month
It starts from 59 US Dollars per month
It starts from 49 US Dollars per month
All billing are done annually.
Pros and Cons of Maximizer insurance CRM:
Pros:
Maximizer is very economical in its price range. It is much cheaper than other leading insurance CRM software such as Salesforce.

It is easy to organize leads, operate sales planning, and track the customer journey. 

Integration with other CRM programs such as Mail Chimp makes relevant customer experience. 

Cost-effective and simple interfaces are perfect for small and micro-businesses. 
Cons
:
Maximizer needs to improvise on handling huge data.

Some reviewers opine that there should be a delete option on the dashboard. There should be some option to delete without physically deleting data.
More About CRM Software
A CRM software for insurance is a tool that addresses the exact requirements of insurance companies, insurance brokers.
The CRM arranges all your claims and leads, manages multiple policies on a single dashboard, automates assignments to the right executive. All of these and more on a single software and dashboard.
Quick Links:
FAQs About Best CRM For Insurance Agents:
🤩How can CRM Software help my insurance business?
CRM software helps in organizing data. The sales and marketing team can make better marketing strategies for business growth. CRM software targets customer journeys at each of their touchpoints. These touchpoints will help your sales team target customers as per location, behavior, preference, etc. This will give better segmentation and targeting a specific audience. This software helps in managing claims, leads, and renewals.
👌What are the benefits of investing in CRM Software for the insurance business?
CRM Software gives you the following benefits: More customer retention. Enhanced productivity Real-Time communication between various departments Smarter Sales pipeline Reduction in marketing cost because of automation Tracking of all sales leads, very few missed sales call Enhanced customer care response rate Managing claims better, leads follow up, and renewals.
😁What is the cost of CRM Software?
There is not a fixed rate for CRM Software. It is not possible to answer the cost of CRM software. Rates vary from company to company. If you are going to subscribe to CRM Software, do research, visit sites on the web, see their services, and match your requirements. This research will help you to make a sound judgment. Currently, Eagle bay CRM Software is the best available option in performance and cost (economical).
Conclusion | Best CRM For Insurance Agents 2022
With these seven insurance CRM, I have come to the end of this article. You should prepare your own list before going out to buy a subscription.
It is rarely possible that one CRM tool fulfills all of your insurance business objectives. So, it is essential to compare various CRM as per your business needs, and after proper research, you should come to an informed judgment.
 I suggest you go for the Engagebay insurance CRM software for better conversion and relevant leads and manage claims and renewals at economical rates. It would not burn your budget.
Good Luck!!!!