In this post, I am going to talk about if Prime Ads is a reliable affiliate network and also share my detailed Prime Ads Review 2023.
Affiliate marketing is a great way to make money, but it can be hard to know which networks are legitimate and which ones are scams. 
With so many affiliate marketing networks out there, it can be tough to know which ones are worth your time.
And with the recent rise of cryptocurrency, there are even more networks popping up that claim to be the best option for crypto-related promotions.
Prime Ads is the solution.
They're a crypto-specific affiliate marketing network that only works with legitimate, high-quality products and services.
They vet each of their partners thoroughly to ensure that their affiliates always have the best possible experience. Plus, they offer some of the highest commissions in the industry. 
Let us check out Prime Ads in a little more depth.
Prime Ads Review 2023: What is Prime Ads and How Does It Work?
Prime Ads is a global marketing agency that helps both businesses and affiliates achieve scale and sustainable growth.
They work with some of the world's largest companies to help them reach their target audiences through their vast network of affiliates.
Since 2018, they have helped companies generate millions of dollars in revenue by connecting them with the right affiliates.
They have a team of experts who are always available to help you get the most out of your affiliate marketing campaigns.

To date, they have paid over $10 million to their affiliates and grown their network to over 20,000 publishers. 
At Prime Ads Global Marketing Agency, they understand that the key to successful online marketing is creating a campaign that targets your specific audience.
They take the time to get to know your business and your customers to create an effective marketing strategy that will reach them where they are most likely to see it.
They use various online marketing tools and techniques to make sure as many people see your message as possible. Prime Ads Global Marketing Agency is dedicated to helping you grow your business.
Why Do I Recommend Prime Ads to Publishers?
There are many reasons why I recommend Prime Ads Global Marketing Agency for publishers. First and foremost, they offer a great way to monetize your traffic.
You can earn good money from your website or blog with their high-yield offers. Another reason I recommend them is because of their 24 hr support.
If you have any questions or problems, you can always contact their support team, and they will help you out.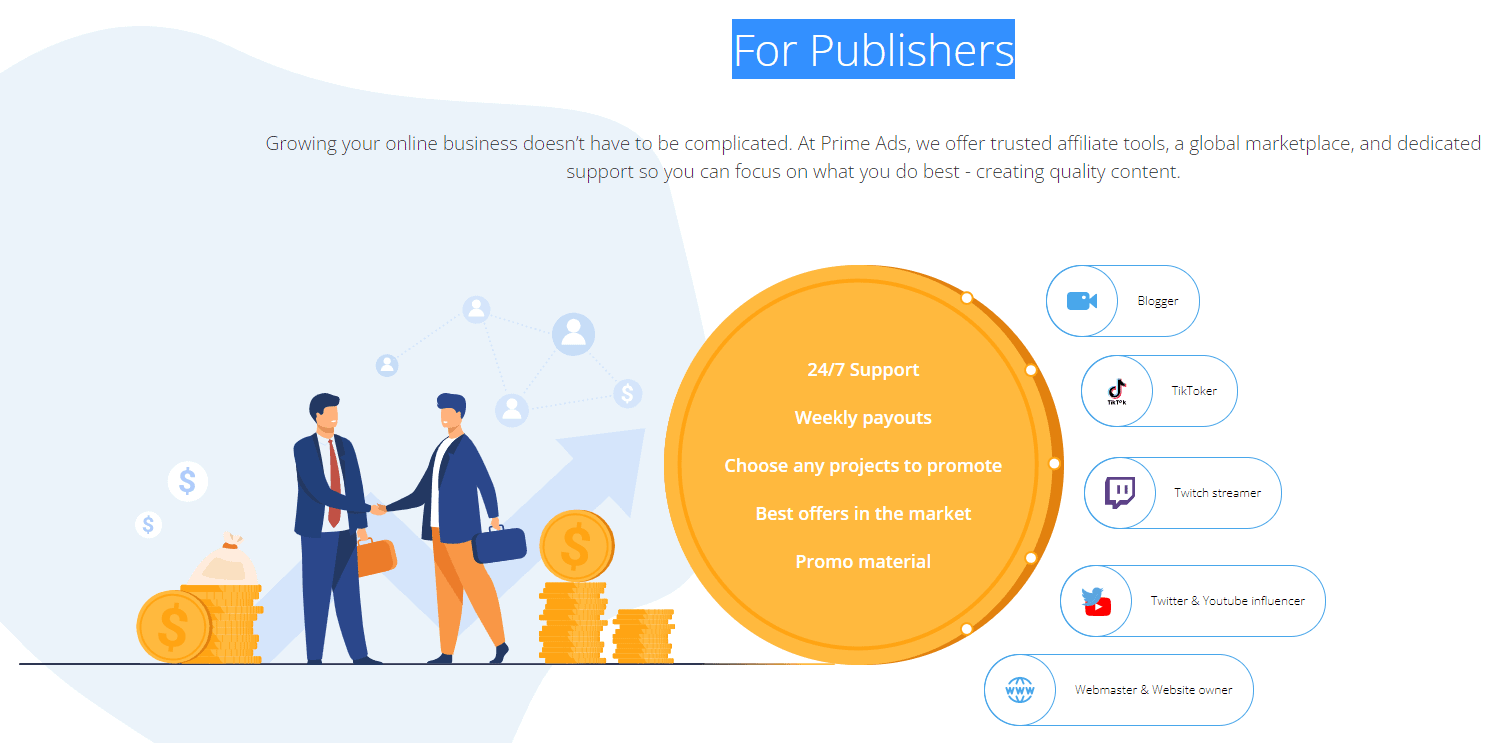 Furthermore, Prime Ads Global Marketing Agency offers a great way to promote in multiple verticals.
With their reliable weekly payments, you can easily promote your website or blog in various ways and earn good money.
Lastly, the tracking tools offered by Prime Ads Global Marketing Agency are excellent. With these tools, you can easily track your progress and see how well your website or blog is doing.
Overall, I highly recommend Prime Ads Global Marketing Agency for publishers.
FAQs About Prime Ads Review
How do I get paid at Prime Ads?
Affiliates are typically paid weekly, and payments are made on platforms like WebMoney, Skrill, Qiwi, Neteller, and Bitcoin.
How do I get started with Prime Ads?
Getting started with Prime Ads is easy. Create an account, and you'll be able to start creating and managing your campaigns.
How much does it cost to use Prime Ads?
Prime Ads is free to use. There are no upfront costs or monthly fees. You will only be charged a commission on sales generated as a result of your campaigns.
How does Prime Ads work?
Prime Ads is a crypto-specific affiliate marketing network that allows affiliates to promote products and services in cryptocurrency in exchange for commissions. They work with some of the biggest names in the industry, and their team of experienced professionals ensures that your campaigns are managed effectively and efficiently.
Quick Links:
Conclusion: Prime Ads Review 2023
Prime Ads is a crypto-specific affiliate marketing network that connects advertisers with affiliates.
Advertisers can run campaigns and track their results, while affiliates can find new promotional offers and earn commissions.
The network has been operational since early 2018 and has already become one of the most popular destinations for crypto-related advertising.
If you're looking to get into the crypto world or are simply interested in learning more about Prime Ads, now is the time to buy.