Through this guide, you'll know about ClickDealer Review and the features of the best affiliate network.
The CPL, CPI, CPA, and CPS marketing models have seen a remarkable increase in both value and popularity over the last decade.
Consequently, the Internet marketing sector has seen the emergence and collapse of various marketing organizations and services focused on these issues.

ClickDealer is one such service that has gained importance in recent years.
So how about I take you through a full assessment of this marketing firm and introduce you to who they are? What exactly do they do? And why do they deserve our attention?
ClickDealer Review 2022 : What is ClickDealer ?
ClickDealer is an affiliate network launched in 2012 and is a part of the Global Digital Marketing (GDM) Group.
Since its inception, this worldwide performance marketing firm has been focused on establishing a variety of tactics to help clients reach their marketing objectives.
This platform offers various products and services to advertisers, publishers, and agencies.
It acts as a link between them, assisting them in achieving the highest possible performance from their advertising campaigns.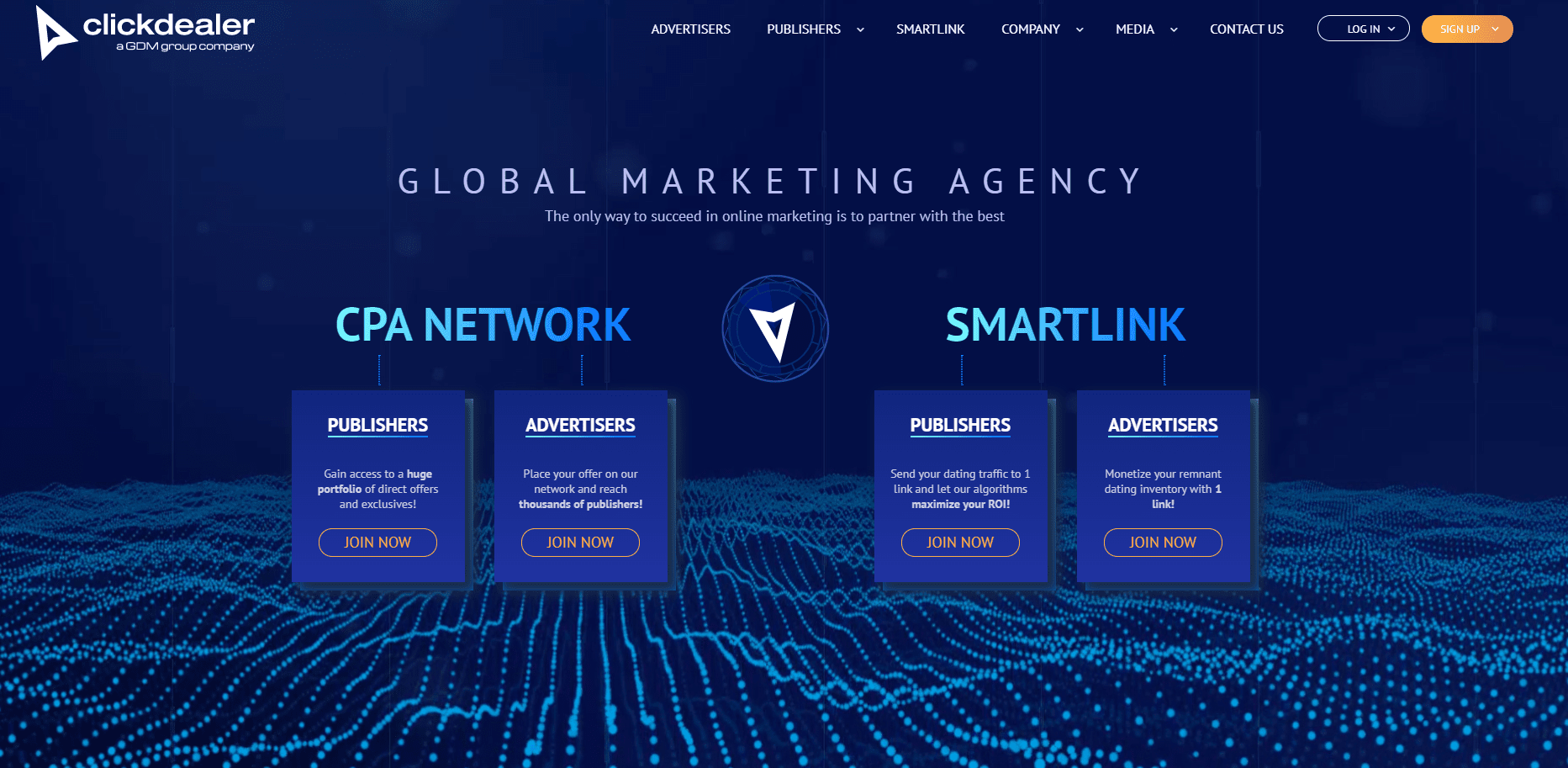 ClickDealer is a well-known network that has consistently raised the bar in internet marketing.
Additionally, mThink Blue Book and Perfominsider have named this renowned industry expert the number one network.
It now partners with hundreds of well-known firms worldwide, focusing on dating and lead generation.
The platform supports various strategies and traffic sources, including search, retargeting, video, social media, display, native advertising, and email.
With five huge offices located across the globe, ClickDealer's primary objective is to extend its reach and brand while also assisting its advertisers and publishers in doing so.
One of the pillars of ClickDealer's success is their extensive business networking, which is why they reward their affiliates with high-quality competitions, loyalty programs, and gatherings.
This platform presently has over 18,000 affiliate offerings and over 70 million global clients.
Why should you become a member of the ClickDealer Network?
The following are some of the primary reasons why you should join ClickDealer:
1. Affiliate Assistance:
Each advertiser and publisher chooses a network with an experienced staff that swiftly answers inquiries, keeps them informed of new specials, and assists with different challenges and campaign design.
ClickDealer is unmatched in terms of customer care. A staff of highly skilled supervisors is available to help you 24 hours a day, seven days a week
2. Payment on Time:
Before joining any affiliate network, the first thing that comes to mind is whether or not the network pays on schedule.
You never have to worry about payment delays when dealing with ClickDealer, since this fantastic platform is well-known for its accurate and timely reimbursements.
3. Tracking with Ease:
ClickDealer provides an effective and comprehensive tracking solution that enables monitoring of affiliate and publisher traffic even when the system/internet is down.
4. Numerous Models:
Trying an advertiser on a Cost-Per-Action basis is very difficult when you are unsure of their commitment to convert targeted traffic into real purchases.
This is not the case with the ClickDealer network since it offers a variety of promotional models.
For instance, if you're not concerned with whether your directed visitors will reach the product or make a purchase from the website, cost-per-lead advertising is worth experimenting with.
5. Numerous Offers:
Recruiting affiliates and advertisers is simple, but supplying them with excellent enough items to generate traffic and sell is a far more difficult challenge.
ClickDealer, on the other hand, provides a broad choice of outstanding deals that will aid you in earning a substantial quantity of money.
6. Smartlink:
Selecting offers might be challenging at times, so they designed Dating Smartlink.
Therefore, if you are not an expert at picking deals, you may launch them all at once with Smartlink. Smartlink's offers are available worldwide.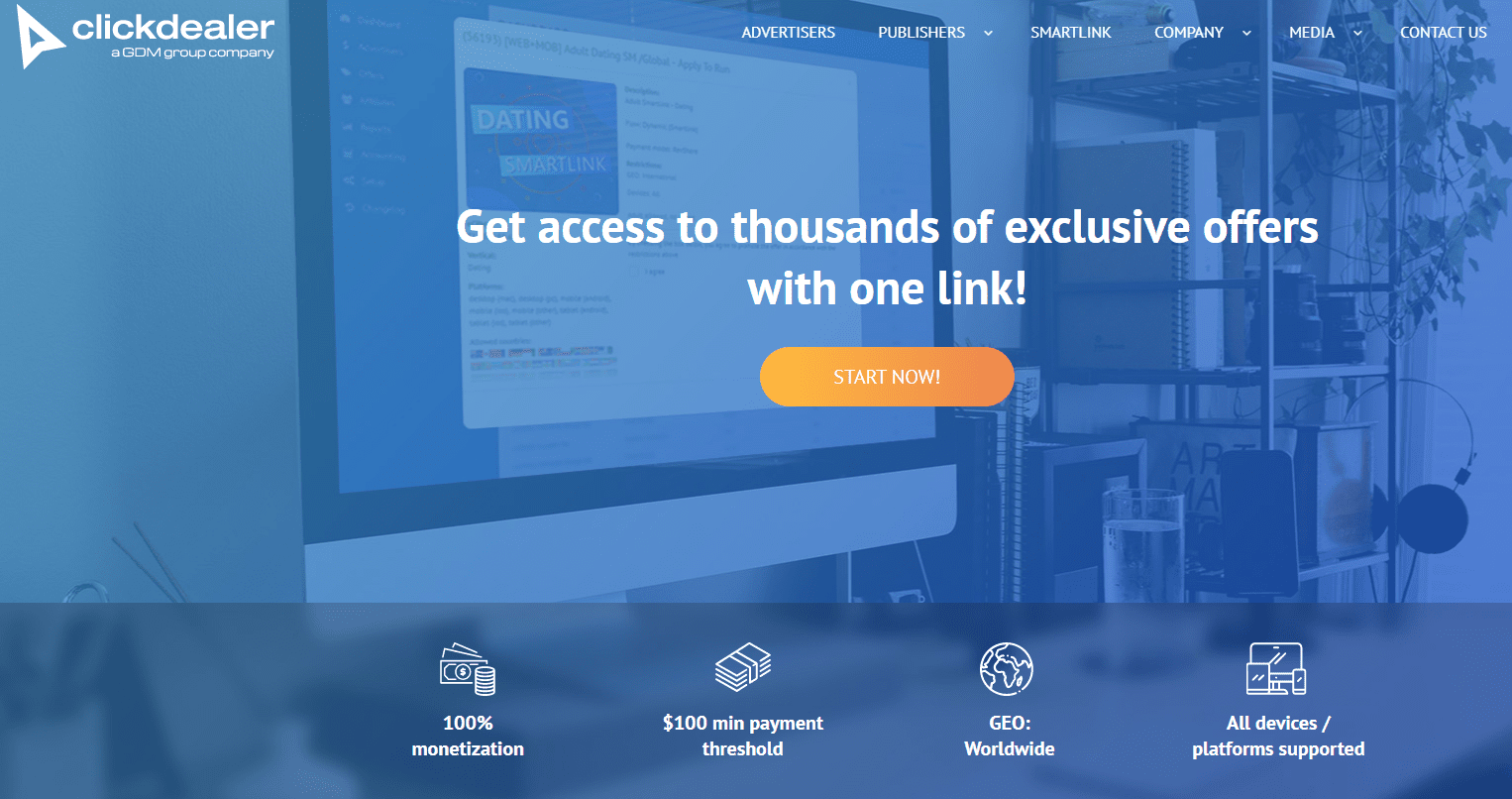 Smartlink intelligently directs users to the most relevant offers to maximize traffic monetization based on various characteristics such as device type, location, and dynamic eCPM.
FAQs on ClickDealer Review
Is ClickDealer a pyramid scheme?
No. As of yet, I have seen no reason to assume that ClickDealer is a fraud. However, you may also come across fraudulent remarks on legitimate websites such as Affpaying. And some of the claims refer to outstanding payments that have been queued for an extended length of time, affiliate managers blocking the publication, and payment difficulties, among other things. I'm still giving them the benefit of the doubt and believe they're genuine, but others may conclude that there are malpractices involved due to inadequate help and concealed policies. They've been in business for nine years, and if they're a hoax, they won't endure that long. However, I feel that there is still an opportunity for growth.
Quick Links :
Conclusion: ClickDealer Review 2022
I hope my ClickDealer review has given you enough information about the platform to help you decide if it is a worthwhile use of your time and money or if you should look for other sources of income.
While ClickDealers is a respectable platform, I'm not inclined to endorse it in any manner.
I feel this is the case because there are other avenues you may pursue if you're serious about earning a living via Affiliate Marketing.