With the expansion of the side, hustle trend comes numerous new opportunities for individuals to earn some extra cash on the side.
Specialized applications are developed and released for the world's side hustlers. They offer a variety of opportunities for people to leverage their extra time to earn additional income through a side hustle.
This article will highlight the best side hustle apps available today. Discover which ones may work best for you by reading about them.
Best Side Hustle Apps for Online Tasks
Business owners can gain valuable consumer insight by completing online surveys, questionnaires, and other data-collection tasks.
Online side hustle apps are listed below.
1. Survey Junkie
Survey Junkie is an online survey platform and app that allows users to receive compensation for their time and information in exchange for completing surveys.
Each survey awards a certain number of points that can be redeemed in Survey Junkie. One point is equivalent to one cent; for instance, a survey with a 200-point reward will earn you $2, which will accumulate in your wallet.
There is a $5 minimum withdrawal requirement, which means you must have accumulated 500 points by completing surveys before you can withdraw funds.
Users can withdraw funds through PayPal, direct bank transfer, or the redemption of electronic gift cards.
Swagbucks is an online platform and mobile application that allows users to earn money by completing a variety of tasks provided by the platform. Since its inception in 2005, the app has awarded more than $700.0 million in prizes.
Swagbucks pays its users in "Swagbucks" points. One Swagbucks equals one cent, so 100 Swagbucks are equivalent to one dollar in cash.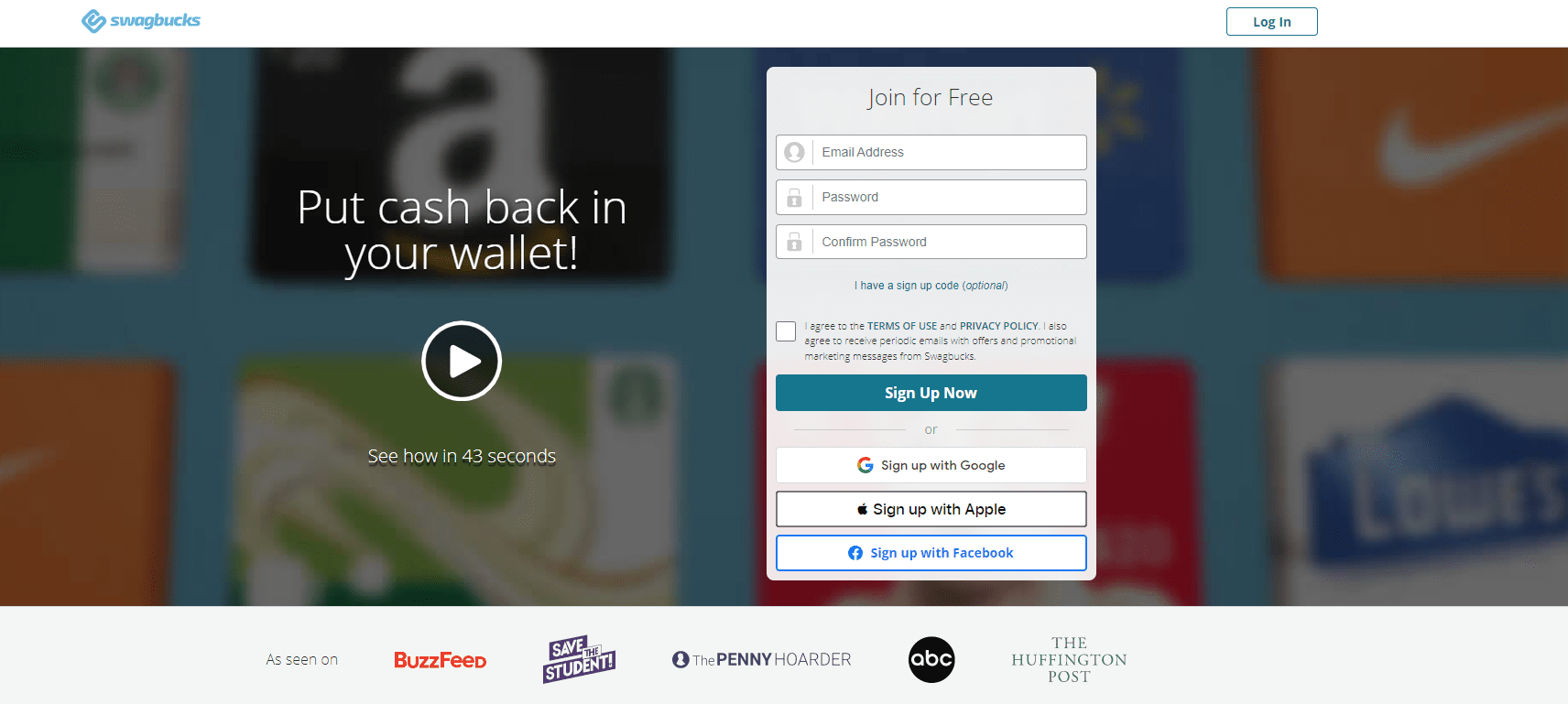 Swagbucks can be redeemed for a variety of Swagbucks rewards, including a PayPal cash transfer, gift cards, a prepaid Visa, and even a paper check.
This online task platform offers a variety of survey tasks, as well as a number of additional opportunities for users to earn Swagbucks. Swagbucks is an excellent app for a side hustle because it offers a variety of ways to earn.
InboxDollars is an online platform and mobile application that connects brands and consumers and provides valuable consumer data in exchange for money.

There are several ways to earn cash with InboxDollars:
Completing surveys

Watching videos

Shopping online

Testing online offers

Playing different games

Completing scratch cards

Using InboxDollar's search engine
When you complete tasks, funds are added to your wallet. Depending on the nature of the task, compensation can range from fifty cents to five dollars.
Before requesting a withdrawal, InboxDollars users must have a wallet balance of at least $15. Payouts are made via PayPal, gift card, or prepaid Visa.
MyPoints is a well-known online rewards application and marketplace that rewards its users for completing various tasks on its platform. It's a fantastic way to earn extra money in your spare time.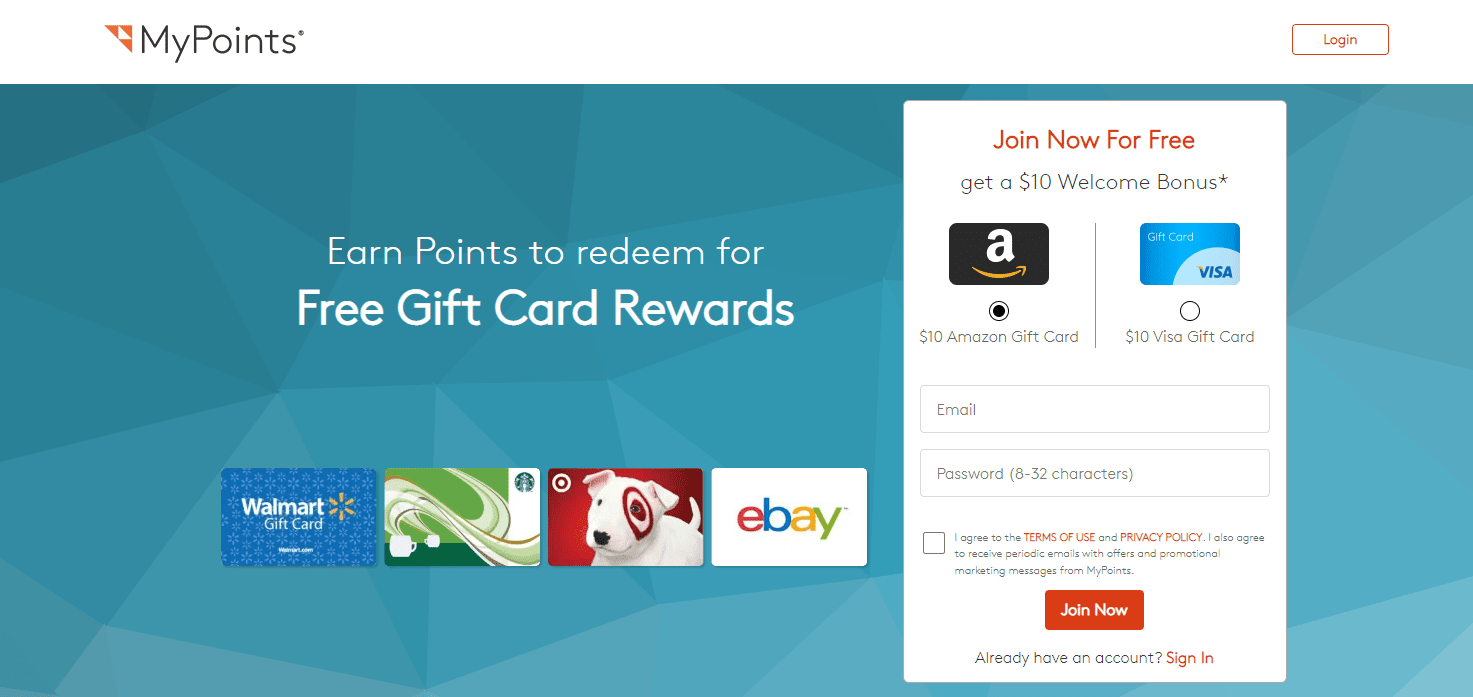 MyPoints provides a variety of opportunities to earn cash, some of which involve making purchases on their shopping platform and others of which are completely free. These consist of:
Answering surveys

Watching videos

Reading emails

Referring friends

Playing games

Printing and redeeming coupons
Once you have amassed sufficient points in your MyPoints wallet, you can redeem them for the compensation of your choosing. If you are willing to receive a gift card, you can exchange 700 points for a $5 card.
However, in order to receive cash, users must accumulate at least 3,970 points, which can be exchanged for a $25 PayPal payout. MyPoints are worth slightly more than half a cent per point.
LifePoints is an online platform and mobile application for market research that pays users to complete a variety of survey-like tasks. It is an excellent way to earn extra money in your spare time.
LifePoints has well over five million members worldwide who provide valuable opinions and information to brands and businesses by completing surveys.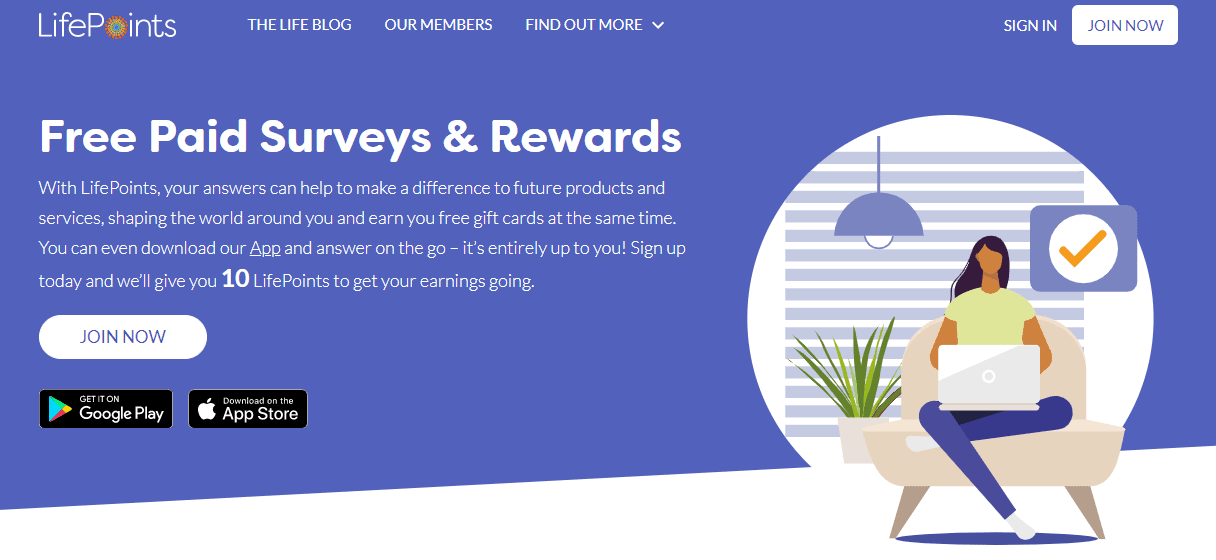 To earn real money on the platform, users must complete surveys. Each survey will award a certain number of points based on its length, which will typically range between 10 and 60 minutes.
Users can cash out their earnings beginning at $5; one LifePoint is approximately one cent. Payments can be made via PayPal (within 10 business days) and can be redeemed for gift cards from a variety of popular retailers (e.g., Amazon, iTunes, etc.).
6. Steady
Steady is an app that provides users with a list of side hustle opportunities that can be utilized to earn extra money on the side.
Steady functions by enabling users to search for gigs using various filters to specify their precise work preferences. The application features everything from small side jobs and side hustles to larger jobs.
Users can select from four main "types" of work:
Work from home/remotely

Work at any time

Work on a part-time basis

Work on a full-time basis
Best Side Hustle Apps for Drivers
The gig economy is constantly expanding and creating new employment opportunities for individuals. In the past few years, driver and delivery apps have experienced exponential growth, and consequently, the availability of driver jobs has skyrocketed.
Here are a few of the best apps for drivers to earn money on the side.
Postmates is an app that utilizes couriers to deliver a variety of products to Postmates customers. These items include takeout from restaurants, groceries, and other personal items.
Postmates couriers or drivers earn approximately $19 per hour (the average hourly rate will vary depending on your location and how much driving a courier does).
Each order incurs a delivery fee ranging from $3.99 to $9.99, depending on the specifics of the order.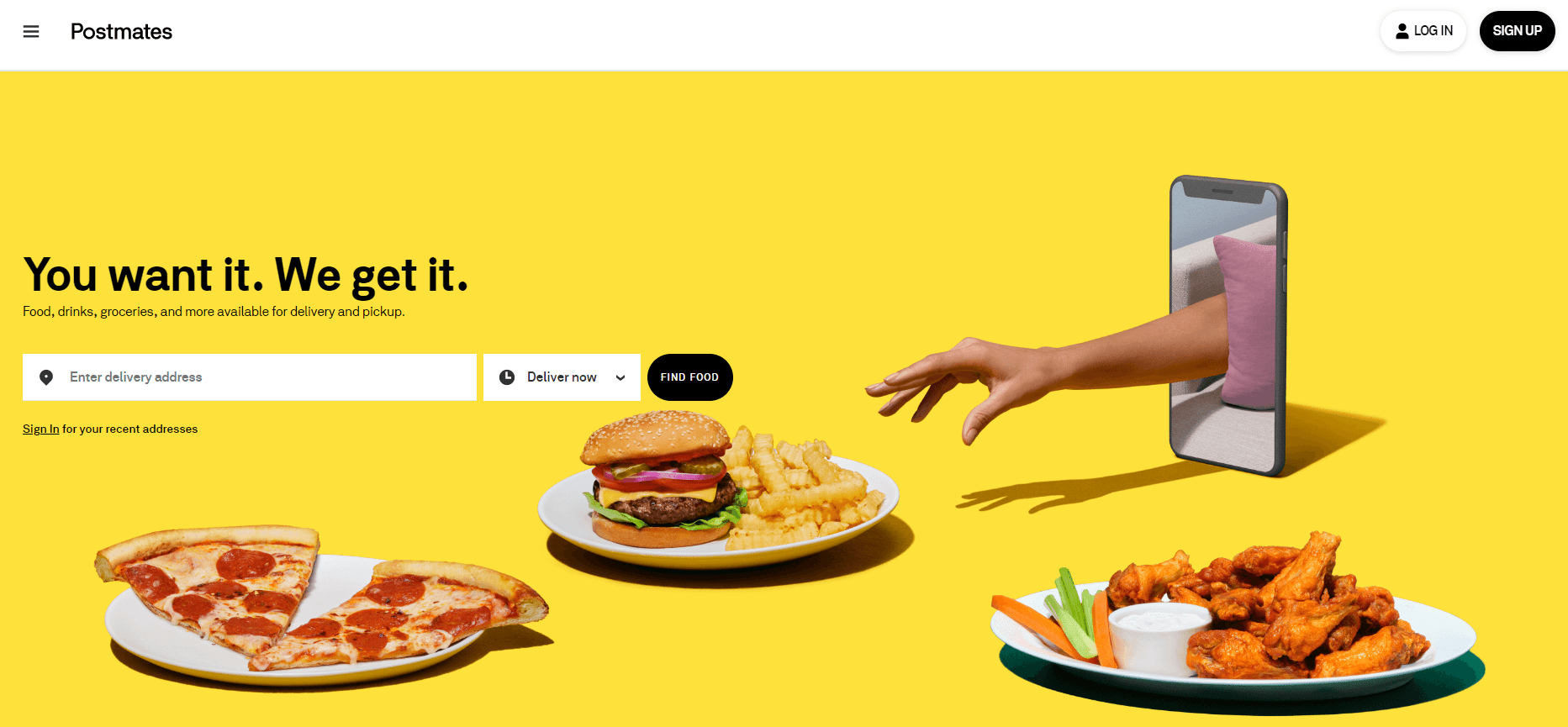 Postmates retains 20% of delivery fees, while drivers receive the remaining 80%. Therefore, on a delivery with a $5 delivery fee, the driver will receive $4.
Drivers also retain 100 percent of customers' gratuities. In ideal circumstances, it has been reported that Postmates drivers can earn up to $25 per hour.
There are a number of requirements for becoming a driver:
You must be at least 18 years old

An insured vehicle and a valid driver's license (bicycles are accepted in urban areas).

Postmates app-compatible smartphone

Successfully complete a background check
DoorDash is an online food delivery platform that was founded in 2013 and is headquartered in San Francisco, California. Currently, its market share exceeds 50%, making it the largest food delivery service in the United States.

DoorDash offers approved drivers the opportunity to earn money by delivering from thousands of restaurants and other merchants in North America.
The following are the requirements for becoming a DoorDash driver:
A minimum age of 18 is required

An automobile, bicycle, scooter, or another form of transportation.

Documentation (driver's license, Social Security number, background check)
Create your own work schedule based on the amount of free time you have available each week. In order to have even more control over where and when they deliver, drivers can also choose which deliveries to accept.
Instacart is an online grocery delivery service app that allows customers to browse grocery store items, fill a cart, have the order assembled by grocery store employees, and then have the order delivered to their door by an Instacart driver.
Instacart offers two "roles" through which individuals can begin earning money. Earning potential on Instacart varies depending on the service provided.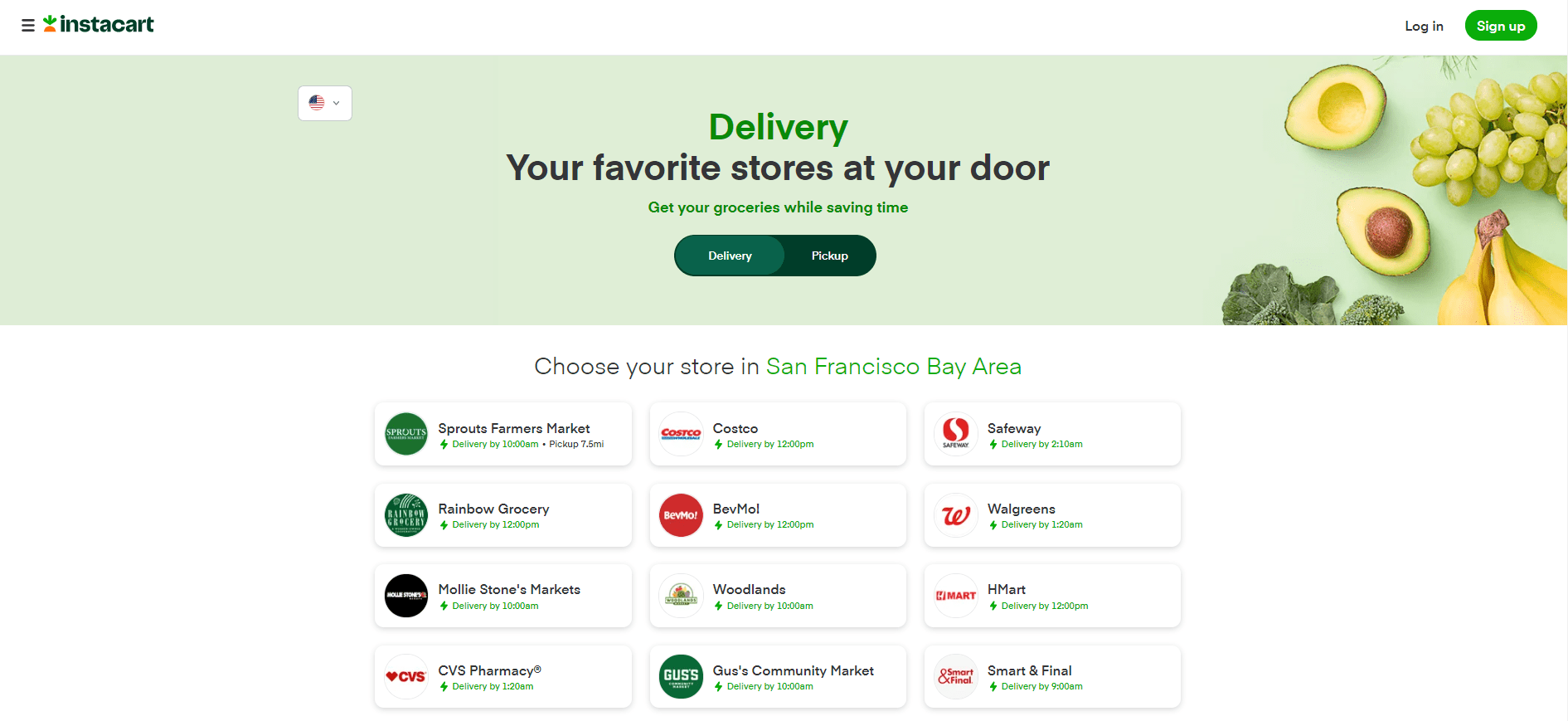 Depending on the region, full-service shoppers are guaranteed a minimum payment of $7 to $10 per order, while driver-only shoppers are guaranteed a minimum payment of $5.
In addition to base pay, there are bonuses that can be earned for things like delivering during peak order hours and receiving a 5-star review. Additionally, workers will receive 100 percent of all tips provided by customers.
Your income will be determined by the number of hours worked and the number of orders completed during those hours.
Amazon Flex is a type of independent contractor position in which drivers are responsible for delivering packages to Amazon customers. It is a fantastic opportunity to earn extra money in your spare time!
Amazon Flex drivers are guaranteed a minimum base pay of $15 to $19 per hour and will also receive tips for each delivery.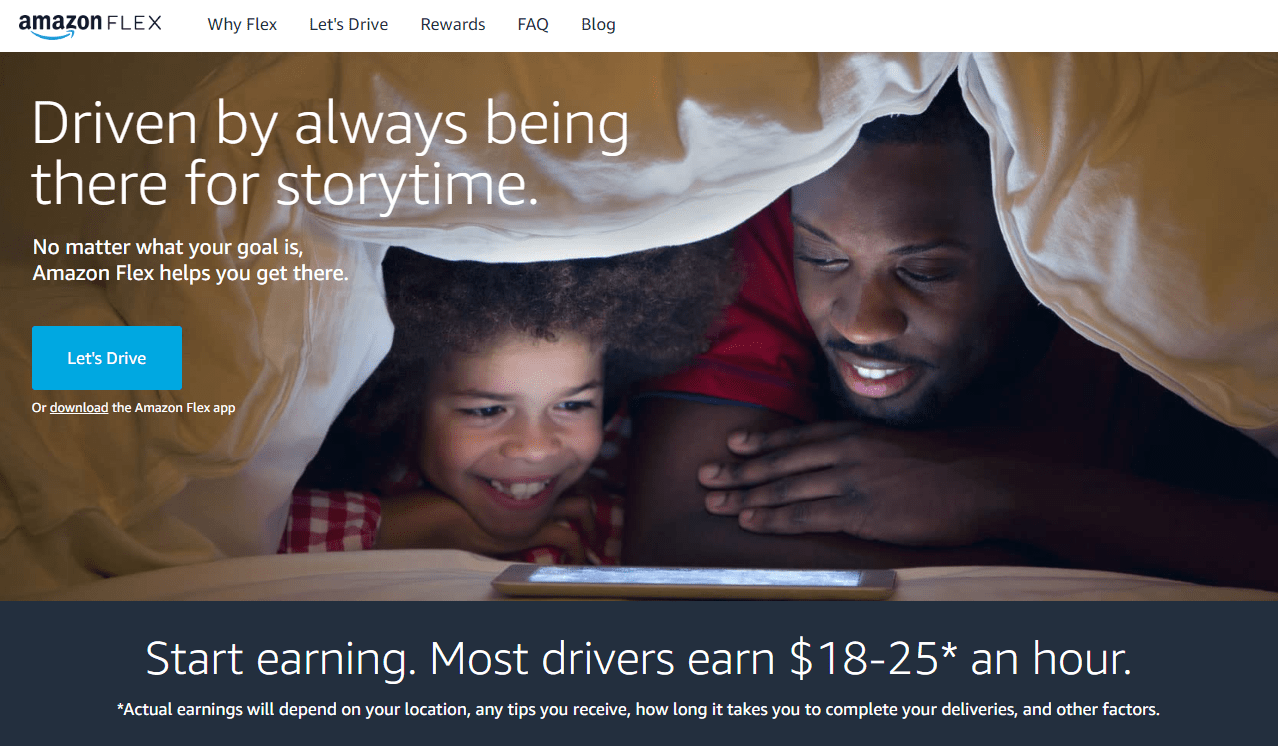 Potential earnings will largely depend on your location, as well as the times you choose to make deliveries, customer tips, and a variety of logistical factors.
You May Like This:
Best Side Hustle Apps for Local Tasks
There is a subset of side hustle apps that are designed to connect individuals seeking to earn extra cash with paid local tasks.
The following is a list of the best local side hustle applications.
Rover is a technology company that develops and launches an app that connects pet owners and pet sitters.
You can earn up to $1,000 per month as an independent contractor for Rover providing pet-related services, and in some cases, those who choose to offer more extensive dog boarding services can earn even more.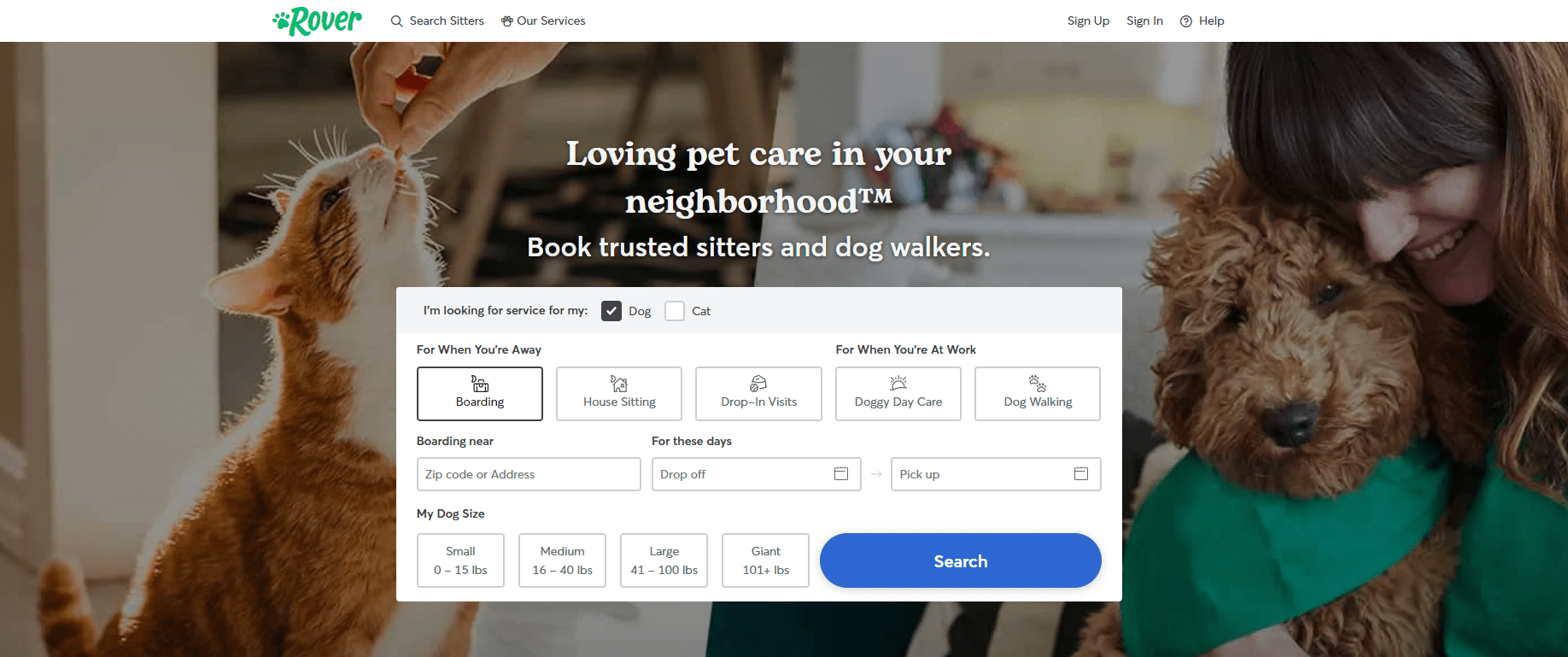 Rover employees can provide the following pet care services:
Dog Walking

Day-care services

House-/Pet-sitting

Drop-in pet visits

Dog Boarding
Rover customers pay for your services via the app after you have completed their tasks. They do, however, take a significant cut of your fee, ranging from 20% to 25% of your total earnings.
If you can put in a good chunk of time and consistently book jobs during those hours, your earnings will reflect that.
Rover is completely cashless; payments are made through PayPal or by check. Withdrawals are permitted two days after service is completed.
Increase your earnings by offering multiple services and including images in your advertisements to increase credibility and provide exceptional service that deserves great reviews.
SitterCity is a platform and app that connects guardians with babysitters, dog sitters, nannies, and housekeepers in exchange for services.
SitterCity allows you to set your own rates and does not take a percentage of the income generated by hired jobs; workers keep 100% of the funds earned. They do not hire sitters but rather provide a job board-like platform.
Searching for clients who are hiring in your area and surrounding areas is how you apply for and land jobs. All relevant information, such as salary range, time commitment, and other job details, will be included in job listings.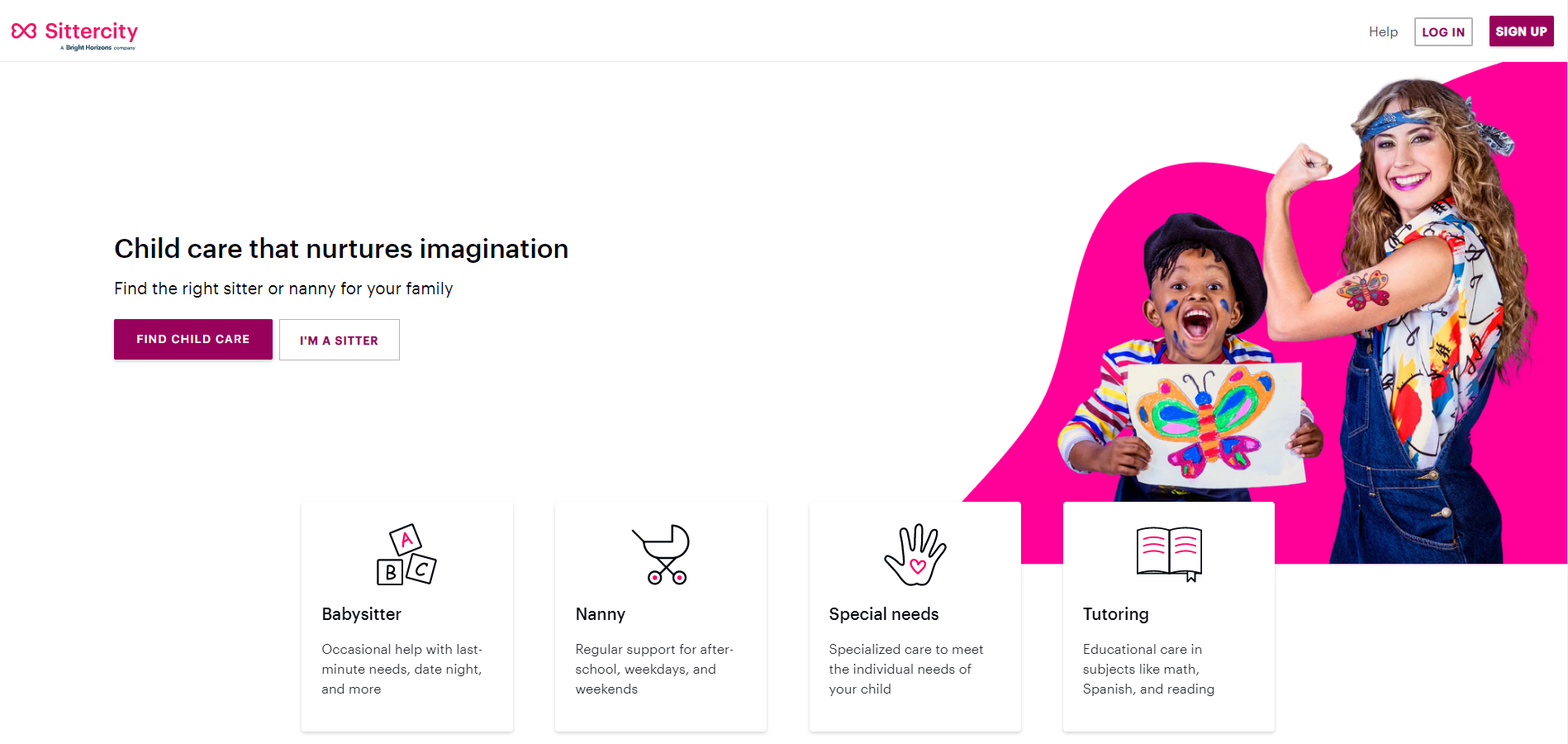 When you find a job that you want to apply for, you can choose to send your profile to that client for review. If they want to connect with you, they can do so through the app, where they can negotiate payment and job details.
When it comes to payment for services, the client is responsible for directly compensating the sitter — SitterCity does not handle the hiring or payment side of the relationship.
Earning potential is determined by your location, the number of available jobs, the amount clients are willing to pay, and, of course, the effectiveness of your advertisements and the quality of your services.
13. TaskRabbit
TaskRabbit is an online platform that connects people looking for work with those willing to pay to have work done.
Tasks range from dog walking, hanging a picture, and standing in line to larger projects such as landscaping, house cleaning, and car detailing.
To become a "Tasker," you must first download the app, create a profile, verify your eligibility, choose your location and work schedule, and pay a one-time $25 registration fee. Taskers keep 100% of their earnings, including any tips from customers.
Once you've been approved, you can begin offering as many services as you want, each with its own rate. When someone in the area posts a task that corresponds to one of your offered services, the TaskRabbit app will notify you.
The app can handle all communications, negotiations, and financial transactions. After completing a task, taskers are paid via direct deposit to their bank account. This can take anywhere between 24 hours and 5 days.
On TaskRabbit, your earning potential is determined by the rates you set for yourself as well as the availability of tasks in your area. It is critical to be aware of the going rates that other taskers in your area charge for various services.
For example, the average hourly rate for furniture assembly in downtown Buffalo maybe $30, whereas it may be closer to $40 in New York. Make sure your rates are competitive in order to have the best chance of finding clients and earning money.
14. Thumbtack
Thumbtack is an app that helps people find, hire, and review local service providers. It was founded in 2008 and has since become an excellent way for people to start a side hustle and earn some extra money.
The app works by providing a platform for contractors, freelancers, and businesses to showcase their services, find clients, and build a reputation in their area. When a client views your profile, they can contact you via Thumbtack to discuss their needs.
Thumbtack is completely free to use and does not require a subscription fee. However, you must pay a fee for each lead that the app assists you in generating.
The fee is determined by how closely the customer's requirements match your services. Thumbtack offers a 20% discount on the lead fee if the match is only moderate. If the match is strong, the full lead generation fee will be charged.
The "opportunities" section is one of the platform's best features for finding new business. Customers who are requesting quotes and connecting with service providers can be found here.
You can contact customers who are looking for the services you offer, as well as assess the market and gather valuable pricing information for your own service suite.
Handy connects homeowners with handymen and house cleaners through an online gig-based marketplace.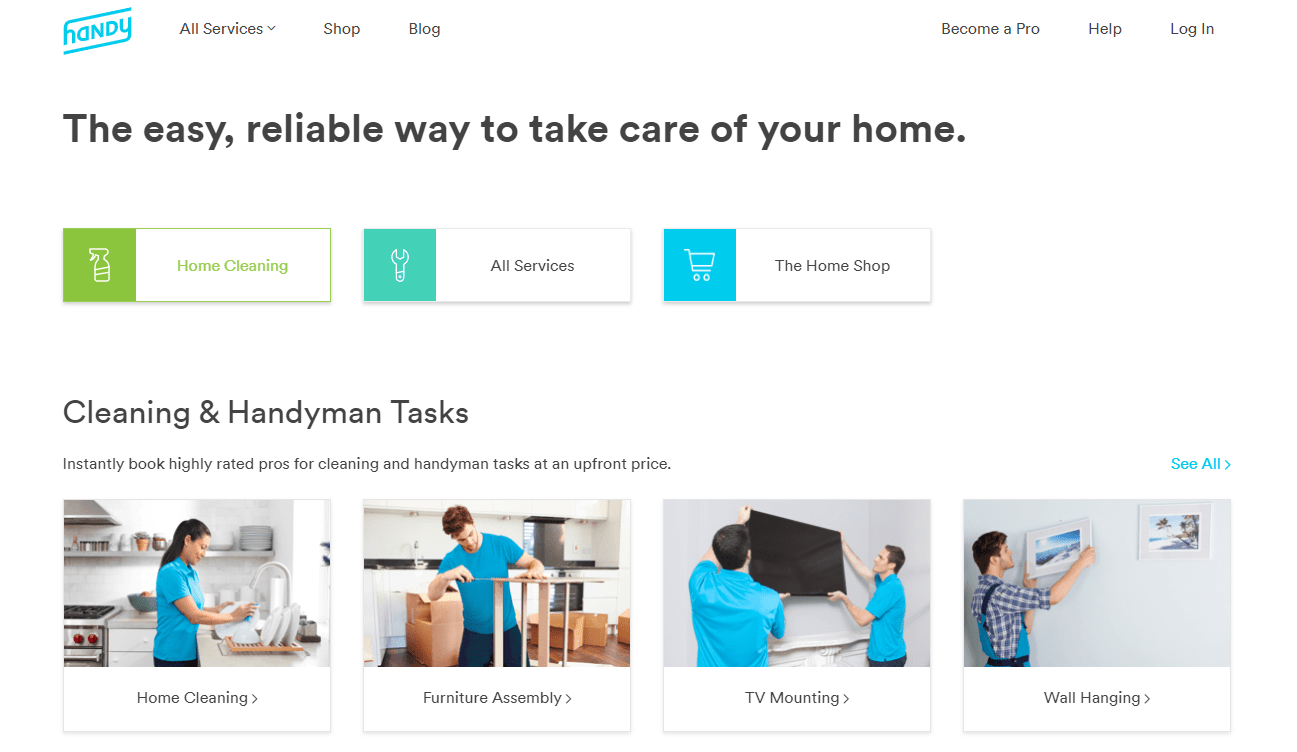 Among the services offered by the application are:
House cleaning

Furniture assembly

Electrical work

Furnace & A/C repairs

Painting

Home renovating
According to Handy's website, cleaning services can earn up to $22 per hour, and handyman services can earn up to $45 per hour. Some of the platform's top professionals are said to earn up to $1,000 per week.
Obviously, the services you offer will have an impact on your earning potential as well as the availability of jobs in your area. After completing a job, Handy pays workers via direct deposit to their bank account.
It is important to remember that Handy does charge for arriving late for a job or canceling/rescheduling a job in certain circumstances. Accept only jobs for which you will be on time and capable of completing properly.
Best Side Hustle Apps For Freelancers
Exploring the world of online freelancing is an excellent side-hustle option. However, getting started and finding clients can be a bit of a daunting experience.
Here are two of the best freelancer side hustle apps that will help you start earning extra money quickly.
Fiverr is an app and an online gig-based marketplace that connects freelancers with clients and allows them to exchange a wide range of potential services. It is an excellent way for both new and experienced freelancers to find clients and earn money.
Fiverr is home to freelancers who offer services such as writing, editing, graphic design, web development, and much more.
After creating a user profile, you must create a "gig" or job posting that highlights the specific service(s) that you are offering. Deliverables, pricing, timelines, and any other important service information will be included in the gig.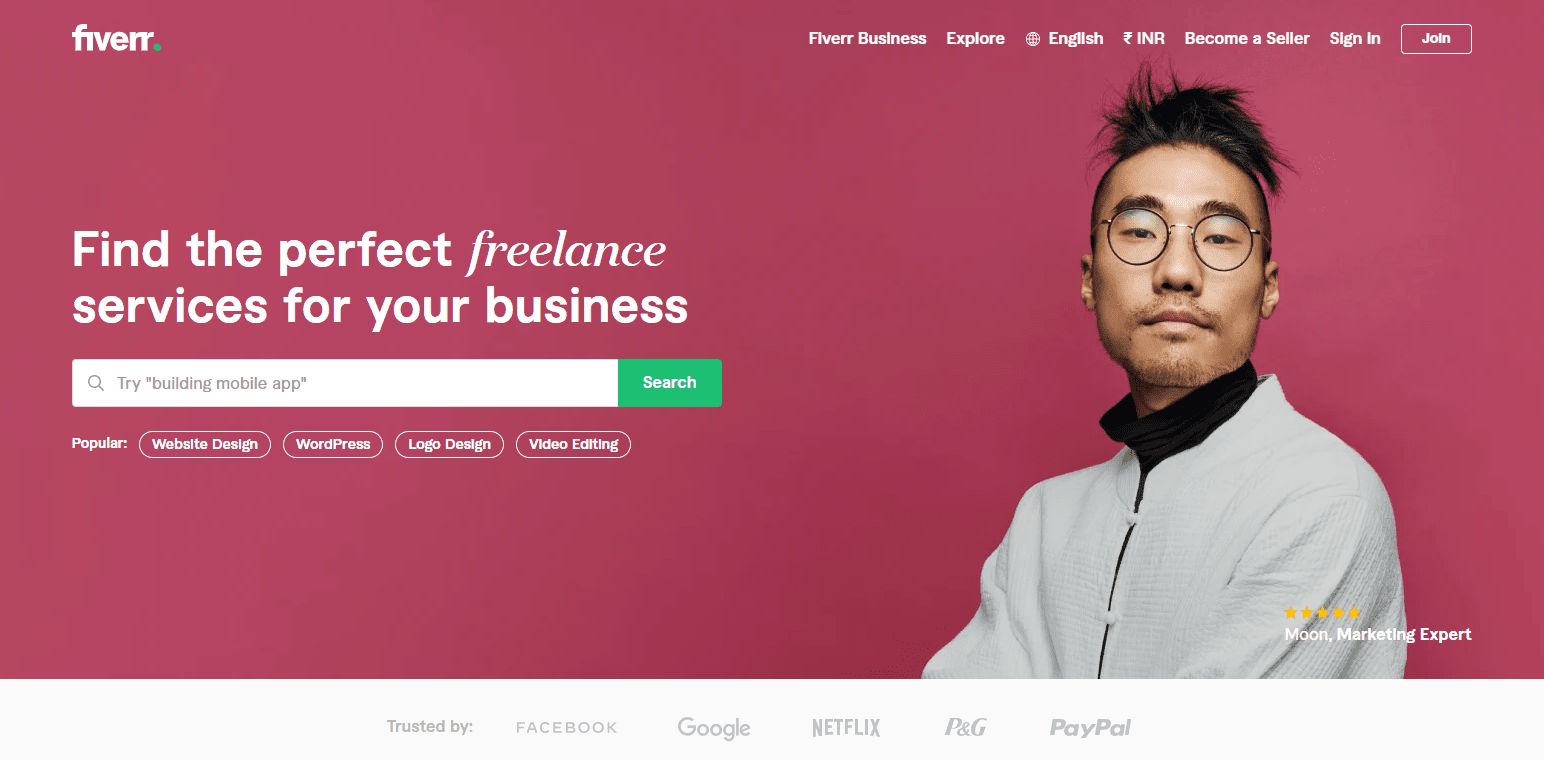 You can create multiple gigs if you want to offer different services on the Fiverr marketplace, each with its own set of chosen "tags" that will categorize the job accordingly.
Customers use the platform to find freelancers by specifying the services they require. If they find your gig and like what you have to offer, they can contact you.
When you create a gig, you will be prompted to create set-price offers so that clients can order without having to engage in a conversation.
There's also the option to make your own custom offers, which can be discussed via Fiverr's messaging system.
When a job is finished and delivered, the earnings are deposited into your Fiverr wallet. To protect both sellers and buyers, Fiverr has a resolution center that handles all potential order issues.
It's important to remember that Fiverr takes 20% of the proceeds generated by each order, which is a sizable chunk of change. However, it is one of the most popular platforms and has a large client base.
Upwork is yet another great app and online marketplace for freelancers to connect with new clients and provide their services while earning extra money.
To begin, users must fill out an application to gain access to the Upwork freelancer platform.

Once your application has been approved, you can create your freelancer profile and start posting job proposals and looking for work
Direct deposit, wire transfer, and PayPal transfers are all methods of payment that Upwork freelancers can use.
Best Side Hustle Apps For Selling Stuff Online
Selling things online is a great side hustle that can be quite profitable if done correctly. There is money to be made selling everything from clothes and accessories to books, playing cards, and everyday items online.
There are numerous online platforms that have been developed to assist buyers and sellers in connecting. Here are some of the best side hustle apps for selling things on the internet.
Poshmark is a popular online marketplace for selling used clothing, shoes, accessories, and household goods. The cool thing about it is that it also comes with a useful app.
Poshmark's platform is a great resource for people looking to sell their stuff online and possibly turn it into an income-earning side hustle, with over 80 million registered users.
Simply sign up and create your own Poshmark account to get started. You can begin selling after providing some basic information and verifying your account.
List items using Poshmark's streamlined item description form. Input item details such as size, color, and brand, and then upload your best photos to help your items sell quickly and for the best price possible.
Buyers can choose to buy for the listed price or make an offer, which you, as the seller, can accept or counter with another offer once your item has been listed.
Poshmark sends you an email with a pre-paid, pre-addressed shipping label after you successfully sell an item. Attach the provided shipping label to your package and deliver it to your nearest post office within 72 hours.
Poshmark will deposit earnings into your account's wallet three days after the buyer confirms receipt of their item. Sellers can withdraw funds by direct deposit into their bank account.
19. OfferUp
OfferUp is a mobile app and online marketplace that specializes in allowing people to buy and sell items. OfferUp is a great place to start a side hustle selling everything from clothes and electronics to toys, books, and even vehicles.
Create an account on OfferUp by providing some basic personal information, an email address, your location, and your preferred payment method (s).
When the listing is finished, it will be posted on the marketplace and made available to customers in your area. Buyers have the option of picking up the item locally or having it shipped to them after paying your shipping costs.
Signing up for and using OfferUp is free; however, sellers must pay a service fee whenever a shipped item sells. They can pay a minimum of $1.99 or 12.9% of the item's retail price.
Sellers will have added a debit card or bank information to their OfferUp account section to set up their preferred deposit method/account.
When a buyer accepts an item, the sale is marked as completed. Payments are usually deposited within five to seven days of the sale's completion.
eBay is one of the world's most popular online marketplaces, with over 180 million active users. The platform connects buyers and sellers for the exchange of goods, making it a great way to make some extra money selling your stuff!
To begin earning money on eBay, you must first create an account and register as a seller. This procedure entails verifying your identity, providing location information, and configuring your payment method (s).
You can begin listing your items on the marketplace once you have registered! eBay provides a detailed walkthrough guide for new sellers to learn how to properly use the listing tool and optimize results.
When a buyer's order is confirmed, you'll be asked to ship the item to them. Selling fees and other costs are deducted from the total price, and your proceeds appear as "processing funds" on your eBay account.
Your funds will be marked "available for payout" once the buyer's payment has been confirmed. Depending on the payment schedule you choose, your earnings will be transferred to the checking account associated with your eBay account.
Side Hustle Apps FAQs
We've found some of the most frequently asked questions about the various side hustle apps. Here are our answers.
What Is the Most Effective Side Hustle App?
The best side hustle app is one that matches your goals and lifestyle. Having said that, ridesharing platforms are well-known for being among the best side hustle apps for people looking to supplement their income. Uber and Lyft are two of the most popular ridesharing apps. If you have a desirable skill that can be monetized through freelance work, you can also look into apps like Upwork and Fiverr (e.g., programming, writing, graphic design, etc.).
What Is the Quickest Way to Earn Money From a Side Hustle App?
If you want to start earning money with a side hustle right away, survey apps that pay you instantly for your time are your best bet. While you won't be paid much, most people can quickly exceed the minimum redemption amounts on these sites and see the payout land in their PayPal account. If you're looking for "serious" money (i.e., more than the online task apps can provide), we'd recommend selling some of your belongings on Poshmark, OfferUp, Decluttr, or one of the other secondhand goods sites. Keep in mind that you can always stack these apps to increase your earning potential.
Which Side Hustle App is the Most Lucrative?
Side hustle apps are known to pay between $10 and $15 per hour on average, with some paying up to $25 per hour. Which side hustle app pays the most depends on a number of factors, including the specific niche, your location, relative demand, and others.
Quick Links:
Final Thoughts: Best Side Hustle Apps 2023
Finding a side hustle that can provide an additional source of income is a great way to get started and strive for financial independence.
Find the one(s) that work best for you and start earning money.