Stream like a pro on Twitch with the best streaming software
Do you dream of becoming a successful Twitch streamer? If so, you know that you need the right tools to get the job done. And one of the most important tools you'll need is the right streaming software.
With the right streaming software, you can create high-quality streams that will engage your viewers and keep them coming back for more. But with so many different options available, it can be tough to know which one is right for you.
That's where I come in.
In this article, I'll review the best streaming software for Twitch, based on features, performance, and ease of use.
So whether you're a beginner or a seasoned pro, I'll help you find the perfect streaming software to unlock your full potential.
Top Twitch Streaming Software 2023
Here are the details about the 7 amazing streaming software for Twitch:
StreamLabs is a software primarily used by streamers for streaming online games because of StreamLab's sleek appearance and user-friendly interface.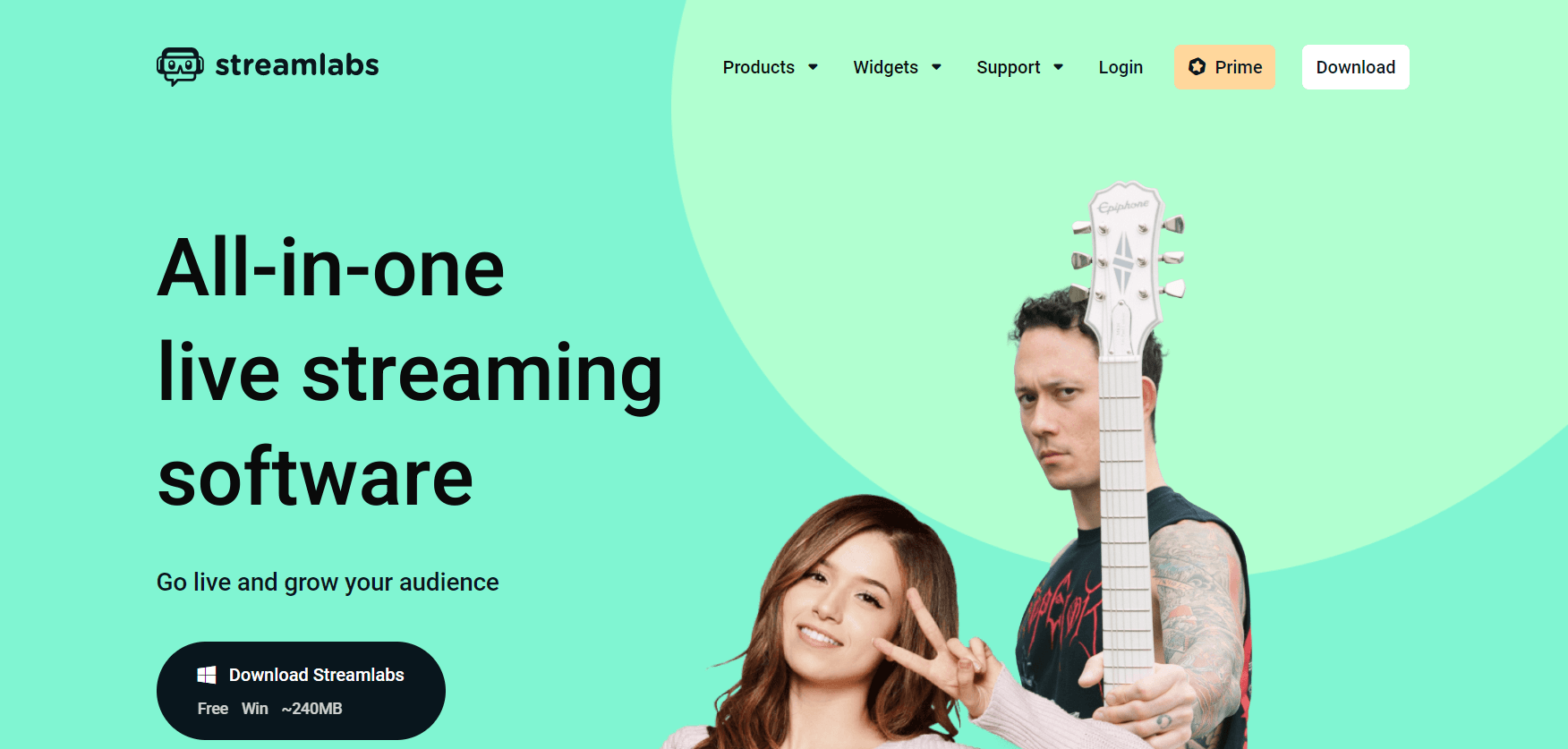 In January 2018, StreamLabs and OBS collaborated to create StreamLabs OBS (SLOBS). Its tool is gaming-oriented, allowing gamers to experiment with gaming options while maintaining a low CPU usage.
StreamLabs is used by professionals and is growing by the day.
Price
:
StreamLabs' standard version is free. To use a Prime subscription, you must pay $12 per month, billed annually.
Pros and Cons:
Let us look at the Pros and Cons of StreamLabs:
StreamLabs Review:
With more game-specific streaming features, StreamLabs is one of the fastest-growing and developing streaming software services.
StreamLabs OBS seems to be one of the better options because it is constantly being improved and more features are being added that are required for going live on Twitch, Facebook, Instagram, or any streaming service.
Open Broadcaster Software (OBS) is free, community-developed software. Open Broadcaster Software is available for free and can be downloaded by anyone.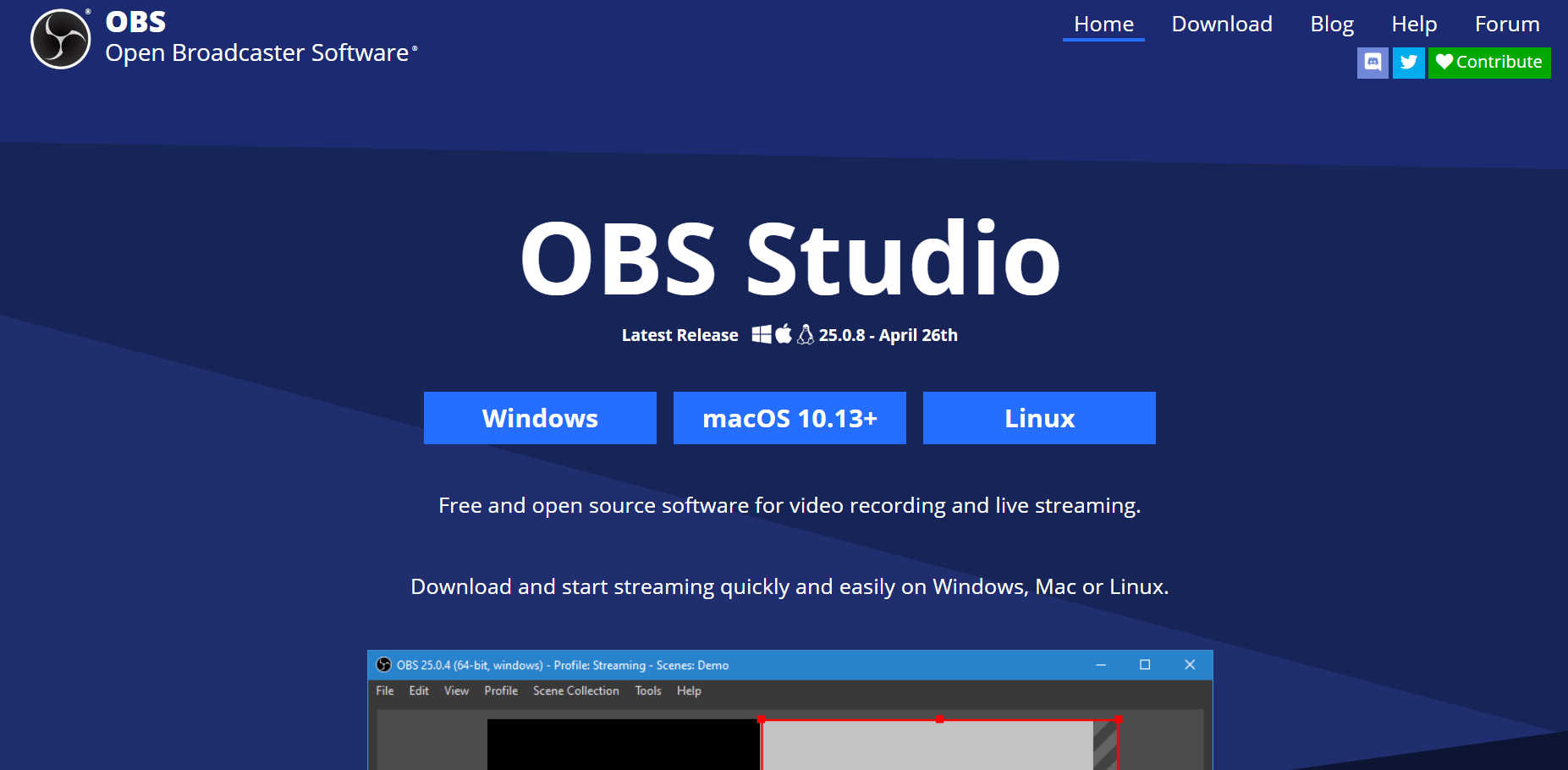 With free plugins, OBS software gives you the experience of paid professional software for free. OBS software is the best free Twitch streaming software.
The community contributes to these plugins and has a wide range of applications. The OBS software is highly customizable, with constant content availability and updates, and you can wander around and find lots of valuable tools for your streaming.
High-performance real-time video capturing and mixing, a user-friendly audio mixer with a per-source filter, seamless switching between transitions, and a modular dock UI are just a few of the features of OBS software.
However, there needs to be centralized customer support because it is a community-oriented design.
You'll have to wind your way around, which is usually not a problem if you're a techie but becomes difficult if you're a new user or beginner. However, thanks to the internet, you can search for solutions to your problems on Google or YouTube and continue to use this software for free.
Open Broadcaster Software Price:
It is free for users and no license is required.
Open Broadcaster Software Pros and Cons:
Let's examine the Pros and cons of Open Broadcaster Software.
Open Broadcaster Software Software Review:
It is excellent software for technical users, with plenty of professional tools, but it is not exceptionally user-friendly for beginners.
XSplit users can choose between two versions: XSplit Gamecaster and XSplit Broadcaster. The Gamecaster, as the name implies, has been modified to include features for streaming games. These features are exclusive to gaming streams and consume little CPU power.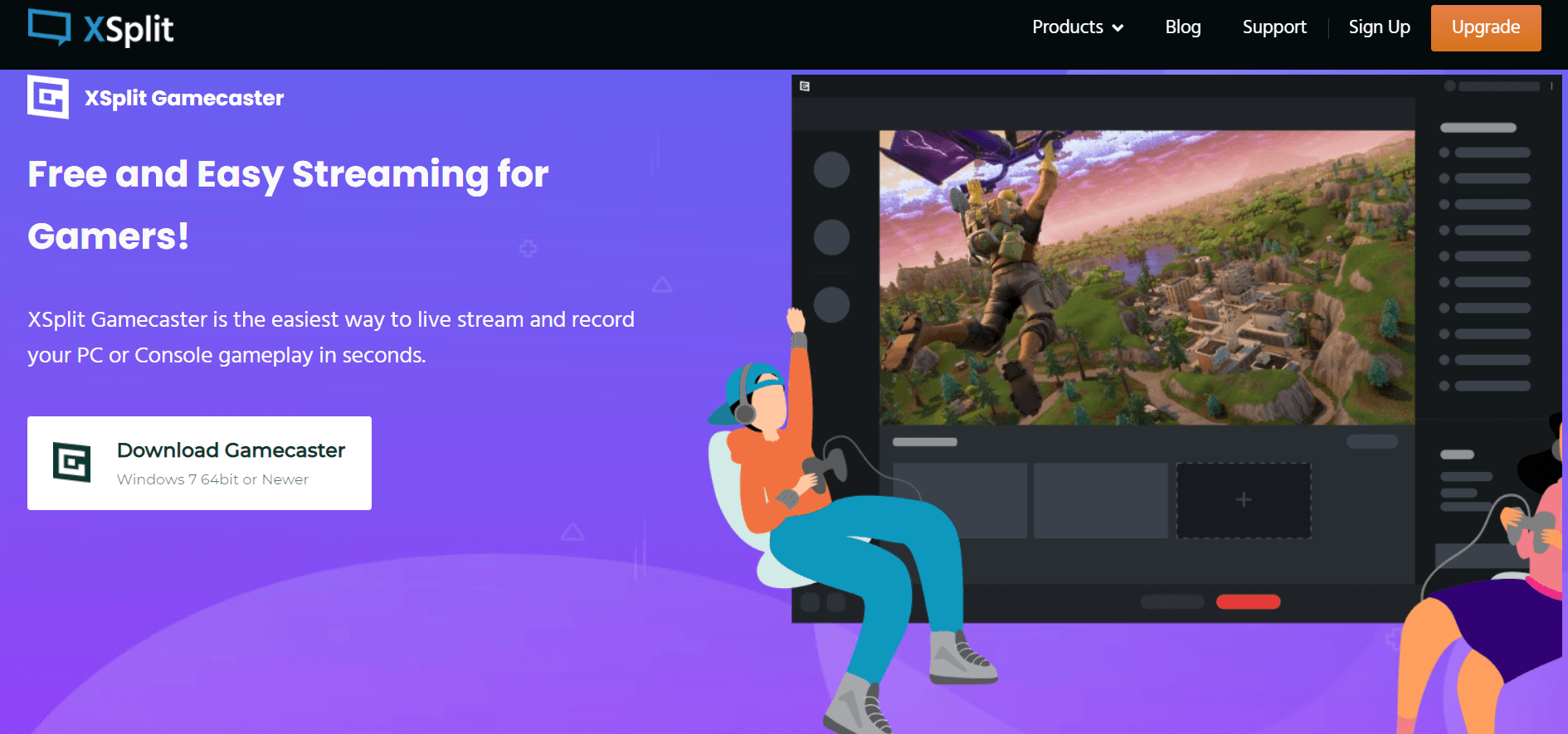 Vcam is a service provided by XSplit that removes blurs, and backgrounds, and creates a green screen effect without the use of a green screen.
This is useful for streamers who do not want to use green screens while streaming. A license is required for commercial use of this software.
XSplit is available in both free and paid packages, with the paid offering a few extra benefits over the free. The premium version includes multi-streaming and the removal of watermarks.
You will see the brand watermarks on streams above 720p in the freemium version but can be removed in the premium. You can add an unlimited number of scenes with Premium.
Price:
The basic package is available to all users for free. It offers Premium services ranging from 24$ to 199$ and only Vcam services ranging from $6 to $40 depending on duration.
Pros and Cons:
Let's take a look at the Pros and cons of XSplit Gamecaster.
XSplit Gamecaster Review:
It is simple to use and reasonably priced. With various pricing options available, the software becomes affordable to everyone.
This is a product worth considering for streamers looking for software with many features, customer support, and timely updates at a low price.
StreamPro is one of the websites that provides streaming services to users. It provides new users with a complete website setup package that includes a live stream, social media links, and forum discussions.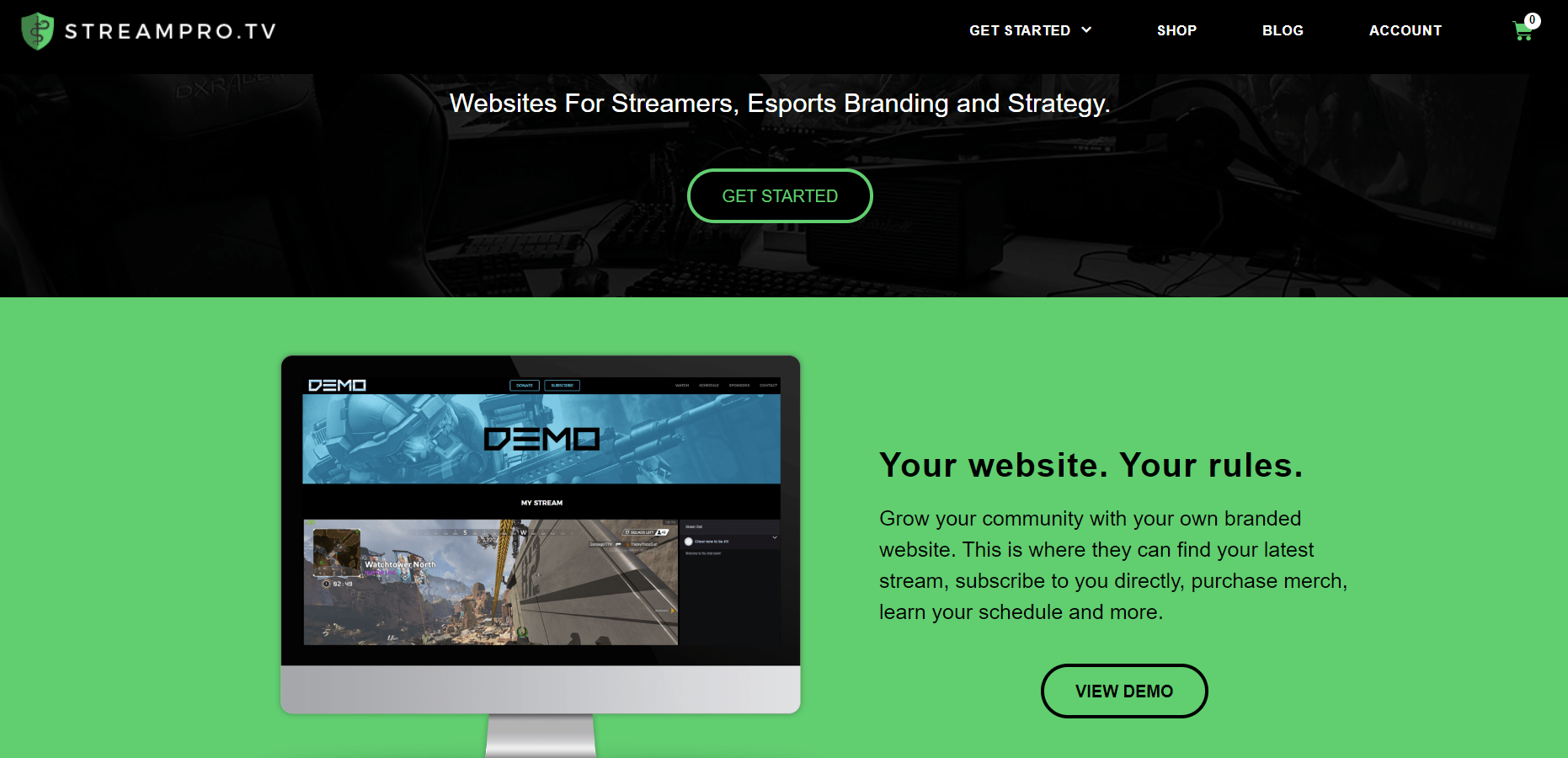 StreamPro does not offer a free trial, but its basic package offers good value for money. The user has complete control over the customizations.
The PLUS package also includes AD revenue, Website analytics, Advanced search engine optimization (SEO), Custom domain, and Discord embedding.
StreamPro Price:
StreamPro comes in two distinct packages 
The Basic package costs $14 per month and has minimal features.

The Plus package costs $49 per month and offers many features.  
StreamPro Pros and Cons:
Let's take a look at the Pros and cons of StreamPro.
StreamPro Review:
This is an excellent platform for streamers who want to pursue a career in streaming and are willing to spend some money.
The basic package includes most of the essential features, and once you're up and running, you can upgrade to the PLUS package, which includes the remaining features. You will not require most of the PLUS's features as a beginner.
Telestream's Wirecast is professional-grade software. Wirecast Studio and Wirecast Pro are the two software packages available.
For the price, the software includes an extensive range of features. It is software designed specifically for professionals.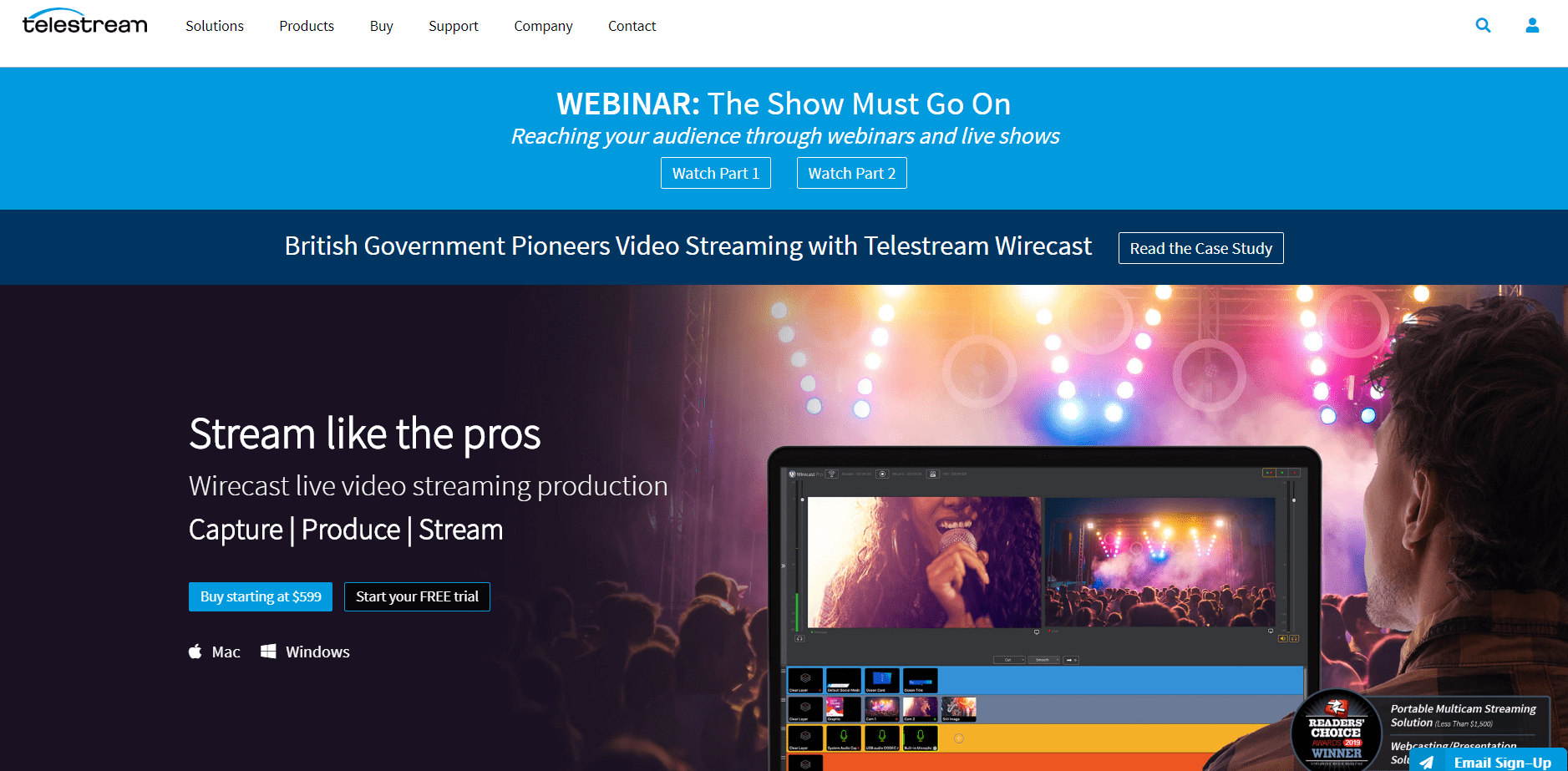 The studio offers multistream capture, limitless capture, and animated 3D tiles. The pro version includes high definition ISO recording, instant replays, live scoreboards, and other features.
Telestream's website offers a free trial of the software with the Wirecast watermark for testing purposes. Both the studio and the pro come with standard support for a year with the subscription; premium support costs an additional $299.
The software uses a lot of CPU power and consumes a lot of resources.
Wirecast Price:
The Studio version costs $600, while the Premium version costs $800 (plus fees for premium support).
Wirecast Pros and Cons:
Let's take a look at the Pros and cons of Wirecast.
Wirecast Review:
The software is designed for professional streaming and primarily for tech-savvy users, and it comes with a hefty price tag to match. When it comes to professional streaming, the price can be viewed as an investment.
vMix is one of the few software programs that supports 4k recording. It is the best live streaming software available, with all of the features you could want. Virtual sets, animated overlays, hosting guests, live video effects, instant replay, and other features are available.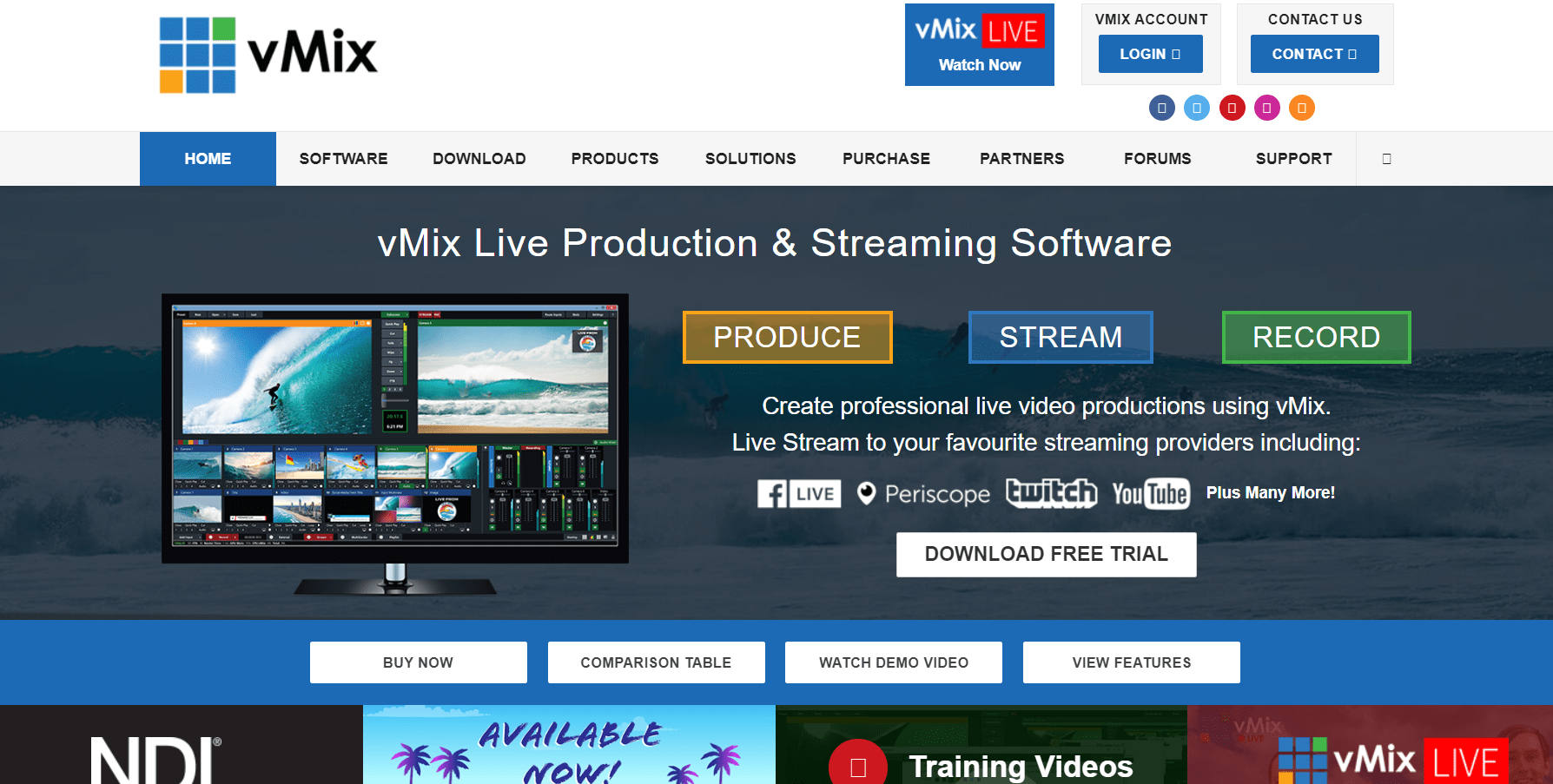 vMix also accepts various inputs, such as webcams, DVDs, sound cards, and playlists. For users looking for streaming software, it is available for a free trial with no watermarks.
It is designed with professionals in mind, so the software is loaded with technical features, but beginners can use it thanks to its extensive customer support. It is inconvenient for Apple users because it is only available for Windows.
vMix Price:
Pricing ranges from $60 to $1200, with a free trial period of 60 days with no watermarks.
vMix Pros and Cons:
Let's take a look at the Pros and Cons of vMix.
vMix Review:
This software is intended for professional use only and can be intimidating to new users/beginners.
The product requires a significant initial investment and a high price tag. This software is ideal for users who want to stream in high definition. It is one of the few that supports 4k streaming.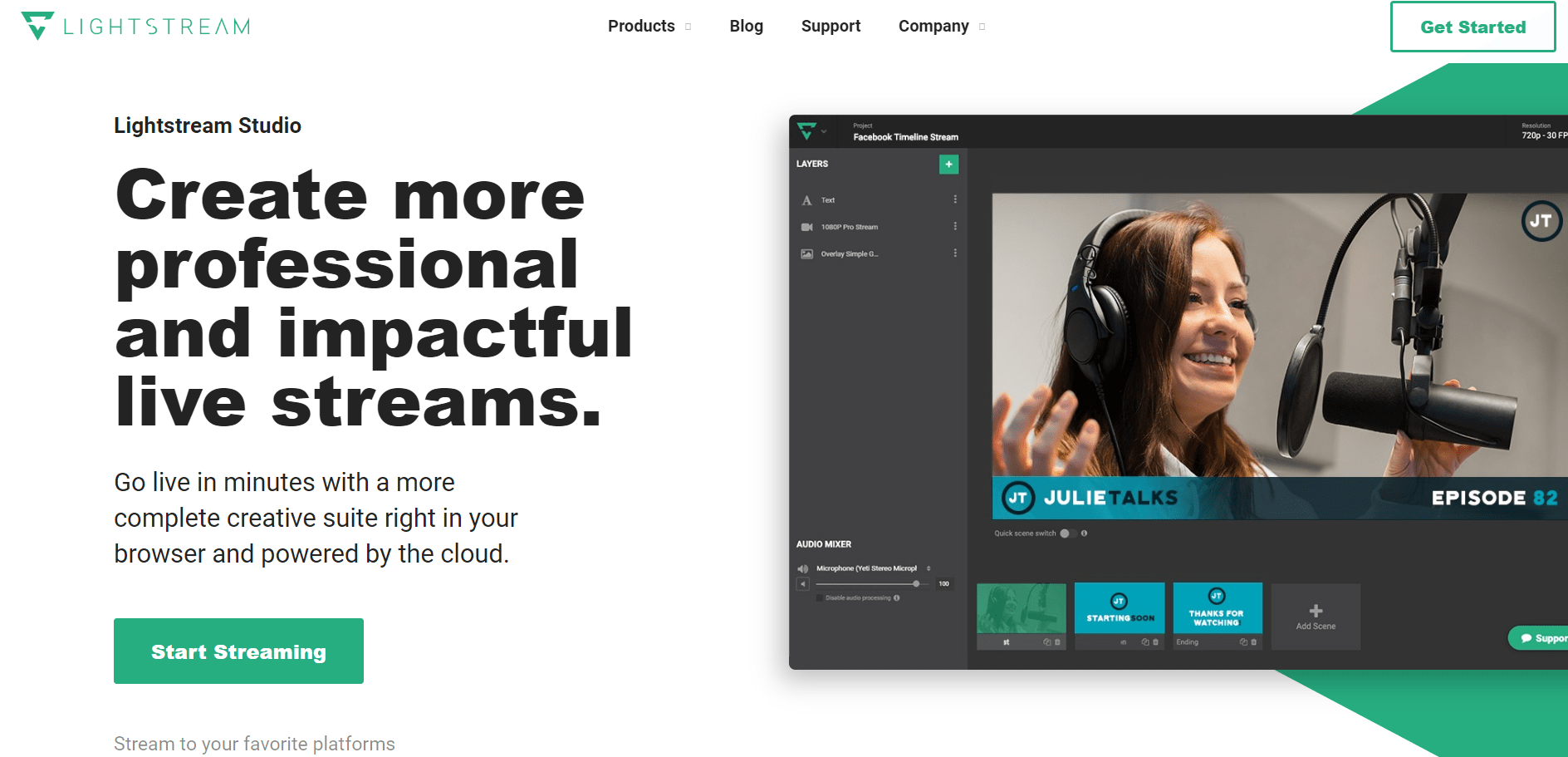 Lightstream is a streaming software that runs in the cloud. Let me use an example to help you understand: you must have used Google Docs at least once.
Have you ever noticed how Google Docs saves your file on its own? The document is created in the web browser and saved on Google servers. Similarly, Lightstream is a streaming software that runs in a web browser.

Lightstream puts barely any strain on your CPU. It is one of those on-the-go applications that can get you up and running in minutes. The software adapts to the configuration of your CPU and internet and adjusts itself to ensure that the streams run smoothly.
Lightstream Price:
It is free to use and does not require a license. This makes it a viable alternative to OBS, which is one of the best free Twitch streaming software.

Lightstream Pros and Cons:
Let's take a look at the pros and cons of Lightstream.
Lightstream Review:
Lightstream is a piece of software designed for on-the-go streaming when you don't have access to your usual setup or a light CPU-oriented streaming setup.
Can You Make Money From Twitch Streaming?
The answer is a little more complicated than a simple yes or no. Consider the case of a gamer streaming games on Twitch. It is nothing short of a full-time job. To monetize Twitch, you must stream for hours.
There are times when you must stream to an empty audience (a no-viewer stream). Finding the break you're looking for could take days, months, or even years.
You may also like:
FAQs 
🤔 Can I make money from Twitch Streaming?
Yes, Twitch Streaming is a great platform to make money.
💁‍♀️ Is OBS better than XSplit?
OBS can't be said to be better than XSplit. Though both have their pros and cons, many people do prefer using OBS.
🙇‍♂️ Can I use Twitch streaming for free?
Yes, there are many software available that allows you to stream online for free.
🤷‍♂️ Is streaming online safe?
Yes, it is safe to stream online.
🙆‍♀️ Is online streaming easy?
Yes, it is completely easy to start streaming online. You might take some time to understand the software at the beginning but once you get the gist of it, online streaming is very easy.
Conclusion
It can be difficult to determine the best software for live streaming, as many factors come into play when making this decision.
Your requirements as a live streamer will also influence which software is most suitable for you.
To make an informed choice, I suggest conducting a thorough review of each live-streaming software available.