This blog is about the Best Twitch Streaming Softwares 2023.
Let's have a look.
A List of 7 Softwares Best Twitch Streaming Softwares 2023
Detailed About Best Streaming Software For Twitch Streaming
Everyone knows someone who is earning a lot of money from streaming online. Do you wish to do the same?
Are you planning to start online streaming?
How to stream with a twitch?
Whenever we talk about online streaming, the name Twitch is highly recommended. You must have heard about Richard Blevins who is also known as Ninja. He is the highest-paid twitch streamer with the earnings of $5.4 million per year.
Isn't it amazing? He is a professional gamer and earns a lot doing the thing he loves the most! 
Why Twitch Streaming?
Twitch is the leading live streaming platform where people stream music, popular video games, and video logs showcasing their lives. Twitch attracts over three million broadcasters every month, with a monthly viewership of over 140 million.
Over 15 million users with unique daily searches are also a huge part of the Twitch family. Twitch was bought by Amazon in 2014 and is now a widely popular platform among the young minds.
Twitch streaming is a great platform to make money and generate a nice source of income while doing the things that you love. To maintain and manage twitch streaming, everyone wants to use the best streaming app for twitch.
So, through this blog let us compare the top seven twitch streaming software and see which one is the best for you to start your streaming journey.
Check out the exclusive WebinarJam Discount Code & Coupons to get 20% OFF.
Top 7 Best Twitch Streaming Software 2023
Let us have a look at the top & best streaming app for twitch. I would be telling you about the best streaming software available for you and discuss in detail about the pricing and pros and cons of each one.
The streaming software that we would be looking into is StreamLabs, OBS, XSplit Gamecaster, StreamPro, vMix, Lightstream, and Wirecast. 
Here are the details about the top 7 best twitch streaming software:
1. StreamLabs  
StreamLabs used to be just a streaming tool, about a year ago. Mostly used by gamers for streaming games daily. Due to StreamLabs slick appearance with a user-friendly interface.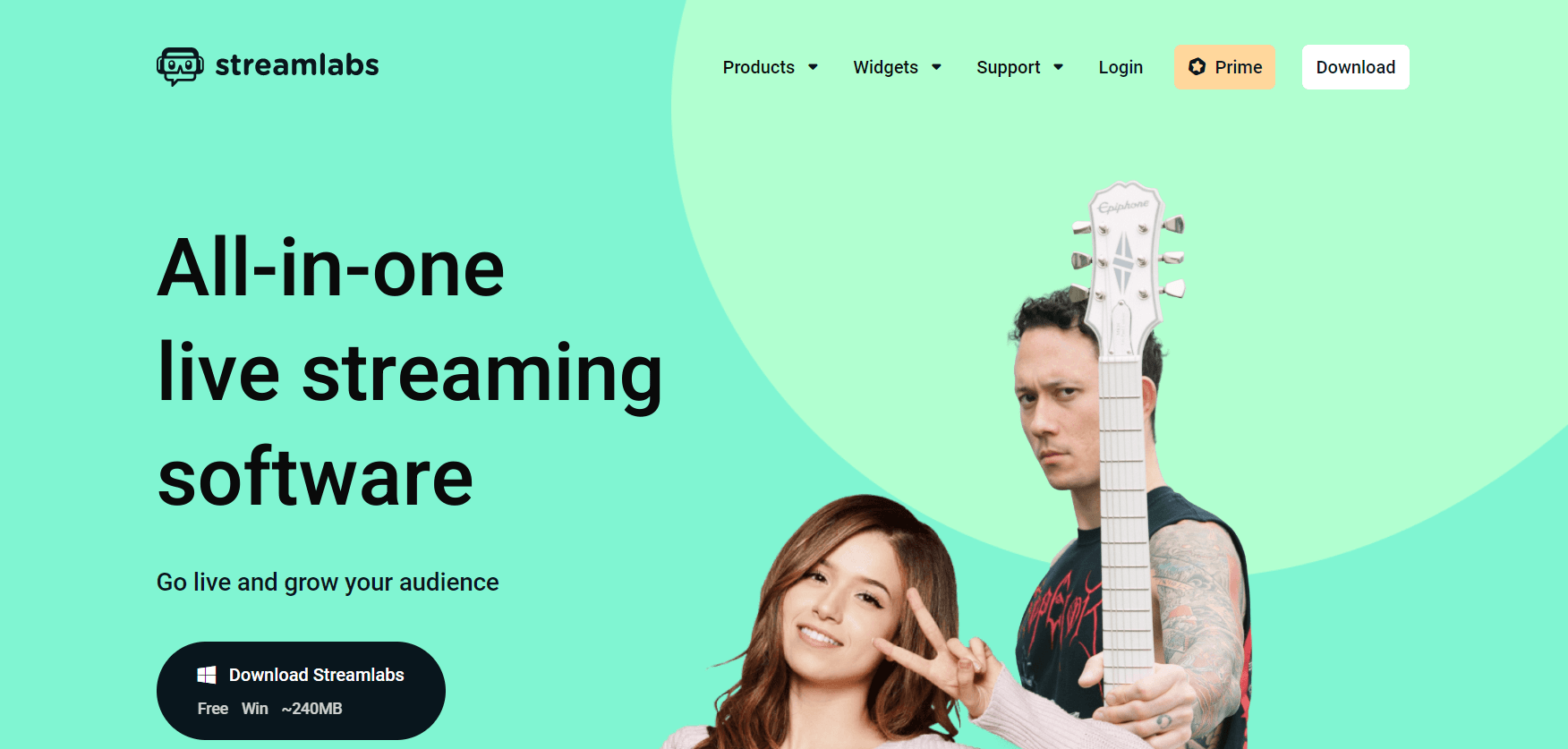 StreamLabs collaborated with OBS in January 2018 giving birth to StreamLabs OBS (SLOBS). Its tool is gaming-oriented thus giving gamers the advantage to tweak with gaming options, resulting in a low CPU usage.
StreamLabs is being used by professionals and growing day by day.
StreamLabs Price
:
The standard version of StreamLabs is free. To use a Prime subscription you would have to pay 12$ per month which is billed annually.
StreamLabs Pros and Cons
:
Let us have a look at the Pros and Cons of StreamLabs:
StreamLabs Review:
With more game-oriented streaming features StreamLabs can be considered one of the most growing and developing streaming software services.
With StreamLabs OBS polishing its product every day and more features being added which are necessary for going online on twitch, Facebook, Instagram, or any streaming service, StreamLabs seems to be one of the better choices from the list.
2. Open Broadcaster Software (OBS)
Open Broadcaster Software (OBS) is open-source software designed by the community. Being an open-source software Open Broadcaster Software is free to use and can be downloaded by anyone.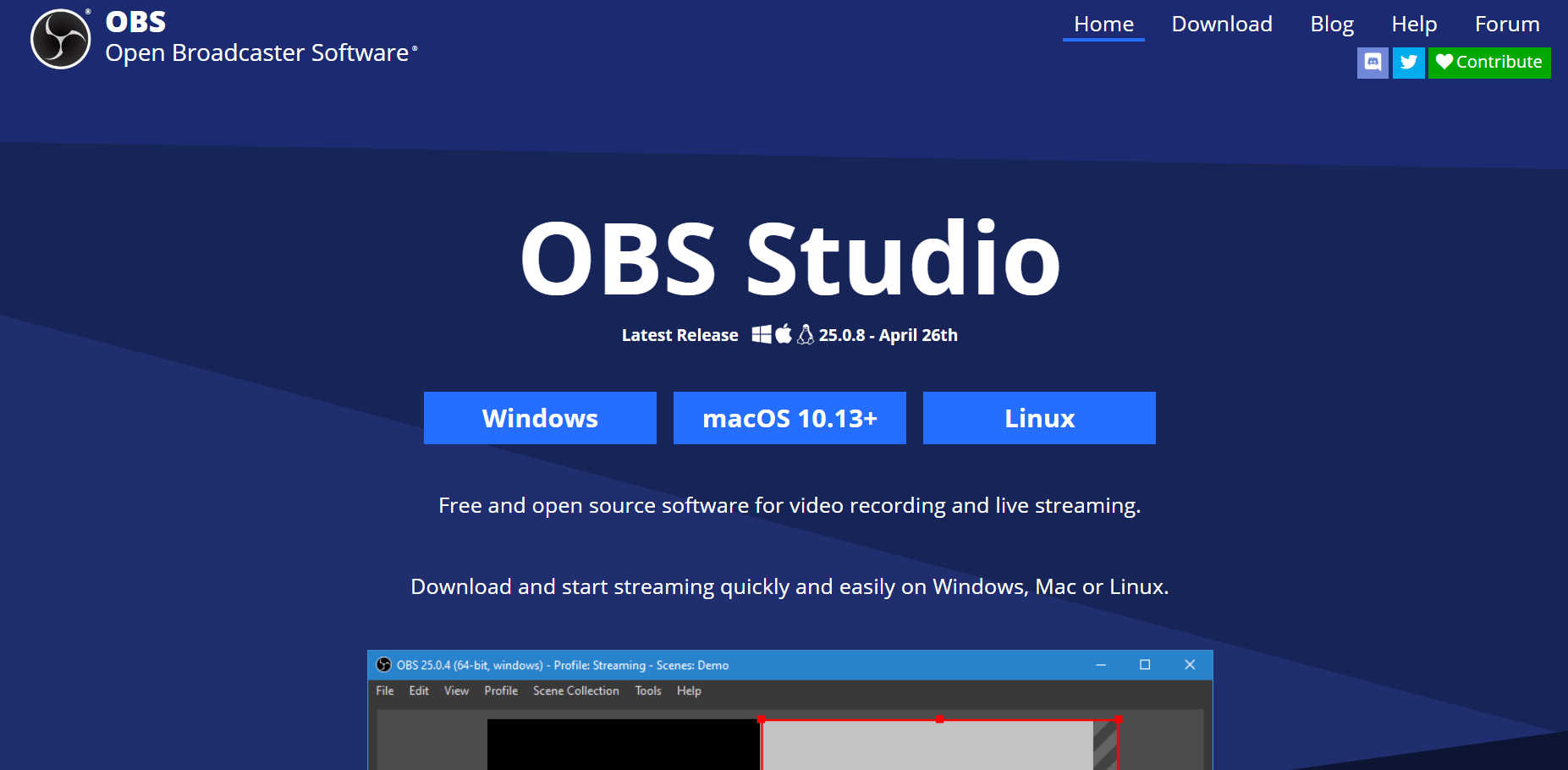 OBS software gives the user the experience of a paid professional software for free with free plugins.  OBS software is the best free streaming software for twitch. 
These plugins are uploaded by the community and offer a wide range of usage. With constant content availability and updates, the OBS software is highly customizable, you can wander around and find lots of useful tools for your streaming.
Few features of OBS software are High-performance real-time video capturing and mixing, intuitive audio mixer with per-source filter, seamless switching between transitions, a modular dock UI.
But this comes with a catch, being a community-oriented design it doesn't have centralized customer support. This means you won't be having anyone help you with software if you get stuck with something.
You will need to wind your way around, this is usually not a problem if you're a techie but gets difficult if you're a new user or a beginner. But thanks to the internet you can find solutions to your problems on google or youtube and keep using this software for free.
Open Broadcaster Software Price:
It is free for users and no license is required.
Open Broadcaster Software Pros and Cons:
Let's take a look at the Pros and cons of Open Broadcaster Software.
Open Broadcaster Software Software Review:
It is a great software for technical users with lots of professional tools but it is not very user friendly for beginners. 
3. XSplit Gamecaster
XSplit offers two versions to its users: XSplit Gamecaster and XSplit Broadcaster. As the name suggests the Gamecaster is modded with features to stream games. These features are exclusive to gaming streams and go light on CPU usage.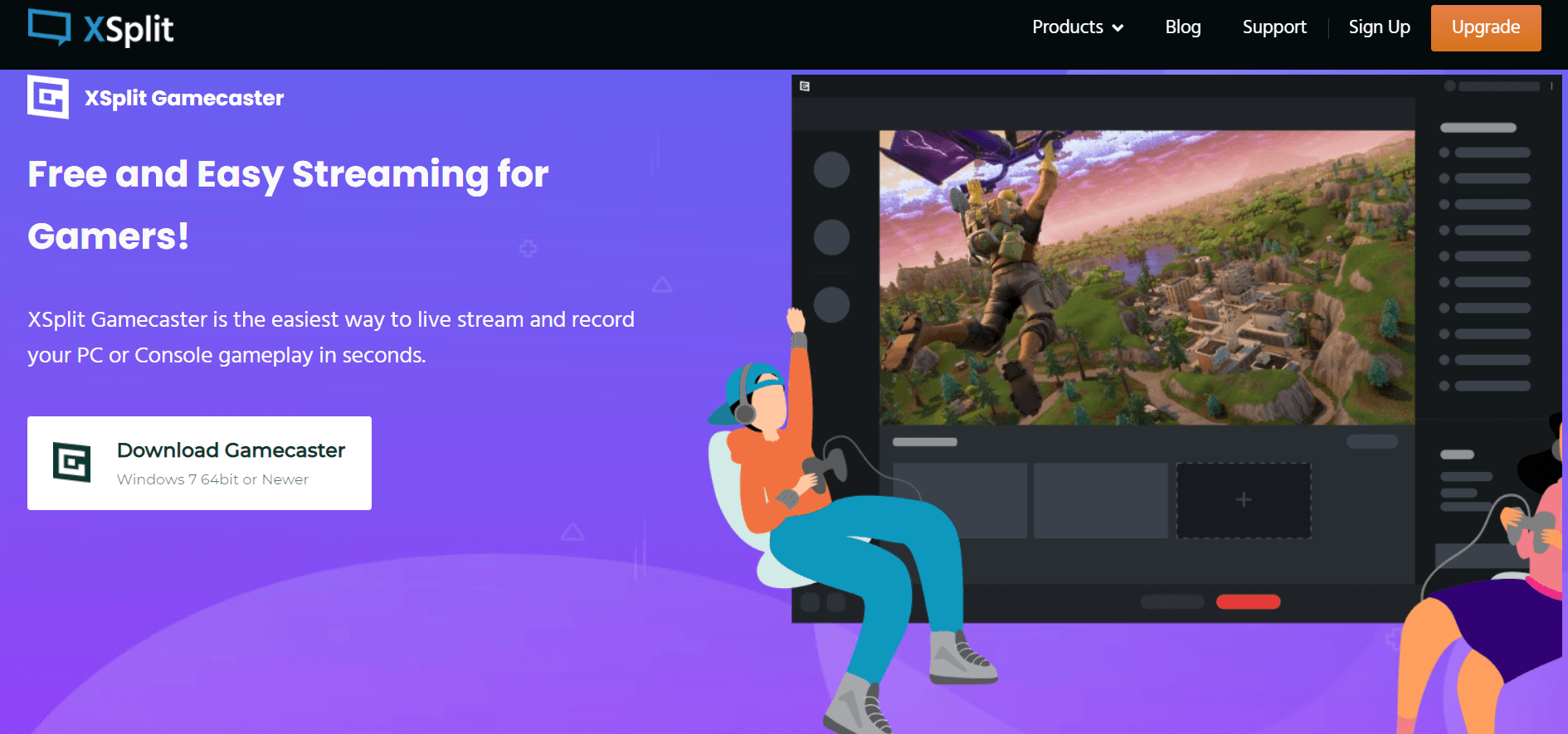 XSplit offers a service called Vcam which removes blurs, backgrounds and gives a green screen effect without the green screen.
This helps streamers who are not interested in using green screens while streaming. Commercial use of this software requires a license.
XSplit comes as both free as well as paid packages, with the paid having a few additional advantages over the free. The premium offers multi-stream as well as removes watermarks.
The freemium shows watermarks on the streams above 720p, this can be removed on the premium. Premium allows you to add unlimited scenes.
XSplit Gamecaster Price:
The basic package is free for all users. It has  Premium services ranging 24$ to 199$ and only Vcam services ranging from 6$ to 40$ according to the duration.
XSplit Gamecaster Pros and Cons:
Let's take a look at the Pros and cons of XSplit Gamecaster.
XSplit Gamecaster Review:
It is very easy to use at an affordable price. With different pricing ranges available the software becomes affordable for everyone.
For streamers who are looking for software with loads of features, customer support, and timely updates at a low price range, this is a product worth their while.
4. StreamPro
StreamPro is one of those websites that offer streaming services to the streamer. It helps new users with a complete package of getting their website set up and including a live stream, social media links, forum discussions.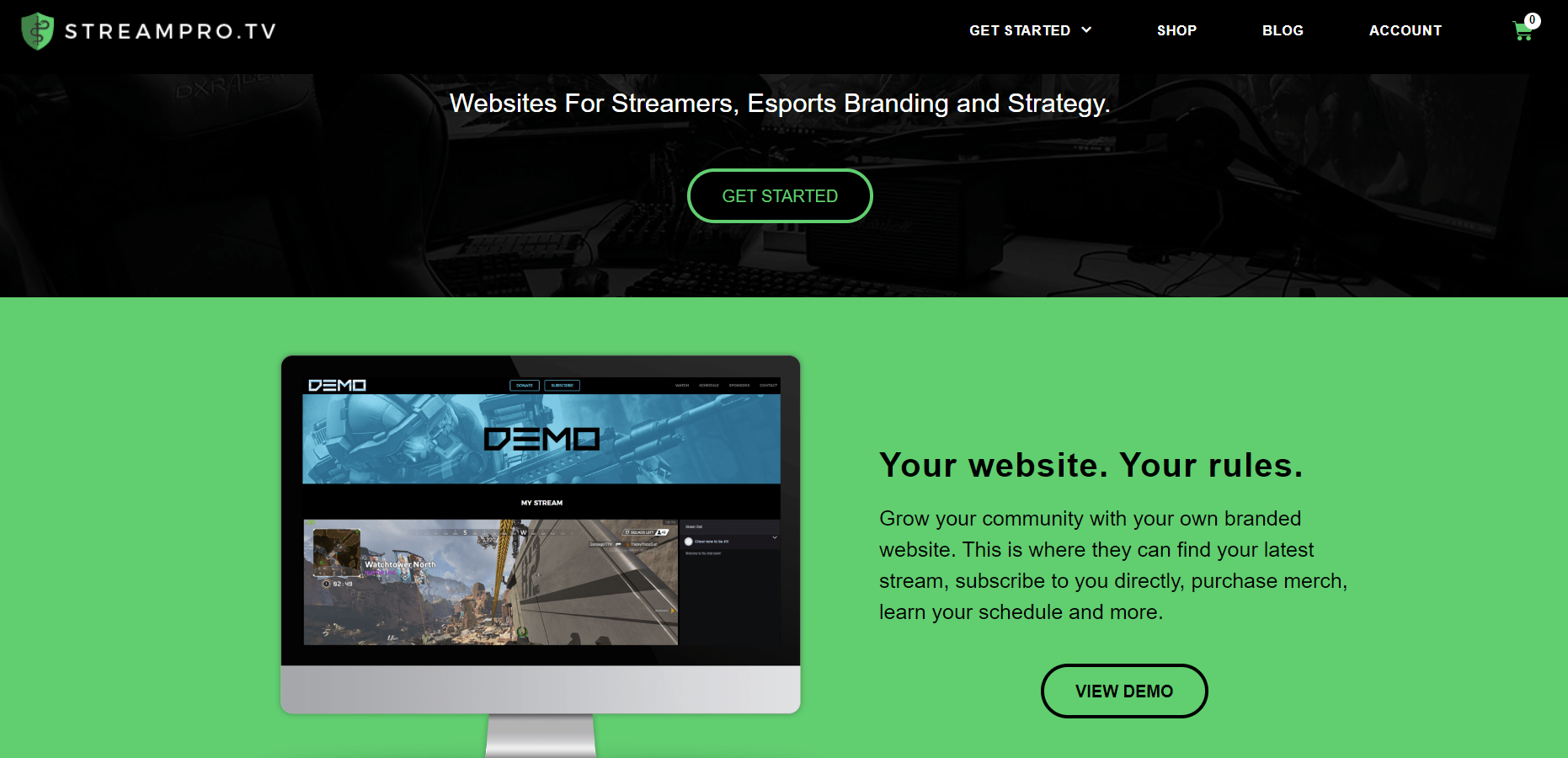 StreamPro does not have a free trial but its basic package is a bang for the buck. Full customizations are available for the user.
Some other features included in the PLUS package are AD revenue, Website analytics, Advanced search engine optimization (SEO), Custom domain, Discord embedding.
StreampPro even offers custom packages for clients who are already professional streamers and have a team to work with.
StreamPro Price:
StreamPro comes in two distinct packages 
The Basic package costs 14$ per month and has very limited features.

The Plus package costs 49$ per month and offers a wide range of features.  
StreamPro Pros and Cons:
Let's take a look at the Pros and cons of StreamPro.
StreamPro Review:
This is a great website for streamers who are looking into a streaming career and do not mind spending a few bucks.
The basic package can get you most of the important features and once you are up and running you can get the PLUS package with the rest of the features. As a beginner, you will not be needing most of the features offered by the PLUS.
5. Wirecast
Wirecast is software by Telestream for professional use. The software comes in 2 packages: Wirecast Studio and Wirecast Pro.
The software comes with loads of features for its pricing. It is straight off the bat software for professionals.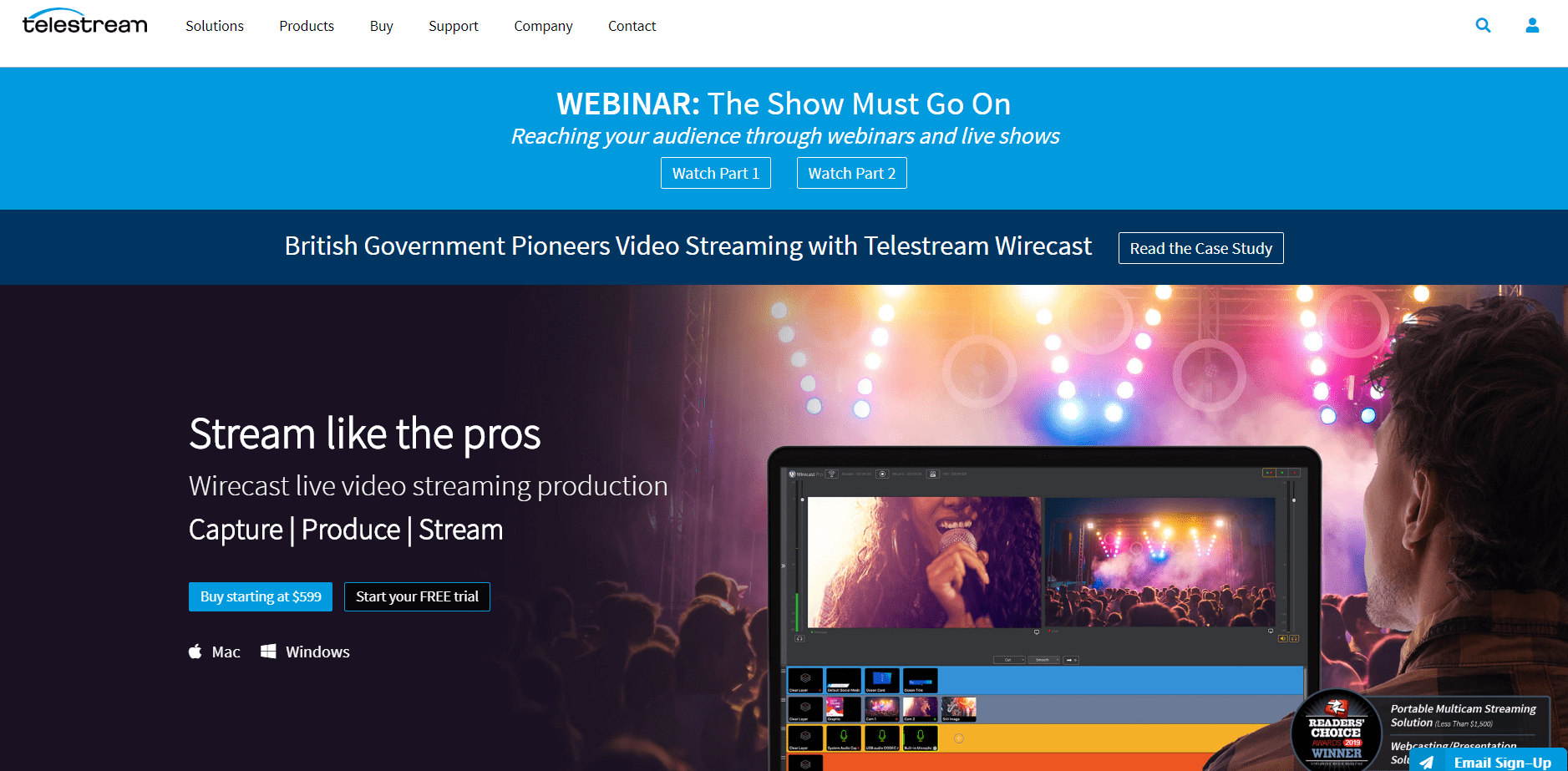 The studio provides multistream, unlimited capture, and animated 3D tiles. The pro version goes up a notch with, high definition ISO recording, instant replays, live scoreboards, and even more.
Telestream website provides a free trial for the software for testing with the Wirecast watermark on it. Both the studio as well as the pro come with standard support for a year with the subscription, it costs an additional 299$ for premium support.
The software is not light on CPU usage and consumes resources.
Wirecast Price:
The Studio version costs 600$ while the Premium version will cost you 800$ (extra for premium support)
Wirecast Pros and Cons:
Let's take a look at the Pros and cons of Wirecast.
Wirecast Review:
The software is for professional streaming and mostly for the tech-savvies, with tons of features included with a pretty heavy price tag along with it. The price can be considered as an investment when it comes to professional streaming. 
6. vMix 
vMix is one of the few software that allows 4k recording. It is a top of the live streaming software with all the features one would need. Virtual sets, animated overlays, hosting guests, live video effects, instant replay, and more.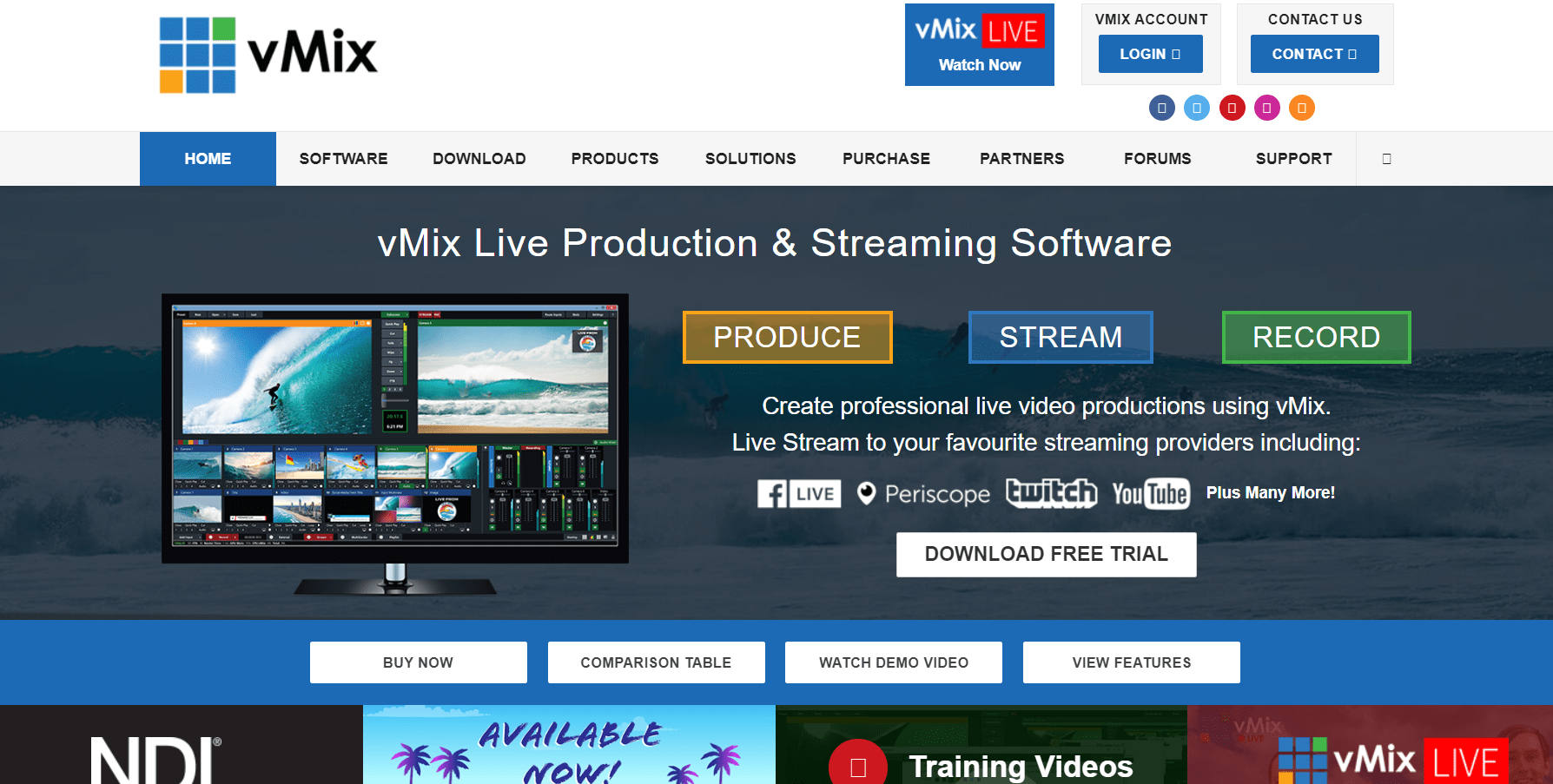 Additionally, vMix supports a wide range of inputs, including webcams, DVDs, sound cards, playlists. It is available for a free trial with no-watermarks for users who are looking for streaming software.
It is designed with professionals in mind, so the software is loaded with technical features but with its extensive customer support can be used by beginners. As it is only windows software so that comes as a drawback for apple users.
vMix Price:
Pricing ranges from 60$ to 1200$ and free trial for 60 days use with no watermarks.
vMix Pros and Cons:
Let's take a look at the Pros and Cons of vMix.
vMix Review:
This software is strictly for professional use and can be a bit intimidating for new users/beginners.
The product has an initial investment that comes along with a hefty price tag. Ideal for users who are looking for a streaming software to stream in high definition. It is one of those that allows 4k streaming.
7. Lightstream
Lightstream is a cloud-based streaming software. Let us have an example that would make it easier to understand, you must have used google docs at least once.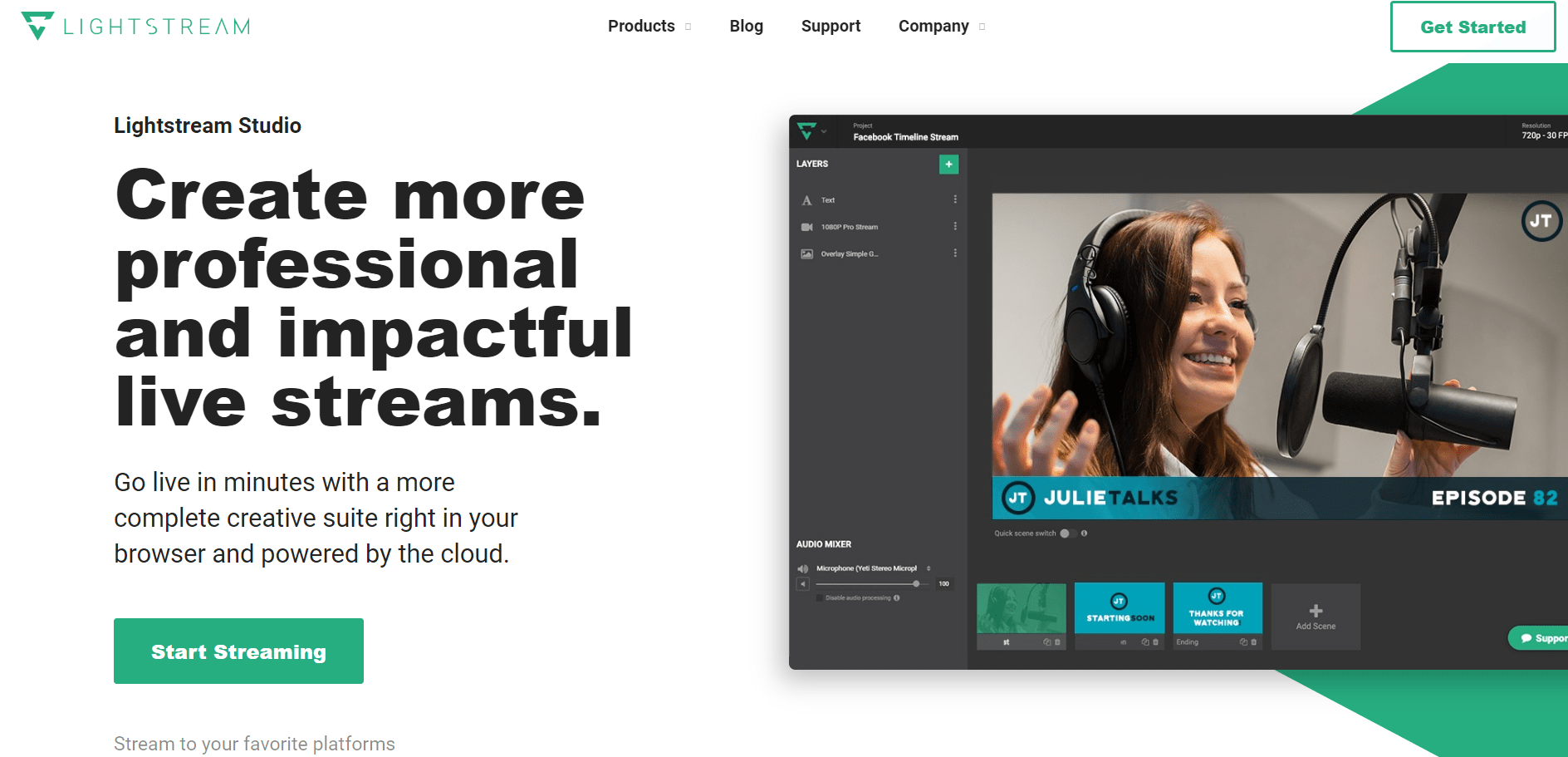 Have you noticed how docs save your file on its own, the document is created on the web browser and the saved on the Google servers? Similarly, Lightstream is a web browser-based streaming software. 
Lightstream ensures almost no to low load on your CPU. It is one of those on the go software that can get you live in a matter of minutes. The software adapts to the configuration of your CPU and internet and adjusts itself to ensure the smooth running of the streams.
Lightstream Price:
It is free to use and no license is required. This makes it a good alternative to OBS. which is one of the best free streaming software for twitch.

Lightstream Pros and Cons:
Let's take a look at the pros and cons of Lightstream.
Lightstream Review:
It is a software that is designed for on the go streaming when you don't have your usual setup or a light CPU oriented streaming setup.
Check out the WebinarJam Free trial coupons and get 14-day free trial now.
Can You Make Money From Twitch Streaming?
Well, the answer is a bit complicated rather than a simple yes or no. Let's take the example of gamer streaming games on Twitch. It is no less than a real-life job. You need to stream for hours to monetize twitch.
There are even times when you have to stream to an empty audience that is a no viewer stream. It may take from days, months, or even years just to find the break you're looking for. 
What Is The Best Program For Live Streaming?
So to answer the original question –  which is the best twitch streaming software? The answer varies based on your requirements as a live streamer. Multiple factors play a role in deciding which streaming software to use.
What's ideal for me, might not be ideal for you. I recommend reviewing each live streaming software in detail and making the decision for yourself. 
Also, Read
FAQs | Best Twitch Streaming Softwares
🤔 Can I make money from Twitch Streaming?
Yes, Twitch Streaming is a great platform to make money.
💁‍♀️ Is OBS better than XSplit?
OBS can't be said to be better than XSplit. Though both have their pros and cons, many people do prefer using OBS.
🙇‍♂️ Can I use Twitch streaming for free?
Yes, there are many software available that allows you to stream online for free.
🤷‍♂️ Is streaming online safe?
Yes, it is safe to stream online.
🙆‍♀️ Is online streaming easy?
Yes, it is completely easy to start streaming online. You might take some time to understand the software at the beginning but once you get the gist of it, online streaming is very easy.
Conclusion | Best Twitch Streaming Software 2023
We can't conclude which software is best for live streaming. Multiple factors play a role in deciding which streaming software to use. Live streaming is based on various multiple factors based on your requirements as a live streamer. 
I recommend reviewing each live streaming software in detail and making the decision for yourself. 
Hope you like reading this blog Best Twitch Streaming Softwares 2023.