It might be challenging to choose a good WordPress theme that will suit the demands of most of your needs among the hundreds of WordPress theme alternatives available.
It's like looking for a needle in a haystack when it comes to finding a lightweight, responsive, and highly configurable WordPress theme. However, it is critical for a website's success, and BuddyX is the ideal theme for doing so.
BuddyX isn't just another community theme; it's the best theme for building mobile online communities, membership sites, and e-learning sites. Wbcom Designs created an entirely compatible infrastructure with BuddyPress and supported hundreds of plugins like WooCommerce, LearnPress, LearnDash, GamiPress, Elementor Page Builder, and many others.
BuddyX is a lightweight, highly responsive community theme that allows for easy modification to let you build your site without requiring any technical knowledge. It is a highly rated theme on WordPress.org, with a rating of 5 stars.
Pre-Built Community Website Demo
Lack of some valuable documentations.
Buddyx is the best theme for building mobile online communities, membership sites, and e-learning sites. Wbcom Designs created an entirely compatible infrastructure with BuddyPress and supported hundreds of plugins like WooCommerce, LearnPress, LearnDash, GamiPress, Elementor Page Builder, and many others.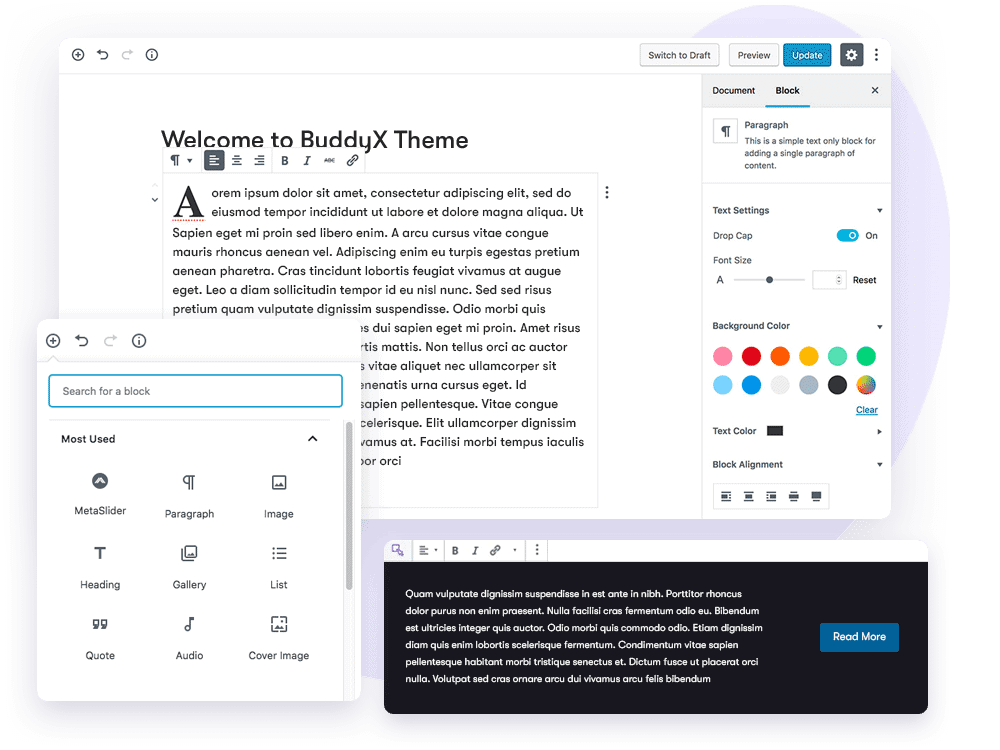 BuddyX's Initial Configuration
It's elementary to set up using a one-click example import procedure.
Go to Dashboard >> Appearance >> Theme >> Add New to begin.

In the search bar, type BuddyX.

The theme should now be installed and activated.

Install the needed plugins by following the instructions on the notification.

Turn them on.

Create a Homepage
You may now install and activate the BuddyPress for establishing a social community WordPress theme after activating the Buddyx theme. BuddyPress offers you a well-organized community with a news feed, updated user profiles, social groups, email invites, and member connections with the help of specific additional plugins.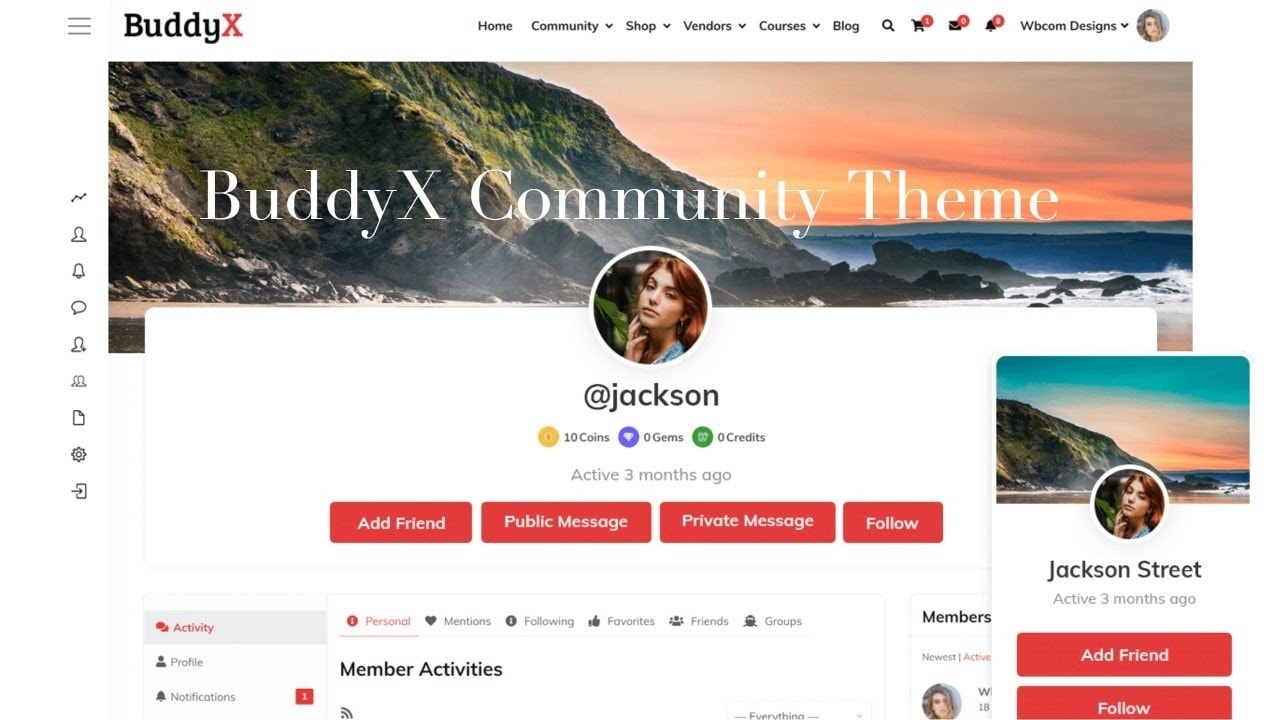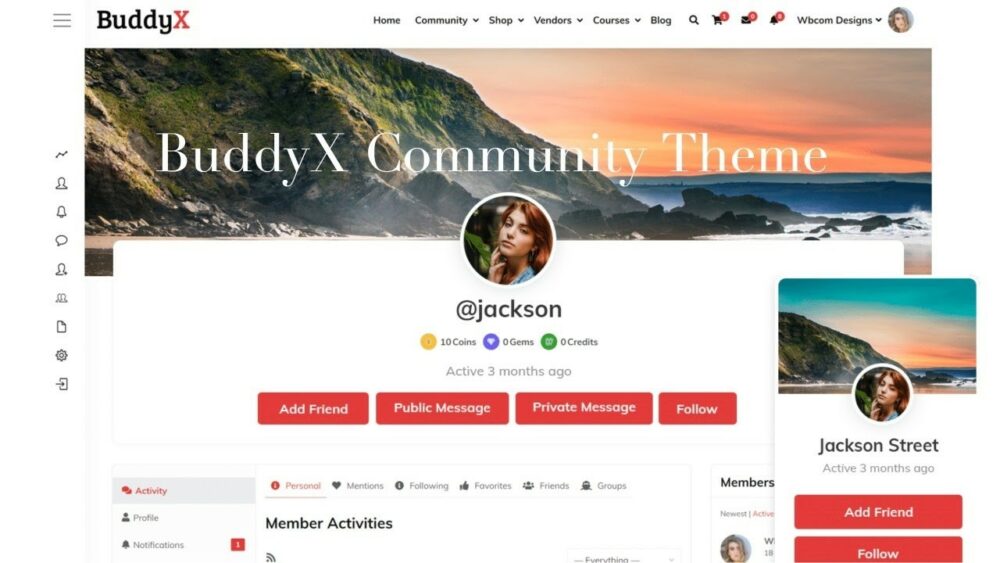 Make Your BuddyX Theme Unique
.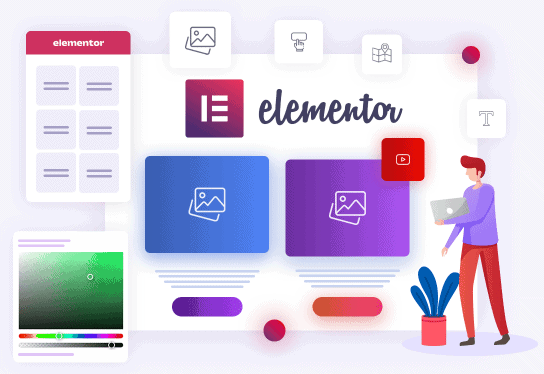 This is one of the steps that provide your website a more beautiful appearance. With advanced color and typography settings and attractive theme skins, you can completely modify the appearance and feel of your WordPress website.
After you launch the WordPress theme customizer, you'll see all of your modification options on the left side of your screen, as well as a live preview of your website on the right.
Benefits and Checks of BuddyX Theme: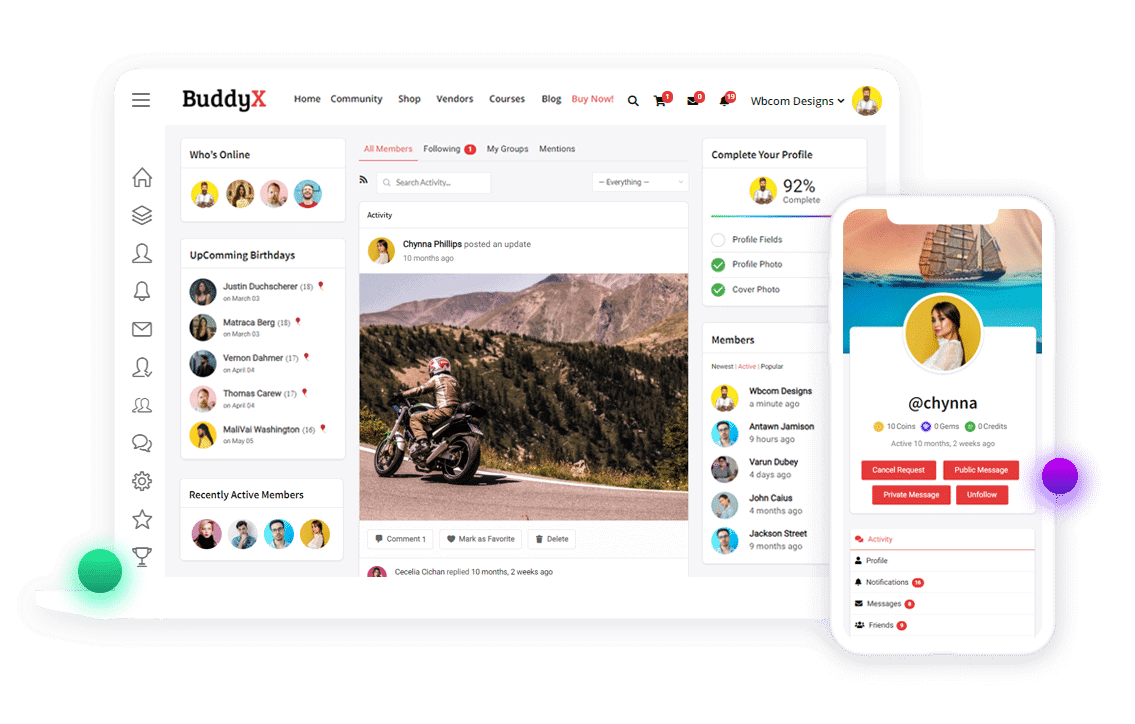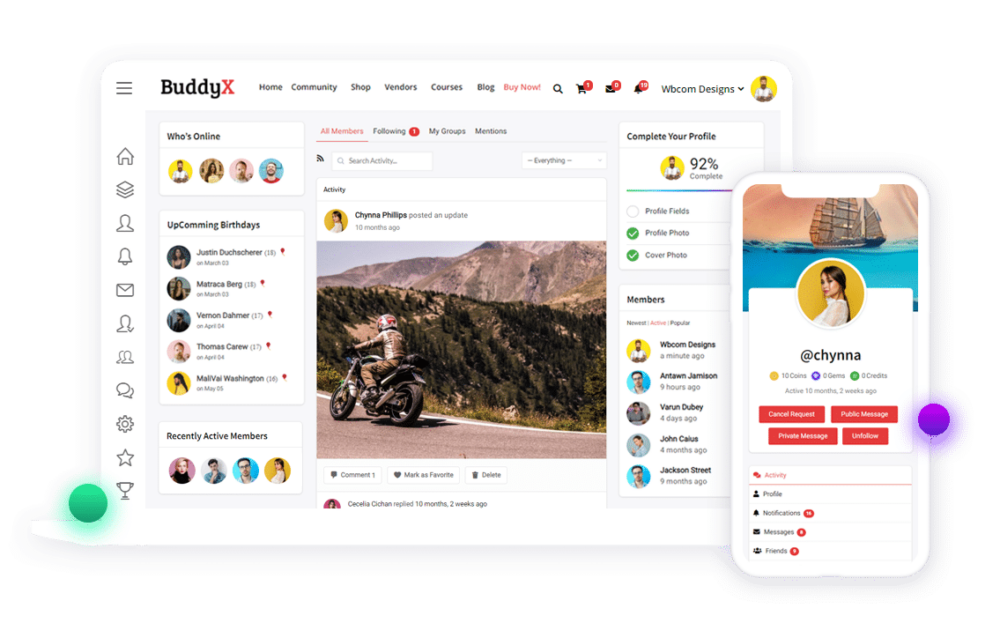 Easy To Customize: We allow you to handle individual page settings and page builder support with the Live Customizer; you can simply modify your website utilizing live previews.
One-Click Demo Installer:
BuddyX themes have a one-click demo installer built-in. The one-click demo installer here allows you to reproduce your demos in a matter of minutes easily. You can Install the demo with a single click.
Lightweight 
BuddyX utilizes a lightweight framework that improves the performance of your website and provides quick page loading times on mobile and desktop.
Well Designed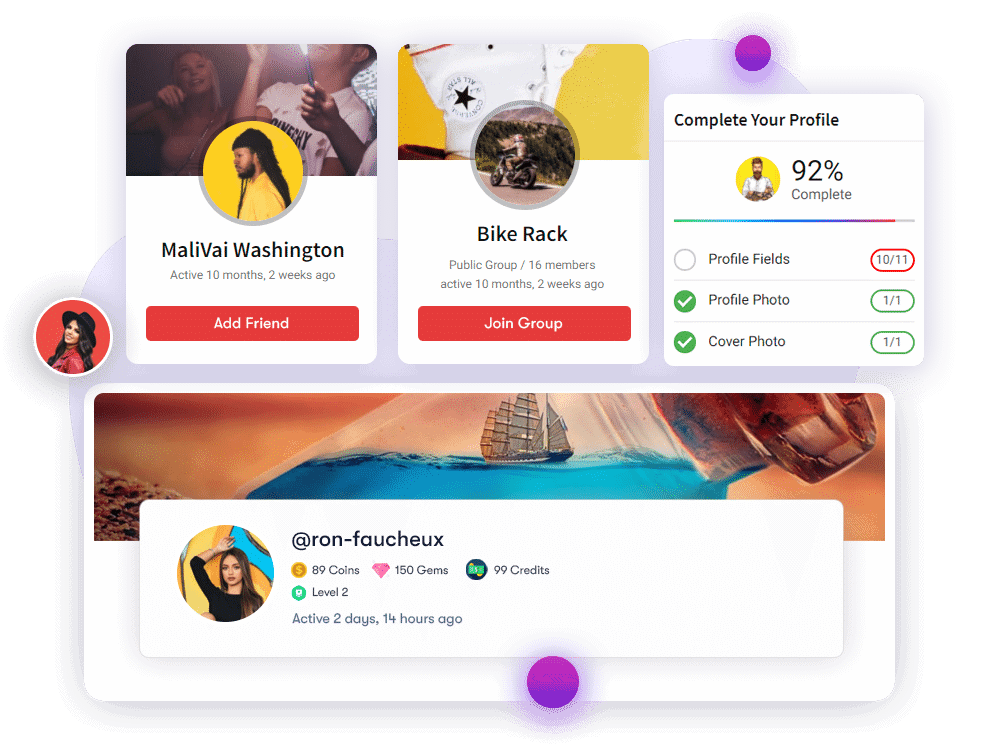 BuddyX is well-designed and easy to adjust because it adheres to WordPress design code standards. BuddyPress Nouveau and BuddyBoss Platform are both supported by the theme.
Various Plugins Are Supported
.
BuddyX is a multi-purpose community theme that works with various WordPress plugins, including BuddyPress, Buddyboss platform, BBpress, Woocommerce, and rt-media.
Support for Learndash, Learnpress, gamification, Tutor LMS, Sensei LMS, Yoast, and elementor are all available. As a result, you can quickly expand the capabilities of your community as needed.
Elementor Page Builder Integration
The famous elementor page builder is included in the theme. This page builder has simple drag-and-drop functionality that allows you to create any page.
Integration With Elementor Page Builder
With this page builder, you can design any element, such as a header or a footer, from the frontend with fast, real-time results.
Gutenberg-ready And Compatible With WordPress
BuddyX is a social networking theme that works with the current WordPress version and Gutenberg, the new WordPress editor. With Gutenberg's user-friendly editor, you can quickly add more visual material for your blogs and websites.
Mobile-Friendly And Fully Responsive
BuddyX is an entirely responsive WordPress theme that is also retina-ready. It is 100 percent mobile-ready, cross-browser compatible, fully optimized, and retina-ready. It's mobile-friendly and provides you complete control over your site's content, whether on a desktop or mobile device.
What Can You Do With The BuddyX Theme?
Create Community-Oriented Websites
BuddyX, in conjunction with BuddyPress, provides the fastest WordPress community experience. This community WordPress theme offers private chats, group chats, connections, member profile pages, streams, and more to fill out the social network experience. BuddyX is a perfect theme for building social media forums and websites like Facebook.
Creating A Discussion Forum
You can easily create or integrate private or public forums into your websites with the WordPress forum plugin bbPress. Forums help to increase the website's knowledge base by allowing members to discuss a specific topic.
Create Websites For Your Members.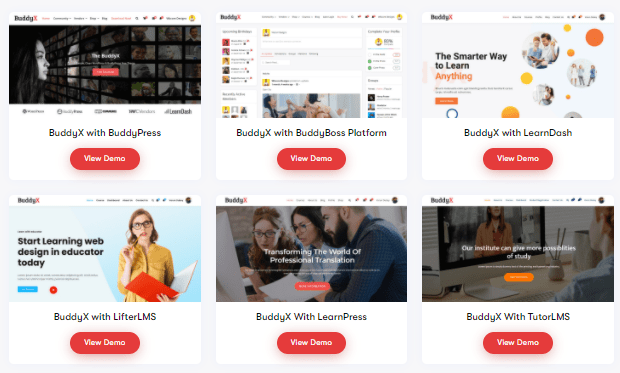 The BuddyX theme is the most user-friendly approach to build a membership site. This community WordPress theme integrates with many membership plugins, including MemberPress, Paid Membership Pro, and others, allowing you to manage your members and content easily.
With the BuddyX theme's BuddyPress integration, you can select between free and premium content, provide membership passes and badges, build a member's profile page, and much more.
Make eLearning Websites
BuddyX gives you complete control over your website's content and look. LearnDash, Tutor LMS, LifterLMS, and Sensei LMS are examples of LMS plugins that may help you incorporate Elearning components into your online community site.
Among other things, we can quickly add students and instructors, make quizzes, give examinations, and distribute badges. Using the GamiPress plugin, we can create colorful badges, set up a reward system, provide certifications, and much more.
Ecommerce Websites 
BuddyX provides full support for the WooCommerce WordPress eCommerce plugin, which helps create all e-commerce features, including store portfolios, payment gateways, sales and discounts administration, and much more.
Its multivendor plugin support, such as Dokan multivendor and WC Vendors, makes it an excellent choice for building a multivendor eCommerce site similar to Amazon or eBay. By presenting merchants' items and storefronts on the same page, also contributes to creating a lively social marketplace.
Job Postings
The BuddyX theme and plugins will undoubtedly assist you in creating an employment portal similar to Indeed or a community job site similar to LinkedIn. WP Employment Manager is a WordPress job portal plugin that adds features like employer and job seeker profiles to your website.
You may incorporate community features with the BuddyPress plugin's help. To combine WP Job Manager with BuddyPress for maximum website performance, we will link our website with BuddyPress Job Manager.
As a whole, regardless of whether you are an experienced WordPress website developer or a complete newbie, you will enjoy utilizing this community WordPress theme. While installing the BuddyX theme on your WordPress website, you won't have any issues.
As a result, even the most complicated processes appear to be straightforward to use. Add content or customize a page – it's all possible. You can quickly construct a community website and get your social media online with the BuddyX WordPress theme.
 Quick Links –