Are you looking forward to knowing whether GoLogin is worth your time and money or not? If yes, I can help you out. In this article, I will be telling you about GoLogin, which will help you make an informed decision of whether it is worth paying or not. So, stay with me to the end. 
What is GoLogin?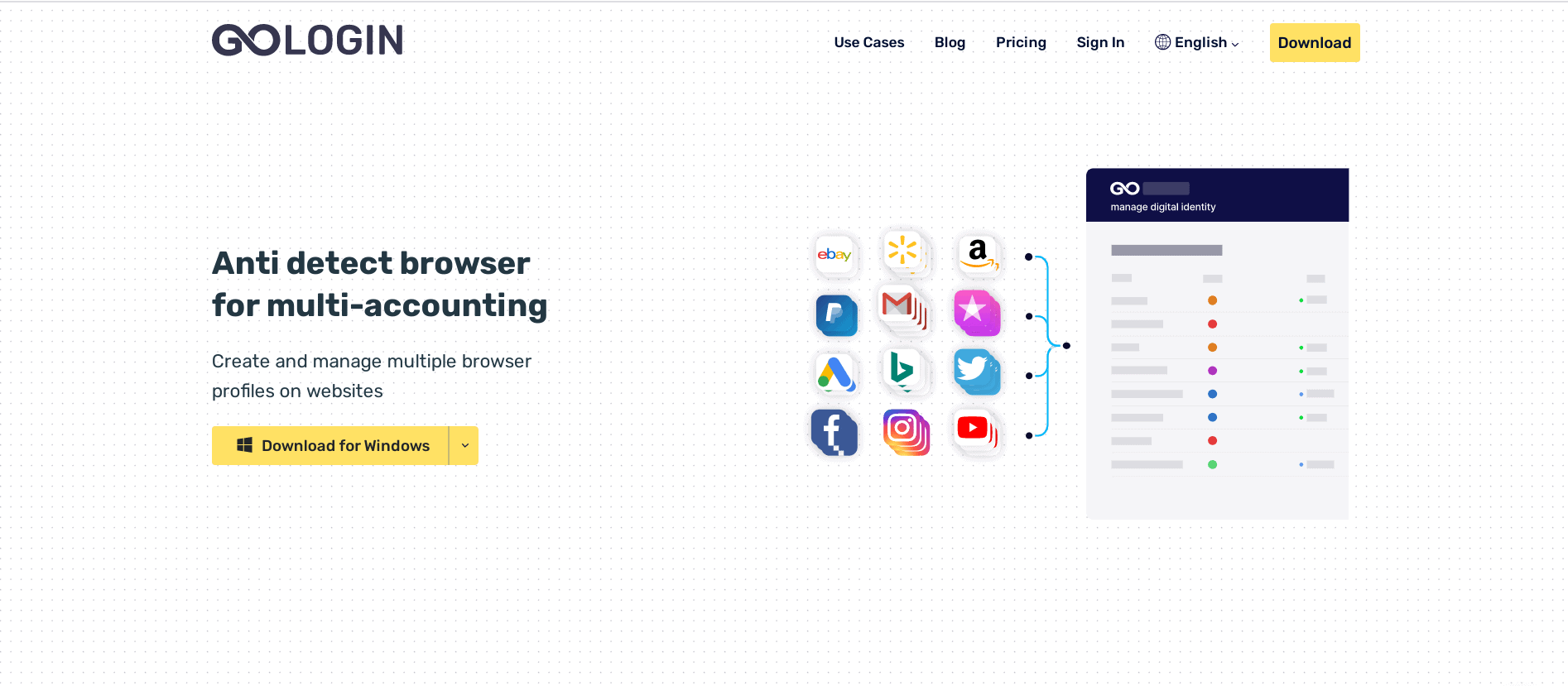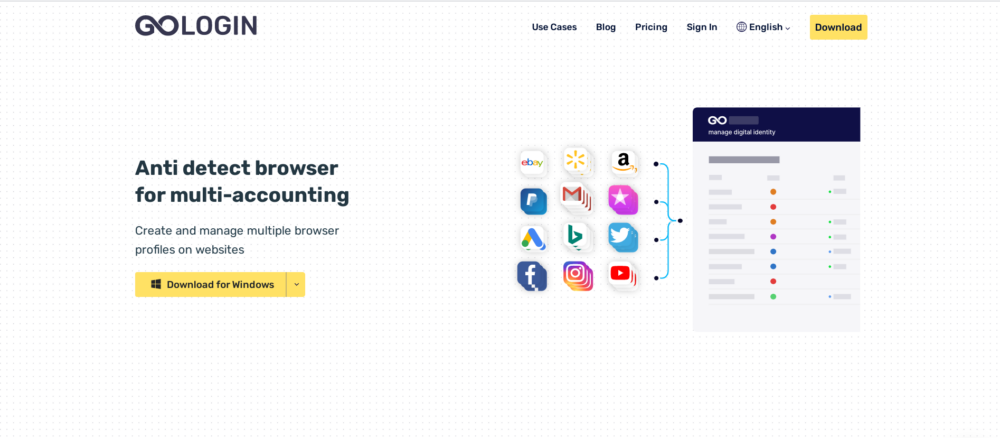 GoLogin enables the creation and simultaneous usage of multiple browser profiles. The program enables users to become invisible online and to alter their identity with a single click. It protects consumers' online privacy against invasion. Users may configure their encrypted tunnel, as well as time zone and geolocation settings.
GoLogin will encrypt user data in such a manner that they are fully protected while using an unknown public Wi-Fi connection. It enables users to visit websites that are unavailable in their current location by allowing them to alter their geolocation settings.
Users may save money on online purchases by specifying the geolocation criteria for the area in which the products are offered at a discount. Additionally, users may get remote access by simply opening a browser without installing it. Additionally, they can automate any operation via the use of Puppeteer and the Orbita Browser.
Top 7 Major Features of GoLogin
Here are the top 7 best features of GoLogin:
1. Partnership programs:
Affiliate marketing is one of the most cost-effective ways to earn money. Additionally, it is an effective tool for marketing your goods. Almost every platform now has an affiliate program of its own. This incentivizes consumers to spread the word about the product. The platform grows in popularity, and the user receives his reward.
 However, affiliate marketing cannot be done from a single account. It is soon blocked on forums and other media platforms. You are unable to continue without creating a new account.
However, the subsequent account will be banned more quickly. Alternatively, you are unable to build it. GoLogin can help you with this.
2. Social marketing (SMM):
GoLogin enables you to coordinate the activity of SMM agencies by enabling the creation and administration of cloud-based profiles. Each employee is no longer needs to sign a non-disclosure agreement since he will not get client account information.
You just need to log into the customer's social network once; subsequent sessions may be accessed by simply opening the stored session.
If you're fed up with moving data from one device to another, cloud storage may assist. Access from any device, at any time, and any location in the globe, Simply login to your GoLogin account. Certain nations restrict access to social media platforms.
This is inconvenient for the advertising industry. While you may circumvent locks using several services, it is more convenient to operate via a single service. Simply choose a different country in the GoLogin profile's settings to resolve the issue.
3. Web scraping:
A CSV file may be used to create almost unique information. Additionally, such data is very valuable in general. Consider a table that contains the complete inventory of a shop. Additionally, all fields and attributes for each product, subspecies, and brand are completed.
If a copywriter is tasked with the task of stocking the online shop, he or she will be overjoyed to get such a CSV file. If the algorithm is in charge of content creation, the messages become relevant and helpful.
However, extracting this data may need a huge number of devices. Additionally, they must have distinct parameters. Not every business has the funds necessary to buy this software. However, you do not need these expenses. GoLogin can assist you with this!


4. Self-Examination: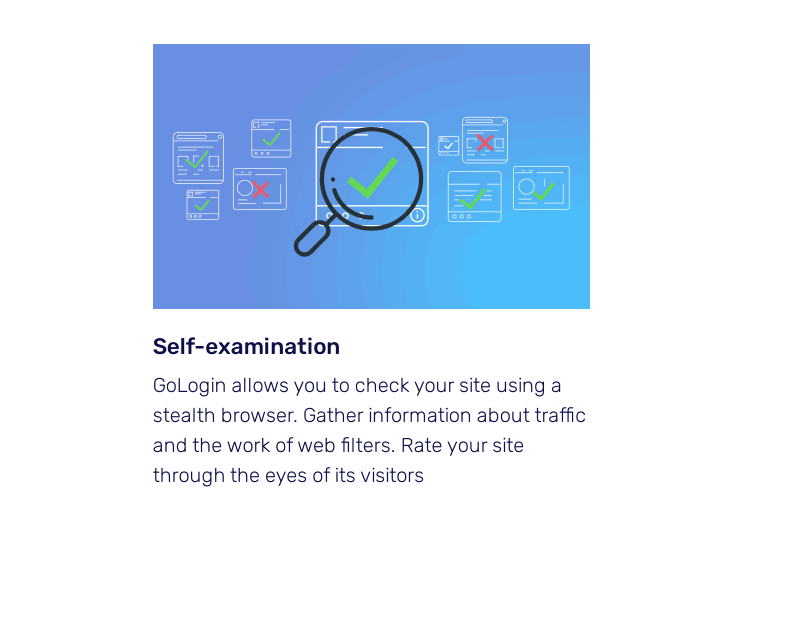 GoLogin enables you to test many websites from a single window. It saves you time and money by eliminating the need to buy several testing instruments. Almost 20 criteria are provided to help you determine the usability of your website. One of the most critical factors is testing various platforms and software versions.
You may browse the site without needing an operating system emulator on Windows, Mac, or Linux. With GoLogin, you can quickly verify that your site properly detects the user's geolocation or chooses the appropriate language. Almost all user-defined filters are supported.
5. The Mass Media and Public Inquiry:
GoLogin enables you to manage your fingerprints and profiles while being anonymous by using the Orbita privacy browser. You may obfuscate your IP address, browser, operating system, platform, and geolocation, as well as 15 more characteristics that can be traced if you do not use GoLogin.


6. Search for specialists:
GoLogin enables you to manage your fingerprints and profiles. In the meanwhile, you may maintain your anonymity by using Orbita. You may change your IP address, browser, operating system, platform, and geolocation, as well as 15 other tracking settings if you are not using GoLogin.
For instance, suppose you're searching for a new employee for your business. You've established two job listings, each with a unique pay and set of criteria. Following that, you email the applicant's job openings and initiate communication with him.
During the conversation, you may quickly ascertain the kind of pay he accepts, the talents he has, and so forth. Even if he deceives you, he will do it only to fill your emptiness. And since they are distinct, a falsehood is always detectable.
7. Analysis of advertising:
If you manufacture and sell a product, you understand how critical excellent advertising is. It's very beneficial to see your advertisement from the perspective of customers. As a result, you'll have a greater understanding of your client, which will impact your earnings.
In this case, GoLogin will be of tremendous assistance! You may create accounts for several nations and advertise in those areas where advertising is banned. Most significantly, you take a side view of yourself. It will help and grow your company tremendously.


Major Benefits of GoLogin
 1. Free Proxies: 
You no longer need to look for third-party proxies. GoLogin offers free proxies from many countries.
Therefore, if your objective is to stay anonymous, you will do it without the assistance of other services. Simply choose GoLogin Proxy Service as your connection type and change your location! All other fingerprints will immediately adjust to the new IP address.
2. Tor integration:
Orbita is a secure browser that works well with the Tor Network. Tor VPN Network is an anonymous surfing and censorship-fighting tool for the Internet.
You may use Tor Proxy in GoLogin to access all of the network's capabilities, such as surfing the web through *.onion connections.
 3.  Intuitive Interface: 


You do not need to comprehend complicated settings to operate in the private Internet browser GoLogin. Assume that discomfort is not within our purview.
Create a new identity with a single click, replicate profiles, and organize them as desired. Sort profiles by name, status, latest update date, and whether they are shared or not. Additionally, you may write remarks for each profile that are seen by other users (e.g., a list of accounts that are used from this profile).
 4. Competitive Pricing: 
Certain services restrict installation on multiple devices, while others fail when launched simultaneously from two devices. Ignore it!
Utilize GoLogin on an infinite number of devices, and they'll match your business's size to the appropriate subscription. Additionally, you may use GoLogin through Windows, macOS, Linux, or any web browser via the cloud (even on a smartphone!).


 5.
Unique Technology:
Each profile, like a normal user profile, has a digital fingerprint. GoLogin anonymizes you so that you seem to be one of the other users and cannot be recognized among them.
Other applications make you anonymous by masking your data, but this is untrustworthy for websites. That is why they restrict access to your accounts. GoLogin conceals your data, ensuring that you blend in with the crowd. Be everyone and nobody at the same time.
GoLogin Pricing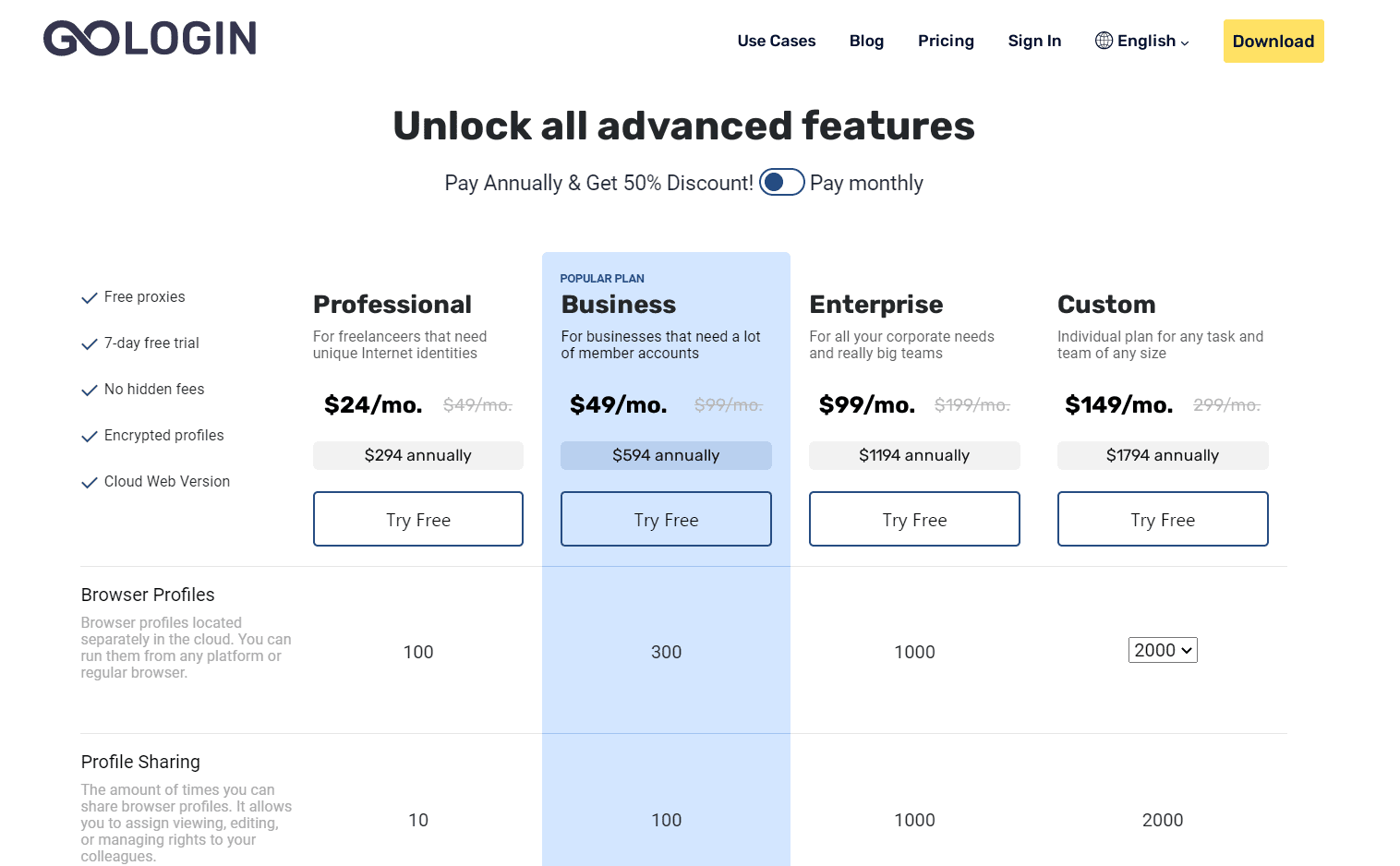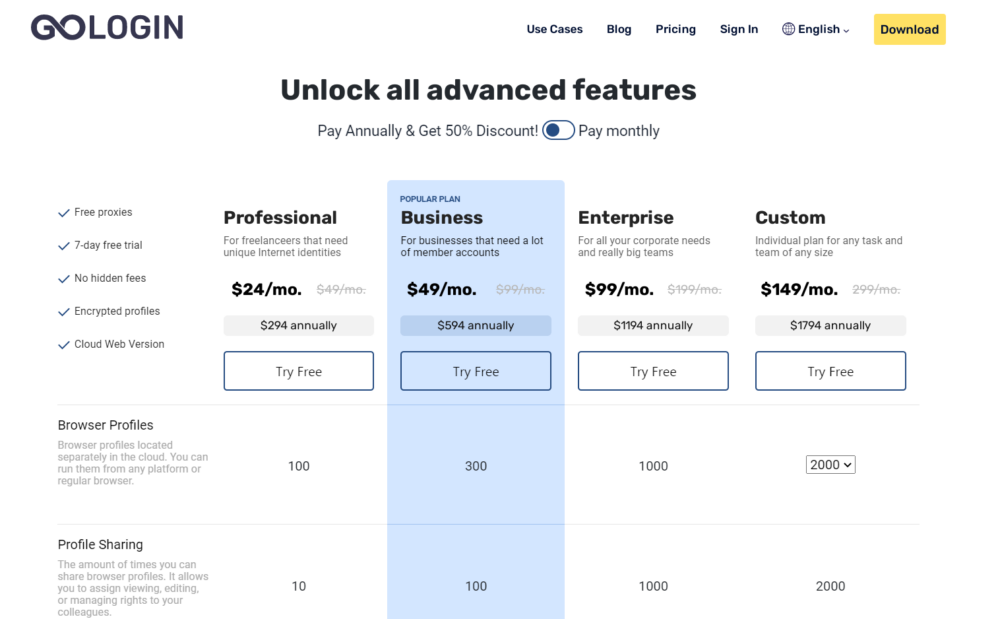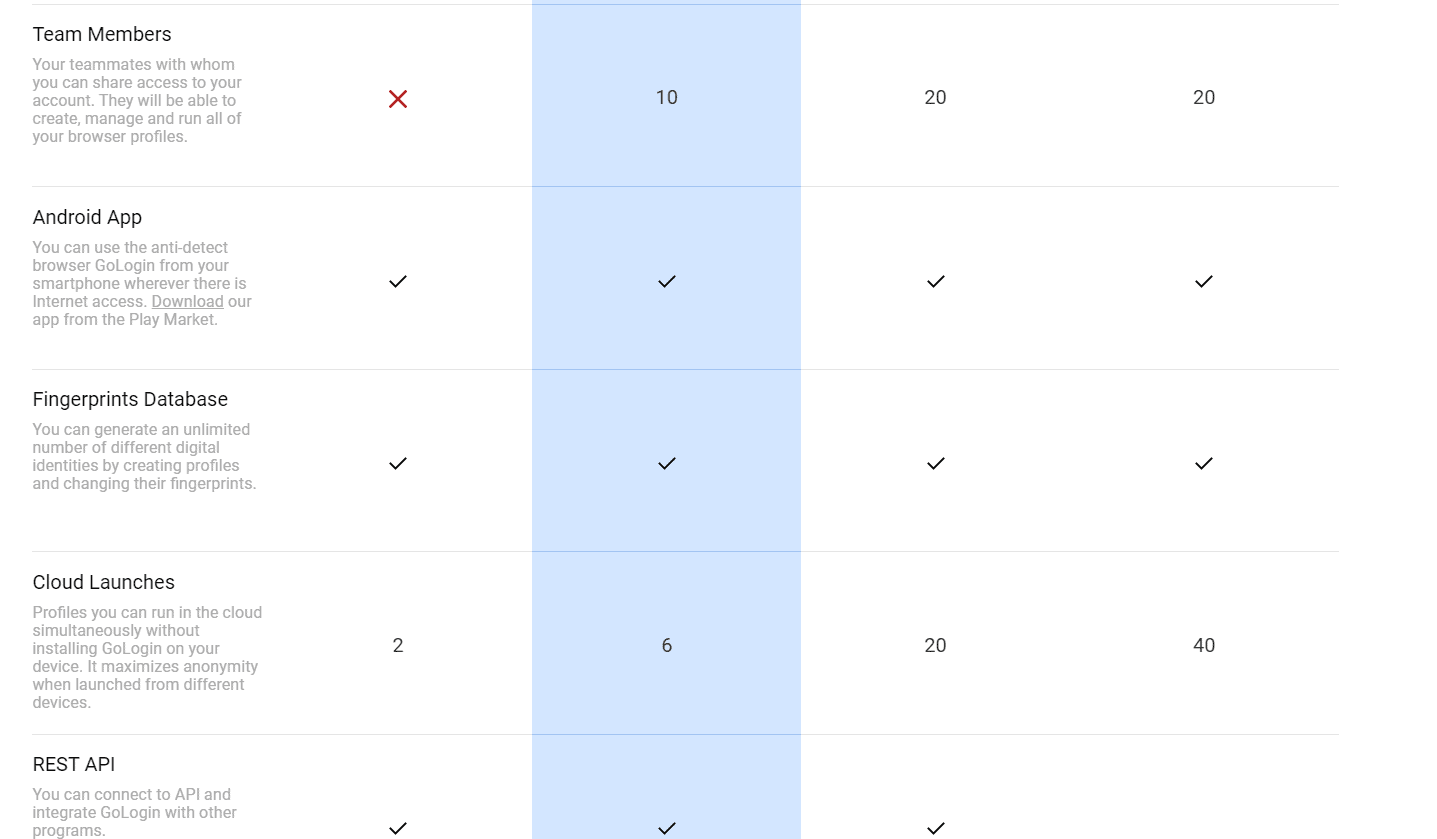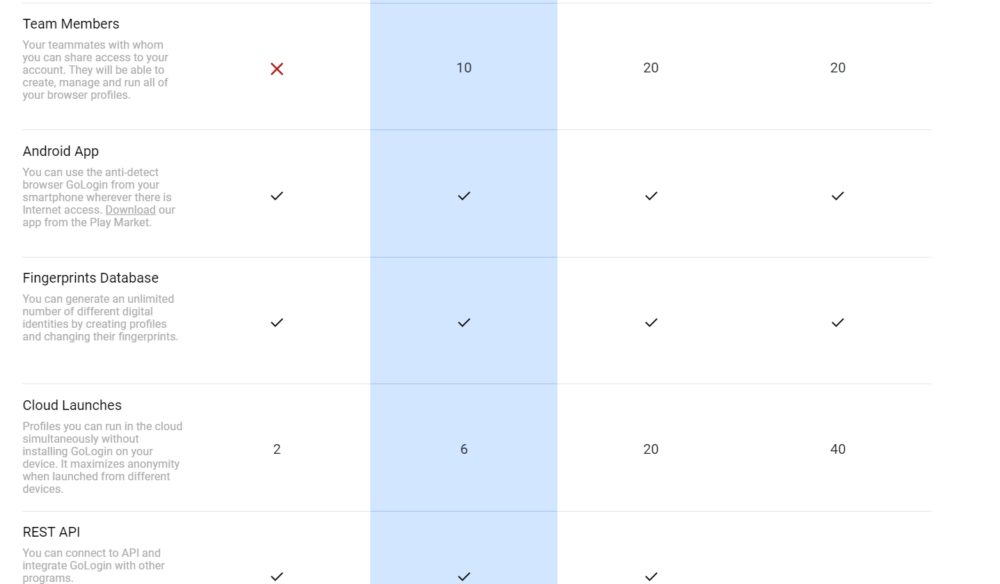 They have 4 interesting pricing plans for you – 
Professional ($ 49 per month or $ 24 per month if paid annually): This is recommended for freelancers who need unique internet identities. This plan will include 100 browser profiles, 10 profile sharing, 0 team members, and 2 cloud launches.
Business ($ 99 per month and $ 49 per month if paid annually): This is recommended for businesses that need a lot of member accounts. This plan will include 300 browser profiles, 100 profile sharing, 10 team members, and 6 cloud launches.
Enterprise ($ 199 per month and $ 99 per month if paid annually): This is recommended for really big teams and corporate needs. This plan will include 1000 browser profiles, 1000 profile sharing, 20 team members, and 20 cloud launches.
Custom ($ 299 per month and $ 149 per month if paid annually if you choose 2000 browser profiles): This one is customizable for anyone, depending upon your needs of browser profiles. Charges will vary if you change the number of browser profiles.
 They also offer a 7-day free trial. 
Quick Links
Conclusion | GoLogin Review 2023
GoLogin is an incredible platform. Everything you would be needing is here. They have nice support, decent pricing plans, they also offer a 7-day free trial. The software is easy to use as well. So, what are you waiting for? Grab GoLogin Now.