We'll also compare ClickMagick and Voluum on several key criteria, including pricing, features, ease of use, customer support, and more.
So let's dive in and get started!
ClickMagick Vs Voluum 2023: Overview
What is ClickMagick?
ClickMagick is a comprehensive online tracking tool that helps businesses track and optimize their marketing campaigns.
It is designed to provide detailed insights into website visitor behavior and campaign performance, helping users make informed decisions that can improve their return on investment (ROI).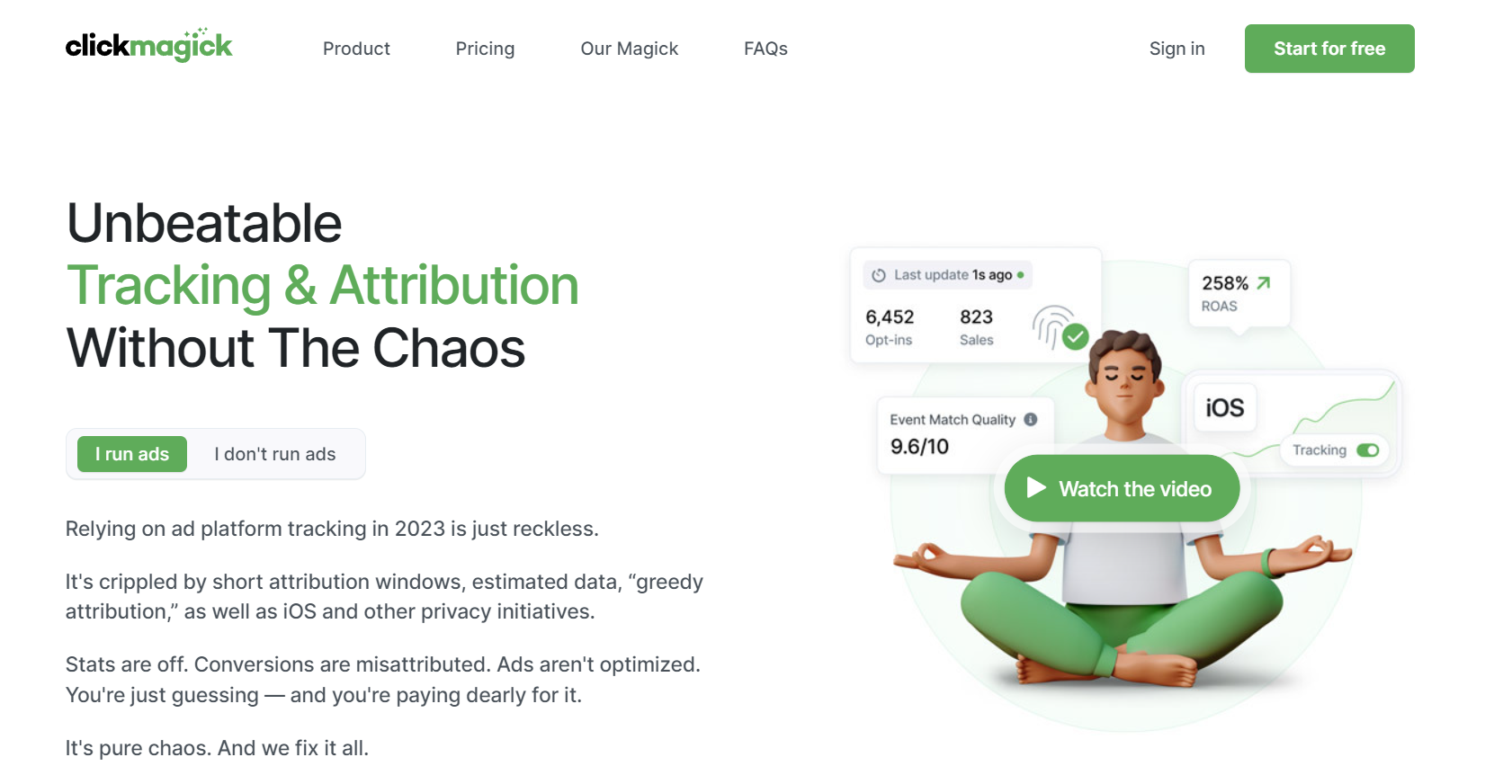 One of the key features of ClickMagick is its industry-leading tracking links, which allow users to monitor and improve their entire sales funnel.
These links are designed to track every step of the funnel without the use of tracking links or redirects, using industry-standard UTMs instead.
This allows users to accurately measure the effectiveness of their campaigns and make data-driven decisions. Another major feature of ClickMagick is its cross-device monitoring capabilities.
With the average internet user having 3.2 devices, it can be difficult to track their genuine activity using basic tracking software.
ClickMagick's cross-device monitoring, however, allows businesses to track purchases across devices, so they can accurately measure where their visitors are coming from and how they discovered their product or service.
ClickMagick also offers powerful retargeting tools, which can help drive sales by presenting ads to visitors wherever they go on the web.
By adding a tracking pixel from any retargeting network to their link tracking, users can reach out to potential customers who have already shown interest in their product or service.
In addition to these features, ClickMagick offers a range of other tools to help users optimize their campaigns.
Its advanced algorithms, for example, split-test advertising to see which performs best over time.
Its click rotators allow businesses to distribute traffic to as many URLs or link instances as needed for their campaign.
ClickMagick also provides automatic bot screening, which filters and stops bot clicks that can distort metrics and waste ad spend.
What is Voluum?
Voluum is a cloud-based performance-tracking platform that is designed to help businesses monitor and analyze their advertising campaigns.
The platform offers a range of features that allow users to track their campaigns in real-time, set up custom conversion tracking, and optimize their advertising strategies based on data insights.
One of the key features of Voluum is its advanced tracking capabilities.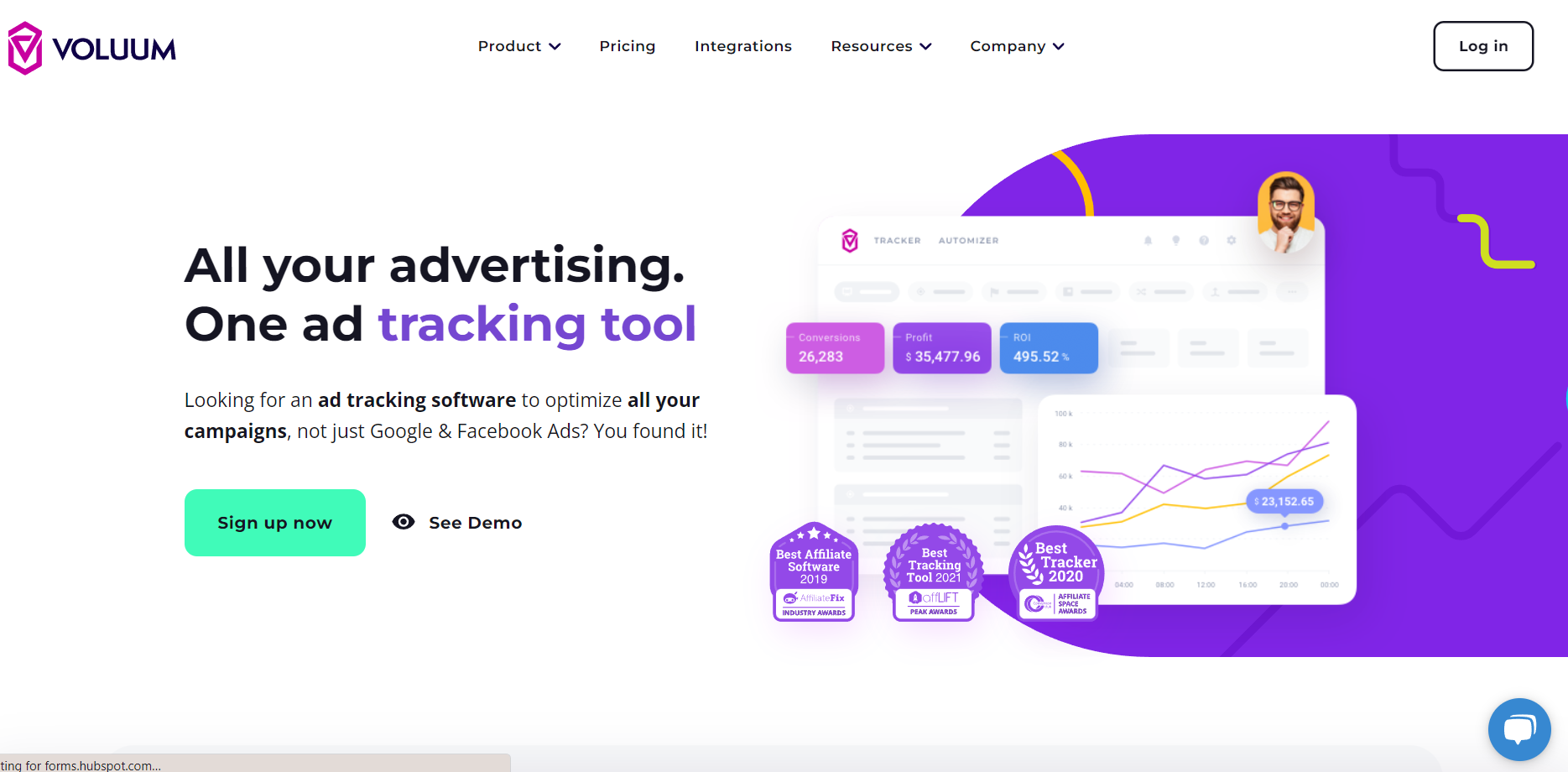 The platform allows users to track their advertising campaigns across multiple channels, including social media, search engines, and mobile apps.
This makes it easier for businesses to get a comprehensive overview of their advertising efforts and identify which channels are driving the most conversions.
In addition to tracking, Voluum also offers a range of optimization features. The platform uses advanced algorithms to automatically optimize campaigns based on data insights.
This means that businesses can maximize their advertising ROI without manually adjusting their campaigns.
Another notable feature of Voluum is its reporting functionality. The platform offers a range of customizable reports that allow businesses to view their campaign performance data in real-time.
Users can also set up alerts and notifications to receive updates on their campaigns' performance, ensuring that they are always up-to-date with the latest data insights.
How Does Voluum Work?
Voluum tracks all affiliate marketing in one spot. Its various data centers on 5 continents and 100% uptime since 2015 ensure no click loss while monitoring campaigns.
Onboardings and webinars help you get started. Step-by-step tutorials let you put up campaigns in minutes.
Track numerous third-party offers, creatives, referral URLs, device types, browsers, and more.
The direct tracking pixel helps get visitors to your offerings faster, even in sluggish internet locations, by tracking with and without redirection.
Voluum tracks your expenditures and payments, so you can calculate how many events your campaigns created and how much they cost you to determine how much you made and your ROI from each campaign. CPC, CPM, CPA, and Revshare models measure costs.
Your tracking domains are SSL-encrypted, so search engines won't flag them as suspicious, and you won't lose clicks from a "not secure" landing page.
Custom conversion monitoring lets you know where your conversions are coming from and the lifetime value and total revenue from each tracking link.
Real-time analytics tools enable you to study affiliate data to make lucrative choices. Data grouping and digging down let you examine deep levels of data in reports for meaningful insights.
The analytics dashboard shows all visitors, clicks, and earnings, so you can instantly see gaps and improvements.
You may view all of your campaign data in real-time to respond swiftly to opportunities and obstacles to decrease risks and save money on badly performing campaigns.
The mobile app allows you to monitor your performance on the move so you can respond swiftly and make adjustments as needed to maximize earnings and avoid waste.
Auto-optimize all advertising using AI optimization. Advanced targeting and rules let you reach the proper audience and maximize conversions.
Voluum's automation tools allow you to rapidly determine which campaigns are most engaging and performing best by running A/B testing automatically.
Voluum's anti-fraud tool detects bot traffic and provides proof for chargebacks against dishonest publishers, saving you money.
You may explore Voluum's marketplace to get the greatest affiliate deals without spending hours looking.
Quick Links:
Conclusion: Clickmagick Vs Voluum 2023
In conclusion, both ClickMagick and Voluum are powerful and reliable tracking solutions for online marketers.
They both offer a range of features to improve ROI and provide valuable insights into traffic sources, campaigns, and more.
Ultimately, the choice between the two should come down to personal preference and your unique needs as a marketer.
If you need detailed analytics on all aspects of your campaigns, then Voluum would be the better option.
However, if you are looking for an easy-to-use alternative with plenty of automation options, then ClickMagick is definitely worth considering.
Whichever you choose, you will have access to quality performance analysis tools that can help make your advertising efforts more effective and profitable.