As an online marketer, you know that tracking your clicks and conversions is essential to understanding how well your campaigns are performing.
But it can be difficult and time-consuming to set up the necessary tracking code on your website.
Not only is it difficult to set up a tracking code, but it's also impossible to track all of your conversions without it.
And if you're not accurately tracking your conversions, you're losing money every day. ClickMagick is the solution to all of your conversion tracking woes.
This powerful yet easy-to-use software makes it easy for you to track all of your clicks and conversions, so you can understand exactly how well your campaigns are performing.
Let us check out ClickMagick Review in a little more detail.
ClickMagick Review 2023: What Is ClickMagick?
ClickMagick is "link tracking software" that allows you to monitor your online and offline conversions with ease and precision.
It enables you to test and optimize the links in your marketing activities, such as sales funnels, social media, blogs, emails, and more.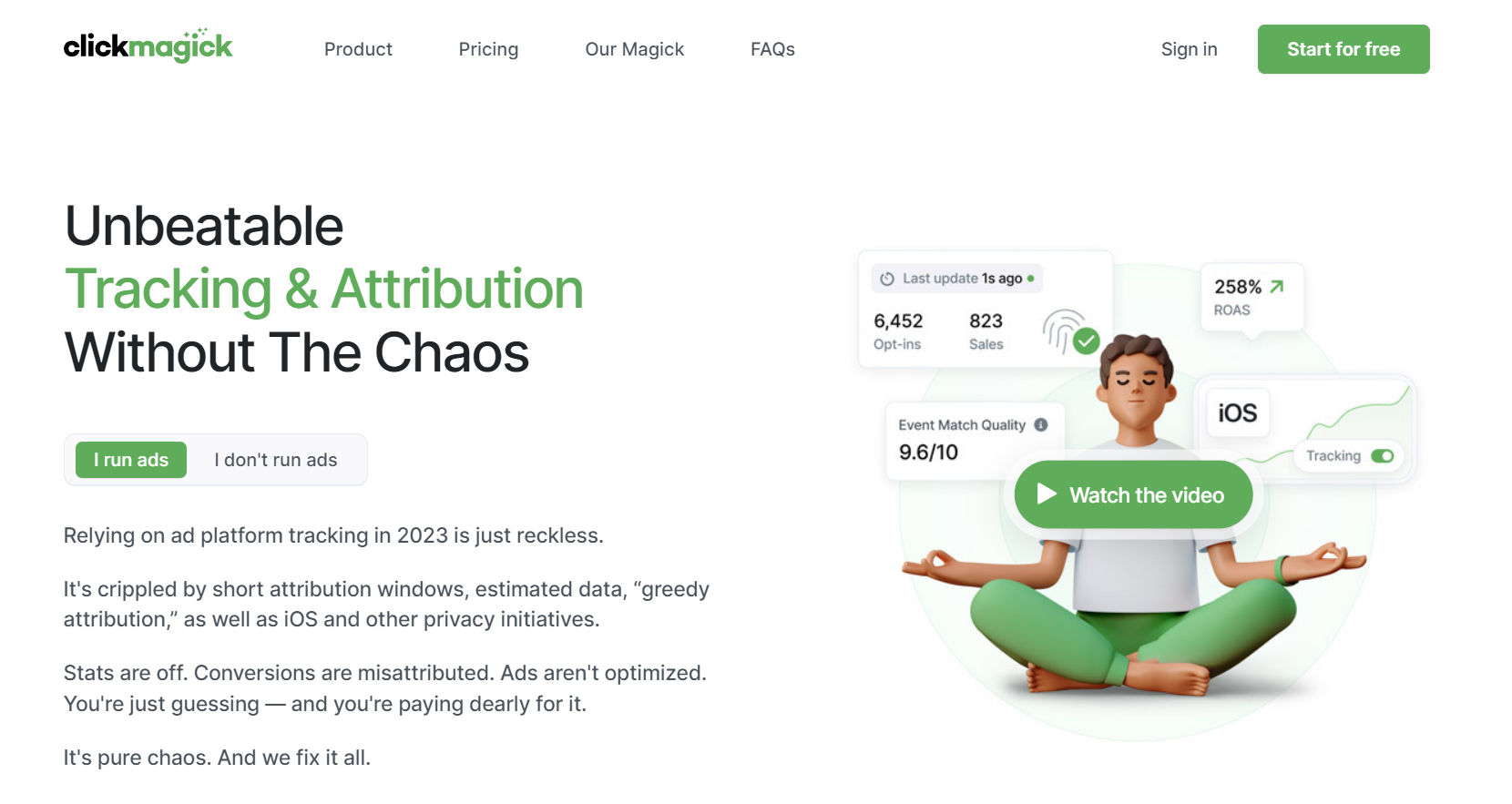 ClickMagick provides robust tracking capabilities, including cross-device monitoring, offline sales tracking, and split testing, among others.
Simply said, ClickMagick is a click-monitoring application that allows you to monitor every external click that goes to your website.
Who Should Use ClickMagick?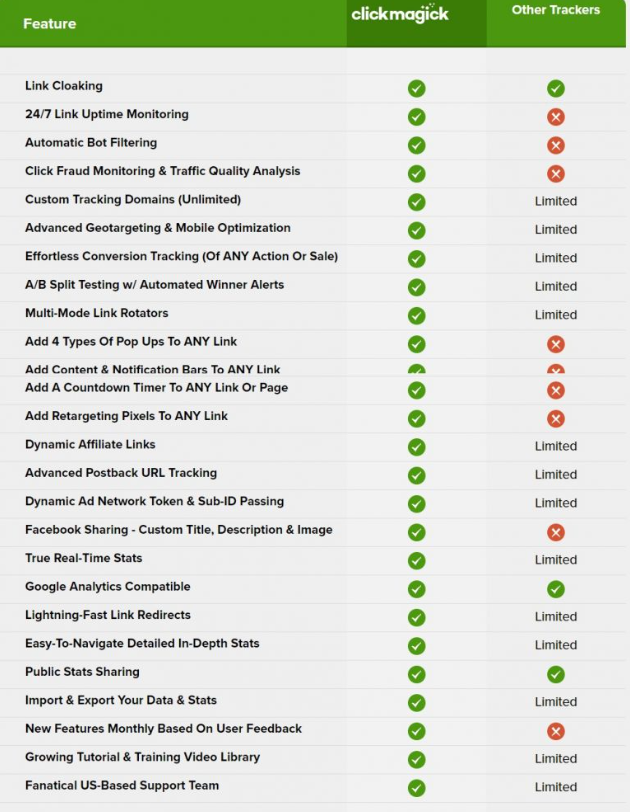 1. Digital Marketers:
Digital marketers, including affiliate marketers, media buyers, and eCommerce store owners, can use ClickMagick to track their marketing campaigns and optimize their ad spend.
ClickMagick provides detailed analytics and reporting that can help them understand their audience better and make data-driven decisions.
2. Business Owners:
ClickMagick can be an invaluable tool for small business owners who want to track their marketing efforts and see the results of their campaigns in real time.
With ClickMagick, business owners can quickly identify the most effective marketing channels and optimize their campaigns accordingly.
3. Agencies:
Marketing agencies can use ClickMagick to manage their clients' campaigns more effectively.
ClickMagick's agency features allow agencies to create sub-accounts for their clients and provide them with access to the data they need to make informed decisions.
4. Social Media Managers:
Social media managers can use ClickMagick to track the performance of their social media campaigns.
ClickMagick can track clicks and conversions from social media platforms like Facebook, Instagram, and Twitter, allowing social media managers to understand which campaigns are driving the most traffic and conversions.
6. SEO Professionals:
ClickMagick can be used by SEO professionals to track the effectiveness of their search engine optimization efforts.
ClickMagick can track the source of the traffic to a website, which can help SEO professionals understand which keywords are driving traffic and which are not.
You May Also Like This
How Can Affiliate Marketers Use ClickMagick?
1. Campaign Tracking:
ClickMagick allows affiliate marketers to track their marketing campaigns and monitor their performance in real-time.
They can track clicks, conversions, and other important metrics to evaluate the effectiveness of their campaigns.
2. Conversion Tracking:
ClickMagick's conversion tracking feature helps affiliate marketers identify the sources of their conversions.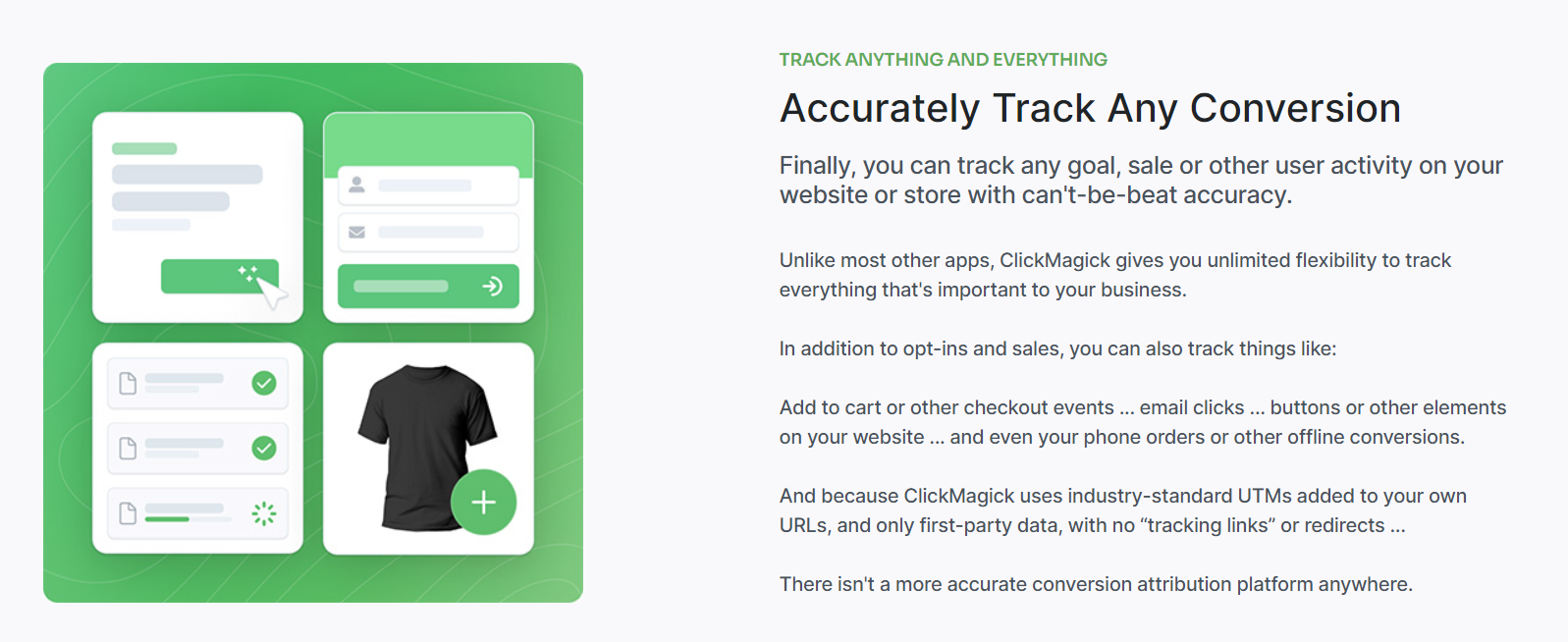 This can help them optimize their campaigns to focus on the most profitable sources of traffic.
3. Link Cloaking:
Affiliate marketers can use ClickMagick's link cloaking feature to mask their affiliate links and make them look more attractive to potential customers.
This can help increase click-through rates and ultimately lead to more conversions.
4. A/B Testing:
ClickMagick allows affiliate marketers to run A/B tests to compare the effectiveness of different marketing strategies.
They can test different landing pages, offers, and ad copy to see which ones perform the best.
5. Rotators:
ClickMagick's rotator feature allows affiliate marketers to distribute traffic among different offers and landing pages.
They can set up different rotators to test different strategies and optimize their campaigns accordingly.
6. Analytics and Reports:
ClickMagick provides detailed analytics and reports that affiliate marketers can use to evaluate their campaigns.
They can view traffic data, conversion rates, and other important metrics to identify areas for improvement.
ClickMagick Pros and Cons
Here are some of the pros & cons of Clickmagic.
ClickMagick Pros
Advanced tracking capabilities such as click rotators and A/B testing

Customizable tracking pixels for more accurate conversion tracking

Integration with over 100 third-party platforms, including popular ad networks and email marketing services

Ability to track and optimize entire sales funnels, not just individual clicks

User-friendly interface with easy-to-understand data visualizations

Reliable and accurate data tracking and reporting for informed decision-making

Excellent customer support with helpful resources and responsive team members
ClickMagick Cons
The steep learning curve for beginners
Quick Links:
Conclusion: ClickMagick Review 2023
Overall, ClickMagick has been an excellent solution for tracking and attribution in our company.
Not only is the software easy to learn and use, but it's also packed with features that provide valuable insights into our traffic campaigns.
We have also received exemplary customer service from their support team which has enabled us to get the most out of this software.
Ultimately, I would go as far as to say that ClickMagick is a must-have for anyone who wants to make the most out of their online marketing efforts.
If you're looking for an intuitive, feature-rich tracking and attribution solution then I would highly recommend ClickMagick.
I'm sure that if you give it a try your efforts will be rewarded with better ROI and even greater reach on social media platforms.
It's truly been a game-changer in our organization!