In this post, I am going to share Clickadu Review 2023.
Digital space is growing rapidly, and a majority of businesses look for a powerful online presence. Advertising your products and services is critical if you want to be seen by your prospective clients. This booming industry plays a critical part in every enterprise, business, or blog.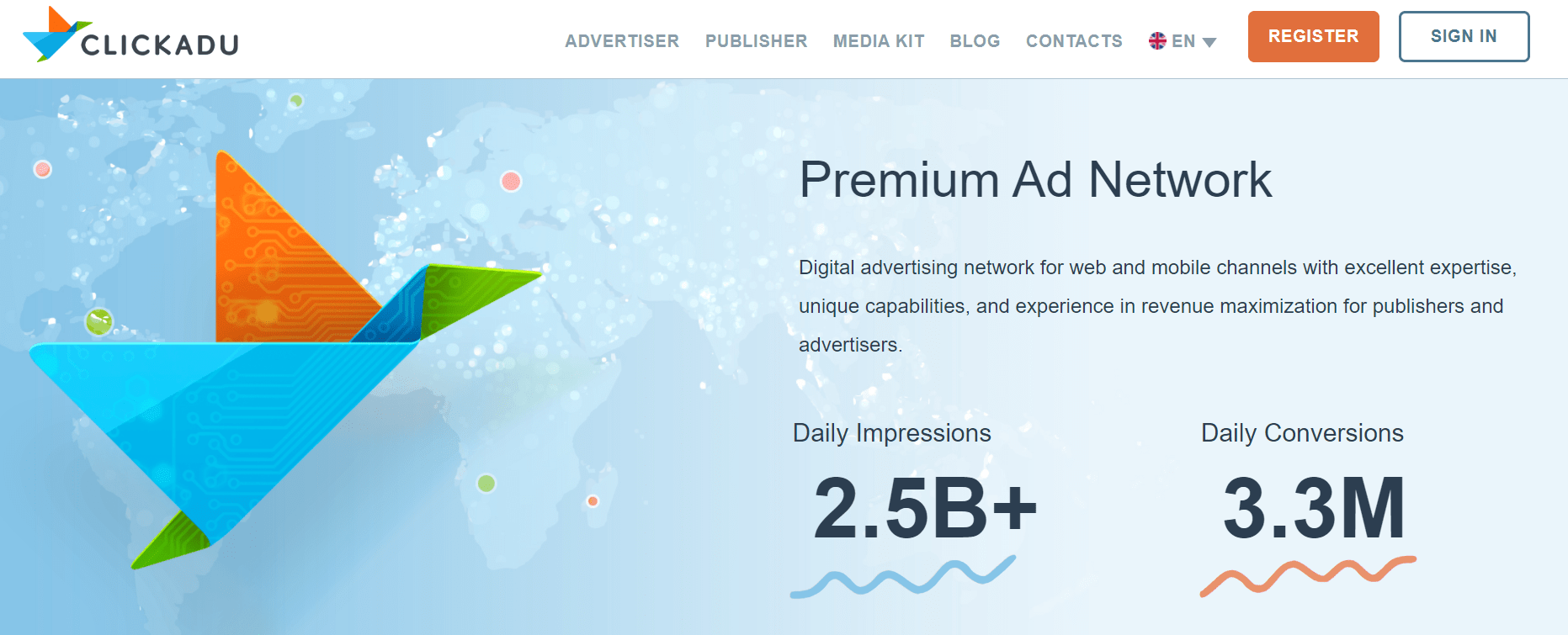 To establish and empower your brand, you must advertise as well.
To meet these needs, there are several advertising solutions on different platforms. They offer amazing advertising services and help you establish your brand and make it more popular.
Clickadu is one of the best advertising formats. It has five features and helps businesses achieve more than 3 million conversions per day. It offers fantastic benefits to the users, which will be discussed in this article.
Clickadu Review 2023: What is Clickadu?
Clickadu is a great advertising platform for brands and establishments that can run more than 6500 campaigns with around 4500 active publishers. Clickadu was founded in 2014 and, since then, has achieved more and more with each passing year.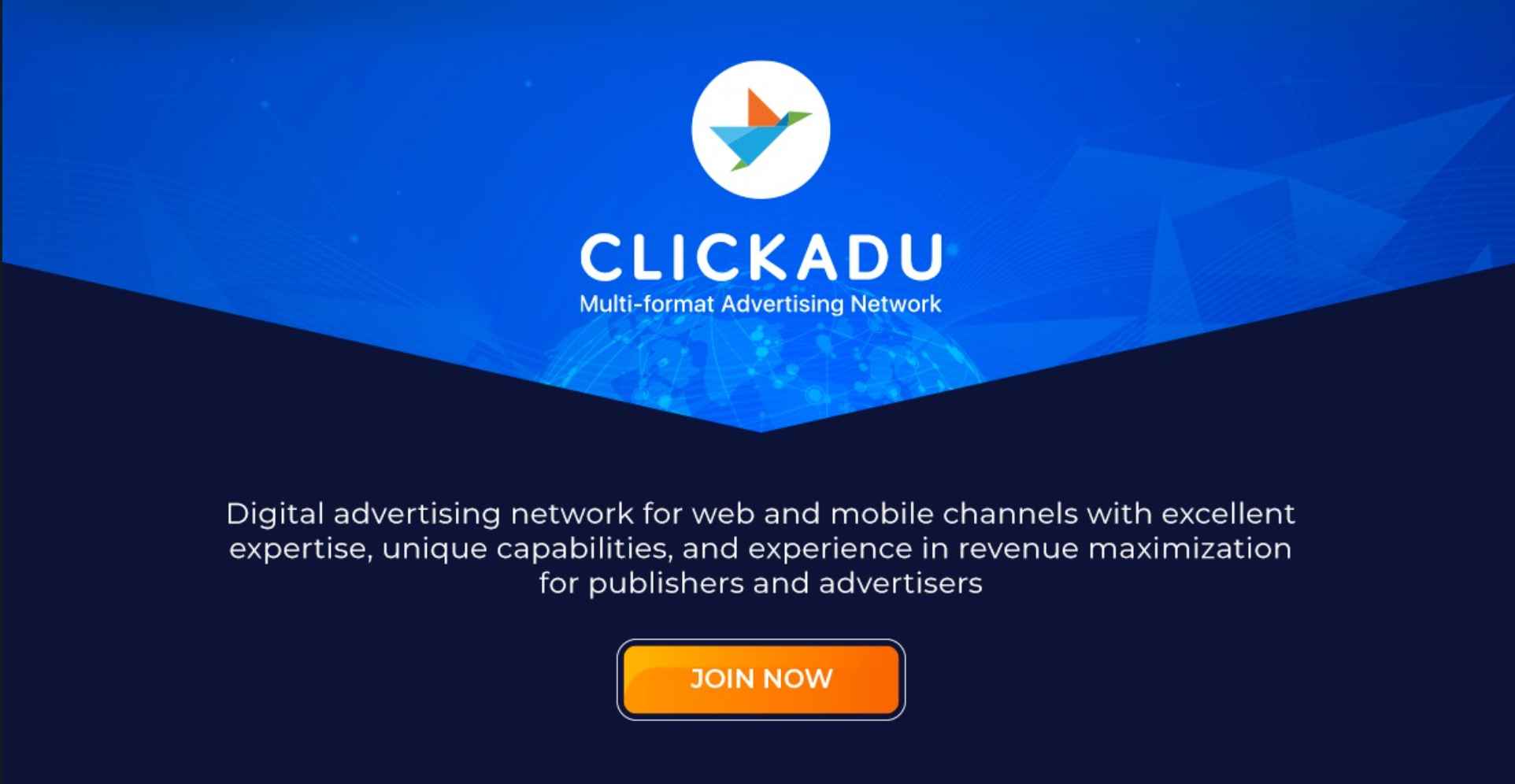 They boast of more than 800 active affiliates who are using Clickadu to monetize their mainstream traffic across the world. It lets you quickly and easily monetize the traffic because it is designed for both mobile and web channels.
The USP of Clickadu lies in the fact that it offers several advertising formats to users, in contrast to other recognized ad networks that do not provide multi-format advertising.
You can use Clickadu to enhance your conversion rate, test your campaigns to get the ideal combinations for their success, and get high CP rates.
Clickadu Statistics: Numbers DON'T LIE
Clickadu delivers 5+ billion daily global traffic directly from publishers.

Achieving 4 million daily conversions, Clickadu maintains high performance.

With 3,300+ active publishers, the platform ensures a robust network.

Clickadu manages 41,300+ active ad campaigns and serves 7,000 active advertisers.

Supporting 22 verticals, Clickadu offers diverse advertising opportunities.

Clickadu operates in 240+ GEOs, providing extensive global coverage.
Clickadu Main Advantages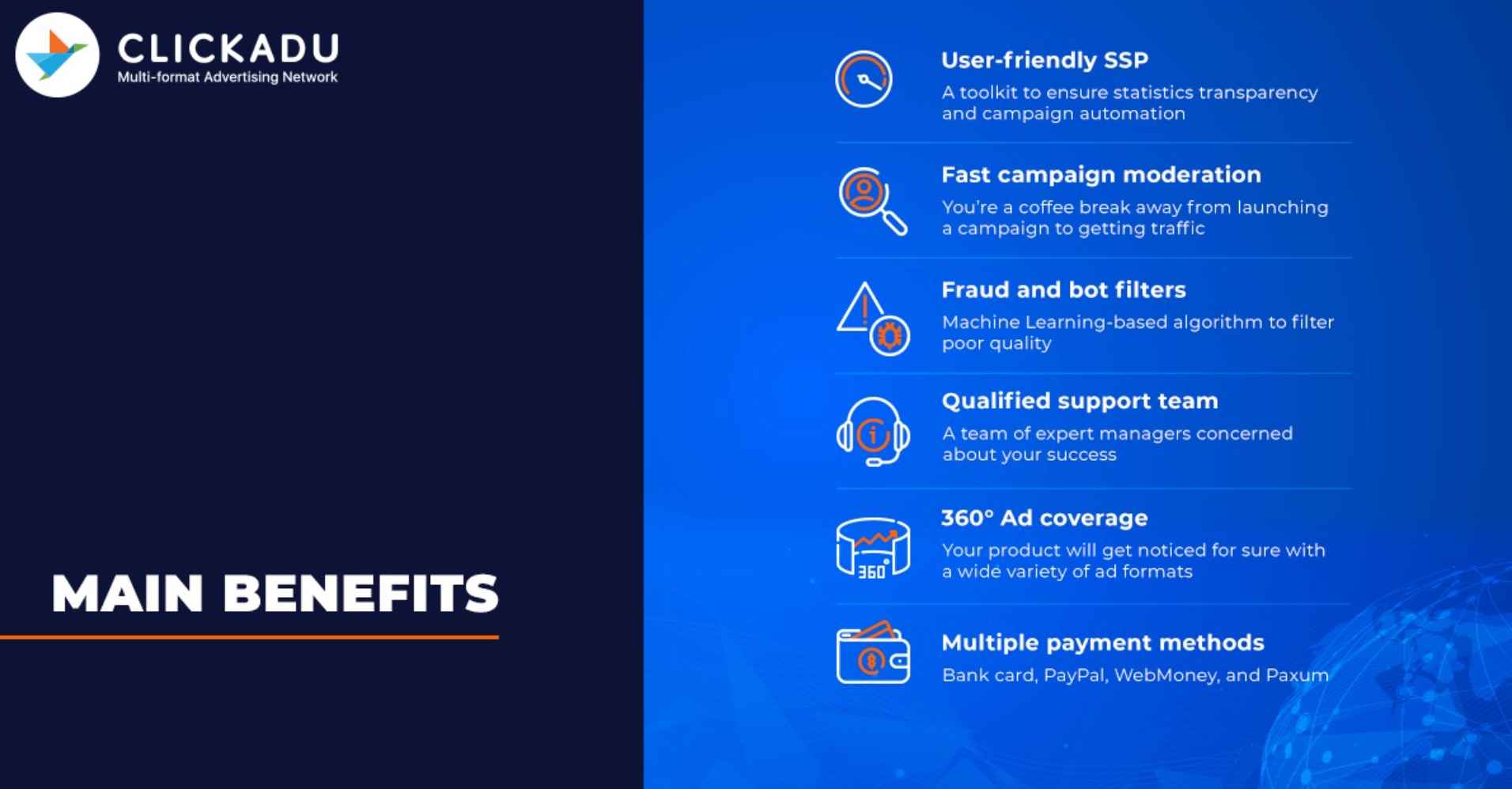 1. SSP Platform:
The Clickadu Self-Serve Platform is a unique solution for digital marketers operating with smaller budgets, agencies managing numerous offers, and brand-buying teams.
This comprehensive platform provides a range of functionalities, including complete campaign creation and optimization, API integration, s2s postback, multi-event tracking, and more.
Users can efficiently launch and scale campaigns, set targeting parameters, collect analytics, and conduct A/B tests through the user-friendly panel.
2. Top-notch Support and Moderation Team:
Clickadu boasts an exceptional support team and dedicated personal managers, setting it apart in customer service. The support team operates 24/7, offering prompt assistance on various issues.
Communication is conducted in English, and personal managers and accountants are assigned to advertisers with budgets starting at $500.
This personalized approach ensures that advertisers receive assistance in understanding current trends, setting up campaigns, and receiving professional advice on performance and scaling.
3. High Traffic Quality: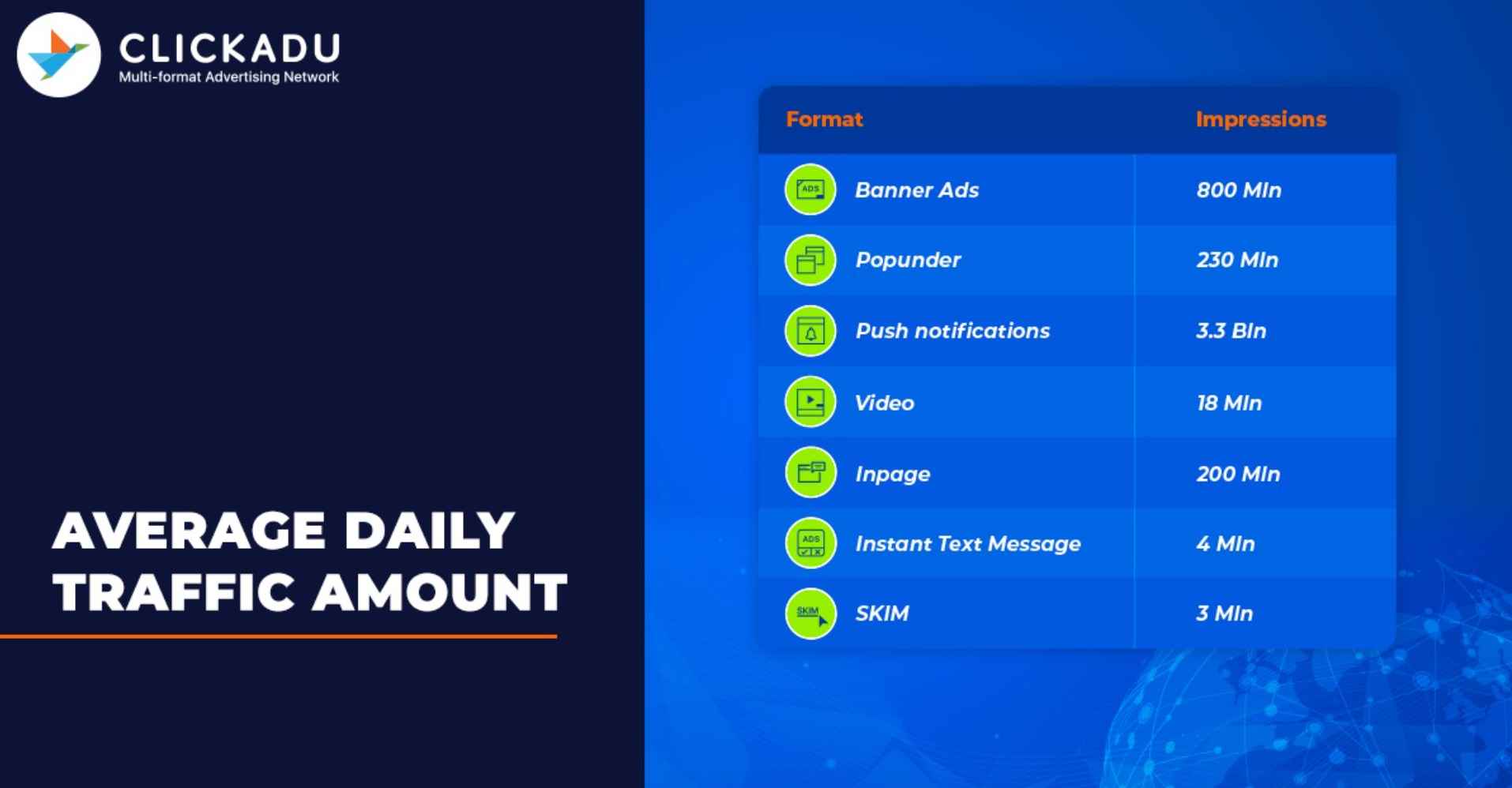 Clickadu prioritizes high-quality traffic through various departments:
Publisher Relations: Monitors website content quality, traffic volume, and adherence to selected categories.

Moderation: Checks sites for prohibited content in specific GEOs.

IT Department: Verifies traffic quality using automated control solutions, including OS, OSV, devices, user behavior, and conversion reports. This multi-layered approach ensures a high standard of traffic quality.
4. Wide Range of Verticals: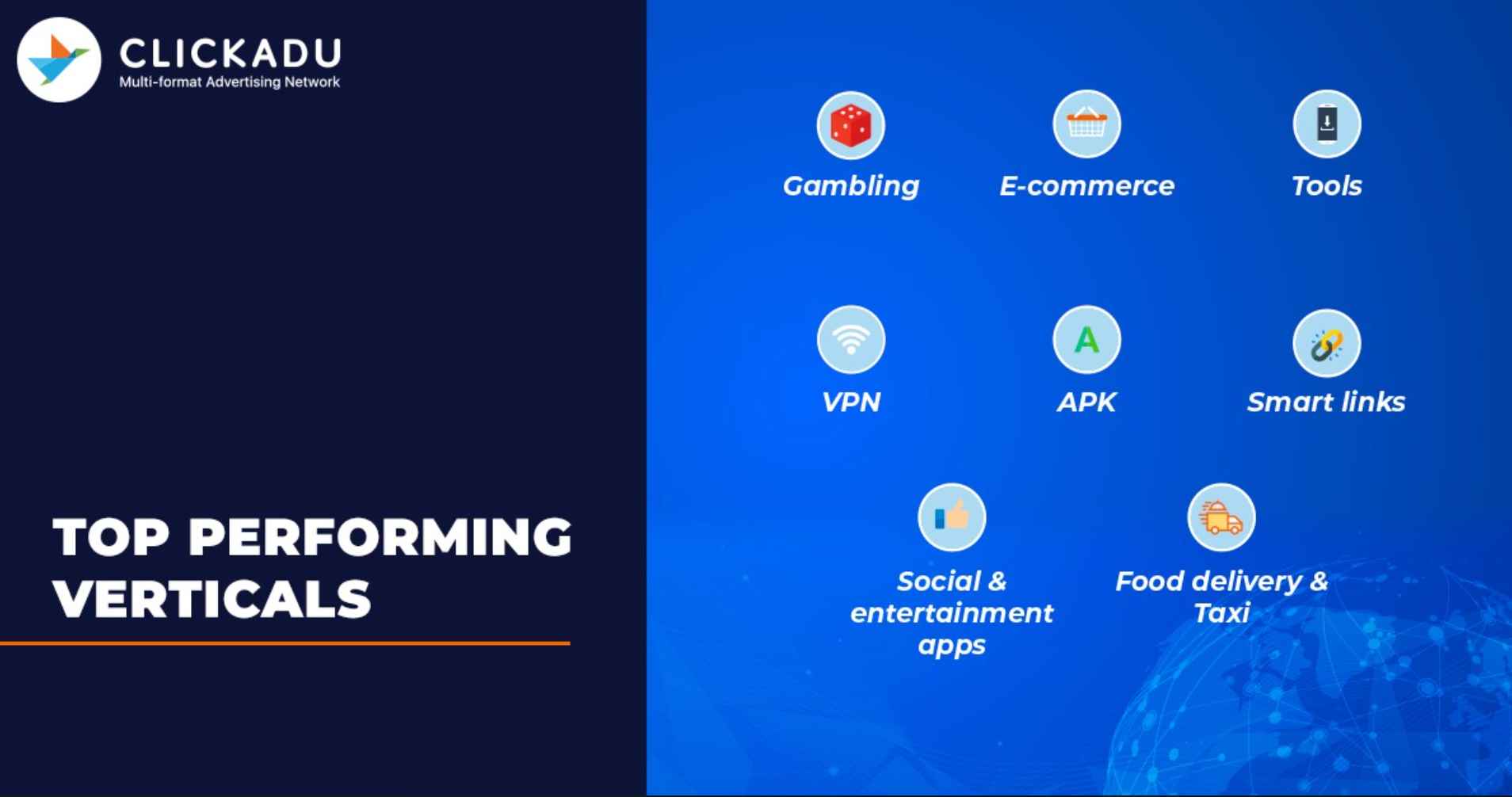 Clickadu offers various successful traffic verticals, making it versatile for different industries. These verticals include gambling and betting, e-commerce, tools, and utilities, games (both desktop and mobile), social applications, and WAP clicks.
The platform supports the promotion of over 20 verticals, catering to the varied needs of advertisers and marketers.
Benefits for Clickadu Publisher
As a Clickadu publisher, you enjoy:
Over 41,000 active campaigns daily, generating high traffic demand.

Competitive CPM rates, reaching up to $9.

A clean feed with strict policy restrictions and multiple moderation stages.

Weekly payments start at $50, with no hold, through PayPal, Webmoney, Paxum, and Wire.

A referral program that earns you up to 5% of the revenue from publishers who register via your referral link.

Stable and high CPMs for webmasters, ensuring consistent revenue.

Strong fill rates to maximize your ad revenue.

Clean ads with a commitment to preventing malware and viruses.

Responsive and reliable support through various channels, including email and Skype.

Customizable settings for ad impression frequency, range, and limits on CSS Classes.

Options to set up an advertising feed with restrictions on specific products or offer verticals.

Ability to tailor the advertising feed to meet the requirements of Pbwebmedia (adultwebmasternet.com) upon manager request.
Payment Details:
Commission Type: CPM

Minimum Payment: $50 – $1000

Payment Frequency: Net7

Payment Method: PayPal, WebMoney, Paxum, Wire Transfer

For publisher support:
Email: [email protected]
Life Cycle of a Campaign
Campaign Creation
Clickadu is the ideal platform to launch a campaign because of its simplicity and intuitiveness. It comprises a wide range of formats and pricing models from which you can choose. So, pick a format that you are aware of and that delivers the best performance.
SMART carries out all the essential tests on the campaign as per the CPM to determine the performance of the campaign even before choosing the pricing model. The system will choose and match the zones as per the CR rates to deliver white and blacklists.
Clickadu SSP platform is an essential tool for you. Not only does it give you a chance to launch your campaigns rapidly and more correctly, but it also allows you to predict your results.
For example, even before starting your campaign, you can check the traffic inventory tool, which allows an advertiser to see GEOs, impressions, and average CPM and CPC rates.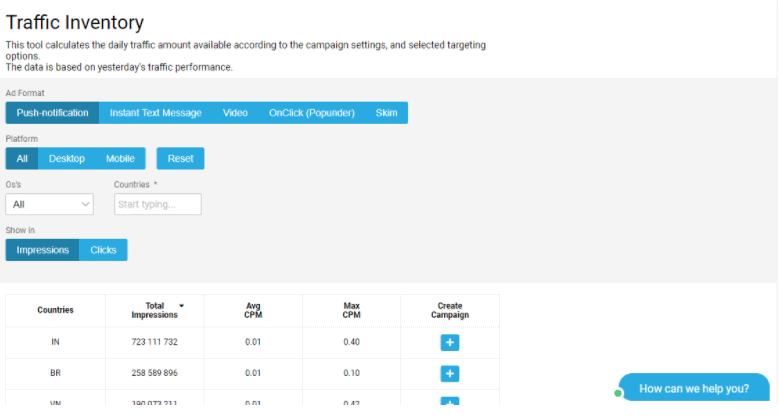 Campaign Reporting
Clickadu provides a dashboard menu to report about a campaign. When you click on your campaign, it will give you access to the website data of that campaign.
Campaign Tracking
Setting up a tracker is essential if you are working with the SmartCPA system, and with Clickadu, the traffic source is in-built. You need to change the SUBID of the tracking link to the external ID of the tracking solution.
All the Publishers, as well as the Advertisers on Clickadu, get a dedicated manager when they register on the SSP platform.
Pros and Cons of Clickadu
Pros for advertisers
Fraud and Bot filters
2.5B in traffic from all over the world daily from direct publishers
Narrow targeting
Wide range of working verticals
Four own data centers for the best coverage around the world
Geo-targeting
Traffic quality is 100%
Pros for publishers
100% fill rate
More than 26К active campaigns daily that create a high traffic demand.
CPM up to $4
Clean feed (with Policy restrictions and several monetization stages)
Weekly payments (at $10) with no hold
A referral program that will give you up to 5%
FAQs:
Why did my campaign get rejected?
A campaign gets rejected if it goes against the Clickadu Terms and Conditions. After the rejection, they will also send an email citing the reason.
Which targeting should I select for my campaign?
You can choose any of the targeting methods from state, city, mobile ISP, OS type/version, Browser version/language, etc.
What language is spoken by the customer support of Clickadu?
The customer support team of Clickadu speaks English, and not any other language.
Quick Links:
Conclusion | Clickadu Review 2023
Clickadu is undoubtedly an excellent platform that has several benefits, as discussed above. It is fairly new in the market but has garnered a lot of positive reviews owing to its user-friendliness, intuitiveness, and speed.
Its biggest advantage is that it is transparent and not complex, thus easily usable by all kinds of users.
If you get an account manager, you will see how well he guides and motivates you all through the process. This platform also offers you great traffic volumes.
Clickadu platform is beneficial for both publishers and advertisers because they get a common platform to gain huge benefits. Irrespective of the size of your website and the amount of traffic it attracts, Clickadu works great for all.
Join Clickadu now to maximize your revenue.