In this post, I am going to share Clickadu Review 2023.
Digital space is growing rapidly and a majority of businesses look for a powerful online presence. Advertising your products and services is critical if you want to be seen by your prospective clients. This booming industry plays a critical part in every enterprise, business, or blog.
To establish and empower your brand you must advertise is well.
To meet these needs, there are several advertising solutions on different platforms. They offer amazing advertising services and help you establish your brand and make it more popular.
Clickadu is one of the best advertising formats that has five features and helps businesses in achieving more than 3 million conversions, per day. It offers fantastic benefits to the users that will be discussed in this article.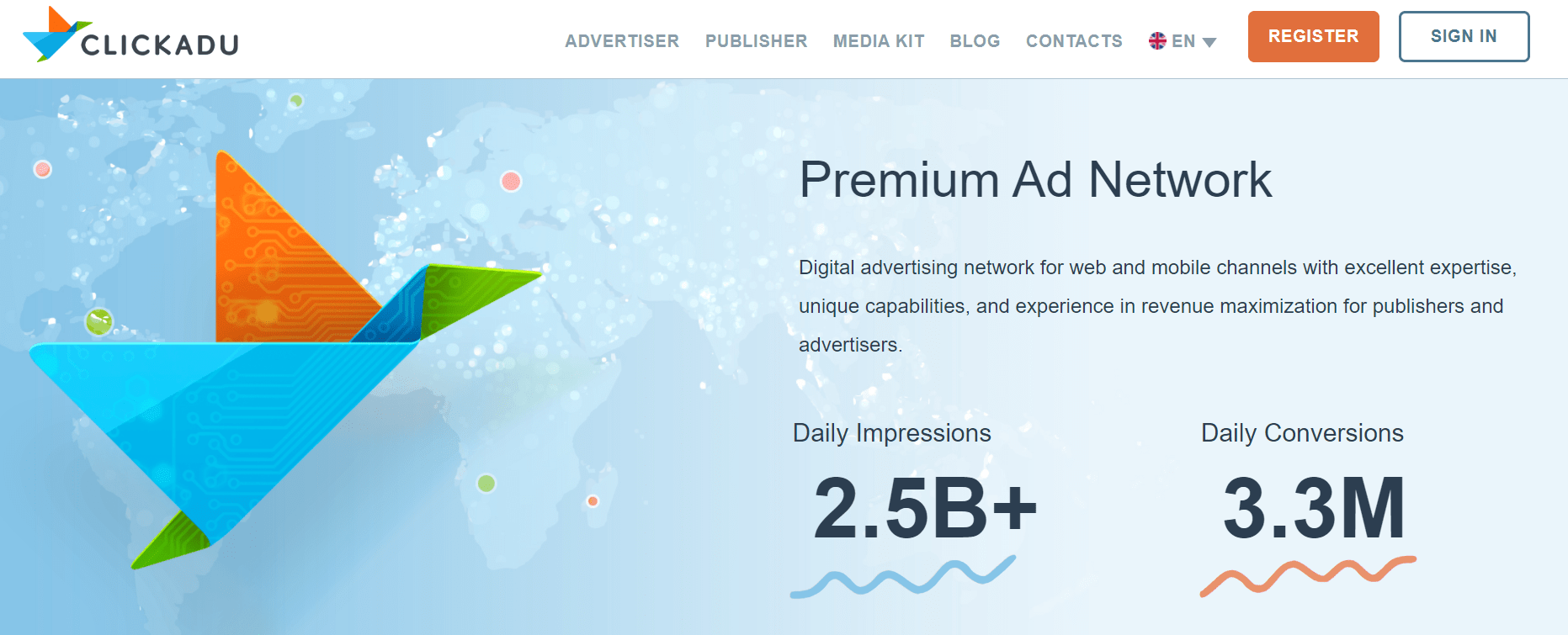 Clickadu Review 2023– Complete Analysis Of This Ad-Network
What is Clickadu?
Clickadu is a great advertising platform for brands and establishments that can run more than 6500 campaigns with around 4500 active publishers. Clickadu was founded in 2014 and since then has only achieved more and more, every passing year.
They boast of more than 800 active affiliates who are using Clickadu to monetize their mainstream traffic, across the world. It lets you quickly and easily monetize the traffic because it is designed for both mobile and web channels.
The USP of Clickadu lies in the fact that it proffers several advertising formats to the users, in contrast to other recognized ad networks that do not provide multi-format advertising.
You can use Clickadu to enhance your conversion rate, test your campaigns to get the ideal combinations for their success and get high CP rates.
6 Advertising Formats
The six advertising formats offered by Clickadu are – Instant Text Message (Dialog Ads), Push Ads, Video Pre Roll, SKIM, Popunder and InPage Push.
Let's know about each of them in detail:
1. Instant Text Message (Dialog Ads)
This is a Google-friendly advertising format that is very efficient and helps in monetizing mobile traffic as well as delivering a huge number of conversions. What makes this format so incredible is the fact that it is great for mobile traffic and with good rates. It also has native advertising to offer with high CTR.
Instant Text Message is basically a native dialogue window that very much resembles a system message. It consists of a 30-Character title, 30-Character Text as well as OK and Cancel buttons. This way users can decide if they are interested in certain content or not.
This format can work with CPC, CPM, and SmartCPA pricing models.
2. Push Ads

Push Ads are the latest format on Clickadu and are very effective because they show your ads to your website visitors even when they are not browsing.
It can offer a dynamic preview for both mobile and desktop devices. It works great for Gambling and Gaming offers.
The Push Ads format is compatible with other formats and lets you crop pre-create the messages in this format. It works amazingly well with CPC, CPM, SmartCPA, and SmartCPM pricing models.
3. Video Pre Roll

If you want your advertising to be more creative, then use the Video PreRoll format. With this, you can design and create alluring and appealing videos of around 30 seconds. The best part about this format is its ability to let you integrate with any player and all of it at a reasonable cost of traffic. It works exclusively for the sites with Video traffic.
With this format, your conversion rate will directly depend on the quality and creativity of your videos.
It is advisable to use this format when using Clickadu because you get the ads that can work on almost every popular video player in the market and video formats like MOV, FLV, WMV, AVI, MP4, etc. It is also completely compatible with IAB requirements for the VAST 3.0 codes
4. SKIM

SKIM is also a great Clickadu format that works well with CPM and SmartCPM pricing models. SKIM is basically a link where the publisher inserts the website elements like links, videos, texts, images, and icons.
Clicking on this element, the user is taken to the landing page of the advertisement. The format has the ability to give 100 percent of the control of the sold traffic amount and also allows you to target the traffic to specific verticals.
Its customer support is its greatest strength because as soon as you raise a query an Account Manager is assigned to you, who adds you on Skype and talks to you about it.
5. Popunder

Popunder is the most popular format used by the users, for advertising. Here, you will find a new tab behind the website of the user's browser window, and this solves the problem of ad blindness.
The new tab does not come into the picture until you close the main window of the browser. It does not need any image or text and you can run it on any kind of website.
If your website has not been recognized by Adsense, then this format can be your main source of income. This advertising format by Clickadu can work with CPM, SmartCPM, and SmartCPA pricing models.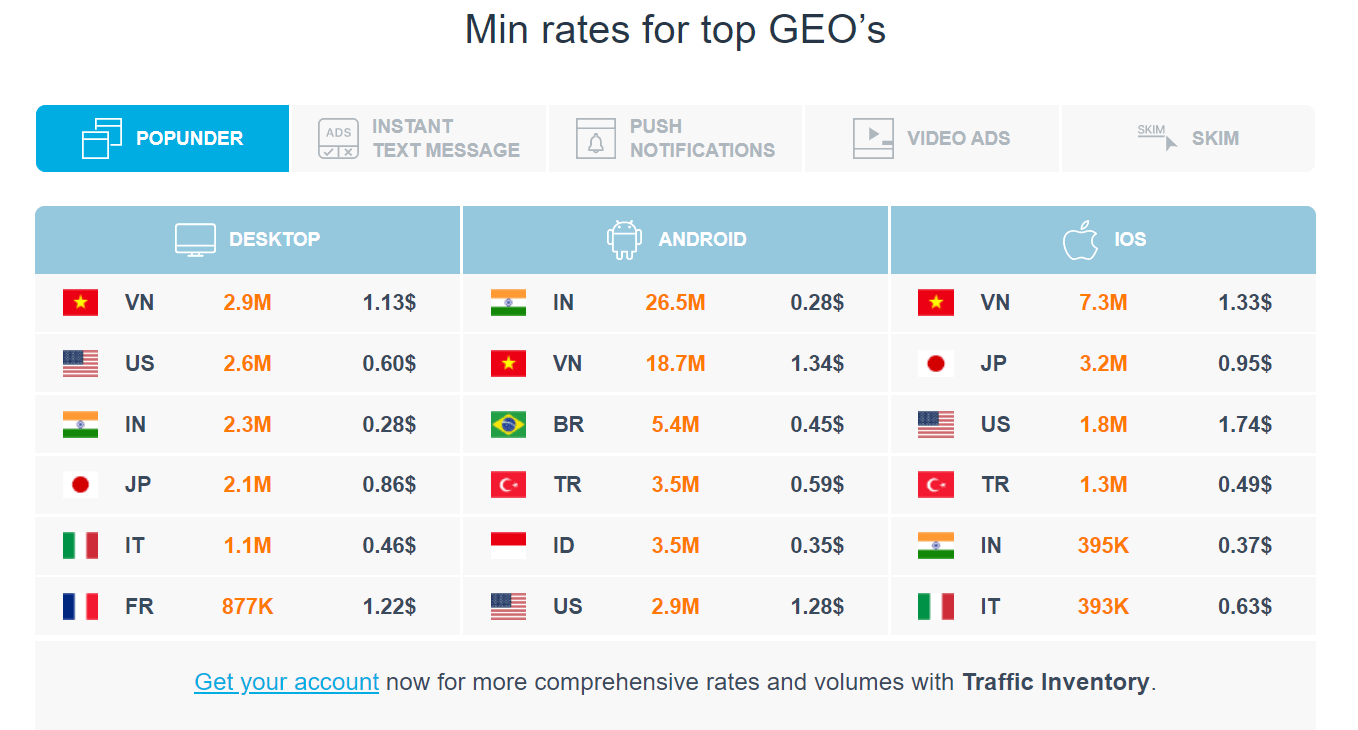 6. InPage Push
Though on the surface, InPage Push looks a lot like the Push Notifications. It is a native-looking ad message that appears on the screen of the users. The significant difference between these two formats lies in the additional InPage opportunities:
The InPage Push Message appears exactly when the user is browsing on a particular website. 

It does not require a user to subscribe to the notifications. 

It works very well on the OS of every type, even on iOS. 
There are a plethora of reasons for using or mixing the InPage Push with the other ad formats especially the Push Notifications. 
The Advertisers:
It is pretty easy to launch. You can opt for the 'include InPage Push' option when creating the Push Notifications in order to boost your reach. 

You get every possible targeting option, even on iOS devices. 

They are available on any pricing model just like the Push Notifications: CPM, CPC, SmartCPM, SmartCPA. 

It is native, so you are basically open to various promotional ideas. 
For The Publishers:
Pure JS tag is super easy to install. 

It has additional traffic monetization to offer and is also compatible with other formats of advertising. 

The format is pretty much Google-Friendly and has no range adjustments. 

It is native as well as migrating to the OS version of the user.
As of now the team of Clickadu is working on the banner advertising format for the publishers as well as advertisers in order to make the process of both buying and selling the traffic much more profitable. You can always follow their news in order to try it before others.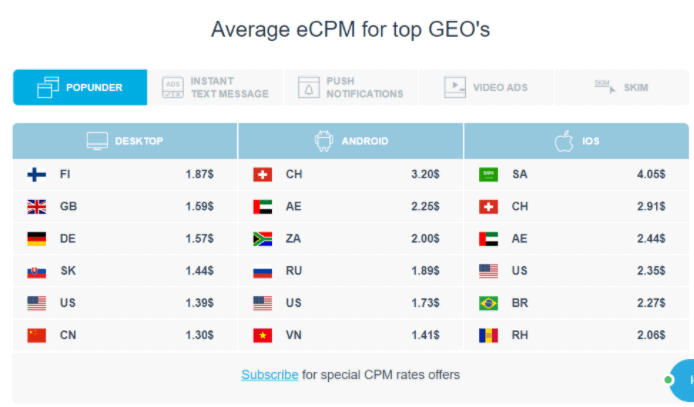 Clickadu in Detail
As discussed above, it is evident how well-featured is Clickadu and helps in optimizing the ad servers. These servers are extremely important to deliver the best performance and Clickadu offers the best.
The advertisers prefer Clickadu over other providers because it provides the highest amount of audience and conversion rates, along with providing the option to control the frequency capping.
From the publisher's side, there are no restrictions and even an amateur publisher can come on Clickadu. Their publishers work on the CPM model.
Their dashboard is informative and provides data about the Impressions, Clicks, Earnings, and CPM. Another important feature of Clickadu is that it denies access to controversial blogs and websites that have questionable content. If anyone violates the basic rules, it results in the deactivation of their account, indefinitely.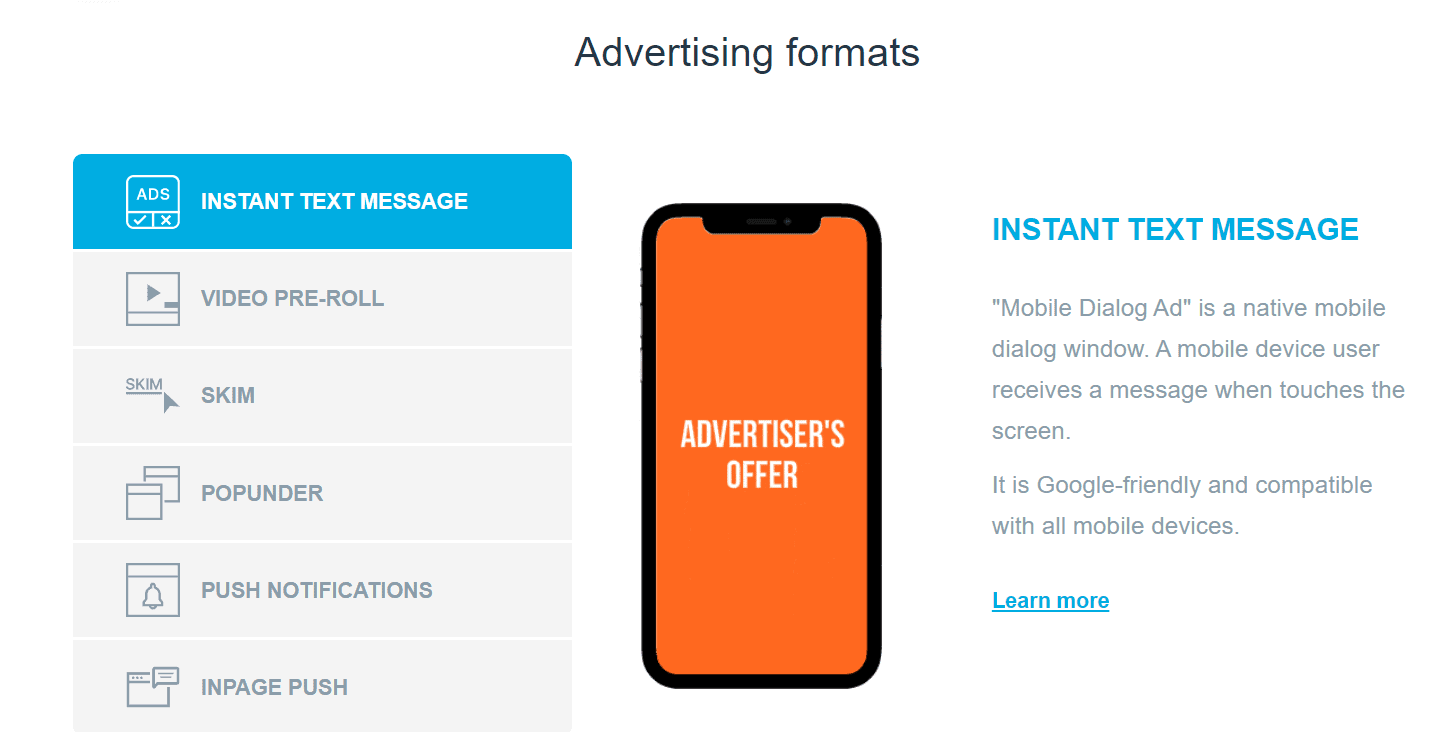 Life Cycle of a Campaign
Campaign Creation
Clickadu is the ideal platform to launch a campaign because of its simplicity and intuitiveness. It comprises a wide range of formats and pricing models from which you can choose. So, pick a format that you are aware of, and that delivers the best performance.
SMART carries out all the essential tests on the campaign as per the CPM to determine the performance of the campaign even before choosing the pricing model. The system will choose and match the zones as per the CR rates to deliver white and blacklists.
Clickadu SSP platform is an essential tool for you. Not only does it give you a chance to launch your campaigns rapidly and more correctly, but it also allows you to predict your results. For example, even before starting your campaign, you can check the Traffic inventory tool where an advertiser can see GEOs, impressions, and average CPM and CPC rates.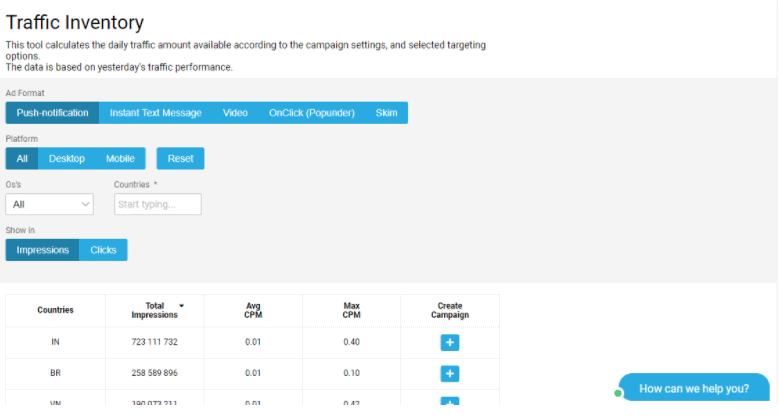 Campaign Reporting
Clickadu provides a dashboard menu to report about a campaign. When you click on your campaign, it will give you access to the website data of that campaign.
Campaign Tracking
Setting up a tracker is essential if you are working with the SmartCPA system and with Clickadu the traffic source is in-built. You need to change the SUBID of the tracking link to the external id of the tracking solution.
All the Publishers, as well as the Advertisers on Clickadu, get a dedicated manager when they register on the SSP platform.
Pricing Models for Advertisers
SmartCPA –

This pricing model works on the SMART algorithm and works on a cost per action. This model allows the payments for conversions only.

CPM – This model is based on CPM bidding with a fixed rate.
CPC –

This is the cost per click pricing model that is also based on the SMART algorithm. It works on the same rule as SmartCPA and the only difference is that it operates on CTR rates and not CR. For creative advertising, you must choose this pricing model.

SmartCPM –

This pricing model works on second-price auction. Here, the highest price for a specific amount of traffic is set by the advertisers. The first impression is given to the highest bidder.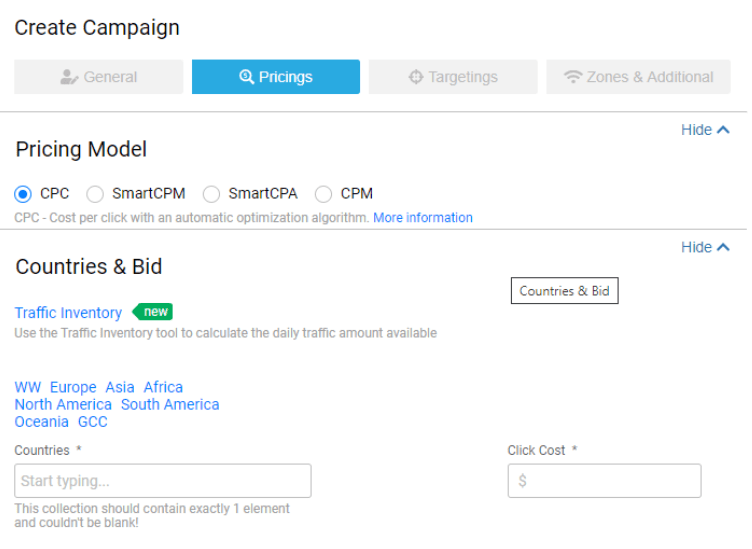 FAQs About Clickadu 
👉 Why did my campaign get rejected?
A campaign gets rejected if it goes against the Clickadu Terms and Conditions. After the rejection, they will also send an email citing the reason.
🙋‍♂️ Which targeting should I select for my campaign?
You can choose any of the targeting methods from state,city, mobile ISP, OS type/version, Browser version/language, etc.
🤷‍♀️ What language is spoken by the customer support of Clickadu?
The customer support team of Clickadu speaks English, and not any other language.
Conclusion | Clickadu Review 2023
Clickadu is undoubtedly an excellent platform that has several benefits, as discussed above. It is fairly new in the market but has garnered a lot of positive reviews owing to its user-friendliness, intuitiveness, and speed.
Its biggest advantage is that it is transparent and not complex, thus easily usable by all kinds of users.
If you get an Account Manager, you will see how well he guides and motivates all through the process. This platform also offers you great traffic volumes.
Clickadu platform is beneficial for both publishers and advertisers because they get a common platform to gain huge benefits. Irrespective of the size of your website and the amount of traffic it attracts, Clickadu works great for all.
Join Clickadu now to maximize your revenue